Shi**y Marketing Killed the Bulldozer Star
We're getting real up in this place. Let us tell you what has happened to the Bulldozer launch and why it's AMDs fault.
Published Tue, Oct 11 2011 11:13 PM CDT
|
Updated Tue, Nov 3 2020 7:01 PM CST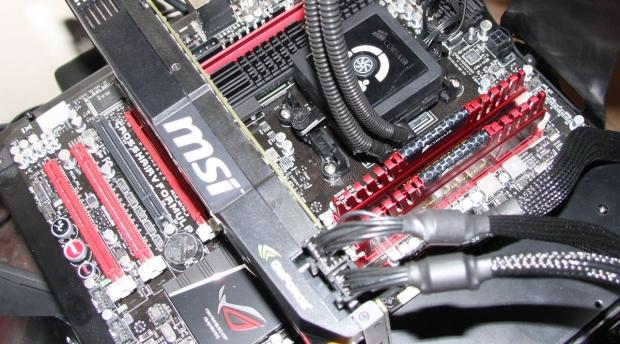 AMD hasn't launched Bulldozer today; instead, they made the mistake of launching the FX-8150 and the FX-8150 only. This is where the problem lies with what AMD has done today with the launch of the new Bulldozer CPU.
So, maybe it's not the marketing team; maybe the marketing team wanted to do what I think they should've done, but the suits up top wouldn't let them. The problem is, when we look at a launch of a product, we deal with the marketing people; they're the people that sample us and we feel that if something happens in that area, it's because of the marketing team. I don't really want to point the finger at just them, though. I think the whole corporate culture at AMD is what hurt the launch of the Bulldozer CPU.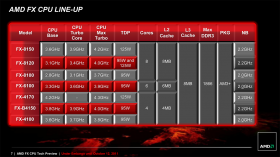 If you really start to break down the Bulldozer platform and item by item compare the pricing of the FX-8150 with the main competitor, the Intel i7 2600k, you can see for the cost of an extra $30 US you're able to achieve a system that carries with it a GTX 580 instead of a GTX 560 Ti. To really get the break down on this, I highly recommend you read the final thoughts of our AMD FX-8150 (AM3+) CPU launch piece.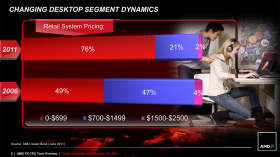 It's a compelling argument, but it's not one that's going to ultimately win out for AMD when it comes to people wanting flagship products. AMD have always had this focus on giving us quality products at a fantastic price point. We've seen that over recent years with the AMD line of video cards and the recent release of the Fusion platforms also see some awesome performance at a great price point. Even the Phenom II CPUs of yesteryear sit in that category.
So with that focus so obvious, why did AMD go against what they normally do? - The FX-8150, in the battles it is going to face at launch can't beat the 2600k CPU from Intel. Flagship product against Flagship product, the Intel i7 2600k is just shining so bright.
Still, AMD are going to promote the flagship CPU at launch. It's stupid not to and if they didn't, it would send out a bunch of messages which we would all decrypt with the conclusion that AMD are scared. The problem is that it seems AMD have that product ready at launch that goes against the company's core values which fit in an area where they shine so bright. Value.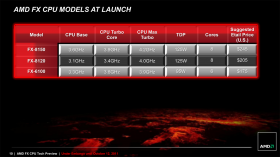 The FX-6100 is a 6-Core CPU; it carries a default clock of 3.3GHz and has a maximum Turbo speed of 3.9GHz. It's listed in the original documents as coming in at $175 US, but that price was dropped $10 US to $165 US just days before launch. This is what AMD needed to be sending reviewers and they needed to be sending it with an Intel CPU.
AMD needed to send us three CPUs. You might think that's greedy of us to ask that, but it would actually be greedy of AMD wanting us to test them all. To be honest, though, it's what's needed to be done for them to show just what the new platform is capable of. Ok, so the question is, what three CPUs do they send us?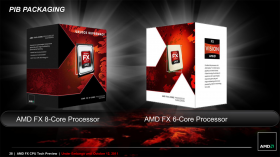 Easy - the $245 US FX-8150, that's a no brainer. They need to send the flagship product. The second, the $165 US FX-6100; that's obvious because it's the one I've just been talking about. The final processor that needed to be shipped, though, was the $179.99 US Intel Core i5-2300.
The Intel Core i5-2300 is a 2.8GHz CPU (3.1GHz via Turbo) that can't overclock. Not being part of the "K" series line up from Intel means that you have to rely on BCLK overclocking to increase. BCLK overclocking at most can only be 10% no thanks to a 110 BCLK limit, and finding a CPU that can do that is extremely rare. For the most part you'd probably be looking at a 5% overclock via a 105 BCLK.
The FX-6100 via Turbo is offering us 3.9GHz and via overclocking let's say we be lenient and we can get 4.5GHz out of it. To be honest, I would expect maybe higher than the FX-8150, because we've got less cores. I could be wrong, but it's possible we could see around the 5GHz mark from a FX-6100 that clocks well. Of course, that's just pure speculation and even if we work off 4.5GHz, we can get a good idea of what to expect.
Even if the FX line from AMD isn't as optimized as the Intel one, an overclock that is anywhere from 1.5GHz to 2GHz stronger than its main competitor should just smash that option. The thing is, it completely changes the conclusion of the platform and this is where the issue lies.
Today AMD haven't launched the Bulldozer platform, they've launched the FX-8150 to the market. The FX-8150 doesn't represent AMD well; it doesn't do what AMD are great at, offering well priced products that can take on the competition at that price point.
This is what AMD has given us to work off, though, when it comes to the Bulldozer platform, and I can't honestly say where the blame needs to be put. If you point at one group of people, they're going to point to the person above them and etc, etc until we get to the point where the CEO is to blame, and to be honest, that's probably the person mostly at fault here.
I get it, they've got this new person come in who has loads of experience in a "CEO" type position. He can come out, rally the troops and give off an inspirational speech. That's all good and well, but your consumers don't care about that and nor do the media. To be honest, so many people linked me to the video of the speech saying how great it was, but I didn't even listen to it. Don't let the CEO do the talking, let the product do the talking.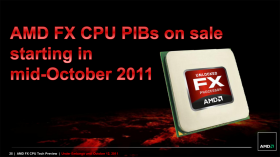 Today AMD let the FX-8150 talk on behalf of a whole platform. This was a mistake. Like Intel, who when launched the P67 / 1155 socket line-up sent both the 2500k and 2600k, processors about $100 US apart from each other, AMD should've done the same thing. They needed to go down to Newegg, though, and pick up a bunch of i5-2300 CPUs as well, though, because it's what the FX-6100 needs to be compared against and it's not a CPU that Intel sample.
If you ask for one a week prior to Bulldozer as well, your request would be denied. We could buy them, and while I would've done that as I bought an i3 at the launch of the E-Series APU, you won't have a lot of sites who did that and in turn the FX-6100 would be compared against both "K" series CPUs from Intel.
This might come off as a personal attack at AMD, but I have to be honest here. I've called AMD out before and they've responded positively to it. What I like about them is they don't have their head so far up their butts that they think the media and public are just a bunch of plebs. Someone once told me; the problem with AMD is that they're an "Engineering" company, unlike NVIDIA who are a "Marketing" one. NVIDIA has the ability to make products that aren't great, while looking fantastic with marketing. Unfortunately, AMD have this issue where they make fantastic products look bad because they're not launched in the same way.
I'd love to hear from someone at AMD who can actually tell me why this launch happened this way. I don't mean someone who tells someone who tells someone who tells my main contact who then tells me. I mean someone really within AMD who makes the decision behind this kind of thing. Who at AMD said we need to send a Crosshair V Formula and Belt Buckle with our FX-8150 and not a FX-6100 and Intel i5-2300 with the FX-8150.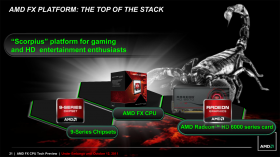 I told someone about this article prior to writing it, and straight away they saw what I was trying to achieve with it. Hopefully I'm able to open enough people's eyes to not judge the whole "Bulldozer" platform on just the FX-8150, but instead all three models with the FX-6100 being a huge focus.
If we can make people just think long enough on if they should go Z68 / 1155 CPU or 990FX / Bulldozer 'till we're able to get an FX-6100 and i5-2300 on hand and we can test them ourselves and show you the Bulldozer platform on a wider spectrum, I'll be ecstatic and I think AMD would as well... assuming the FX-6100 doesn't suck!
PRICING: You can find products similar to this one for sale below.

United States: Find other tech and computer products like this over at Amazon.com

United Kingdom: Find other tech and computer products like this over at Amazon.co.uk

Australia: Find other tech and computer products like this over at Amazon.com.au

Canada: Find other tech and computer products like this over at Amazon.ca

Deutschland: Finde andere Technik- und Computerprodukte wie dieses auf Amazon.de