E.T. The Extra-Terrestrial (1982) Blu-ray Movie Review
"E.T. phone home!"

Published Fri, Nov 9 2012 9:39 PM CST
|
Updated Tue, Nov 3 2020 7:01 PM CST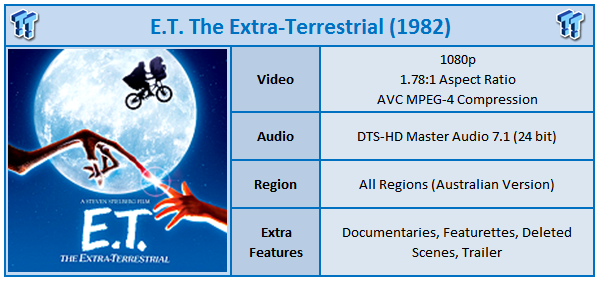 By 1982, Director Steven Spielberg was riding high. Raiders of the Lost Ark and Close Encounters of the Third Kind had proved to be massive successes, expunging the waft of the failure of the (alleged) comedy 1941 some three years earlier. At this point, he had relative free reign over the choice of his next project. Starting life as a somewhat alien horror film, the project developed into a kind, heartwarming picture full of the sentimental qualities that Spielberg will return to throughout his career. Moreover, it would also seal his immortality to the ranks of Hollywood history books.
For those few who are unfamiliar with the film, E.T. The Extra-Terrestrial is the story of an alien creature who's become stranded on Earth after his spaceship leaves orbit. When the creature befriends Elliot (Henry Thomas) and his family, their friendship is interrupted by shadowy government forces who want to quarantine the alien, and jeopardize his life.
E.T. The Extra-Terrestrial could easily have been called A Boy and his Alien (and would have been a more apt description). It is, after all, the relationship of Elliot and E.T., and the wider family that sells the film. In the hands of lesser actors, the film would have quickly unraveled.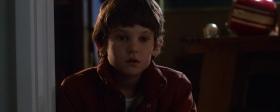 Some fans might be disappointed by the complete absence of the 2002 'special edition' version of the film. It was criticized by fans for the removal of guns in favor of CG walkie talkies, the release also actually cleaned up some of the aging composited visual effects, including the removal of matte lines and adding some minor CG tinkering to further allow E.T. to emote. And none of those improvements have been included here. This Blu-ray edition solely includes the 1982 original theatrical cut.
A final quick trivia bite; modern audiences who are used to films being released on DVD and Blu-ray less than 100 days after their cinema release might be surprised to learn that - E.T. took six years to be released on the fledging VHS format, long after it had disappeared from cinema screens.
Video
E.T. The Extra-Terrestrial is presented in the aspect ratio of 1.78:1, a slight divergence from the original aspect ratio of 1.85:1, encoded with AVC MPEG-4 compression.
So it seems Universal Pictures are on somewhat of a roll through its 100th anniversary celebrations. Long guilty of rehashing aging transfers, I'm quite happy to report that E.T. (in addition to Jaws before it) has received a new 4K transfer, which looks significantly better than previous 1080i HDTV transfers.
The image is really sharp and detailed and totally bereft of annoying telecine wobble, which was quite obvious in the previous DVD release. There's a fine layer of film grain which is completely unobtrusive. Colors are vivid, with a clear vibrancy that's previously been missing.
As previously mentioned, this Blu-ray only includes the original 1982 theatrical cut, warts and all. Whilst this means the guns are back, some of the CG enhancements and clean up of objectionable matte lines have been rolled back. While Spielberg (and many fans) might prefer the original theatrical cut, it's a bit of a shame to not be given the option, like on the previous DVD release.
[img]2[/img]
Audio
E.T. The Extra-Terrestrial is presented in DTS HD Master Audio 7.1, at 24 bits.
Originally mixed and released in Dolby Stereo, E.T. received an updated 6.1 EX mix for its 2002 re-release. This mix has seemingly been further extrapolated for this new 7.1 mix.
Despite valiant attempts, E.T. mostly sounds its 30 years of age. Surround usage often sounds a little forced and nowhere near as naturalistic as modern mixing. In some ways it actually draws attention to itself unnecessarily. Despite this, there's a complete absence of noise floor hiss or dialogue issues.
[img]3[/img]
The subwoofer channel is strong and detailed and underpins some of the more dramatic moments of the film.
John Williams' score is as beautiful and moving as it was in 1982. But occasionally its age becomes obvious, some of the cues sound a little harsh (for want of a better word) and the 7.1 channels sound strangely out of phase on occasion. There's been a quite obvious attempt to force the score to sound as surround-like as possible. I also own the 2002 Super Audio CD release of the soundtrack which doesn't display the same level of brassiness and harshness, which is a bit of a head scratcher.
Extras
For the 30th anniversary release of the film, Universal have created a few new compelling extra features for the film, in addition to re-purposing the vast majority of extra features from the previous DVD release. Let's jump in.
First up is the brand new The E.T. Journals Documentary. Over two parts and 54 minutes, the un-narrated documentary provides a fly-on-the-wall look at the film's production in chronological order. Of particular note are Steven Spielberg's gentle dealings with his young principal cast, in addition to the on-set wrangling of the rather limited E.T. animatronic puppet. I particularly enjoyed seeing the footage from the scoring session towards the end of the second part.
Next, is the new Steven Spielberg and E.T. featurette which briefly looks at the genesis and legacy of the film, in addition to two brief Deleted Scenes, which are in fact scenes which were included in the 20th anniversary edition, including a scene where Elliot baths a computer generated E.T., and a brief extension to the rowdy Halloween street celebrations. Sadly, the Harrison Ford cameo scenes continue to remain lost, which is a bit of a shame.
The remaining special features are holdovers from the 2002 DVD release. The meatiest is the nearly one hour The Evolution and Creation of E.T. documentary which despite some overlap with other features, takes a well rounded look at the film's production, which is extended via the A Look Back documentary.
Whilst it's now ten years old, The E.T. Reunion rounds up the principal cast, along with Spielberg and producer Kathleen Kennedy (now head of LucasFilm) for a chat and reminiscence about the film. I sure hope that MacNaughton has dumped the dreadlocks these days.
Whilst the feature film isolated score is missing, it's a small consolation to retain the 20th Anniversary Premiere footage, where John Williams conducted live and in-sync with the film the entirety of the musical score. Next is The Music of E.T. featurette, which is a brief discussion with Williams regarding the compositions and themes of the film.
I dislike image galleries at the best of times, but in standard definition, the Design, Photographs and Marketing galleries feel pretty redundant. Your experience may differ, of course.
Finally, we have the Original Theatrical Trailer and a Special Olympics TV Spot which is rather touching, even if it does look like it was pulled from a VHS tape.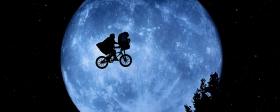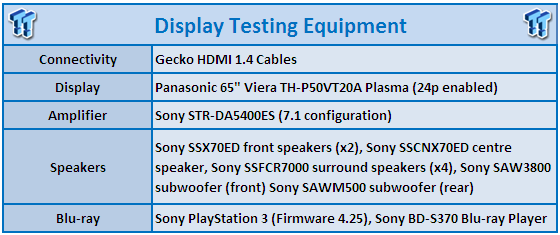 PRICING: You can find products similar to this one for sale below.

United States: Find other tech and computer products like this over at Amazon.com

United Kingdom: Find other tech and computer products like this over at Amazon.co.uk

Australia: Find other tech and computer products like this over at Amazon.com.au

Canada: Find other tech and computer products like this over at Amazon.ca

Deutschland: Finde andere Technik- und Computerprodukte wie dieses auf Amazon.de
We openly invite the companies who provide us with review samples / who are mentioned or discussed to express their opinion. If any company representative wishes to respond, we will publish the response here. Please contact us if you wish to respond.