SteelSeries Siberia V2 USB Gaming Headset Review
SteelSeries are back again with a new version of the fantastic Siberia gaming headset. Enter the V2 USB with virtual 7.1 surround sound.
Published
4 minute read time
SteelSeries are amongst the best out there in terms of specialty gaming gear, offering a large range of top notch gear for gamers of all types. One of the newest additions to their line up though is the successor to the original Siberia gaming headset, the Siberia V2. It promises to deliver even more (if that's possible) than the original model.
We have waited some time for this headset and it has already received rave reviews from others review sites. It's now time for us to take a look and see just where SteelSeries have improved on the original formula and potentially made one of the best headsets out there at the moment.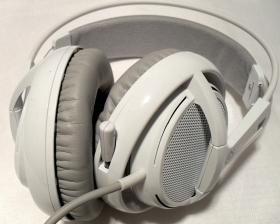 With so many different gaming headsets out there at the moment it's a bit bewildering to try and nail one down as being the best choice. But that really depends on what the headset will be used for and it's also going to depend on whether the user has a sound card installed and wished to use it as their 'sound source' when driving a headset.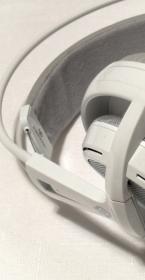 The other option is to use a USB powered and driven headset which offers many benefits itself not seen when using traditional 5.1 connections based out of a sound card. The first of which is that these USB powered headsets are becoming hugely popular which means prices are being driven down all the time and options are becoming plentiful.
In fact, just in the last year or so, we have seen a drop in the range and availability of headsets driven through a sound card, as more and more people choose to go the USB option for personal sound. Now, let us remind you that all headsets driven through a 5.1 or more channel soundcard do support the latest EAX 5.0 (onwards) surround algorithms in the latest games. This means that this is still the best way for true gamers to hear surround sound, because it's actual surround sound information, in its raw state. The surround option offered by USB based headsets is mixed up from two channels and never actually 'gets' a true surround signal, so you really only ever get an impression of surround sound rather than a true picture of who is coming up behind you in real-time.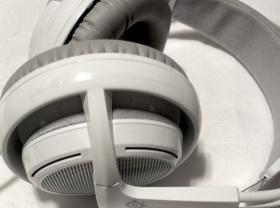 So for dedicated gamers the decision is clear, if you are using true 5.1 from a sound card, you're going to do better than the next guy using an up mixed two channel USB based headset. We had a question recently regarding the above stated text and if we could clarify - so we have tried to make sense of it right here today for you all.
From a technical perspective, the Siberia V2 remains a 50mm driver based headset, which is a good start we feel. A larger driver helps to deliver a smooth and balanced reproduction across the sound spectrum. It also gives a better response for low-end bass frequencies. The headset we received also came with a built-in glowing blue feature which was a nice touch, 'frost blue' they call it. Also included is a mic which can be retracted when not needed.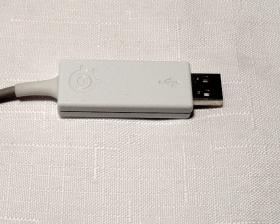 The Siberia V2 also comes with a handy built-in 7.1 virtual surround sound supported sound card which basically allows for some degree of signal processing not otherwise offered simply by using a USB based connection. However, the issue we see here is that these 'built-in sound cards' which are being offered at the moment, generally are proprietary technologies so to speak, which means they do no support the algorithms used in the latest games. Having said that though, we are glad to have it and think that for a large percentage of users, it's going to be a great thing to have for at least emulated surround sound. And it also allows users to take the Siberia V2 headset out and about with them, and not need to have a sound card installed on the target machine. This is really a handy thing indeed and means that these headsets are going to be popping up all over the place.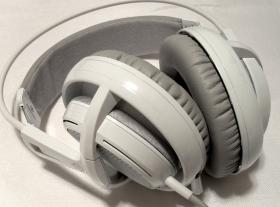 The SteelSeries Siberia V2 is a hugely strong and capable headset built to handle just about any application demanded by today's media. Building on the success of the first Siberia headset, the V2 only makes things better in all departments. It retains several key features like the headband design that was very popular the first time around and hence did not require any design change.
In terms of sound quality, we thought the original Siberia was one of the best sounding headsets out there at the time. The V2 only serves to strengthen this position, with some truly impressive audio across test media.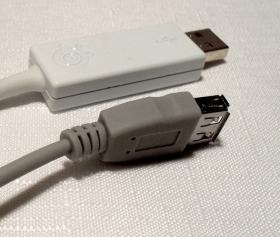 Listening to a general selection of different music through the Siberia V2 was an overall very pleasing experience. The large 50mm drivers offer a very balanced and dynamic listening experience. We personally think using a driver of this size is a very safe idea taken up by many companies over the years. This is because using a smaller driver is risky and could even result is a higher cost of manufacturing than the larger driver because the same level of performance does not get delivered 'straight up' as it does with a 50mm driver. Or another way of putting it, a smaller driver unit will require more tweaking in order to sound good.
Overall for music listening the SteelSeries Siberia V2 is one of our favorites both in terms of sound quality and also the way the headset feels after long sessions of use. We must say in all honesty that this is one of the most comfortable headsets going around.
During testing of movies using the Siberia V2 we greatly enjoyed the experience and found the performance to be of a very high level. Notwithstanding the fact that this headset is only a stereo solution and does not truly offer surround sound like other multi-driver headsets. Low-end bass during busy sequences sounded great and was both powerful and crisp, and dialogue sounded focused and crystal clear during testing.
Gaming was a very enjoyable experience also, much like movie viewing with many of the strengths seen there carrying across to games also. However, as with movies, this is only a stereo headset and gaming will be limited by the lack of a multi-driver configuration and support for popular gaming algorithms like EAX and on.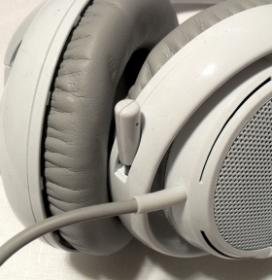 SteelSeries are back with a bang offering another great headset in the shape of the Siberia V2. We thought the original was great in nearly every way and now the second coming has improved even further on those great strengths. The built-in sound card is also a nice touch and allows for the headset to be used in many different locations unlike other headsets that will only sound as good as the sound hardware installed on the system. Coupled with the flexibility of USB and the Siberia V2 is a potent offering in terms of a headset that can be used for all forms of multimedia.
Cosmetically the Siberia V2 comes in a couple of different guises. The set sent to us for testing came in white with a blue light effect that can be modulated and thankfully can be turned off. Honestly, they are not the best looking headset out there, but SteelSeries ticked pretty much all the other boxes quite well.

PRICING: You can find products similar to this one for sale below.

United States: Find other tech and computer products like this over at Amazon.com

United Kingdom: Find other tech and computer products like this over at Amazon.co.uk

Australia: Find other tech and computer products like this over at Amazon.com.au

Canada: Find other tech and computer products like this over at Amazon.ca

Deutschland: Finde andere Technik- und Computerprodukte wie dieses auf Amazon.de
We openly invite the companies who provide us with review samples / who are mentioned or discussed to express their opinion. If any company representative wishes to respond, we will publish the response here. Please contact us if you wish to respond.