Introduction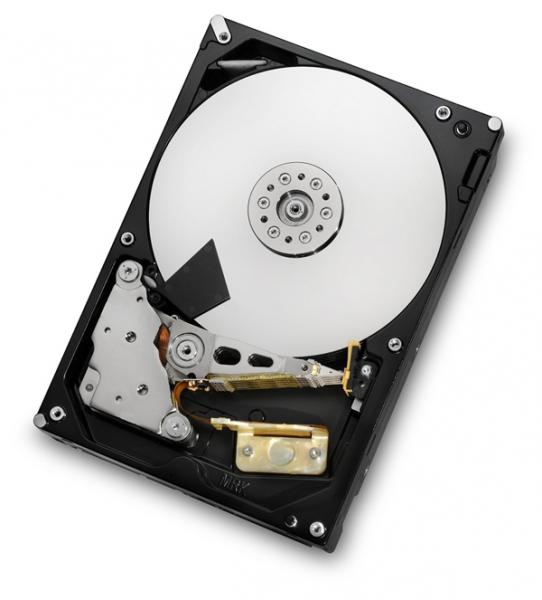 You may know Hitachi Global Storage Technology (GST) was recently acquired by Western Digital Corporation. That isn't stopping Hitachi GST from moving forward with their production of new products. In fact, since the acquisition, HGST has released a number of products under their own branding.
Two such products, one of which we're looking at today, is the new 4TB capacity internal disk drives. The new Deskstar 7K4000 and 5K4000 drives increase storage capacity for a single 3.5" form factor from 3TB to an astonishing 4TB. If you thought 3TB was big, then add one more to it and call it massive.
Today we're looking at the 5K4000 model, a 5,900 RPM platter design that was designed for cool and quite operation. Hitachi GST's 7K4000 is the 7,200 RPM model with lower access times and a little faster sequential performance. The 5K4000 we're looking at today is primarily for storing large amounts of user data in a second tier, i.e. not the operating system boot drive.
With solid-state technology quickly taking over the boot drive market, tiered storage is quickly gaining appeal for consumers and especially enthusiasts. SSD's offer very good performance, but lack capacity for a large amount of files. In desktop systems where the physical size of the computer allows for multiple drives, we feel tiered storage is a better option for consumers looking to retail a large amount of data and keep the system performance at a fast pace.
Specifications, Pricing and Availability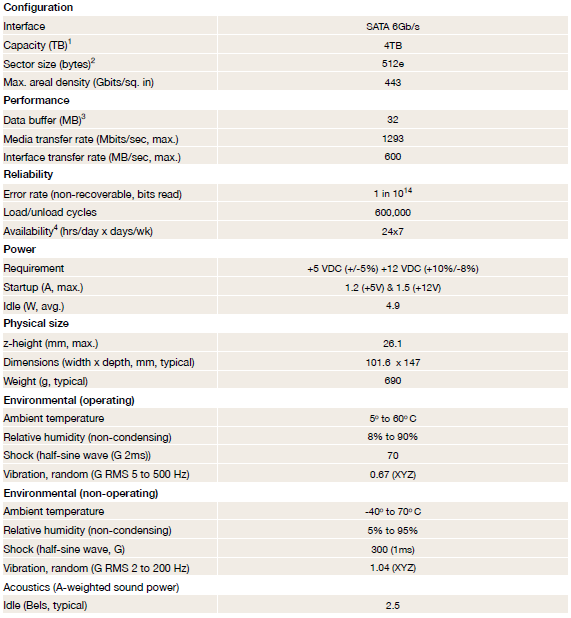 The new Hitachi GST 5K4000 uses a SATA 6Gbps interface that increases the burst speed above the limits of SATA 3Gbps. The drive also uses Advanced Format, a standard were seeing quite often these days with mechanical disk drives. Hitachi GST doesn't list any performance data, but that's what we're here to determine anyhow. The drive uses a 32MB data buffer, half the size of the new Western Digital Red Series that we recently reviewed.
As we mentioned in the introduction, the 5K4000 uses four 5,900 RPM platters. This allows the drive to remain silent and cool while in use. The performance, especially the random access performance is lower than the 7,200 RPM models like the 7K4000, but the user gets a product that is quieter, cooler and uses less power. HGST claims the new 5K4000 uses 24% less power per gigabyte than the previous generation 3TB HDD.
When we started writing this article the Hitachi GST 5K4000 was not available. It's since tipped up online for $399 in the US. That is a pretty steep price considering we managed to find the 7,200 RPM model, 7K4000 for just $326, both prices via Google Shopping.
Today we're looking at the retail box model, HDS5C4040ALE630. It ships with a three year warranty, free access to Hitachi GST's 3GB data backup service (hitachibackup.com), installation screws and paper manuals. We didn't like the lack of a SATA cable in the package.
Packaging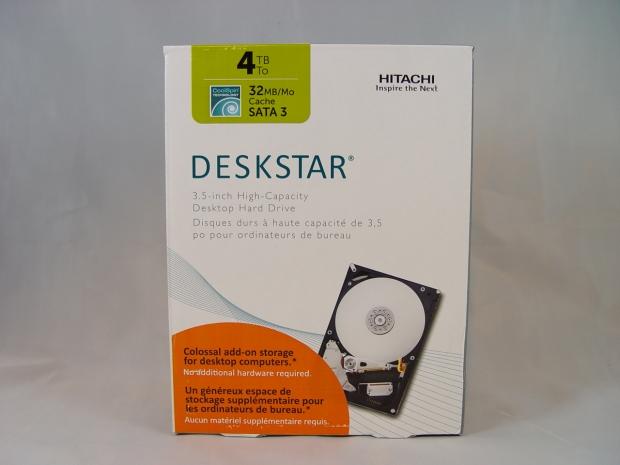 We rarely get to see retail packaging on internal disk drives. WD and Seagate always send OEM style packs, the drive in an anti-static bag, but Hitachi sends over the full kit, which is nice.
On the front of the package we get quite a bit of information about capacity and what type of product is inside.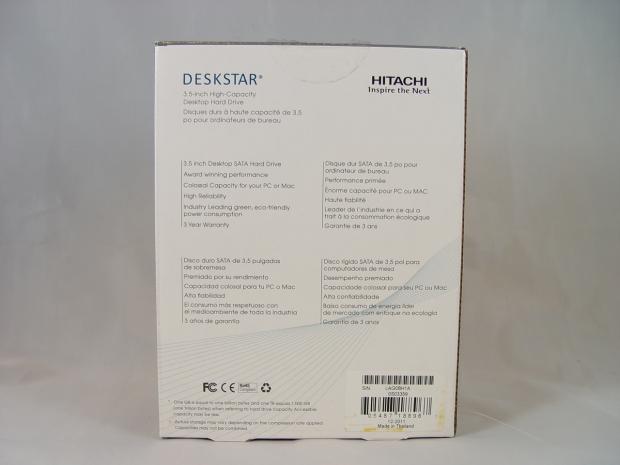 The back of the package gives us some general information about the Deskstar product line, but nothing too specific.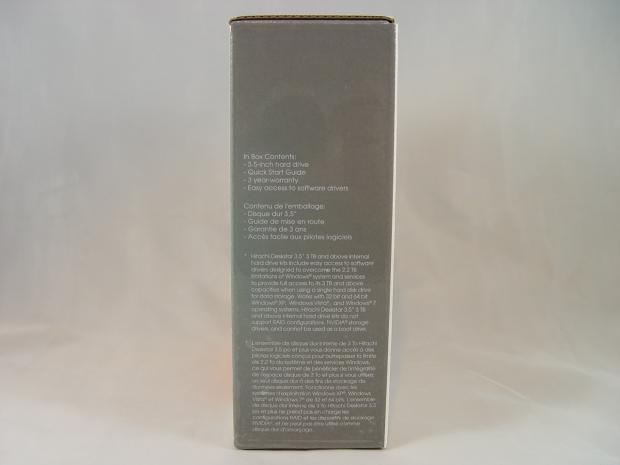 The In Box Contents list and a general disclaimer about going over 2.2TB populates one side of the package.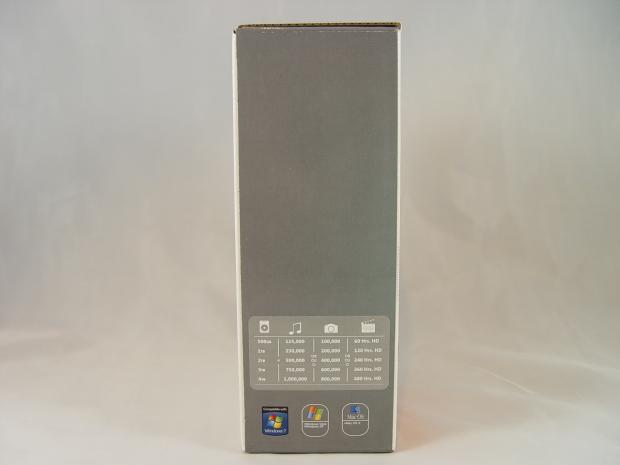 A generalized estimate about how much data you can hold on different capacity size drives resides on the other.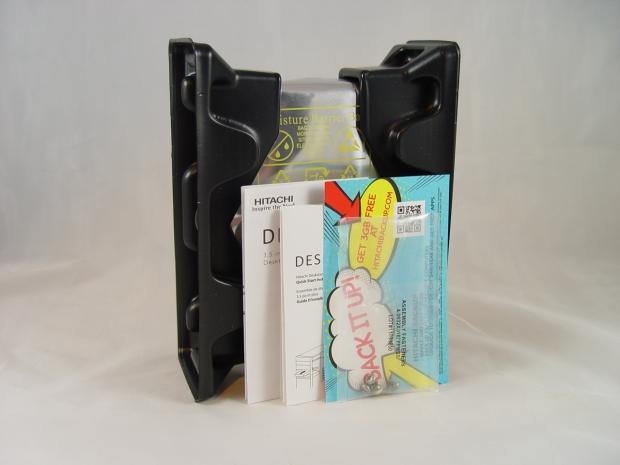 The internal packaging was put together well. The drive is suspended in a thin plastic suspension that allows the package to flex and absorb vibration during shipping.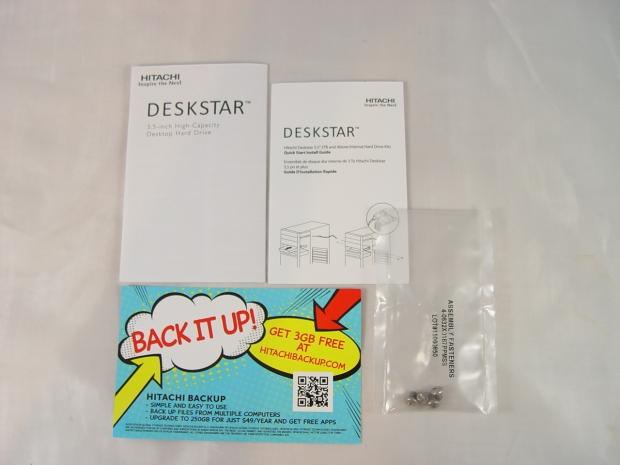 With the included accessories laid you we see the paper manuals, invitation to Hitachi's backup program and the system screws.
Hitachi 5K4000 4TB HDD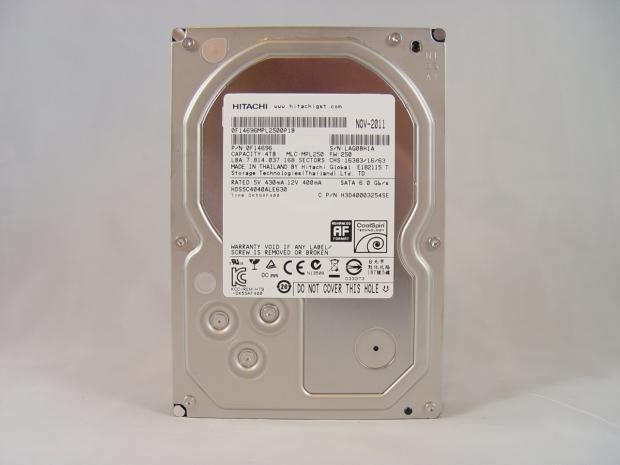 There isn't really anything to look at when it comes to mechanical HDDs. Without a clean room we can't open the drive because it will destroy the clean platters as soon as the drive turns back on. Hitachi does list quite a bit of information on the drive's label, though.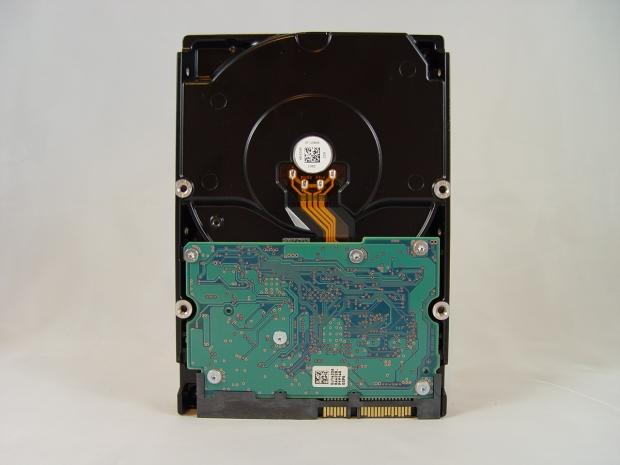 All of the surface mount components face the inside of the drive so you don't have to worry about breaking off resisters and capacitors when handling the drive. This was an issue that HDD manufacturers eliminated around five years ago by facing everything toward the inside of the drive case.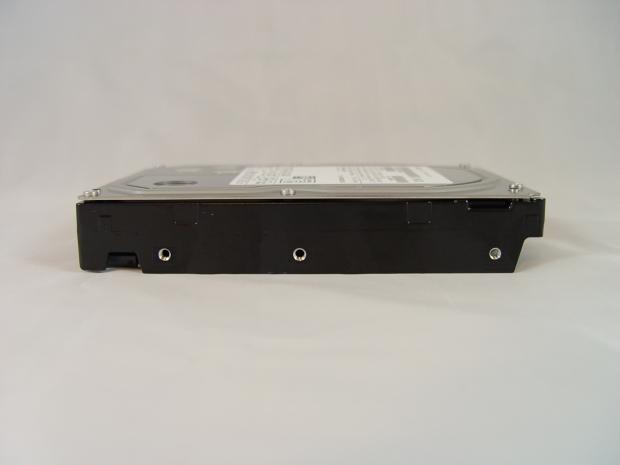 All of the standard mounting locations are where they should be for the 3.5" form factor design.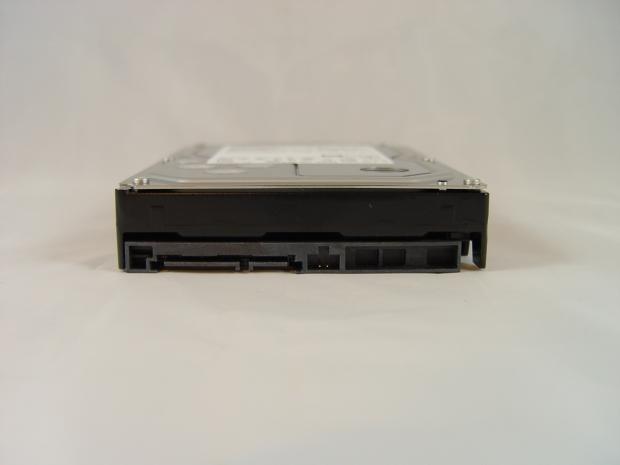 The SATA power and data ports are also offset and where they should be.
Benchmarks - Test System Setup and ATTO Baseline Performance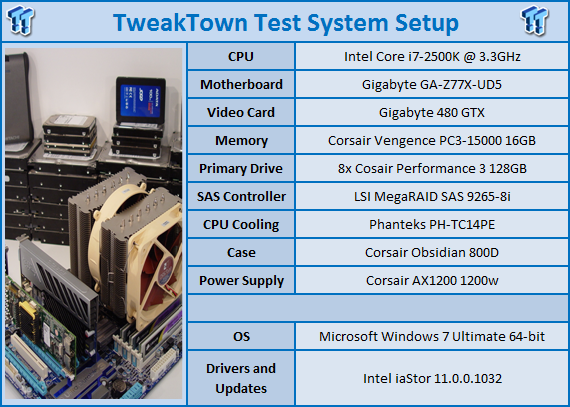 We would like to thank the following companies for supplying and supporting us with our test system hardware and equipment: AVADirect, GIGABYTE, LSI, Corsair and Noctua.
You can read more about TweakTown's Storage Product Testing Workstation and the procedures followed to test products in this article.
The Western Digital Red is built for NAS environments but we couldn't help ourselves and ran a 1TB capacity size through our standard desktop tests.
ATTO Baseline Performance
Version and / or Patch Used: 2.34
ATTO is used by many disk manufacturers to determine the read and write speeds that will be presented to customers.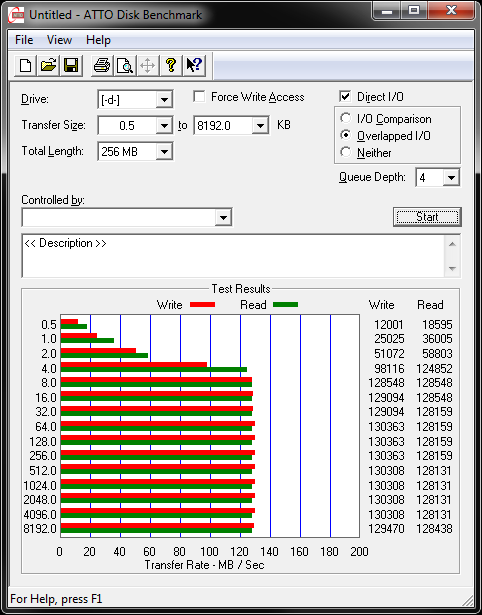 Using ATTO we see the 5K4000 ramping up speed very quickly in the block sizes. Read performance nearly reaches peak at 4K and write speed hits its stride at 8K. The read and write best case performance is roughly 130MB/s.
Benchmarks - HD Tune Pro
HD Tune Pro
Version and / or Patch Used: 4.00
Developer Homepage: http://www.efdsoftware.com
Product Homepage: http://www.hdtune.com
HD Tune is a Hard Disk utility which has the following functions:
Benchmark: measures the performance
Info: shows detailed information
Health: checks the health status by using SMART
Error Scan: scans the surface for errors
Temperature display
HD Tune Pro gives us accurate read, write and access time results and for the last couple of years has been gaining popularity amongst reviewers. It is now considered a must have application for storage device testing.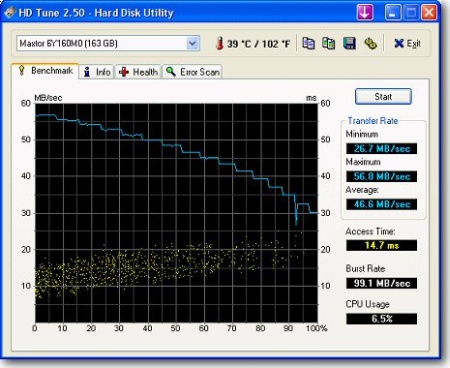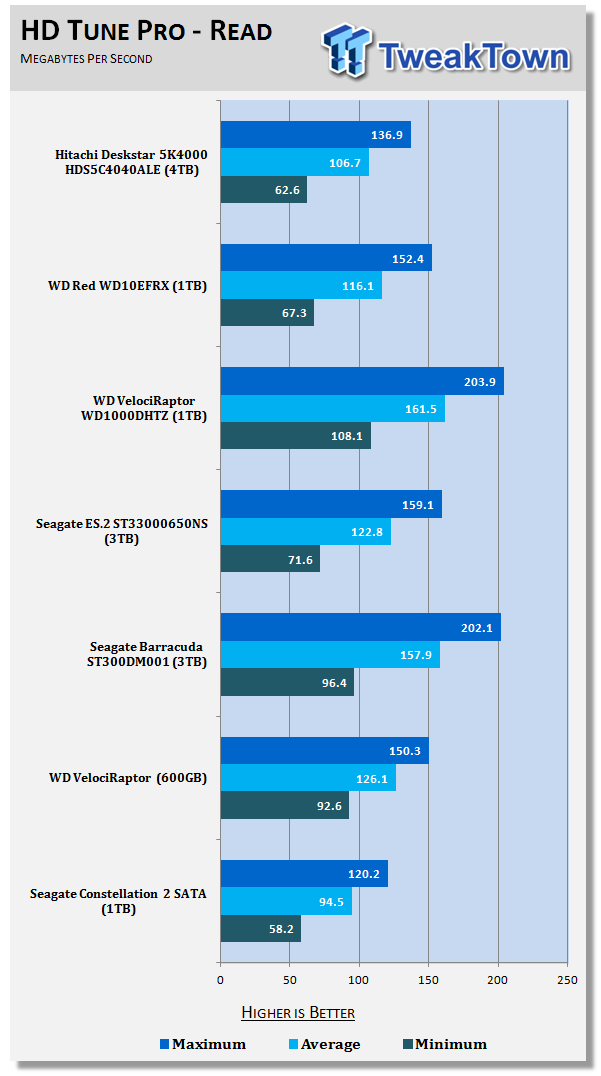 As with all mechanical drives, you have a high performance side and a low performance side when reading and writing data. The average read performance for the 5K4000 is 106MB/s. The peak measured in this sequential test is 136.9MB/s; obviously the cache plays a role in determining that result. On the low end of the scale we achieved 62MB/s.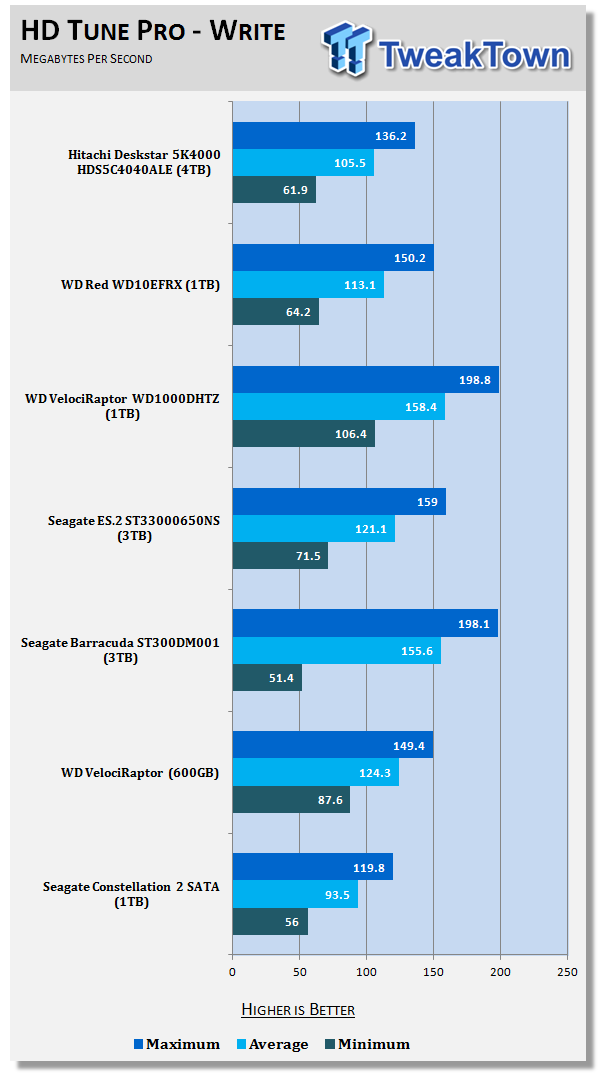 The write performance is almost identical to the read results we captured. The average and minimum are best used in determining performance. In the average category we hit 105MB/s and down low just 61.9MB/s.
Benchmarks - AIDA64 Random Access Time
AIDA64 Random Access Time
Version and / or Patch Used: 1.60
Developer Homepage: http://www.aida64.com
Product Homepage: http://www.aida64.com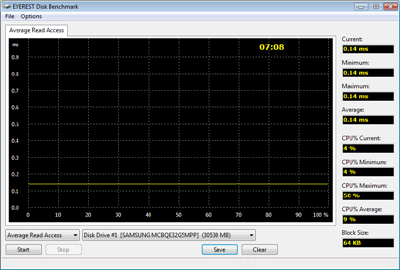 AIDA64 offers several different benchmarks for testing and optimizing your system or network. The Random Access test is one of very few if not only that will measure hard drives random access times in hundredths of milliseconds as oppose to tens of milliseconds.
Drives with only one or two tests displayed in the write test mean that they have failed the test and their Maximum and possibly their Average Scores were very high after the cache fills. This usually happens only with controllers manufactured by JMicron and Toshiba.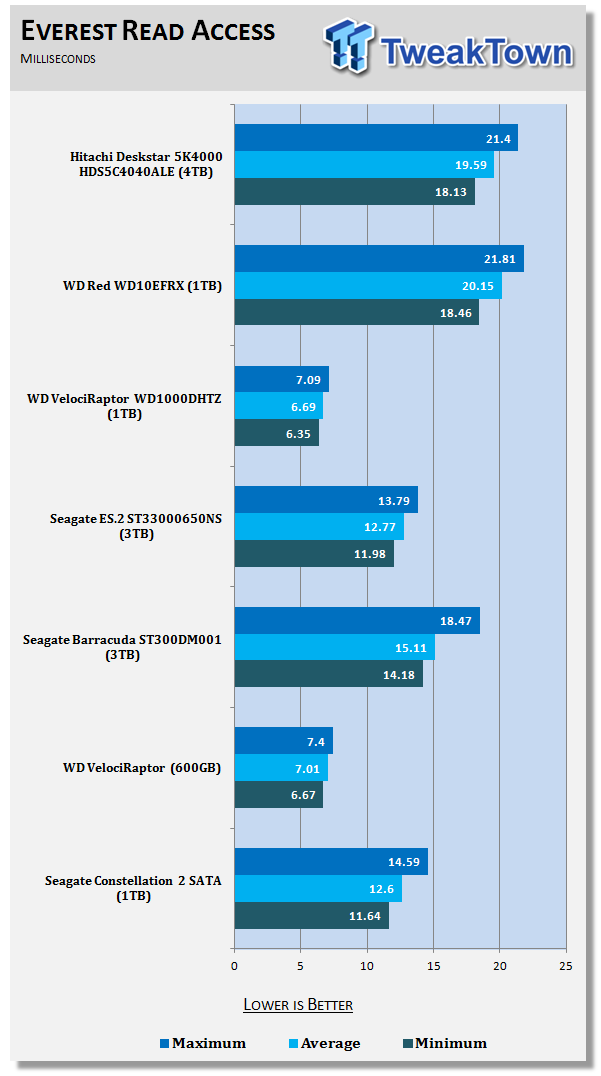 The Hitachi GST 5K4000 isn't a dynamic platter design like the WD Red and Green Series. You get a solid 5,400 RPMs when the disk is in use without variation. In our chart we have a nice mix of 10K, 7.2K and 5.4K RPM drives. The 5.4K are obviously going to have the slowest access times because the head has to wait for the platter to move the data into position.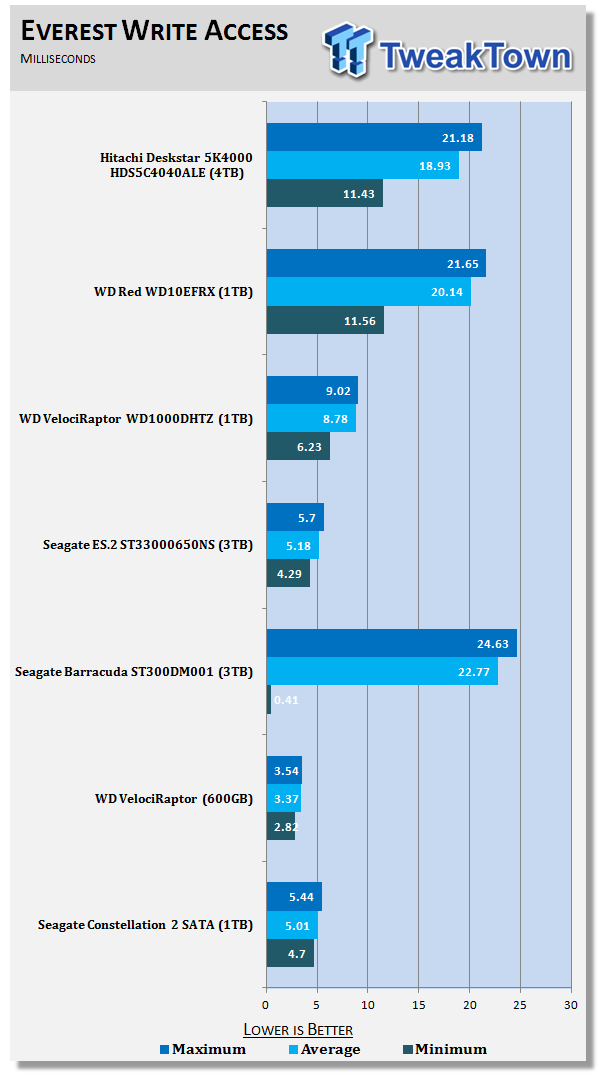 Measuring the write access time isn't as clear cut. If the drive uses the data buffer to cache writes, like the Seagate Barracuda ST300DM001 3TB, the low result is incredibly low. Of our three 5.4K models, the 5K4000 has the lowest average write access time.
Access times for strictly long-term storage devices are not as important as they are for boot disks. While everyone wants a fast reaction to a request, sequential data, data that is most likely to be stored on long-term storage, does not require low access times when transferred from place to place like random data.
Benchmarks - CrystalDiskMark
CrystalDiskMark
Version and / or Patch Used: 3.0 Technical Preview
Developer Homepage: http://crystalmark.info
Product Homepage: http://crystalmark.info/software/CrystalDiskMark/index-e.html
Download here: http://crystaldew.info/category/software/crystaldiskmark
CrystalDiskMark is a disk benchmark software that allows us to benchmark 4K and 4K queue depths with accuracy.
Key Features:-
* Sequential reads/writes
* Random 4KB/512KB reads/writes
* Text copy
* Change dialog design
* internationalization (i18n)
Note: Crystal Disk Mark 3.0 Technical Preview was used for these tests since it offers the ability to measure native command queuing at 4 and 32.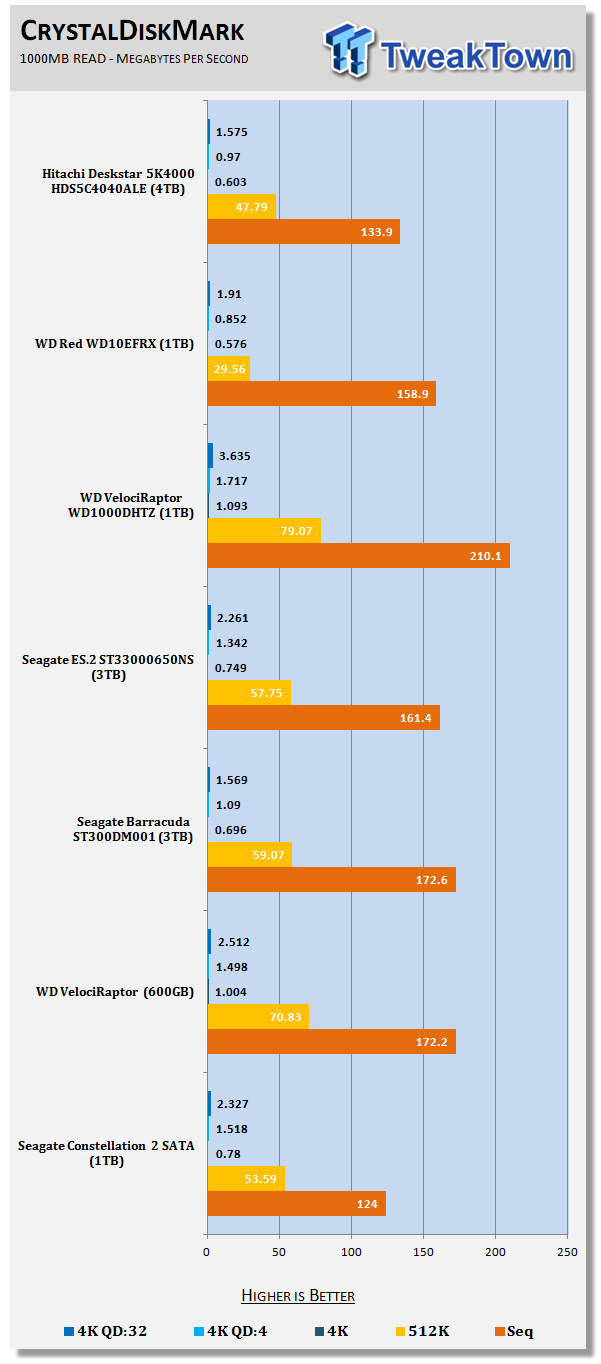 CDM allows us to look at 4K and native command queuing performance. Mechanical drives don't offer the same rip roaring 4K performance as SSD's because their mechanical nature means IOPS performance is low. Reading and writing several small files back to back is the most difficult task you can ask of a spinner.
The Hitachi GST 5K4000 is a little faster than the WD Red 1TB in 4K and QD4 4K reads. It loses a little ground to the Red when the commands are stacked 32 high.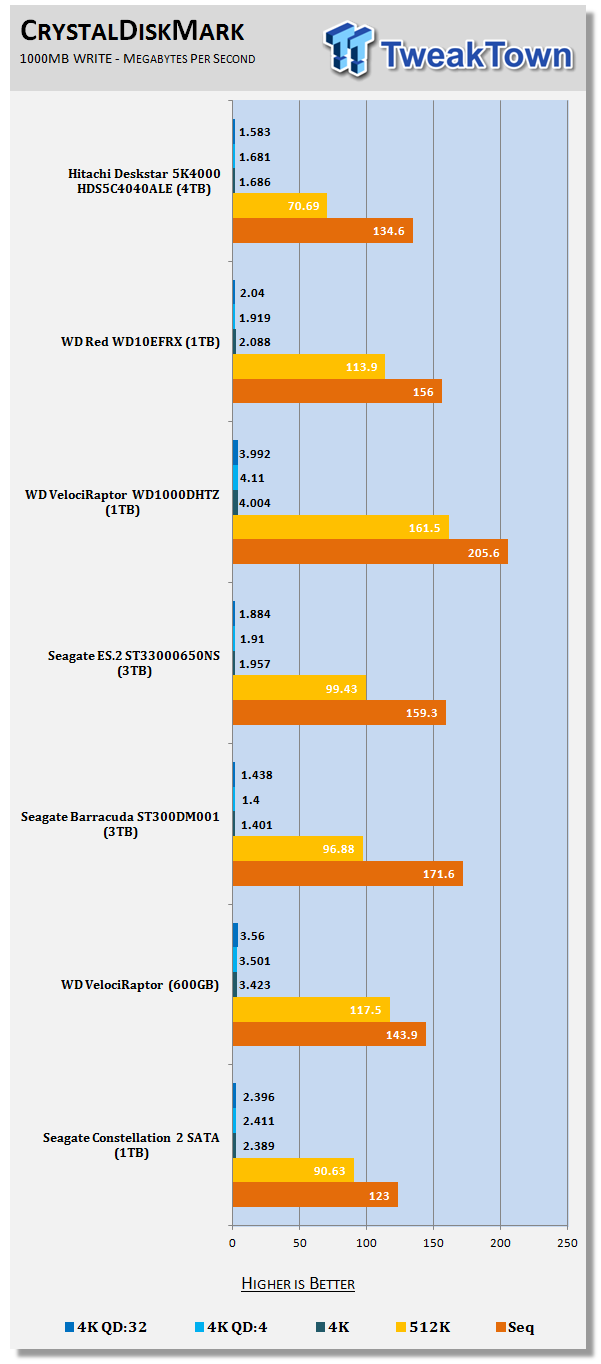 The 32MB of cache seems a little low by today's standards and aids in the 5K4000 delivering low 4K write performance.
Benchmarks - PCMark Vantage Hard Disk Tests
PCMark Vantage - Hard Disk Tests
Version and / or Patch Used: 1.0.0
Developer Homepage: http://www.futuremark.com
Product Homepage: http://www.futuremark.com/benchmarks/pcmark-vantage/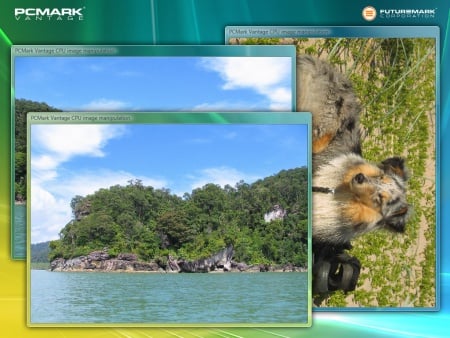 PCMark Vantage is the first objective hardware performance benchmark for PCs running 32 and 64 bit versions of Microsoft Windows Vista. PCMark Vantage is perfectly suited for benchmarking any type of Microsoft Windows Vista PC from multimedia home entertainment systems and laptops to dedicated workstations and high-end gaming rigs. Regardless of whether the benchmarker is an artist or an IT Professional, PCMark Vantage shows the user where their system soars or falls flat, and how to get the most performance possible out of their hardware. PCMark Vantage is easy enough for even the most casual enthusiast to use yet supports in-depth, professional industry grade testing.
FutureMark has developed a good set of hard disk tests for their PCMark Vantage Suite. Windows users can count on Vantage to show them how a drive will perform in normal day to day usage scenarios. For most users these are the tests that matter since many of the old hat ways to measure performance have become ineffective to measure true Windows performance.

HDD1 - Windows Defender
HDD2 - Gaming
HDD3 - Windows Photo Gallery
HDD4 - Vista Startup
HDD5 - Windows Movie Maker
HDD6 - Windows Media Center
HDD7 - Windows Media Player
HDD8 - Application Loading
There is not really much to talk about here. This drive isn't designed for use as the boot drive, but we do get to see a good sequential test. Test six, Windows Media Center is a simulation of importing media files to Windows Media Center.
The 5K4000 performed very well in this area. The drive actually came very close to the performance of the new 1TB VelociRaptor and even outperformed the 600GB VelociRaptor.
Benchmarks - AS SSD
AS SSD Benchmark
Version and / or Patch Used: 1.2.3577.40358
Developer Homepage: Alex Intelligent Software
Product Homepage: Alex Intelligent Software
Download here: http://www.alex-is.de/PHP/fusion/downloads.php?cat_id=4&download_id=9
AS determines the performance of Solid State Drives (SSD). The tool contains four synthetic as well as three practice tests. The synthetic tests are to determine the sequential and random read and write performance of the SSD. These tests are carried out without the use of the operating system caches.
In all synthetic tests the test file size is 1GB. AS can also determine the access time of the SSD, the access of which the drive is determined to read through the entire capacity of the SSD (Full Stroke). The write access test is only to be met with a 1 GB big test file. At the end of the tests three values for the read and write as well as the overall performance will be issued. In addition to the calculated values which are shown in MB/s, they are also represented in IO per seconds (IOPS).
Note: AS SSD is a great benchmark for many tests, but since Crystal Disk Mark covers a broader range of 4K tests and HD Tune Pro covering sequential speeds, we will only use the Copy Benchmark from AS SSD.
- Copy Benchmark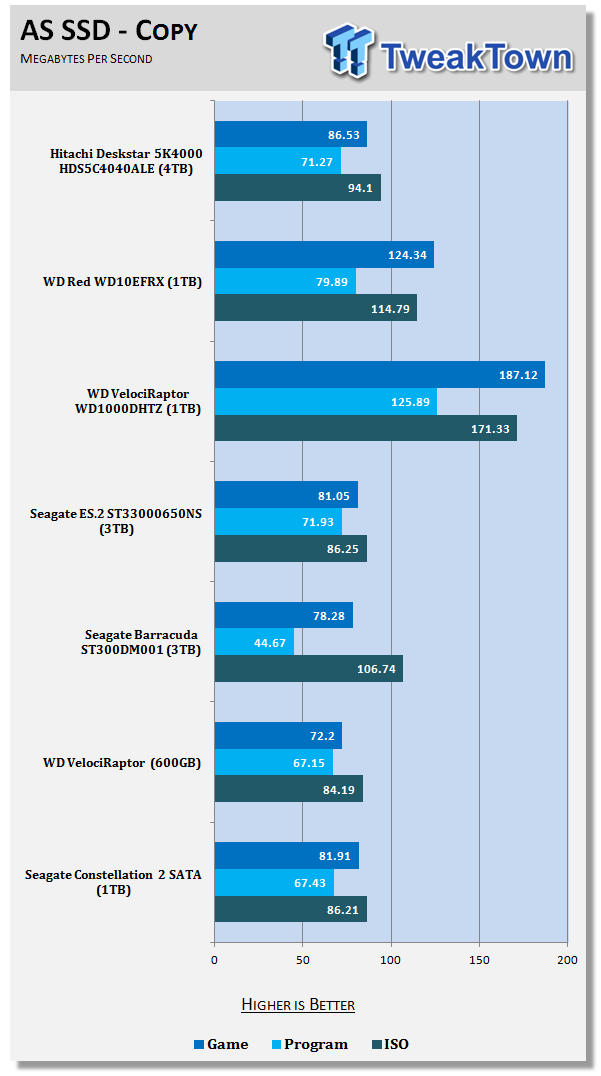 Transferring files from one partition of the drive to another, the simulated test inside AS SSD left us with a desire for more performance when comparing the 5K4000 to the WD Red. When you overlook the Red and 10K RPM Raptor 1TB, the 5K4000 does a good job. Just knowing that the Red does a better job in this test that is very important for storage drives is enough to give us some second thoughts, though. The Red isn't offered in 4TB either, a big plus for the HGST 5K4000.
Benchmarks - Anvil Storage Utilities
Anvil Storage Utilities
Version and / or Patch Used: BETA 11
So what is Anvil Storage Utilities? First of all, it's a storage benchmark for SSDs and HDDs where you can check and monitor your performance. The Standard Storage Benchmark performs a series of tests, you can run a full test or just the read or the write test or you can run a single test, i.e. 4K DQ16.
Anvil Storage Utilities is not officially available yet but we've been playing with the beta for several months now. The author, Anvil on several international forums has been updating the software steadily and is adding new features every couple of months.
The software can be used several different ways and to show different aspects for each drive. We've chosen to use this software to show the performance of a drive with two different data sets. The first is with compressible data and the second data set is incompressible data. Several users have requested this data in our SSD reviews.
Fill Compressible Data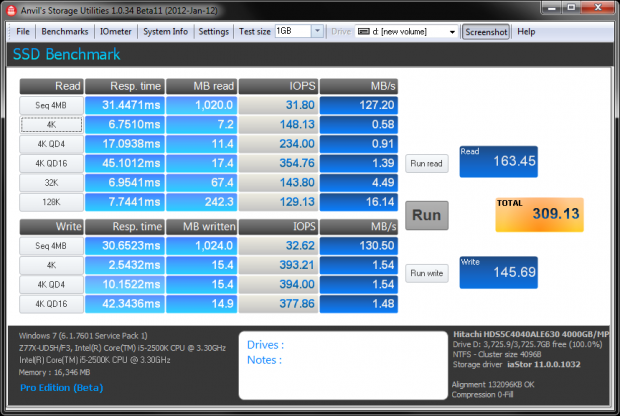 Incompressible Data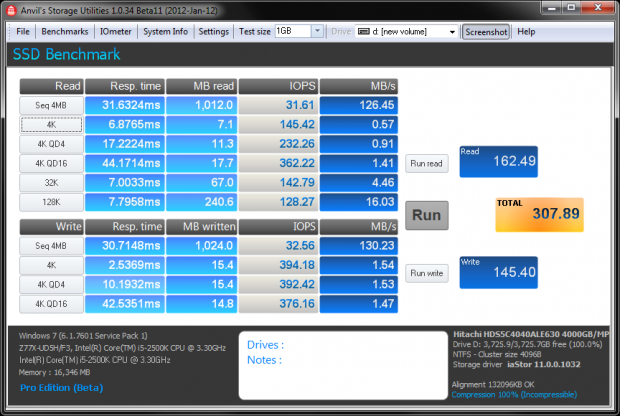 A couple of months ago we started including the Anvil benchmark results in our SSD reviews and thought we'd keep them in our mechanical drive tests as well. We know many of our readers are using this test at home and in the office, but we don't analyze the results at this time.
Benchmarks - Passmark
Passmark Advanced Multi-User Tests
Version and / or Patch Used: 6.1
Developer Homepage: http://www.passmark.com
Test Homepage: http://www.passmark.com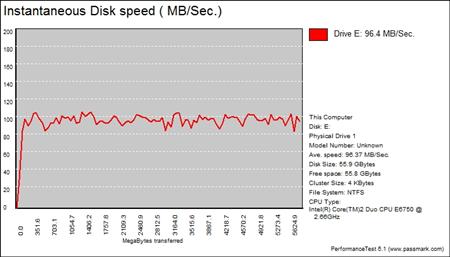 Many users complain that I/O Meter is too complicated of a benchmark to replicate results so my quest to find an alternative was started. Passmark has added several multi-user tests that measure a hard drives ability to operate in a multi-user environment.

The tests use different settings to mimic basic multi-user operations as they would play out on your server. Variances is read / write percentage as well as random / sequential reads are common in certain applications, Web Servers read nearly 100% of the time while Database Servers write a small amount of data.
The Workstation test is the only single user environment and will be similar to how you use your system at home.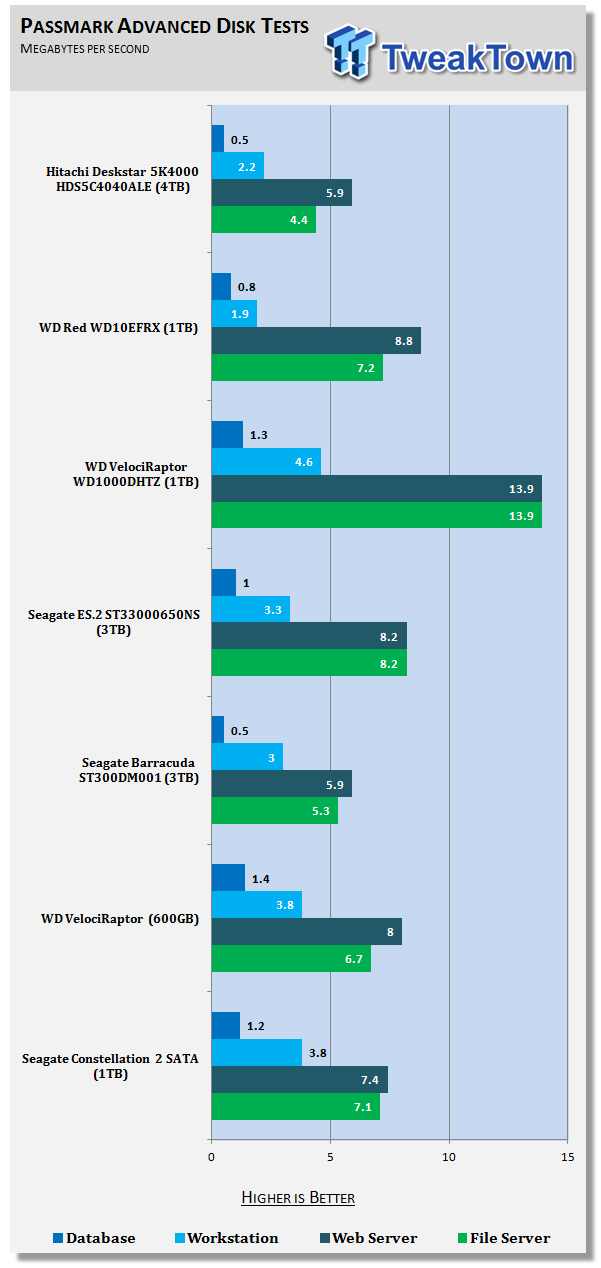 HGST isn't advertising the 5K4000 as an enterprise model, but we still like to run these tests for those who may consider building a massive capacity RAID array for enterprise use.
Final Thoughts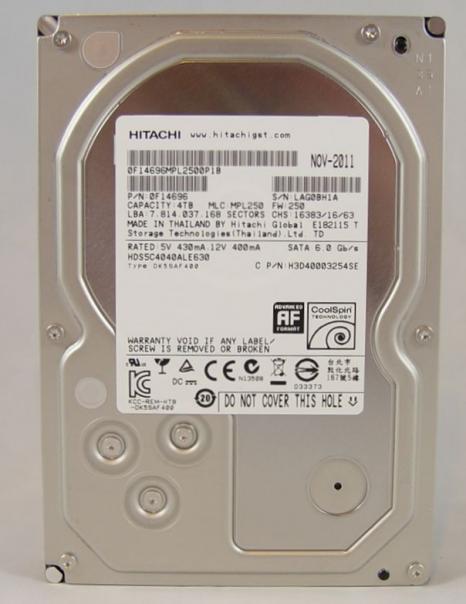 There aren't too many products on the market in the 4TB capacity size. We suspect the mass flooding in Thailand has something to do with this. As far as we can tell only Hitachi and Seagate have 4TB models. Western Digital is still 4TB-less and as for the rest of the HDD markers, they've all been bought or acquired by either Western Digital or Seagate. With that in mind I guess saying that WD is without a 4TB drive because they technically own Hitachi GST now.
At the time of writing the Hitachi GST 5K4000 was quite difficult to find for sale. Newegg only carries the 7K4000 model and only a couple of places even list the 5K4000 as a product in inventory. Even Hitachi GST's own website only lists the 7K4000 as an option. Just to find the 5K4000 we had to search through the site only to find a couple of references to this model.
That leads us to what really counts and the reason this conclusion is going to be so short. Since we found the 7K4000 model with 7,200 RPM platters selling for much less than the 5K4000 with 5,900 RPM platters, we have to recommend you buy the faster drive.
The door should be left open for the 5,900 RPM 5K4000 if you are willing to pay more for a cooler and potentially quieter drive. The 5K4000 is going to be slower across the board though so just save a few dollars and buy the faster drive.
The flooding in Thailand has really flipped the HDD market upside down in some cases and this is one of them. Hopefully things get back to normal soon and we can all enjoy ultra-low cost, high capacity size mechanical drives again.