Introduction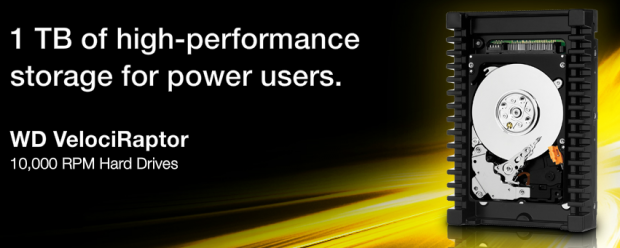 It's no secret that Western Digital's enterprise flagship enthusiast drive has lost a lot of market share to solid state drives. Before consumer SSDs became popular, every enthusiast on the planet was rocking a 10,000 RPM Raptor.
It wasn't uncommon to find several in power user's systems in RAID arrays. When the 300GB model launch I had eight in my main computer, drives that I still have and are still running strong today. Testimonies like that are all over the internet and go to show the longevity this series of products are capable of. When you talk to your grandfather or even your father you might hear them say, "They don't make them like that anymore", well Western Digital still do.
The new Western Digital VelociRaptor might be slower compared to the latest crop of SSDs, but it still has a lot going for it. The first is it's based on proven technology. When was the last time you had to flash your mechanical HDDs firmware just to keep it from blue screening? Users that keep a lot of data on their boot drive also favor spinners because they offer much more capacity over equally priced SSDs. The cost per GB of space is much lower, even for a flagship VelociRaptor drive.
Western Digital recently launched three new models that make up the latest generation of VelociRaptors. The capacity sizes are 250GB, 500GB and the first 1TB model to take on this namesake. All three models use 10,000 RPM platters and that is what gives this family low latency.
Today we're looking at the largest model in the family, the 1TB model.
Specifications, Pricing and Availability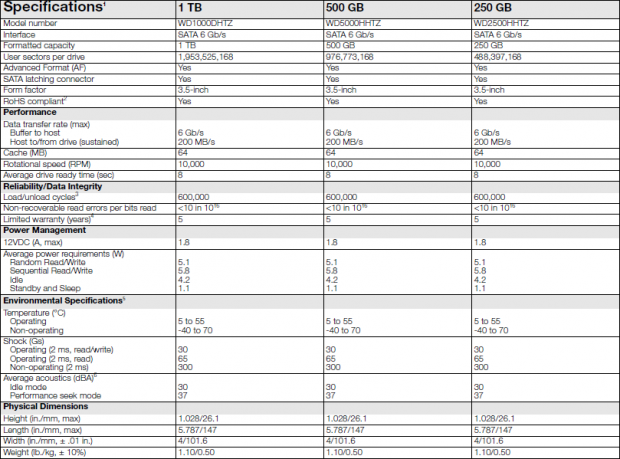 With three new models already shipping Western Digital is making one last push with a pure mechanical HDD for enthusiasts.
We've read reports of Western Digital experimenting with hybrid storage behind the scenes, but Western Digital didn't enter that market with this release. What they did do is increase the cache to 64MB, a large amount even by today's standards. The SATA interface is also 6Gbps, something that helps increase the performance of small cache hits.
Newegg already lists the new models as available on their site. The 1TB model we are looking at today sells for $329.99, the 500GB model for $229.99 and the 256GB model for $169.99.
Western Digital pairs these drives with a full five year warranty which is in line with enterprise specific products. This is a big selling point as mechanical drive makers have moved warranty lengths for consumer products down to an average of one to two years.
Western Digital VelociRaptor 1TB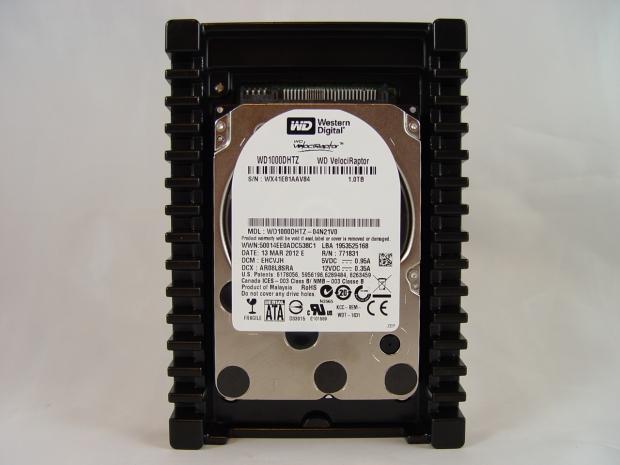 Western Digital ships their review samples in OEM packaging so we don't have the retail package to show today.
The latest VelociRaptor retains the 2.5" form factor for the actual drive. Western Digital has used this method for several years now with this product line. The outside case acts as a heatsink to keep the 10,000 RPM drive cool while at the same time gives the drive a 3.5" form factor.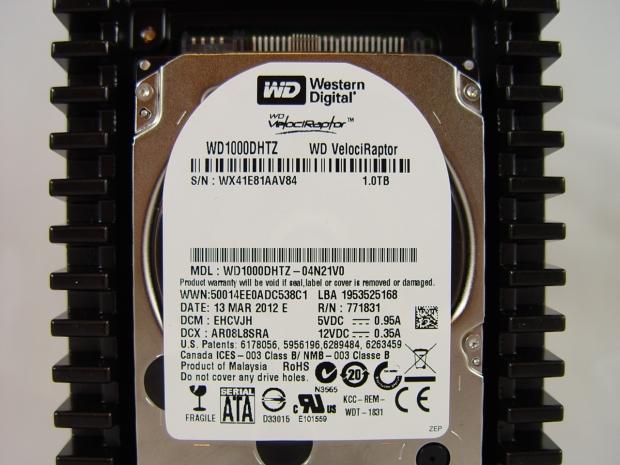 Western Digital usually releases an enterprise model after the consumer release. The enterprise model does not ship with the extra case. From time to time these show up on Newegg, but if you are not running a computer case with a lot of cooling, you are much better off with the consumer model.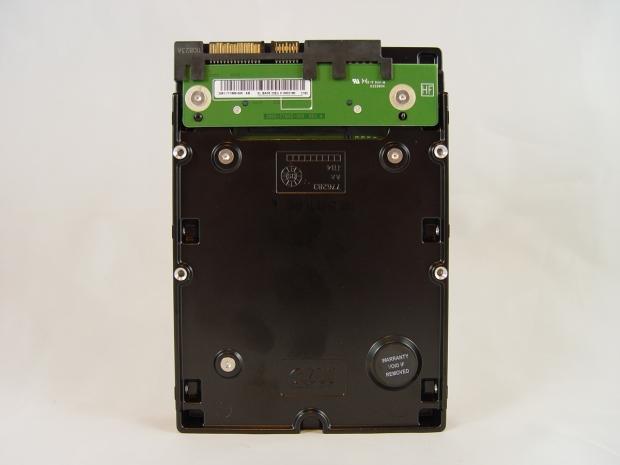 The mounting points on the bottom and sides are where they should be and conform to the 3.5" form factor standards.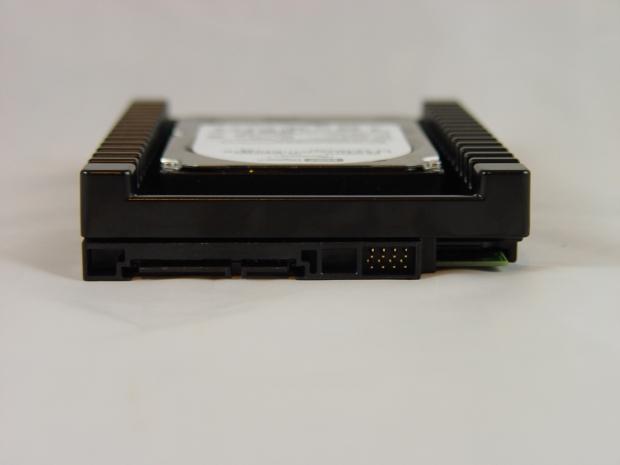 The SATA power and data ports are also offset to the left where they should be.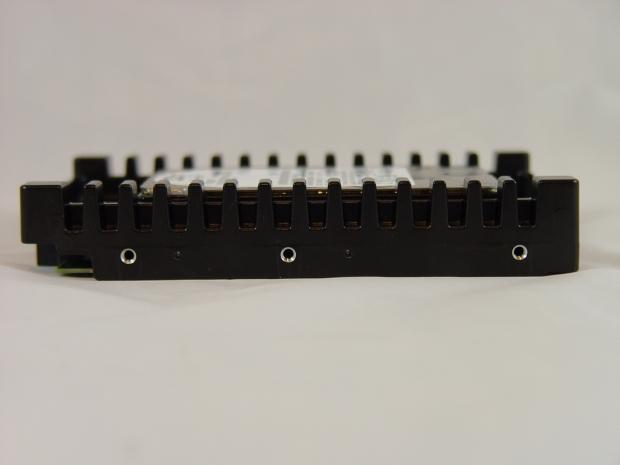 On the side we get a good look at the cooling fins that keep the drive cool.
Benchmarks - Test System Setup and ATTO Baseline Performance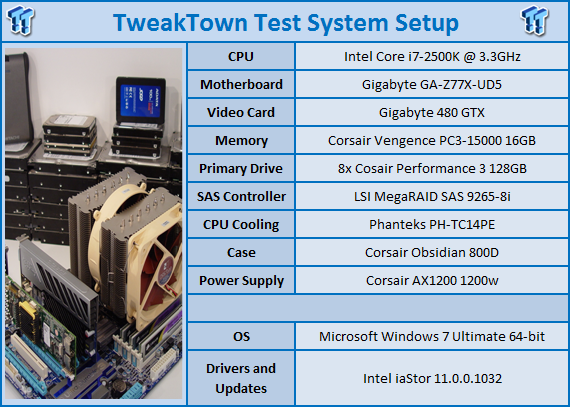 We would like to thank the following companies for supplying and supporting us with our test system hardware and equipment: AVADirect, GIGABYTE, LSI, Corsair and Noctua.
You can read more about TweakTown's Storage Product Testing Workstation and the procedures followed to test products in this article.
ATTO Baseline Performance
Version and / or Patch Used: 2.34
ATTO is used by many disk manufacturers to determine the read and write speeds that will be presented to customers.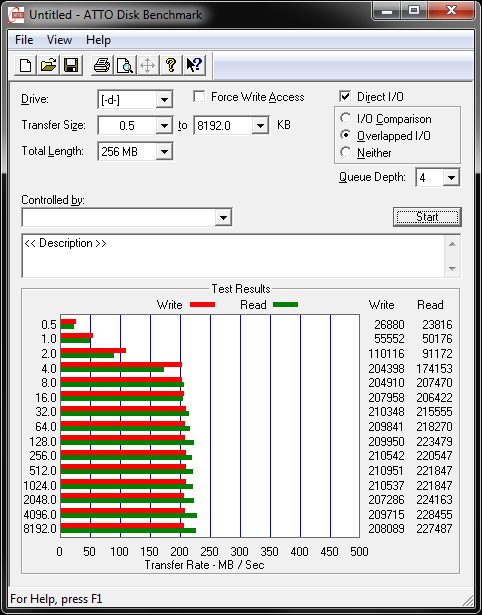 Western Digital claims a read/write speed of 200MB/s, but they are shorting themselves. In our testing we nearly achieved 230MB/s read and around 210MB/s write speeds.
It's always nice to see better performance than what's listed on the spec sheet.
Benchmarks - HD Tune Pro
HD Tune Pro
Version and / or Patch Used: 4.00
Developer Homepage: http://www.efdsoftware.com
Product Homepage: http://www.hdtune.com
HD Tune is a Hard Disk utility which has the following functions:
Benchmark: measures the performance
Info: shows detailed information
Health: checks the health status by using SMART
Error Scan: scans the surface for errors
Temperature display
HD Tune Pro gives us accurate read, write and access time results and for the last couple of years has been gaining popularity amongst reviewers. It is now considered a must have application for storage device testing.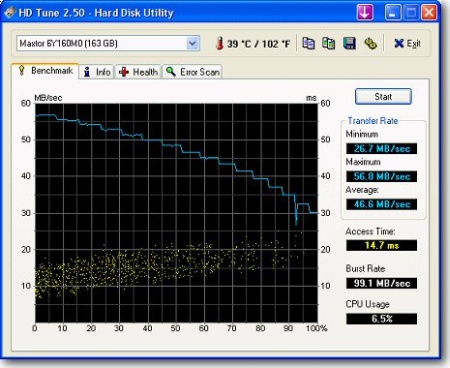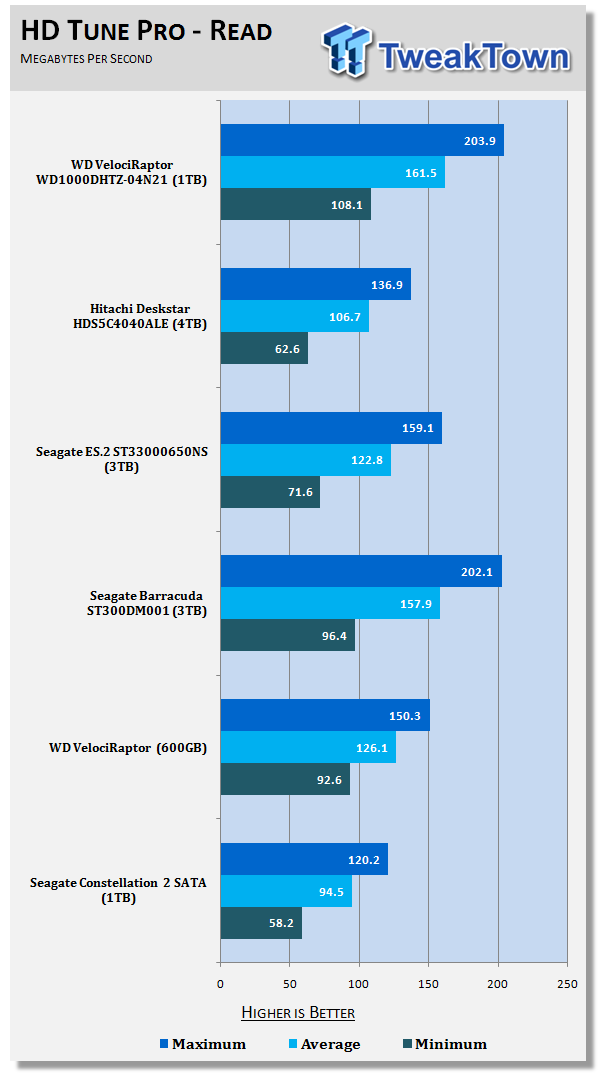 When going back to find products we have on hand to compare to the WD VelociRaptor I was surprised to see how thin our portfolio was. Still, we have some very good products on hand to give the Raptor a run for the benchmark crown.
The newest entry to the Raptor family is a very good performer and the first mechanical drive we've ever tested that doesn't dip below 100MB/s in the sequential read and write test.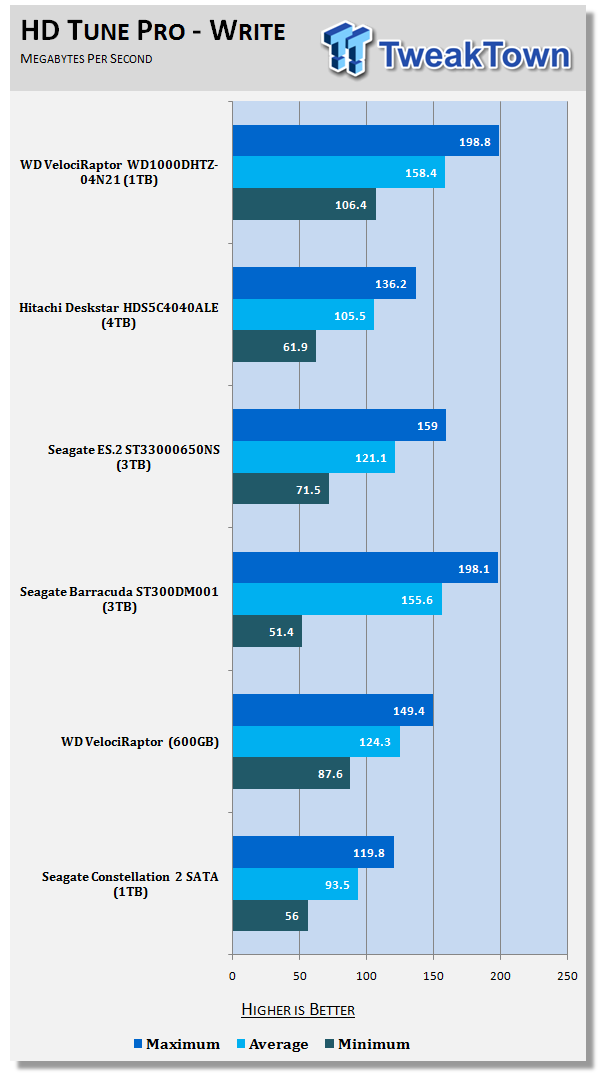 The writes and reads nearly mimic each other in HD Tune Pro and also HD Tach.
Benchmarks - AIDA64 Random Access Time
AIDA64 Random Access Time
Version and / or Patch Used: 1.60
Developer Homepage: http://www.aida64.com
Product Homepage: http://www.aida64.com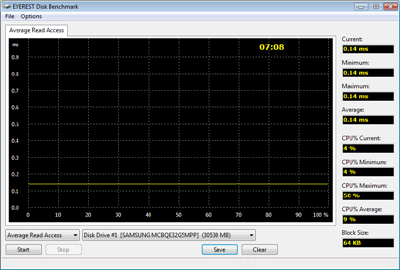 AIDA64 offers several different benchmarks for testing and optimizing your system or network. The Random Access test is one of very few if not only that will measure hard drives random access times in hundredths of milliseconds as oppose to tens of milliseconds.
Drives with only one or two tests displayed in the write test mean that they have failed the test and their Maximum and possibly their Average Scores were very high after the cache fills. This usually happens only with controllers manufactured by JMicron and Toshiba.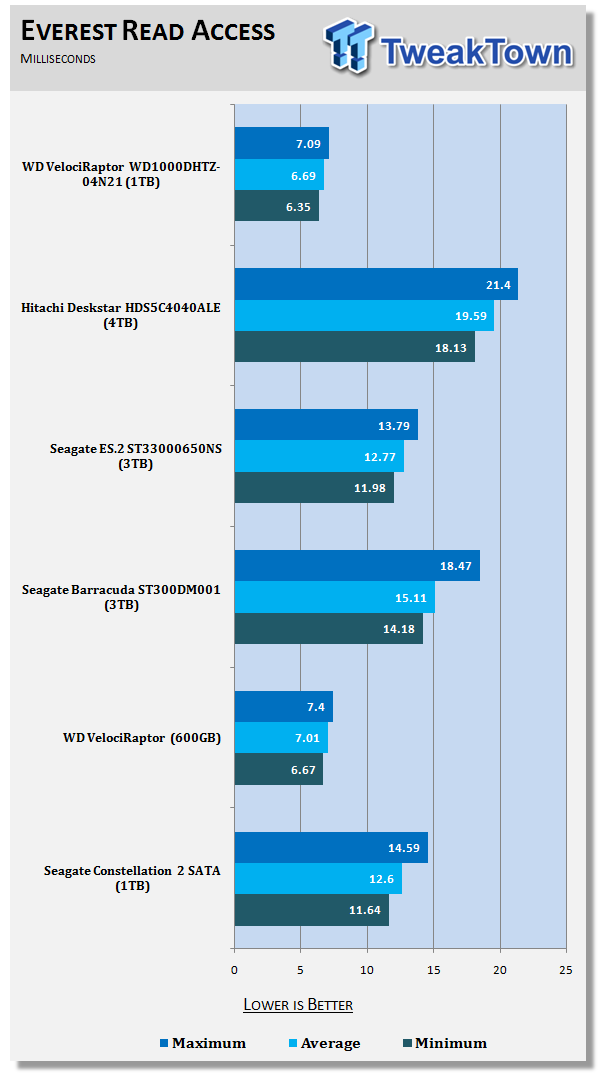 If you've ever wondered why 10K platters are important and what they do for your user experience this chart makes it very clear. User experience starts and ends with access times. No one likes to wait for a folder, program or anything else to open after you double click on it. The lower the access time, the faster you get a response. The higher the spindle speed, the lower the delay.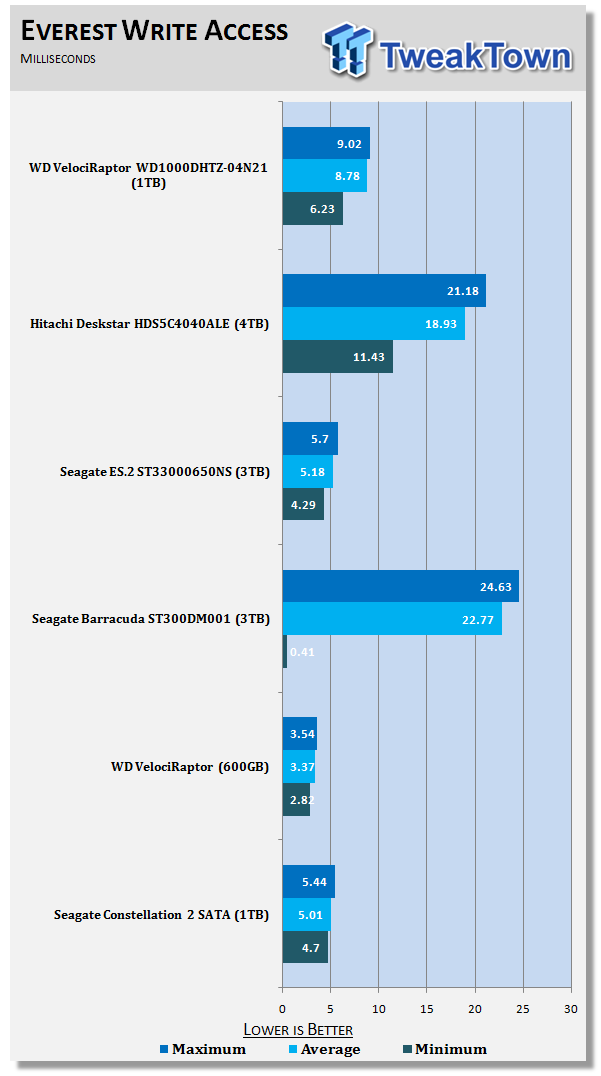 Write access times are a combination of platter speed and DRAM buffer optimization. The new 1TB model is actually a little slower than the older 600GB model in this test. Most likely some changes were made to the algorithms that control the DRAM.
Benchmarks - CrystalDiskMark
CrystalDiskMark
Version and / or Patch Used: 3.0 Technical Preview
Developer Homepage: http://crystalmark.info
Product Homepage: http://crystalmark.info/software/CrystalDiskMark/index-e.html
Download here: http://crystaldew.info/category/software/crystaldiskmark
CrystalDiskMark is a disk benchmark software that allows us to benchmark 4K and 4K queue depths with accuracy.
Key Features:-
* Sequential reads/writes
* Random 4KB/512KB reads/writes
* Text copy
* Change dialog design
* internationalization (i18n)
Note: Crystal Disk Mark 3.0 Technical Preview was used for these tests since it offers the ability to measure native command queuing at 4 and 32.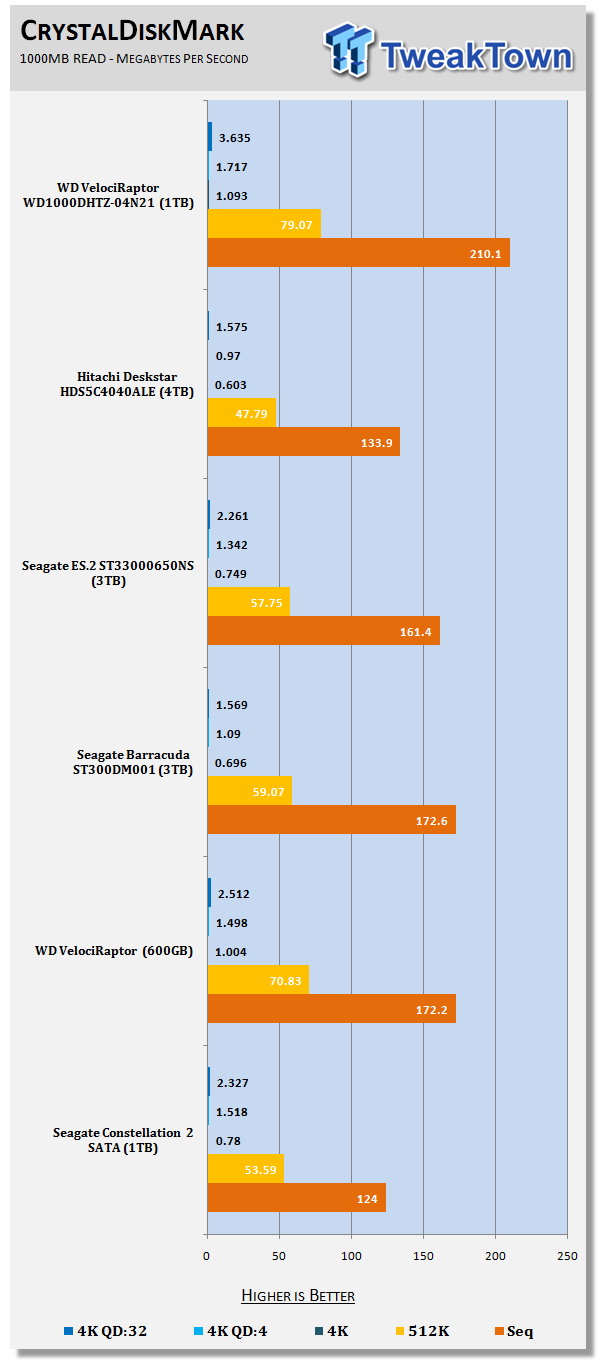 Here we are looking at native command queuing performance. The VelociRaptor 1TB scales well as the read commands are stacked up. We see a nice progression from 1.1MB/s to just over 3.5MB/s.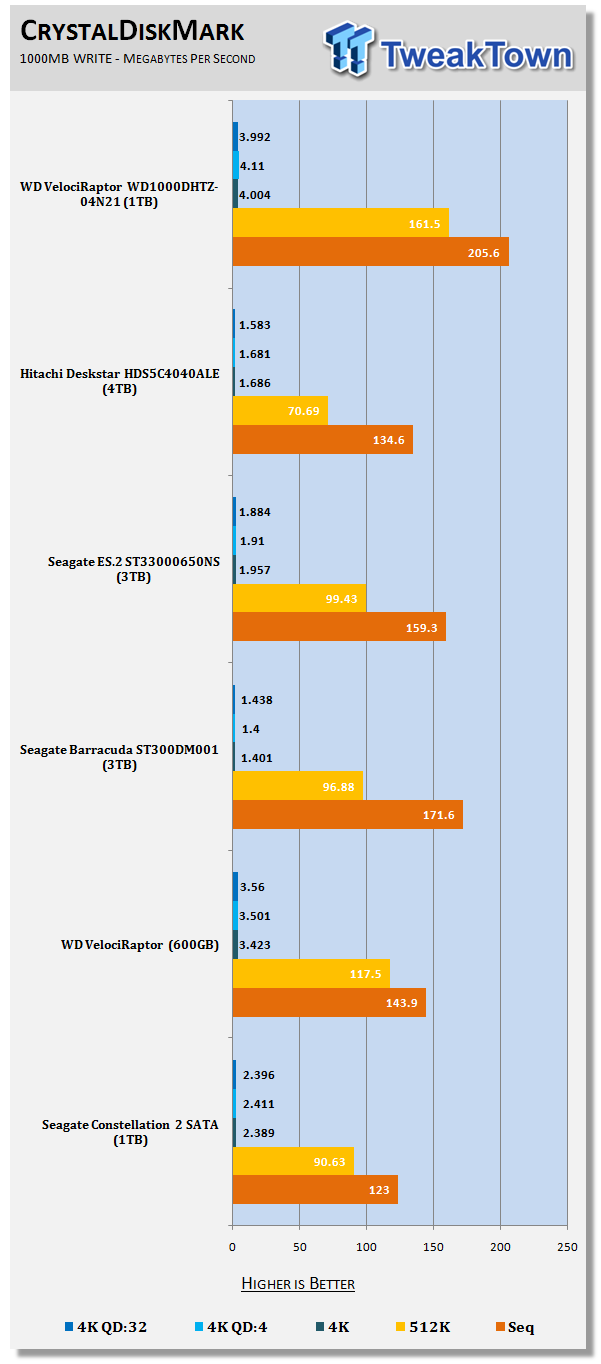 The NCQ write performance was a little different. It appears that the 1TB model doesn't scale when writing data, at least not in the 4K space.
Benchmarks - PCMark Vantage Hard Disk Tests
PCMark Vantage - Hard Disk Tests
Version and / or Patch Used: 1.0.0
Developer Homepage: http://www.futuremark.com
Product Homepage: http://www.futuremark.com/benchmarks/pcmark-vantage/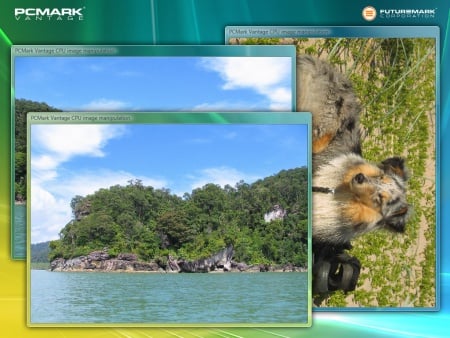 PCMark Vantage is the first objective hardware performance benchmark for PCs running 32 and 64 bit versions of Microsoft Windows Vista. PCMark Vantage is perfectly suited for benchmarking any type of Microsoft Windows Vista PC from multimedia home entertainment systems and laptops to dedicated workstations and high-end gaming rigs. Regardless of whether the benchmarker is an artist or an IT Professional, PCMark Vantage shows the user where their system soars or falls flat, and how to get the most performance possible out of their hardware. PCMark Vantage is easy enough for even the most casual enthusiast to use yet supports in-depth, professional industry grade testing.
FutureMark has developed a good set of hard disk tests for their PCMark Vantage Suite. Windows users can count on Vantage to show them how a drive will perform in normal day to day usage scenarios. For most users these are the tests that matter since many of the old hat ways to measure performance have become ineffective to measure true Windows performance.

HDD1 - Windows Defender
HDD2 - Gaming
HDD3 - Windows Photo Gallery
HDD4 - Vista Startup
HDD5 - Windows Movie Maker
HDD6 - Windows Media Center
HDD7 - Windows Media Player
HDD8 - Application Loading
The new 1TB VelociRaptor walks all over the competition with its increased platter density and high rotational speed on our real-world tests.
Benchmarks - AS SSD
AS SSD Benchmark
Version and / or Patch Used: 1.2.3577.40358
Developer Homepage: Alex Intelligent Software
Product Homepage: Alex Intelligent Software
Download here: http://www.alex-is.de/PHP/fusion/downloads.php?cat_id=4&download_id=9
AS determines the performance of Solid State Drives (SSD). The tool contains four synthetic as well as three practice tests. The synthetic tests are to determine the sequential and random read and write performance of the SSD. These tests are carried out without the use of the operating system caches.
In all synthetic tests the test file size is 1GB. AS can also determine the access time of the SSD, the access of which the drive is determined to read through the entire capacity of the SSD (Full Stroke). The write access test is only to be met with a 1 GB big test file. At the end of the tests three values for the read and write as well as the overall performance will be issued. In addition to the calculated values which are shown in MB/s, they are also represented in IO per seconds (IOPS).
Note: AS SSD is a great benchmark for many tests, but since Crystal Disk Mark covers a broader range of 4K tests and HD Tune Pro covering sequential speeds, we will only use the Copy Benchmark from AS SSD.
- Copy Benchmark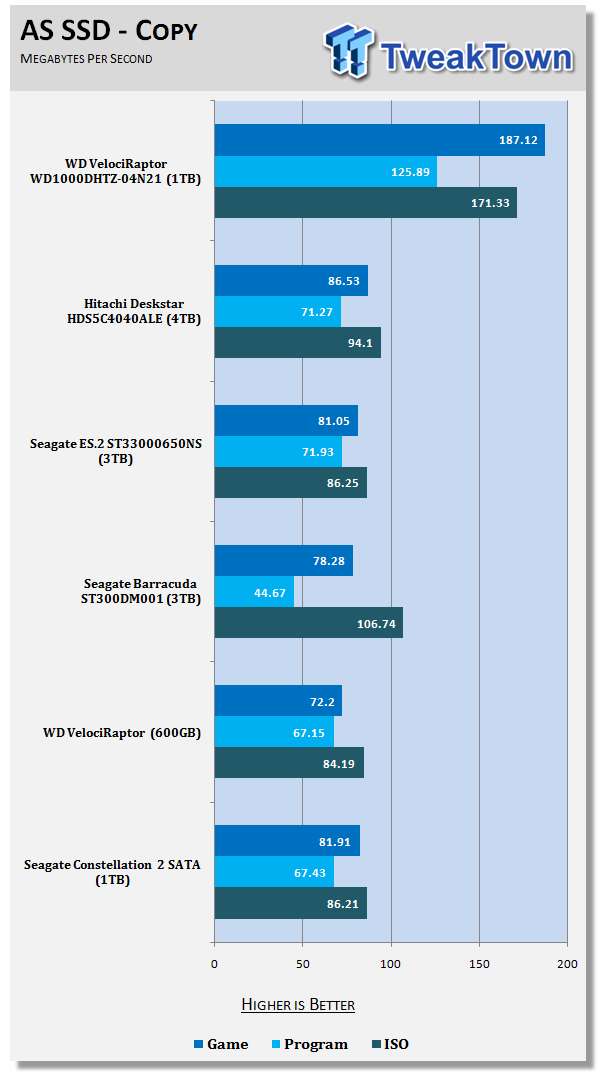 The increased size of the DRAM buffer has really turned the VelociRaptor into a rocket ship when transferring files. The VelociRaptor 1TB is just as fast as many of the industry leading SSDs in this task.
Benchmarks - Anvil Storage Utilities
Anvil Storage Utilities
Version and / or Patch Used: BETA 11
So what is Anvil Storage Utilities? First of all, it's a storage benchmark for SSDs and HDDs where you can check and monitor your performance. The Standard Storage Benchmark performs a series of tests, you can run a full test or just the read or the write test or you can run a single test, i.e. 4K DQ16.
Anvil Storage Utilities is not officially available yet but we've been playing with the beta for several months now. The author, Anvil on several international forums has been updating the software steadily and is adding new features every couple of months.
The software can be used several different ways and to show different aspects for each drive. We've chosen to use this software to show the performance of a drive with two different data sets. The first is with compressible data and the second data set is incompressible data. Several users have requested this data in our SSD reviews.
Fill Compressible Data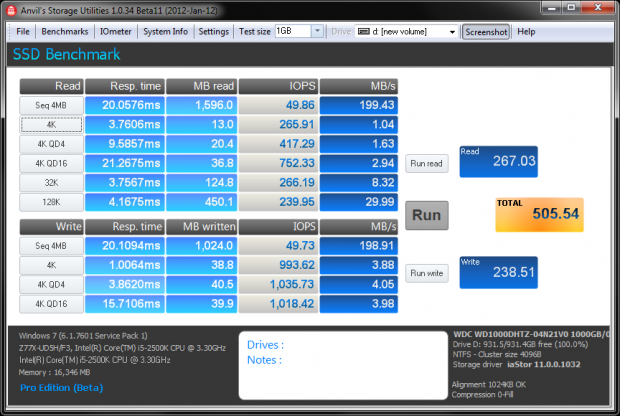 Incompressible Data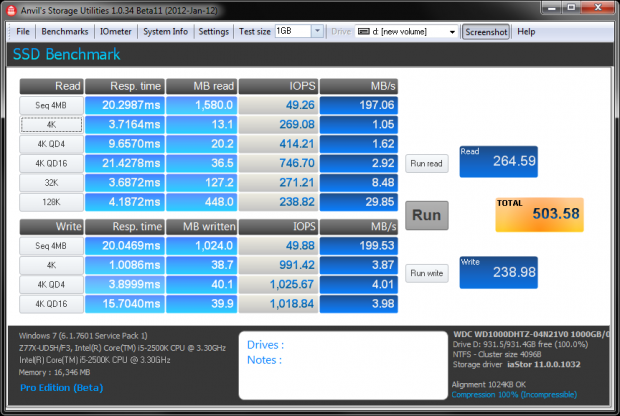 You asked for it and we delivered it, Anvil Storage Utilities benchmarks are now on TweakTown.
The Western Digital VelociRaptor 1TB does not slow down when changing the workload from compressible to incompressible data. The drive doesn't care what type of data you're working with.
Benchmarks - Passmark
Passmark Advanced Multi-User Tests
Version and / or Patch Used: 6.1
Developer Homepage: http://www.passmark.com
Test Homepage: http://www.passmark.com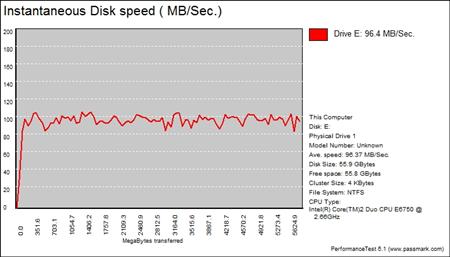 Many users complain that I/O Meter is too complicated of a benchmark to replicate results so my quest to find an alternative was started. Passmark has added several multi-user tests that measure a hard drives ability to operate in a multi-user environment.

The tests use different settings to mimic basic multi-user operations as they would play out on your server. Variances is read / write percentage as well as random / sequential reads are common in certain applications, Web Servers read nearly 100% of the time while Database Servers write a small amount of data.
The Workstation test is the only single user environment and will be similar to how you use your system at home.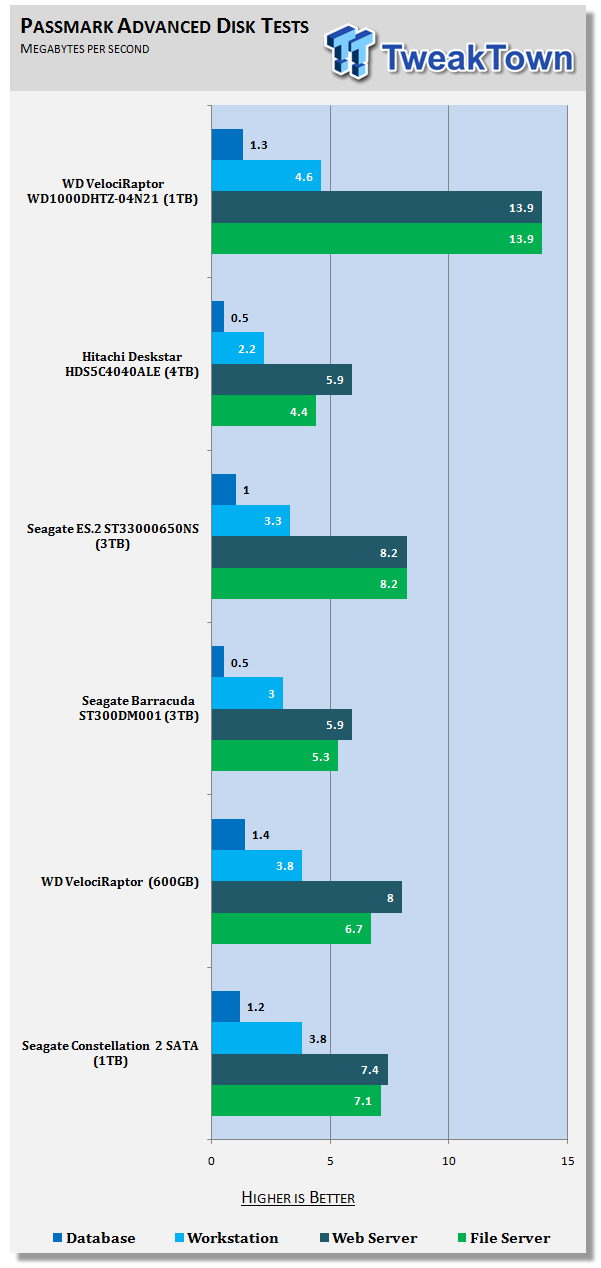 The latest Raptor makes quick work of our enterprise tests and I can't wait to see the enterprise version on Paul's test bench and an in-depth report on the enterprise capabilities of this very fast product.
Final Thoughts
Western Digital's VelociRaptor is the fastest consumer mechanical HDD on the market. This isn't surprising since every time WD revamps this product it easily takes this title. The problem is this giant SSD cloud over head. It rains on the enthusiasm of any mechanical drive release. In years past we could still get excited about a new Raptor. The performance is always class leading, the reliability is always better than anyone could expect and the retail price always drops rapidly under the MSRP. All of those things are or will be true again, but instead of seeing the VelociRaptor in a shiny light, the halo has faded. It's kind of like seeing a boxer who is still the best, but in his age group or something my kids will understand, seeing Hulk Hogan still in the wrestling ring at age 60. Hogan still amazes the crowd and is the best entertainer for his market, but he's lost some of his popularity to new opponents.
All is not lost and the VelociRaptor should live on. We keep hearing about Western Digital working on hybrid drives, a mix between mechanical capacity and solid state performance. WD didn't pull out the hybrid card this round, but maybe with the next release we'll see a hybrid Raptor. That doesn't mean you can't take advantage of other hybrid solutions already on the market with the VelociRaptor, though. The Western Digital VelociRaptor 1TB is the ultimate HDD for use in an Intel's Smart Response Technology or NVELO's Dataplex.
At the time of writing the new 250GB VRaptor lists at Newegg for $169.99, the 500GB model for $229.99 and the 1TB model we reviewed today for $329.99. We expect the 1TB drive to reach the $299 market in the next month or two which will help, but with SSDS reaching $1 per GB, the VelociRaptor makes a much better candidate for tiered storage than it does a boot drive. Many users are starting to use tiered storage in their desktops with Windows installed on the boot drive and programs and storage residing on the D drive. Once again, the VelociRaptor is the best mechanical drive for that secondary drive, but at that point you have a smaller SSD paired with a much larger HDD. Many users will opt for pooling their money of both products and just buy a larger SSD and if they add a little more, a 512GB SSD is a real possibility.
The new Western Digital VelociRaptor is still the best in the class, but the class has lost favor with enthusiasts who make up the majority of buyers.