The Blues Brothers (1980) Blu-ray Movie Review
"We're on a mission from God."

Published
3 minutes & 36 seconds read time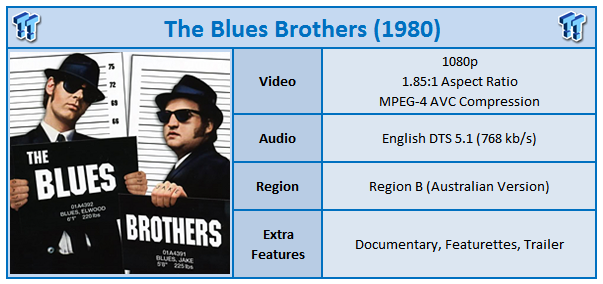 To fulfill a promise, when 'Juliet' Jake Blues (John Belushi) is released from prison into and reunited with his brother Elwood Blues (Dan Aykroyd), he returns to the orphanage he grew up in to see Sister Mary Stigmata, his regimented mother figure. When she announces that the orphanage has been threatened with foreclosure, Jake proposes reuniting the rhythm and blues band "The Blues Brothers", which landed him in prison in the first place, to stage a reunion concert in order to raise the funds. The duo rapidly make enemies everywhere they travel, with Nazis, police, musos and the State Guard all hot on their heels, threatening their ability to even make it to the show.
Initially hailing from a recurring Saturday Night Live skit, The Blues Brothers is a rollicking fun ride, with an appropriately grungy and bad ass soundtrack. The cast, including Carrie Fisher as the psychotic jilted ex-fiancee, are top notch. Above all, it's a fantastic remembrance of the immense talent of John Belushi, who tragically died of a drug overdose a year after the film's release.
The Blues Brothers has aged in many respects, but in the films humor and attitude, it hasn't aged a day. Younger audiences might be turned off by the film's title, or a dislike of blues music, but out of all the times I've recommended the film, I've never heard of a disappointment.
Useless trivia: For 18 years, the film held the Guinness Book of Records award for the most vehicles trashed in a feature film, until the films sequel stole the award.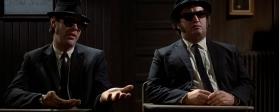 Video
The Blues Brothers is presented in the film's original aspect ratio of 1.85:1, encoded with AVC compression.
By design (and budgetary constraints), The Blues Brothers has always had a dark and gritty feel to the transfer and Universal have clearly walked a fine line in honoring this look whilst preparing a new minted transfer.
The image is clear and relatively sharp, although some scenes are noticeably softer, which is ever so slightly distracting. Colour balance is very good and exhibits a nice black level which is thankfully not crushed.
Film grain is quite strong, and thankfully Universal has resisted the temptation to dial it down with digital noise reduction. Note that this is due the film's original production and not a reflection on the restoration.
From the opening reel, the transfer suffers from noticeable telecine wobble, but it's generally only noticeable during moments with on screen text and subtitles. How they can't keep the film stable during transfer is beyond me.
Utilizing seamless branching, Universal offer two versions of the film on the same disc, as with the previous DVD release. In high definition, the alternative scenes which make up the longer cut stick out like a sore thumb, exhibiting higher contrast and a noticeable brighter tone.
Overall, a very pleasing result of some difficult production materials.
[img]2[/img]
Audio
The Blues Brothers is presented in DTS encoded at 768 kb/s.
First up, yes, you read that right. Universal have moved from convention and supplied only a lossy audio track for the film. With the film's reliance on music numbers to say this an immense disappointment is an understatement and a head scratcher to boot. Universal have never commented on why this has occurred, especially in light of their reliable use of lossless audio in the past. Perhaps, it was due to not licensing lossless versions of the music included in the film, or perhaps there was not even disc space left. In that event, it would have been preferable to eschew the use of seamless branching.
Despite this,The Blues Brothers sounds pretty damn good. Naturally as the songs were recorded over thirty years ago, some tininess is to be expected, but the audio mixers have done a truly amazing job at making the film sound so alive. There is some great use of subtle split surrounds and the rears come to life at appropriate moments throughout.
Whilst the LFE track is a little indistinct, it bellows strongly when called upon, supporting the numerous crashes and explosions scattered throughout.
Whilst it's disappointing that we may never have the film with a lossless audio track, this is still a pretty fantastic track at the same time.
[img]3[/img]
Extras
Whilst Universal have not produced any new special features for The Blues Brothers, they have retained all the previously produced extra features from the 25th Anniversary DVD.
First up is the nearly hour long documentary The Stories Behind the Making of the Blues Brothers, which is brimming with original on-set footage, newly produced interviews (circa 2000) and a great retrospective on John Belushi. Included is a touching moment where Dan Aykroyd recounts when Belushi went missing from the set, only to be found in a strangers housing, having crashed on the couch after helping himself to a sandwich and a drink. A must watch for fans. A side note; to add insult to injury, the documentary is encoded in lossless DTS-HD audio. Sigh.
Next up are two shorter featurettes; Transposing the music, a 15 minute short which focuses a little more on the music than the aforementioned documentary, and Remembering John prominently features Belushi's widow to give a somber, yet upbeat memory of the man.
Finally, we have the Original Theatrical trailer in standard definition.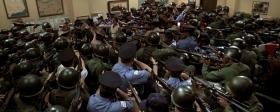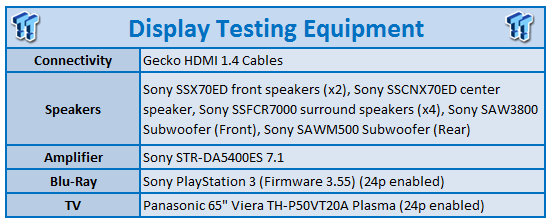 PRICING: You can find products similar to this one for sale below.

United States: Find other tech and computer products like this over at Amazon.com

United Kingdom: Find other tech and computer products like this over at Amazon.co.uk

Australia: Find other tech and computer products like this over at Amazon.com.au

Canada: Find other tech and computer products like this over at Amazon.ca

Deutschland: Finde andere Technik- und Computerprodukte wie dieses auf Amazon.de
We openly invite the companies who provide us with review samples / who are mentioned or discussed to express their opinion. If any company representative wishes to respond, we will publish the response here. Please contact us if you wish to respond.