Introduction and Specifications, Availability and Pricing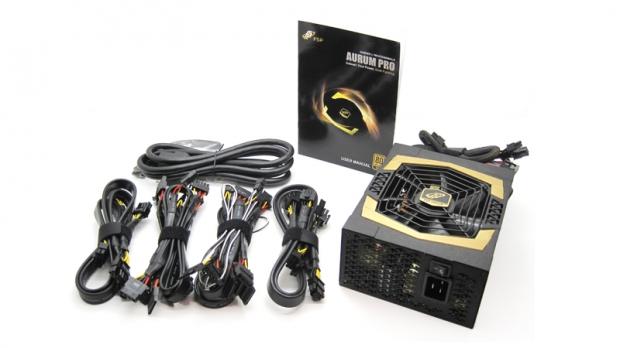 A year ago, we looked at a power supply from a manufacturer most weren't familiar with. The model was an Aurum Gold AU-700 and the company is FSP.
Fortron Source is better known in Europe and Asia and they're quite large with OEMs as well. In most cases you're much more familiar with products branded from another, but manufactured by FSP. FSP has been making a push in the US with units branded under their own name.
Today we're having a look at one such product, the Aurum Pro Gold 1200-watt PSU.
This time around our FSP sample is meant to power some serious hardware. It offers several changes and improvements over the last FSP unit we looked at which faired very well, but was designed for less demanding users.
FSP has added modular cabling to the new product line as well as a few ports dedicated for fans. Did FSP pair these features with the same performance we saw from the AU-700? Let's start digging into the FSP Aurum Pro 1200W and find out.
Specifications, Availability and Pricing

Other than a large increase in total power provided by the FSP AU-1200PRO, you will notice several changes from the previously reviewed model. The most obvious is the AU-1200PRO now uses a single 12V instead of their previous quad-rail design. Both the 3.3V and 5V rails are rated for 25A each with a combined max output of 160W. The single 12V rail is rated for 100A and it capable of delivering 100% of the power supply's total output. The 5VSB rail is rated for a total of 3A.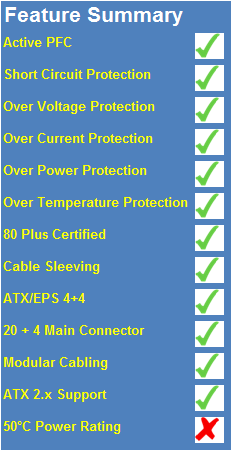 Just as before, the FSP AU-1200PRO has all the protections we look for including OVP, OCP, OTP and more. Another of the big changes is the inclusion of modular cabling. The unit still has a few native cables, but all cables are fully sleeved, which is a nice add-on. The AU-1200PRO is rated for 80PLUS Gold efficiency, but does not have a 50C power rating. It is, however, rated for 100% continuous output at 40C.
FSP has an MSRP of $249.99 on the AU-1200PRO 1200W unit. We were able to find it at Newegg for $224.98 at the time of writing this article, after shipping and a $10 MIR. That makes it a very competitively priced unit in the 1200W-1300W category. FSP backs their AU-1200PRO with their customary five year warranty, too.
The Packaging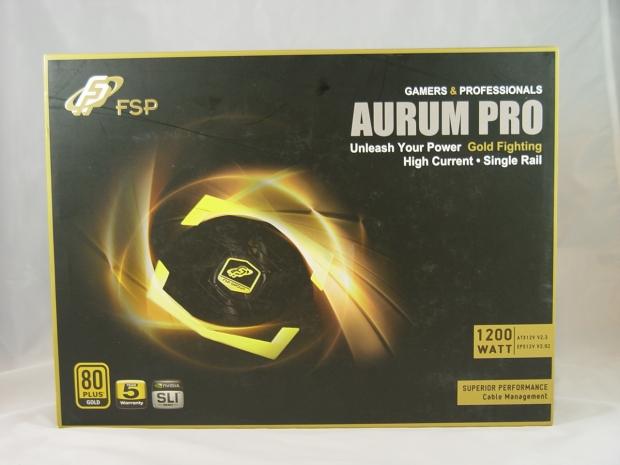 Little has changed with FSP's packaging and they do a good job highlighting some of the features of the unit on the front of the box. We still aren't quite sure what the "Gold Fighting" line is about, other than the unit being rated for 80Plus Gold efficiency.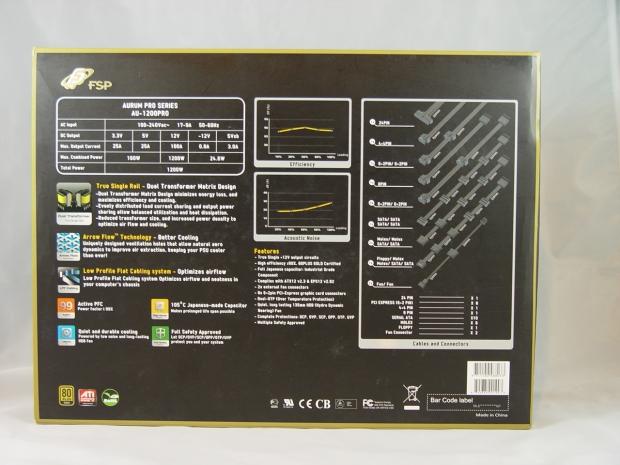 The back is packed full of great information. I/O specifications, noise, features, cable length, connector availability and more are all here.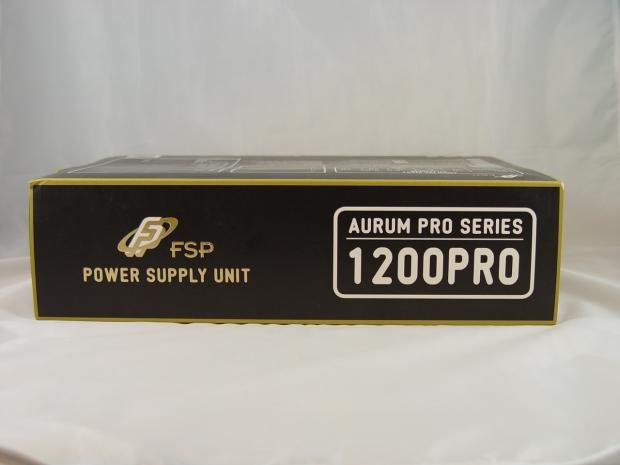 No useful information on the top of the box.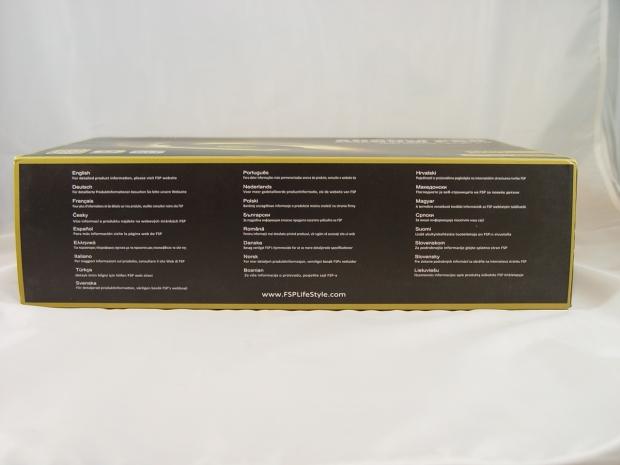 The bottom simply directs you toward their website in about 25 different languages.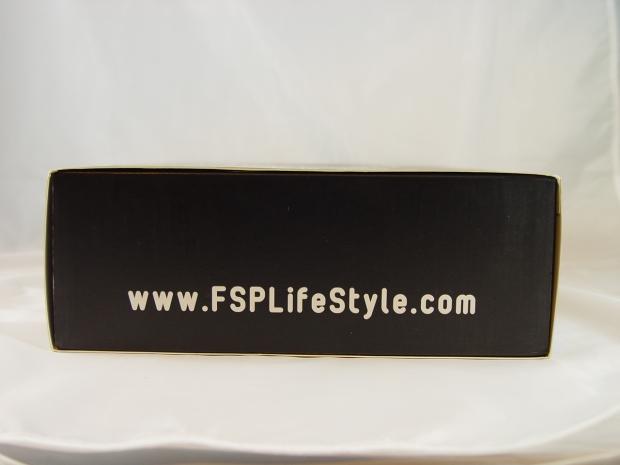 Both sides display nothing more than their website.
Inside the Box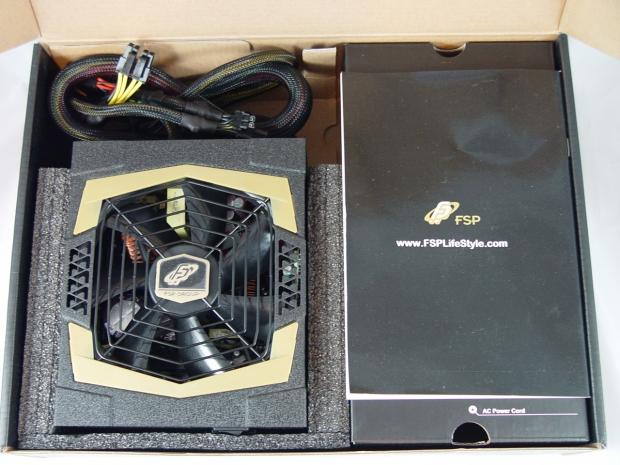 FSP does a great job of packing the unit as it is padded on all sides.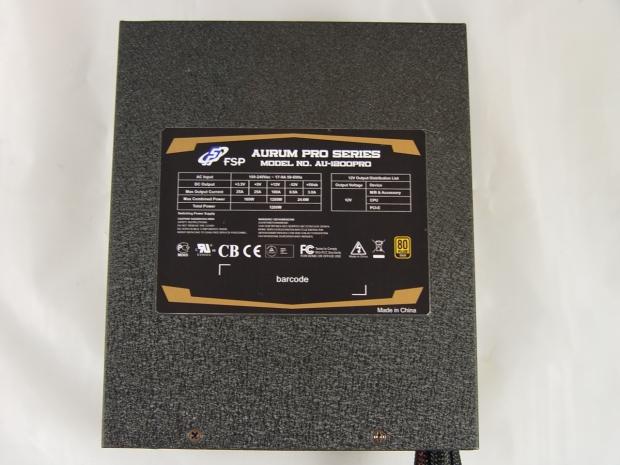 The I/O specification label can be found on the top of the unit.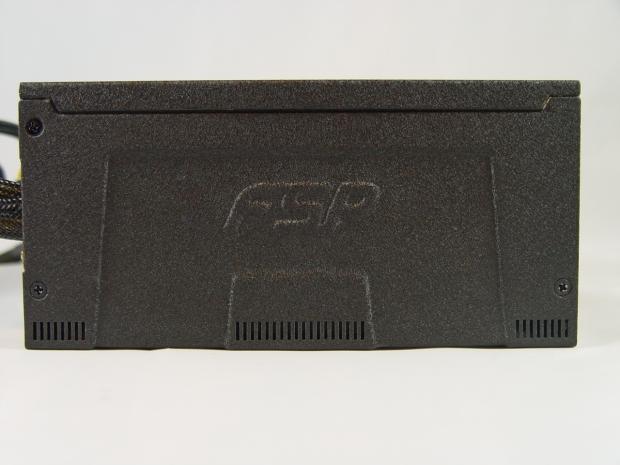 The FSP logo can be found on one side of the power supply.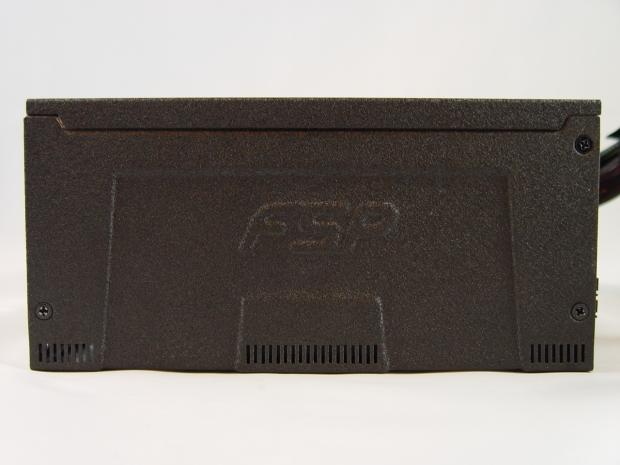 The other side also displays the FSP logo. Notice that both sides have a little additional venting.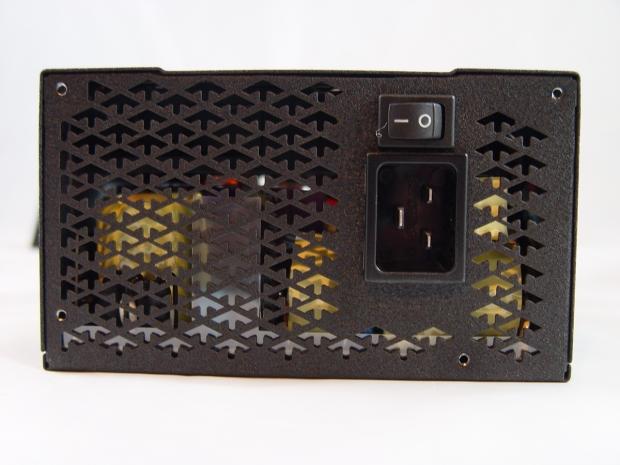 Things are slightly different than what we are used to seeing back here. Other than FSP's "Arrow Dynamic" design and the AC on/off rocker switch, we also have a heavy duty C20 inlet instead of the standard C14 that we usually see with power supplies.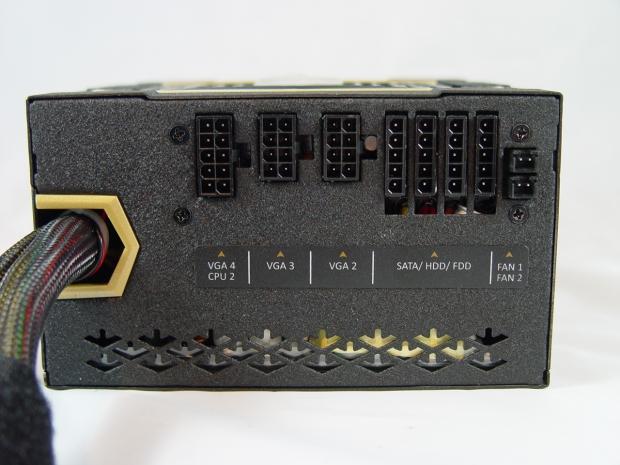 Towards the front, we find the nine modular connectors available. Unfortunately the fourth PCI-E cable shares the same output as the second EPS12V connector. This is something you need to be very aware of when considering this power supply for your system.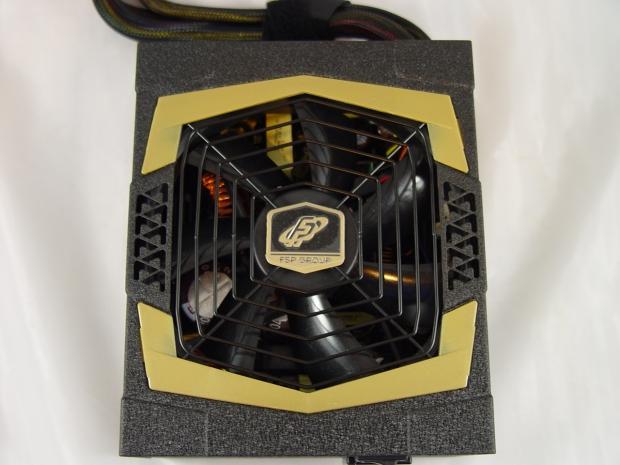 Moving to the bottom we find the 135mm fan that cools the AU-1200PRO.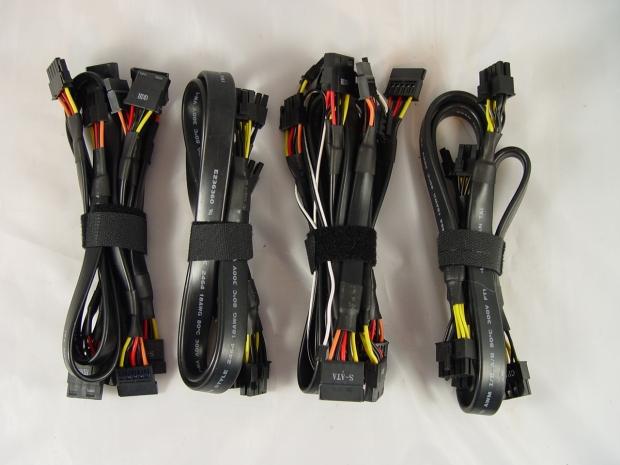 Eight modular cables are included with the power supply as well as two cables meant only for fans.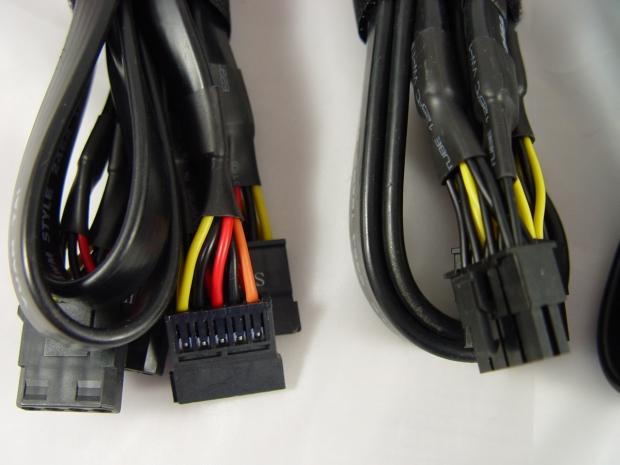 If you look closely, you'll notice that the cables are sleeved to be flat instead of round. This will help when routing behind the motherboard and helps provide a really clean look. They are also sleeved different than the natively wired cables, as those use the standard mesh sleeving.
Also included with the AU-1200PRO are four thumbscrews for mounting the unit, an AC input cord, several Velcro cable ties, a case badge and the user manual.
Cabling Arrangement and A Look Inside
Cabling Arrangement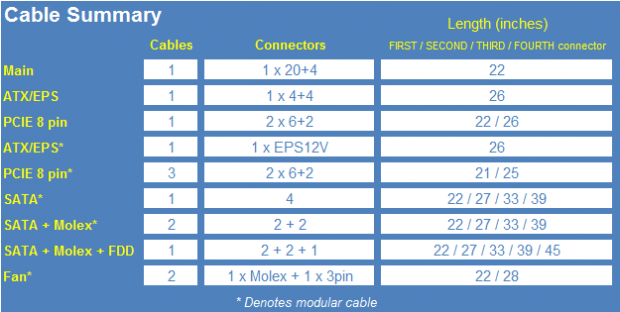 FSP has done a pretty good job with connector selection, but a not so good job of connector availability. The SATA + Molex cables are laid out in the order of SATA + SATA + Molex + Molex. The single all SATA cable is the only one that will allow you to reach to a SATA device that is more than 27 inches from the PSU. The shared modular connection for the last PCI-E cable/ EPS12V cable means that this power supply is also out of the running for any quad-GPU systems that are also in need of dual EPS12V connectors.
On a positive note, the inclusion of two cables dedicate to fans are nice for those who are out of connectors on their motherboard, but still desire thermally controlled fans.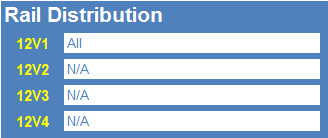 Rail distribution is as simple as it gets with a single 12V rail.
A Look Inside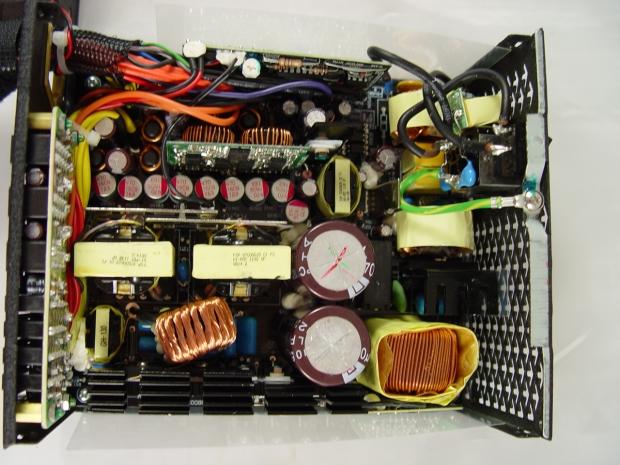 Taking a peek inside, we find that FSP uses very little passive cooling and relies on the fan for the majority of the temperature management.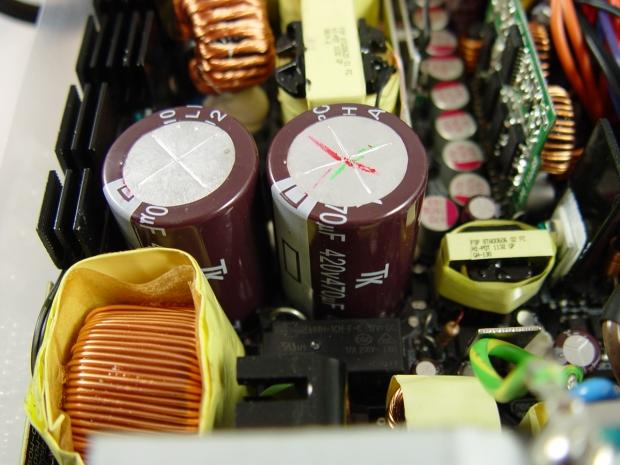 A pair of Taiwanese made Jen Pan Electronics TK series capacitors sit on the primary side of the power supply.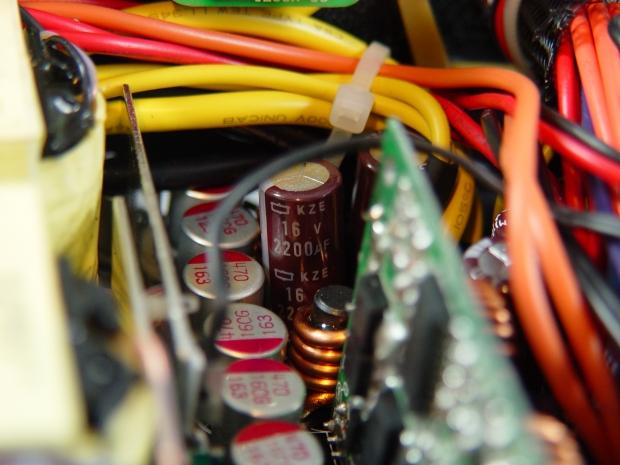 Nippon Chemi-Con capacitors can be found on the secondary side of the PSU.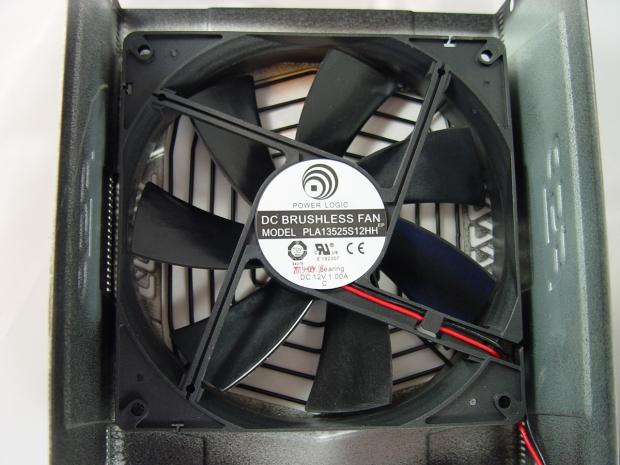 FSP uses the Power Logic PLA13525S12HH 135mm fan to cool the unit.
Test Results and Final Thoughts
Test Results
Our load tests utilize a couple of FAST ATE active load testers and a variety of other equipment such as an oscilloscope, power conditioner, temperature probe and a power consumption meter. You can read more about our standard testing approach here.
The tests performed are based around six conceivable setups that are out there and progressively load down the PSU up to the power supply's limits or 1000W, whichever comes first. Since our test equipment's limits are lower than that of the FSP Aurum Pro Gold 1200W PSU, we can only test it to 1000W.

The above tests represent typical loads that we have measured from various systems and are meant to give a rough idea of where your computer might fall in line with our tests. Please keep in mind that each system is different and actual loads can vary greatly even with similar hardware.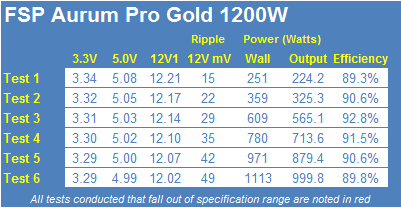 Let's start by taking a look at the voltages to see how well this unit did during testing. Starting with the 12V rail, we see 2% regulation from with a total drop of .19V from start to finish. The 5V rail also stayed within 2% voltage regulation and displayed a total drop of .09V. Moving towards the 3.3V rail, we see that regulation was again within 2% with a total voltage drop of .05V.
DC output quality was very good from start to finish. Starting out, we were barely able to see a ripple on the scope during Test 1 where we measured noise at a low 15mV peak to peak. This steadily increased as the loads also increased. By the time we had reached around 50% load, the unit ripple had crept up to 29mV. Under Test 6, we saw that the noise on the 12V rail had crept up to 49mV. This is representative of 83% of the total output of this power supply.
The FSP AU-1200PRO is rated for 80Plus Gold efficiency. This means that the power supply must perform at 97%/90%/87% efficiency at 20%/50%/100% loads respectively. As you can see, the FSP AU-1200PRO had no trouble achieving this while on our test bench and was very close to achieving an 80Plus Platinum rating.
Final Thoughts
FSP's AU-1200PRO is a very mixed bag of tricks. On one hand, we have a power supply with excellent power regulation, good DC output quality and excellent efficiency. 1200 watts is a lot of power to put out cleanly and efficiently and to make it all come together like FSP has done is no small task. The addition of flat, modular cabling was much needed by FSP and goes along great with the AU-1200PRO. Once you figure in the price of about $225 for a 1200-watt unit capable of providing power to three video cards with a five year warranty, you've got a serious contender for those in the market for a power supply that can do more than 1kW.
Unfortunately, FSP has made a few poor selections with the unit that will severely limit the viability of the unit for a vast majority of those who are in the market for such a powerful unit. The decision to utilize the same modular connection for the fourth set of PCI-E connectors and the second EPS12V connector means that most won't be able use this power supply if they intend to use it in a four-way video card system. The odd selection of connector availability and cable layout doesn't help matters either, but it shouldn't be a huge setback for most.