The Lion King (1994) Blu-ray Movie Review
"Hakuna Matata! What a wonderful phrase."

Published Sat, Dec 10 2011 6:23 AM CST
|
Updated Tue, Nov 3 2020 7:01 PM CST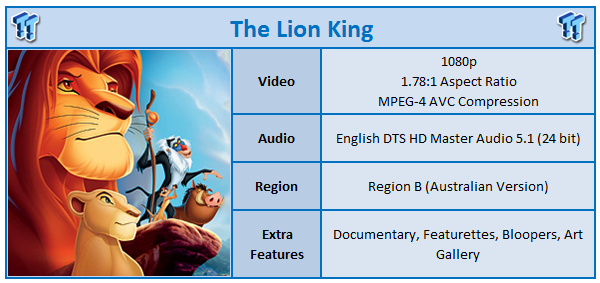 The Little Mermaid, Beauty and the Beast, Aladdin and The Lion King. Never before in cinematic history has one company released four consecutive films of such immense quality and entertainment in the span of just five years. These films represent the zenith of Disney, the fledging company re-writing the rules of animation and executing them at the right moment in history.
The Lion King is a simple story, told simply, but told well. Mufasa (voiced by James Earl Jones) is the titular Lion King, who rules over the land of Pride Rock with even-handedness and fairness. When Mufasa's son Simba (Jonathan Taylor Thomas) is born who will one day assume the throne, Mufasa's evil brother Scar (Jeremy Irons) is incensed and hatches a plan to deal with the situation to his benefit.
No one at Disney had much faith in The Lion King, viewed by many as the 'B' picture to the extravagant Pocahontas, so when the picture came out very strong, to great critical and audience acclaim (not least, millions of dollars of unexpected revenue). 15 years later, The Lion King is as great as ever and worthy of the Disney classics logo.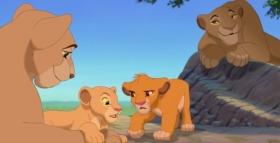 Video
The Lion King is presented in the aspect ratio of 1.78:1 (its original aspect ratio), encoded with MPEG-4 AVC compression.
Even for the B grade titles, Disney generally blesses its Blu-ray releases with superlative video transfers. For one of its crown jewel titles, they've spared no expense. The Lion King truly looks a million dollars. And then some.
The transfer is extremely sharp and detailed and the colours are gorgeously rendered. As one of the earlier films to be completed using the digital CAPS animation process, The Lion King comes from a good source. Whilst the DVD featured a very good transfer that upscaled well, the image quality from this transfer is really spectacular. There's not really that much more I can say about it than that.
No bones about it, The Lion King is one great looking Blu-ray.
[img]2[/img]
Audio
The main audio track is encoded with DTS HD Master Audio 5.1 at 24 bits.
The original theatrical presentation and subsequent 1994 Laserdisc featured a very conservative 5.1 mix, no doubt in an effort to not scare the kidlets. In 2004, Disney went to the effort of creating a more aggressive 5.1 mix for the platinum edition DVD, whilst retaining the original theatrical 5.1 mix. In 2011, Disney have jettisoned both to present a new 7.1 mix, which blows away all previous mixes.
From the opening of the film and the soaring rendition of 'Circle of Life', it's obvious that viewers are in for an aural treat.
The front soundstage carries the majority of effects, with great separation between, but it's the centre and back rear channels that engage the listeners the most, with an amazing amount of split effects. Take for example the swoop of Zazu flying overhead towards the climax of 'Circle of Life'. It's not subtle and it does draw attention to itself, but it is damned amazing.
The biggest difference between the original theatrical release and this new 7.1 mix, is how much emphasis is on the bass effects channel. There are now some seriously low and sustained bass effects which underscore the majority of the film, whereas before it sounded positively anemic.
An amazing track that is sure to be a family friendly demo-worthy track.
[img]3[/img]
Extras
In a departure from previously extravagant Diamond Edition Blu-rays, Disney have eschewed the usual 2 disc format, which has impacted on the amount of extra features present. It's disappointing in that I thought Disney would have opted to go 'all out' for one of their highest grossing franchises of all time, but in fairness, what is here is of extremely good quality. Let's jump in.
First up is the requisite Audio Commentary presented by Directors Roger Allers and Rob Minkhoff, along with Producer Don Hahn. Allers and Minkhoff in particular give some genuinely interesting insights into the movie they spent a few years of their life invested in. They are clearly proud of the film and although both have gone on to leave Disney, they are still clearly in admiration of the studio.
Pride of the Lion King serves as the de-facto feature length documentary, and although I could easily have sustained watching a feature twice its 37 minutes length, it serves as a solid chronicle of the film's production, surprise success and longevity. It even touches on The Lion King stage show, Directed by Julie Taymor, which I was lucky enough to see a number of years ago. No matter how much you might think you know about The Lion King, you'll definitely learn something here.
Producer Don Hahn returns in the featurette The Lion King: A Memoir which, in a clever spin on a retrospective documentary, juxtaposes interview footage from the young Hahn, with the Hahn of today. It's a really clever idea, executed well.
Next we have 15 minutes of Deleted Scenes, but rather annoyingly does not retain the deleted scenes from the 2004 DVD release. So if you want everything, you'll have to keep both releases. Despite this, there are some nice scenes in here, including the ped-alert titled 'Scar chooses Nala to be his queen', but their excision was justified.
For the 2004 DVD, Disney animators chose to animate and integrate to the film one of the newly produced musical numbers made for The Lion King stage show, The Morning Report. They've reversed this decision for the Blu-ray release; the film only includes the original theatrical release, but it's included here as a separate entity. It's a nice number, but the film is hardly stronger by its previous inclusion.
Bloopers and outtakes are a cute idea, similar to what Pixar did in the early days. Unlike their set-up, these use the original audio flubs and integrate them to the performance. A nice idea, but hardly necessary.
Finally, we have an Interactive Art Gallery which presents a fair amount of storyboards, concept art and background mattes.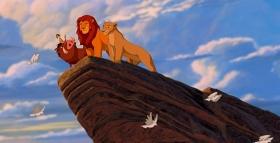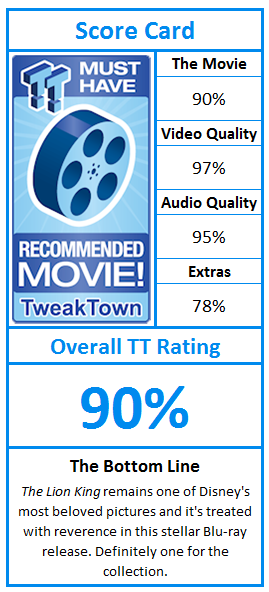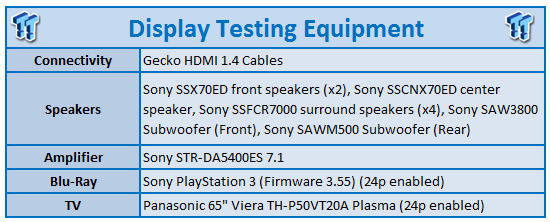 PRICING: You can find products similar to this one for sale below.

United States: Find other tech and computer products like this over at Amazon.com

United Kingdom: Find other tech and computer products like this over at Amazon.co.uk

Australia: Find other tech and computer products like this over at Amazon.com.au

Canada: Find other tech and computer products like this over at Amazon.ca

Deutschland: Finde andere Technik- und Computerprodukte wie dieses auf Amazon.de
We openly invite the companies who provide us with review samples / who are mentioned or discussed to express their opinion. If any company representative wishes to respond, we will publish the response here. Please contact us if you wish to respond.