Sucker Punch (2011) Blu-ray Movie Review
"You have all the weapons you need. Now fight."

Published Sat, Sep 3 2011 7:26 AM CDT
|
Updated Tue, Nov 3 2020 7:01 PM CST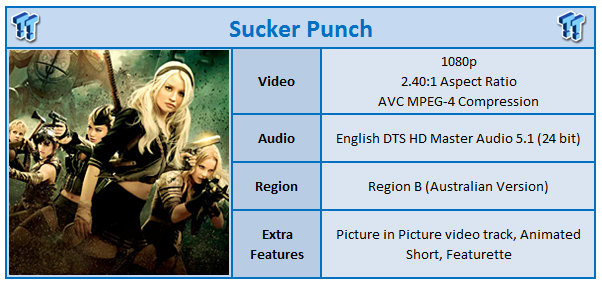 Director Zack Snyder is one of the most overrated directors working in Hollywood today. Whilst Watchmen, 300 and Dawn of the Dead are all competent enough films, they have all been accused of style over substance, a complaint which is well and truly proved by Snyder's latest effort, Sucker Punch.
A young girl only referred to as 'Babydoll' (Emily Browning) is sent to an asylum, after being blamed for the murder of her sister at the hands of their abusive father. Retreating into a created world to shield herself from the harsh conditions of the asylum, she conjures five flights of fantasy which include four other inmates (including the lovely Vanessa Hudgens) and are essentially heavily fantasized capsule stories which mirror less stylized events happening around them as they plot their escape.
Sucker Punch is one of the most repugnantly indulgent, borderline exploitative and misogynistic films I have ever seen. During the films publicity blitz, Snyder articulately described the films themes of female empowerment and as a satire of the sexual identity. But it's hard to take his words seriously when almost every frame of film is slathered in clear contradiction of this.
I'm hardly what you would describe as a prude when it comes to these matters, but I felt pretty uncomfortable by the sleazy nature of the film and the flippant attitude to the otherwise serious nature of the material. I also can't help but wonder who this film is made for - ultimately, I think it was made for Snyder himself. Next up for the director is a re-boot for the Superman franchise with The Man of Steel. I'm extremely concerned.
Of note is that Sucker Punch comes to Blu-ray with the option of the original theatrical or an extended cut (provided on separate Blu-ray discs), featuring some 17 minutes of footage that was cut from the theatrical presentation to obtain a lower film classification.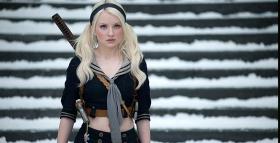 Video
Sucker Punch is presented in a full screen aspect ratio of 2.40:1 (its original aspect ratio), encoded with AVC MPEG-4 compression.
For a Director who revels in the digital realm, Zack Snyder has yet to film digitally, which I find very surprising. I would have thought it would improve the production pipeline and reduce costs, but he must have his reasons. But you wouldn't believe this to be the case based on the digital sharpness of this 1080p transfer.
Every frame of the film has been digitally manipulated, either through set extension, digital sets, or heavy colour correction. It's all very sharp and detailed, high contrast and desaturated colours.
The blacks are black, with fine detail lost to black crush, but I'm confident these observations are purely due to artistic choices. I struggle to really fault the transfer here on a technical basis, reproduced with more stringent quality control than the theatrical showing I caught a mere few months ago.
It's not an overwhelmingly pleasant looking transfer, but from a technical standpoint it's pretty flawless.
[img]2[/img]
Audio
The main audio track is encoded with DTS HD Master Audio 5.1 at 24 bits.
Subtle is not a word I would use to describe the aural experience of Sucker Punch. No, this audio track is every bit as over the top as the on screen visuals are, bombarding the spectrum of all 6 channels during its run time.
I didn't detect any real issue with audio synchronisation, or audibility of speech.
The music score by Tyler Bates is fitting, but it's the cover versions of songs such as 'Sweet dreams (are made of these)' and 'Where is my mind' that I found particularly impressive from a musical standpoint and actually relevant to the films plot.
Again, there is little to complain about here and much to be impressed with.
[img]3[/img]
Extras
When it comes to the supplemental section, it's all about quality rather than quantity. Let's jump in.
The main drawcard in this set is the Maximum Movie Mode (otherwise known as a picture-in-picture director's commentary). Despite all the hoopla around the secondary video stream which took a while to become part of the Blu-ray specification, too few discs have successfully utilised this function to present supplements in a way that standard DVD cannot, but this a great example of one that has.
Zack Snyder plays host to the proceedings, appearing on camera and by narration, presenting myriads of behind the scenes materials as the film runs, sometimes in a minimized window whilst other footage runs full screen and vice versa. This making of is arguably more entertaining than the film itself.
Next up are a few animated shorts. I'm not sure what these were originally intended for (probably promotional), but these short clips fill in the backstory to events and characters depicted in the film.
Finally, we have a sparse, three minute Behind the music featurette. As I noted, the music was probably my favourite element of the film, but not much can be discussed in three minutes.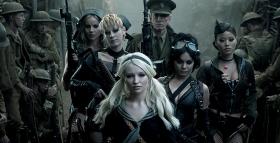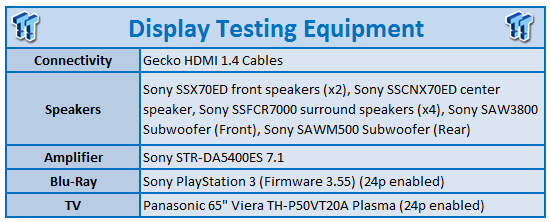 PRICING: You can find products similar to this one for sale below.

United States: Find other tech and computer products like this over at Amazon.com

United Kingdom: Find other tech and computer products like this over at Amazon.co.uk

Australia: Find other tech and computer products like this over at Amazon.com.au

Canada: Find other tech and computer products like this over at Amazon.ca

Deutschland: Finde andere Technik- und Computerprodukte wie dieses auf Amazon.de
We openly invite the companies who provide us with review samples / who are mentioned or discussed to express their opinion. If any company representative wishes to respond, we will publish the response here. Please contact us if you wish to respond.