ioSafe SoloPRO USB 3.0 Disaster Proof Storage Enclosure Review
With the disaster on the East Coast, it's now time to remind you that data should be kept safe.
Published Thu, Sep 1 2011 12:06 PM CDT
|
Updated Tue, Nov 3 2020 7:01 PM CST
Rating:

93%
Manufacturer: ioSafe
Introduction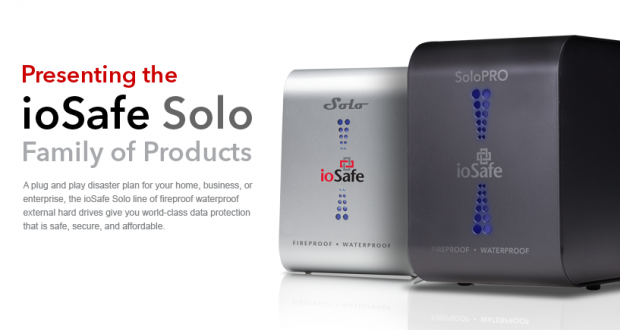 If you've been watching the news lately you already know that the East Coast of the US was ravaged by a hurricane. In the hurricane's wake thousands of homes were flooded, entire cities underwater and billions of family pictures, digital and print are now destroyed. For the last couple of years I've been urging readers to plan ahead, prepare for the worst and to get your data secure.
When it comes to natural disaster protection, no one does it better than ioSafe. ioSafe has been selling the Solo, a well-built external drive enclosure that is able to resist fire, water and pressure for years now. The newest version, the SoloPRO takes the original Solo design and enhances it with faster interfaces to your PC or MAC. Several months ago we looked at the USB 2.0 / eSATA model, but today we're looking at the USB 3.0 model.
With motherboard manufacturers including USB 3.0 on every new motherboard on the market, chances are that your computer, if purchased in the last year, includes at least one USB 3.0 port. eSATA has been great for enthusiasts, but the interface never really caught on with mainstream users. USB or Universal Serial Port is everywhere from your phone to your TV, radio, car; it's really hard to find an electronic device these days without a USB port.
Specifications, Pricing and Availability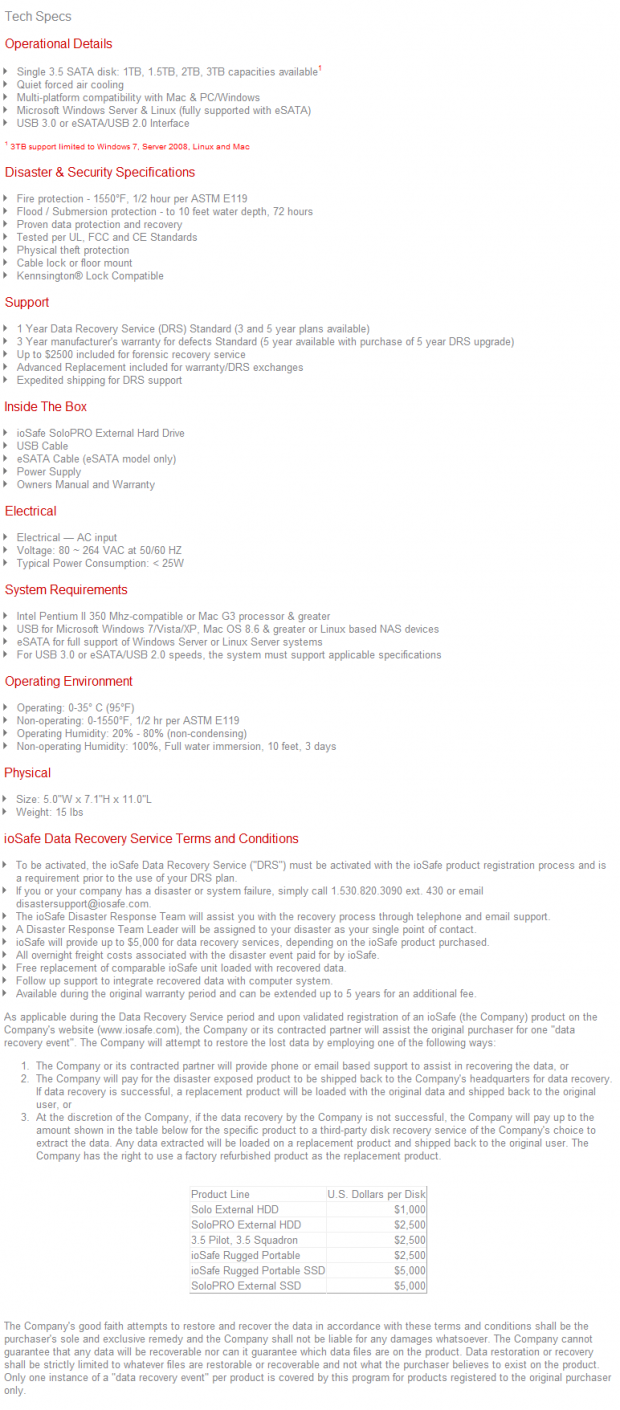 Before we get into how robust the SoloPRO is, let's first talk about the options since that is where you need to start in the purchasing process. The first thing you'll want to think about is the interface. The Solo is available in USB 2.0 and is a very nice system if you can handle transfer speeds that top out at around 35MB/s. The SoloPRO that we're looking at today has two interface options; USB 2.0 / eSATA and USB 3.0. We prefer the USB 3.0 SoloPRO since USB 3.0 has a solid future and everything from this point out will have it. Technically, eSATA does have one advantage over USB 3.0 and that is native command queuing, but the always working hot swap and future proofing still have us leaning toward USB 3.0.
After you've selected your USB 3.0 SoloPRO, it is time to start thinking about capacity. Your options range from 1TB and go all the way to 3TB with ioSafe hitting every stop gap in between. On the configuration page you can choose from several options. The first option is the interface which we covered above. Then you have the capacity size which is a personal decision based on your needs. Then we have the protection.
ioSafe has three levels of protection and they vary on warranty and data recovery service length. The DRS is where the real value comes in. Even though we've personally seen the Solo burn in a fire and be submerged in a pool, things can still go wrong. The DRS is for those 'things'. Things like an extremely high temperature or prolonged submersion are two examples. The standard SoloPRO comes with a 1 year DRS and 3 year warranty on the drive, electronics, interface and such. The 49.99 upgrade increases the DRS to 3 years and the 99.99 Dollar upgrade brings both the DRS and the warranty up to 5 years.
You are buying this product to protect your valuable data for the long haul, so I'd opt for the 99.99 extension since data recovery on your own tab can cost thousands. Spending an extra hundred Dollars does increase the overall cost, but the SoloPRO is quite a bargain to begin with. The base unit with a 1TB drive can be purchased for as low as 249.99, so we're not talking about enterprise class money, just enterprise class protection.
The Packaging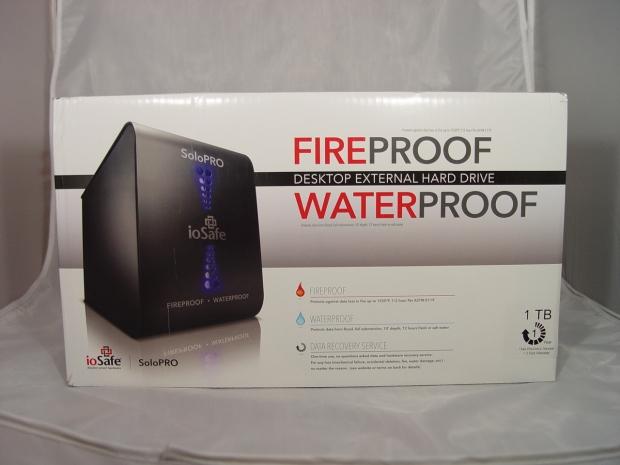 ioSafe put together a nice retail package for the SoloPRO. On the front of the package you get some feature information and in very large print it shows the Fire and Water Proof info.
The side of the package shows an image of the actual unit and once again we see that it is fireproof and waterproof. Guess what the big selling point of this product is?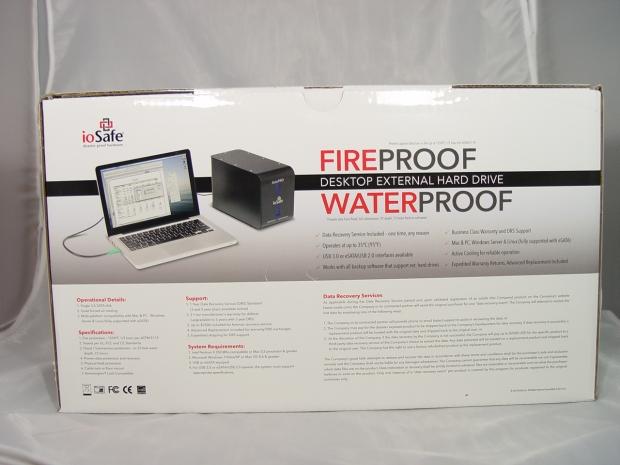 The back of the package goes into a lot of detail about the DRS, specifications, warranty and operations details. There isn't any goofball stuff going on with ioSafe, they clearly say what they'll do, what they cover and are a very upfront company that is easy to work with.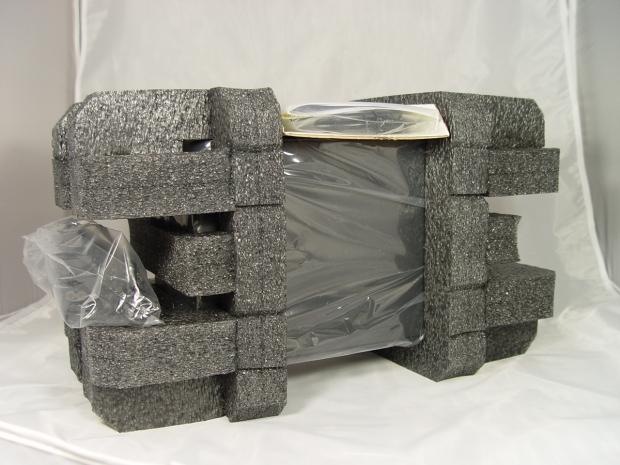 The SoloPRO isn't a small enclosure and thus it requires very good packaging. ioSafe have done their homework and developed an very good inner package that keeps the unit secure.
The ioSafe SoloPRO USB 3.0
Here we get our first look at the SoloPRO. The newer PRO model comes in a black casing and has an LED system on the front that shows activity and power.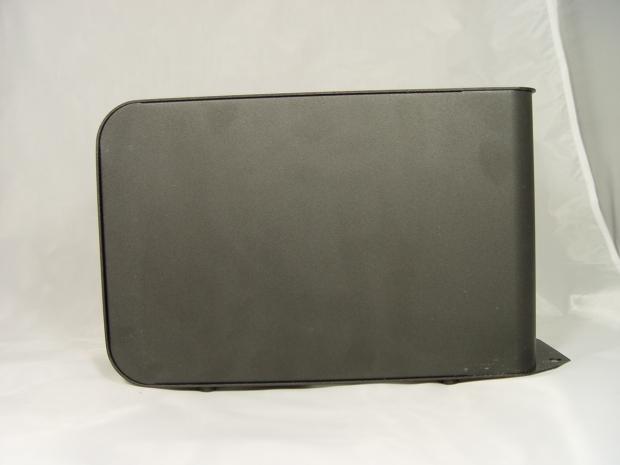 As we said before, the unit isn't small, but then again, you are buying this for protection and not to carry around in your purse. The SoloPRO has a very industrial look, function over form. When it comes to protection you will want the big muscle guy over the skinny guy who knows a little Karate.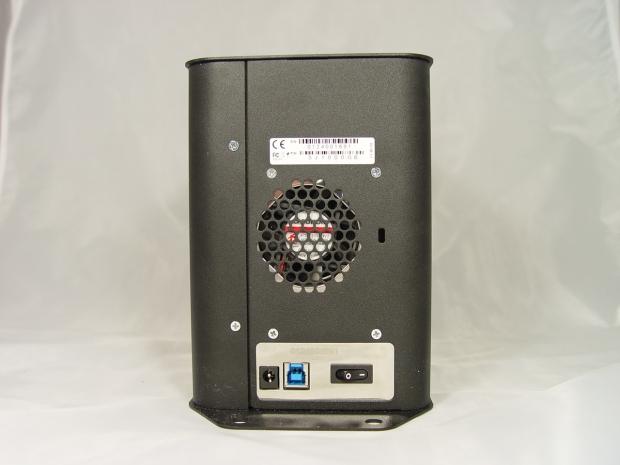 The interface is on the back of the system. Here you'll find a quiet fan, plugs for power and USB 3.0 as well as a power switch. Just next to the fan is a security slot so you can even lock the enclosure to a hard point. The system has some weight so I don't see anyone stuffing this in their coat and walking away with it easily.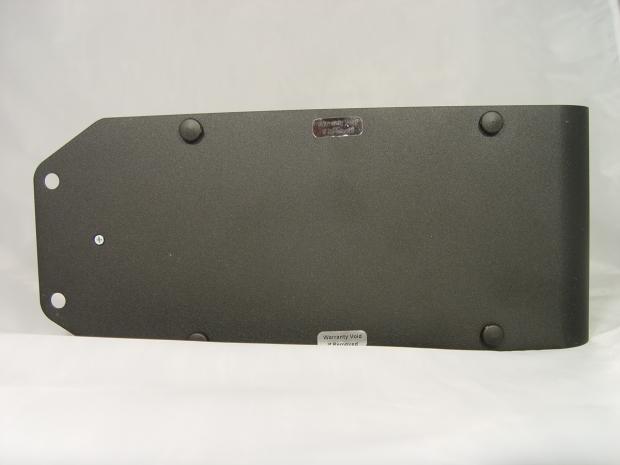 On the bottom four hard plastic feet keep the enclosure from sitting flush on the ground. This will keep a small amount of water out of the system right from the start.
The accessory package includes the USB 3.0 cable that is backwards compatible with USB 2.0, some paper manuals and the power supply bits.
Test System Setup and ATTO Baseline Performance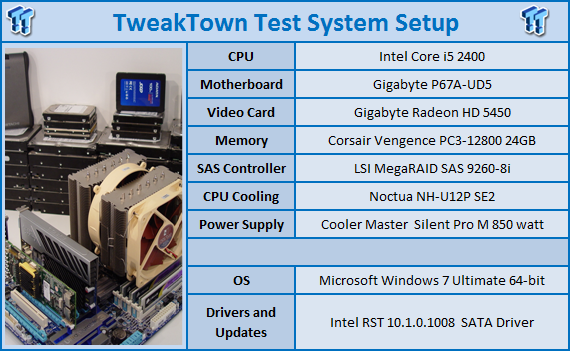 We would like to thank the following companies for supplying and supporting us with our test system hardware and equipment: AVADirect, GIGABYTE, Cooler Master, LSI, Corsair and Noctua.
You can read more about TweakTown's Storage Product Testing Workstation and the procedures followed to test products in this article.
USB 3.0 has been on the market for a little over a year. If your computer doesn't already have USB 3.0 ports then you can simply drop in a USB 3.0 to PCIe card. These now cost less than 20 Dollars and provide a great deal of performance, much higher than USB 2.0.
ATTO Baseline Performance
Version and / or Patch Used: 2.34
ATTO is used by many disk manufacturers to determine the read and write speeds that will be presented to customers.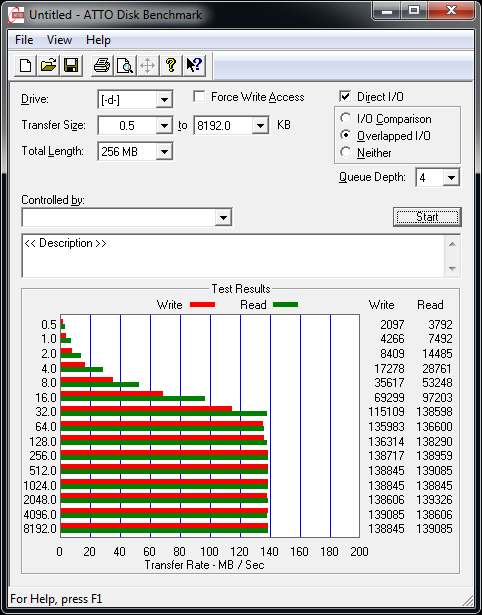 The ioSafe SoloPRO isn't exactly a speed demon with its 1TB platter drive, but we measured close to 140MB/s read and write speed. This is much faster than the USB 2.0 model that reaches peak performance at around 35MB/s in both directions.
ioSafe does offer a SoloPRO with an SSD, but you are then looking at a much higher cost with significantly lower data volume.
Benchmarks - HD Tach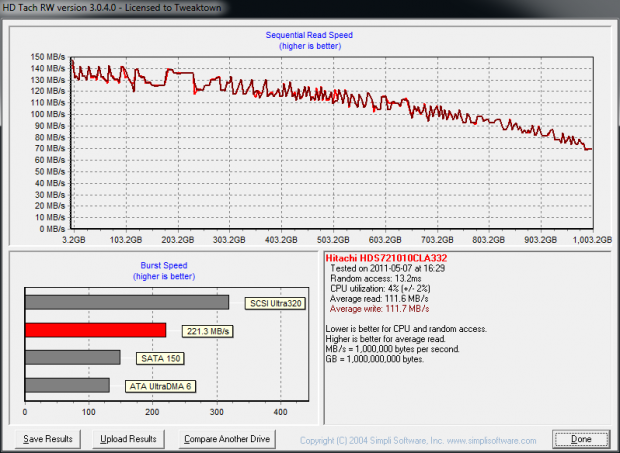 We aren't going to harp on benchmark performance too much today since the SoloPRO is more about protection than it is performance.
In HD Tach we see the SoloPRO keeping performance above 70MB/s all the way across the drive. At its lowest performing level it is still twice as fast as the USB 2.0 model.
Benchmarks - CrystalDiskMark
CrystalDiskMark
Version and / or Patch Used: 3.0 Technical Preview
Developer Homepage: http://crystalmark.info
Product Homepage: http://crystalmark.info/software/CrystalDiskMark/index-e.html
Download here: http://crystaldew.info/category/software/crystaldiskmark
CrystalDiskMark is a disk benchmark software that allows us to benchmark 4K and 4K queue depths with accuracy.
Key Features:-
* Sequential reads/writes
* Random 4KB/512KB reads/writes
* Text copy
* Change dialog design
* internationalization (i18n)
Note: Crystal Disk Mark 3.0 Technical Preview was used for these tests since it offers the ability to measure native command queuing at 4 and 32.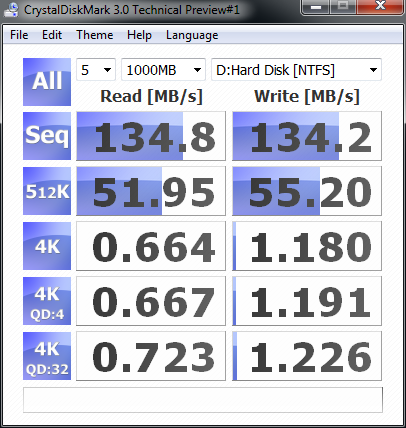 In CDM we get to see NCQ performance which doesn't exist within the current USB 3.0 specification. This will be a much larger issue with the SSD SoloPRO, but not so much with the traditional platter drive version.
Benchmarks - AS SSD
AS SSD Benchmark
Version and / or Patch Used: 1.2.3577.40358
Developer Homepage: Alex Intelligent Software
Product Homepage: Alex Intelligent Software
Download here: http://www.alex-is.de/PHP/fusion/downloads.php?cat_id=4&download_id=9
AS determines the performance of Solid State Drives (SSD). The tool contains four synthetic as well as three practice tests. The synthetic tests are to determine the sequential and random read and write performance of the SSD. These tests are carried out without the use of the operating system caches.
In all synthetic tests the test file size is 1GB. AS can also determine the access time of the SSD, the access of which the drive is determined to read through the entire capacity of the SSD (Full Stroke). The write access test is only to be met with a 1 GB big test file. At the end of the tests three values for the read and write as well as the overall performance will be issued. In addition to the calculated values which are shown in MB/s, they are also represented in IO per seconds (IOPS).
Note: AS SSD is a great benchmark for many tests, but since Crystal Disk Mark covers a broader range of 4K tests and HD Tune Pro covering sequential speeds, we will only use the Copy Benchmark from AS SSD.
- Copy Benchmark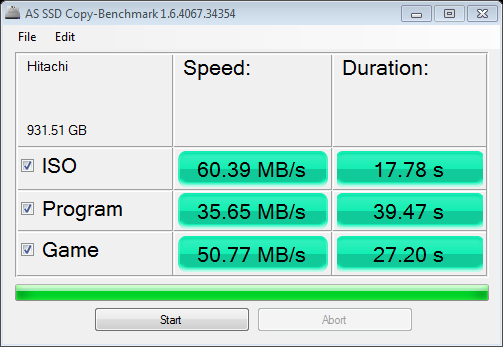 We use AS SSD's Copy tests to simulate a typical data transfer. Here we see the SoloPRO delivering twice the performance of the USB 2.0 model. All of our test results faired very well with other USB 3.0 products on the market. The difference is that the ioSafe SoloPRO can go through a fire, hurricane or flood and still retain your data.
Final Thoughts
If I was ever in a position to give an award for company ethics or post sale support, or follow through, ioSafe would get a big shiny star. I've heard from their customers in the past about how ioSafe has treated them and I've read reports online about how the product has worked. I'm not talking about people tossing the Solo and SoloPRO in a pool, but real life stories about basement floods, house fires and really bad days that turn into nightmares. For me, a nightmare would be my wife holding it over my head that all of our digital family pictures were lost, but some of these people lost everything, everything except for what was on the ioSafe device.
This is the third Solo / SoloPRO I've looked at and I really can't stress enough how much I like this product. My dad taught me that shit happens and to plan for the best, but prepare for the worst. The modern day version of that is keep your data on a portable flash drive for easy access, but back it up on a ioSafe Solo / SoloPRO for when things get out of control.
My dad also taught me that when something is too good to believe, it usually isn't, but ioSafe wasn't around when he was giving lessons. The SoloPRO with up to 5,000 Dollars in DRS coverage is pretty unbelievable, but the stories I've read about and had emailed to me are true. ioSafe is the real deal and their products are everything you'd want them to be.
Then there is the cost. When comparing the SoloPRO to an off the shelf, everyday external USB 3.0 enclosure, the SoloPRO does look a bit expensive, but you are not buying an off the shelf everyday external USB 3.0 enclosure. You are buying real long term protection. Prices start out at 250 USD and increase as the option list grows.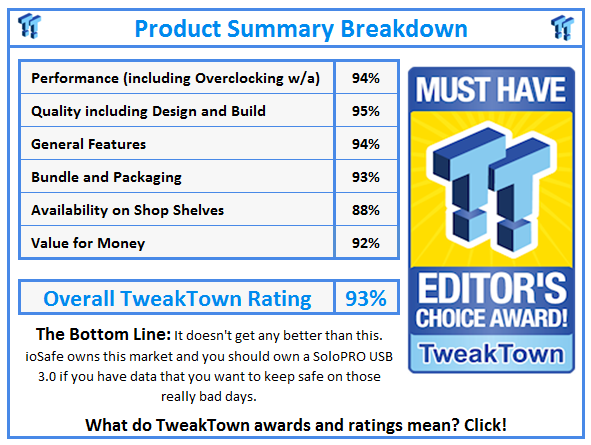 PRICING: You can find products similar to this one for sale below.

United States: Find other tech and computer products like this over at Amazon.com

United Kingdom: Find other tech and computer products like this over at Amazon.co.uk

Australia: Find other tech and computer products like this over at Amazon.com.au

Canada: Find other tech and computer products like this over at Amazon.ca

Deutschland: Finde andere Technik- und Computerprodukte wie dieses auf Amazon.de
We openly invite the companies who provide us with review samples / who are mentioned or discussed to express their opinion. If any company representative wishes to respond, we will publish the response here. Please contact us if you wish to respond.