OWC Mercury Extreme Pro 6G 240GB SSD w/ SF-2282 & Toshiba Toggle Review
OWC ups the ante with Toshiba Toggle flash and a higher spec SandForce controller.
Published Thu, Aug 25 2011 3:56 AM CDT
|
Updated Tue, Nov 3 2020 7:01 PM CST
Introduction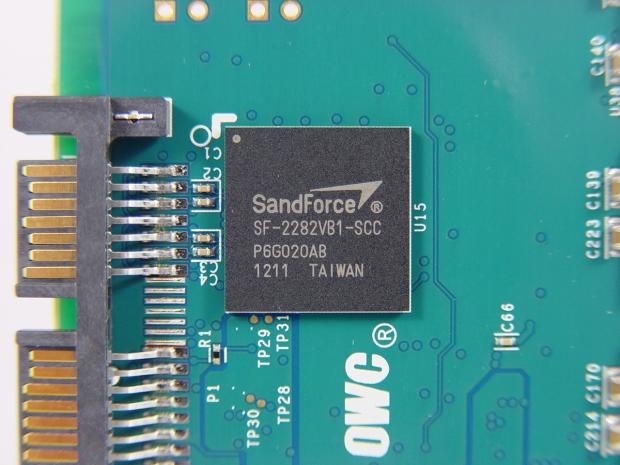 Other World Computing, the small company capable of big surprises and market leading innovations is back at it again. We've already reviewed the Mercury Extreme Pro 6G 240GB solid state drive back in May 2010, but since then a revision was made to the PCB and now a new, more extensive revision has emerged. The new OWC Mercury Extreme Pro 6G has enough changes to warrant a new product name and price increase, but that isn't happening. The new drive now sports 32nm Toshiba Toggle flash, the same found in the OCZ Vertex 3 Max IOPS and Patriot Wildfire. A new higher spec SandForce controller was also called up to play as well.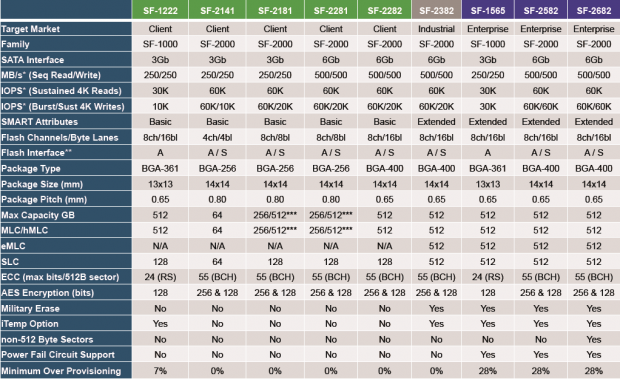 In February we covered the SandForce SF-2000 Client Launch and that article included the graph above. The SF-2282 is very similar to the SF-2281 we've seen countless times already. The up speced SF-2282 uses a different ball grid array connector count, up to 400 from 256 found on the 2281. The extra connections are used to double the byte lane count from 8 to 16. With a larger byte lane the SF-2282 controller can talk to more flash chips at a time. Implementing more flash chips is the key for additional performance. Most 2.5" SSDs already have sixteen physical chips and the limits on space are already reached. Getting 32 in a 2.5" package is a bit tricky, but not impossible as was the arrangement on the PhotoFast G-Monster V5.
The OWC Mercury Extreme Pro 6G only uses 16 Toshiba Toggle flash chips, so seeing a major performance improvement isn't likely to happen. There are two areas where the new SF-2282 / Toggle flash arrangement do better than the previous design. 32nm Toshiba Toggle flash drives generally draw more power than their 25nm IMFT rivals, but the SF-2282 is able to tame the Toshiba flash, thus the new revision draws less power while being used than the Patriot Wildfire and OCZ Vertex 3 Max IOPS.
Then there is the flash itself. 32nm flash has a higher P/E rating than the IMFT 25nm flash. That means the new Mercury Extreme Pro 6G should last longer than many of the traditional 25nm flash products on the market. How much longer we don't really know, since the data hasn't been made publically available. Some forum guys are working on uncovering this information, but the results are not final at this time.
Specifications, Pricing and Availability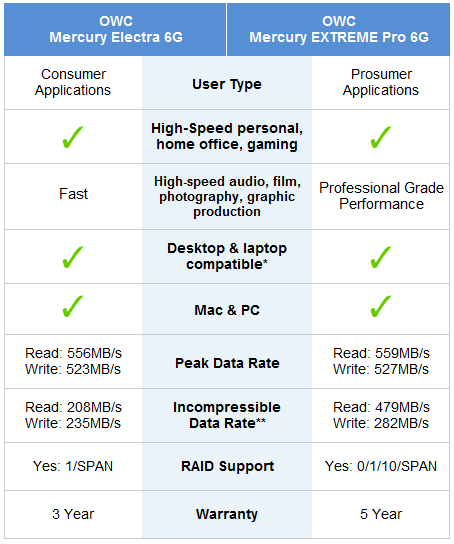 We covered the controller and the flash at the beginning of this article, so now we can get the specifications taken care of. The Mercury Extreme Pro 6G is what OWC is marketing to their 'prosumer' clients. Toshiba Toggle flash is much like ONFi 2.0, they both read and write on the up and down tick of the synchronizing clock wave. Because of this, the Mercury Extreme Pro 6G is able to work with incompressible data (data that is already compressed like music, movies and some video files) much better than asynchronous ONFi 1.0 flash equipped drives. In our extensive testing we found that the IMFT synchronous ONFi 2.x and Toshiba Toggle flash also perform much better when the drive has data present. The performance increase is quite significant across the board since SandForce controllers compress all data before it reaches the flash.
The OWC Mercury Extreme Pro 6G is rich in add-on features, but not the traditional goodies we see from other manufacturers. OWC is proud of their add-on package that includes an industry leading 5 year warranty, 21 day no hassle money back guarantee and 24/7 tech support. To my knowledge, Kingston is the only SSD manufacturer that can match one of these and that is the 24/7 customer service. OWC rests at the top with all others looking up at them with the impressive warranty and the money back, as in full refund guarantee.
Then there is what you don't get, but may soon be offered. The Mercury Extreme Pro 6G currently does not ship with a desktop adapter bracket. Personally, I feel these are great low cost accessories since most SATA III SSDs will be used in a desktop. OWC is considering our advice; we'll let you know how that pans out...keep your fingers crossed!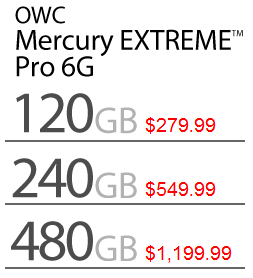 Then there is the price. OWC is smaller than most SSD manufacturers and their drives cost a little bit more. This is an area in which the company is also looking at, but we should point out that the new revision of the Mercury Extreme Pro 6G is no longer comparable to the Vertex 3, Force GT or any number of the asynchronous flash drives on the market. 32nm Toshiba Toggle flash costs more than 25nm IMFT flash and is currently only used on a small number of drives.
The Packaging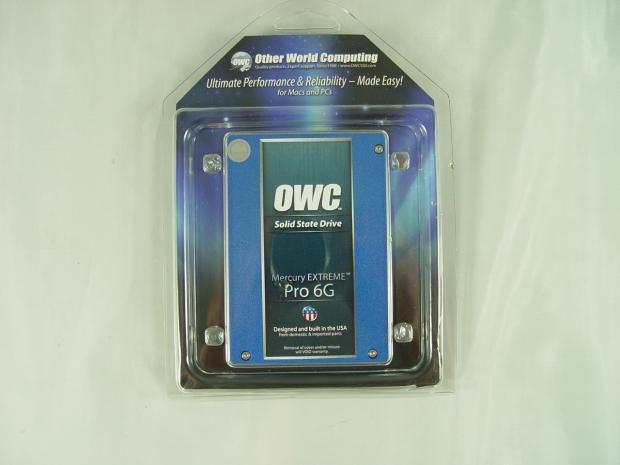 I think most reading this have seen this packaging before. OWC has used the same packaging for their own SSD products for a couple of years now. The package works well since SSDs don't require any shock suppression.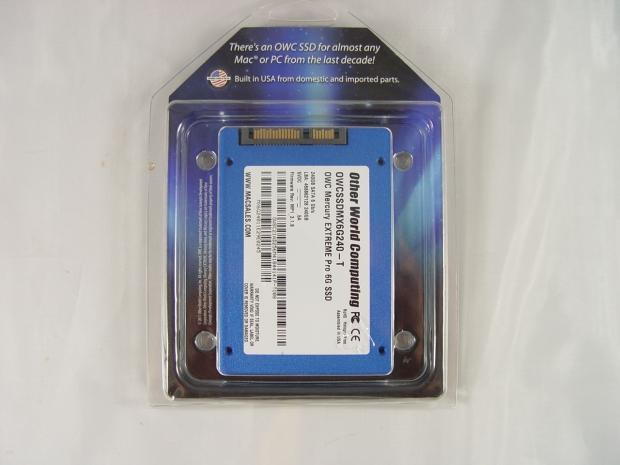 Since you can only buy OWC drives on their website, macsales.com, they don't need to put a bunch of specifications on the package.
The OWC Mercury Extreme Pro 6G SSD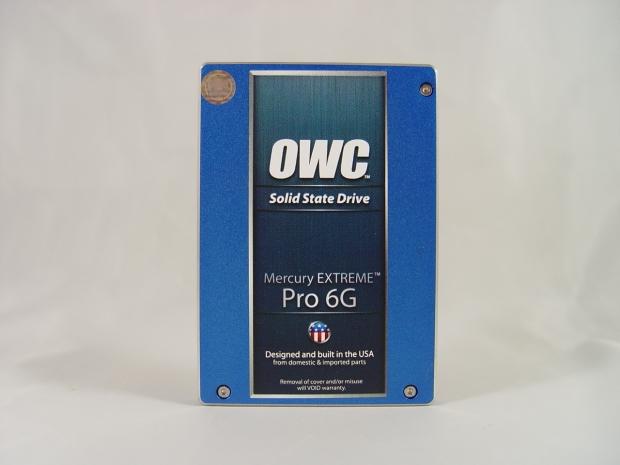 We've seen this design before. OWC is keeping their blue aluminum casing, one of the best looking on the market today. On the front we see the Designed and built in the USA information and the product name.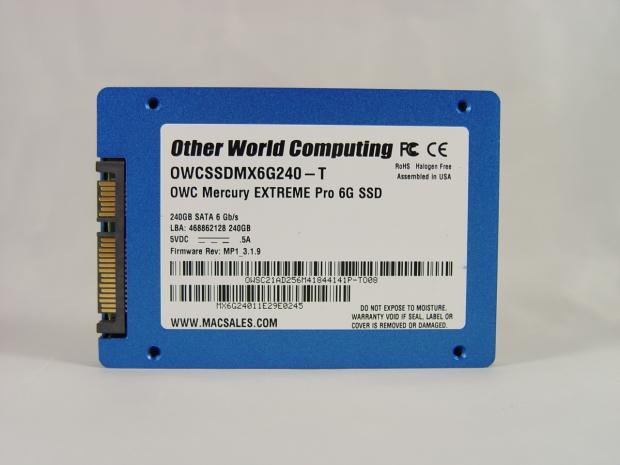 This whole time you might have been wondering how to tell the new Toshiba Toggle flash model apart from the first version with 24nm IMFT flash. The '-T' at the end of the model name, OWCSSDMX6G240-T signifies the new SF-2282 / Toshiba Toggle flash model.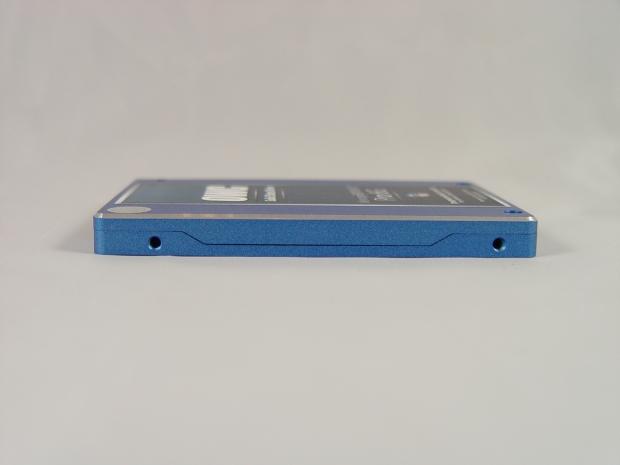 On the side we found the traditional mounting points that allow the drive to screw into many notebook and 2.5" to 3.5" adapter brackets.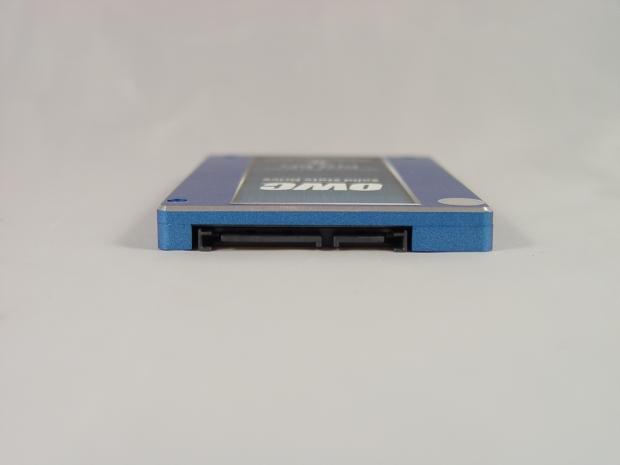 The SATA power and data connectors are offset and where they should be.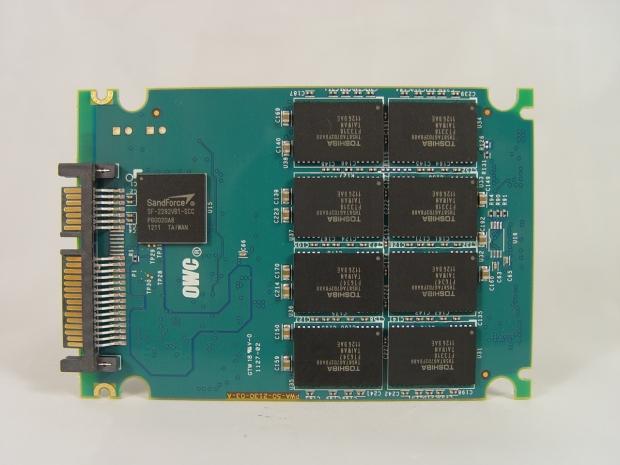 OWC is using a custom PCB and here we see the SF-2282 controller. We can also see half of the Toggle Mode flash on this side.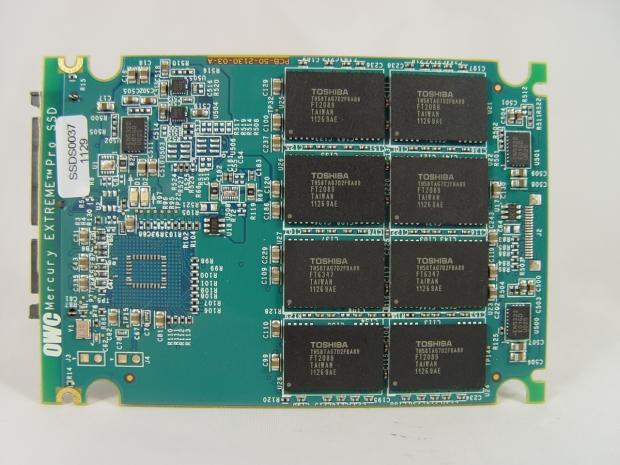 A majority of the surface mount components are on the other side of the PCB. I really wanted to follow the traces coming from the BGA-400 SF-2282 controller, but this is at least a four layer circuit board, so it was impossible without an x-ray machine. I'll have to add one of those to my 2012 budget...and a few lead vests.
Test System Setup and ATTO Baseline Performance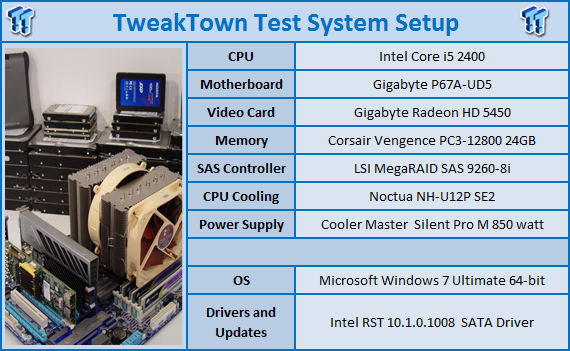 We would like to thank the following companies for supplying and supporting us with our test system hardware and equipment: AVADirect, GIGABYTE, Cooler Master, LSI, Corsair and Noctua.
You can read more about TweakTown's Storage Product Testing Workstation and the procedures followed to test products in this article.
I should point out that at this time only the 240GB Mercury Extreme Pro 6G is shipping with 16x 16GB Toshiba Toggle flash. The 120GB model still uses 25nm IMFT flash.
ATTO Baseline Performance
Version and / or Patch Used: 2.34
ATTO is used by many disk manufacturers to determine the read and write speeds that will be presented to customers.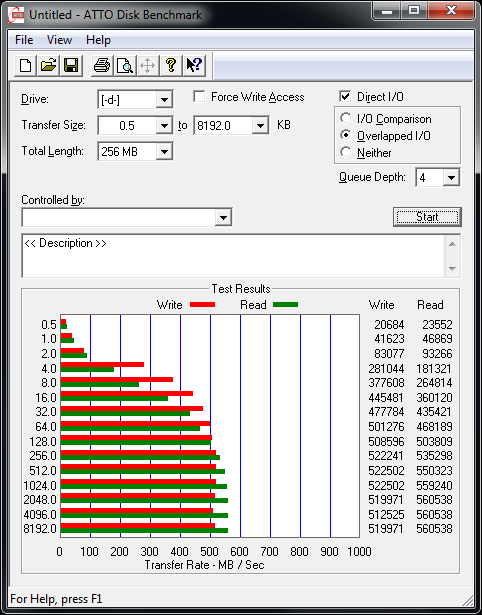 In ATTO we achieved 560MB/s read and 522MB/s write performance. The OWC Mercury Extreme Pro 6G is one of the fastest drives we've tested to date. The 32nm Toggle Mode flash also means it will be one that survives the longest.
Benchmarks - HD Tune Pro
HD Tune Pro
Version and / or Patch Used: 4.00
Developer Homepage: http://www.efdsoftware.com
Product Homepage: http://www.hdtune.com
HD Tune is a Hard Disk utility which has the following functions:
Benchmark: measures the performance
Info: shows detailed information
Health: checks the health status by using SMART
Error Scan: scans the surface for errors
Temperature display
HD Tune Pro gives us accurate read, write and access time results and for the last couple of years has been gaining popularity amongst reviewers. It is now considered a must have application for storage device testing.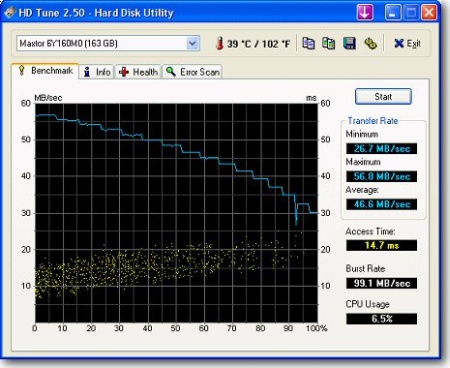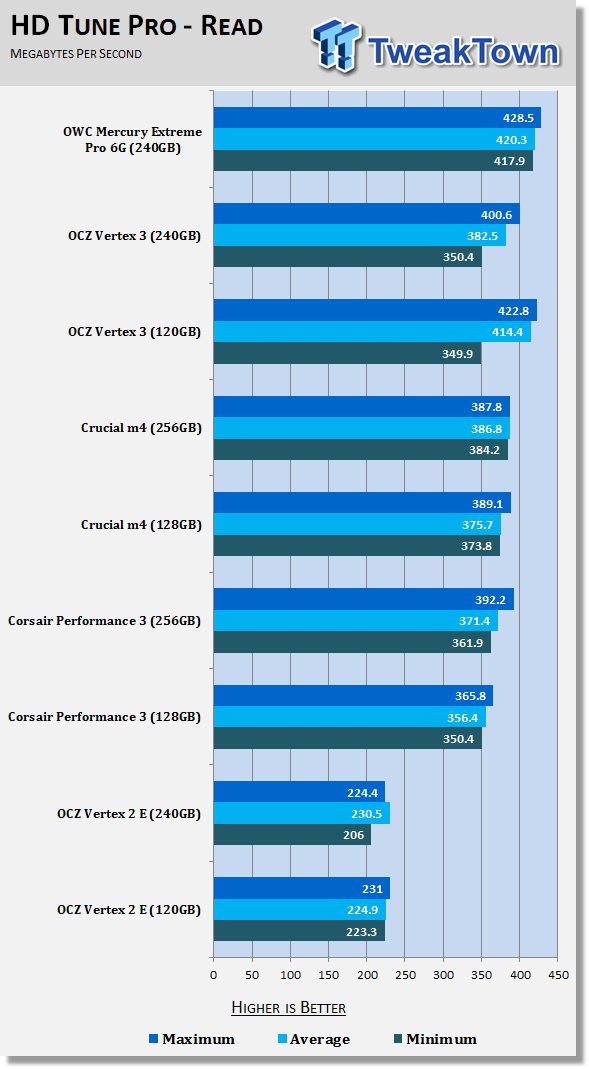 In HD Tune Pro we see the OWC Mercury Extreme Pro 6G with the latest SandForce firmware outperforming everything else on the chart, including the Vertex 3 with firmware 2.6. The performance has also tightened up as well between the minimum and maximum speeds.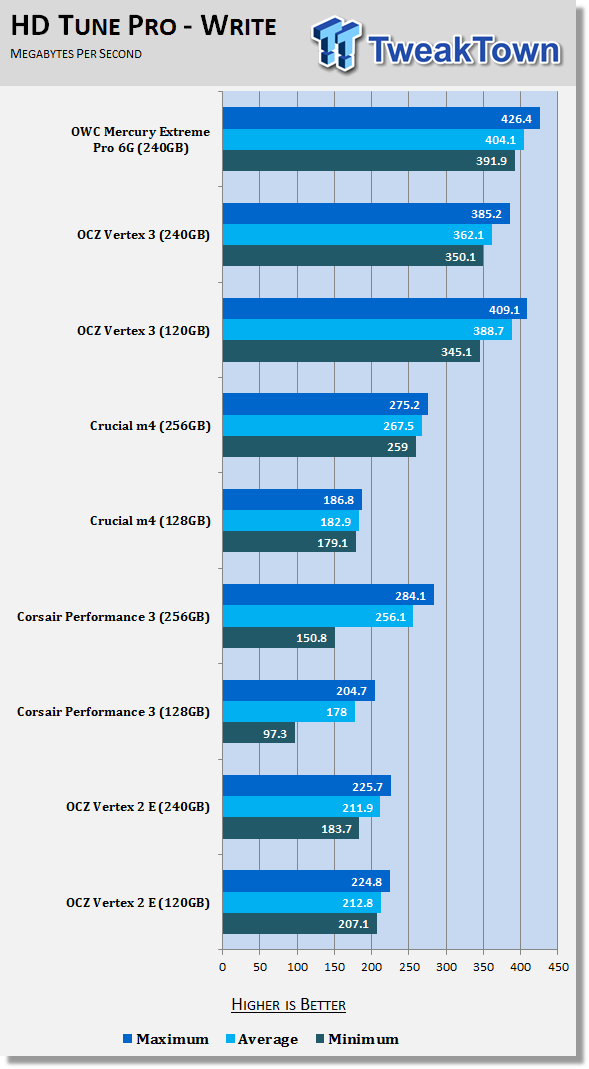 The write performance of this new revision of an already existing classic is also very good. The Toggle Mode flash paired with the new controller seems to be working very well together.
Benchmarks - AIDA64 Random Access Time
AIDA64 Random Access Time
Version and / or Patch Used: 1.60
Developer Homepage: http://www.aida64.com
Product Homepage: http://www.aida64.com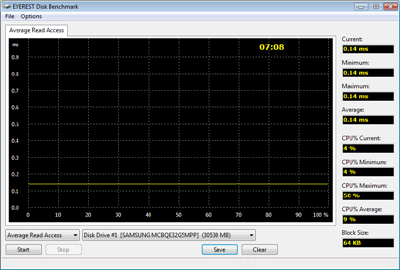 AIDA64 offers several different benchmarks for testing and optimizing your system or network. The Random Access test is one of very few if not only that will measure hard drives random access times in hundredths of milliseconds as oppose to tens of milliseconds.
Drives with only one or two tests displayed in the write test mean that they have failed the test and their Maximum and possibly their Average Scores were very high after the cached fills. This usually happens only with controllers manufactured by JMicron and Toshiba.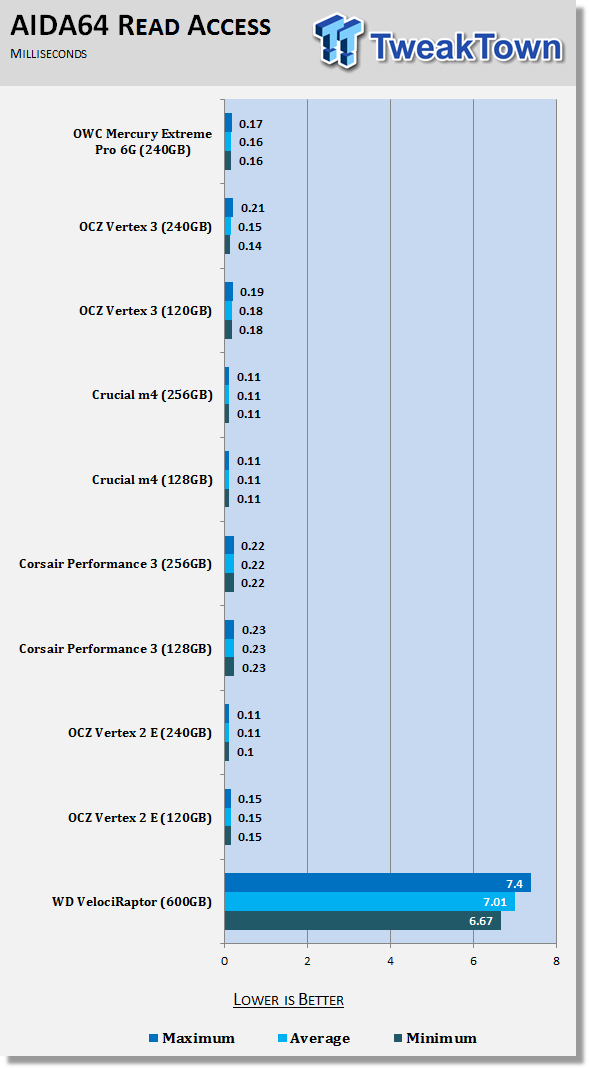 This is the area where I thought we might see some performance gains from the unique Mercury Extreme Pro 6G due to the interleaving, but it appears that the drive retained the performance of the old model.
The write latency is very low as in most solid state drives. The read and write access time is where most users find the greatest benefit of a solid state drive. Your windows, programs and other software pops up very quickly - no more hour glass, no more waiting.
Benchmarks - CrystalDiskMark
CrystalDiskMark
Version and / or Patch Used: 3.0 Technical Preview
Developer Homepage: http://crystalmark.info
Product Homepage: http://crystalmark.info/software/CrystalDiskMark/index-e.html
Download here: http://crystaldew.info/category/software/crystaldiskmark
CrystalDiskMark is a disk benchmark software that allows us to benchmark 4K and 4K queue depths with accuracy.
Key Features:-
* Sequential reads/writes
* Random 4KB/512KB reads/writes
* Text copy
* Change dialog design
* internationalization (i18n)
Note: Crystal Disk Mark 3.0 Technical Preview was used for these tests since it offers the ability to measure native command queuing at 4 and 32.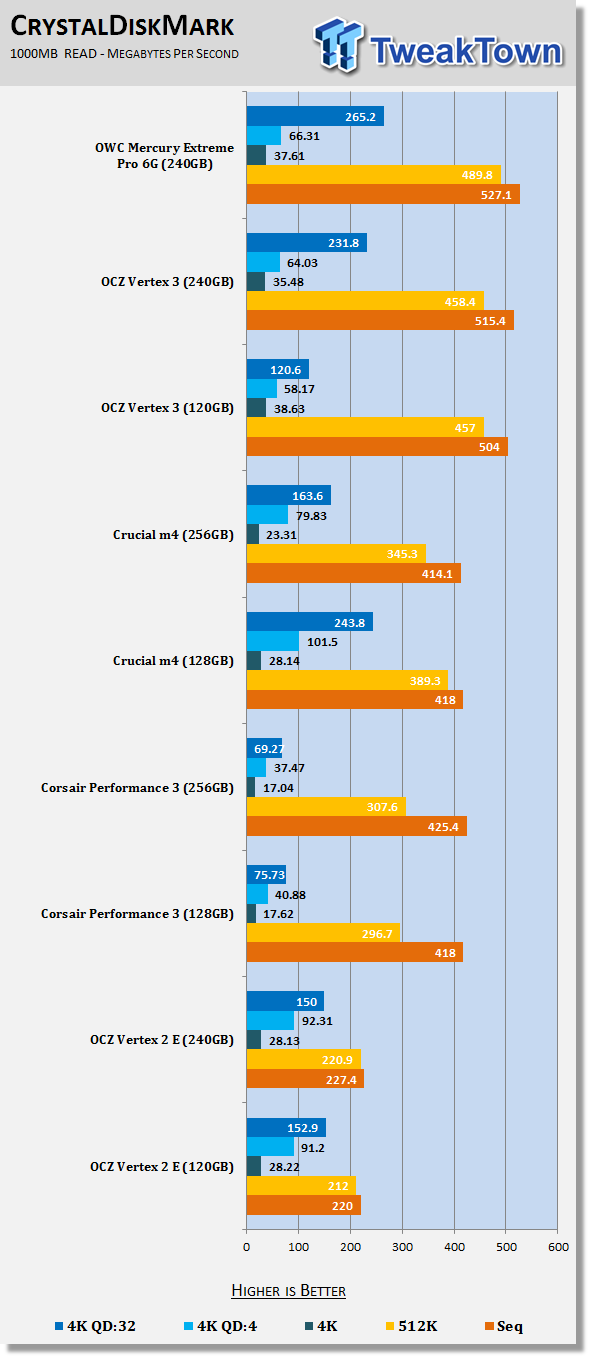 There is a reason why Toshiba Toggle flash is used on many of the enterprise variants of SandForce SF-2000 series drives and you can see it here. When stacking up commands with NCQ the flash is able to put up very large performance numbers. Here we see the Mercury Extreme Pro 6G hammering everything else on the chart in the 4K QD:32 test.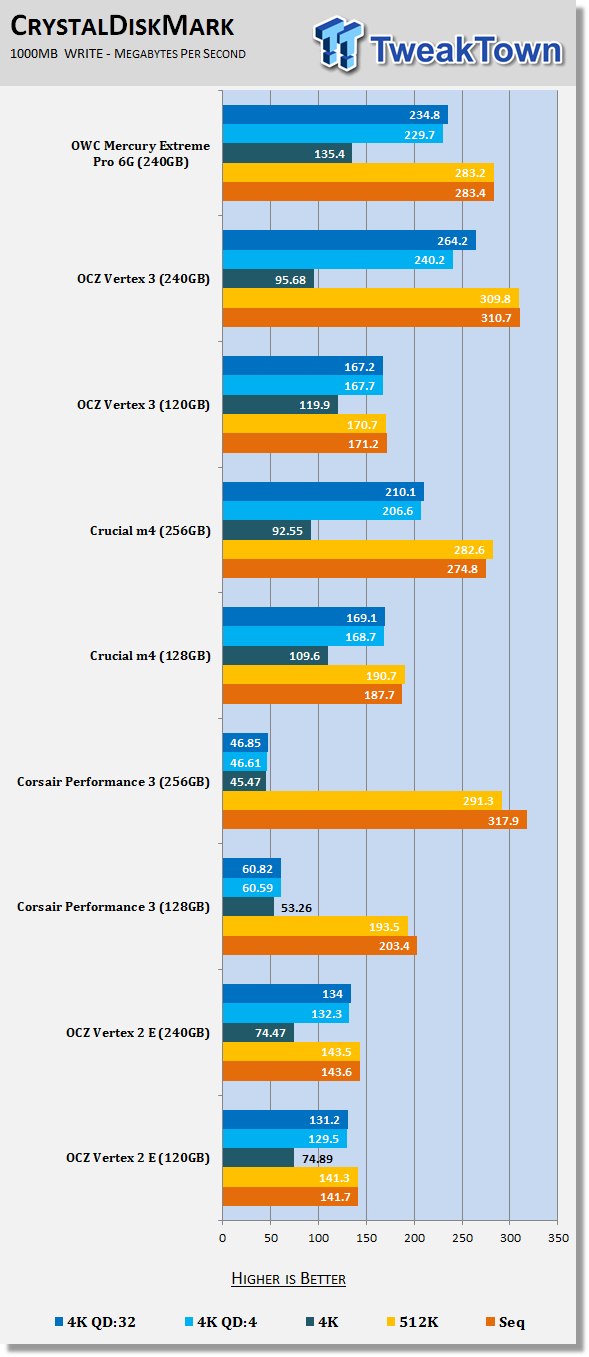 CDM uses incompressible data and that is why we aren't seeing the big 500+MB/s numbers that you see in the 0 fill tests. The write performance is very good, but the flash does perform sequential transfers of incompressible data a little slower than the INFT 25nm sync flash drives.
Benchmarks - PCMark Vantage Hard Disk Tests
PCMark Vantage - Hard Disk Tests
Version and / or Patch Used: 1.0.0
Developer Homepage: http://www.futuremark.com
Product Homepage: http://www.futuremark.com/benchmarks/pcmark-vantage/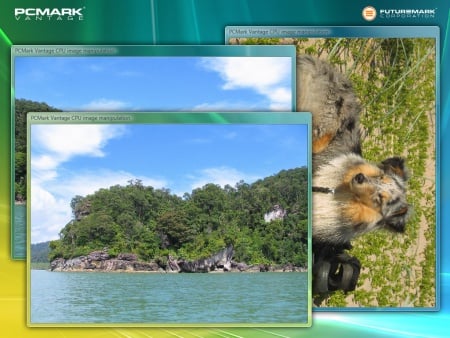 PCMark Vantage is the first objective hardware performance benchmark for PCs running 32 and 64 bit versions of Microsoft Windows Vista. PCMark Vantage is perfectly suited for benchmarking any type of Microsoft Windows Vista PC from multimedia home entertainment systems and laptops to dedicated workstations and high-end gaming rigs. Regardless of whether the benchmarker is an artist or an IT Professional, PCMark Vantage shows the user where their system soars or falls flat, and how to get the most performance possible out of their hardware. PCMark Vantage is easy enough for even the most casual enthusiast to use yet supports in-depth, professional industry grade testing.
FutureMark has developed a good set of hard disk tests for their PCMark Vantage Suite. Windows users can count on Vantage to show them how a drive will perform in normal day to day usage scenarios. For most users these are the tests that matter since many of the old hat ways to measure performance have become ineffective to measure true Windows performance.

HDD1 - Windows Defender
HDD2 - Gaming
HDD3 - Windows Photo Gallery
HDD4 - Vista Startup
HDD5 - Windows Movie Maker
HDD6 - Windows Media Center
HDD7 - Windows Media Player
HDD8 - Application Loading
In Vantage's base run we see solid, record breaking performance across the board. This is mainly due to the new firmware. In our Vertex 3 Max IOPS review we noticed that Toshiba Toggle flash was a little slower in some of the real world tests. It appears that SandForce has made a few corrections and given the Toggle Mode flash a speed boost.
PCMark Vantage - Drives with Data Testing
For a complete breakdown on the Drives with Data Testing please read this article. You will be able to perform this test at home with the files provided in the article - full instructions are included.
Brief Methodology
SSDs perform differently when used for a period of time and when data is already present on the drive. The purpose of the Drives with Data testing is to show how a drive performs in these 'dirty' states. SSDs also need time to recover, either with TRIM or onboard garbage collection methods.
Drives with Data Testing - 25%, 50%, 75% Full States and Empty / TRIM Test
Files needed for 60 (64GB), 120 (128GB), 240 (256GB)
60GB Fill - 15GB, 30GB, 45GB
120GB Fill - 30GB, 60GB, 90GB
240GB Fill - 60GB, 120GB, 160GB
Empty / TRIM - a test run just after the fill tests and shows if a drive needs time to recover or if performance is instantly restored.

HDD1 - Windows Defender
HDD2 - Gaming
HDD3 - Windows Photo Gallery
HDD4 - Vista Startup
HDD5 - Windows Movie Maker
HDD6 - Windows Media Center
HDD7 - Windows Media Player
HDD8 - Application Loading
We feel this is the next frontier for SSDs to conquer, retaining high levels of speed regardless of the amount of data on the drive. The OWC Mercury Extreme Pro 6G with a SF-2282, Toshiba Toggle Mode flash and the latest firmware update from SandForce is able to keep most of its performance, but there is still a drop off as data populates the drive.
TRIM is working very well with this drive as well. We're still not able to break the 80K mark, but it's coming soon, just a firmware or two away.
Benchmarks - AS SSD
AS SSD Benchmark
Version and / or Patch Used: 1.2.3577.40358
Developer Homepage: Alex Intelligent Software
Product Homepage: Alex Intelligent Software
Download here: http://www.alex-is.de/PHP/fusion/downloads.php?cat_id=4&download_id=9
AS determines the performance of Solid State Drives (SSD). The tool contains four synthetic as well as three practice tests. The synthetic tests are to determine the sequential and random read and write performance of the SSD. These tests are carried out without the use of the operating system caches.
In all synthetic tests the test file size is 1GB. AS can also determine the access time of the SSD, the access of which the drive is determined to read through the entire capacity of the SSD (Full Stroke). The write access test is only to be met with a 1 GB big test file. At the end of the tests three values for the read and write as well as the overall performance will be issued. In addition to the calculated values which are shown in MB/s, they are also represented in IO per seconds (IOPS).
Note: AS SSD is a great benchmark for many tests, but since Crystal Disk Mark covers a broader range of 4K tests and HD Tune Pro covering sequential speeds, we will only use the Copy Benchmark from AS SSD.
- Copy Benchmark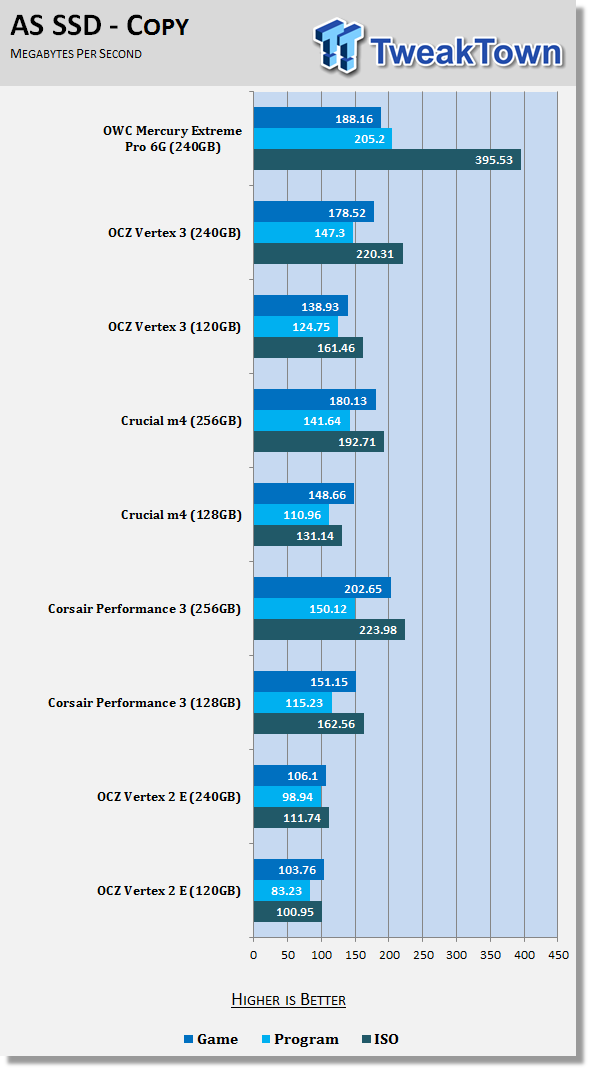 We know SandForce has been working on increasing their firmware to allow drives to transfer data fast, but this was a complete surprise. We ran the test three times and each time the ISO score was above 380MB/s. This is a massive increase over any other SandForce SF-2000 series drive we tested other than the RevoDrive 3 X2 that uses four SF-2281 controllers in a RAID like configuration.
Benchmarks - Passmark
Passmark Advanced Multi-User Tests
Version and / or Patch Used: 6.1
Developer Homepage: http://www.passmark.com
Test Homepage: http://www.passmark.com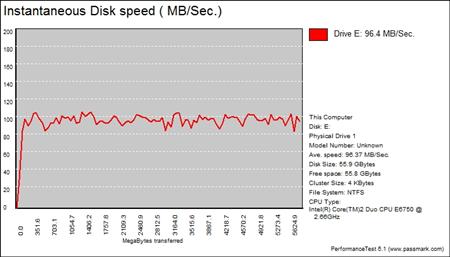 Many users complain that I/O Meter is too complicated of a benchmark to replicate results so my quest to find an alternative was started. Passmark has added several multi-user tests that measure a hard drives ability to operate in a multi-user environment.

The tests use different settings to mimic basic multi-user operations as they would play out on your server. Variances is read / write percentage as well as random / sequential reads are common in certain applications, Web Servers read nearly 100% of the time while Database Servers write a small amount of data.
The Workstation test is the only single user environment and will be similar to how you use your system at home.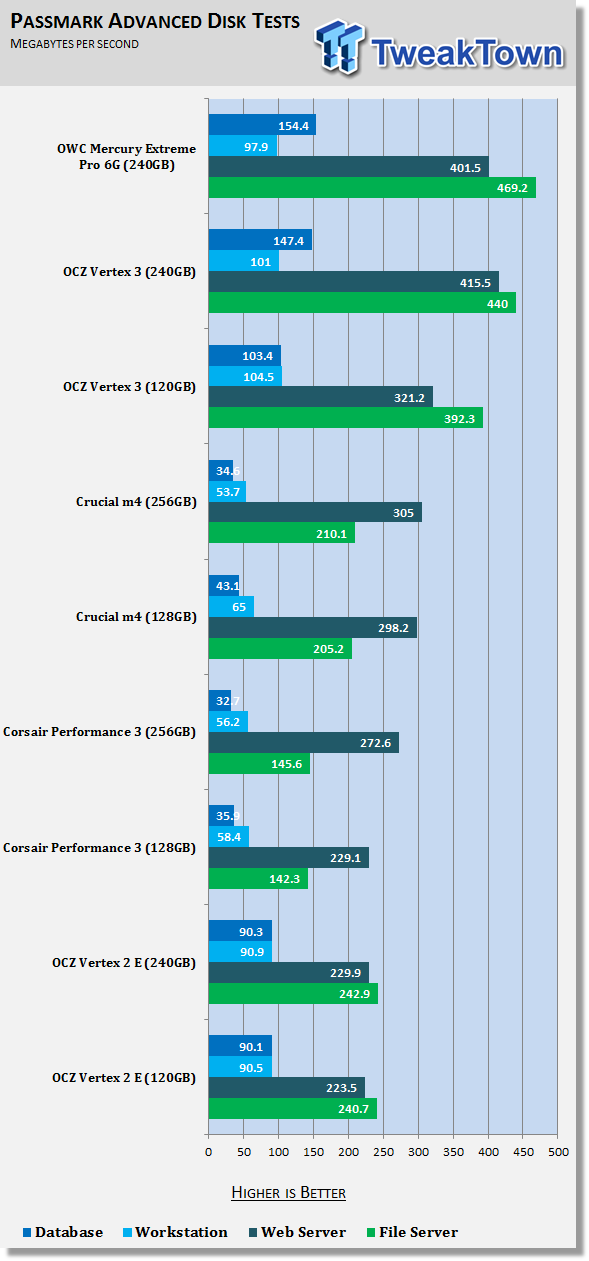 The Mercury Extreme Pro 6G is very close to the SF-2500 enterprise class of products on the market right now. Both use Toshiba Toggle flash, but the Mercury Extreme Pro 6G doesn't have a supercapacitor that protects data in the event of a power interruption.
Next month I'm hoping to find the time to write an article on changing the overprovisioning of the drive and running some benchmarks with a 240GB model converted to a 200GB model. The 240GB unit we used for testing today actually has 256GB of flash, 16x16GB flash modules just like the enterprise drives.
Final Thoughts
In the OWC Electra 6G article I wrote last month I missed the 24/7 customer service information. Being one of the hardcore guys from the power user category, it's easy for me to overlook warranty, customer service, tech support and other areas that can be large selling points to a portion of our audience. Sorry about that. The whole 'customer experience' portion of the sale is very big for Other World Computing and they pride themselves on doing it better than anyone else. As I mentioned earlier in the article, to my knowledge only Kingston has a 24/7 customer service / tech support system (and I wasn't able to find it on their US website). OWC also has a five year warranty with their flagship Mercury Extreme Pro 6G products (three year for the async flash based Electra).
Before we get into the good, bad and the ugly, let's put this 24/7 business behind us. At 9:25 PM on a Friday I called OWC's main telephone number that is conveniently published at the top of their website's landing page, macsales.com. Within a few moments I was directed to the website via an automated system that informed me that technical support was closed for the evening and to try the 24/7 customer service link on the website. This link is just under the telephone numbers for OWC and the recording pointed me right to it.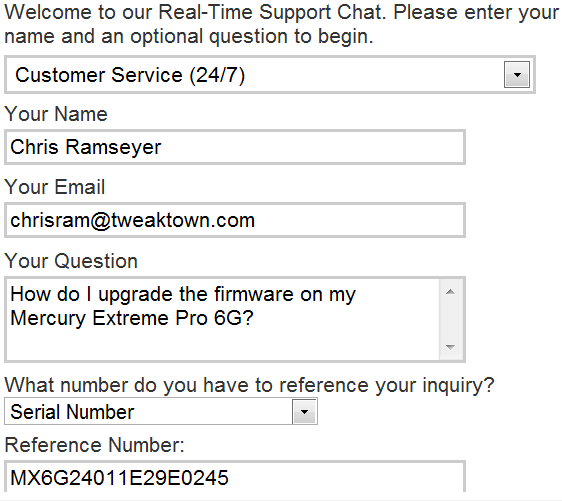 At 9:29 I clicked on the "24/7 Live Chat" button and was asked a few easy questions. The only one I see being a problem is the Reference Number, you may need to pull your drive out to put in the serial number, but can also use your order number.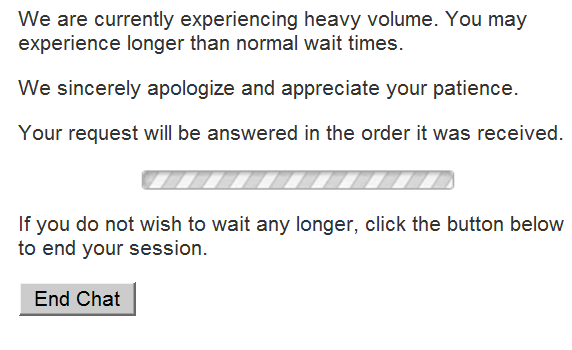 At 9:42 my help ticket was picked up by Tom and we were 24/7 Live Chatting. The hold time was roughly 13 minutes.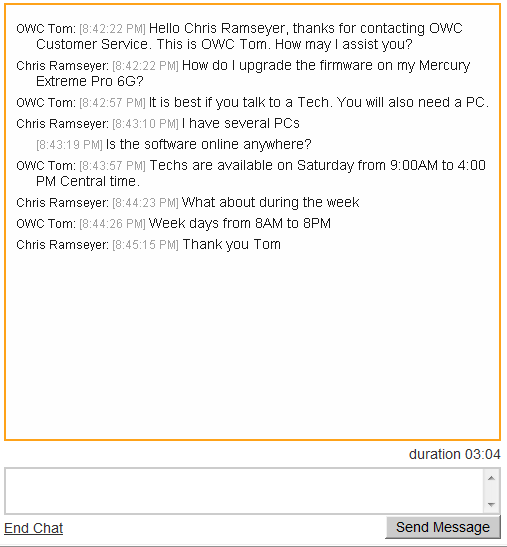 By 9:45 EST (8:45 CST, OWC's server time) Tom had informed me that I needed to call Tech Support in the morning to find out how to update the firmware of my sample drive that shipped with the latest firmware.
Let me point out that there is a fundamental difference between customer service and tech support. With customer service you can find out the tracking number of your package. With tech support you can ask about updating firmware.
Let's not end the post-sale support chat on a sour note. OWC has implemented a new strategy that is above and beyond what anyone else has done in the past in this market. OWC is encouraging you to test drive their SSDs because they are confident that you will like it and want to keep it. I'll tell you this, I like and am going to keep it. The details for the 30-Day Money Back Guarantee are available at this link.
The OWC Mercury Extreme Pro 6G with the new SF-2282 controller and Toshiba Toggle Mode flash is the 2.5" drive to get at this time if you are looking for full on, no compromise, no BS performance. We have every 2.5" client SF-2000 Series SandForce drive available in the US sitting on our desk and this is the fastest right now.
Last week I spoke with OWC about a number of topics and the desktop adapter bracket came up. OWC is considering making a 2.5" to 3.5" desktop adapter bracket available with the purchase of a drive or maybe an item available on request. On the website, macsales.com, they list an add-on for purchase at the bottom of the product page. The adapter bracket listed is quite elaborate and has a 20 Dollar price tag.
If you include the 20 Dollar adapter bracket the total amount spent on the 240GB Mercury Extreme Pro 6G like what we reviewed today comes out to nearly 570 USD. The 120GB Mercury Extreme Pro with the bracket comes out to nearly 300 Dollars. It's safe to say the Mercury Extreme Pro 6G has a lofty price regardless of the bracket, but the performance is unmatched, just like the service after the sale.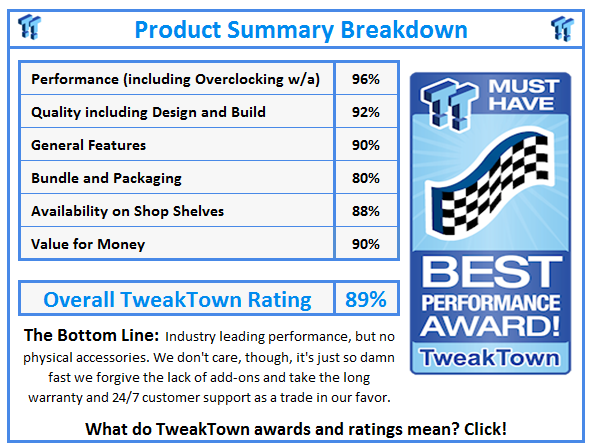 PRICING: You can find products similar to this one for sale below.

United States: Find other tech and computer products like this over at Amazon.com

United Kingdom: Find other tech and computer products like this over at Amazon.co.uk

Australia: Find other tech and computer products like this over at Amazon.com.au

Canada: Find other tech and computer products like this over at Amazon.ca

Deutschland: Finde andere Technik- und Computerprodukte wie dieses auf Amazon.de
We openly invite the companies who provide us with review samples / who are mentioned or discussed to express their opinion. If any company representative wishes to respond, we will publish the response here. Please contact us if you wish to respond.