Mushkin Enhanced Joule 800 Watt Power Supply Review
Mushkin sends us their first 80Plus rated PSU for load testing.
Published
6 minute read time
Introduction, Specifications, Availability and Pricing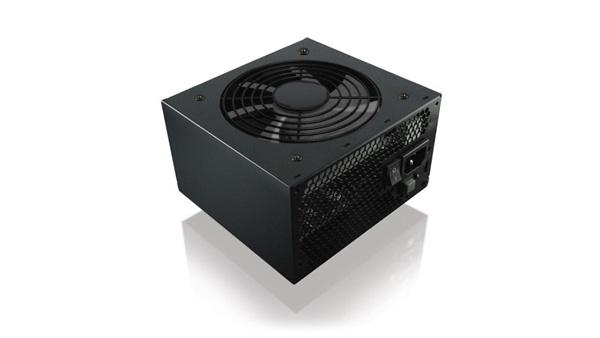 Introduction
The power supply that we are throwing on the test bench today is from Mushkin. While many of our readers are familiar with Mushkin, few are aware that they provide power supplies and are more familiar with their memory storage devices. Founded in 1994, Mushkin's headquarters still resides in Denver, Colorado while having numerous offices around the world. Mushkin offers something for just about every computer out there, from the business user to the gamer. With customers such as Apple and NASA, the folks at Mushkin know how to make a quality product.
Mushkin announced their latest power supplies in late February of this year. The Joule series of power supplies have received three new members; the 700W, 800W and 1000W which are intended to provide the extreme power needed by today's newest processors and video cards. Mushkin claims that these new power supplies deliver clean, smooth power at extremely high levels of efficiency. The unit we are taking a look at today is the MKNPSJL800, or Mushkin Enhanced Joule 800W power supply.
Keep reading as we take a detailed look into it and find out if it is worth your hard earned money.
Specifications, Availability and Pricing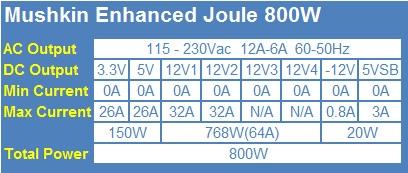 The I/O specifications of the power supply reveal some rather beefy rails for am 800W power supply. Individually, they are capable of more than the
recently reviewed Antec HCP-1200
and have a combined total output of 150W. There is a pair of 12V rails capable of 32A each for a total of 768W of power. Total combined output for the PSU is 800W.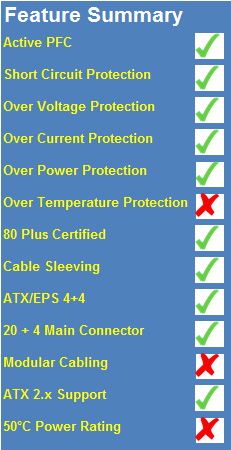 This is the first power supply that we have seen in a while that isn't packed with features start to finish. While the Mushkin Joule 800W power supply does have short circuit, over voltage, over power and over current protection, it lacks the over temperature protection. The unit does feature an 80Plus Silver rating and has fully sleeved cables, but none of them are modular. The Mushkin Joule 800W also isn't rated for 100% continuous output at 50C.
Mushkin's Joule 800W power supply can be found with some quick searching, but isn't readily available at the usual e-tailers such as Newegg and TigerDirect. Mushkin lists the unit with an MSRP of $127.65, but it is available on their website for $111.00 plus shipping. Some searching on Google for the part number will get you a final price of $110.00 shipped from
RamExperts
. Mushkin backs the Joule 800W power supply with a rather short two-year warranty.
The Packaging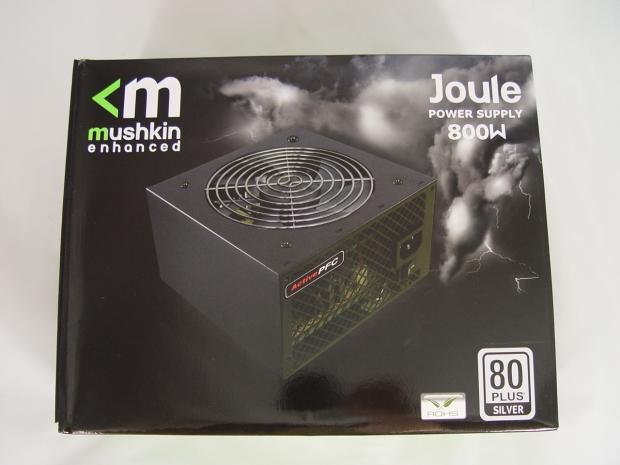 Mushkin's signature black and green theme dominates the packaging for the Joule 800W. On the front we find a great shot of the power supply, wattage and 80Plus Silver logo.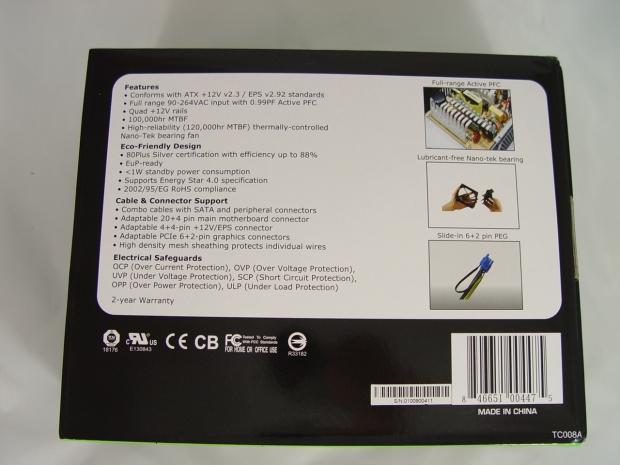 Moving to the back, we find some features and information about the power supply as well as the warranty. Perhaps the most interesting thing here is the statement of "Quad +12V rails", because as we check the bottom of the box, we find....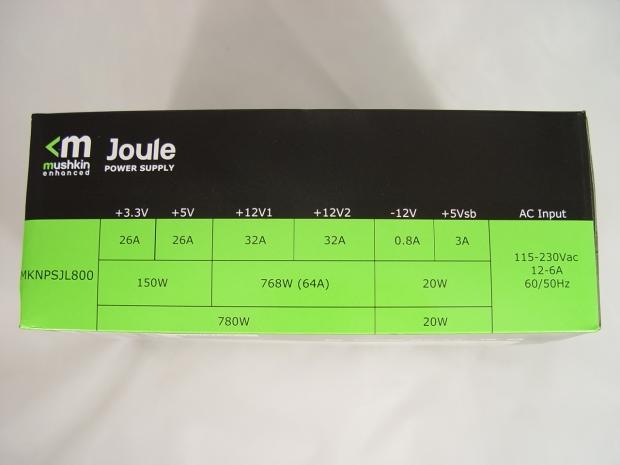 ...an I/O specification label that only lists two 12V rails. We'll check it out on the inside once we open things up.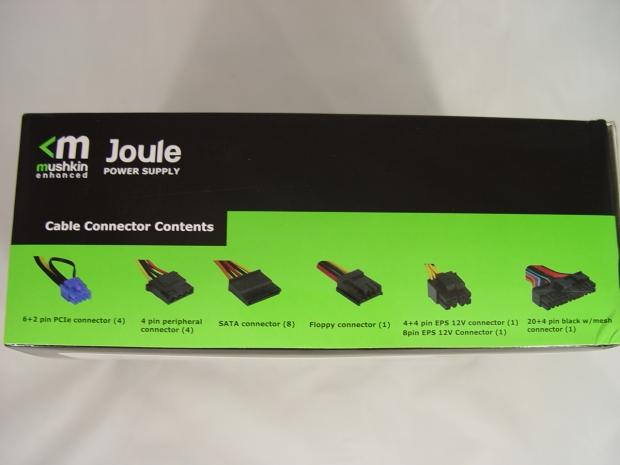 The top of the box offers a good idea of the connectors available on the Joule 800W. Cable lengths aren't listed here despite having plenty of room for more information. The sides of the box are black and have nothing on them.
Inside the Box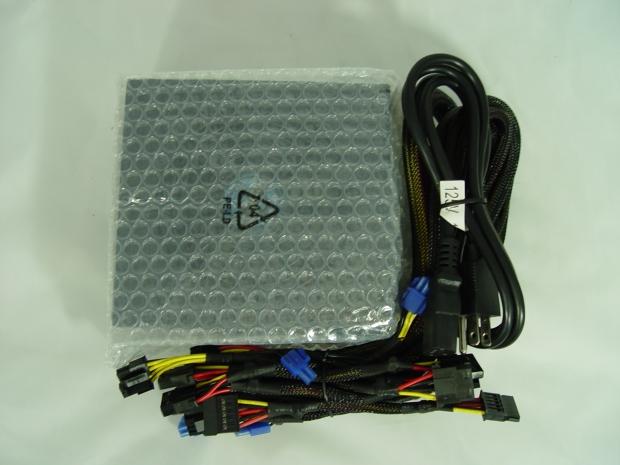 This is the Joule 800W exactly as it sits inside the box. The power supply is held in place by the cables and that is it. There is no foam padding, simply the bubble wrap around the power supply for protection.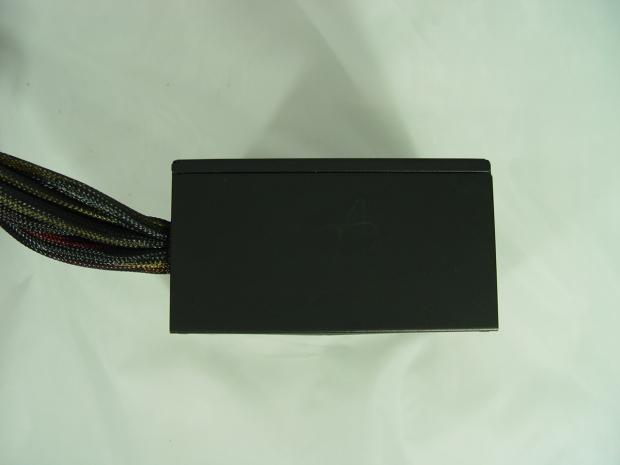 The other side of the power supply is black with nothing on it, but gives you a good look at the color and matte finish of the unit.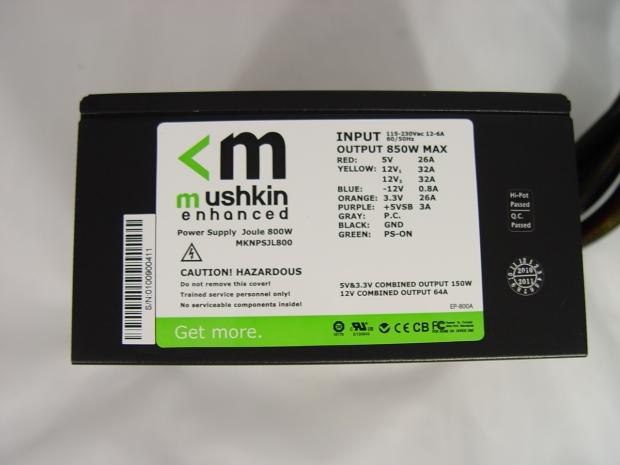 Here again we see the I/O specifications of the Joule 800W and it lists only a pair of 12V rails.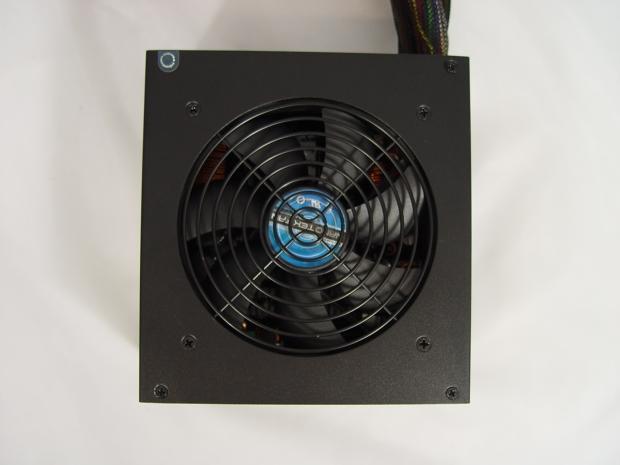 The bottom reveals the 120mm fan with wire grill that cools the Joule 800W.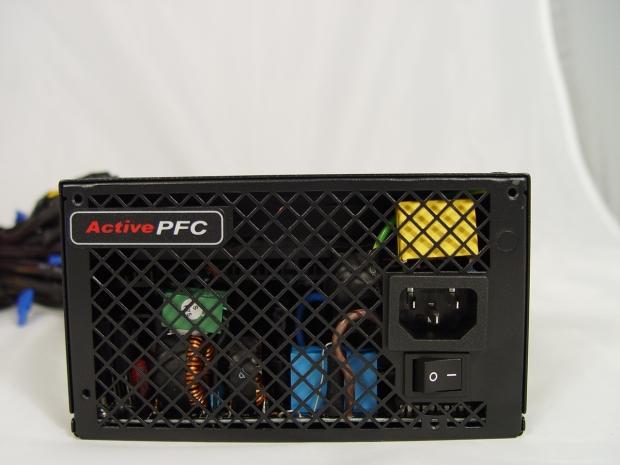 Taking a look at the back, we find an extremely open grill design that allows for maximum airflow out of the power supply. Of all the things that we've seen so far with the Joule 800W, this is probably the best. It would be nice to see more manufacturers follow this open design.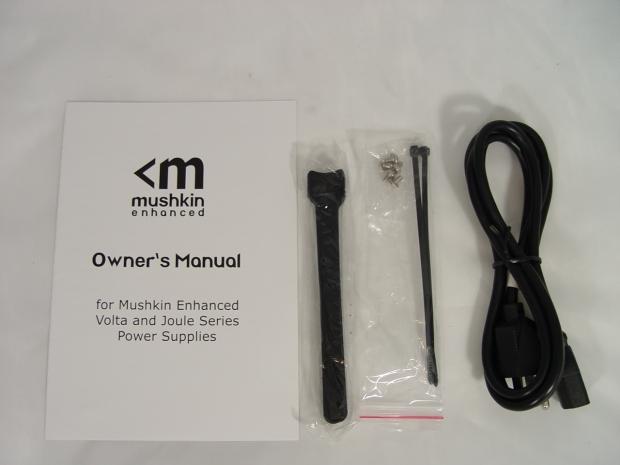 Also included in the box are some mounting screws, the AC input cord, a pair of zip ties, a pair of reusable Velcro cable ties and the owner's manual.
Cabling Arrangement & A Look Inside
Cabling Arrangement

Mushkin's Joule 800W power supply has a modest list of cables and connectors for an 800W unit. Perhaps most important to note is that the power supply does feature both an ATX4+4 cable and EPS12V connector, should you require both. The unit is capable of supplying power to two graphics cards with a total of four 6+2 pin PCI-E connectors via two cables. There are also two cables with four SATA connectors and a single cable with four Molex and one FDD connector.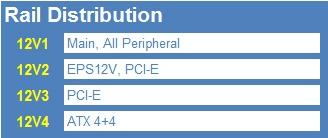 Once we opened up the Joule 800W, we found that all of the cables terminated in four different 12V positions on the PCB. As such, we'll call the power supply a four rail power supply since Mushkin can't make up their mind. 12V1 was traced to the Main connector and all peripheral connectors. 12V2 shared output with one of the PCI-E cables and the EPS12V cable. 12V3 was all by itself and housed a single PCI-E cable, while 12V4 was similar in that it only had the ATX 4+4 cable on it.
A Look Inside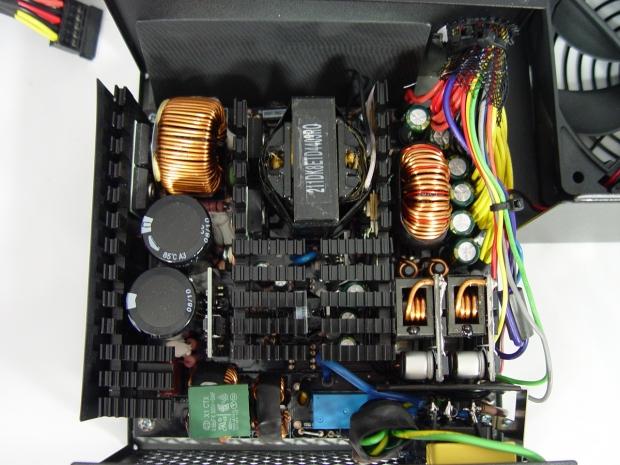 Opening up the Joule reveals a clean layout and what would appear to be adequate cooling for the Joule 800W power supply.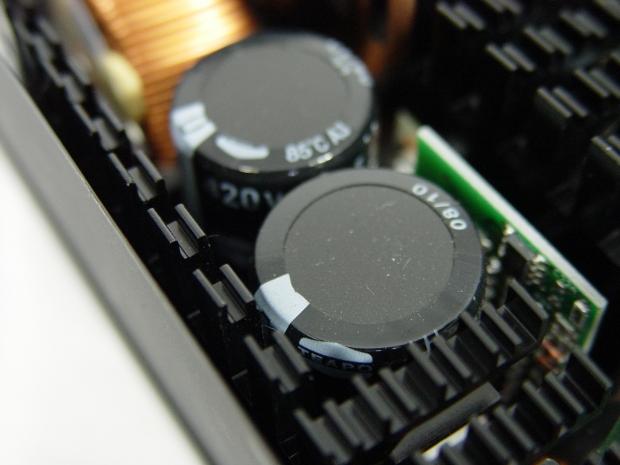 The primary side of the power supply houses a pair of Teapo capacitors. While we haven't had many troubles with Teapo lately, the capacitors included in this power supply are only rated for 85C instead of the much more favored 105C caps.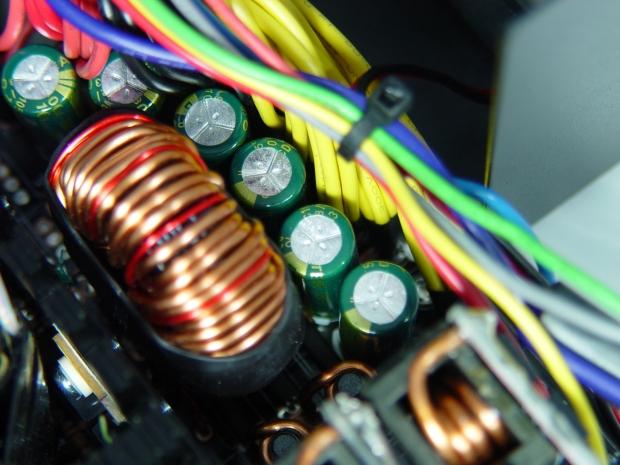 Looking towards the secondary side, we find more Teapo capacitors. At least these are all rated for 105C.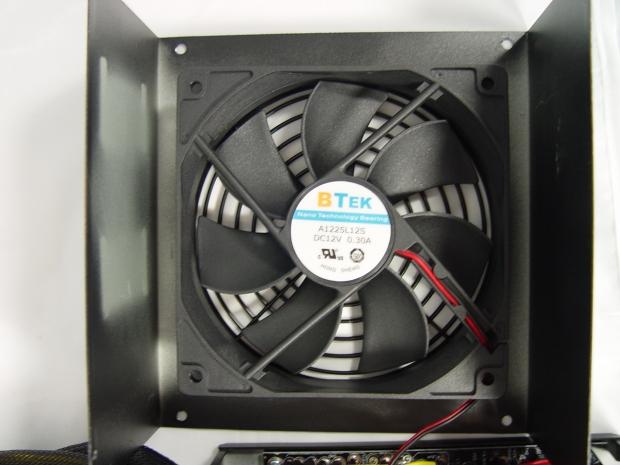 Finally we get a shot of the 120mm fan cooling the Joule 800W power supply. It is made by BTek, model A1225L125.
Test Results & Final Thoughts
Test Results
Our load tests utilize a couple of FAST ATE active load testers and a variety of other equipment such as an oscilloscope, power conditioner, temperature probe and a power consumption meter. You can read more about our standard testing approach
here
.
The tests performed are based around six conceivable setups that are out there and progressively load down the PSU up to the power supply's limits or 1000W, whichever comes first. Since our test equipment's limits are greater than that of the Mushkin Enhanced Joule 800W, we can test it to the maximum.


Running the Mushkin Enhanced Joule 800W power supply through our tests revealed some surprising numbers. Starting with the voltages, we see some readings on the 12V rail that are a tad higher than most power supplies we have reviewed lately, but are still well within specifications. As the loads increase, voltages drop across the board as you would expect, but there are no drastic drops and the readings on all of the rails are well within specifications and look good from start to finish.
Perhaps the area where the Joule 800W excelled at the most was in the ripple department. Start out during the first test, ripple was almost non-existent at only 5mV peak to peak. As the loads increased, so did the ripple, but it was very marginal from test to test. During the final test, ripple crept up to a maximum of 22mV under full load.
As the Joule 800W power supply is rated for 80Plus Silver efficiency, we should expect to see efficiency numbers at or above 85%, 89%, and 85% at 20%, 50%, and 100% loads respectively. The numbers for the Joule 800W are right where they should be at their respective loads and while we don't have a test at exactly 50%, the unit shows no signs that it isn't capable of reaching its rated efficiency.
Final Thoughts
Normally, you don't expect anything spectacular from a budget power supply and usually have to worry about at least one test coming close to failing. The Mushkin Enhanced Joule 800W performed flawlessly with plenty of room to spare in every test from start to finish. It offers a very fair selection of cables and connectors for an 800W power supply that should complement just about any system the power supply is capable of pushing and does so at a very attractive price of $110.
The unit isn't without its discrepancies, however, and that is often the price that you pay for a budget power supply. The biggest complaint is lack of a lengthy warranty for your power supply. While almost every manufacturer of power supplies has switched to a "standard" minimum of a five year warranty, Mushkin only offers a two year warranty for the Joule. You also have the primary capacitors that are rated for 85C instead of the more favored 105C capacitors. While they didn't give us any problems during testing, a year or so of use and degradation of the capacitors could prove this to be the weak point in the power supply.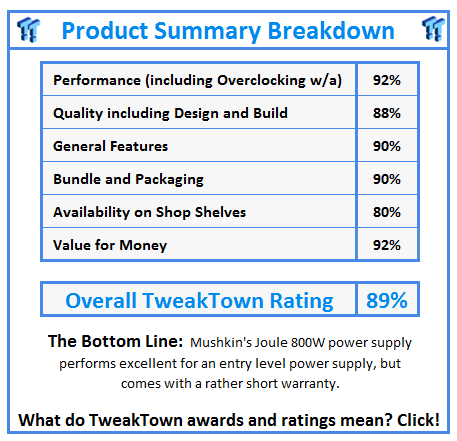 PRICING: You can find products similar to this one for sale below.

United States: Find other tech and computer products like this over at Amazon.com

United Kingdom: Find other tech and computer products like this over at Amazon.co.uk

Australia: Find other tech and computer products like this over at Amazon.com.au

Canada: Find other tech and computer products like this over at Amazon.ca

Deutschland: Finde andere Technik- und Computerprodukte wie dieses auf Amazon.de
We openly invite the companies who provide us with review samples / who are mentioned or discussed to express their opinion. If any company representative wishes to respond, we will publish the response here. Please contact us if you wish to respond.