Tron: Legacy 3D (2010) Blu-ray Movie Review
"Electrify the boys and girls if you'd be so kind." 3D Blu-ray Movie Review.

Published Sat, May 7 2011 1:38 PM CDT
|
Updated Tue, Nov 3 2020 7:02 PM CST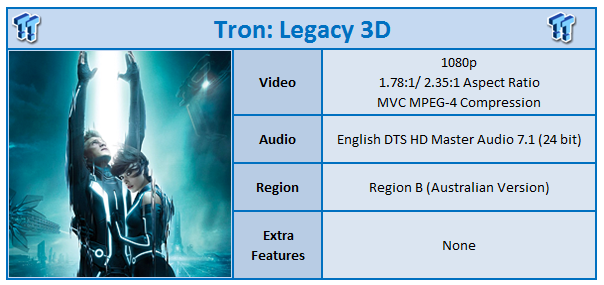 In December 2009, James Cameron's
Avatar
made audience and studios sit up and pay attention to 3D technologies, creating a new and revitalised cinema experience. One year later,
Tron: Legacy
aimed to do it again. But with more competition and certain movies such as
Clash of the Titans
cheapening the experience, could lightning strike again?
Soon after the events of the previous film, Kevin Flynn (Jeff Bridges) returns to the world of the grid, but after his digital alter ego turns against him, he's stuck inside and separated from his young son, Sam (played as an adult by Garrett Hedlund) whom grows up in the real world as an orphan. Following a tip off from Flynn's friend and colleague Alan Bradley (Bruce Boxleitner), Sam seeks his father out, but he too is drawn into the digital world where not everything is what it appears to be.
Thankfully, not only is
Tron: Legacy
worthy enough to carry the
Tron
name, it is in many ways superior to the original film (and not just in terms of the obvious improvements in visual effects); it's one of the most awe inspiring, fun and immersive cinema experiences I have ever experienced - so much so that I returned another five times. It also features one of the best movie soundtracks of all time, courtesy of the French duo Daft Punk (but more on that later).
Basically, I can't recommend the movie more - some people don't like it and accuse it of being more gloss than content; but remember, this isn't high art. It's
Tron
. It's a movie, a love letter made by nerds, for the consumption by other nerds. I'm so very glad it got a chance to be made.
The 3D version of
Tron: Legacy
is the definitive version of the film, bringing the viewer closer to the action and taking them along for the ride. However, the 3D effect is far more subtle than what has come before, leading to some viewers to be disappointed with the effect. But this feeling underlies a misunderstanding at the intent.
Tron: Legacy
isn't about poking you in the eye with a sword or getting in your face. No, the film is more about drawing you into the experience so you subconsciously go along with the ride, making the film more of an experience. It works. It works perfectly.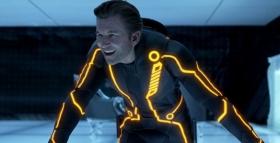 Video
Tron: Legacy
is presented in the varying widescreen aspect ratio of 1.78:1 and 2.35:1 encoded with the MPEG-4 MVC codec. A bit of explanation there; in standard theatres it was presented in 2.35:1 and in IMAX theatres at approximately 1.43:1. The Blu-ray version utilises the IMAX 3D version as a basis, opening up the frame for the scenes enhanced for IMAX (approximately 40 minutes worth), hard mating those scenes to 1.78:1. The remaining scenes are presented as filmed in 2.35:1. This presentation has been director approved, and I must say it's pretty fantastic.
Tron: Legacy
was filmed using the James Cameron/ Vincent Pace Sony 35mm digital camera system, similar to
Avatar
. Just like that film, the footage captured has been heavily modified in the computer realm, creating a vast and complex virtual world. Basically, the transfer here is in the running for the most visually stunning transfer of a live action film on the format. Everything is glossy and beautiful and draws you into the world of the gaming grid. There really is nothing to complain about. Nothing at all. This is a first rate, demo worthy transfer.
Naturally, the 3D Blu-ray loses the overwhelming 'bigness' once it's moved from the cinema environment to the home cinema which inhibits the complete dissolution into the world of the film. Additionally, I found the active shutter glasses on the Panasonic Viera Plasma created more of a headache than the passive polarized glasses in the cinema. After two hours, I felt fairly exhausted and my two friends whom watched the film with me reported similar feelings. That said, the 3D effect was handled very well and is now definitely my demonstration disc of choice. But next time I pick up the film, I'm not sure I'd automatically reach for the 3D version. Seemingly, we still have a ways to go with 3D in the home.
Audio
The main audio track is encoded in lossless DTS HD Master Audio 7.1, at 24 bits (a massive bitrate of some 6 Mbps)
[img]2[/img]
Wow. I'm speechless. I thought I was impressed with the audio track at the IMAX showing, but Director Joe Kosinski went back to the mix after the film had begun its theatrical showings and further massaged the elements, creating an even more involving surround experience for this Blu-ray version.
Again, just like the video, this is an entirely reference quality mix. I guarantee it will wring every last bit of juice out of your system, be it high end or low end. I saw no evidence of lip sync issues, or really anything to complain about at all. The mid and back rear channels are always active with sound effects shooting back and forth, and aggressive mixing of the Daft Punk score.
There is so much bass. It underscores everything. You will feel it. It will move your house. It's amazing.
I don't even really know what to say about the score by Daft Punk. I haven't been the biggest fan of theirs over the years, but their work in
Tron: Legacy
is nothing short of amazing. Basically, it's been the soundtrack to my life over the last six months, accompanying me where ever I go - regardless of whether it's playing in my head, MP3 player, lounge room or car. It's the heart and soul of the movie and without it, it'd be a much lesser movie.
I was shocked when it wasn't nominated for an Academy Award. (In fact, I was shocked that the Academy unanimously snubbed the movie entirely, but then again, they did to the original as well when they decided that using a computer in a movie production was 'cheating'.) It's an absolute joy to hear in 7.1, mixed perfectly and aggressively and I wouldn't have it any other way.
This mix is perfect. Amazing. 7.1 channels of pure sonic bliss.
[img]3[/img]
Extras
Due to the required additional bandwidth of the 3D codec, there are no extra features on the disc; instead they are housed on the 2D disc.
In a nice touch, however, the menu system is presented in full 3D 1080p.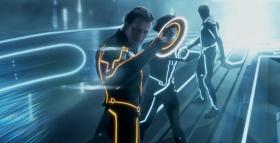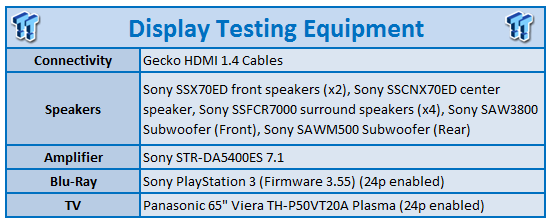 PRICING: You can find products similar to this one for sale below.

United States: Find other tech and computer products like this over at Amazon.com

United Kingdom: Find other tech and computer products like this over at Amazon.co.uk

Australia: Find other tech and computer products like this over at Amazon.com.au

Canada: Find other tech and computer products like this over at Amazon.ca

Deutschland: Finde andere Technik- und Computerprodukte wie dieses auf Amazon.de
We openly invite the companies who provide us with review samples / who are mentioned or discussed to express their opinion. If any company representative wishes to respond, we will publish the response here. Please contact us if you wish to respond.