Introduction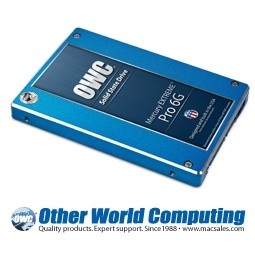 In 2010 we were introduced to Other World Computing (
http://www.macsales.com
), a reseller specializing in Macintosh products. At the time OWC was moving beyond that of a simple retail / e-tail outlet and venturing into manufacturing their own solid state product line. Over the last few years we've seen many companies manufacture their own SSDs; some have been established in the SSD market and others have been a one product wonder. You would think those with history in the SSD marketplace would be the first to market when a new controller becomes available, but OWC proved that theory wrong when they released the SandForce SF-1200 based Mercury Extreme right at the beginning of the product cycle. To show that OWC was serious about their solid state product line, they also priced the Mercury Extreme at a competitive point and even held the crown on and off in 2010 as the lowest priced SandForce SSD on the market.
It's now 2011 and we've started a new season for solid state drives. Take me out to the ball game; OWC is in the batter's box. OWC has kept their SandForce partnership and once again amazed us with their ability to get a product to market so quickly. To date only OCZ Technology has been able to sample us with a SandForce 2000 Series product and that was an engineering sample that can't use the same mass production firmware found in the retail drives. We've already covered the SandForce 2000 Series lineup in detail. For a full break down of what's to come, be sure to
check out that article
.
When the OWC Mercury Extreme Pro 6G arrived I was fairly certain it was the first retail SandForce SF-2281 product we'd review, but unfortunately that line is blurred again this year. Upon closer inspection we found that the internals were very close to the final product, but not what you will be purchasing in the coming weeks. The firmware on the drive we are looking at today is also a pre-release (RC-1) version, but we did find it to be more refined than the Vertex 3 firmware. Before I start spilling the beans too quickly, let's take a look at the specifications and get into the testing results.
Specifications, Pricing and Availability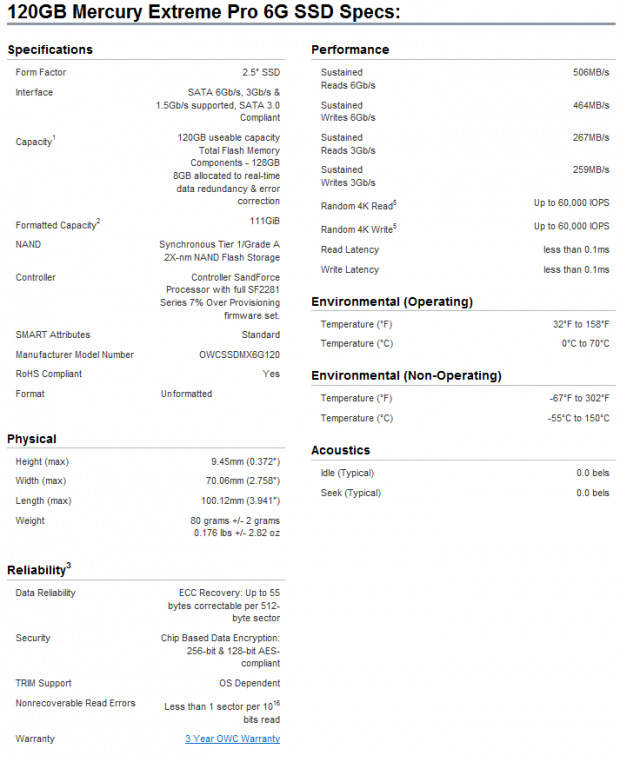 Now that we have a retail sample with a SandForce SF-2200 controller on board, we can move past the Power Point slide decks and general statements about the new controller. This allows us to focus on specific products from the many Team SandForce Driven partners and start to look at where each company is adding additional value to the product.
The OWC Mercury Extreme Pro 6G is offered in three capacity sizes; 120GB, 240GB and the massive 480GB. There is a 7% overprovision , an amount of capacity reserved for background tasks. New to the SF-2200 is the ability to disable overprovisioning, but OWC choose to keep with the proven, tried and true if you will, amount that was seen on many consumer SF-1200 products.
Looking at the chart above for the 120GB model, we see that OWC is claiming a sustained read speed of 506MB/s, a very detailed number unlike the general performance numbers given by OCZ Technology. The sustained write speed given is 464MB/s. It should be stated that the only way to achieve these very high speeds is with a SATA 6G port on a modern motherboard. Most X58 motherboards with SATA 6G provided by a Marvell SATA 6G port will not achieve the maximum speeds claimed; for that you will need a P67 generation motherboard with an Intel SATA 6G port.
All of the regular benefits of SSD technology are also found in the Mercury Extreme Pro 6G, such as low power consumption, high shock resistance and of course an ultra low data access time. The access times of less than a millisecond are what makes an SSD 'feel' so fast in your system and makes everything open or close before your finger can even come off of the mouse button.
OWC has included a three year warranty on the Mercury Extreme Pro 6G, but not included a desktop adapter bracket that we see from many manufacturers.
As you already know, pricing is very difficult to gauge when SSDs first hit the market. At launch OWC is placing the 120GB model that we are reviewing today at 319.99, the 240GB model at 579.99 and the 480GB drive at 1799.99. OCZ technology stated that their 120GB drive would have an MSRP of 249.99 and the 240GB drive will be 499.99, but we have yet to see those prices in the wild and the actual prices are closer to OWC's price list. I look for the prices to change over time, but at this time you will pay a premium for the world's fastest SSD controller regardless of which company you choose.
When it comes to actually shipping products out to customers, OWC will have 120GB drives in stock Friday the 15th. The 240GB drives will ship on the 22nd and the 480GB big boys will go out on the 25th.
The OWC Mercury Extreme Pro 6G
The Packaging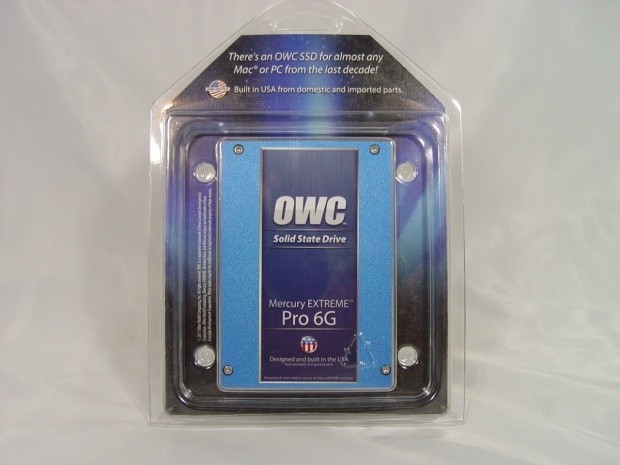 This is the first time we've seen OWC's full retail package. SSDs are very resistant to shock, so there really isn't a need to go overboard with foam and an oversized box since the product is for the most part just a bare drive. The package serves its purpose well.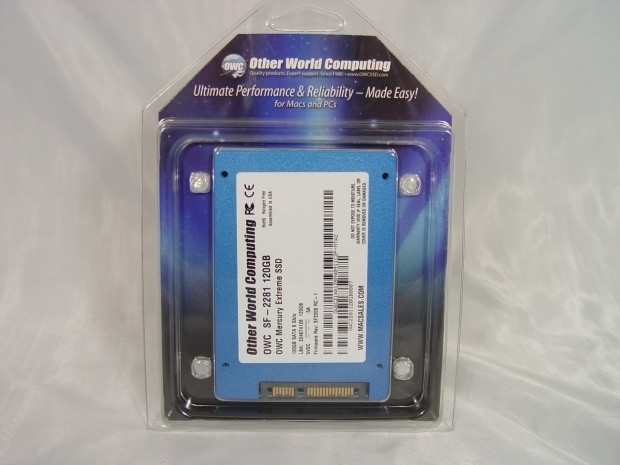 The back side of the package is nearly identical to the front. OWC sells their drives directly to the public, so there really isn't a need to place performance information or a bunch of graphs on the package since you see the specifications when you order the product.
The Drive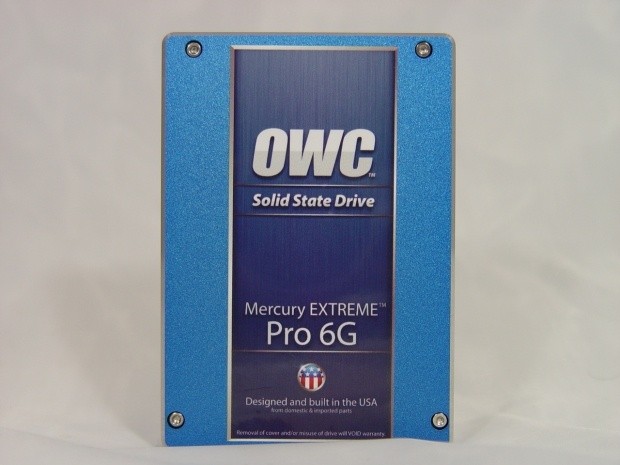 Not that it matters to most people, but OWC has by far the best looking SSD case on the market. The blue is visually appealing and the CNC cut beveled edge just adds to the look. The case is aluminum and when the two halves are put together you get a very sturdy enclosure that doesn't flex. The front sticker shows the product series, in this case the Mercury EXTREME Pro 6G. Also on the front you will see a portion of the American flag with a statement to the drive being designed and built in the USA.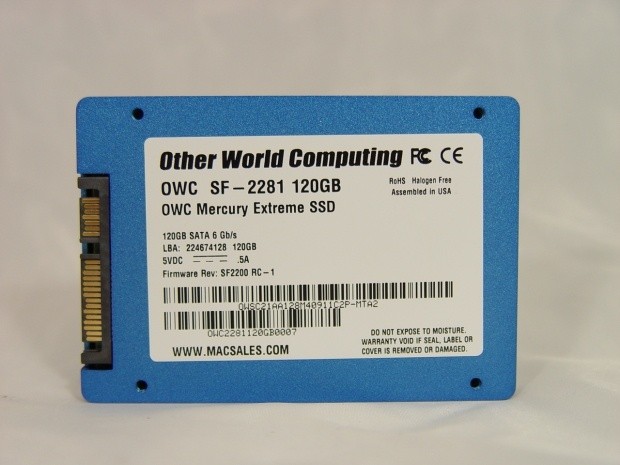 The back label lists the capacity, model and serial numbers as well as the firmware that was on the drive at the time of shipping. Our sample shipped to us with RC-1 firmware. This will later be changed to MP (Mass Production) firmware when it becomes available.
On the back of the drive we found the standard mounting points needed to install the Mercury Extreme Pro 6G in many notebook adapter brackets.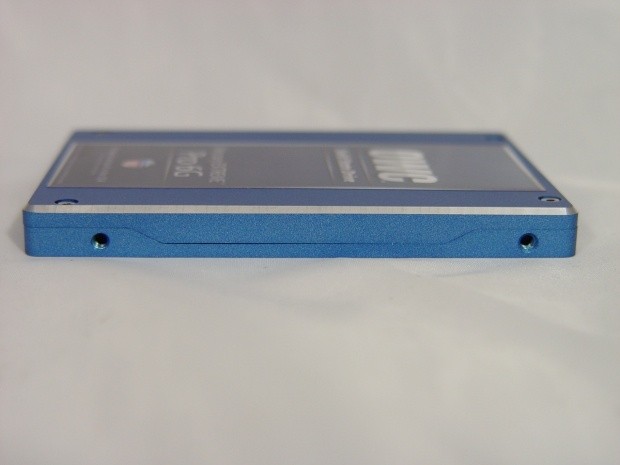 On the side we found the standard mounting points needed to install the drive in many desktop adapter brackets, so you are covered on both sides with everything needed to install the OWC Mercury Extreme Pro 6G in nearly all notebooks built in the last ten years.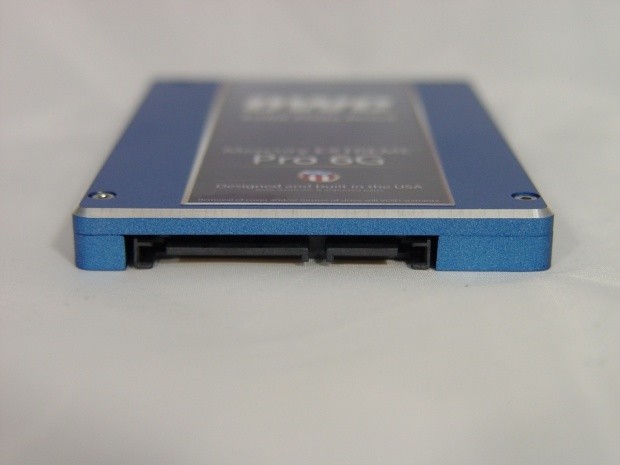 The SATA power and data connectors are also located where they should be, making the drive compatible with all 2.5-inch drive sleds like those found in servers and some high end desktops.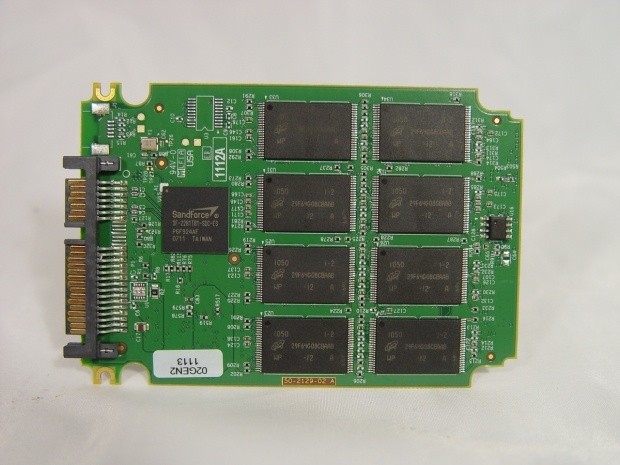 Inside we found a second generation PCB designed for the new SandForce SF-2200 controller. OWC uses Micron 25nm NAND flash chips, eight on each side for a total of sixteen total. This allows the drive to reach the maximum speeds offered by the SF-2200 controller.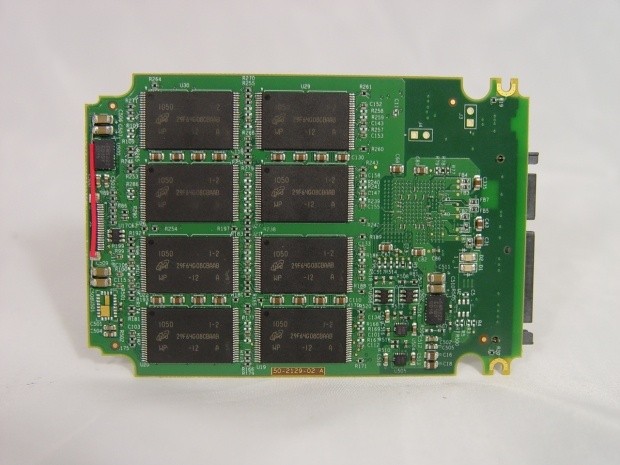 Even though we are calling the OWC Mercury Extreme Pro 6G a retail drive, we did find a wire soldered to the PCB. This will later be replaced with an actual trace on the PCB for the final shipping drives that you purchase. Our drive is serial number 007 and it is very common to see wires soldered here and there on early production samples.
I have a Tyan motherboard in my collection, serial number 002, and it has six wires soldered on it. Let me reaffirm this point; the retail drives that you purchase will not have a wire soldered on them.
Test System Setup and ATTO Baseline Performance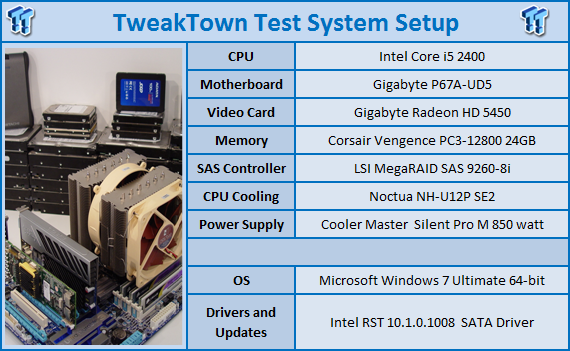 We would like to thank the following companies for supplying and supporting us with our test system hardware and equipment:
AVADirect
,
GIGABYTE
,
Cooler Master
,
LSI
,
Corsair
and
Noctua
.
You can read more about TweakTown's Storage Product Testing Workstation and the procedures followed to test products
in this article
.
The OWC Mercury Extreme Pro 6G is the first 120GB sample we've received with the SandForce SF-2200 controller and a capacity size of 120GB. The OCZ Vertex 3 120GB retail drive shipped out while I was writing this article and will not be here for another couple of days. In our performance charts used to compare the OWC SSD today we have several drives from years past and an engineering sample 240GB Vertex 3. The Vertex 3 uses a very early firmware revision that does not support TRIM as it should; we touched on this in
our Fill Testing article
. The OWC Mercury Extreme Pro 6G did not have this problem, as you will see in a few pages.
ATTO Baseline PerformanceVersion and / or Patch Used:
2.34
ATTO is used by many disk manufacturers to determine the read and write speeds that will be presented to customers.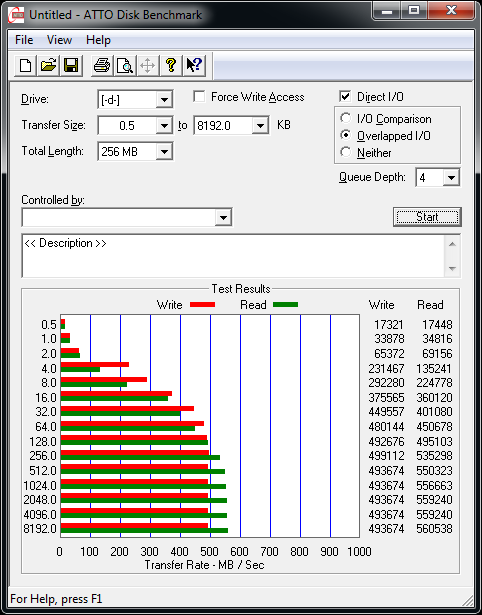 In ATTO, the industry standard for manufacturers to make performance claims, we achieved a maximum read speed of over 560MB/s. The maximum write speed recorded was nearly 500MB/s on our GIGABYTE P67A-UD5 motherboard.
Benchmarks - HD Tune Pro
HD Tune ProVersion and / or Patch Used:
4.00
Developer Homepage:
http://www.efdsoftware.com
Product Homepage:
http://www.hdtune.com
HD Tune is a Hard Disk utility which has the following functions:
Benchmark: measures the performance
Info: shows detailed information
Health: checks the health status by using SMART
Error Scan: scans the surface for errors
Temperature display
HD Tune Pro gives us accurate read, write and access time results and for the last couple of years has been gaining popularity amongst reviewers. It is now considered a must have application for storage device testing.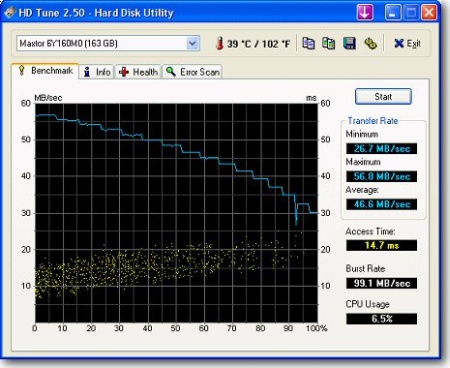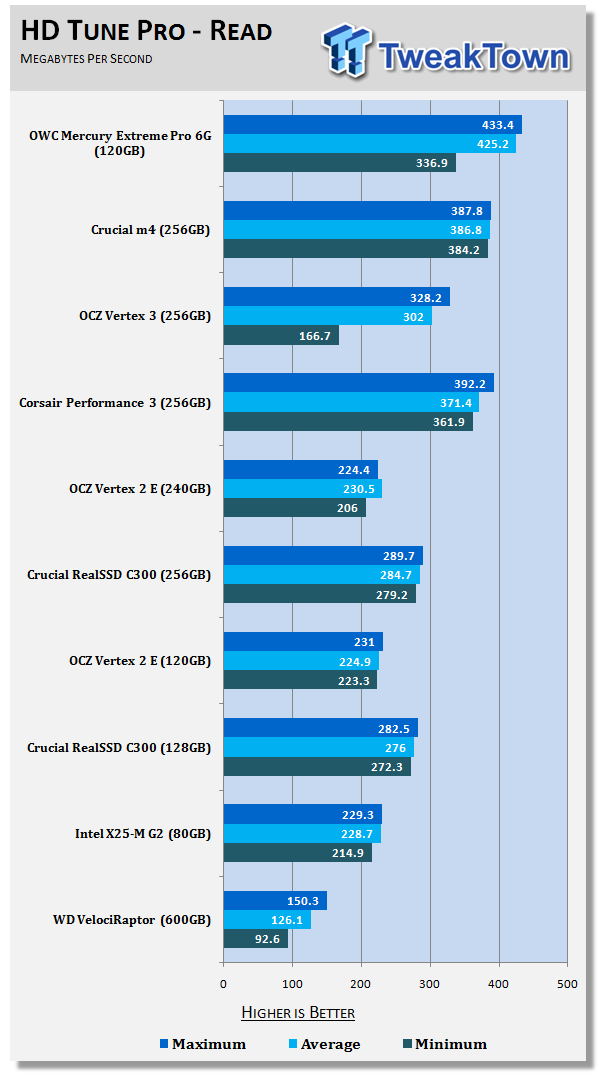 It's really not appropriate to make direct comparisons between the 240GB Vertex 3 with pre-production firmware and the more refined OWC Mercury Extreme Pro 6G, since the two were tested in completely different stages of completion, but we can compare the Corsair Performance 3 and Crucial m4 since they are retail products running retail firmware. The Performance 3 and m4 both use a Marvell controller, but not the same version.
In HD Tune Pro's read across the OWC Mercury Extreme Pro 6G we see that the drive crushes everything on our chart by a significant amount. We measured a dip in performance resulting in the low 336.9 MB/s minimum speed. This low spot was recorded on several runs and is most likely a caching issue. We also noticed the same point on the Vertex 3 dipping as well. This is a very brief drop in performance and it didn't really affect the average read. The average read measured was 425MB/s which is remarkably fast, even for a next generation SATA 6G SSD. The OWC Mercury Extreme Pro 6G is the fastest single drive we've tested in HD Tune Pro.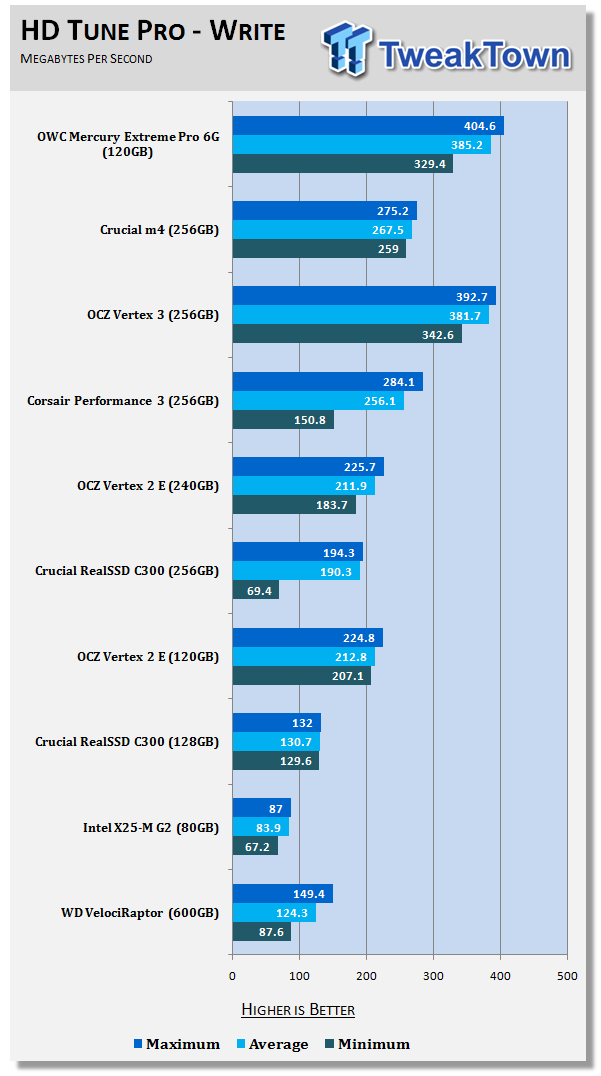 The high speeds also carried over to the write test, but here we found the small density NAND chips were slower than the large chips found on the Vertex 3. This is a very common thing to see as the denser chips are generally a little faster.
Benchmarks - AIDA64 Random Access Time
AIDA64 Random Access TimeVersion and / or Patch Used:
1.60
Developer Homepage:
http://www.aida64.com
Product Homepage:
http://www.aida64.com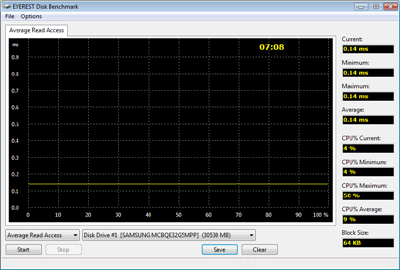 AIDA64 offers several different benchmarks for testing and optimizing your system or network. The Random Access test is one of very few if not only that will measure hard drives random access times in hundredths of milliseconds as oppose to tens of milliseconds.
Drives with only one or two tests displayed in the write test mean that they have failed the test and their Maximum and possibly their Average Scores were very high after the cached fills. This usually happens only with controllers manufactured by JMicron and Toshiba.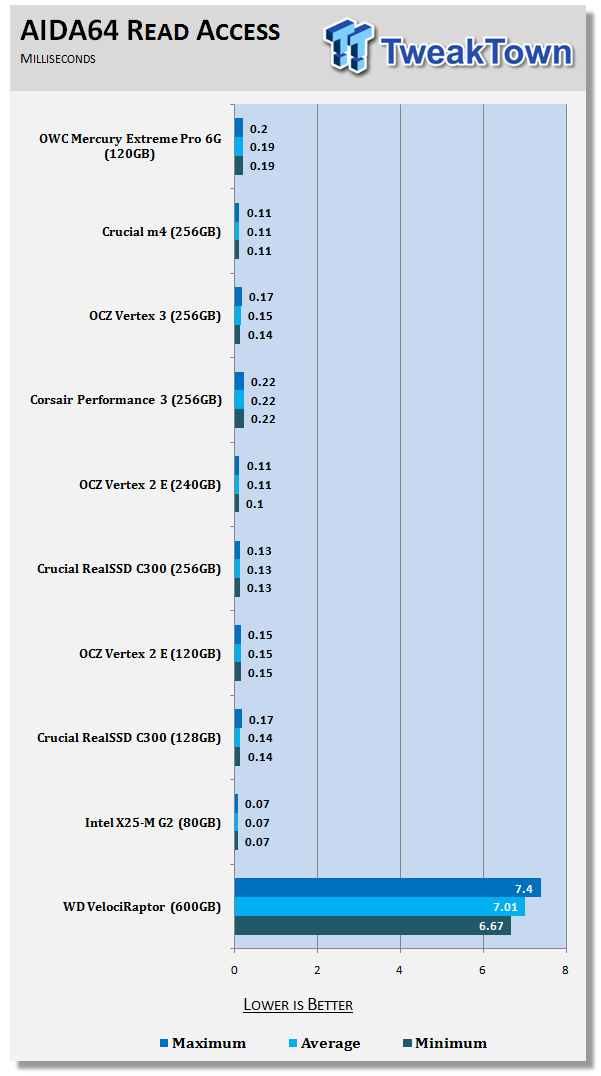 Access times are what give the user the feel and good experience found only with SSDs. When a drive is able to access data at speeds measured in microseconds, everything opens much quicker. This gives the impression of an instant action when a command is called upon. A lot of hype goes into maximum read and write speeds, but the access time is what users feel the most with SSDs. OWC was able to deliver an average read access time of .19 ms; you will feel a large improvement over a traditional platter drive at that speed.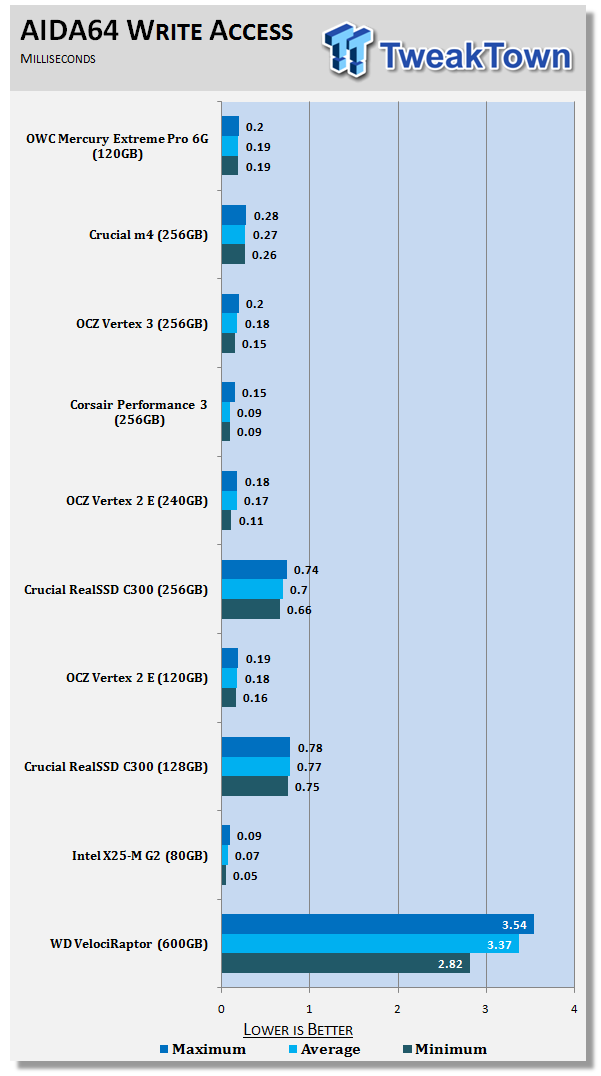 The write access times were identical to the read access times with an average write of .19 ms and a maximum of only .2.
Benchmarks - CrystalDiskMark
CrystalDiskMarkVersion and / or Patch Used:
3.0 Technical Preview
Developer Homepage:
http://crystalmark.info
Product Homepage:
http://crystalmark.info/software/CrystalDiskMark/index-e.html
Download here:
http://crystaldew.info/category/software/crystaldiskmark
CrystalDiskMark is a disk benchmark software that allows us to benchmark 4K and 4K queue depths with accuracy.
Key Features:-
* Sequential reads/writes
* Random 4KB/512KB reads/writes
* Text copy
* Change dialog design
* internationalization (i18n)
Note:
Crystal Disk Mark 3.0 Technical Preview was used for these tests since it offers the ability to measure native command queuing at 4 and 32.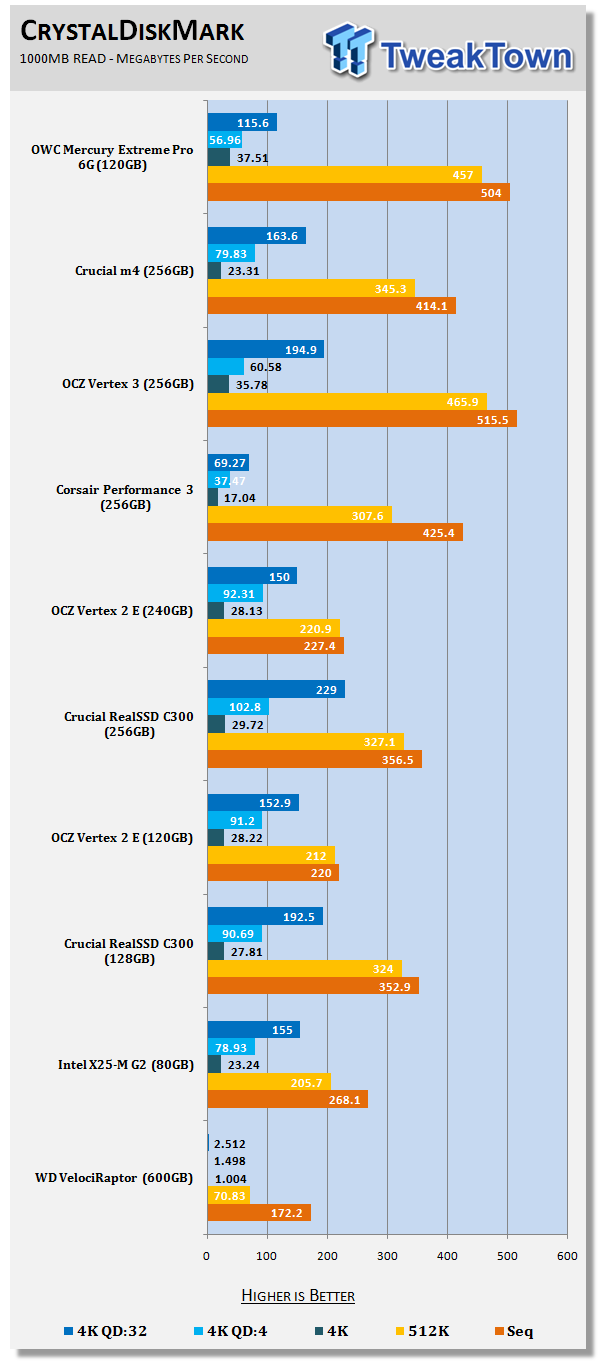 CDM is our last synthetic benchmark and we use it to observe 4K and native command queuing performance.
4K performance with the new SandForce SF-2200 works a little different than what we measured on the SF-1200 drives. In a single call for data the OWC Mercury Extreme Pro is faster than the Vertex 2's SF-1200, but the 1200 is faster when NCQ is used. The SF-2200 is still very fast delivering almost 60MB/s at a depth of 4 and 115MB/s at a depth of 32. The depth tests are slower than the Crucial m4, though.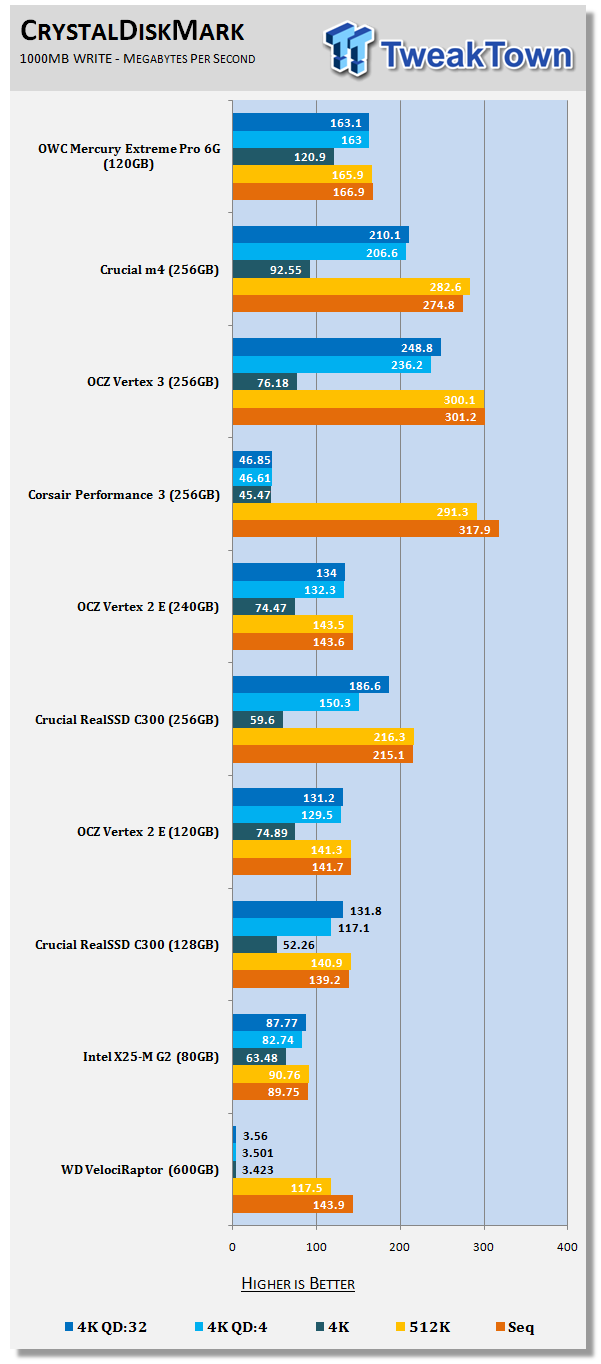 The write 4K single request result was very fast, over 120MB/s, but once NCQ came into play the OWC Mercury Extreme Pro topped out at 163MB/s in both 4 and 32 commands.
Benchmarks - PCMark Vantage Hard Disk Tests
PCMark Vantage - Hard Disk TestsVersion and / or Patch Used:
1.0.0
Developer Homepage:
http://www.futuremark.com
Product Homepage:
http://www.futuremark.com/benchmarks/pcmark-vantage/
Buy It Here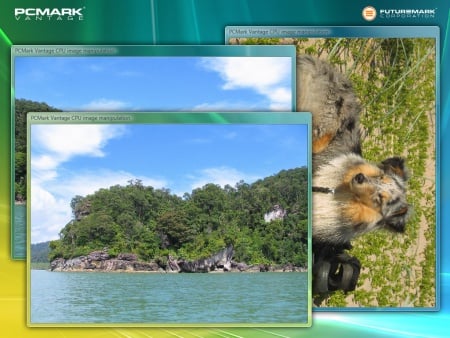 PCMark Vantage is the first objective hardware performance benchmark for PCs running 32 and 64 bit versions of Microsoft Windows Vista. PCMark Vantage is perfectly suited for benchmarking any type of Microsoft Windows Vista PC from multimedia home entertainment systems and laptops to dedicated workstations and high-end gaming rigs. Regardless of whether the benchmarker is an artist or an IT Professional, PCMark Vantage shows the user where their system soars or falls flat, and how to get the most performance possible out of their hardware. PCMark Vantage is easy enough for even the most casual enthusiast to use yet supports in-depth, professional industry grade testing.
FutureMark has developed a good set of hard disk tests for their PCMark Vantage Suite. Windows users can count on Vantage to show them how a drive will perform in normal day to day usage scenarios. For most users these are the tests that matter since many of the old hat ways to measure performance have become ineffective to measure true Windows performance.

HDD1 - Windows Defender
HDD2 - Gaming
HDD3 - Windows Photo Gallery
HDD4 - Vista Startup
HDD5 - Windows Movie Maker
HDD6 - Windows Media Center
HDD7 - Windows Media Player
HDD8 - Application Loading
The OWC Mercury Extreme Pro 6G hits the PCMark Vantage HDD tests out of the ball park and delivered real world results that were amazing. It's hard not to just go on and on about how fast this drive is and very hard not to start analysing the performance compared to the Vertex 3. We will talk more about the firmware issues found on the Vertex 3 on the next page, though, and clarify our results with data on the drive.
Looking at the drives appropriate for comparison, the OWC Mercury Extreme Pro 6G is faster than the Crucial m4 and Corsair Performance 3 in all tests ran at this stage with the drives empty and fairly clean. Let's see how the drive holds up with data present on the drive, though.
PCMark Vantage - Drives with Data Testing
For a complete breakdown on the Drives with Data Testing please
read this article
. You will be able to perform this test at home with the files provided in the article - full instructions are included.
Brief Methodology
SSDs perform differently when used for a period of time and when data is already present on the drive. The purpose of the Drives with Data testing is to show how a drive performs in these 'dirty' states. SSDs also need time to recover, either with TRIM or onboard garbage collection methods.
Drives with Data Testing - 25%, 50%, 75% Full States and Dirty / Empty Test
Files needed for 60 (64GB), 120 (128GB), 240 (256GB)
60GB Fill - 15GB, 30GB, 45GB
120GB Fill - 30GB, 60GB, 90GB
240GB Fill - 60GB, 120GB, 160GB
Empty but Dirty - a test run just after the fill tests and shows if a drive needs time to recover or if performance is instantly restored.

HDD1 - Windows Defender
HDD2 - Gaming
HDD3 - Windows Photo Gallery
HDD4 - Vista Startup
HDD5 - Windows Movie Maker
HDD6 - Windows Media Center
HDD7 - Windows Media Player
HDD8 - Application Loading
This chart is quickly getting out of control, but a revised edition is in the works that will just show the total score as given by Vantage.
A large reason why we are not running a direct comparison between the Vertex 3 240GB drive we previewed a few weeks ago and the OWC Mercury Extreme Pro 6G 120GB is mainly due to what we found in this test. After running several more tests for SandForce things became even clearer. Our engineering sample OCZ Vertex 3 with pre-production firmware did not have working TRIM, at least not working as we would expect.
The OWC Mercury Extreme Pro 6G really solidified SandForce's response to us, that this was a firmware issue that would be cleared up in the RC-1 firmware. Once data was deleted from the Mercury Extreme Pro 6G the performance was restored to near clean state levels within 10 to 20 seconds. Looking at the chart you can see the 75% Full and the Dirty / Empty numbers, the Dirty / Empty results were much higher.
That leaves us with the OWC Mercury Extreme Pro 6G's performance when the drive is 25%, 50% and 75% full. Instead of looking at these results in full test by test detail, we will talk about the overall scores. The OWC Mercury Extreme Pro 6G in a fairly clean state delivers a HDD score in PCMark Vantage of over 74,000. With the drive roughly 25% full that result dips to 55,508. The score drops even more at the 50% mark, down to 54,385 and the 75% full mark is 51,648.
When all of the data is deleted and the test ran one final time, the result goes back up to 71,248, very close to the original score (just over 74K).
The OWC Mercury Extreme Pro 6G did take a performance hit when data was added to the drive and the performance loss went more significant as even more data was added. The performance was also recovered as data was removed and capacity was freed up, something the Vertex 3 couldn't do when we tested it with pre-release firmware. The significant portion, though, is that the OWC Mercury Extreme Pro 6G never dipped to performance levels of the Corsair Performance 3 even when filled at just over 75% capacity.
As we start to add more products to this test group, the significance of this form of testing will become more apparent.
Benchmarks - AS SSD
AS SSD BenchmarkVersion and / or Patch Used:
1.2.3577.40358
Developer Homepage:
Alex Intelligent Software
Product Homepage:
Alex Intelligent Software
Download here:
http://www.alex-is.de/PHP/fusion/downloads.php?cat_id=4&download_id=9
AS determines the performance of Solid State Drives (SSD). The tool contains four synthetic as well as three practice tests. The synthetic tests are to determine the sequential and random read and write performance of the SSD. These tests are carried out without the use of the operating system caches.
In all synthetic tests the test file size is 1GB. AS can also determine the access time of the SSD, the access of which the drive is determined to read through the entire capacity of the SSD (Full Stroke). The write access test is only to be met with a 1 GB big test file. At the end of the tests three values for the read and write as well as the overall performance will be issued. In addition to the calculated values which are shown in MB/s, they are also represented in IO per seconds (IOPS).
Note:
AS SSD is a great benchmark for many tests, but since Crystal Disk Mark covers a broader range of 4K tests and HD Tune Pro covering sequential speeds, we will only use the Copy Benchmark from AS SSD.
- Copy Benchmark

The smaller flash density is really brought out in the copy test where we see the Mercury Extreme Pro 6G falling behind our 240GB next gen SATA 6G drives. The Mercury Extreme Pro 6G is quite a bit faster at transferring data when compared to the previous generation 120GB SF-1200 Vertex 2. This is an area where SandForce really needed to step up and correct with the new SF-2200 controller and as you can see, they did do just that.
Benchmarks - Passmark
Passmark Advanced Multi-User TestsVersion and / or Patch Used:
6.1
Developer Homepage:
http://www.passmark.com
Test Homepage:
http://www.passmark.com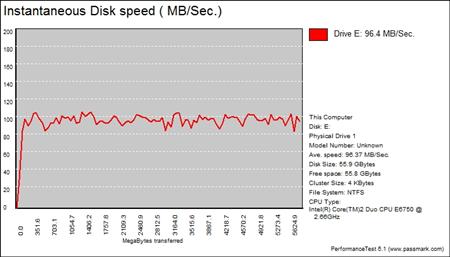 Many users complain that I/O Meter is too complicated of a benchmark to replicate results so my quest to find an alternative was started. Passmark has added several multi-user tests that measure a hard drives ability to operate in a multi-user environment.

The tests use different settings to mimic basic multi-user operations as they would play out on your server. Variances in read / write percentage as well as random / sequential reads are common in certain applications; Web Servers read nearly 100% of the time while Database Servers write a small amount of data.
The Workstation test is the only single user environment and will be similar to how you use your system at home.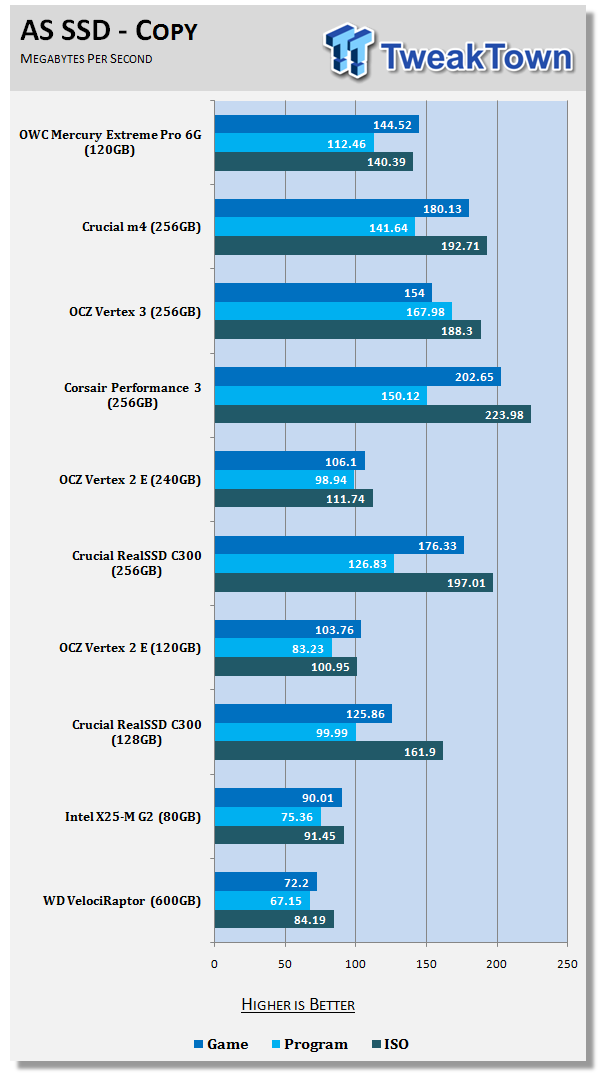 The line between SandForce's consumer and enterprise class drives is clear when looking at SF controllers. The SF-2200 is the client part and the SF-2500 is the enterprise part. That line really becomes blurred, though, when comparing SandForce products to the competition since the SandForce client part is in many cases faster than existing enterprise products from other controller manufacturers.
The SF-2200 controller is physically identical to the SF-2500, so this isn't all that surprising. The SF-2200 has been tuned with programming for desktop loads and is actually faster than the SF-2500 products at desktop tasks.
Here we see several client SSDs running server loads and it isn't a surprise to see the SF-2200 outperforming everything else on the charts. OWC will most likely make an enterprise model with the SF-2500, but that product has yet to be announced at the time of writing.
Final Thoughts
We're really at an odd time right now for testing and publishing 'reviews' of the new SandForce SF-2000 products. The OCZ Vertex 3 we tested a few weeks back was early hardware (OCZ has stated that our sample drive can't be flashed with production firmware that is now shipping on the retail drives) and pre-production firmware. The OWC Mercury Extreme Pro 6G that we tested today shipped with the full retail packaging, but had an engineering sample feel since it was missing a trace on the PCB and was filled in with a wire. The OWC also arrived with RC-1 firmware. History repeats itself since we also ran into the same issues with the SF-1200 / 1500 launch last year. OWC told us that everything is good to go, the new PCBs are headed their way and MP (mass production) firmware is going through testing now, so the performance we saw today will be that of the retail product that ships as early as next week.
This actually works out very well since we started to become worried after running additional tests on the prerelease Vertex 3 and found the TRIM / GC issues after that review went live. It now looks like SandForce and their partners have fixed the issues we found, and that makes nearly all of our Vertex 3 240GB tests invalid for comparison to existing products on the market. When looking at the big picture of things, that makes the OWC Mercury Extreme Pro 6G our first retail or very close to retail SF-2200 product we've reviewed.
After last year's SF-1200 launch this really doesn't surprise us since OWC managed to get their products in our hands before many of the other partners could. OWC has once again proven that they have the capability to crank out products just as fast as OCZ and faster than many companies that have established themselves as large players in the SSD market. OWC is the real deal, a true power player when it comes to the SSD market.
When it comes to the performance of the Mercury Extreme Pro 6G, we found that the drive performed very well at this stage. Performance can only improve as the firmware is refined, but since the drive is already the fastest single SSD we've tested we are happy with the results now. Moving from a platter drive to any SSD is a significant increase in performance and user experience, but moving from an older SSD to an OWC Mercury Extreme Pro 6G is just as much of a boost in user experience.
Many people on forums have expressed doubts about how much could possibly be gained from these next generation SATA 6 drives, but I'm running the new Mercury Extreme on a desktop now and 'feel' the difference between a Crucial RealSSD C300 256GB drive and the Mercury Extreme Pro 6G. The SF-2200 controlled Pro 6G is amazing at this point, even with the drive filled around 40% of capacity. If you are an enthusiast, look no further, your largest expectation will be exceeded instantly.
Of course, not everything is all rainbows and butterflies here, though. OWC is only offering a 3 year warranty with the Mercury Extreme Pro 6G. We'd really like to see this raised to around 5 years, the mark in which several other companies are now offering. In the past this really wasn't an issue since not many enthusiasts would keep a drive on their main system for three to five years, but the Mercury Extreme Pro 6G offers performance that will allow you to do so without regret. The OWC retail package also is void of a desktop adapter bracket, an accessory other companies are offering with their SSD products. I just installed four SSDs in a RAID array a few days ago and had a pile of desktop adapter brackets at my disposal - very few have this luxury and I would have to spend a few dollars if I was in that category. Worse yet, I would have to wait for them to arrive. No one likes waiting, so be sure to order a bracket if you plan on using your new SSD in a desktop.
The final hurdle is the price. Last year OWC was very competitive on pricing their SF-1200 products and kept up with pricing trends. The current trend is around 300 to 320 USD for a 120GB SF-2200 drive. With only two products available in the e-tail sphere, the OCZ Vertex 3 and the OWC Mercury Extreme Pro 6G, both companies can easily justify and charge what they want at this time. When more Team SandForce products are introduced we will see some variations and be able to get a better picture of where OWC will fall in the overall value category. At this time even the OWC Mercury Extreme Pro 6G and Vertex 3 are limited in supply with demand far outpacing what is available. Expect to pay a bit of a premium for at least the next 30 days.