Jabra CRUISER2 Bluetooth Speaker Review
We get rid of that annoying Bluetooth ear piece and check out the CRUISER2 from Jabra. Can it replace the ol' headset?
Published Wed, Mar 16 2011 8:08 AM CDT
|
Updated Tue, Nov 3 2020 7:02 PM CST
Rating:

98%
Manufacturer: Jabra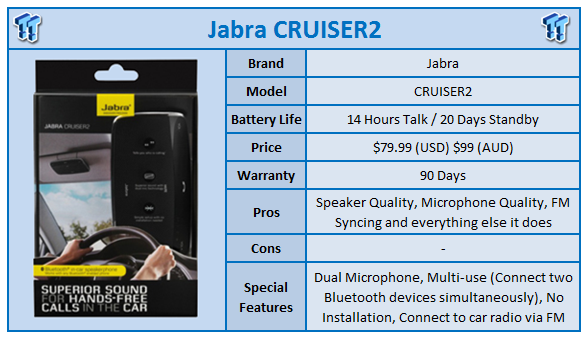 Over the last few years we've seen that talking on your mobile phone while driving is clearly unsafe to the point where you now lose points and get a fine for doing so. Of course, if you use a Bluetooth headset it's not a problem and gives you the ability to answer any phone calls while driving.
The problem with headsets, though, is they're a pain in the butt sometimes. I'm not a big fan of having stuff stuck in my ears, just like most people, and really I only need the ability of a Bluetooth headset when driving. When walking around I'm happy to just hold my phone and talk, plus come on, walking around with Bluetooth headsets went out a few years back.
So what do you do? Well, hopefully you grab yourself the Jabra CRUISER2. We say hopefully because we need to check and see if it's any good first. Looking at the package, we've got a fairly good idea of what we're dealing with.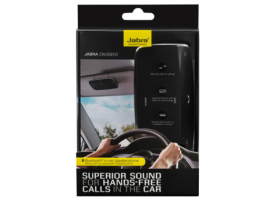 Inside we've got the CRUISER2 unit along with some paperwork. We've also got a USB charger and an adapter that can make that USB port plug into your standard in-car cigarette lighter. This is a handy little feature as you can charge the device off your PC or in your car, depending on whatever is more convenient.
The CRUISER2 itself is a pretty sleek looking device which is fairly minimalistic looking, but carries with it quite a bit in the way of buttons. On top we've got four main buttons. The big one represents three of them with the middle letting you answer and end calls. To each side of that we've got a volume up and down button and more embedded in the middle of the CRUISER2 we have a mute button.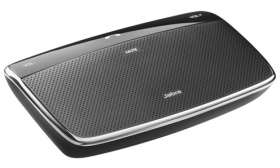 Also on the front we have a couple of LED lights with symbols that let you know what exactly is going on. We've got an FM Status icon along with Connection, Call status and battery status.
On the side we've got another button that lets you sync the CRUISER2 with your FM radio, a switch that turns the device on and off along with the charging port. Turning the CRUISER2 over, we've got a clip that is used to attach the device in your car.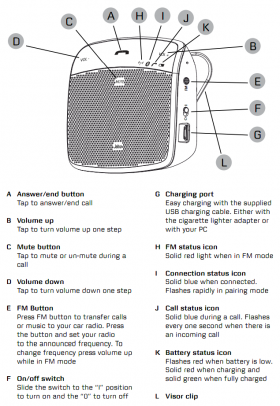 As you can see, for something that's not too big we've got a fair bit of functionality and you can see everything in a bit more detail in the image above. It's all good and well knowing the buttons, though; now we have to tell what exactly they do and the features the CRUISER2 offers.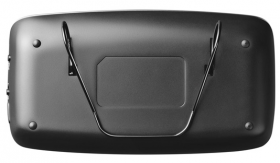 The setup process is easy. Once charged you slide the CRUISER2 onto your visor and really no more has to be done than how you would setup a standard Bluetooth device. A further process needs to be taken, though, in the event you want to make use of the "FM" ability. By pressing the "FM" button the CRUISER2 will tell you a radio frequency. What you then do is set that frequency in your car which transfers the audio that would come out of the built in speaker to your cars speaker system.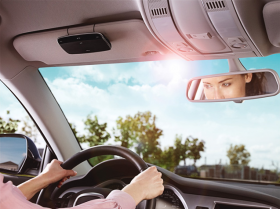 The feature is mainly beneficial in the event you want to stream music from your phone; for example, an iPhone. With many cars still not offering iPhone / iPod connectivity, the CRUISER2 offers this to you. I really loved this feature as when I bought my car I had neither an iPhone or iPod, so never bothered getting the connectivity option. Of course, these days I regret it a bit having so much storage and music on my iPhone.
Of course, this will transfer all audio, so if you watch something on YouTube via your phone the audio will come out of the car stereo and in the mix of all this if you get a call your music will stop playing and the person calling you will come through the car stereo.
While all this happens you just speak as you normally would and the dual microphone setup in the CRUISER2 makes sure the person on the other end hears you fine. If you don't want to make use of the "FM" ability, you can use the built in CRUISER2 speaker which is loud and clear.
The CRUISER2 is actually really easy to use as it speaks to you. It's able to say names of who's calling, so you don't even have to look at your phone. It tells you when you're connected, on low battery and if the FM channel is synced too. Voice dialing is also supported if your phone offers it, meaning that you're able to make and answer calls without even having to touch your phone.
Battery life is really strong with 14 hours quoted for talk time and 20 days for standby. I've been using it for a few weeks now and haven't had to charge it yet, which is a testament to the battery life. Of course, once you need to, you can bring it in or use the cigarette lighter adapter included.
The CRUISER2 does everything you expect and probably a bit more with the Voice Guidance and FM syncing. I could speak in a normal voice and people on the other end never had an issue hearing me, and I never had an issue hearing them thanks to the quality of the speaker.
Outside of all that, though, the CRUISER2 is just a sleek looking device and placed in your visor it doesn't look stupid. Sure it stands out against non-black visors, but it's not ugly to look at.
If I didn't just feel good enough about how the CRUISER2 was going, my mum asked me about it and after also falling in love with it went out and bought one which brings me onto the price.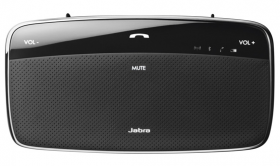 Listed
at Newegg for $79.99
and in Australia for $99, the CRUISER2 isn't cheap, but it's no more expensive than a good quality Bluetooth headset that doesn't offer as many features. Locally, though, we managed to pick the CRUISER2 up in Australia for only $84 at Dick Smith.
Considering that the cost of a fine for using your phone while driving will probably set you back more than the cost of the CRUISER2, it's going to pay for itself the second you take a call. At the same time you also won't lose any points on your licence which for some is priceless.
There's really no reason not to buy the CRUISER2; it's a great device that works exceptionally well. When you throw in the fact that it's becoming illegal in a lot of states to use your phone while driving, we just see an even larger reason to pick it up.

PRICING: You can find products similar to this one for sale below.

United States: Find other tech and computer products like this over at Amazon.com

United Kingdom: Find other tech and computer products like this over at Amazon.co.uk

Australia: Find other tech and computer products like this over at Amazon.com.au

Canada: Find other tech and computer products like this over at Amazon.ca

Deutschland: Finde andere Technik- und Computerprodukte wie dieses auf Amazon.de