Introduction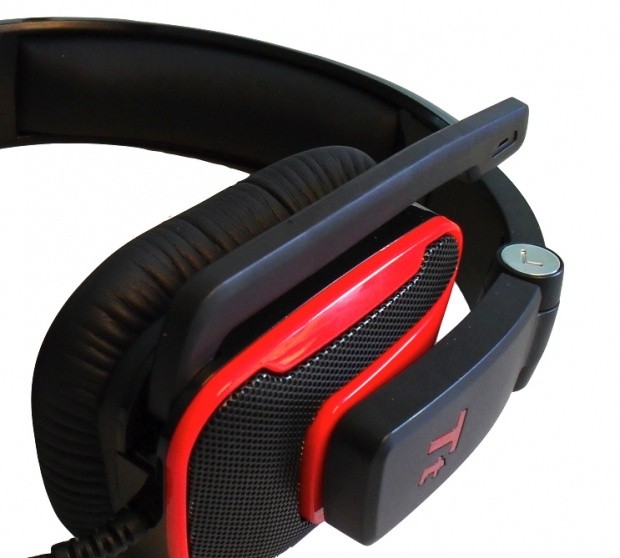 Thermaltake has been a well known and loved brand in aftermarket PC chassis', cooling and power supplies. The company uses an aggressive 'no holds barred' approach to designing edgy and stylish products.
Now let's introduce
Thermaltake eSPORTS
, which is the hardcore gaming division of, well, a hardcore gaming company - or something along those lines. The eSPORTS line goes toward extending on the already well established product line of Thermaltake, with some specialty products in the form of mice, headsets, and keyboards for the discerning gamer.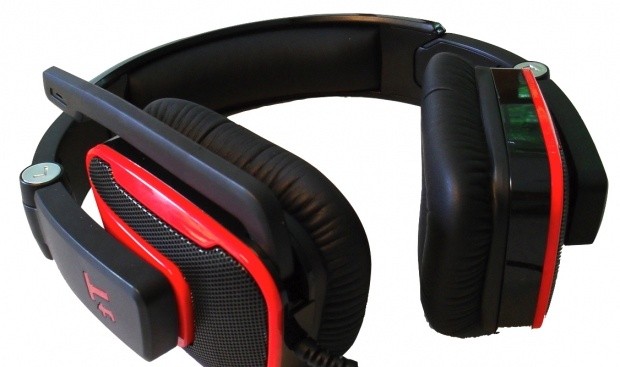 Now, we have seen some companies do this already with success such as Corsair in recent times. However, cracking the headphone market now is akin to starting a successful super car company in Italy - a very,
very
trying prospect.
With that said, though, we feel that Thermaltake has what it takes. So let's see if they can knock the
Corsair HS1's
off the podium for best software driven surround headset.
Package and Contents
- 1x Shock One Gaming Headset with USB connector and inline volume control/microphone
- 1x Driver/Utility CD for Windows 7, Windows Vista and Windows XP
- 1x Warranty Information book
- 1x fabric ear cups
- 1x carry bag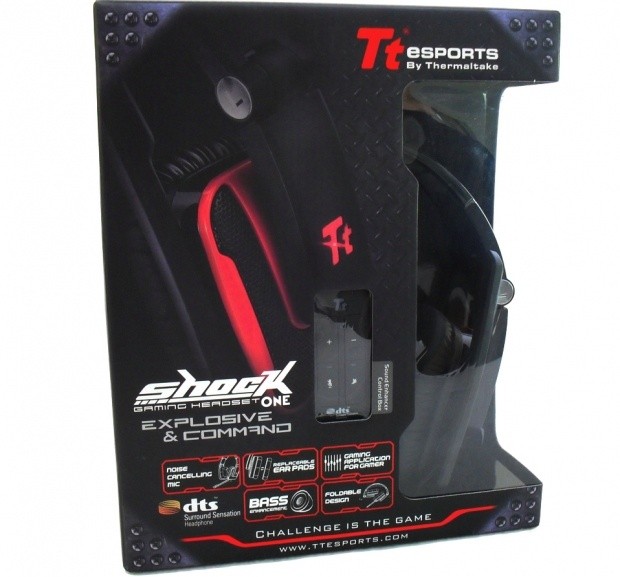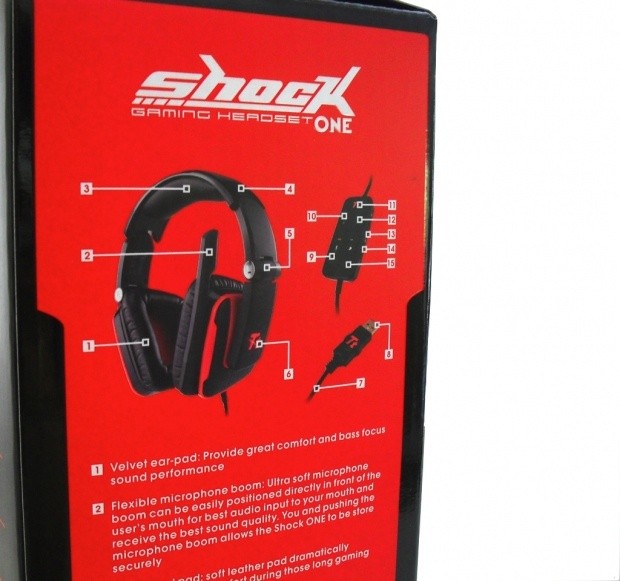 The Shock One Gaming Headset comes in a nicely designed box, which takes on the appearance of a spacey industrial type control panel and should ring true with gamers used to seeing such things. We quite like the Shock One packaging on the whole, though, because it leaves no mystery as to whom it's appealing. And as such, this is a niche' product for gamers, by gamers, as the PR spiel goes.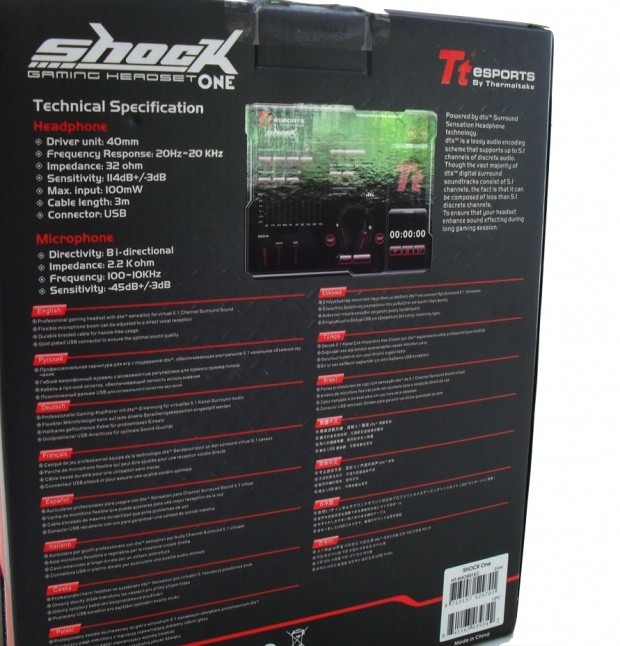 Moving inside the package now and on top of the headset itself can be found a couple of interesting extras. These include as a travel bag which offers a degree of protection for the system, and also a second set of ear pads to give users the choice between leather and fabric. More on the latter soon, though.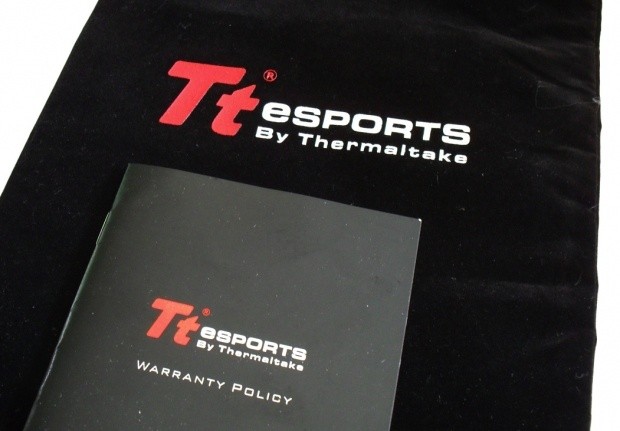 There is also a driver disc which is essential to allowing the surround algorithm to work correctly. Overall, though, a pretty slim and straight forward package that manages to include everything that's necessary to get the ball rolling.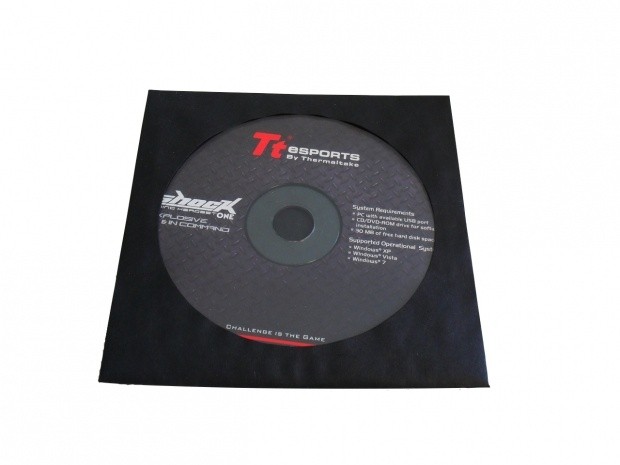 We also must quickly add here how we thought the small piece of 'leather' stuck onto the outside of the box was a nice touch - in a sort of 'Joe's Carpet Shack' free sample sort of a fashion.
Technical Overview
Speaking technically, let's start by looking at some specifications.
• Driver unit: 40mm
• Frequency Response: 20Hz~20 KHz
• Impedance: 32 ohm
• Sensitivity: 114+/-3dB
• Max. input: 100mW
• Cable length: 3m
• Connector: USB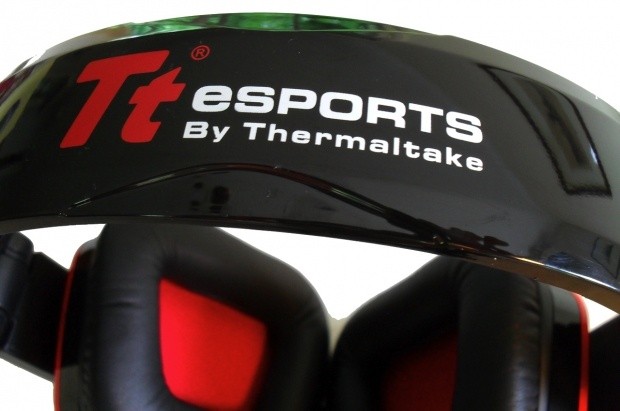 Microphone:
• Directivity: Bidirectional with noise cancellation
• Impedance: 2.2 k ohm
• Frequency: 100~10KHz
• Sensitivity: -45dB+/-3dB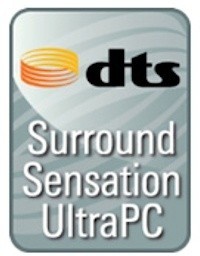 DTS Sensation:
Below are some comments from DTS regarding their all new proprietary technologies akin to the Dolby headphone technology covered during our Corsair HS1 review. These are provided as part of the software bundle for the Shock one Headset.
"
DTS Surround Sensation | UltraPC™ is the perfect audio solution for people who listen to music or watch movies on their computers. Whether your audio source is stereo or surround sound, you can enjoy a virtual surround effect.

DTS Surround Sensation | UltraPC is comprised of three DTS technologies : DTS Neo: PC™ takes 2-channel (stereo) audio and transforms it into a full-bandwidth 5.1-channel matrix.

DTS Surround Sensation | Headphone™ simulates surround sound through headphones.

Audio that is 2-channel (stereo) is processed through DTS Neo: PC to create the 5.1 channels, then processed by Surround Sensation to provide the surround effect from your two speakers (or headset). Audio that is already encoded in 5.1-channels bypass DTS Neo: PC processing. This results in a three-dimensional wall of sound that exceeds the limitations of just two speakers, making one believe that sounds are occurring outside the boundaries of the two channels."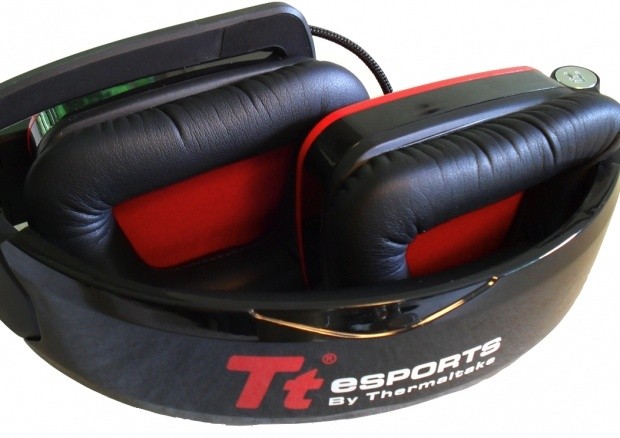 Proprietary Technologies:
Voice Clarification Technology
: Enhances the signal clarity to improve the audio quality of dialog derived from Blu-ray Disc or standard DVD.
Bass Enhancement Technology
: Restores the perception of fundamental low-frequency tones by dynamically augmenting harmonics, yielding improved bass performance without the additional hardware costs of adding a subwoofer.
Soundstage Expansion Technology
: Broadens the soundstage and creates a phantom center channel for improved clarity and audio crispness.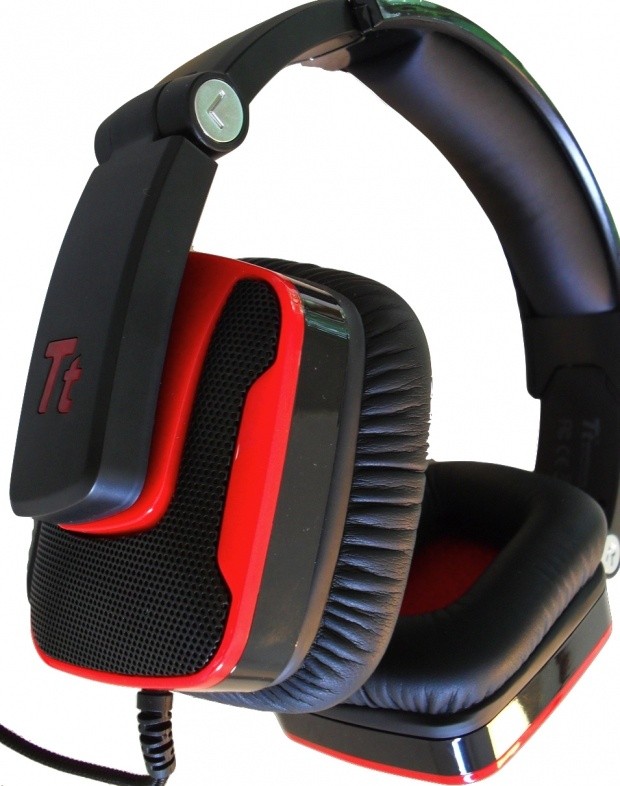 In the world of home theatre, DTS has always provided a more dynamic and rich movie experience than competitors - even though in Australia in the past, DTS discs have always shared similarities with hens teeth, should you try and find one.
Not withstanding all of that, though, we are genuinely excited about this direction DTS has allowed itself to travel in. And let's face it, Dolby pro-logic IIx is not going to serve all the people all the time who want an up-mixed stereo sound field.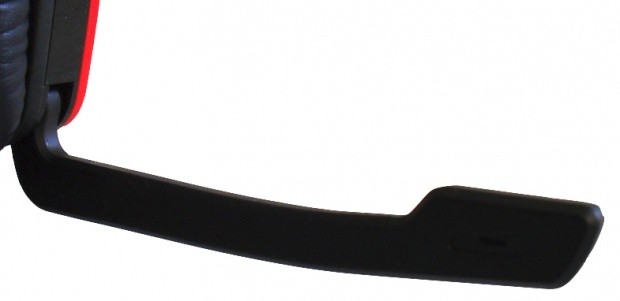 The drivers used are large 40mm units which is a safe bet, we feel. And as for the Mic, it's a small folding Bi-directional type which takes up a very small amount of space.
Installation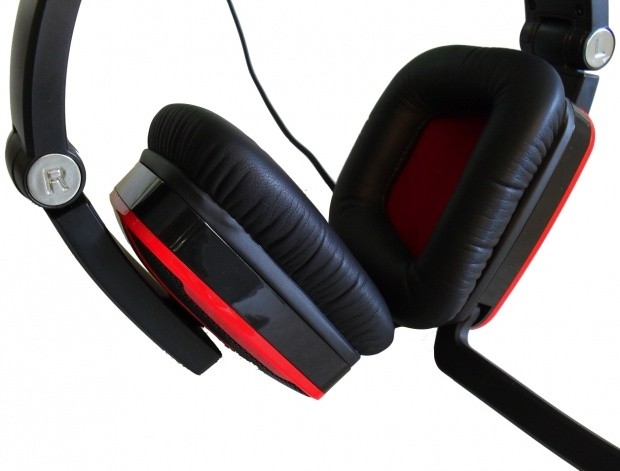 This is another USB powered headset, so things are going to be pretty straight forward. It does have a software component, but more on that in a second. The first job is to locate an empty USB port and securely connect the headset. And then a quick reboot of Windows would not hurt, as always.
Okay, once done, and your existing sound system is turned off and disconnected,.it's time to run the small driver disc through and do another reboot.
Below is what you should get once everything is up and running.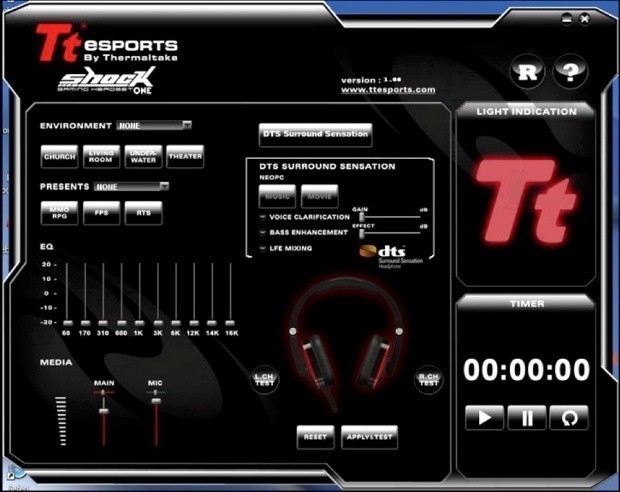 As you can see, it's a fairly basic one with a set of controls for the environment, as well as a sixteen band equalizer for fine adjustments. Over to the right can be seen the control panel for the above mentioned 'DTS Sensation' processing set.
This is not a complicated interface to work and should not really cause any immediate difficulties when setting up for the first time. We did, however, encounter some 'stickiness' with the DTS control panel buttons. We would think that given this is the very first driver release, subsequent updates will have a positive affect in smoothing things over.
One last thing here and that is swapping the ear pads over to the fabric option also included in the package. This is an important job, because the other provided option does some serious damage to the low end and must be avoided straight out of the box for the best results. We do not know why the 'leatherette' pads come at all really, as we would not recommend them for anything.
Below can be seen the second pair of 'good' fabric pads - and the offending 'leatherette' pads pre-installed, interestingly enough.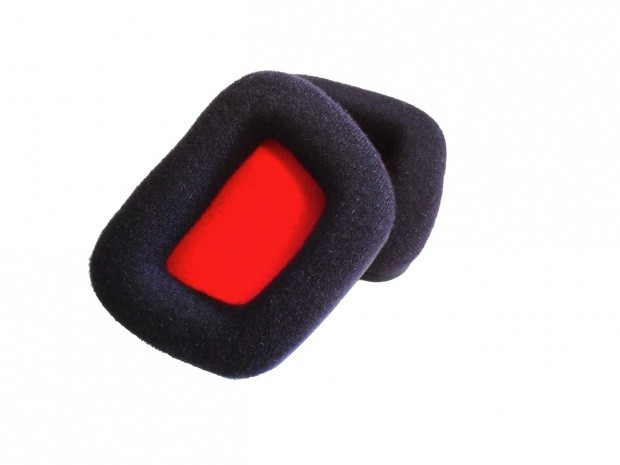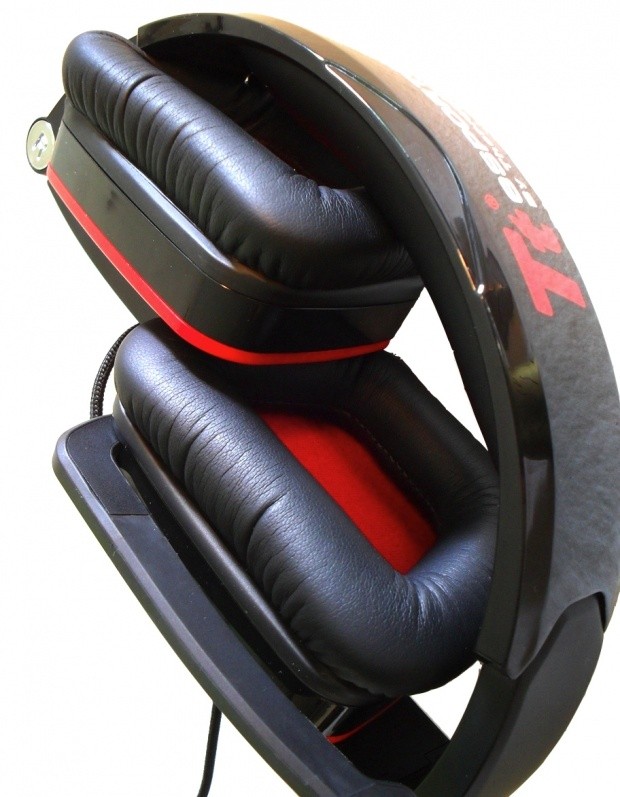 Finally is the control unit which is quite sturdy and nice to hold with a simple button layout that gives basic controls for the system. It also has a small Thermaltake logo that lights up. Interestingly, there is an option to turn the light off on the headset which is a nice touch, although it could be argued; a little eccentric.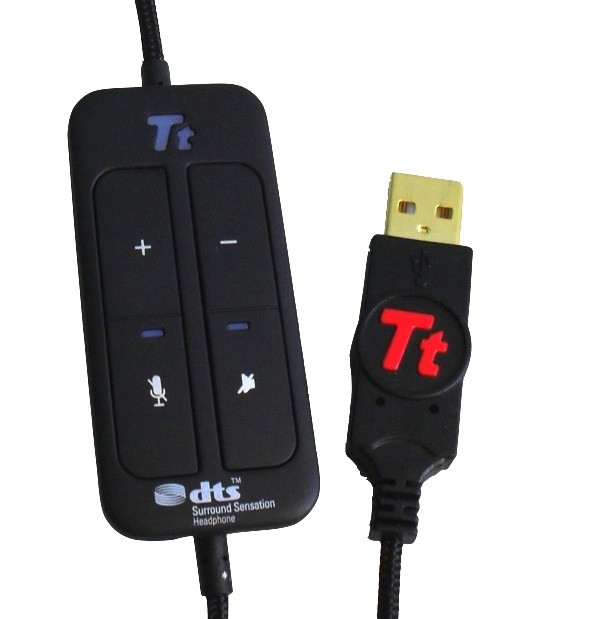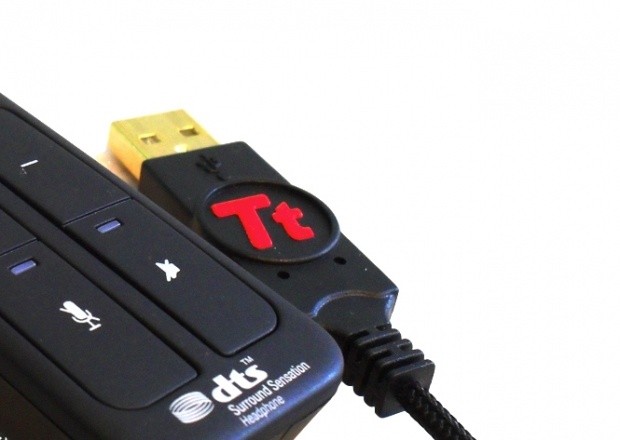 Testing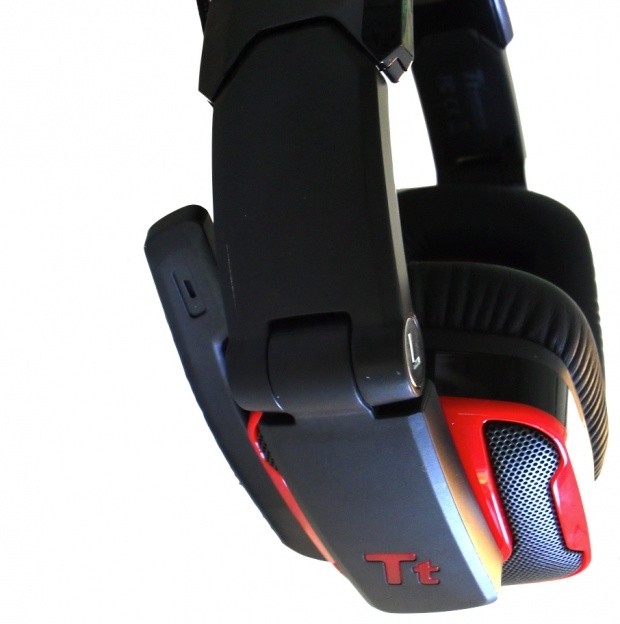 We found that overall the eSPORTS Shock One Headset offers an impressive simulated surround sound experience to the user. The headset sounds quite dynamic with strong low end performance and a nice balanced high end. The ability of the DTS Sensation processing set to be used to expand the signal allows for a wide range of applications.
High-end:
We found the high end reproduction of the Shock One to be modest and well controlled overall - which is what we look for here. High end detail sounds nicely balanced within the overall mix, but does suffer a small amount from the limitations of USB for transmitting a signal. This is noticeable with the extreme high end upwards of 16KHz.
Mid Frequencies:
The mid range sounded full and reasonably well balanced during our testing, with a smooth transition between the high and low end. However, we did notice a slight loss of detail which is once again associated with the limitations of USB and also to a heavy amount of processing being done. Opting to bypass the DTS Sensation stage should help with this a little bit.
Low-end:
At first we were not impressed at all with the way the low end sounded. However, once swapping the ear pads over to the fabric set also included, things were instantly a lot better. Bass became controlled and much more audible in the form of notes rather than 'boom'. We instantly became involved in the action on screen, and were quite impressed by the feeling of being 'in' the sound stage.
Games/Movies:
The use of the either the DTS Sensation processing or the Environment pre sets in conjuction with the sixteen band EQ should provide enough scope for building an immersive surround gaming experience.
Is this a better suited headset for gaming than some of the others out there at the moment? - That is going to depend on whether a simulated surround experience is enough or not. For the most part, though, simulated surround is going to sound great and provide more than enough to be considered highly immersive.
The DTS Sensation processing has two modes of operation; movie mode and music mode. Both sound quite similar to us, but we still recommend using the applicable setting, as DTS would also recommend. When listening to normal stereo music with the processing turned on, a lot of mid range transients seem to be stacked up to create a sense of space and depth. This can be heard quite clearly when the processing is cycled on/off during playback. Bottom line, though, it sounds great, and is one of the best examples of this sort of processing we have heard.
What we also like is that DTS Sensation never really tries to trick your brain into thinking there are six speakers in the mix. After all, it's called 'Sensation' and that's the beauty of it. It's an enhanced stereo experience, which is really all that can be hoped for realistically with a headset that contains only two speaker drivers. And as we have seen in the past, even some that have multiple drivers don't always sound like it.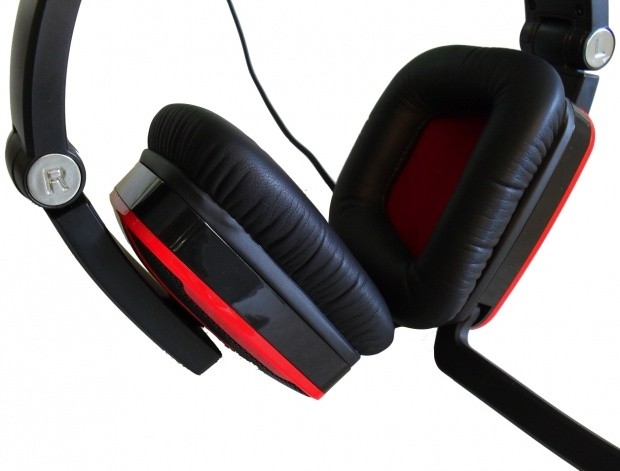 Final Thoughts
Thermaltake's entry in the headset market in the form of eSPORTS has been a strong one initially with the 'Shock One' seen today. And thanks to a strong partnership with DTS, it is a powerful contender amongst a very large and competitive field.
Our testing proved that whether listening to music, gaming or watching a movie, the Shock One will have an applicable mode of operation that will provide an immersive experience from start to finish.
There are certainly better sounding headsets out there for specific applications, as we have covered in the past. However, whether there is another headset that manages to pull all of those off in equal measure is a different question altogether. We would have to think hard, that's for sure. The Corsair HS1 would have to be the biggest threat, but misses on that important DTS Sensation functionality. But we should iterate that it is probably a slightly nicer product overall.
As you can appreciate, the distance between some of these headsets is a hairs nostril on a good day. And it becomes almost impossible to recommend one over the other. But that's not the answer you're waiting for, so we will endeavor to do a little better.
...And we will - by saying that if you want a surround experience from a USB powered headset that costs less than a hundred U.S. Dollars, then the Shock One is the best we have heard. However, let us qualify that by saying that once the DTS Sensation processing is turned off, the Shock One drops down to second or third best in terms of what we have heard. It also falls way behind any headset connected to a high-end dedicated sound card; this due to the bottle necking caused by USB.
But in terms of USB powered headsets, the Shock One seen today offers more in terms of value than the better built and nicer looking Razor Megalodon. It also has better surround processing than the aforementioned, and the Corsair HS1 for that matter.
So if you put value over aesthetics, and performance over plastic quality, then the Thermaltake Shock One is the headset for you.