Introduction
Areca Technology Corporation started life in 1999 and was formed by a team of storage product engineers in Taipei, Taiwan. The core of Areca is their dedicated research and development team that is responsible for Areca's success in the storage industry.
Around five years ago Areca's hard work and dedication propelled the company into a leading role in the storage controller market. The first to catch on were enthusiast power users who learned that Areca products at the time were outperforming those from industry power players LSI and Adaptec. It took at least two product cycles for these companies to catch back up to the data transfer levels being offered by Areca's products.
Today we are looking at Areca's latest flagship offering from the new ARC-1880 Series product line. The ARC-1880ix-24 is the most advanced controller in the lineup and offers both internal and external connectivity. The controller also uses a user upgradable cache module (1GB standard, up to 4GB optional) that allows for high speed RAID redundancy without penalty.
Before we get too deep in the specifications, let's move onto the specification and features page and take a look at the whole lineup.
Specifications, Pricing and Availability
The new ARC-1880 Series runs eight product SKUs deep with each model differing by a small amount from the next. Today we are focusing on the ARC-1880ix-24, the flagship model of the group. The ARC-1880ix-24 has the ability to connect to twenty four internal drives and four external drives without using additional port multipliers and has a user upgradable (up to 4GB) 1GB DDR2-800MHz cache module. The core component on the ARC-1800 Series is the RAID-on-Chip 800MHz I/O processor that was designed to offer high speed redundant functionality without compromises.
The ARC-1880 connects to your PC through a high speed PCIe 2.0 x8 port. Users can also use a full size x16 port without issue, but the controller will only use 8 lanes.
When it comes to the Areca ARC-1800ix-24 features, nothing was left off the table as you can see from this exhaustive list above.
When it comes to pricing, the MSRP in the US for the Areca ARC-1880ix-24 is 1399.99 USD, but
Newegg currently has stock available for 1349.99 USD
. The Newegg price didn't offer much of a discount, so I did a little searching and managed to find the lowest price online at Cost Central. They list the Areca ARC-1880ix-24 for 1110.32 USD.
The Packaging
Areca's controller card packaging hasn't changed much over the years. On the front of the ARC-1880 package we see some images of the controller.
The same package is used for three cards in the series and all of their specs and information are listed on the back of the package.
The inner package on the ARC-1880ix-24 is packaged tightly with all of the accessories, controller, manuals and foam that keeps the controller secure in the middle of it all.
The accessory package consists of a pair of well written and large manuals as well as some cables for connectivity.
The Areca ARC-1880ix-24
Here we get our first look at the Areca ARC-1880ix-24. The first thing you will notice is that Areca changed the heat sink after releasing all of the marketing material and printed up the boxes. The new design uses a much larger heat sink and eliminates the option for an add-on fan. Even though the new heat sink is quite large, it still keeps the controller a single slot design.
The back of the card is relatively uneventful other than a few dozen surface mount components.
The external side of the card is packed with as many ports as possible. On the left is a data port for management, the center has the SFF-8088 port and on the right is an Ethernet port, also for management.
The internal ports are SFF-8087 and there are six of them in total. Two are on the side of the controller.
The remaining found SFF-8087 ports are on the back of the card. Each port can connect to four drives giving you 24 internal ports total.
In this image you get to see the PCIe x8 lane connector and the massive heat sink that Areca went to.
I was able to find a couple of configurations on the e-tail market. Our sample arrived with a 1GB module, but you can purchase a 4GB upgrade kit or even purchase a controller with a 4GB module already installed.
Test System Setup and ATTO Baseline Performance
We would like to thank the following companies for supplying and supporting us with our test system hardware and equipment:
AVADirect
,
GIGABYTE
,
Cooler Master
,
LSI
and
Noctua
.
You can read more about TweakTown's Storage Product Testing Workstation and the procedures followed to test products
in this article
.
We learned quite a bit from testing the
HighPoint RocketRAID 2760 with 24 Crucial RealSSD C300 SSDs
. For the Areca test we had the power issues down and reduced the number of PSUs needed to get 24 drives up and running. Making an appearance again are the
fastest SSDs currently available on the market today, the Crucial RealSSD C300
. We used 24 of them in RAID 0 and RAID 5.
It should be mentioned that the Areca ARC-1880ix-24 is a high end RAID controller with many, many options. One option that will allow users to 'tune' performance is block size. It is possible to tune your RAID array for sequential transfer performance (larger block sizes) or high IOPS (smaller block sizes). Areca offers a handful of settings, but we used the largest block size available since the Crucial RealSSD C300 is able to deliver all of the IOPS you could ever need.
For a comparison we are pairing the new Areca ARC-1880ix-24 against the HighPoint RocketRAID 2760 that we tested with 24 drives previously. The 2760 is a software RAID controller, but the Areca is a hardware RAID controller. This means that the HighPoint uses CPU cycles and the Areca uses its own onboard processor to calculate transactional data. Both were tested with 24 Crucial RealSSD C300 256GB drives. In the next few days we will also publish a review of the LSI MegaRAID 9280-24i4e, another high performance hardware RAID controller.
ATTO Baseline Performance
Version and / or Patch Used:
2.34
ATTO is used by many disk manufacturers to determine the read and write speeds that will be presented to customers.
The Areca ARC-1880ix-24 managed to deliver around 1000MB/s write speed and well over 900MB/s read speed.
Benchmarks - HD Tune Pro
HD Tune ProVersion and / or Patch Used:
4.00
Developer Homepage:
http://www.efdsoftware.com
Product Homepage:
http://www.hdtune.com
HD Tune is a Hard Disk utility which has the following functions:
Benchmark: measures the performance
Info: shows detailed information
Health: checks the health status by using SMART
Error Scan: scans the surface for errors
Temperature display
HD Tune Pro gives us accurate read, write and access time results and for the last couple of years has been gaining popularity amongst reviewers. It is now considered a must have application for storage device testing.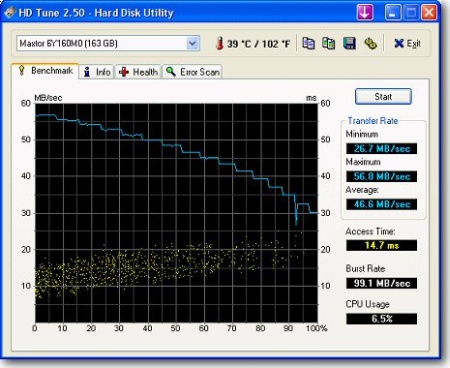 Let's first take a look at the single drive (JBOD) performance of the two controllers. Both take advantage of SATA 6G and allow the Crucial RealSSD C300 256GB drive to break the 285MB/s limits of SATA 3G, but the Areca controller offers enough bandwidth for the drive to run all the way up to 343MB/s at peak sequential read speeds. The average speed was just shy of the maximum; 341.3MB/s.
The hardware XOR engine also allowed the Areca controller to scale all the way up to over 1000MB/s in both RAID 0 and 5. More importantly, the Areca managed to keep the highest and lowest measurements very close together, so you will have better than 1000MB/s of available bandwidth all the time.
The 1GB cache (upgradable to 4GB) allowed the single drive to burst at nearly 940MB/s, and it did so long enough to register on the maximum performance portion test. The average write speed of 221MB/s is spot on for a single 256GB C300.
The RAID 0 and RAID 5 tests showed good performance in the sequential write tests. By the time you finish a benchmark cycle the drives are pretty hammered since RAID doesn't pass along TRIM, and that is how we achieved a minimum write score of only 90.8MB/s in RAID 5. This was a very brief dip that kept reoccurring in the same spot.
Benchmarks - Everest Random Access Time
Everest Random Access TimeVersion and / or Patch Used:
4.60
Developer Homepage:
http://www.lavalys.com
Product Homepage:
http://www.lavalys.com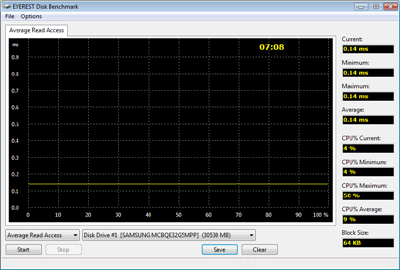 Everest Ultimate and Corporate Edition offer several different benchmarks for testing and optimizing your system or network. The Random Access test is one of very few if not only that will measure hard drives random access times in hundredths of milliseconds as oppose to tens of milliseconds.
Drives with only one or two tests displayed in write the write test mean that they have failed the test and their Maximum and possibly their Average Scores were very high after the cached fills. This usually happens only with controllers manufactured by JMicron.
The Areca ARC-1880ix-24 actually managed to deliver lower read access than what we've been able to achieve on an Intel ICH; the drive directly attached to an Intel chipset controller. The ultra low access times spanned all three tests; JBOD, RAID 0 and RAID 5.
The write access time saw a little more variation, but the 1880's cache module has an effect on this benchmark. Once again, we saw access times lower than what we normally do on a single drive attached to an Intel ICH.
Benchmarks - Crystal Disk Mark
CrystalDiskMarkVersion and / or Patch Used:
3.0 Technical Preview
Developer Homepage:
http://crystalmark.info
Product Homepage:
http://crystalmark.info/software/CrystalDiskMark/index-e.html
Download here:
http://crystaldew.info/category/software/crystaldiskmark
CrystalDiskMark is a disk benchmark software.
Key Features:-
* Sequential reads/writes
* Random 4KB/512KB reads/writes
* Text copy
* Change dialog design
* internationalization (i18n)
Note:
Crystal Disk Mark 3.0 is not available to the public yet, but the Technical Preview does allow us to test 4K performance at queue depths of 4 and 32 in addition to 1. The current release Crystal Disk Mark only shows us QD 1.
In CDM we look at the 4K performance of a drive or array and all I really have to say here is 'Cache is King!' - The cache module allows the Areca ARC-1880ix-24 to triple the 4K results from the HighPoint controller in most cases.
The 4K write tests were a little different, though. To be fair, the Areca ARC-1880ix-24 has so many settings that can be used to configure and tune performance it would take months to find the best settings for each scenario. NCQ performance can also be tuned, but we just tested the ARC-1880 with the base settings.
Benchmarks - PCMark Vantage Hard Disk Tests
PCMark Vantage - Hard Disk TestsVersion and / or Patch Used:
1.0.0
Developer Homepage:
http://www.futuremark.com
Product Homepage:
http://www.futuremark.com/benchmarks/pcmark-vantage/
Buy It Here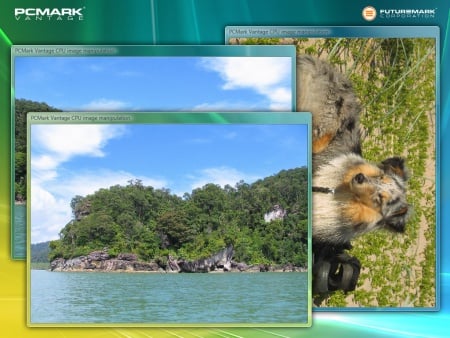 PCMark Vantage is the first objective hardware performance benchmark for PCs running 32 and 64 bit versions of Microsoft Windows Vista. PCMark Vantage is perfectly suited for benchmarking any type of Microsoft Windows Vista PC from multimedia home entertainment systems and laptops to dedicated workstations and high-end gaming rigs. Regardless of whether the benchmarker is an artist or an IT Professional, PCMark Vantage shows the user where their system soars or falls flat, and how to get the most performance possible out of their hardware. PCMark Vantage is easy enough for even the most casual enthusiast to use yet supports in-depth, professional industry grade testing.
FutureMark has developed a good set of hard disk tests for their PCMark Vantage Suite. Windows users can count on Vantage to show them how a drive will perform in normal day to day usage scenarios. For most users these are the tests that matter since many of the old hat ways to measure performance have become ineffective to measure true Windows performance.
HDD1 - Windows Defender
HDD2 - Gaming
HDD3 - Windows Photo Gallery
HDD4 - Vista Startup
HDD5 - Windows Movie Maker
HDD6 - Windows Media Center
HDD7 - Windows Media Player
HDD8 - Application Loading
If you are considering any of the Areca ARC-1880 products to build a boot drive array, these are the real world tests you want to take in. Surprisingly, the HighPoint RocketRAID 2760 managed to outperform the Areca ARC-1880ix-24 in many of the desktop performance tests. The results for nearly all of the tests when comparing the same RAID array modes were very close most of the time, but each controller has its own strong and weak points when using the largest block sizes available.
This is another one of those areas where better performance could be pulled if tuning for a specific task, but even then, you can tune for one thing and that score will go up and the other scores will decline.
The Areca ARC-1880 Series wasn't designed for desktop performance, though; this series is clearly designed to tackle server tasks. We'll be to those tests shortly.
Benchmarks - AS SSD
AS SSD BenchmarkVersion and / or Patch Used:
1.2.3577.40358
Developer Homepage:
Alex Intelligent Software
Product Homepage:
Alex Intelligent Software
Download here:
http://www.alex-is.de/PHP/fusion/downloads.php?cat_id=4&download_id=9
AS determines the performance of Solid State Drives (SSD). The tool contains four synthetic as well as three practice tests. The synthetic tests are to determine the sequential and random read and write performance of the SSD. These tests are carried out without the use of the operating system caches.
In all synthetic tests the test file size is 1GB. AS can also determine the access time of the SSD, the access of which the drive is determined to read through the entire capacity of the SSD (Full Stroke). The write access test is only to be met with a 1 GB big test file. At the end of the tests three values for the read and write as well as the overall performance will be issued. In addition to the calculated values which are shown in MB/s, they are also represented in IO per seconds (IOPS).
Note:
AS SSD is a great benchmark for many tests, but since Crystal Disk Mark covers a broader range of 4K tests and HD Tune Pro covering sequential speeds, we will only use the Copy Benchmark from AS SSD.
- Copy Benchmark
Transferring data to and from the array is the same with both desktop and server use. Here we see exceptional RAID 0 performances out of the ARC-1880, but the RAID 5 numbers were a lot lower than what we expected to see across the board. At this point I'm starting to doubt my choice in block size for the RAID 5 array.
In the coming weeks we will publish an article on choosing the best block sizes for specific tasks. These tests are being conducted on the OCZ RevoDrive. Look for it online soon.
Benchmarks - Passmark
Passmark Advanced Multi-User TestsVersion and / or Patch Used:
6.1
Developer Homepage:
http://www.passmark.com
Test Homepage:
http://www.passmark.com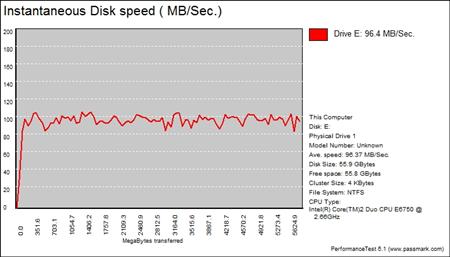 Many users complain that I/O Meter is too complicated of a benchmark to replicate results so my quest to find an alternative was started. Passmark has added several multi-user tests that measure a hard drives ability to operate in a multi-user environment.

The tests use different settings to mimic basic multi-user operations as they would play out on your server. Variances is read / write percentage as well as random / sequential reads are common in certain applications, Web Servers read nearly 100% of the time while Database Servers write a small amount of data.
The Workstation test is the only single user environment and will be similar to how you use your system at home.
The server tests show us that once again hardware RAID and cache makes for an unstoppable combination. Across the board the Areca ARC-1880ix-24 outperforms the HighPoint controller.
Final Thoughts
Areca has proven once again their reputation as a leading manufacturer of RAID controllers is well warranted. The ARC-1880ix-24 is able to perform very well even when used in its base configuration. Of course, server administrators will look to pull every possible ounce of performance out of the controller and those options are also available. If you are familiar with Areca controllers then you already know how deep the configuration options are; they haven't changed very much in the last five years. That is good in some cases, but bad in others.
One area that Areca hasn't touched on yet is solid state drives. To be fair, no one else has yet either other than LSI, but with Areca being the enthusiast standard we sort of expected them to be leading the way for SSD RAID. Even with this slight overlook, the Areca ARC-1880 Series has more options than most will even want to dive into.
When it comes to performance, we were surprised to see the ARC-1880ix-24 deliver desktop performance equal to the HighPoint. Once we moved to the server tests the 1880 really took off and showed where its strong suits rest. Since the controller is designed for these tasks, we weren't surprised to see such high levels of performance here and the level in which the Areca outperformed the HighPoint RocketRAID in server tasks. The difference was night and day between these two in server tests.
When it comes to the price, I was surprised to see the Areca ARC-1880ix-24 available for just over 1110 USD. For consumers and even enthusiasts this price is out of reach, but this is a flagship model that is capable of handling 24 internal drives with an additional 4 more external without needing port multipliers. Enthusiasts and power users will want to look at the 8 and 12 port models from the 1880 Series. For the market it was designed for the cost is quite minimal compared to products released even just a few short years ago. The cost of high end RAID has dropped considerably.