HighPoint RocketRAID 2760 Switch Architecture PCI-E x16 24-Port SAS/SATA 6Gb/s Controller
HighPoint has something special here; something capable of transferring a dual layer DVD's worth of data in just one second. We make the most of what this controller is capable of thanks to Crucial sending over 24 RealSSD C300 drives.
Published Thu, Sep 30 2010 3:02 AM CDT
|
Updated Tue, Nov 3 2020 7:02 PM CST
Introduction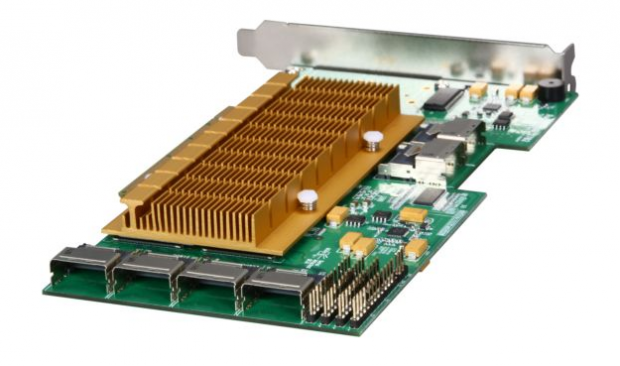 For a couple of years now we've been graced with video cards capable of using every last drop of bandwidth provided by the PCIe 2.0 interface. The problem is that high end GPUs were pretty much the only product on the market to take advantage of all sixteen lanes, 8 GB/s worth of bandwidth. That has just changed.
Actually, making a storage device that is capable of physically plugging into a PCIe 16x was never a problem; we've had 8x lane controllers for several years. The issue was making a controller that actually took advantage of all that bandwidth. As you can imagine, building anything that is able to transfer nearly a dual layer DVDs worth of data every second would be quite an undertaking. Even video cards that do just that are heavily optimized for efficient flow through so many enormous pipes at the same time.
Storage data while being transmitted is anything but efficient and when it comes to flow, well, that is what HighPoint is trying to open up with their new RocketRAID Switching Architecture series of products. At Computex in Taipei I visited the HighPoint booth to learn about this new line of products, but to be honest it was so far out there that I really didn't believe what I was seeing.
Today we are going to take a look at the new HighPoint RocketRAID 2760, the first RAID storage controller that on one end is capable of pushing data to the motherboard at an amazing 8GB/s, while the other end is fed by 24 SATA / SAS connections. To spice things up we have teamed with Crucial, maker of the world's fastest solid state drive, the RealSSD C300 256GB to put the 2760 through its paces and see just how much data we can pass through HPTs new Switching Architecture.
Specifications, Pricing and Availability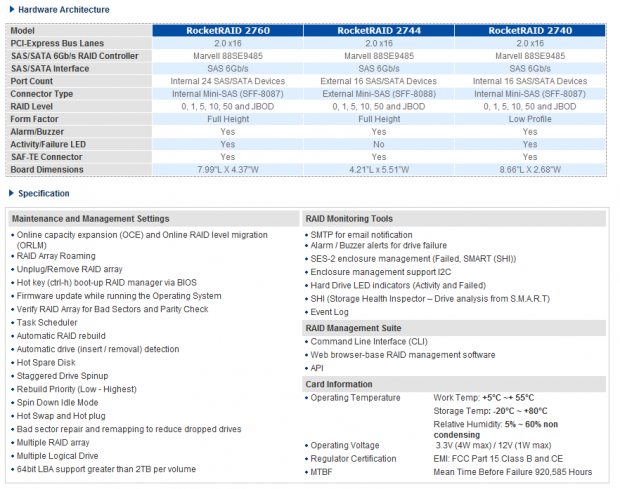 We'll get the specs out of the way and then get into some real explanation as to what is going on with HighPoint's new switching HBA. HighPoint is offering switching technology in three controller cards at this time. The 2760 that we are looking at today is the tip of the sword, the flagship of the line-up. The two other models, 2744 and 2740 are nearly identical except the 2744 offers 16 external drive ports and the 2740 offers 16 internal ports for drives. The flagship 2760 that we are looking at today is the only 24 drive controller being offered with the technology that makes it possible to utilize all 16 lanes of PCIe bandwidth.
Looking at the specifications list, we see all of the normal enterprise features are there and nothing is out of the ordinary. Lots of maintenance, management and monitoring tools are present, just like what we see with other enterprise controllers. The one thing that is not present is an XOR engine. That makes the 2760 a software RAID controller; it uses some CPU horsepower to manage some tasks.
Now the fun part; the part we all want to know more about. The HighPoint RocketRAID 2760 uses 'switching architecture', but what does that mean? - Most of the newer HBAs on the market use a single chip-to-controller and manage all of the drives. If the number of drives outnumbers the number of channels a chip can handle, then expanders are used to divide the available bandwidth and that bandwidth is split. In the case of a 24 drive HBA, the signal is divided several times. Under normal circumstances dividing a 6 Gb/s signal isn't much of an issue since traditional hard drives do not require anywhere near 6 Gb/s. However, most hard drives aren't the Crucial RealSSD C300 and with it any serious enterprise class SSD that that will follow from this day forward. With this knowledge in hand, HighPoint set out to make something different, something that didn't require the 6 Gb/s signal to be divided.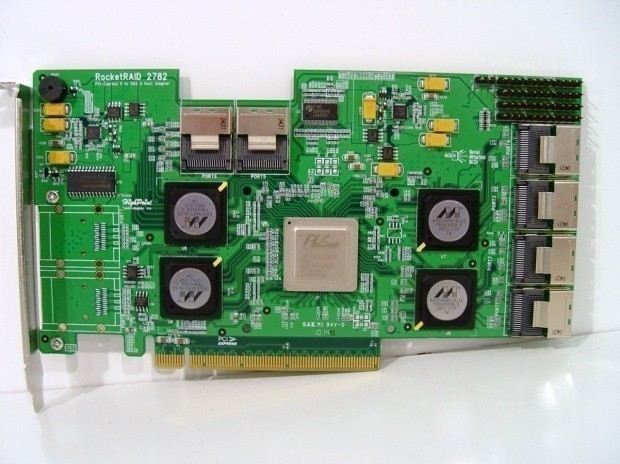 It would be great to have a flow chart that showed the data path, but since we don't have one we will just use the card to lay things out. On the drive side we see the six SFF-8087 connectors that are used to connect four drives each. Each pair of SFF-8087 is directed to a single Marvell 88SE9485 controller chip. If you are doing the math then you already know that the controller would be capable of handling even more drives if HPT wanted to make such a beast. As we mentioned earlier, most controllers only use a single chip, even if it is configured to run 24 drives.
This is where the innovation comes in. The HighPoint RocketRAID 2760 uses four Marvell 88SE9485 chips and they are all held together with a single PLX bridge that allows all of the Marvell controllers to talk to a single PCIe 2.0 16 lane interface.
You might think such high end, exclusive technology would cost an arm and a leg, but that is where the XOR engine comes into it. To reduce costs XOR was left out and somehow HPT was able to deliver the 2760 at a price point of
699.99 at Newegg
.
The Packaging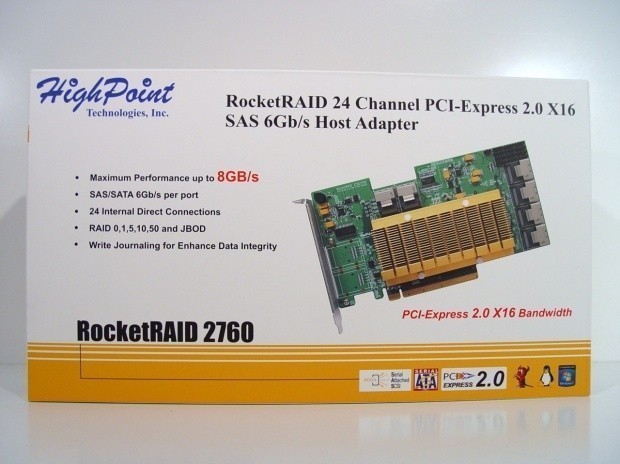 HighPoint does a very good job getting their message and buzz clips on the front of the package. Here we see enough information on the front of the package to get your attention in a retail store.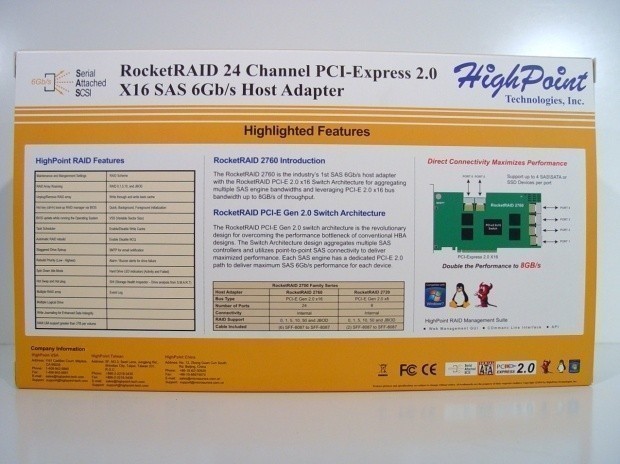 Nothing is left to the imagination; on the back of the package HPT lists all of the features and specifications. A small introduction is also given as is a brief explanation about switching architecture.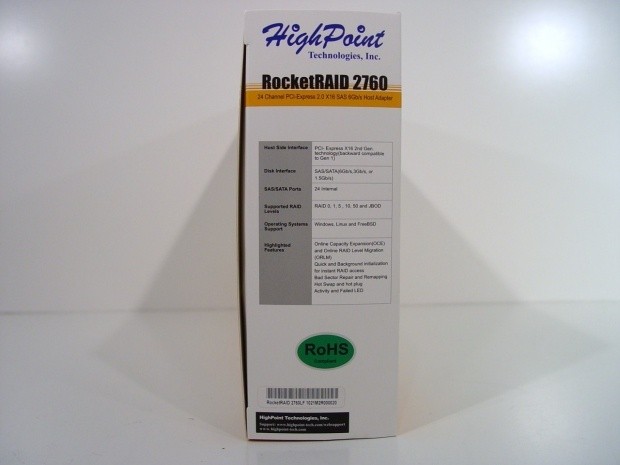 A quick highlight of features is listed on the side. HPT also lists the supported operating systems; Windows, Linux and FreeBSD.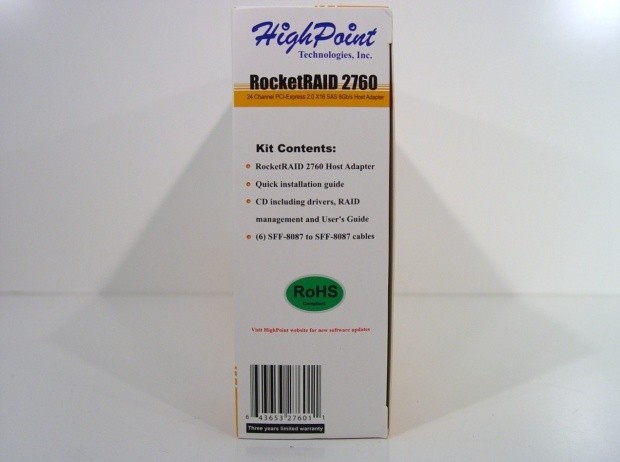 The other side of the package lists the contents.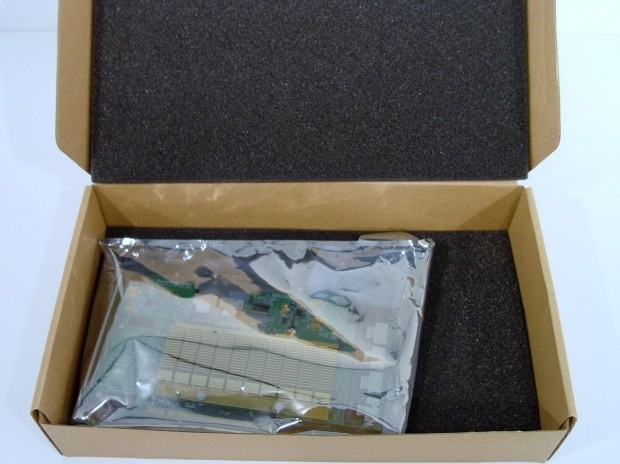 The inner packaging consists of two pieces of open cell foam that sandwich the controller in the middle.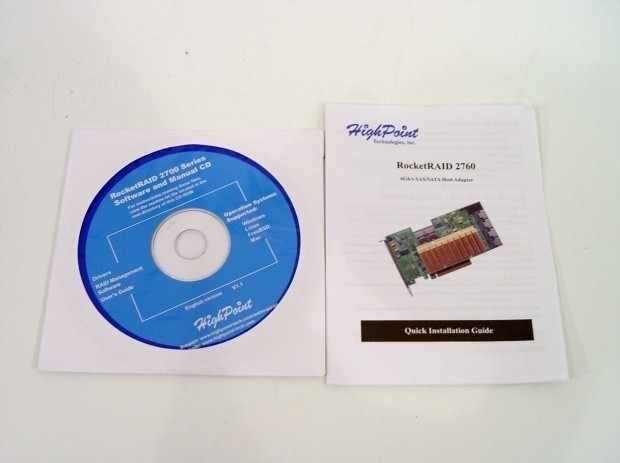 The accessories are kept under the lowest piece of foam. Our sample didn't ship with the six cables that are used to connect the controller to backplanes since we needed a different configuration, but the retail controller ships with those accessories.
The HighPoint RocketRAID 2760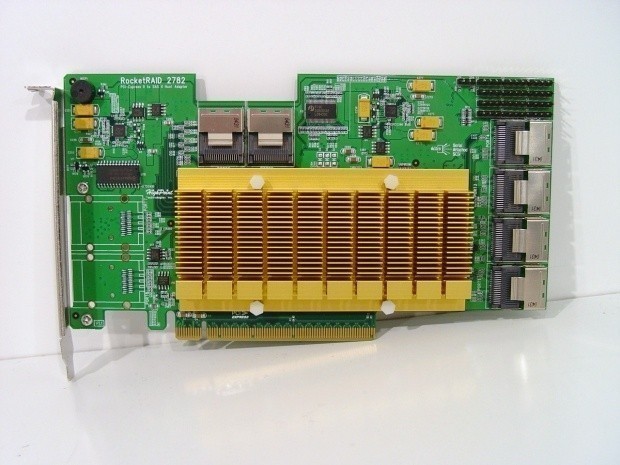 Here we get our first look at the 2760 fully assembled. There are six SFF-8087 ports for connecting the controller directly to drives or to backplanes inside your server.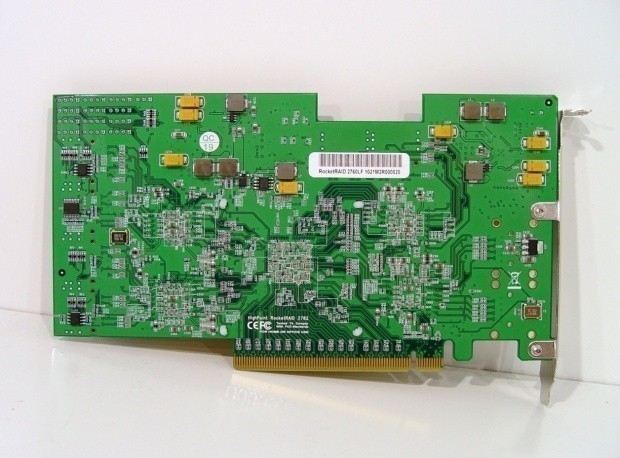 The back of the card is relatively uneventful other than a few surface mount components.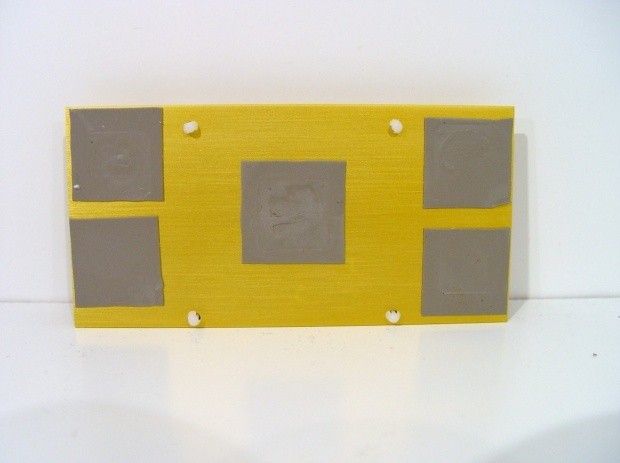 As you might imagine, all of those controller chips create some significant heat. You will need a powerful cooling system to keep the 2760 happy. Why HPT went with a passive cooling system is beyond me, since the price will entice power users to give the 2760 a go and most systems outside of the server realm are not up to the task of keeping a true enterprise class controller like this one cool.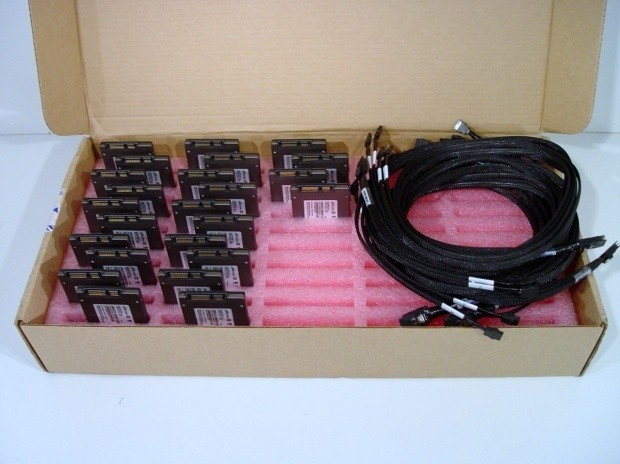 A big thank you goes to Crucial for supplying the 24 RealSSD C300 drives needed to make this test possible.
Test System Setup and ATTO Baseline Performance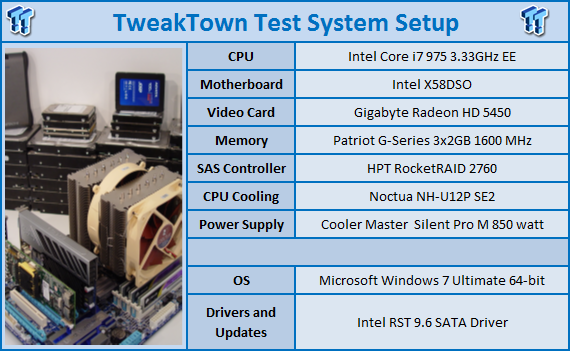 We would like to thank the following companies for supplying and supporting us with our test system hardware and equipment:
AVADirect
,
GIGABYTE
,
Cooler Master
,
LSI
and
Noctua
.
You can read more about TweakTown's Storage Product Testing Workstation and the procedures followed to test products
in this article
.
We ran across two issues prior to testing. The first was one we thought about prior to the controller arriving and the second we didn't consider until after everything arrived.
The first and more complicated issue had to do with choosing a motherboard that had a nice data path for the PCIe 2.0 16 lane. Many of our high end motherboards on the Intel side of things use the NVIDIA NF200 bridge chip. We tested the controller with our X58A-UD7 and the results were not all that impressive due to the additional bridge chip. Then we tried the GIGABYTE 890FXa-UD7, a high end AMD based motherboard that features several PCIe 2.0 16x lanes, but it didn't deliver the performance we were looking for either.
We finally went back to basics and chose the Intel X58DSO, one of the first X58 chipset motherboards to hit the market. The X58DSO doesn't have all of the bells and whistles as the newer boards, but that played into our favour since many of those add-on goodies take bandwidth away from where we needed it.
The second issue we ran into had to do with power. Where do you get 24 SATA power connections that feed 5 volts? Standard 4-pin Molex to SATA adapters do not transfer the 5 volt power to the pins used on notebook drives, so 4-pin to SATA power adapters will not do you any good. Luckily, we have a few PSUs in the house and ended up using four of them to power the 25 SSDs used in the test (plus one more for the OS).
ATTO Baseline Performance
Version and / or Patch Used:
2.34
ATTO is used by many disk manufacturers to determine the read and write speeds that will be presented to customers.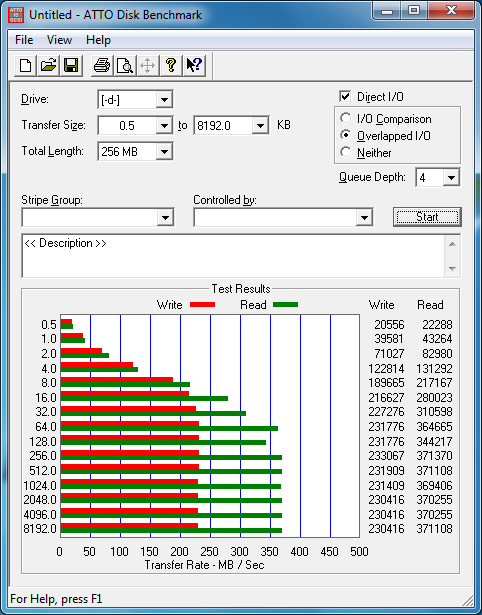 With a single Crucial RealSSD C300 we see the HighPoint RocketRAID 2760 is capable of delivering higher performance than we see with our X58A-UD7 motherboard. Our baseline single drive performance with the 2760 is right around 370 MB/s read and 230 MB/s write.
Benchmarks - HD Tune Pro
HD Tune ProVersion and / or Patch Used:
4.00
Developer Homepage:
http://www.efdsoftware.com
Product Homepage:
http://www.hdtune.com
HD Tune is a Hard Disk utility which has the following functions:
- Benchmark: measures the performance
- Info: shows detailed information
- Health: checks the health status by using SMART
- Error Scan: scans the surface for errors
- Temperature display
HD Tune Pro gives us accurate read, write and access time results and for the last couple of years has been gaining popularity amongst reviewers. It is now considered a must have application for storage device testing.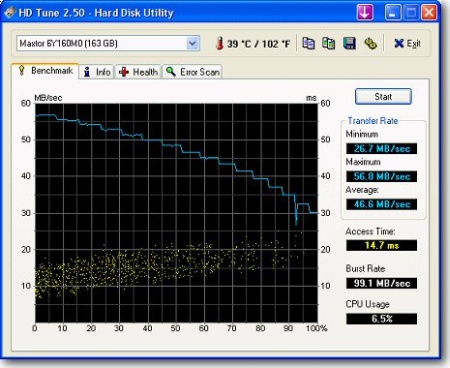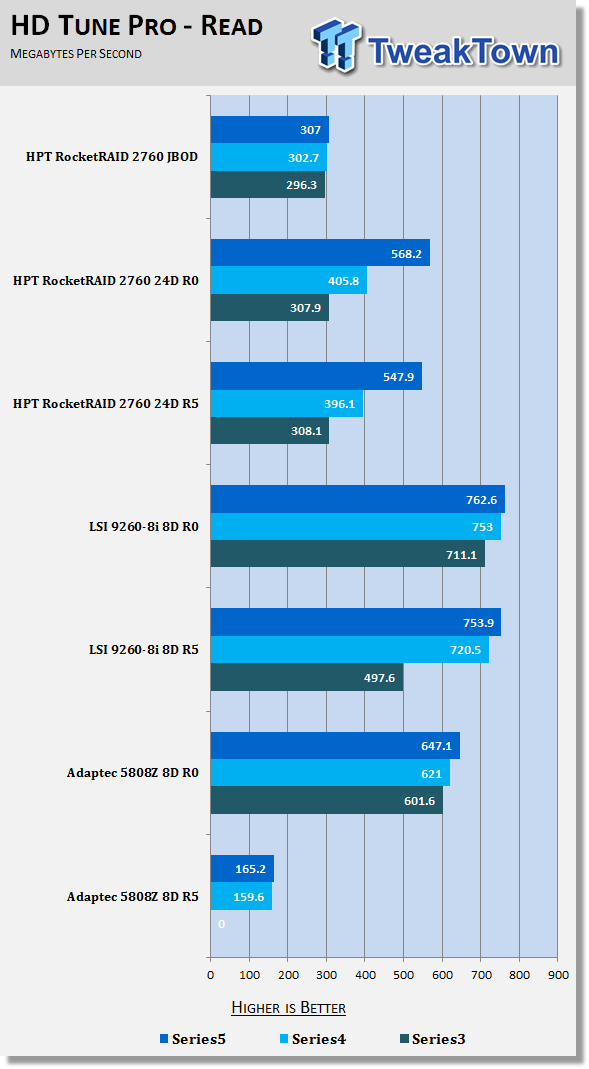 One thing that advanced users are going to run into is the ability to change the stripe size, or lack thereof. HighPoint locks this setting down at 64k and calls it "chunk size". We have demonstrated before that being able to change this setting to tune your storage subsystem to your needs (either high IOPS, high sequential transfer rate or a best mix between the two), allows users to get the most out of the system. HighPoint's 64k chunk size is geared toward high IOPS, mainly with standard platter drives. I've found that SSDs work better with larger sizes and to get the best sequential rates, sizes of 1MB or higher are needed.
With that in mind, we see the HPT RocketRAID hitting average read speeds of just 405MB/s in RAID 0 and 396MB/s in RAID 5. The LSI and Adaptec controllers were also tested at their default stripe size settings. For the LSI it was also 64, but the Adaptec uses 128. The Adaptec is only able to run at SATA II speeds while the LSI and HighPoint run SATA III (6G).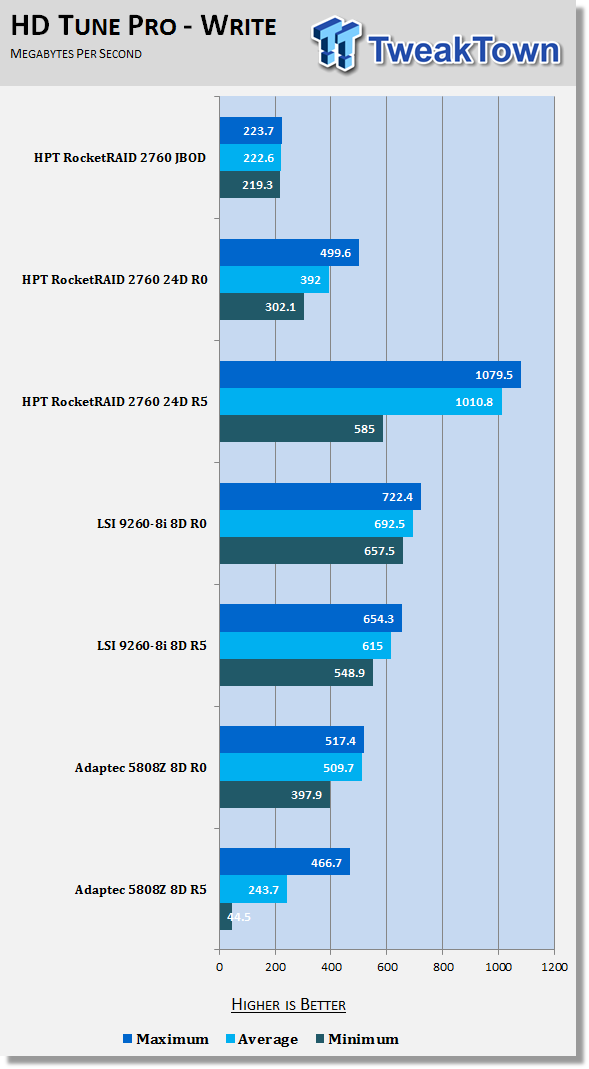 Traditionally RAID 5 write speeds are an issue, especially for a drive that does not have cache or an XOR engine. Here we see the opposite is true for the RocketRAID 2760. In RAID 5 we see the drives performing better than they did with RAID 0.
Benchmarks - Everest Random Access Time
Everest Random Access TimeVersion and / or Patch Used:
4.60
Developer Homepage:
http://www.lavalys.com
Product Homepage:
http://www.lavalys.com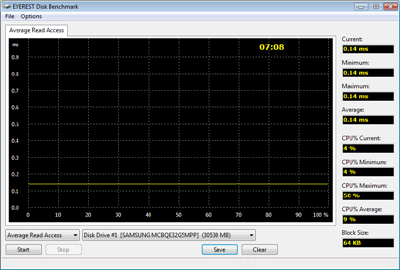 Everest Ultimate and Corporate Edition offer several different benchmarks for testing and optimizing your system or network. The Random Access test is one of very few if not only that will measure hard drives random access times in hundredths of milliseconds as oppose to tens of milliseconds.
Drives with only one or two tests displayed in write the write test mean that they have failed the test and their Maximum and possibly their Average Scores were very high after the cached fills. This usually happens only with controllers manufactured by JMicron.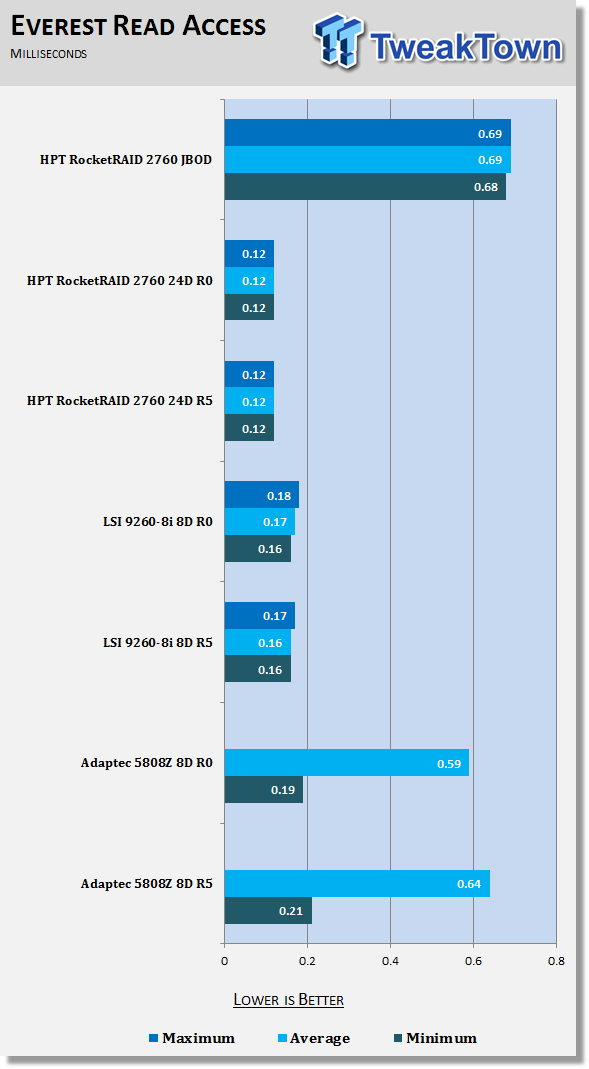 The Crucial RealSSD C300 has higher latency than most SSDs, but the HighPoint RocketRAID 2760 is able to keep that in check when using RAID settings. Even though the HPT controller doesn't have onboard cache, the latency is lower than we found on both the LSI and Adaptec controllers. The Adaptec actually ran into some issues where latency would spike, like we see when using JMicron controlled SSDs.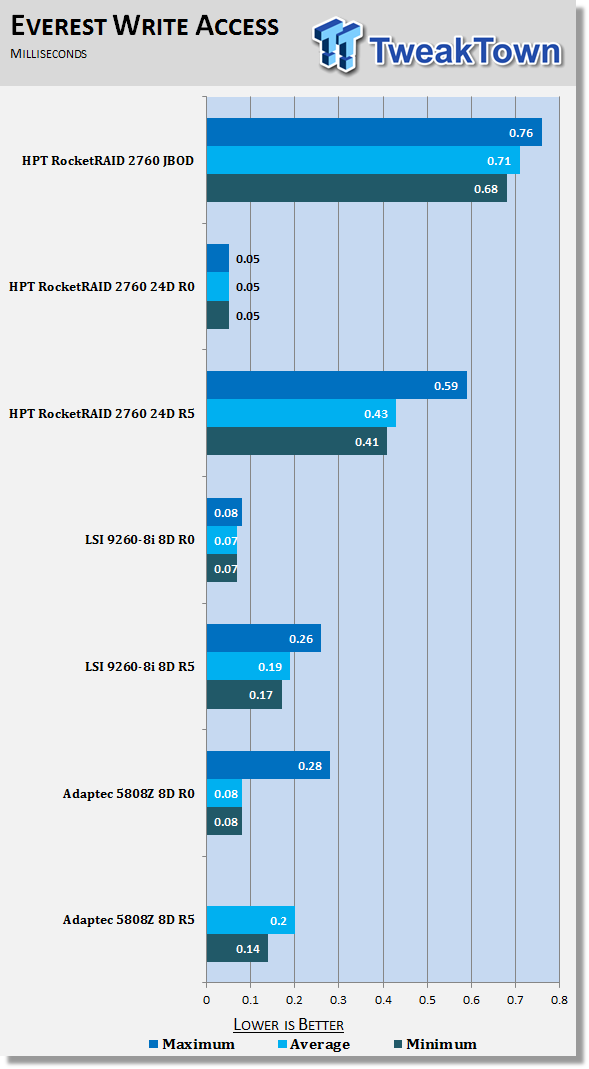 When it comes to write access times, the HPT RocketRAID once again was able to keep the latency lower than what we found on a single drive. The other controllers cache did come into play here and we see both the LSI and Adaptec taking advantage of their 512MB cache.
Benchmarks - Crystal Disk Mark
CrystalDiskMarkVersion and / or Patch Used:
3.0 Technical Preview
Developer Homepage:
http://crystalmark.info
Product Homepage:
http://crystalmark.info/software/CrystalDiskMark/index-e.html
Download here:
http://crystaldew.info/category/software/crystaldiskmark
CrystalDiskMark is a disk benchmark software.
Key Features:-
* Sequential reads/writes
* Random 4KB/512KB reads/writes
* Text copy
* Change dialog design
* internationalization (i18n)
Note:
Crystal Disk Mark 3.0 is not available to the public yet, but the Technical Preview does allow us to test 4K performance at queue depths of 4 and 32 in addition to 1. The current release Crystal Disk Mark only shows us QD 1.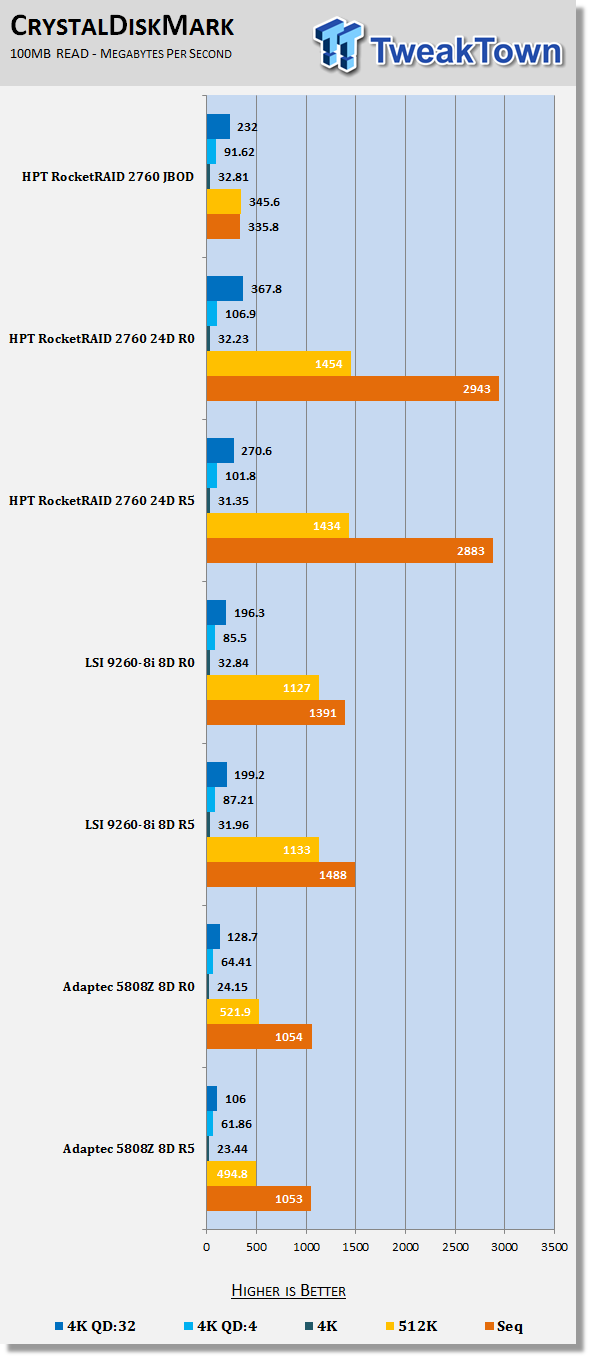 In CDM we are looking at the 4k performance, but since the HPT RocketRAID did manage to hit sequential numbers higher than 2500 MB/s, you may get a little distracted. In all 4k read tests we found the RocketRAID outperforming the other controllers, but with so many more drives we really expected to see an all-out obliteration, which just wasn't the case.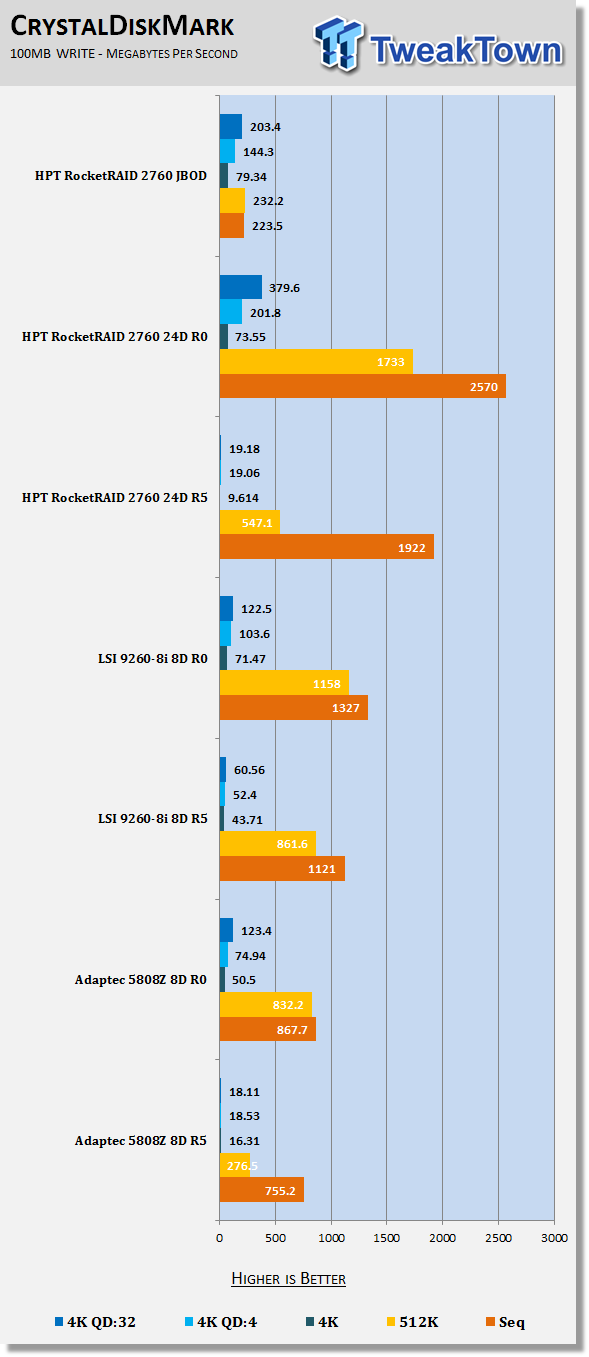 The 4k write tests allowed us to find an issue with the RocketRAID's RAID 5 NCQ performance. Here we found that the controller doesn't effectively handle NCQ and we found no scaling at all when commands are stacked up. This was also observed in the AS SSD 4K NCQ test, but I am confident HighPoint will be able to work on this issue when they learn about it. In RAID 0 we see very good scaling with the 2760.
Benchmarks - PCMark Vantage Hard Disk Tests
PCMark Vantage - Hard Disk TestsVersion and / or Patch Used:
1.0.0
Developer Homepage:
http://www.futuremark.com
Product Homepage:
http://www.futuremark.com/benchmarks/pcmark-vantage/
Buy It Here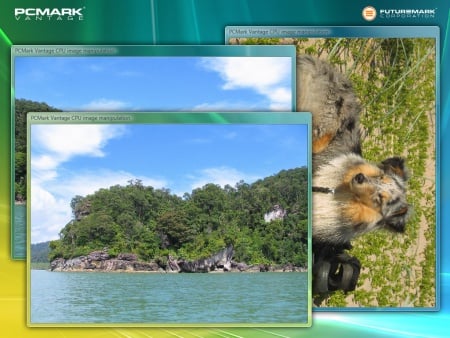 PCMark Vantage is the first objective hardware performance benchmark for PCs running 32 and 64 bit versions of Microsoft Windows Vista. PCMark Vantage is perfectly suited for benchmarking any type of Microsoft Windows Vista PC from multimedia home entertainment systems and laptops to dedicated workstations and high-end gaming rigs. Regardless of whether the benchmarker is an artist or an IT Professional, PCMark Vantage shows the user where their system soars or falls flat, and how to get the most performance possible out of their hardware. PCMark Vantage is easy enough for even the most casual enthusiast to use yet supports in-depth, professional industry grade testing.
FutureMark has developed a good set of hard disk tests for their PCMark Vantage Suite. Windows users can count on Vantage to show them how a drive will perform in normal day to day usage scenarios. For most users these are the tests that matter since many of the old hat ways to measure performance have become ineffective to measure true Windows performance.

HDD1 - Windows Defender
HDD2 - Gaming
HDD3 - Windows Photo Gallery
HDD4 - Vista Startup
HDD5 - Windows Movie Maker
HDD6 - Windows Media Center
HDD7 - Windows Media Player
HDD8 - Application Loading
With the synthetic tests out of the way, we can focus on real world tests. The RocketRAID 2760 is an enterprise class controller, so there isn't a lot of real world going on in this set of Windows tests, but there are more than a handful of power users out there that will give the 16 port model a run in their Windows machine.
Once again we see the lack of tuning hurt the RocketRAID 2760. Higher chunk sizes would have been able to break ORB records if we were allowed to tune the performance. More on this in the conclusion.
Benchmarks - AS SSD
AS SSD BenchmarkVersion and / or Patch Used:
1.2.3577.40358
Developer Homepage:
Alex Intelligent Software
Product Homepage:
Alex Intelligent Software
Download here:
http://www.alex-is.de/PHP/fusion/downloads.php?cat_id=4&download_id=9
AS determines the performance of Solid State Drives (SSD). The tool contains four synthetic as well as three practice tests. The synthetic tests are to determine the sequential and random read and write performance of the SSD. These tests are carried out without the use of the operating system caches.
In all synthetic tests the test file size is 1GB. AS can also determine the access time of the SSD, the access of which the drive is determined to read through the entire capacity of the SSD (Full Stroke). The write access test is only to be met with a 1 GB big test file. At the end of the tests three values for the read and write as well as the overall performance will be issued. In addition to the calculated values which are shown in MB/s, they are also represented in IO per seconds (IOPS).
Note:
AS SSD is a great benchmark for many tests, but since Crystal Disk Mark covers a broader range of 4K tests and HD Tune Pro covering sequential speeds, we will only use the Copy Benchmark from AS SSD.
- Copy Benchmark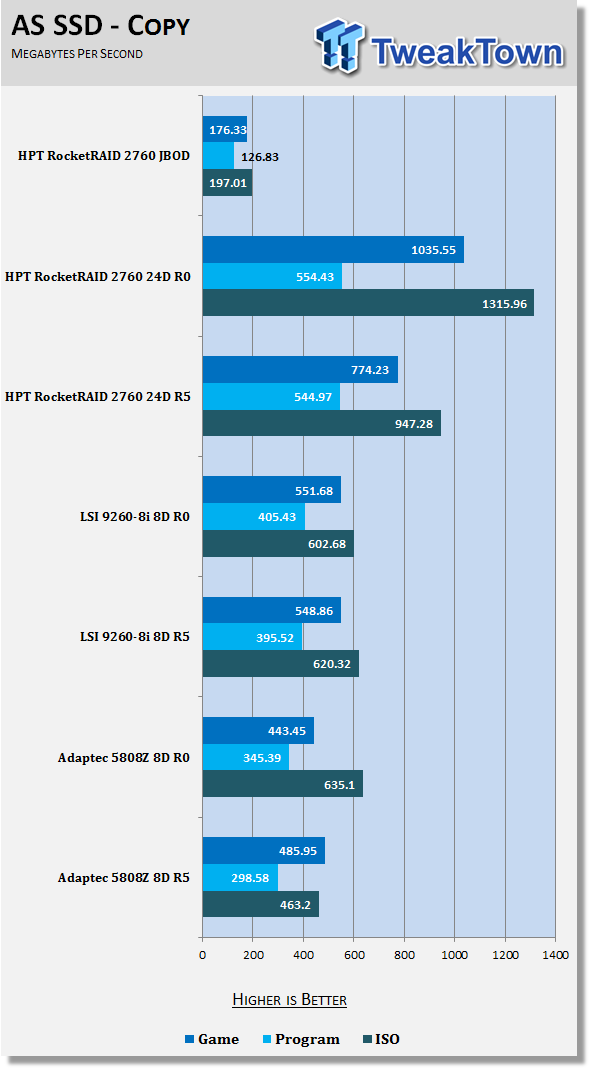 When it comes to transferring data from one area of the drive to another, the RocketRAID was able to kick it into high gear and deliver performance we never even thought possible. Most of these transfers took just over 1 second, which is very good considering the size of the files involved.
Benchmarks - Passmark
Passmark Advanced Multi-User TestsVersion and / or Patch Used:
6.1
Developer Homepage:
http://www.passmark.com
Test Homepage:
http://www.passmark.com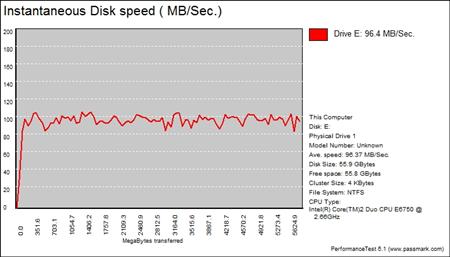 Many users complain that I/O Meter is too complicated of a benchmark to replicate results so my quest to find an alternative was started. Passmark has added several multi-user tests that measure a hard drives ability to operate in a multi-user environment.

The tests use different settings to mimic basic multi-user operations as they would play out on your server. Variances is read / write percentage as well as random / sequential reads are common in certain applications, Web Servers read nearly 100% of the time while Database Servers write a small amount of data.
The Workstation test is the only single user environment and will be similar to how you use your system at home.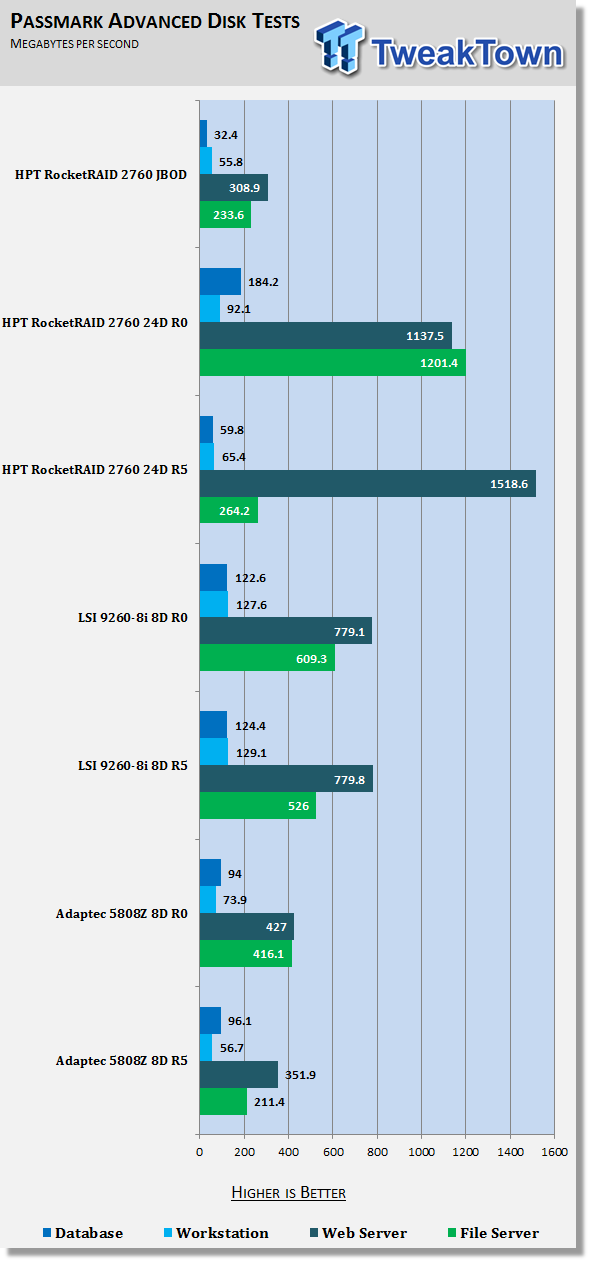 Most users looking to use the HighPoint RocketRAID as configured today will be using it in a server environment. Here we see very impressive results and unlike the Windows tests the smaller chunk size does help in situations like these. When it comes to the file and web server tests, the 2760 just crushed everything else we tested it against and delivered results that are twice as high as anything we had ever seen before, including the Fusion-io ioDrive.
Final Thoughts
When choosing a RAID controller for your business, more needs to be considered than just simple benchmark results and price. Most companies go with the names that are familiar such as ATTO (yes, they make controllers too and not just the benchmark software), Adaptec and LSI. HighPoint is trying to break into this realm of leading companies, but as we all know, making a great product is just the start.
For what it is designed to do, the HighPoint RocketRAID 2760 is a really good product. In fact, it has features that are currently exclusive to HPT's switching architecture and no one on the horizon has even mentioned doing something similar. The performance is very good and is even better than some of the more established products we have tested.
What the HighPoint RocketRAID 2760 is lacking is what most HighPoint products do; maturity. The HighPoint configuration software is far less useful than LSI's software and lacks some of the features that make the LSI controllers easy to use. Adaptec's software has just been passed by age and is in the same spot lagging behind LSI, but HighPoint's software just never achieved a parallel level. With both the LSI and Adaptec software, a user can format or clear the contents of a drive or entire array. This is very handy if bringing drives into your system from another controller or array. HighPoint just doesn't have that option and if you need to do it you are just going to have to deal with the problem another way.
Another issue we ran into had to do with enabling and disabling each drives cache. Under other controllers software it is just one button (and you are given the option while building the array), but with HighPoint's software you have to enter each drives properties and then enable or disable the option. When running 24 drives at once it can take more than a few minutes and be a repetitive nightmare. To sum up the software, I would just call it consumer grade. Expect a consumer like experience when dealing with the control software and not what you would expect from enterprise level hardware.
When it comes to price, HighPoint has everything else ticked. When asked to review the controller I was expecting to find a price tag of 2K or more. I was very surprised to see
699.99 at Newegg
. Come on, right? - You can connect 24 SATA or SAS hard drives to this thing and that price is less than both the aging Adaptec controller we tested with and the newer LSI controller. Both of those controllers do use 512MB of cache and feature an XOR engine; two things we would love to see on a mega RocketRAID, but then again, the price at that point would be considerably higher.
Performance wise, when used for what it was designed for the HighPoint RocketRAID 2760 is very good. Our Web and File Server tests show the RocketRAID delivering twice the performance we achieved with the Fusion-io ioDrive. Using 24 Crucial RealSSD C300's and a controller obviously has a higher cost and a higher long term cost when configuring power usage, but you also are getting a lot more storage capacity; something you can never have enough of when dealing with file and web servers.
PRICING: You can find products similar to this one for sale below.

United States: Find other tech and computer products like this over at Amazon.com

United Kingdom: Find other tech and computer products like this over at Amazon.co.uk

Australia: Find other tech and computer products like this over at Amazon.com.au

Canada: Find other tech and computer products like this over at Amazon.ca

Deutschland: Finde andere Technik- und Computerprodukte wie dieses auf Amazon.de
We openly invite the companies who provide us with review samples / who are mentioned or discussed to express their opinion. If any company representative wishes to respond, we will publish the response here. Please contact us if you wish to respond.