The years of 1989 - 1994 were and will probably always be the glory days of Disney animation in my generation. They brought us
The Little Mermaid
,
Aladdin
,
The Lion King
, and this, perhaps the most critically acclaimed;
Beauty and the Beast
.
During his lifetime, Walt Disney tried multiple times to adapt the classic tale, but it never progressed to the production phase. However, by 1989 buoyed by the success of
The Little Mermaid
, Walt's nephew Roy E Disney spearheaded another approach to the film, and the rest is, as they say, history.
Belle, a Parissian daughter to the town inventor/ crackpot Maurice is a beautiful, well read and sophisticated woman whom finds herself continually harassed by Gaston, the burly but simple town jock. After her latest refusal of Gaston's advances, enraging him, she becomes lost in the nearby woods and comes across a grand castle. The enchanted members of the castle take her in and give her safety from the weather. But the unkind Beast doesn't take kindly to guests, as evidenced by locking up her father whom has also strayed to the castle. Offering to exchange her captivity for her father, both the Beast and Belle find themselves warming to each other and there may be more to them both than they thought.
Beauty and the Beast
is a well established Disney classic, and for good reason. The critics too agree, nominating the film for a best picture Oscar, the first for an animated film. The film, now 20 years old, has aged magnificently. A truly timeless film, I'm glad that
Beauty and the Beast
is available again after 7 years to delight a new generation.
Notably, two versions of the film are provided on this Blu-ray disc; the original theatrical release and a longer 'special edition' release which interweaves a new musical number entitled 'Human again', which I quite enjoyed.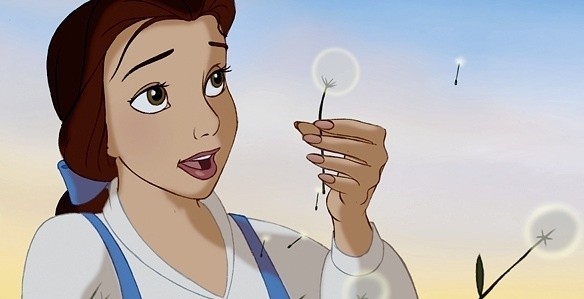 VideoBeauty and the Beast
is presented in a widescreen aspect ratio of 1.78:1 (a very slight variance from its original aspect ratio of 1.66:1), encoded with the AVC MPEG-4 codec.
If I just said 'stunning' it would be a massive disservice to the quality on offer here. No, this requires far more liberal use of adjectives. 'Amazing', 'beautiful' and 'perfect' are probably getting closer to the mark. This is a seriously great video transfer and well up into the echelons of perfection, normally reserved for CG animated fare.
The image is incredibly sharp and has beautifully saturated colours that literally pop off the screen. For comparison, I loaded up the last DVD release from 2002 and it's immediately evident how much of a massive improvement this truly is. Gone are the jaggly images prone to macro blocking on fast movement. Colour saturation is much more vibrant and pleasing.
In summary; seriously, throw out that old disc and upgrade immediately.
[img]2[/img]
Audio
The main audio track is encoded in uncompressed DTS HD Master Audio 7.1, at 24 bits.
Some further audio sweetening has been performed on this soundtrack, now upgraded to a 7.1 mix. The previous DVD mix, whilst a little restrained, was generally quite nice, so I was a little dubious how much better this new mix could be. I shouldn't have been so concerned as this is a simply stunning accompaniment to the video track.
Beauty and the Beast
features many lively musical songs throughout and these are mixed superbly, with the surrounds bustling with activity. Lip sync was very good for an animated film and at no point did I really doubt the voice was coming from the animated character.
Bass usage is rather high, but suitably so. There are quite a few opportunities to register lower frequencies, and I don't think any were passed up.
Overall, a very pleasing audio track. Like the video track, I simply can't say enough nice things.
[img]3[/img]
Extras
As one of the flagship 'Diamond editions' titles,
Beauty and the Beast
is gifted with a veritable troth of extra features. Let's jump in.
First up is the filmmaker's
commentary
provided by directors Kirk Wise and Gary Trousdale, along with Producer Don Hahn. These guys talk very passionately on a film that they are rightly very proud of, and rarely stop to breathe during the runtime. Some nice little trivia stories make this a worthwhile listen.
The
Picture-in-picture story reel
is an interesting presentation of an earlier version of the film. There is a bit of history to this piece; it was originally put together for the 1991 New York Film Festival. Before Laserdisc and DVD extras, Disney rarely let the public behind the curtain and it shows how confident Disney were in the film to show this incomplete version to select critics. Disney has synced this to the finished film, showing an alternate version for its entirety.
The crown jewel of the Blu-ray is the newly produced
Beyond Beauty documentary
which during its nearly 2 and a half hour run time, examines many, many facets of production. Notably, the disc has been authored with branching segments which allow the viewer to navigate to additional segments when the on-screen icon pops up. Anyone who is bought out during its run time, and for fans of the film, they'll be in rapture.
Nearly half an hour of
Deleted scenes
are newly transferred in high definition. They are in unfinished form and many of them are presented in storyboard form, but it gives a taste of some of the elements that were wisely dropped from the film.
Two further featurettes look at the musical elements of the film;
Composing a classic
looks at the re-teaming of
Little Mermaid
composer Alan Menken and Lyricist Howard Ashman. Never before, and likely never again has a pair of musicians made such an impact to film scores, and I tip my hat to Ashman who died during production of the film.
Broadway Beginnings
takes a look at the Broadway adaptation of the film. I was lucky enough to catch the show a few years back, thoroughly enjoying every minute of it, and this featurette brought some of those memories back.
An archive of standard definition extras from the previous release are housed in the
Classic DVD Bonus features
section. Inside, you'll find a few more
featurettes
including alternative versions of scenes and music. Most notably in the section are a bunch of
Animation tests
which show very early character designs. A bunch of
Trailers
and the original
Celine Dion
music video round out the section.
The worst feature is undoubtedly the new
Jordin Sparks Music Video
. Now, I don't know who this 'Jordin Sparks' is, but I dislike her strongly, for murdering one of my favourite Disney songs. Sigh.
Finally, we have two
BD Java Games
; one entitled
Bonjour - Who is this?
and the other
Enchanted musical challenge
. I apologise, but I elected to skip over these. Kids may beg to differ.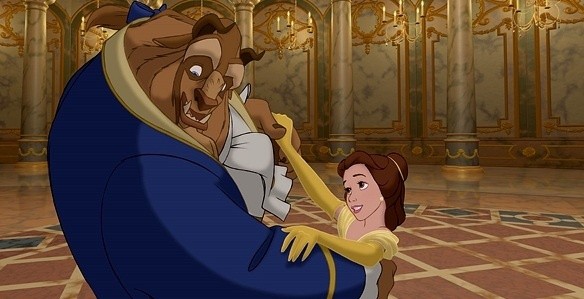 Overall