Introduction, Specifications, Pricing and Availability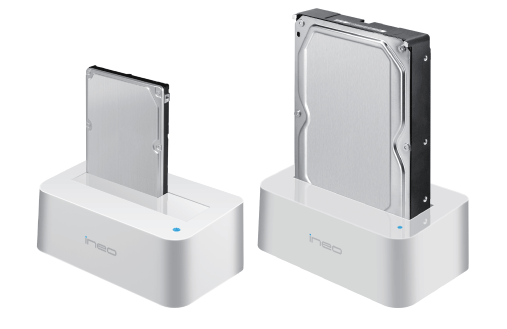 Introduction
Let's be honest; we have all seen these desktop HDD docking stations before and they are actually getting common on store shelves. Many companies are making them; they all pretty much do the same thing and everyone who has a stack of hard drives sitting around either wants one, or needs one. So, what makes ineo Technology's HDD dock different?
ineo Technology started in 2007 with a focus on NAS servers. Since then the company has expanded to mother storage products and is looking to become a big player in the storage accessory market. Their latest device, the Docking Station that we are looking at today, does have a cool feature that we have yet to see in a desktop dock; it uses USB 3.0 to connect to your computer.
Let's take a look at the specs and see if the new ineo Technology USB 3.0 Docking Station has what you need.
Specifications, Pricing and Availability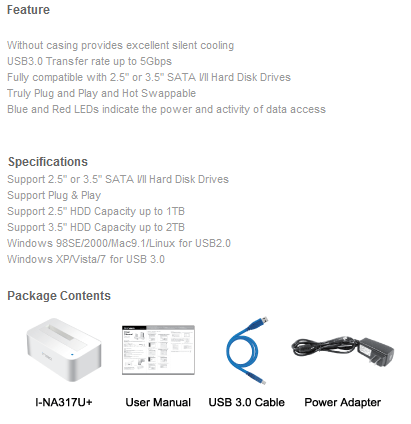 The official product name for ineo Tech's USB 3.0 Docking Station is I-NA317U+. We will just be calling it the Docking Station for obvious reasons. As the name implies, the Docking Station uses USB 3.0 to connect to your desktop or notebook computer. The system is backwards compatible with USB 2.0 for your legacy computers, but you will get the most performance out of USB 3.0.
The Dock accepts all SATA 2.5 or 3.5 inch drives and allows them to act as naked external drives. Since the Dock uses USB 3.0, most drives will not take a performance hit other than not being able to take advantage of native command queuing, a feature USB 3.0 does not utilize.
The beauty of the ineo Tech USB 3.0 Docking Station has to do with its pricing and availability. Newegg has the Dock
in stock at 29.99 USD
and it is the lowest priced USB 3.0 desktop docking station offered. There are actually over 20 available, which should tell you how covenant they are to have.
Aside from Newegg, we also found ineo Tech products at Walmart's online store. ineo doesn't have products inside the Walmart stores as far as we can tell, but it would be quite an accomplishment if they were able to make that happen. They do, however, already have their feet in the door.
The Packaging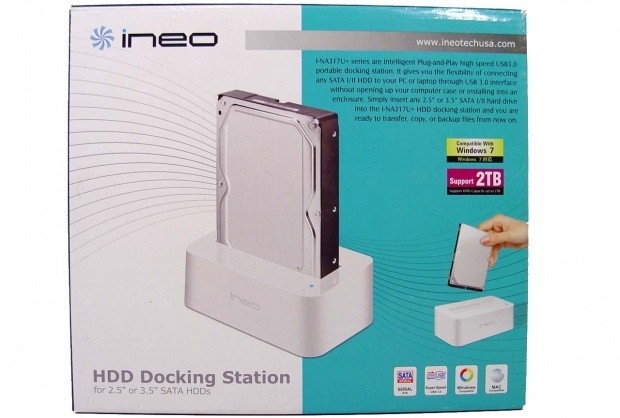 The ineo Technology HDD Docking Station comes in an informative package that shows an image of the product on the front and also includes a description of what it does.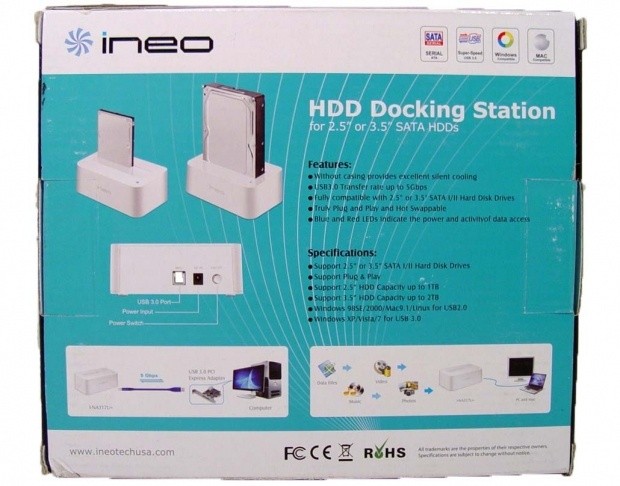 The back of the package lists the specifications and features list. Also, you will find some information on using the dock and USB 3.0.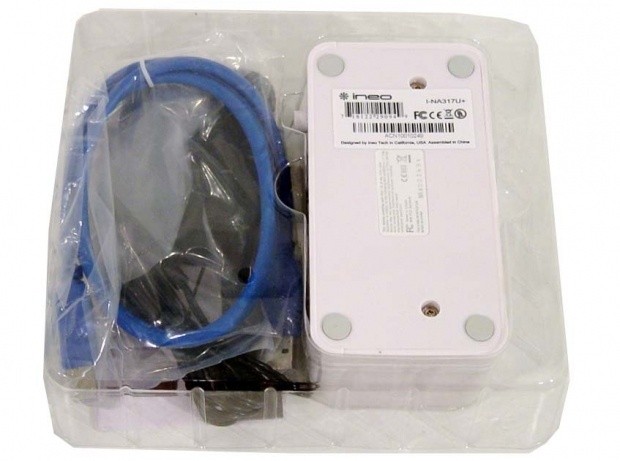 The inner package keeps the dock secure with the accessories in a separate area so they don't scratch the main unit that you will see sitting on your desk.
The ineo Technology Docking Station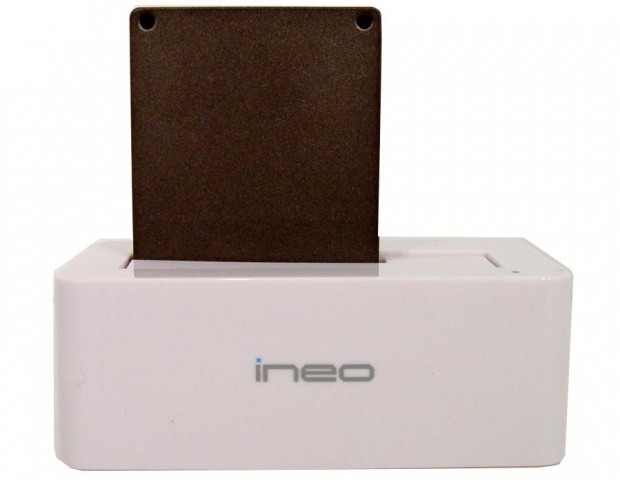 Here we take our first look at the ineo Docking Station. I have placed a Crucial RealSSD C300, a 2.5" form factor SSD, in the dock so you can see the relative size. One thing that stuck out was the lack of controls on the front of the dock.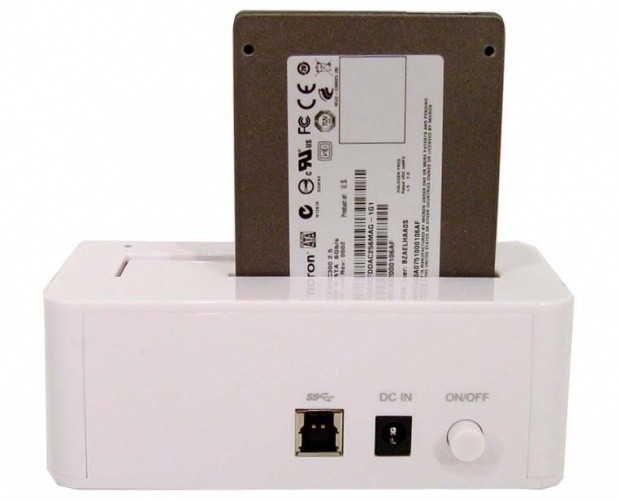 The Power button was found on the back of the dock which means you will need to reach around to the back every time you want to hot swap drives. For SSDs it won't be that big of a deal, but for platter drives that don't like a lot of vibration, it could turn into a tedious task if running through several drives.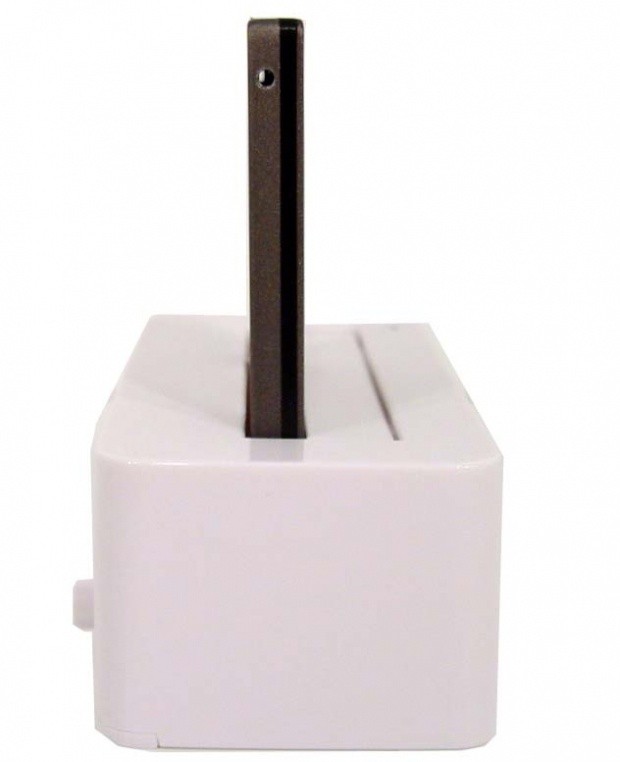 From the side we can see the drive populating the 2.5" drive slot. With larger 3.5" drives a trap door opens and the larger drives slide into place.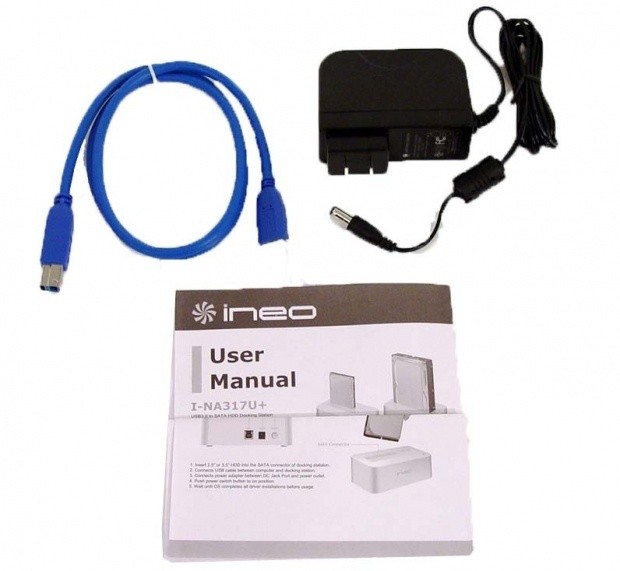 The accessory package includes everything you will need to get the dock up and running. We did find an issue with the USB 3.0 cable that came with the dock; it was fairly short and will not fit in some situations.
Test System Setup and ATTO Baseline Performance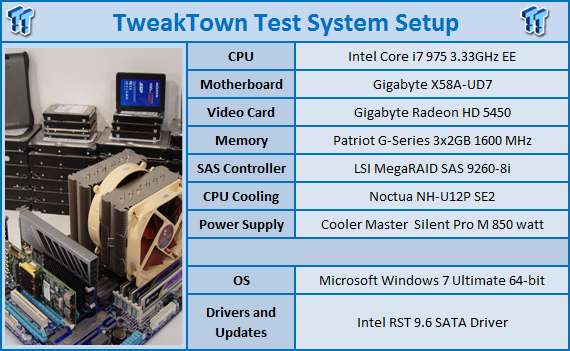 We would like to thank the following companies for supplying and supporting us with our test system hardware and equipment:
AVADirect
,
GIGABYTE
,
Cooler Master
,
LSI
and
Noctua
.
You can read more about TweakTown's Storage Product Testing Workstation and the procedures followed to test products
in this article
.
Currently USB 3.0 is a touchy subject. Most onboard USB 3.0 solutions only allow read speeds to around 200MB/s and write speeds of 180MB/s. A few PCIe aftermarket cards are delivering faster results, but not much faster at this time.
For testing we will use the Crucial RealSSD C300, the world's fastest 256GB SSD. Crucial has graced us with several of these drives for use in all of our storage product reviews. You can learn more about the Crucial RealSSD C300 256GB SSD
here
.
ATTO Baseline Performance
Version and / or Patch Used:
2.34
ATTO is used by many disk manufacturers to determine the read and write speeds that will be presented to customers.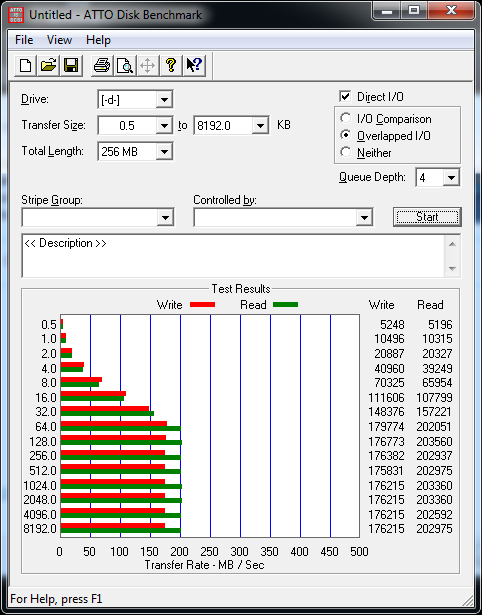 Here we see typical USB 3.0 performance from our GIGABYTE X58A-UD7 motherboards USB 3.0 port. The ineo Tech USB 3.0 Docking Station is capable of delivering enough performance to match what we have been able to achieve with the motherboard.
Benchmarks - HD Tach
HD TachVersion and / or Patch Used:
3.0
Developer Homepage:
http://www.simplisoftware.com
Product Homepage:
http://www.simplisoftware.com/Public/index.php?request=HdTach
Buy It Here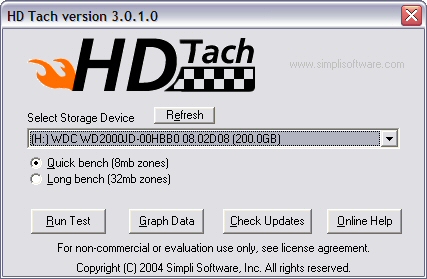 HD Tach has been around for a long time and is excellent when it comes to testing hard drive performance. It is also a very handy program when it comes to testing the controller used on particular motherboards. Tests such as Read, CPU Utilization and Burst are available at a click of the button and give you a good idea of how the hard drive can perform from system to system.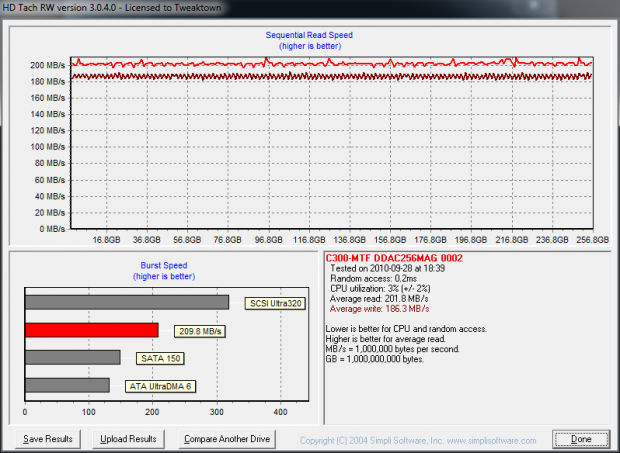 In HD Tach we see the read and write speeds across the drive. The ineo Technology USB 3.0 Docking Station doesn't slow the drive any.
Benchmarks - Everest Random Access Time
Everest Random Access TimeVersion and / or Patch Used:
4.60
Developer Homepage:
http://www.lavalys.com
Product Homepage:
http://www.lavalys.com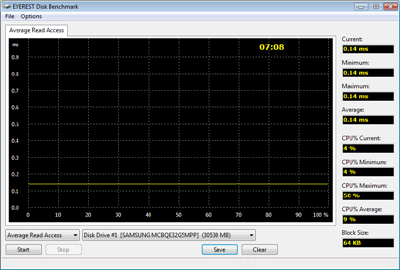 Everest Ultimate and Corporate Edition offer several different benchmarks for testing and optimizing your system or network. The Random Access test is one of very few if not only that will measure hard drives random access times in hundredths of milliseconds as oppose to tens of milliseconds.
Drives with only one or two tests displayed in write the write test mean that they have failed the test and their Maximum and possibly their Average Scores were very high after the cached fills. This usually happens only with controllers manufactured by JMicron.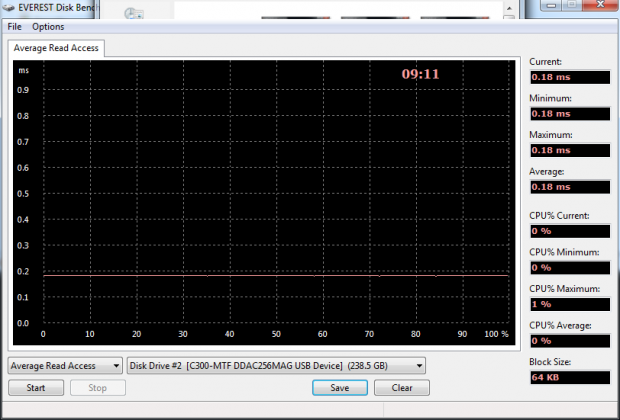 Here we see the read latency with our configured system. The Docking Station does not add additional latency while reading from the drive.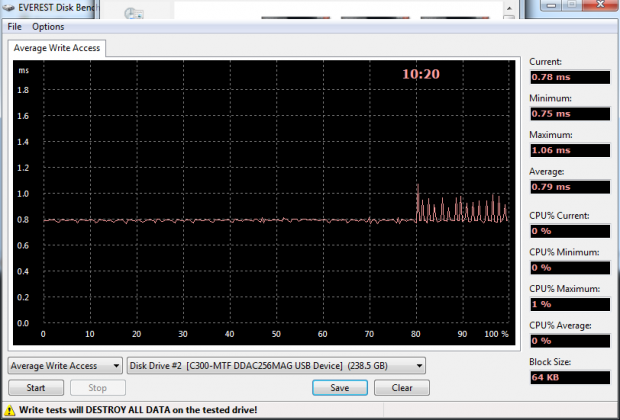 The same is true for writing to the drive. At the end of this graph we do see what happens when an SSD is working on TRIMing data, but that was not caused by the Docking Station.
Benchmarks - AS SSD
AS SSD BenchmarkVersion and / or Patch Used:
1.2.3577.40358
Developer Homepage:
Alex Intelligent Software
Product Homepage:
Alex Intelligent Software
Download here:
http://www.alex-is.de/PHP/fusion/downloads.php?cat_id=4&download_id=9
AS determines the performance of Solid State Drives (SSD). The tool contains four synthetic as well as three practice tests. The synthetic tests are to determine the sequential and random read and write performance of the SSD. These tests are carried out without the use of the operating system caches.
In all synthetic tests the test file size is 1GB. AS can also determine the access time of the SSD, the access of which the drive is determined to read through the entire capacity of the SSD (Full Stroke). The write access test is only to be met with a 1 GB big test file. At the end of the tests three values for the read and write as well as the overall performance will be issued. In addition to the calculated values which are shown in MB/s, they are also represented in IO per seconds (IOPS).
Note:
AS SSD is a great benchmark for many tests, but since Crystal Disk Mark covers a broader range of 4K tests and HD Tune Pro covering sequential speeds, we will only use the Copy Benchmark from AS SSD.
- Copy Benchmark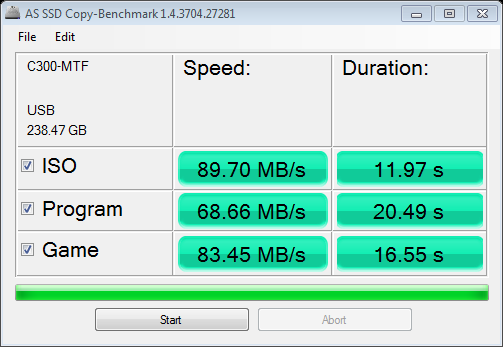 In AS SSD we are copying files from one area of the drive in the Docking Station to another. The combination of products used today is very fast and gave us the best results we have seen with a USB 3.0 combination.
Final Thoughts
The ineo Technology USB 3.0 Docking station was a well thought out product. Many users could benefit from having such a device planted on their desk. We did run into two issues that may affect the user experience. The first issue was the length of the USB 3.0 cable; some users may need a longer cable so they can easily move their computer out from under their desk without needing to detach the Docking Station first. Others may just need a longer cable to place the Docking Station where they like.
The second issue we found was the location of the power plug. To turn the Docking Station on you will need to reach around the Dock and that makes it possible to tip your drive over. I can tell you from experience, 3.5" platter drives do not like to be tipped over when they are running. This is actually a data hazard. If it happens you may brick your drive and that is never a pleasant thing. We would really like to see ineo move the power button to the front.
When it comes to competition, ineo has a bunch of it in the docking station category. Thermaltake is nearly a household name with computer users and they have a couple of these on the market. Luckily for ineo Tech the Thermaltake USB 3.0 version costs nearly twice as much. When it comes to pricing, that is where ineo has a big lead over everyone.
At 29.99 USD
the ineo Technology USB 3.0 Docking Station is the lowest priced dock at Newegg. With USB 3.0 currently limited by mother markets USB 3.0 speed, one dock isn't going to perform faster than another, so shopping on the lowest price isn't going to bite like it will in other categories.