Controversial director Oliver Stone has frequently drawn on his own life experiences and interests and has never shied away from controversial topics, be it the Vietnam War, the JFK conspiracy or the bombing of the World Trade Centre. He's also been responsible for bringing to life dramatised films based on such contentious figures such as Nixon and George W. Bush. These cinematic efforts have secured Stone a place in the annals of history. His 1987 feature
Wall Street
, helped secure him early success and Hollywood recognition and this month sees the release of the films sequel,
Wall Street: Money Never Sleeps
. In honor of that, I thought it would be timely to take a look at the original movie on Blu-ray.
Bud Fox (Charlie Sheen) is an ambitious young stockbroker keen to separate himself in his highly competitive stock brokerage. Fox desperately tries to court the attention of the highly successful, but dubiously moraled stock broker Gordon Gecko (Michael Douglas) to get ahead, but when Gecko asks Fox to perform some highly illegal activities, he'll need to decide whether getting ahead is indeed worth the risks, not least destroying the legacy of his honest hard working father.
Wall Street
is a testament to the excesses and greed that personifies the 1980's and is responsible for the mantra "Greed is good". It's remembered for some truly wonderful performances, especially that of Michael Douglas who took home an Academy Award for best actor. The themes of the movie are arguably even more relevant today, when the actions of a few, along with poor regulations changed the landscape of the worlds banking systems. I'll be very interested to see how these events have shaped the story of the sequel.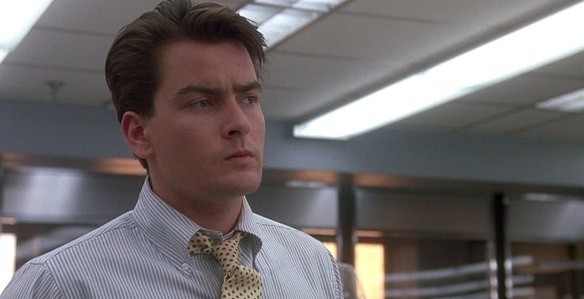 VideoWall Street
is presented in a widescreen aspect ratio of 1.85:1, its original aspect ratio, encoded with the AVC MPEG-4 codec.
Wall Street
hits Blu-ray with a transfer that looks every one of the films 23 years. It's a strange one, because shots can alternate quickly from sharp and clear, to noisy and ill defined in the bat of an eyelid. Colour balance is also very strange; they seem to be fairly accurate, but looks like a veil is over the image. It's as if the contrast has been dialed back. There is quite a lot of noise and grain on the image, which at times can be distracting.
Basically, it's clear that
Wall Street
suffers from a poor transfer because the 1980's film stock (probably the notoriously poor Kodak stock which was used at the time) is in dire need of a completely new transfer. I'm not sure if that will ever happen though.
Overall, an acceptable effort, but only just...
[img]2[/img]
Audio
The main audio track is encoded in DTS HD Master Audio 5.1, at 24 bits.
For all intents and purposes, this is basically a stereo mix, stretched out to pro-logic. For a film so highly reliant on dialogue, thankfully there are no issues there. However, as a 5.1 mix, there is barely an effort to carve out a convincing or encompassing environment. I suspect very little effort has gone into the remixing. It's not a massive deal breaker, because so much of the emphasis is on dialogue, but there are many missed opportunities throughout.
The score by Stewart Copeland is almost laughably dated, but still somewhat appropriate. Little effort is expulsed to mix this into the new 5.1 soundtrack.
Overall, it's a passable effort of representing the original sound mix, but a decidedly poor effort for audio remastering.
[img]3[/img]
Extras
The one aspect where Fox has not skimped on this Blu-ray release is in the extra features. In fact, they've gone almost overboard. Let's take a look.
First up is the ever present
Audio commentary
by director Oliver Stone. Stone always loves to talk, especially about his films and he speaks with barely a break through the entire run of the film. Stone is smart and articulate about the experiences making the film and fans will definitely want to take the time to hear his thoughts.
Next up is not one, but two 50 minute
Making of documentaries
. The first;
Greed is Good
takes more of an interest in the real life aspects of the film, interviewing many stock traders and executives. The second;
Money Never Sleeps: The Making of Wall Street
is actually a feature prepared in the year 2000 by documentarian Charles Kiselyak which serves as a retrospective 'making of', rounding up many of the principal actors to reminisce about their time and the impact the film has had. Both are eminently watchable and enjoyable features in their own right.
Stone is renowned for including many
deleted scenes
on his discs, and
Wall Street
is no exception, rounding up 23 minutes of excised footage. Stone is a wonderful editor and his decisions to keep these out of the main cut is a wise move, but it's good to see these nonetheless.
Finally, we have two original
Theatrical Trailers
and one for the completely unrelated
Fantastic Four: The Rise of the Silver Surfer
.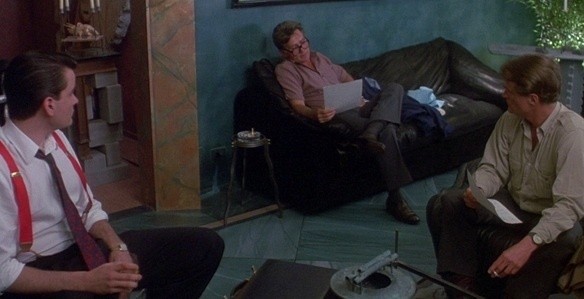 Overall