Monster House 3D Blu-ray Movie Review
"Okay, normally I don't spend time with guys like you, but a house just tried to eat me, so... you've got one hour."

Published Sun, Aug 29 2010 11:06 AM CDT
|
Updated Tue, Nov 3 2020 7:02 PM CST
Ah, 3D Blu-ray movie re-releases. No sooner have the studios forced us to buy the same movies from VHS to DVD and then from DVD to Blu-ray, they've now found a way for us to buy multiple Blu-ray releases. Bless their hearts.
Monster House
tells the story of three neighbourhood kids and their archenemy whom lives down the street - the feebled, but feared old man Mr. Nebbercracker (Steve Buscemi) whom relishes destroying the toys that stray onto his lawn. But when Mr. Nebbercracker succumbs to a heart attack and dies, the kids soon come to realise who the real monster was all along. For a non-Pixar release,
Monster House
is a very decent, family-friendly, yet not adult-insulting feature. I particularly enjoyed the animation that sets the films look apart from others.
Monster House
in 3D is the first feature length film I've seen in the home theatre environment. Of course, I've seen all the big hitters including
Avatar
and
Alice In Wonderland
in 3D, but sitting in the home environment makes for a fairly different experience. Basically, the reservations that I extended in
this article
have generally come to pass. The biggest issue is the size of the screen and the fact that it does not fill the entire peripheral vision. By being consciously and subconsciously aware of what is happening around you, it does at least for me, destroy the 3D effect that in the cinema is so enveloping. Readers may differ, but I'm a little hesitant that 3D in the home is indeed the future. But I'm sure we'll have plenty of time to discuss this in the future.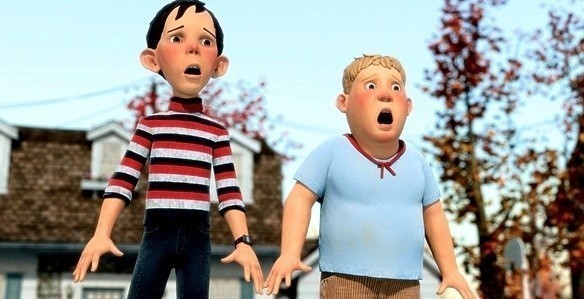 VideoMonster House
is presented in a widescreen aspect ratio of 2.40:1, its original aspect ratio. Unlike the previous 2D release encoded with MPEG-2 compression, the 3D version is encoded with the more efficient AVC MPEG-4 codec.
Included on the same disc are both 3D and 2D versions of the film. Since the previous 2D version has been on the market for near on three years, I'll just focus on the 3D version of the film.
Emerging directly from the digital files of the film,
Monster House
does look a treat, but also inherently different to many other computer generated offerings. For starters, animators seem to be trying to emulate the stop motion animation of
The Nightmare Before Christmas
and
Corpse Bride
rather than
Toy Story
or
Shrek
. Coupled with the subdued colour palette and light artificial film grain,
Monster House
makes for a decidedly unique CG animated feature. However, I'm happy to say that the Blu-ray encode is up to the job. It does a superb job at everything the film throws at it.
The 3D effect presented is very good. I noticed it's a little bit inconsistent with the presentation of depth from scene to scene, but overall it's rather good.
Overall, a very pleasing transfer in both 2D and 3D incarnations.
[img]2[/img]
Audio
The main audio track is encoded in DTS HD Master Audio 5.1, at 24 bits. Again, this differs to the original 2D Blu-ray which was encoded in Uncompressed PCM. I'll note that I detected no differences in the audio quality between the two releases.
The sound design of
Monster House
reflects that of the house itself; it's very aggressive. At all stages of the movie the rear effects are alive with action. Animators have done a very good job of retaining lip sync with the characters mouths and the audio is always intelligible.
Bass activity is very deep and very low. During the climax of the film one scene in particular was so deep and groaning that I thought that I surely would incur some damage, but all was well.
Monster House
definitely has the most aggressive soundtrack that I have heard attached to a computer generated feature. Demo worthy all the way.
[img]3[/img]
Extras
Sony has ported all the extra features over from the 2D Blu-ray. It's not a massive abundance, but what we have here is good. Let's jump in.
First up, the
Audio Commentary
is provided by unnamed members of production. It's a pretty lively affair despite not knowing the relevance of who is speaking, but they certainly impart quite a bit of knowledge during its short run time.
Seven
Featurettes
make up a 24 minute documentary entitled
Inside Monster House
. However, you can choose to watch these individual bite-sized featurettes if you wish. The most interesting of these is the
Black Box Theatre Featurette
which shows the extensive use of the motion capture technique (think
Avatar
) which gives the film its unique feel of animation.
Next up is the 20 minute
Evolution of a Scene: Eliza VS Nebbercracker featurette
which shows in depth the stages between rough storyboards to rough CG animation and finished film footage. It's a nice glimpse into the process that some take for granted that a computer does everything.
Finally, the
Art of Monster House Gallery
which brings together nearly two hundred still images. I've never really liked still galleries.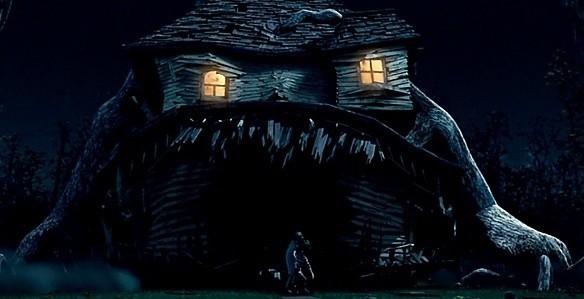 Overall
Review Equipment Used:
Display
: Sony KDL52X3100 LCD (1080p resolution/ 24p playback)
Player
: Sony BDP-S550 Blu-ray, PlayStation 3 (24p playback)
Sound
: Sony STR-DA5400ES Receiver (7.1 configuration), Sony SSX70ED front speakers (x2), Sony SSCNX70ED center speaker, Sony SSFCR7000 surround speakers (x4), Sony SAW3800 Subwoofer (Front), Sony SAWM500 Subwoofer (Rear)
PRICING: You can find products similar to this one for sale below.

United States: Find other tech and computer products like this over at Amazon.com

United Kingdom: Find other tech and computer products like this over at Amazon.co.uk

Australia: Find other tech and computer products like this over at Amazon.com.au

Canada: Find other tech and computer products like this over at Amazon.ca

Deutschland: Finde andere Technik- und Computerprodukte wie dieses auf Amazon.de
We openly invite the companies who provide us with review samples / who are mentioned or discussed to express their opinion. If any company representative wishes to respond, we will publish the response here. Please contact us if you wish to respond.