After the financial losses incurred by Walt Disney's excesses whilst producing
Fantastia
, the fledging Disney corporation looked for a more economic option for their fourth animated film. With World War II breaking out between production and release, this plan may have been stifled somewhat, but
Dumbo
did end up making a profit.
Dumbo
tells the story of an orphaned baby Elephant, whom gains his name from his curiously large ears. Part of a travelling circus troupe, he is shunned by the other animals due to his clumsiness and becomes dejected and miserable. But when he discovers he is capable of an amazing feat, he finds acceptance and newfound hope for his future.
At just an hour long,
Dumbo
is the shortest Disney film and the budget cutbacks makes the film a far cry visually from the splendor of
Sleeping Beauty
or
Fantasia
, but it remains a classic (if not one the lesser classics) of the 49 strong Disney animation collection.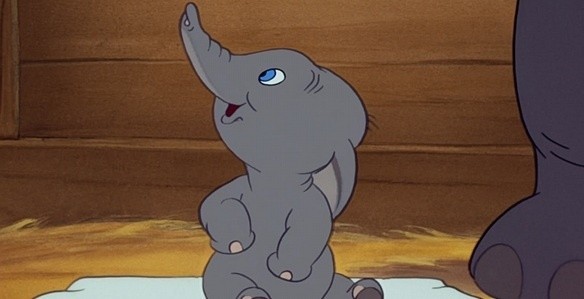 VideoDumbo
is presented in a widescreen aspect ratio of 1.33:1; its original aspect ratio. This is presented with encoded black bars to approximate a 1.78:1 frame.
Disney take fine care of all of their classic animations and this is no exception. They've gone back to a pristine print and remastered and re-colour timed the animation, getting rid of the grey sheen that had worked its way into the film over the years. Now, the colour literally bursts off the screen and with the film heavily reliant of primary colours, it scrubs up very well indeed. I did notice a fair amount of digital noise reduction, but unlike its use in live action features, it's far more suitable with solid blocks of animation.
Absent are most of the other issues that plagued the film in previous releases, such as film artifacts and print damage. The image is crystal clear; so much so that it shows shortcuts taken with the original animation.
Clearly, this is now the ultimate version of
Dumbo
, surpassing the mega expensive Laserdisc release from back in the day and easily besting the average DVD release from 2008.
[img]2[/img]
Audio
The main audio track is encoded in DTS HD Master Audio 7.1, at 24 bits.
As is usual, Disney have gone overboard on remixing a film in 7.1 for a film that clearly doesn't need it and wasn't originally recorded with surround sound in mind. However, Disney's biggest crime is not offering the restored original mono track as an audio option.
As it stands,
Dumbo
sounds fairly fine. Whilst the soundtrack has undergone restoration to remove rigors of time, not much can be done to upgrade the fidelity of vocals and sound effects. So, it really does sound as good as you would imagine a 70 year old film to sound. The surround sound mix is fairly limited, but the soundtrack seams into the rears fairly accurately. There is little in the way of bass effects considering the sound as a whole is a little on the tinny side.
Overall, it's a good effort, but ultimately disappointing that the original mono track is absent.
[img]3[/img]
Extras
A far cry from the lavishness extended to the two disc 'diamond editions' bestowed to other Disney classics such as
Sleeping Beauty
and
Pinocchio
,
Dumbo
still receives a few worthwhile extras. Let's take a look.
First up is the 18 minute long
Taking Flight: The Making of Dumbo Featurette
which is the closest we have to a fully fledged making of. In its short runtime, we are let in on many aspects of the production, including the financial strain of the Disney corporation, to how the outbreak of World War II affected the release.
Disney's
Cine-Explore
feature is back and as on previous Blu-ray releases takes the form of a picture-in-picture video and audio track that pops up at various stages in the film. Current Disney and Pixar artists act as hosts, in what is a very worthwhile extra for fans of classic animation.
A jumbled bunch of featurettes are next; some new to this Blu-ray release and some that featured on previous DVD releases.
The Magic of 'Dumbo': A Ride of Passage
is a short plug for the Disneyworld ride (hopefully I'll be able to visit next year, making my life near complete).
Sound Design Excerpt from 'The Reluctant Dragon'
is only of peripheral concern to
Dumbo
, but shows sound creation back in the day.
Celebrating Dumbo
is a little superseded by the making of segments on
Taking Flight
and
Cine-Explore
features, but is brought forward from the last DVD release. It doesn't really reveal anything that hasn't by the combination of those two. The
Original Walt Disney TV Introduction
leaves little to the imagination.
Next up are three shorts under the imaginative heading
Bonus Shorts
. Here you will find
The Flying Mouse Silly Symphon
and
Elmer Elephant
. And with this, we reach the more 'padded' bits from the extra features section.
I have always struggled with
Art Galleries
, but provided here is a few more concise collection of images than is the norm.
The collection of
Deleted Scenes
equal around eight minutes and show a few abandoned sequences with rough storyboards. It's great that after 60 years these still exist.
Under the section
Disney Family Play
you will find two BD-Java games aimed fairly and squarely at the kids. I hate this stuff and don't know any kids that wouldn't. I really wish they would put their resources into decent extra features, but I'm guessing Disney's market research revealed that these were much loved.
Finally, we have two
Trailers
both in lowly standard def. One was produced for the original release and one for the theatrical re-release a few years later.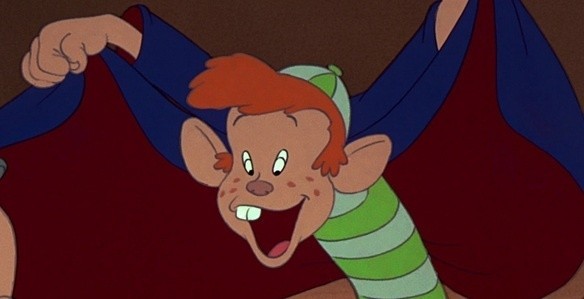 Overall
Review Equipment Used:
Display
: Sony KDL52X3100 LCD (1080p resolution/ 24p playback)
Player
: Sony BDP-S550 Blu-ray, PlayStation 3 (24p playback)
Sound
: Sony STR-DA5400ES Receiver (7.1 configuration), Sony SSX70ED front speakers (x2), Sony SSCNX70ED center speaker, Sony SSFCR7000 surround speakers (x4), Sony SAW3800 Subwoofer (Front), Sony SAWM500 Subwoofer (Rear)