In the four years following the massive critical and financial success of
Toy Story
, Pixar produced another wonderful full length film,
A Bug's Life
, then started production on what would become
Monsters Inc.
and now this; the sequel to the original, imaginatively titled
Toy Story 2
.
Following the happy conclusion of the original, Woody and Buzz are reunited with Andy and the family, with the uncertainty of new housemates (namely a puppy). But when Andy's mum accidentally puts Woody out for sale at a garage sale and promptly taken, the toys must unite to return him to his rightful home. But complications arise when Woody questions where his rightful home actually is.
Sequels generally fare badly in Hollywood. Good sequels are the exception - not the rule, but
Toy Story 2
bucked the trend by presenting to audiences a film that was every bit as thoughtful, moving and timeless as the first. It also embedded in the minds of many, that Pixar can do no wrong. And I'm glad to say that in the intervening decade, they've kept the same level of quality. Now bring on
Toy Story 3
; children move outta my way!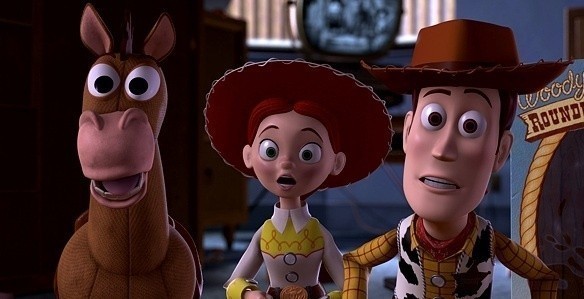 VideoToy Story 2
is presented in a widescreen aspect ratio of 1.78:1.
In the four years between sequels, the computer graphics became significantly more advanced and although it's pretty subtle, the enhancements to textures and character models are noticeable if you look hard enough. But at the same time, Pixar have been very careful to not stray far from what has been established.
The transfer for
Toy Story 2
is again fed straight from the digital files at the Pixar render farm, not touching a celluloid print. As such, it's a pretty spectacular transfer free from any aberrations and degradation. Colours are bright and bold, literally jumping off the screen. The image is as sharp as the film makers intended.
For all intents and purposes, another perfect transfer. The enhanced animation of
Toy Story 2
just pips out its predecessor in video quality.
[img]2[/img]
Audio
The main audio track is encoded in DTS HD Master Audio 5.1, at 24 bits.
Another spectacular mix from legendary sound designer Gary Rydstrom is presented here on an equally spectacular lossless audio track. Everything that was ever meant to be heard is here.
Of note is the fact that the soundtrack on the sequel film is far more aggressive than that supplied to the original, although to be fair this does feature more action than the original. Surround effects are far more lively, with channels frequently open with audio flying from front to rear, or to support ambience in scenes such as the gargantuan (at least from the toys perspective) toy shop. Bass usage is far more impressive, as is clearly evidenced from the aggressive flying logo and space scenes from the very first few minutes of the movie.
Mercifully, there is much less music to be found from Randy Newman this time around. Bravo.
Overall, a very impressive mix. Definitely demo worthy in nature.
[img]3[/img]
Extras
Disney has taken the time to produce a few new extras for this release, whilst including all of the extra features from the special edition DVD. Unfortunately, the extras produced for the earlier 'Ultimate Toy Box' DVD edition are still missing in action. I'll reflect mostly on the new features offered.
First up is the
Audio Commentary
provided by Director John Lasseter, co-directors Lee Unkrich and Ash Brannon and co-writer Andrew Stanton. I always enjoy commentary from John Lasseter; he's a very intelligent, eloquent guy who always has something relevant and interesting to say. Moreover, he cares deeply about the films he makes.
A few new
Featurettes
are provided, all presented in high definition.
Paths to Pixar
tells the story of some more Pixar staff and how much they enjoy working there,
Studio Stories
animates a few short stories by Pixar crew members that are seemingly never going to be made into longer stories. The most interesting tells how whilst in production, disaster struck causing much of the animation to become lost, but how a backup was produced from an unlikely source. A cautionary tale indeed!
Pixars Zoetrope
is a real quick lesson on how zoetrope's work. Magic indeed.
Celebrating Our Friend Joe Ranft
is a tip of the hat to the storyboard and voice artists whom was very much a part of Pixar right from the beginning. Five years on, the affection for the man and what their loss meant to them is still very evident. Finally,
Toy Story 3 Sneak Peak: The Characters
is the requisite plug for the forthcoming sequel.
Hidden away under the DVD archive menu option are all of the original features from the special edition DVD.
Most of these features take the form of
Featurettes
; under the headings of 'Design', 'Toy Box', 'Story', 'Production', 'Music and Sound' and 'Publicity'. The standout section is production, which delves fairly deep into the creation of a backstory for the Woody. The publicity section features an absolute abundance of trailers and slightly variant TV spots. The toy box section acts as a repository for a few items that belong in none of the other sections, but you will find a few tidbits in there of interest, including some additional outtakes than the ones that run during the films end credits.
Making Toy Story 2
is a real short featurette with brief overview of the production. At under 10 minutes in length it obviously doesn't delve too deep, however.
The
Deleted Scenes
archive brings together just over four minutes of deleted scenes. Seems the foundation of
Toy Story 2
was solidified pretty early on.
Overall, a fairly good effort, but a bit more meat to the extra features would have been a nice addition. Maybe they'll leave that for another edition someday. 3D Blu-ray re-release, anyone?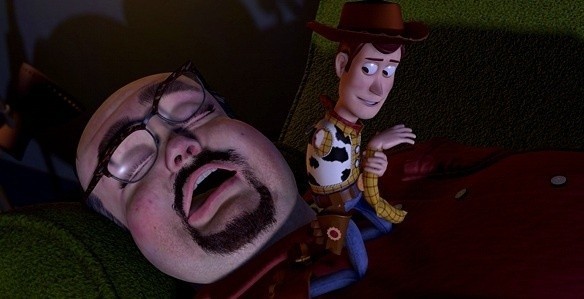 Overall
Review Equipment Used:
Display
: Sony KDL52X3100 LCD (1080p resolution/ 24p playback)
Player
: Sony BDP-S550 Blu-ray, PlayStation 3 (24p playback)
Sound
: Sony STR-DA5400ES Receiver (7.1 configuration), Sony SSX70ED front speakers (x2), Sony SSCNX70ED center speaker, Sony SSFCR7000 surround speakers (x4), Sony SAW3800 Subwoofer (Front), Sony SAWM500 Subwoofer (Rear)