Introduction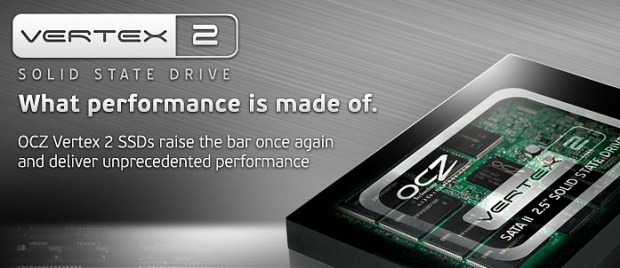 Just a couple days ago we published the
Crucial RealSSD C300 128GB review
and found that in the very competitive 100 / 120GB market the drives from Team SandForce (the collective manufacturers selling SF based drives) were faster in this capacity range for consumers. We also observed and pointed out that the SandForce SF-1200 based drives at this capacity are now quite a bit cheaper than the Crucial C300 128GB, making the SF-1200 the undisputed king in this capacity range / price point.
With Team SandForce on top, the only question remaining is which manufacturer and drive should we choose to purchase. There are a few variables here and most are personal choices. You might be looking for all out speed, the fastest drive on the market or maybe warranty length weighs more in your purchasing decision. Some consumers may just simply be loyal to a company's products due to past experiences with customer service, warranty issues or forum activity.
Today we are looking at the OCZ Vertex 2 100GB Solid State Drive. The Vertex 2 uses the SandForce SF-1200 consumer controller, but things are not as they seem from the outside looking in. OCZ was given the exclusive rights to a special firmware that enabled some of the features normally found in the SF-1500 enterprise controller. The main benefit to the exclusive firmware rests in the 4K performance and the Vertex 2 is able to achieve around 10K more IOPS at 4K than most, if not all SF-1200 controlled drives on the market. How much faster the Vertex 2 is when compared to other SF-1200 controlled drives is just one area that we will be looking at today. Pricing, availability, competition and other factors will also be examined.
Let's take a look at the official specifications and start looking at the pricing details.
Specifications, Pricing and Availability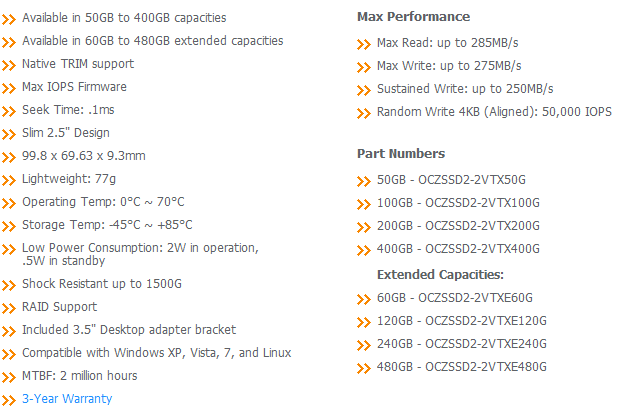 The day I finished writing this article up we caught news of a new Vertex that will be hitting the market in just a few days. The model numbers appeared on OCZ's website so I went back and made some new edits. On the specification list above we see the Vertex 2 in 50, 100, 200 and 400GB capacities. We now also see the new Vertex 2 Extended or Vertex 2E with capacities of 60, 120, 240 and 480GB. The new extended capacity drives will sometimes be referred to as MP2 or firmware Mass Production 2. We will have an article published in just a couple of days with the new Vertex 2E in a couple of different capacity sizes. The short story for now is that the SandForce SF-1200 is a direct derivative of the enterprise SF-1500 and both in standard form use much more capacity for drive clean-up and performance improvements over time. I really can't comment on the E models speed or long term reliability since our drives are not set to arrive until tomorrow.
New and mysterious part numbers aside, let's take a look at what we have in the batter's box today. The OCZ Vertex 2 specifications show 285MB/s read and 275MB/s write speeds. These are pretty much the real world limits of the SATA 3G interface and from previous testing we know that SF-1200 drives are bound by the interface. We spoke a bit about the exclusive firmware in the introduction and on the specs sheet OCZ only covered the topic by saying MAX IOPS Firmware.
The general SSD jargon holds true for the Vertex 2. No moving parts that add latency, high reliability, TRIM support in Windows 7 and a shock rating that would brick any traditional platter based drive round out the standard features common to most SSDs. It should also be noted that the Vertex 2 ships with a 2.5 to 3.5" form factor adapter plate that makes installing the drive in your desktop easier.
When it comes to availability, we were able to find the Vertex 2 at many e-tail locations in 50, 100 and 200GB capacities. The 400GB model has been a little harder to track down, but who can really afford to spend that kind of money these days on a shiny new SSD?
Speaking of spending, Newegg lists all of the common models as being in stock and ready to ship. Our 100GB sample that we are reviewing today
is listed at 409.99 USD
, but comes with a 10 USD mail-in rebate, making the final cost 399.99. After the MIR the 50GB drive is shown at 189.99 and the 200GB beast of a drive is 749.99. Our new favorite SSD wholesaler, MyDigitalDiscount.com has the Vertex 2 100GB drive
listed at an impressive 379.99
without a mail-in rebate, so you can actually save a bit by visiting their site. The 379 USD price is actually better than the A-DATA S599 price of 385 USD that we loved hearing about just a couple of weeks ago.
The Vertex 2 comes with a three year warranty. In the OWC Mercury review we pointed out their five year warranty, one of the highest we have seen in recent times for the SSD market. OCZ might not have the longest warranty period, but the company has been around for many years and in that time they have gained a reputation as being a consumer friendly company with a deep focus on customer satisfaction. OCZ also has one of the most active company focused forums online where product support is handled by other consumers as well as official company reps.
The Packaging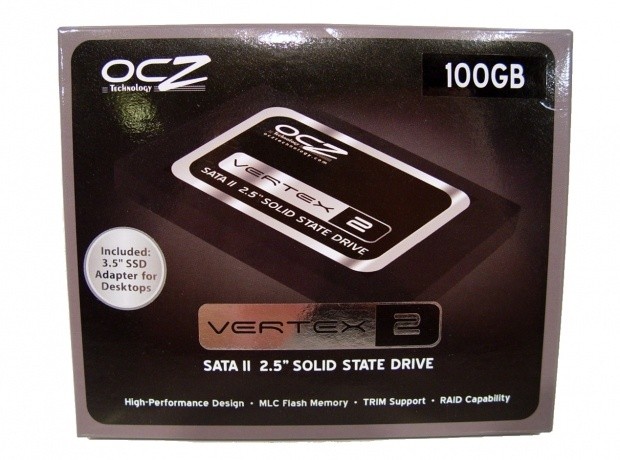 The silver and black theme from the drive carries over to the packaging of the Vertex 2 as well. OCZ has done a good job with the package front. Here we see that the drive capacity information is shown clearly at the top right and it would be difficult to miss the inclusion of the desktop adapter.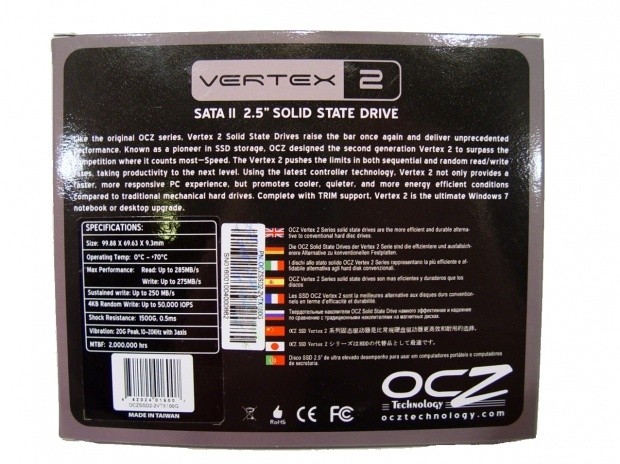 On the back we found some general SSD information as well as Vertex 2 specific information on a shortened specifications area. We easily found the 4K, 50K IOPS write information, but it was not discussed other than a bit of cryptic text in the written portion. In a retail environment it would be easy for a shopper to overlook the feature and make a blind purchasing decision based on price alone.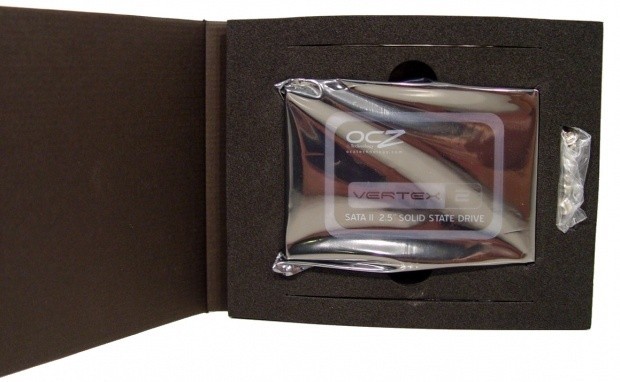 The inner packaging is made of closed cell foam and does a great job of holding the drive in place. The screws for the mounting bracket are kept in a separate area and the bracket is attached to the back of the foam.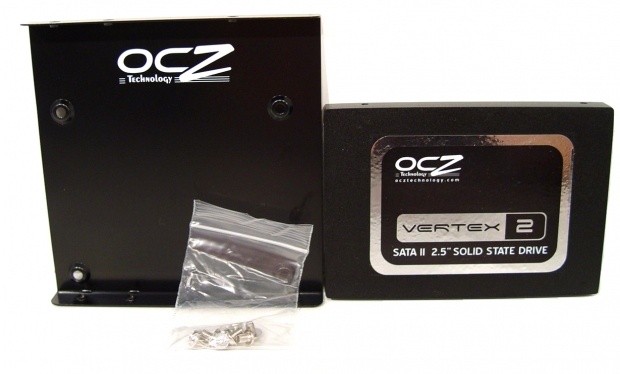 The adapter bracket is something we have seen before with OCZ and other manufacturers drives. Here we can see that it is basic, yet functional. I have used these before and for the most part they get the job done, but in some chassis' with built in slide rails you will need to work a bit harder to get the alignment right.
The OCZ Technology Vertex 2 100GB SSD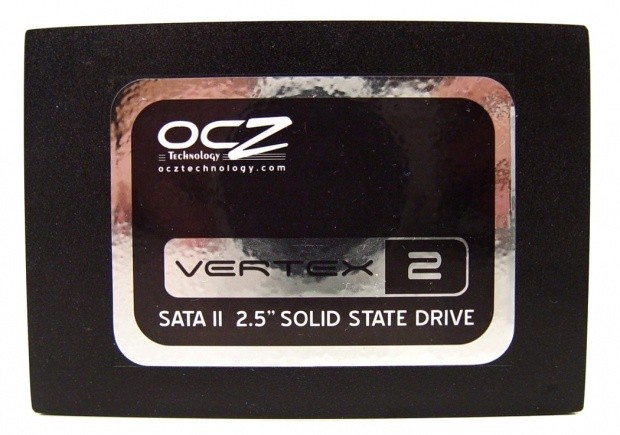 Here we get our first close up look at the Vertex 2. There really isn't much to see on the front of the drive other than a shiny logo sticker.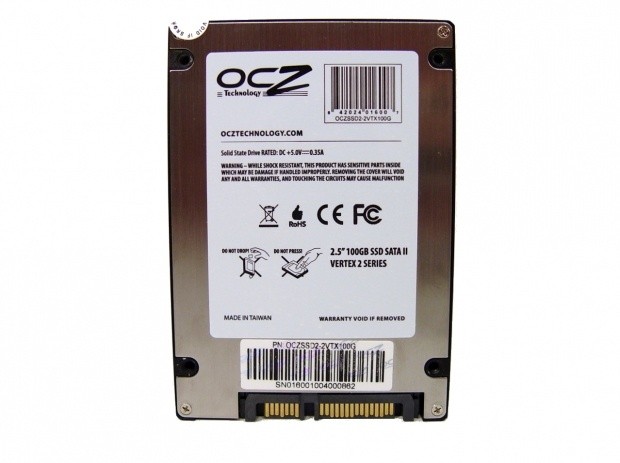 On the back we found another label, this one with model and serial number information as well as capacity size. The four under drive mounting positions are located in their standard location, so you will not have issues installing the drive in adapter brackets that use under drive mounts.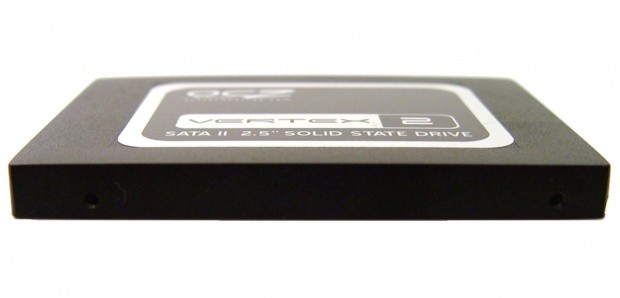 On the side we also found the standard mounting locations that are used more often in desktop systems.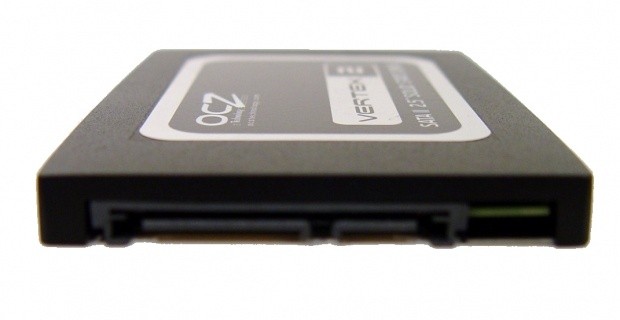 Standard SATA power and data connections were also used on the Vertex 2, so the drive conforms to the industry standards all the way around which will make for a user friendly installation.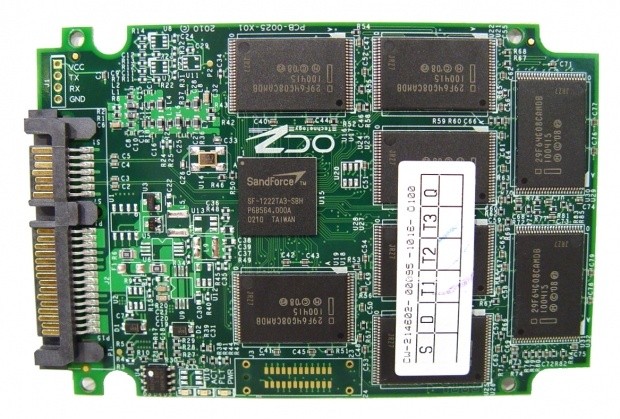 The Vertex 2 uses the 'Super Capacitor' PCB that we have found only on OCZ's SandForce products. In the middle of the PCB we see the SF-1200 controller surrounded by Intel NAND flash memory; eight per side.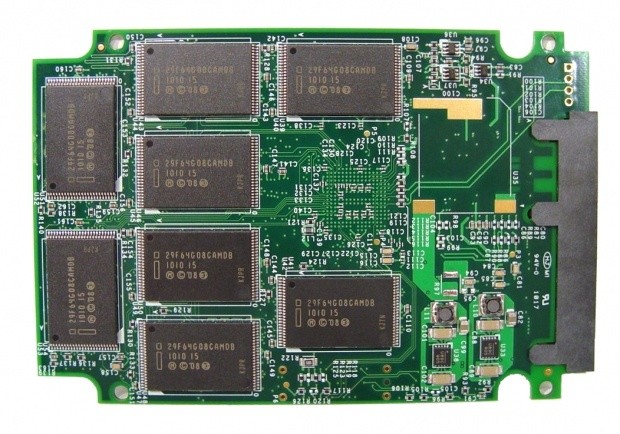 On the back we found eight more Intel flash memory chips and where the Super Capacitor would be on the enterprise SandForce SSDs from OCZ.
Test System Setup and ATTO Baseline Performance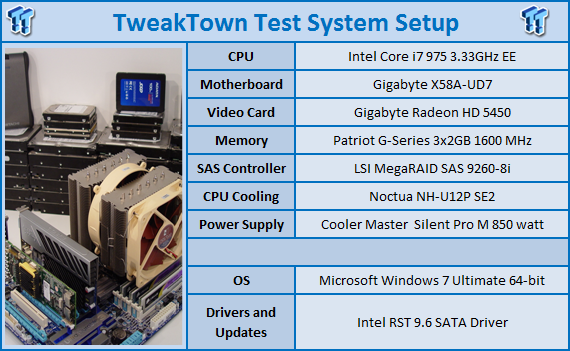 We would like to thank the following companies for supplying and supporting us with our test system hardware and equipment:
AVADirect
,
GIGABYTE
,
Patriot Memory
,
Cooler Master
,
LSI
and
Noctua
.
You can read more about TweakTown's Storage Product Testing Workstation and the procedures followed to test products
in this article
.
Today we are testing the Vertex 2 from OCZ Technology. The Vertex 2 is supposed to be able to dominate our other SF-1200 drives in 4K write speeds, but we are going to have to keep an eye on the Corsair Force F100 since Corsair managed to play some firmware games and keep the higher 4K performance; though they did so by disabling some power saving features with a pre-release firmware. We did shoot an email over to Corsair asking what the plan was for the MP2 firmware release and have yet to hear back. When we tested the F100, Intel's new RST drive was not available; since then we have re-tested and the benchmarks have been dropped in the charts.
There are two other comparisons to watch out for when looking at the charts besides the SandForce on SandForce match up. The Corsair Nova is on the charts still; an Indilinx Barefoot drive. With SandForce prices declining, this has pushed the Indilinx products to new pricing lows, but SF products keep getting cheaper every week it seems and in the next couple of weeks we may actually see SF-1200 drives selling for the same price that Barefoot drives are now. I don't see how companies will be able to sustain making Barefoot products and selling them for a profit for much longer; that is if they haven't stopped manufacturing them already.
Last but not least is the Vertex 2 against the Crucial RealSSD C300, also known as The Battle between Next Gen Titans. The 128GB C300 has a slower write speed than the 256GB C300 and if you caught
my review of the Crucial RealSSD C300 128GB
just a couple days ago then you know that in this capacity the SF-1200 dominates the C300. We are hoping to see even stronger performance out of the Vertex 2, so watch and see if the margin grows wider.
ATTO Baseline Performance
Version and / or Patch Used:
2.34
ATTO is used by many disk manufacturers to determine the read and write speeds that will be presented to customers.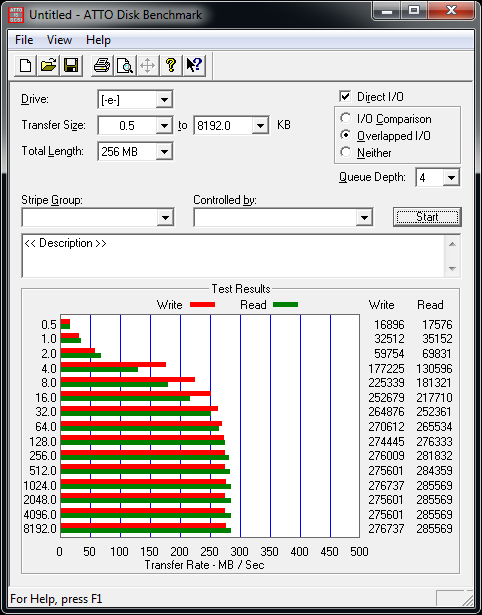 In ATTO we are able to verify the manufacturers transfer speed claims and as you can see, OCZ is spot on with their 285MB/s read and 275MB/s write speeds. This is all fine and dandy, but it is far from the real story and something that we failed to pick up on when testing the Corsair Force and A-DATA S599 SF-1200 drives in early testing.
If you look at the 4K write performance (the number 4 at the left side of the graph), we see that the Vertex 2 picks up the write speeds very quickly moving down the graph and 4K write is right around 177MB/s. The Corsair Force was writing data right around the same speed, but the other SandForce SF-1200 drives we tested could only manage 100 to 140MB/s at 4K.
The OCZ Vertex 2 is actually faster in 4K writes than two A-DATA S599 SF-1200 drives in RAID 0 on the Intel ICH with RST 9.6. Pondering this a little more, I can see in the back of my mind a medium sized room with a handful of OCZ engineers standing around high-fiving one another.
Benchmarks - HD Tune Pro
HD Tune ProVersion and / or Patch Used:
4.00
Developer Homepage:
http://www.efdsoftware.com
Product Homepage:
http://www.hdtune.com
HD Tune is a Hard Disk utility which has the following functions:
Benchmark: measures the performance
Info: shows detailed information
Health: checks the health status by using SMART
Error Scan: scans the surface for errors
Temperature display
HD Tune Pro gives us accurate read, write and access time results and for the last couple of years has been gaining popularity amongst reviewers. It is now considered a must have application for storage device testing.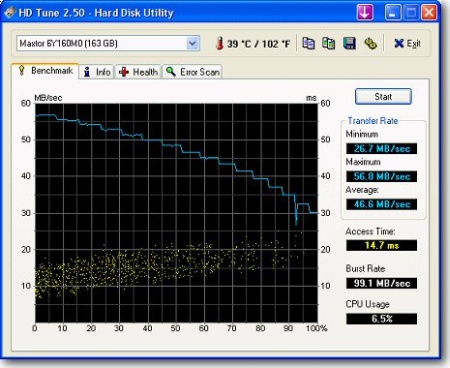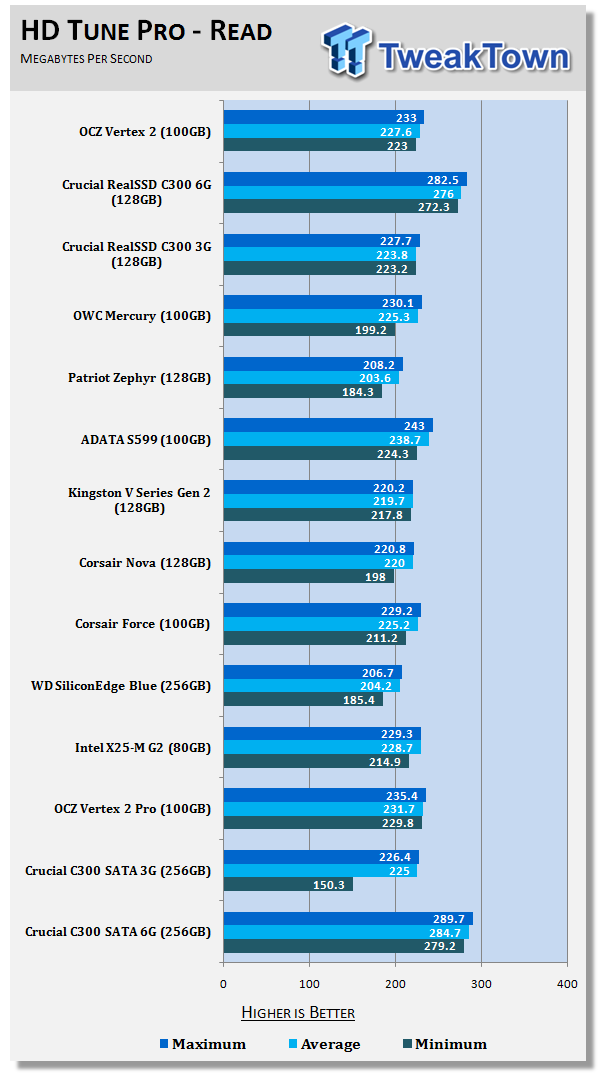 In HD Tune we are able to verify that a drive is reading and writing data evenly across the entire drive. Here we see that the OCZ Vertex 2 reads straight as an arrow, just what we like to see. The average read speed is also in line with the other SF-1200 drives we have tested; all are pushing the usable limits of SATA 3G. The Crucial RealSSD C300 128GB is able to take advantage of the SATA 6G interface and is capable of outperforming the Vertex 2 in this drag race, but we have seen this before so no surprises there.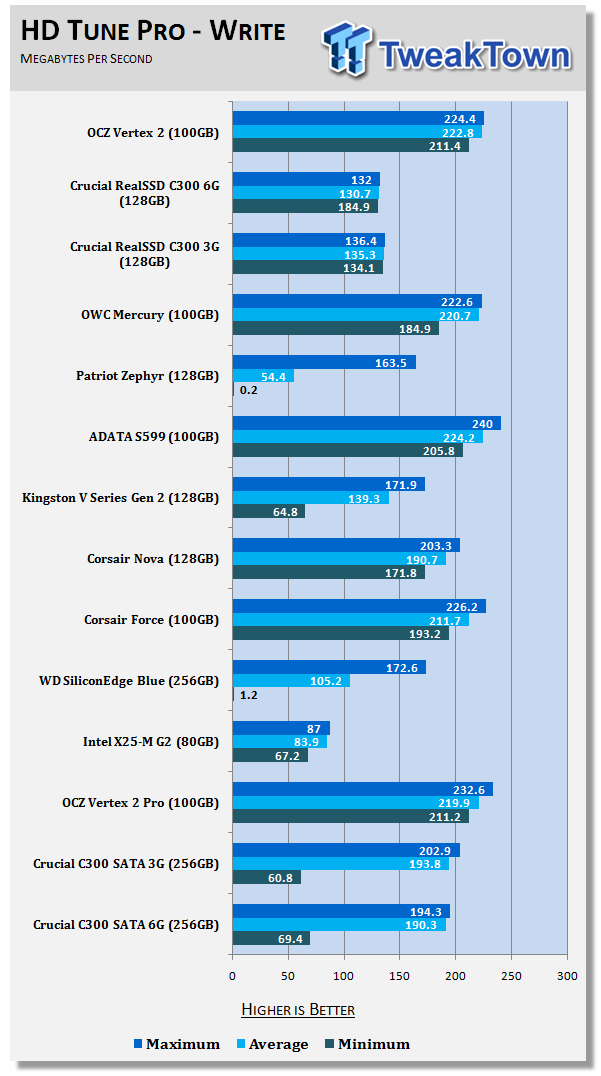 In write speeds we see the C300 128GB drive hit a brick wall at around 140MB/s, while the Vertex 2 is able to run up to the limits of SATA 3G on our GIGABYTE X58A-UD7 motherboard, but the other SF-1200 drives are as well.
Benchmarks - Everest Random Access Time
Everest Random Access TimeVersion and / or Patch Used:
4.60
Developer Homepage:
http://www.lavalys.com
Product Homepage:
http://www.lavalys.com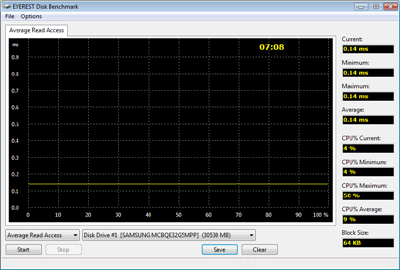 Everest Ultimate and Corporate Edition offer several different benchmarks for testing and optimizing your system or network. The Random Access test is one of very few if not only that will measure hard drives random access times in hundredths of milliseconds as oppose to tens of milliseconds.
Drives with only one or two tests displayed in write the write test mean that they have failed the test and their Maximum and possibly their Average Scores were very high after the cached fills. This usually happens only with controllers manufactured by JMicron.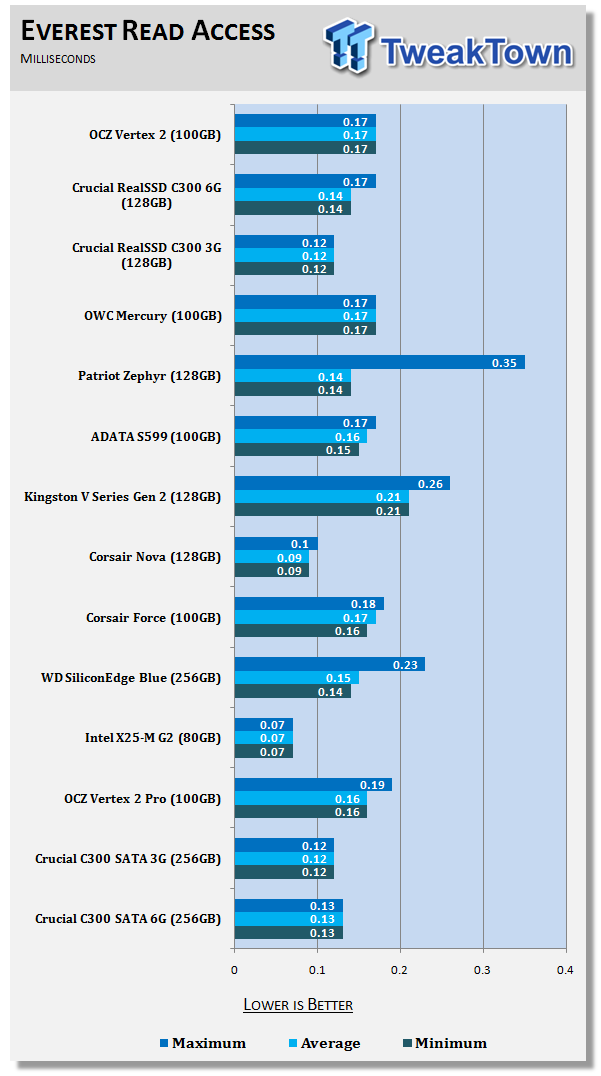 Access times are what a user feels while jumping round from window to window on their PC. The lower the access time, the better the user experience. The new Western Digital VelociRaptor 600GB has the lowest read access time of any consumer platter drive we have tested and its performance was 7.01ms on average. The OCZ Vertex 2 has an average read access time of .17; there is a dot before the one. If you have never used an SSD for your OS, just wait 'till you boot your computer for the first time with one.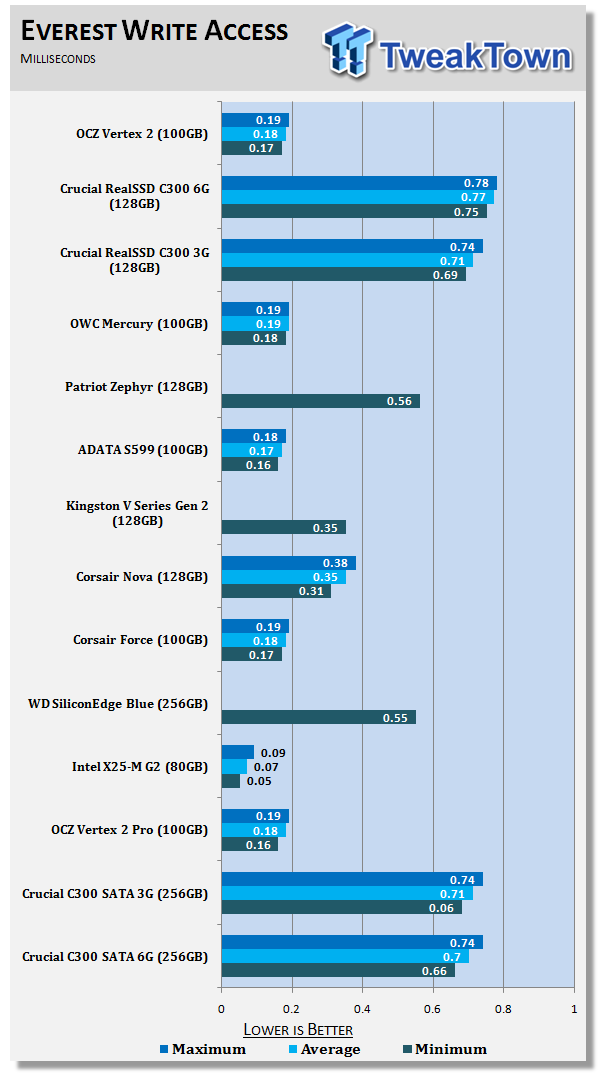 The write access time for the Vertex 2 is also quite low when compared to just about everything else. The Crucial C300 drives are kind of out in left field, but not out of the stadium like the three JMicron drives that we didn't even list the average and maximum write access times for because they make the chart look bad. Only the Intel X25-M (Gen 2) has a lower access time than the SF-1200 drives.
Benchmarks - Crystal Disk Mark
CrystalDiskMarkVersion and / or Patch Used:
3.0 Technical Preview
Developer Homepage:
http://crystalmark.info
Product Homepage:
http://crystalmark.info/software/CrystalDiskMark/index-e.html
Download here:
http://crystaldew.info/category/software/crystaldiskmark
CrystalDiskMark is a disk benchmark software.
Key Features:-
* Sequential reads/writes
* Random 4KB/512KB reads/writes
* Text copy
* Change dialog design
* internationalization (i18n)
Note:
Crystal Disk Mark 3.0 is not available to the public yet, but the Technical Preview does allow us to test 4K performance at queue depths of 4 and 32 in addition to 1. The current release Crystal Disk Mark only shows us QD 1.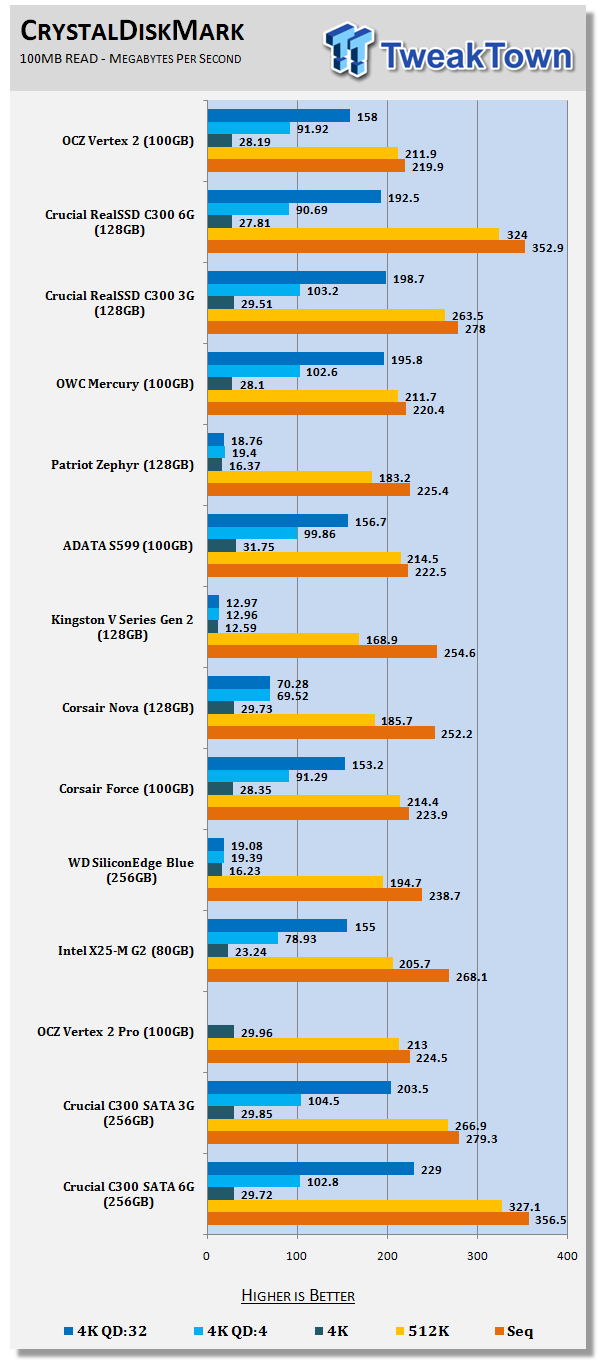 We use CDM to look at the 4K and 4K Queue Depth performance and the QD 32 on the Vertex 2 has me a bit baffled. The Vertex 2 is running the same numbers as the other SF-1200 drives, so that is fine, but the OWC Mercury just trots away from the SandForce pack. We were expecting to see the Vertex 2 do the same thing, but our expectations didn't line up with reality this time.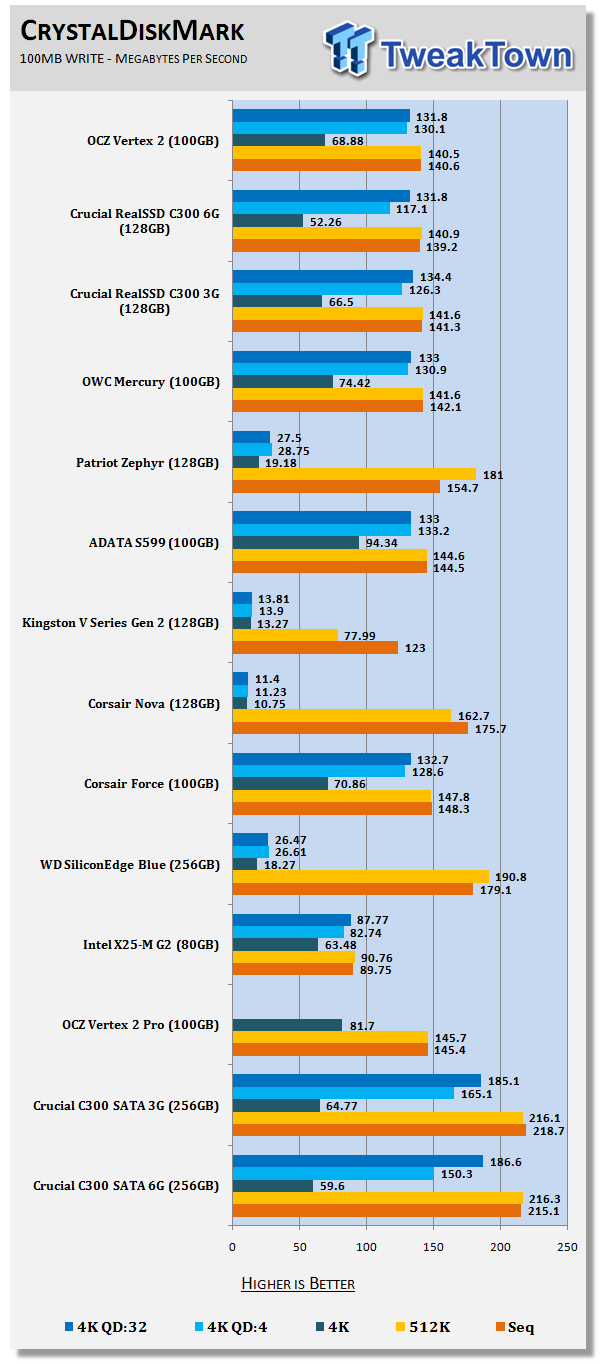 When it comes to 4K write speeds the Vertex 2 stayed with the SandForce pack and this time the A-DATA S599 was able to show a bit of dominance. IOPS is a bit different than transfer speeds, but in the next test we will start to see some real world performance numbers and leave these synthetics behind.
Benchmarks - PCMark Vantage Hard Disk Tests
PCMark Vantage - Hard Disk TestsVersion and / or Patch Used:
1.0.0
Developer Homepage:
http://www.futuremark.com
Product Homepage:
http://www.futuremark.com/benchmarks/pcmark-vantage/
Buy It Here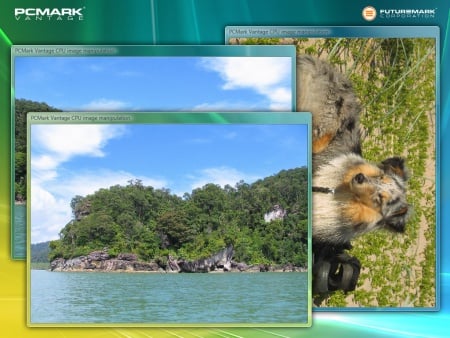 PCMark Vantage is the first objective hardware performance benchmark for PCs running 32 and 64 bit versions of Microsoft Windows Vista. PCMark Vantage is perfectly suited for benchmarking any type of Microsoft Windows Vista PC from multimedia home entertainment systems and laptops to dedicated workstations and high-end gaming rigs. Regardless of whether the benchmarker is an artist or an IT Professional, PCMark Vantage shows the user where their system soars or falls flat, and how to get the most performance possible out of their hardware. PCMark Vantage is easy enough for even the most casual enthusiast to use yet supports in-depth, professional industry grade testing.
FutureMark has developed a good set of hard disk tests for their PCMark Vantage Suite. Windows users can count on Vantage to show them how a drive will perform in normal day to day usage scenarios. For most users these are the tests that matter since many of the old hat ways to measure performance have become ineffective to measure true Windows performance.

HDD1 - Windows Defender
HDD2 - Gaming
HDD3 - Windows Photo Gallery
HDD4 - Vista Startup
HDD5 - Windows Movie Maker
HDD6 - Windows Media Center
HDD7 - Windows Media Player
HDD8 - Application Loading
Now that we have cleared the synthetic tests that are a bit like the theory of how drives will perform, we can now get into some real world performance numbers that are representative of what you will experience in your Windows based computer.
To quote a SandForce rep from a conversation last week, "Nothing surprises me these days."
We were fully expecting to see the Vertex 2 take off in a few of these tests where 4K performance plays a large factor in the results, but the reality is that all of the SF-1200 drives play tit-for-tat with the benchmark results. One drive will take a bit of an advantage in one test, but lose ground to another drive in the next test. We have a good collection of firmware on these drives; some with pre-release FW and that explains why the results are all over the place in some tests. If you think the performance is set in stone at this stage of the game, think again; SandForce will have MP2 ready within a week of this article being published and the landscape will change again. You will have to check back in to see what changes a new, higher refined firmware will bring to the SandForce SF-1200 drives.
The real battle here, though, is between the Vertex 2 100GB retail sample with shipping FW and the Crucial RealSSD C300 with the latest 0002 FW in 128GB capacity. If you have your credit card out and are reading this to make a purchasing decision based solely on daily use Windows performance, this is what you need to look at.
In Windows Media Center and Application Loading the OCZ Vertex 2 walks way from the C300 by a wide margin, over 100MB/s in Application Loading. Once it really sat in as to exactly what I was seeing, nearly double the performance in this test, I retested both drives and sure enough the outcome was the same. If you are loading large programs like Photoshop or most modern games from any other developer other than PopCap, then you will experience a difference in load times.
With only 100 to 128GB of capacity you are not going to be loading very much music in Windows Media Center, so that test doesn't count as much. On the other side of the coin, the C300 128GB is dominant in Windows Photo Gallery. The same can be said here, though; with the limited space most users are not going to keep these types of media files in a quantity that will have a large effect on performance, so the Media Center and Photo Gallery tests cancel each other out leaving the second highest reason to purchase an SSD, application load time defining the victor for most users looking at a 100 to 128GB SSD.
Benchmarks - AS SSD
AS SSD BenchmarkVersion and / or Patch Used:
1.2.3577.40358
Developer Homepage:
Alex Intelligent Software
Product Homepage:
Alex Intelligent Software
Download here:
http://www.alex-is.de/PHP/fusion/downloads.php?cat_id=4&download_id=9
AS determines the performance of Solid State Drives (SSD). The tool contains four synthetic as well as three practice tests. The synthetic tests are to determine the sequential and random read and write performance of the SSD. These tests are carried out without the use of the operating system caches.
In all synthetic tests the test file size is 1GB. AS can also determine the access time of the SSD, the access of which the drive is determined to read through the entire capacity of the SSD (Full Stroke). The write access test is only to be met with a 1 GB big test file. At the end of the tests three values for the read and write as well as the overall performance will be issued. In addition to the calculated values which are shown in MB/s, they are also represented in IO per seconds (IOPS).
Note:
AS SSD is a great benchmark for many tests, but since Crystal Disk Mark covers a broader range of 4K tests and HD Tune Pro covering sequential speeds, we will only use the Copy Benchmark from AS SSD.
- Copy Benchmark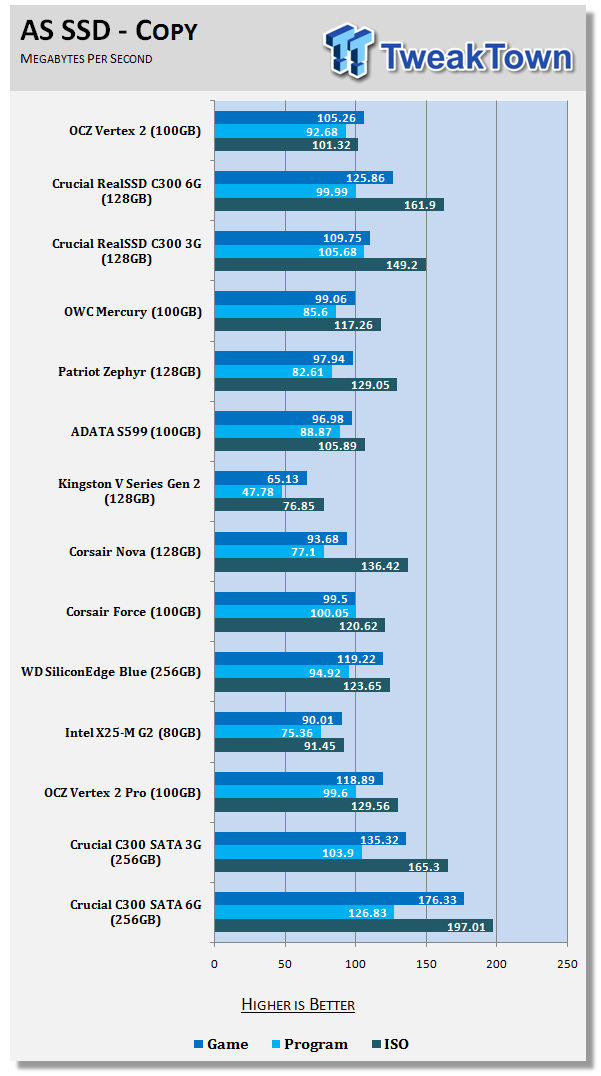 The one area that we criticize SandForce controlled drives in is in how they handle compressed data. Ironically the controller's ability to compress data is also one of the reasons why they are so fast and should have a longer lifespan when compared to other products on the market.
In the AS SSD File Copy Test we see that moving data from one area of the drive to another has the OCZ Vertex 2 running slightly behind the Crucial RealSSD C300 128GB in the Program test, but once we start mixing compressed data in we see a 20MB/s divide in the Game test and a large 60MB/s lead going to the C300 in the ISO test.
Once again the capacity of the drives comes into play here. At 100 / 120 / 128GB you are not going to be keeping a large amount of data on the OS boot drive to transfer around. The larger capacity size is a different story. We will get into more details on this in the conclusion.
Benchmarks - Passmark
Passmark Advanced Multi-User TestsVersion and / or Patch Used:
6.1
Developer Homepage:
http://www.passmark.com
Test Homepage:
http://www.passmark.com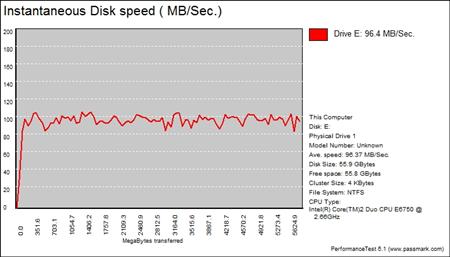 Many users complain that I/O Meter is too complicated of a benchmark to replicate results so my quest to find an alternative was started. Passmark has added several multi-user tests that measure a hard drives ability to operate in a multi-user environment.

The tests use different settings to mimic basic multi-user operations as they would play out on your server. Variances is read / write percentage as well as random / sequential reads are common in certain applications, Web Servers read nearly 100% of the time while Database Servers write a small amount of data.
The Workstation test is the only single user environment and will be similar to how you use your system at home.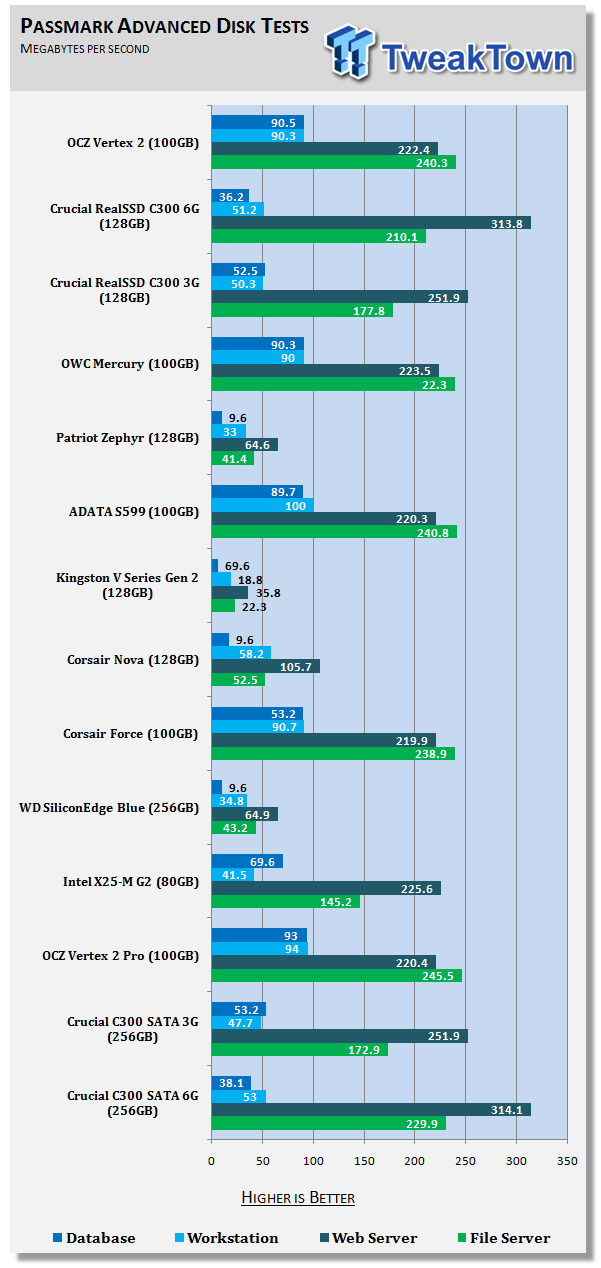 The server tests belong to the SandForce drives and they are even faster than the Intel X25-E purpose built enterprise drives. Surely here, especially the Database test, the Vertex 2 will outgun the other SF-1200 controlled drives since the Vertex 2 has a higher IOPS rating.
We were surprised as well to see the OWC Mercury run toe to toe with the Vertex 2 in all tests. Neither drive is being marketed as a true enterprise class product even though they do have the ability to outperform just about everything on that market at this time in these tasks. The Crucial C300 is able to take advantage of the increased headroom of SATA 6G in the Web Server test, but at its core the C300 is a consumer product. The SandForce SF-1200 was derived from enterprise roots and given a choice between the two, I would choose SandForce for these tasks.
Final Thoughts
As I sit here revisiting what we discussed in this article, I can't stop myself from thinking about the future of what is to come. The SSD market is changing so rapidly right now and no one understands that more than OCZ. Just days before CES so many resources were going into the Vertex 2 Pro, a hybrid prosumer drive that used an enterprise SandForce SF-1500 controller paired with consumer MLC flash memory. Between the time our sample arrived and the completion of the article the drive was erased from the books and later replaced with an even stranger hybrid that would hit store shelves as the Vertex LE. OCZ was not the only one to take a stumble right out of the gate back in January. RunCore had a similar SF-1500 / MLC drive that was to be the Pro V. Now the RunCore Pro V is said to have an SF-1200 controlled drive, but the stumble for RunCore has nearly paralyzed the company and left them without direction. Luckily OCZ had the resources and experience to start off with several products based on SandForce technology, so the troubles on the starting block were little more than a hurdle in a long race to the finish line.
At this time SandForce controlled drives have only been talked about for five months with hardware in hand to aid the discussion. Using Indilinx's Barefoot as our benchmark, we still have at least another year before any significant changes are needed, unless Intel or Indilinx (with Jetstream) come out swinging hard at the end of 2010. The SF-1500 consumer models ended up being a stumble for the manufacturers, but with SF-1200 drives getting extended capacity in just a few days, will the 100 / 200 / 400GB drives be a stumble for early adapting consumers? It is certainly something to think about while making your purchasing decision. At this point we are pretty sure a firmware change will be able to turn a Vertex 2 into a Vertex 2E (extended) with minimal hassle, but there hasn't been a definite time frame set for this.
There are also some lingering questions about reliability on the E models that are a bit unknown at this point. Thousands of hours of testing have gone into the standard capacity drives and they are very good. When the Barefoot drives were 5 months in, the bug log was much larger than what we are hearing about with the SandForce controllers. SandForce brought the real deal to market and was able to get it out quickly.
That said, SandForce also had a lot of help and no one would have been able to help more than OCZ Technology at this time. The two companies have worked very closely together and managed to bring the Vertex LE, Vertex 2, Vertex 2 E, Agility 2 and Agility 2 E to market rapidly. That is like a new product being released every month.
As it sits right now, the OCZ Vertex 2 100GB has some strong points, but a few things are holding it back. I would consider the Vertex 2 100GB drive and the SandForce SF-1200 to be mature products and have no problem recommending or using them myself. When it comes to flat out speed the Vertex 2 100GB drive that we reviewed today is like the first time I ever rode a superbike. The speed is so fast you really don't believe it and the feeling lasts for a very long time. When it comes to the user experience there is nothing else on the market in this capacity size that is able to compete toe to toe with the Vertex 2. If you have two computers at home let me save you a few gray hairs; get two drives because once you start using one Vertex 2 you will start to feel ill just from thinking about using a computer that does not have a fast SSD in it. You can try it, but it is like you have Tourette Syndrome; four letter words start coming out of your mouth twenty seconds after you hit the power button on a platter drive system and they do not stop until you walk away. I think the FDA should get involved and put a warning sticker on SSD packages; "
This product has been known to be highly addictive and when not used can cause high levels of stress.
" The sad thing is, I am not kidding.
So, with a drive this fast what issues could I possibly have, you ask? - While the Vertex 2 is very fast, OCZ has managed to get into a bit of a price war with OCZ. The Agility 2 offers nearly the same performance as the Vertex 2, but at a lower price point. The Agility 2 does not include the exclusive Vertex 2 firmware, but neither does the OWC Mercury or A-DATA S599; two SF-1200 drives that we tested the Vertex 2 against today and offer comparable performance. So now OCZ is not only in a price war with themselves, but also what I call Team SandForce, the collective group of manufacturers using SandForce controllers and there are quite a few of them.
Next generation SSD prices have plummeted. Newegg still has the 100GB Vertex LE in stock and the price is now 200USD less than what it was launched at two month ago. With the Vertex LE now at 299 after a small mail-in rebate OCZ 's battle with itself is in some ways out of control. I doubt anyone would have predicted the LE supply to last this long; I am surprised myself. If you are in the market for a next generation SSD at a better than previous generation price then stop reading this article now and get an LE before they are gone for good. Just make sure that the first thing you do is update the firmware.
If you are still here then that means the Vertex LE drives are now sold out. You are now left with Team SandForce standard drives including the Agility 2. These drives are very good, but for a little bit more money you could have the Vertex 2 with the exclusive high IOPS firmware. Right now the extra performance is hardly noticeable, but as these drives are refined with firmware updates it is a good possibility that the Vertex 2 will scale better with the changes than the Team SandForce drives.
With My Digital Discount taking the high volume, lower profit per unit approach the
Vertex 2 100GB can be purchased today for 379.99
. That makes the Vertex 2 100GB only 20 USD more than Newegg's price on the 100GB Agility 2. If more performance is out there then OCZ will find it since they led the search for Indilinx drives and have taken a leading role in the development of SandForce products as well. I am leaning towards the Vertex 2 with a twenty bet on OCZ and their ability to pull more performance with each firmware release for the Vertex 2. At this point the 128GB C300 with limited write speed shouldn't even be on your radar. That leaves Vertex 2 against Team SandForce, but the odds are in favor of Vertex 2 coming out on top.