Crucial RealSSD C300 128GB Solid State Drive
The 256GB model shined brightly at the time of launch. Now it is time to test the 128GB capacity size and see how it performs against SandForce.
Published Thu, May 20 2010 8:31 AM CDT
|
Updated Tue, Nov 3 2020 7:02 PM CST
Introduction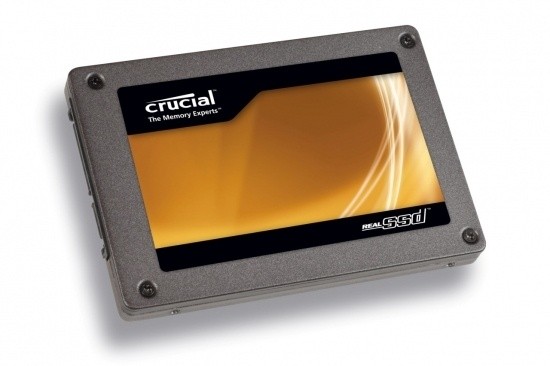 The C300 has been a bit of a mixed bag for Crucial in recent weeks. At CES everything was going so well for the company and it was looking like Crucial was going to be able to forgo most of the issues that seem to tip up with new solid state drives. Things were looking even better when we finally got our hands on the 256GB model and ran with a launch day review. At the time the RealSSD C300 was without serious competition and was the only next generation SSD on the market. After a few weeks of real world use we started to see some performance issues while running benchmarks and we then started hearing about issues with TRIM or the lack of working TRIM with the first release firmware.
It was at this time that SandForce started getting their consumer controller, the SF-1200 in the hands of partners and products based on that controller were starting to hit our labs. Just days later the new Intel RST 9.6 drivers with TRIM support came along and gave the SandForce drives a boost in performance. Since the C300 runs native SATA 6G and Intel is still a year out from ICH SATA 6G, the new RST benefited the SATA II SandForce drives and Crucial's C300 started to fall a bit behind in real world performance.
Last week Crucial released a firmware update that fixed the issues with TRIM and even though Crucial spent many hours testing the software, a compatibility issue popped up with some popular enthusiast motherboards and the firmware update tool, so the new update was pulled from Crucial's website. With V2 firmware now out of reach for consumers, Crucial is working feverously to get a new update tool ready. At anytime the firmware and new update tool will be released and it appears that Crucial is going to be able to escape heavy criticism from both the tech media and consumers. We will cover this topic more in our next installment of The State of Solid State coming just after Computex.
We have taken a look at several SandForce SF-1200 drives in recent weeks, but all of them arrived in 100GB capacity sizes. With the 128GB version of the C300 having a reduced performance envelope when compared to the 256GB version, we wanted to get this drive in to see which is a better buy; the Crucial RealSSD C300 128GB or one of the many SandForce controlled SF-1200 100GB products that are saturating the market.
Ready, set, let's go!
Update
: Crucial has now re-released its update tool giving the ability to flash to firmware 0002. It is confirmed to give 100% working TRIM support. For further details,
click here
.
Specifications, Pricing and Availability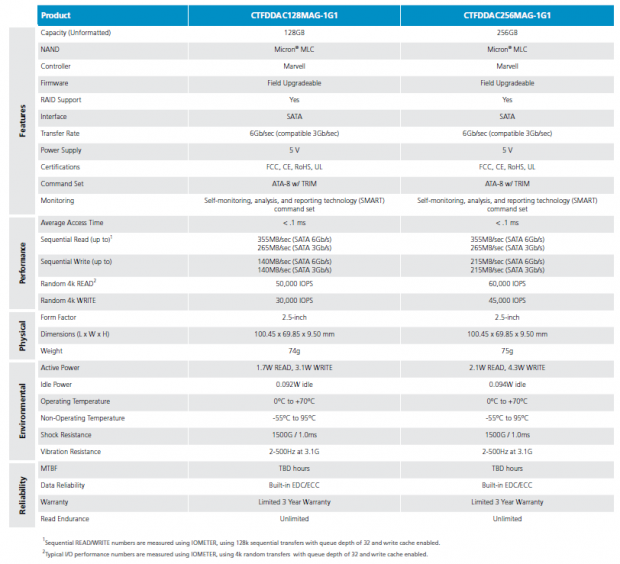 You will need to click on the large chart in order to see the contents. Here we have the Crucial RealSSD C300 in both 128GB and 256GB capacity sizes. Both drives are the first to come with SATA 6G in an SSD, so the limits of SATA 3G are not in play, meaning no more 260MB/s ceiling. The read speeds are identical per Crucial's spec sheet, but the write speeds are a bit lower with the 128GB drive. Here we see a write speed rating of 140MB/s for the 128 and 215MB/s for the 256. The IOPS are also a bit lower on the 128GB drive, but in both read and write this time. The 128GB RealSSD C300 does take a lead in one category and that is power consumption. Aside from those performance differences, both RealSSD C300 drives are the same.
As far as we know at this time, Crucial is the first and only SSD manufacturer to use the new Marvell controller that is inside of the RealSSD C300. That gives Crucial a leg up on the competition that is still using hardware based on SATA II AKA SATA 3G technologies. Crucial is also the only group using Micron ONFI 2.1 rated MLC NAND Flash memory.
When it comes to availability and pricing, we have watched the Crucial RealSSD C300 drop in price ever since it was released. The 128GB drive launched at 500 USD, but just like we stated in our launch day review the price has come all the way down to 399 USD on Crucial's website and
is also 399 at Newegg
.
After looking around a bit I was able to find the Crucial RealSSD C300 128GB at
My Digital Discount for the ultra low price of 369.90
and it is in stock at this time. You may have noticed that MDD has started to show up more in our SSD reviews; this is because they are starting to differentiate themselves from other e-tailers by offering SSDs at lower prices than the competition. We also personally know the team over there and are confident in their ability to support customers.
The Packaging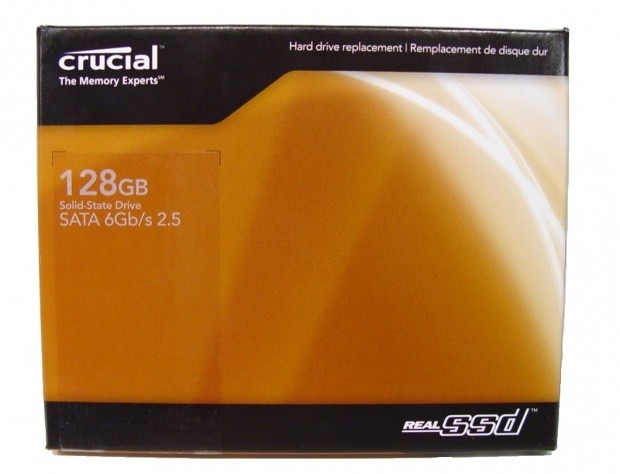 This is the first time we have seen the retail packaging for the RealSSD C300. Our 256GB drive arrived in a pre-release sample package. Here we see that Crucial has the capacity information listed right on the front of the package and also points out that this is a 6G product.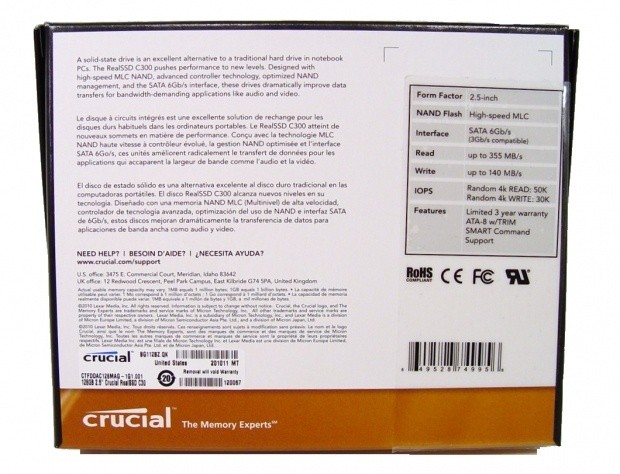 The back of the package gives us some general information about the RealSSD C300 Series of products and on the right upper side we see specific information on the 128GB model as well as the warranty length.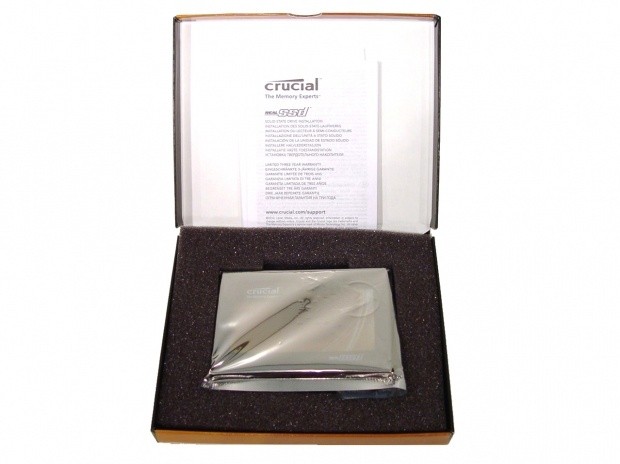 SSDs are very robust and can take one heck of a beating. Crucial chose to use open cell foam in the package to ship the drive and we also received some documentation on the product.
The Crucial RealSSD C300 128GB SSD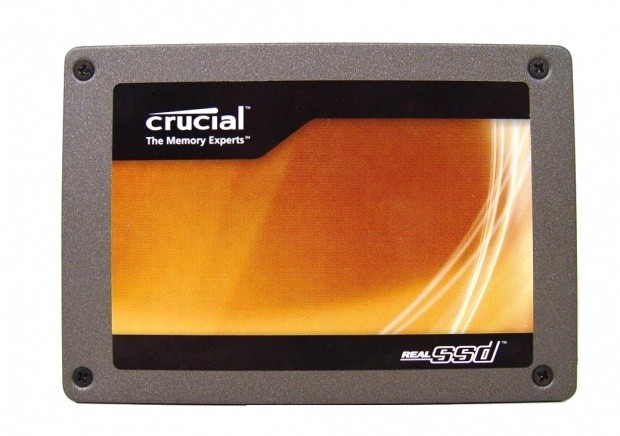 On the outside the 256GB and 128GB RealSSD C300 drives appear to look identical with both sharing the same front label.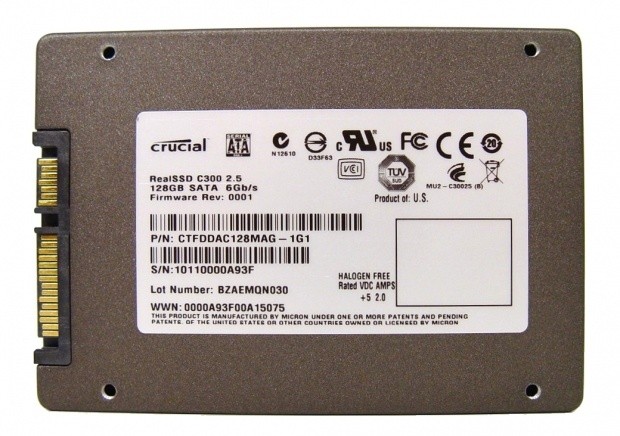 On the back where the serial and model number is we see that the 128GB drive does get a new label that shows the capacity. Our sample shows firmware revision 001, but actually arrived with the latest, TRIM fixed firmware; 002. I can only assume that Crucial has a few batches of hot off the press labels and since we are media and pretty much take what we can get our hands on, the old label was fine, at least for us.
The bottom of the drive has the correct mounting locations, so you will be fine using the RealSSD C300 in a notebook or adapter that uses the under drive mounting system.

On the side we also see that the standard mounting locations are present.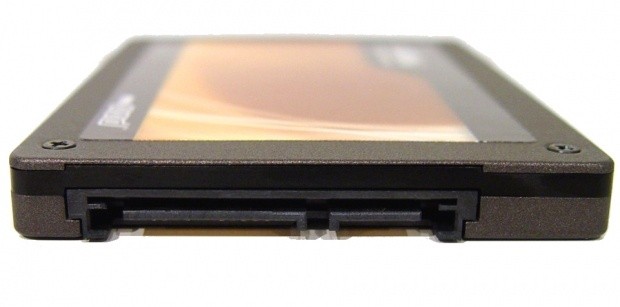 The back of the drive also uses standard SATA power and data connectors, so you are covered all the way around with the placement of connectors and mounting points and this makes it so the C300 will mount into almost any PC easily.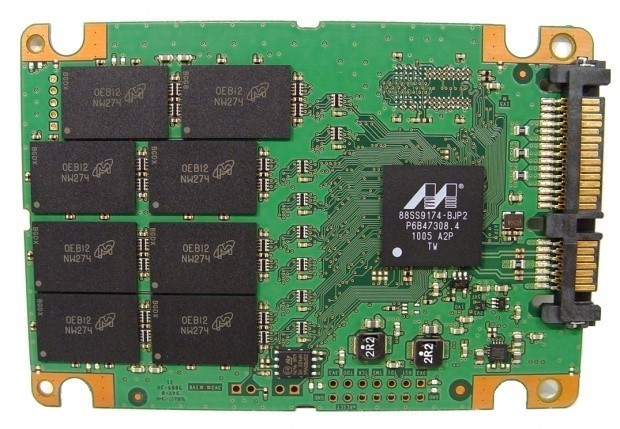 We popped the top on our 128GB C300 sample expecting to see only half of the memory locations filled, but we were wrong. Here we see the Marvell SATA 6G controller and eight Micron ONFI 2.1 rated chips.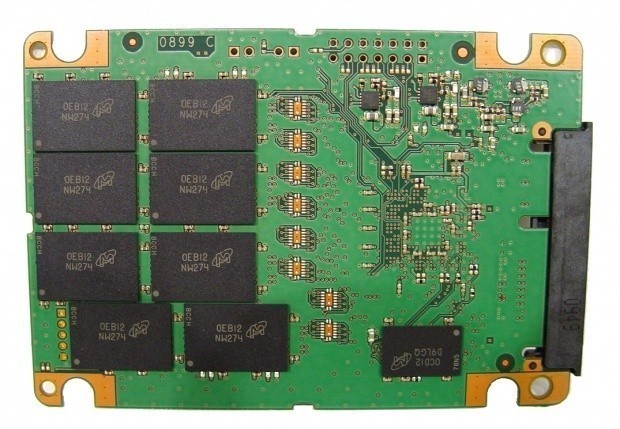 On the back we also found eight NAND flash modules and a Micron DRAM chip for cache.
Test System Setup and ATTO Baseline Performance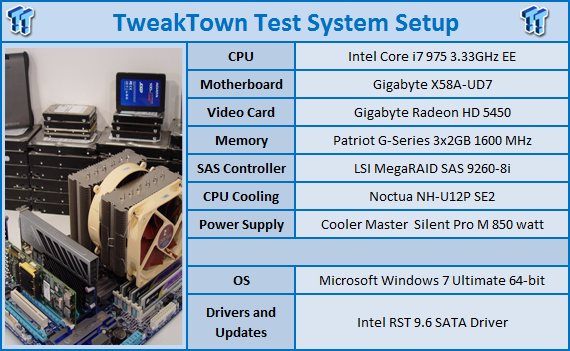 We would like to thank the following companies for supplying and supporting us with our test system hardware and equipment:
AVADirect
,
GIGABYTE
,
Patriot Memory
,
Cooler Master
,
LSI
and
Noctua
.
You can read more about TweakTown's Storage Product Testing Workstation and the procedures followed to test products
in this article
.
As mentioned previously, our Crucial RealSSD C300 128GB drive arrived with firmware 002. All of the drives shipping from Crucial are leaving the factory with the latest firmware that fixes TRIM and a few other issues that are minor. At the time of writing FW 002 is still not available to the public after being removed from Crucial's website. Sometime in the near future this firmware will be made available again.
There are a few forums that have links to user saved firmware, but honestly, just hang tight and wait for Crucial to get the new update software ready. I managed to put one of my drives in a hardware state that was not usable and considering that I do this for a living and have updated more than a few drives in my day, there is a good chance you will do the same. That said, hundreds of people have updated their firmware with success, but some of the enthusiast motherboards, mainly the X58A-UD7 that I use, has some issues even when following the instructions to the letter. I will talk more about firmware in the conclusion and in an upcoming State of Solid State article.
Today we will be testing the Crucial RealSSD C300 128GB SSD in both SATA 6G on the GIGABYTE X58A-UD7's Marvell SATA 6G controller and the Intel ICH SATA 3G controller. For comparison we have several Indilinx Barefoot and SandForce SF-1200 controlled drives in our performance charts and even a few JMicron products. Please stick around after the benchmark section and read the conclusion where we will break down this highly contested 100 / 128GB capacity market where value as well as performance dictate where your buying Dollar is spent.
ATTO Baseline Performance
Version and / or Patch Used:
2.34
ATTO is used by many disk manufacturers to determine the read and write speeds that will be presented to customers.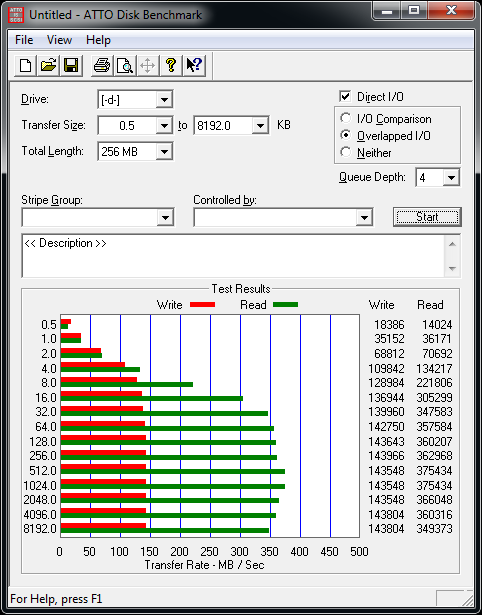 In ATTO I used the SATA 6G test since we are looking for the maximum performance offered to us by the drive. Here we see that the SATA 6G interface allows the RealSSD C300 to read data around 100MB/s faster than the real world limits found on SATA 3G. If I was allowed to inject a couple of curse words in here, I would, and it would read something like
Freaking Butt
that is fast!
We already knew that the 128GB model of the C300 had a slower write speed than the 256GB drive and here we see the most we will be able to pull out of the 128GB model. We were not able to break 150MB/s, but we did manage to test the drive faster than Crucial's rated 140 MB/s speed.
As my mouth gets washed out with soap, let's move on and look at some synthetic numbers and then get right to the heart of the matter with some real world usage benchmarks.
Benchmarks - HD Tune Pro
HD Tune ProVersion and / or Patch Used:
4.00
Developer Homepage:
http://www.efdsoftware.com
Product Homepage:
http://www.hdtune.com
HD Tune is a Hard Disk utility which has the following functions:
- Benchmark: measures the performance
- Info: shows detailed information
- Health: checks the health status by using SMART
- Error Scan: scans the surface for errors
- Temperature display
HD Tune Pro gives us accurate read, write and access time results and for the last couple of years has been gaining popularity amongst reviewers. It is now considered a must have application for storage device testing.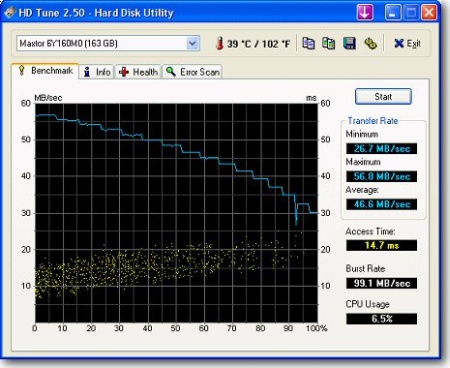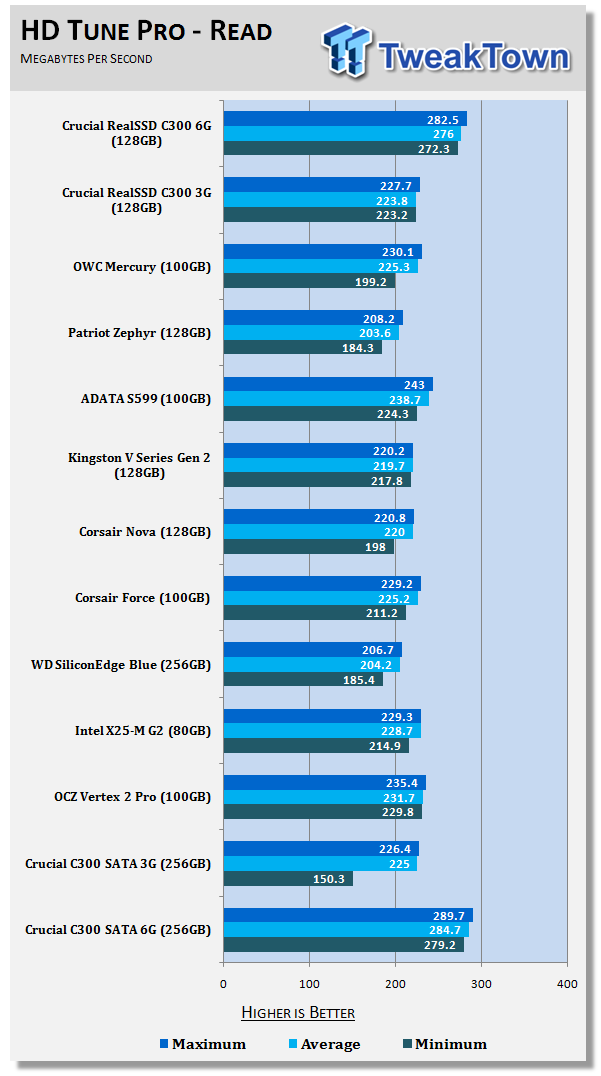 In HD Tune Pro we can see how linier the performance of each drive is. The C300 128GB holds a tight line across the graph and here we see that the maximum and minimum numbers are not very far off. The average read speed of 276MB/s is a little slower than the 256GB C300, but both drives when running SATA 6G are capable of speeds much higher than the SATA 3G drives.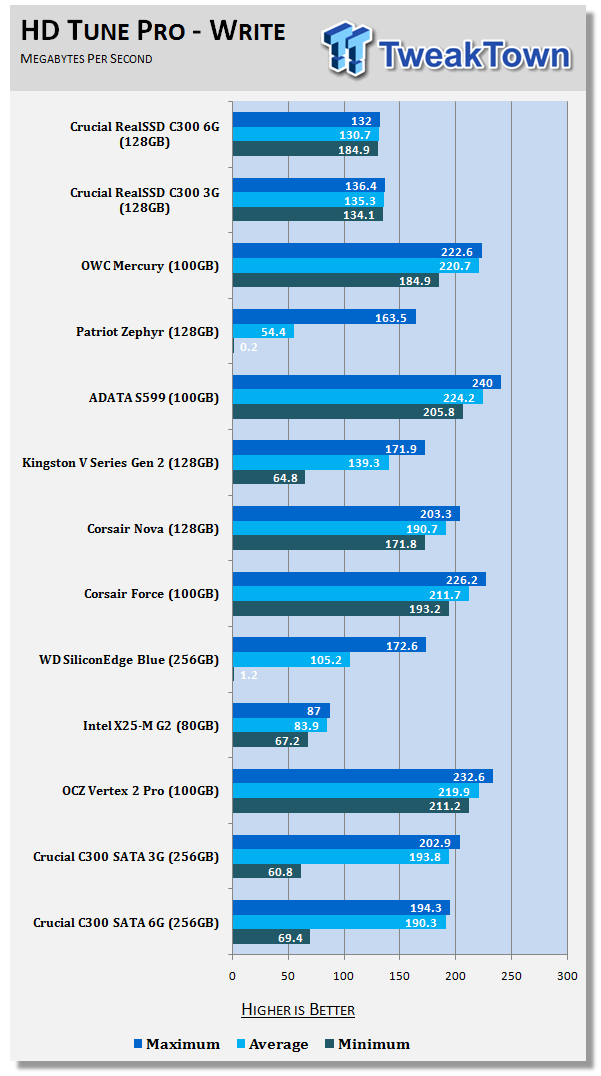 The 128GB C300 has a lower write speed than the 256GB C300 and SandForce SF-1200 drives. We will have to wait until the real world tests to see how being limited to 140MB/s effects real world use, but at this point it looks like in the 100 / 128GB capacity the smaller C300 is at a disadvantage.
Benchmarks - Everest Random Access Time
Everest Random Access TimeVersion and / or Patch Used:
4.60
Developer Homepage:
http://www.lavalys.com
Product Homepage:
http://www.lavalys.com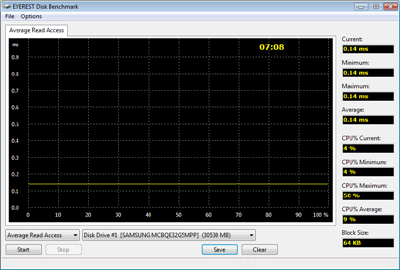 Everest Ultimate and Corporate Edition offer several different benchmarks for testing and optimizing your system or network. The Random Access test is one of very few if not only that will measure hard drives random access times in hundredths of milliseconds as oppose to tens of milliseconds.
Drives with only one or two tests displayed in write the write test mean that they have failed the test and their Maximum and possibly their Average Scores were very high after the cached fills. This usually happens only with controllers manufactured by JMicron.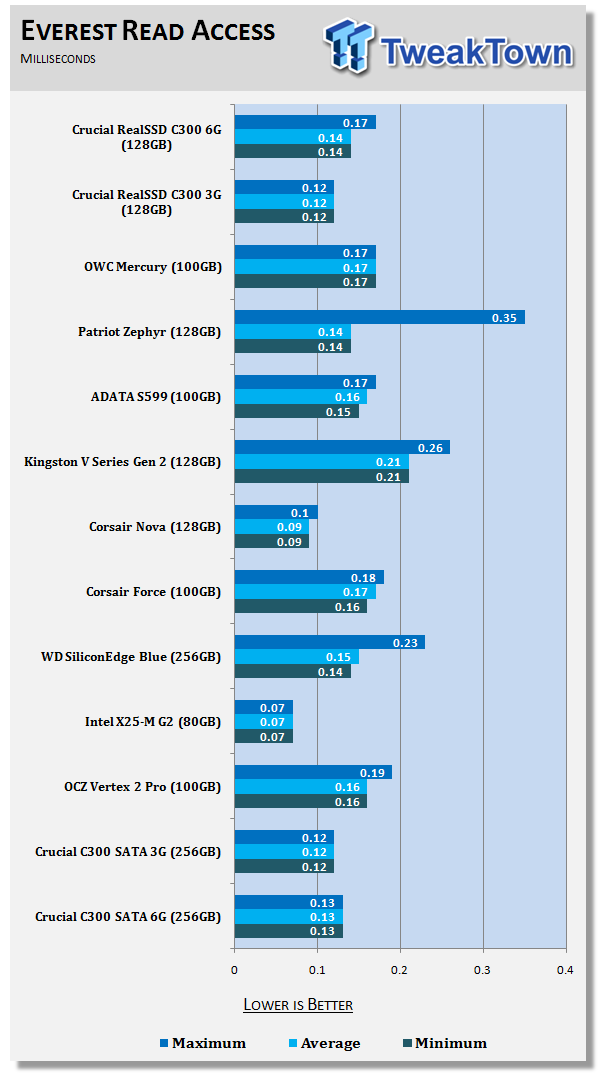 The Marvell SATA 6G controller found on the GIGABYTE X58A-UD7 and other motherboards has a little more latency than the Intel ICH SATA 3G ports. Here we can see that clearly when looking at the performance between the C300 on SATA II and SATA III.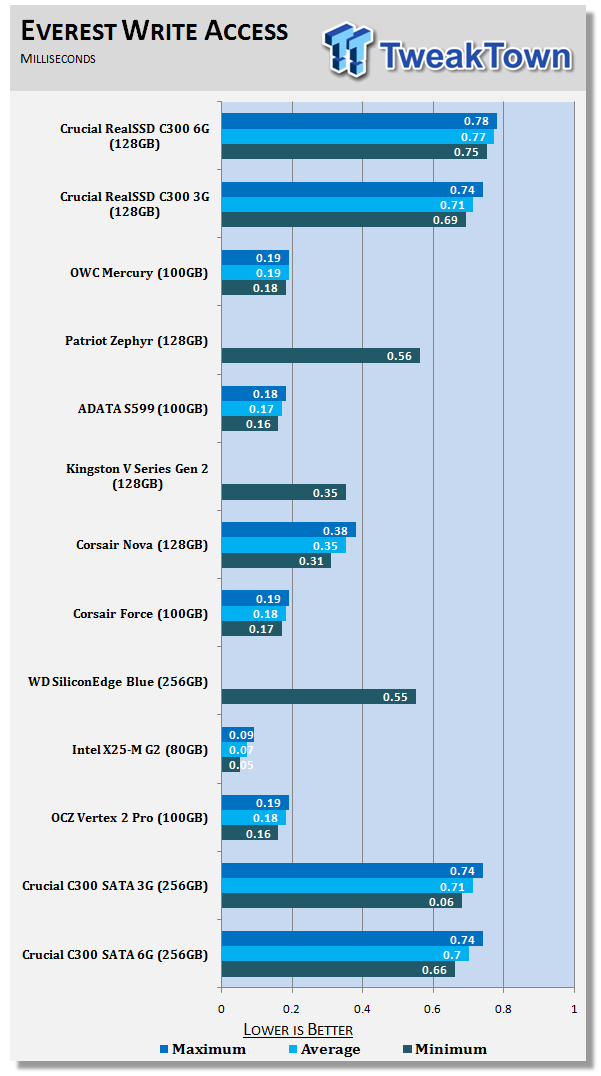 The same is true for the write latency between the Marvell and Intel SATA ports. When comparing the write latency between the SandForce drives and the C300, we see that the SF-1200 products have quite a bit lower latency on the graph, but in reality we are measuring thousands of milliseconds here.
Benchmarks - Crystal Disk Mark
CrystalDiskMarkVersion and / or Patch Used:
3.0 Technical Preview
Developer Homepage:
http://crystalmark.info
Product Homepage:
http://crystalmark.info/software/CrystalDiskMark/index-e.html
Download here:
http://crystaldew.info/category/software/crystaldiskmark
CrystalDiskMark is a disk benchmark software.
Key Features:-
* Sequential reads/writes
* Random 4KB/512KB reads/writes
* Text copy
* Change dialog design
* internationalization (i18n)
Note:
Crystal Disk Mark 3.0 is not available to the public yet, but the Technical Preview does allow us to test 4K performance at queue depths of 4 and 32 in addition to 1. The current release Crystal Disk Mark only shows us QD 1.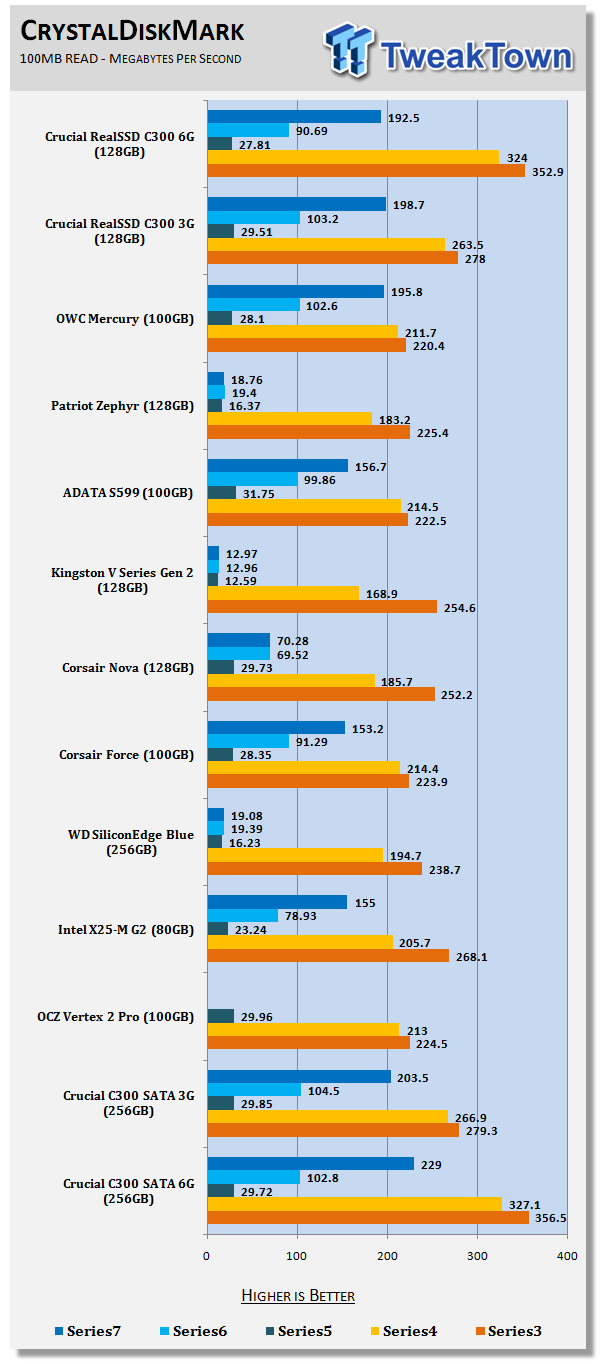 In CDM we are looking at the 4K performance and how well a drive is able to take advantage of NCQ. Here we see the 128GB C300 reading at nearly identical rates as the SF-1200 controlled drives, but a little slower than the 256GB C300.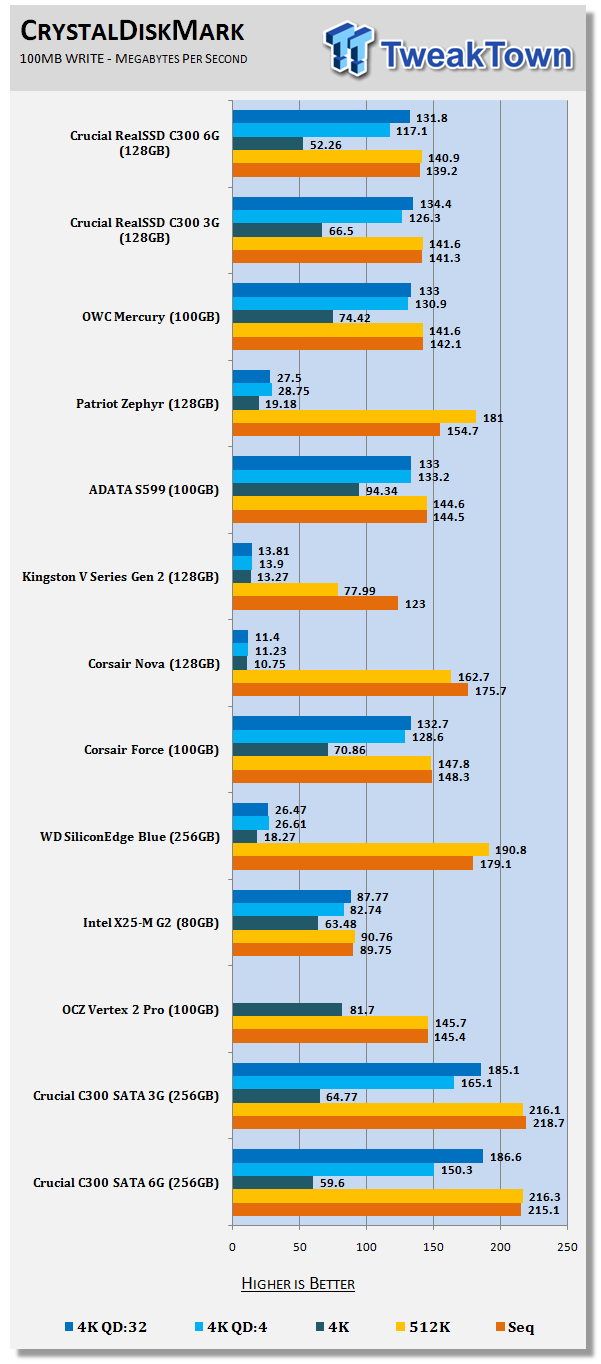 The standard 4K write test has the 128GB C300 running a little slower than the SF-1200 drives, but once you get into queue depths both controllers appear to be pretty equal. The 256GB C300 does manage to outperform both the 128GB C300 and SF-1200 drives in 4K and 4K queue depth tests.
Benchmarks - PCMark Vantage Hard Disk Tests
PCMark Vantage - Hard Disk TestsVersion and / or Patch Used:
1.0.0
Developer Homepage:
http://www.futuremark.com
Product Homepage:
http://www.futuremark.com/benchmarks/pcmark-vantage/
Buy It Here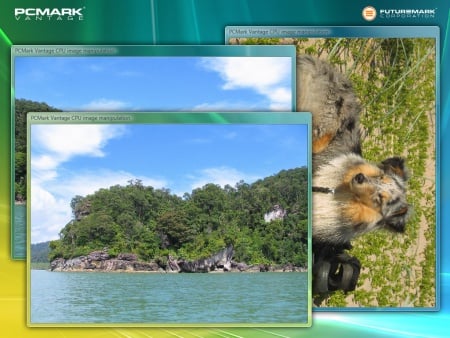 PCMark Vantage is the first objective hardware performance benchmark for PCs running 32 and 64 bit versions of Microsoft Windows Vista. PCMark Vantage is perfectly suited for benchmarking any type of Microsoft Windows Vista PC from multimedia home entertainment systems and laptops to dedicated workstations and high-end gaming rigs. Regardless of whether the benchmarker is an artist or an IT Professional, PCMark Vantage shows the user where their system soars or falls flat, and how to get the most performance possible out of their hardware. PCMark Vantage is easy enough for even the most casual enthusiast to use yet supports in-depth, professional industry grade testing.
FutureMark has developed a good set of hard disk tests for their PCMark Vantage Suite. Windows users can count on Vantage to show them how a drive will perform in normal day to day usage scenarios. For most users these are the tests that matter since many of the old hat ways to measure performance have become ineffective to measure true Windows performance.

HDD1 - Windows Defender
HDD2 - Gaming
HDD3 - Windows Photo Gallery
HDD4 - Vista Startup
HDD5 - Windows Movie Maker
HDD6 - Windows Media Center
HDD7 - Windows Media Player
HDD8 - Application Loading
Our first real world tests from a Windows environment tells us quite a bit on how an SSD will perform in your system and the level of experience a user will feel. Here we see that in many applications there isn't much of a difference between SATA 3G and SATA 6G performance with the 128GB C300 and the same can be said about the 256GB drive as well. On the chart there is definitely a difference, but most users will not experience or feel the increase in speed during day to day activities since the C300 is already so fast to begin with.
With that in mind, let's take a look at the 128GB C300 results and compare them to the SandForce SF-1200 controlled OWC Mercury in 100GB capacity, a direct product comparison costing right around the same as the C300 128GB drive when purchased at MyDigitalDiscount.com, or the OWC Mercury when purchased at Macsales.com.
Here we see that Windows Media Player and Application Loading on the OWC SF-1200 drive is quite a bit quicker than the C300 in both 128GB and 256GB trim. The biggest difference comes from the Application Loading test and the OWC drive is nearly 2x as fast as the 128GB C300. Since many of you are gamers and you spend quite a bit of time loading games...I mean applications, this is an area of high importance to you.
Most other areas are nearly identical.
Benchmarks - AS SSD
AS SSD BenchmarkVersion and / or Patch Used:
1.2.3577.40358
Developer Homepage:
Alex Intelligent Software
Product Homepage:
Alex Intelligent Software
Download here:
http://www.alex-is.de/PHP/fusion/downloads.php?cat_id=4&download_id=9
AS determines the performance of Solid State Drives (SSD). The tool contains four synthetic as well as three practice tests. The synthetic tests are to determine the sequential and random read and write performance of the SSD. These tests are carried out without the use of the operating system caches.
In all synthetic tests the test file size is 1GB. AS can also determine the access time of the SSD, the access of which the drive is determined to read through the entire capacity of the SSD (Full Stroke). The write access test is only to be met with a 1 GB big test file. At the end of the tests three values for the read and write as well as the overall performance will be issued. In addition to the calculated values which are shown in MB/s, they are also represented in IO per seconds (IOPS).
Note:
AS SSD is a great benchmark for many tests, but since Crystal Disk Mark covers a broader range of 4K tests and HD Tune Pro covering sequential speeds, we will only use the Copy Benchmark from AS SSD.
- Copy Benchmark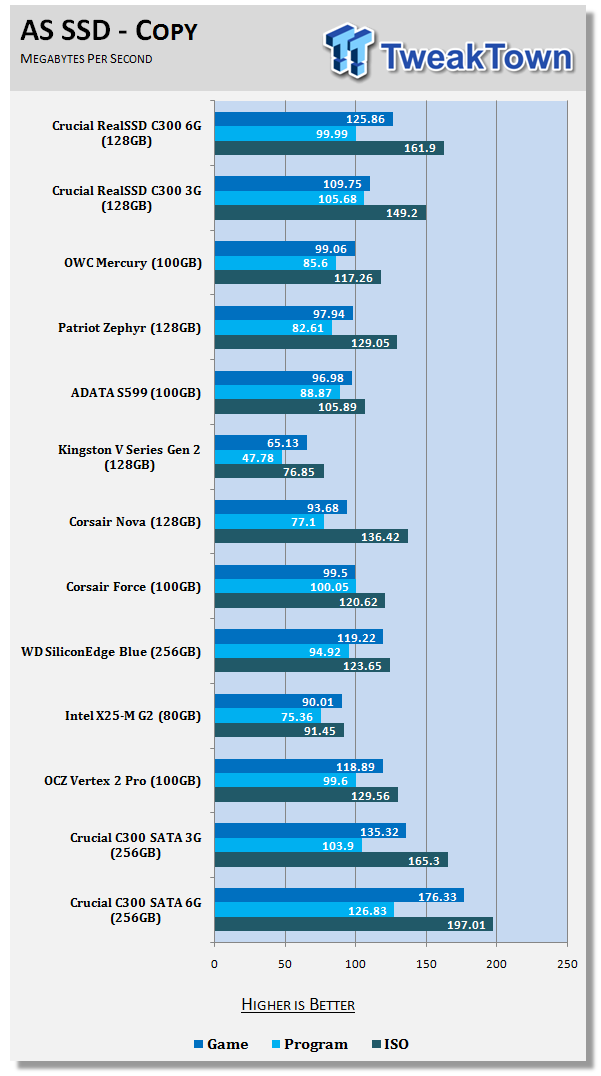 Transferring data from one part of a C300 to another is a strong suite for both the 128 and 256GB models. Here we see that that C300 is superior to the SandForce drives, but the 256GB Crucial RealSSD C300 trumps all with some pretty insane numbers.
Benchmarks - Passmark
Passmark Advanced Multi-User TestsVersion and / or Patch Used:
6.1
Developer Homepage:
http://www.passmark.com
Test Homepage:
http://www.passmark.com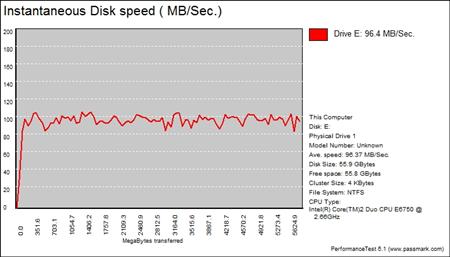 Many users complain that I/O Meter is too complicated of a benchmark to replicate results so my quest to find an alternative was started. Passmark has added several multi-user tests that measure a hard drives ability to operate in a multi-user environment.

The tests use different settings to mimic basic multi-user operations as they would play out on your server. Variances is read / write percentage as well as random / sequential reads are common in certain applications, Web Servers read nearly 100% of the time while Database Servers write a small amount of data.
The Workstation test is the only single user environment and will be similar to how you use your system at home.
The Crucial RealSSD C300 was never designed for server workloads, but if given a SATA 6G port worthy of the task, it might make a pretty good drive for these light load tests. Here we see that the Intel ICH SATA 3G is able to outperform the Marvell SATA 6G in Database and Workstation tests.
The SandForce SF-1200 controller is derived from the enterprise SF-1500 controller and even though it is not a true enterprise chip like the 1500, the 1200 controlled drives honor their linage very well and push past the C300s everywhere the C300s are not able to take advantage of SATA 6G for increased headroom.
Final Thoughts
Going into this article, I knew that the Crucial RealSSD C300 in 128GB capacity had a write disadvantage when compared to the 256GB drive that we tested on launch day. The important thing to understand is that Crucial knew that as well and even though this is the first review I have seen on the 128GB drive, Crucial didn't give us a hard time when we asked for the 128GB model for testing and to use it to compare against all of the SandForce SF-1200 100GB drives that we have been receiving. This kind of honesty runs deep through Crucial and everyone I know that has either worked there previously, works there now or has been there since I started reviewing hardware, has always allowed us apples to apples tech nerds that do this sort of thing to run our course and do these sorts of tests regardless of the outcome. I remember back when I tested DDR2 at three or four different speeds to see if purchasing a memory kit that cost 2x what the basics did equated to any real world user performance at all. I contacted several companies, but Crucial was the only one who stood up knowing that they were about ready to take it on the chin when the article came out.
As it is right now, Crucial is in the middle of a bit of a FUBAR with their firmware. They are not the only company to stumble with SSD firmware since Intel, Indilinx and even SandForce have tripped a bit along the way. Even though the issue is not 100% resolved, it is Crucial's character that makes me believe that any outstanding issues will be resolved quickly and with transparency. Of course, having three Crucial RealSSD C300 drives with the updated firmware that fixes the TRIM issue makes it easier to make a statement like that. Even if I hadn't previously tested firmware 002 I would make the same claim. Having read the Crucial Forums, I know there are some C300 owners out there that are a bit upset about the firmware and new update tool issues, but in the lifespan of your product this extra few weeks isn't going to be that bad. I have many products here waiting for fixes that will most likely never come, but I can say that the C300 isn't one of them.
So, that aside, we did test the Crucial C300 128GB model with the new 002 firmware and completely ripped it up with random writes over night. After that the drive was given a rest so TRIM could do its thing and the performance went back to a new or nearly new state. FW 002 does fix the TRIM issue; birds are singing and all is almost perfect in the C300 world. We never tested a 128GB C300 with FW 001 so I can't say if there was a drop in performance between the two, but the 256GB drives that we have been testing did not show a performance decrease. In a couple of days the HighPoint Technologies RocketRAID 600 Series review will be available at TweakTown where we will show performance between 001 and 002 in single and RAID 0 configurations. Please keep an eye out for it since we will break some news regarding SSDs, RAID and TRIM.
The question on everyone's mind right now is 'what should I spend this stack of money in my wallet on, a Crucial RealSSD C300 or a SandForce SF-1200 controlled drive?'. It looks like a simple question, but the answer is a bit complicated and the answer is really going to rely on how much loot do you have in your wallet.
In a couple of days Team SandForce, that is every company that sells products based on the SF-1200 (and there are a lot of them), will offer drives with a new firmware called MP2. I don't have all of the details, but MP2 will allow some companies to offer 120GB and 240GB capacity sizes. This will close the capacity gap between Team SandForce and Crucial and put the two on nearly even playing fields. I really can't comment on the performance of these next generation SF drives because mine will not arrive until you are actually reading this article or a day after. Let's assume the best and say that capacity will go up and performance will stay the same or decrease slightly just to take capacity out of the equation. Mushkin has already announced their Callisto product line with the new drive capacities and I just saw that OWC has a preorder now as well.
Next, let's look at pricing. This is a very important area and one that often determines what a consumer is going to purchase. Team SandForce with their large number of manufacturers making nearly identical drives has a bit of an advantage here for the consumer, since all of these manufacturers are in a bit of a price war which drives consumer costs down.
Crucial as far as we know is the only consumer product company making drives with the new SATA 6G Marvell controller. The OEM unit of the company is as well, but for you and me Crucial is it. Even though Crucial is sitting as a one man army, they have been very competitive with their pricing and are really mixing it up with Team SandForce.
In the 100 / 120 /128GB market the prices at the time of writing come down to this. The Crucial C300 at My Digital Discount is 369.90, in stock and ready to rock. Mushkin has their 120GB SF-1200 listed on their website at 369.99, but we are not sure about availability at this time. OWC is showing their new 120GB Mercury at 379.99 with a preorder status. A quick scan of Newegg shows us that in 100GB capacity the OCZ Vertex Limited Edition is still hanging around, but after the mail in rebate is
being given away at 299.99
. I feel more curse words trying to escape, but since we know this drive was made in limited numbers, the deal couldn't last much longer.
In the 200 / 240 / 256GB capacity range the prices are also competitive. MyDigitalDiscount once again leads the charge for the C300 and you can walk away with
256GB of Crucial C300 SATA 6G for 636.90
. At launch the C300 in 256GB was 799, so we once again see that Crucial and their e-tail partners are in the ring ready to fight. Mushkin is showing 666.49 for the new SF 240GB drive. Once again we are unsure of the availability, but Newegg is also showing the new
Mushkin 240GB drive for 629.99
with stock available. The sweetheart deals on the 200GB OCZ Vertex LE have already ran out.
With pricing out of the way, we can talk about the performance and this area is not as clean cut. In the 100 / 120 / 128GB range I think the Crucial RealSSD C300 takes too big of a hit in the write speed tests and favor Team SandForce in this capacity range. Couple performance with very competitive pricing and SF-1200 is hard to beat as long as you are not paying MSRP for a drive. That said, I really don't think most users are going to feel that much difference in nearly all day to day usage, but looking at the numbers we can see that SF-1200 owns the 100 / 120 / 128GB market as long as the MP2 drives perform the same as what we have already looked at.
In the 200 / 240 / 256GB range things get interesting. The most obvious has to do with the 50GB capacity difference between SF MP1 drives and the Crucial RealSSD C300 256GB. 50GB is like what, 5 game installs these days, a huge chuck of music or 10 ripped DVDs. The difference is significant. Two days ago we didn't know about MP2 and Team SandForce's change to 240GB capacity. Nearly 20GB is still a wide margin, but not as much as nearly 60GB.
Here is where the rub lies. Even though Team SandForce is able to outperform the Crucial C300 in 256GB, in many real world tests users with 256GB of capacity are going to be keeping more files on their PC, notebook or God help us....Mac. The Crucial RealSSD C300 is able to transfer files faster than the SandForce SF-1200 right now and even though I can't confirm it now, I think the new higher capacity MP2 drives will be even slower at this task. Speculation is kind of a pain when talking to 2 million people worldwide, so let's just stick with the fact that C300 has an advantage now.
With this much free space a consumer uses his computer drives a bit differently and stores more on the drive. Most of this "stores more" data is compressed like MP3s, JPEG images, RAR and ZIP files. We already know that SandForce drives have a built in compression algorithm and when a file is already compressed the SandForce drives lose a bit of speed.
In The State of Solid State we will be testing to see just how much speed is scrubbed off, but the data has not been gathered to sufficient levels just yet. Early testing results lead me to believe that when it comes to 200 / 240 /256GB capacity range, the Crucial RealSSD C300 is the drive to go with and if you already have SATA 6G capability on your motherboard the C300 gets an even bigger endorsement in this capacity / price range.
We have covered a lot today and I finally feel that the final piece of the puzzle has been revealed, but with new firmware from SandForce we just opened another empty chamber and need to gather more pieces to make a complete picture.
Update
: Crucial has now re-released its update tool giving the ability to flash to firmware 0002. It is confirmed to give 100% working TRIM support. For further details,
click here
.
PRICING: You can find products similar to this one for sale below.

United States: Find other tech and computer products like this over at Amazon.com

United Kingdom: Find other tech and computer products like this over at Amazon.co.uk

Australia: Find other tech and computer products like this over at Amazon.com.au

Canada: Find other tech and computer products like this over at Amazon.ca

Deutschland: Finde andere Technik- und Computerprodukte wie dieses auf Amazon.de
We openly invite the companies who provide us with review samples / who are mentioned or discussed to express their opinion. If any company representative wishes to respond, we will publish the response here. Please contact us if you wish to respond.