Avatar
has been an incredibly long time coming. The genesis of the project begun in the mid 1990's with an idea from James Cameron. Deciding that technology was not evolved enough to see his vision come true, Cameron shelved the idea and made a small film called
Titanic
. You may have heard of it. Whilst pursuing other underwater documentary projects such as
Ghosts of the Abyss
, Cameron was evolving technology to see the creation of
Avatar
, finally starting production in 2005.
Shrouded in mystery and with only very small snippets of information making its way into the public domain, by the time the trailer was released towards the end of 2009, many film fans and bloggers alike were confused wondering what all the fuss was about. When James Cameron started making modest statements regarding the film, alarm bells started sounding. Maybe all those years under the water had sent Cameron crazy?
However, by the time of the film's release in December 2009, it was clear that
Avatar
was something special. Audiences instantly connected to it and as they flocked to repeat sessions, subsequently bringing their family and friends along, the film grossed higher and higher week after week, soon surpassing Cameron's own
Titanic
in worldwide revenue (at the time of print, around the $2.5 billion (U.S.) mark), and becoming the highest grossing film of all time whilst pushing 3D as cinemas next technological breakthrough.
I'll dispense with providing a plot outline for
Avatar
. I truly believe that there are no TweakTown readers that are unfamiliar with the story of the film. Despite its unoriginal themes,
Avatar
is a visual tour de force. My first viewing of the film theatrically in 3D was, for want of a better word; amazing. I recall sitting speechless by the end of the film, thinking to myself that the film changes everything, similar to my thoughts after
The Matrix
in 1999. It seems I wasn't alone in my experience.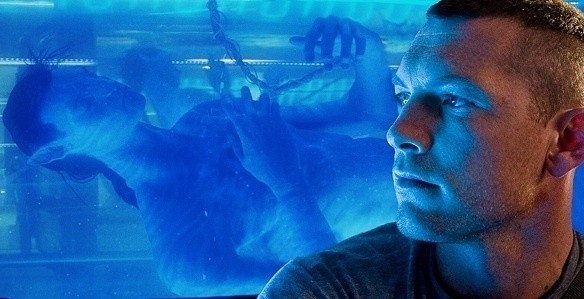 VideoAvatar
is presented in the aspect ratio of 1.78:1, encoded with AVC MPEG4 compression. This is a deviation from the 2D theatrical aspect ratio of 2.35:1, but results in more vertical information. This is James Cameron's preferred aspect ratio.
Technically, the transfer is perfect. It's crisp, clear, beautiful and breathtaking; almost every positive adjective that one can think of. But that doesn't mean I don't have complaints.
First up; this is not the film I saw at the cinemas. The 3D effect worked so well for the film, ushering viewers into the world of Pandora. For me, it made the film special, truly something I hadn't experienced before. In 2D, it's good, but didn't have anywhere near the punch. Secondly, something has been lost in the transition to the small screen. The visual effects that looked so wondrous and believable on the big screen don't look as spectacular on the small screen. At times, I found them to be rather fake. I don't know why this is, but I'd almost suggest this is a psychological downside of the lack of 3D in this transfer.
Of course, this is isn't the fault of the transfer. The elements are in perfect condition (probably almost too perfect, in a Pixar like way), but I couldn't get past these two issues for myself.
[img]2[/img]
Audio
The main audio track is encoded in DTS HD Master Audio 5.1, at 24 bits.
Avatar
's audio track is pretty spectacular stuff. Every trick in the book has been utilised to create an aggressive and engrossing mix. Hats off to the audio mixers for crafting such a believable soundstage for the world. The surround channels are utilised constantly and bass is deep and powerful.
I enjoyed James Horner's soundtrack score, despite it sounding a little unoriginal. The score has been fairly aggressively mixed into the soundtrack.
Overall, a really amazing audio mix. This will wring every last bit of juice out of whatever system you've got.
[img]3[/img]
Extras
Nothing. Nada. Zip.
For the initial release of
Avatar
on Blu-ray, Twentieth Century Fox have elected to release a completely bare bone disc and then for the holiday season of 2010, release a special edition loaded with additional content, including deleted scenes with completed visual effects. Whilst I appreciate the fact that James Cameron and Fox were up front about this release strategy, I am somewhat disappointed that no effort was made to release the initial version with the off the shelf made for TV specials, behind the scenes segments, interviews and trailers. It would have required no additional effort to do this.
That said, this release of
Avatar
is already the highest selling Blu-ray disc of all time, so maybe they know better than me?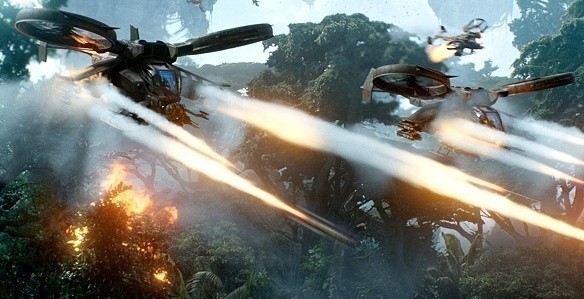 Overall
Review Equipment Used:
Display
: Sony KDL52X3100 LCD (1080p resolution/ 24p playback)
Player
: Sony BDP-S550 Blu-ray, PlayStation 3 (24p playback)
Sound
: Sony STR-DA5400ES Receiver (7.1 configuration), Sony SSX70ED front speakers (x2), Sony SSCNX70ED center speaker, Sony SSFCR7000 surround speakers (x4), Sony SAW3800 Subwoofer (Front), Sony SAWM500 Subwoofer (Rear)