Introduction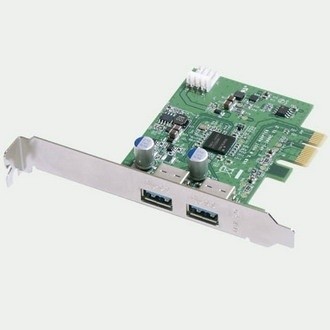 There have been many new technologies released in the last six months that have changed many aspects in our daily computing lives. Some might be impressed with the new high speed video cards or even the current round of SATA II busting solid state drives, but the one technology that will impact us the most has to be USB 3.0. USB is a standard that is unrivaled in the industry. There were times when other technologies promised to defeat the standard, but they were merely a small bump not even worthy of mention in this article. Having one standard dominate all others might be a bad thing to governments and those who think that everybody and everything deserves the right to shine, but when it comes to inoperability between all of my components, I will take a good monopoly any day.
The latest revision of USB 3.0 is undeniably a great leap forward, but economic conditions have slowed the mass adaption of the technology. Intel has a bit of a roll as well, choosing to stick to their tick tock launch schedule that has their major debut of USB 3.0 hardware scheduled for sometime in the middle of next year. After NEC announced massive shipments and most likely will bring in huge profits, Intel announced that they will introduce an add-on chip by the end of 2010, but true Southbridge USB 3.0 for big blue is still a long ways off.
In the meantime we have NEC and their partners who are making add-in boards that will allow the integration of USB 3.0 into your existing motherboards by way of PCI Express. Many computers used today have an abundance of open PCIe slots making for a very high compatibility rate.
Today we will be taking a look at the VIZO SPEED-UP USB 3.0 Host Card that is one of many new low cost products on the market designed to provide you access to the new USB 3.0 universe.
Specifications, Pricing and Availability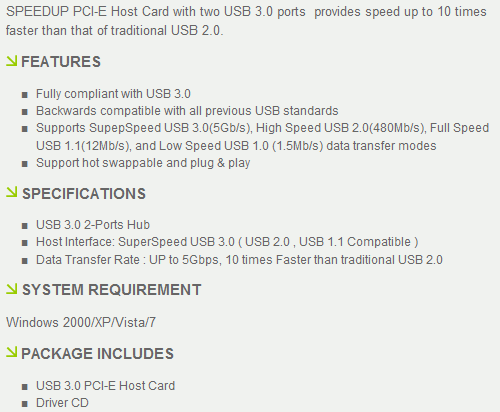 The VIZO SPEED-UP PCIe USB 3.0 Host Card is pretty much everything the title makes it sound like. On one end you have a PCIe card that plugs right into your motherboard's PCIe slot and on the other you have two USB 3.0 ports. There is a driver that does need to be installed, but it is very small and nothing like the monsters we are seeing from say video card makers these days.
USB 3.0 is around 10 times as fast as USB 2.0 when measuring the protocol, but we have yet to find a product that is capable of delivering promised true USB 3.0 speeds. Still, everything that we have looked at to date has been much faster than USB 2.0 and this early in the game we really only care about getting an interface that is capable of delivering speeds that are fast enough that we don't see a bottleneck when transferring data to and from hard drives. We will get into this more later.
When it comes to the cost, I have yet to find the VIZO SPEED-UP PCIe USB 3.0 available on the etail or retail market. Similar products can be found for 30-50 USD and I would suspect that VIZO is not looking to make a premium off of their host card.
Just having a USB 3.0 card doesn't mean you are ready to rock 'n roll either. There are a number of USB 3.0 products on the market already, but most of them are for data storage. I really don't see many people wanting to boot a system full time off of an external HDD, so that means USB 3.0 products at this time are pretty much targeted to users of portable storage.
Portable USB 3.0 products are now abundant and the cost has dropped sharply since I reviewed the world's first USB 3.0 external drive that cost around 400 USD for 1TB of capacity. How quickly times change.
The Packaging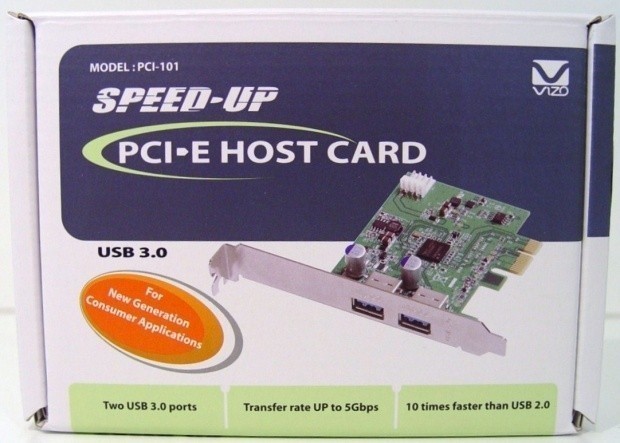 VIZO put together a nice package for the SPEED-UP with a few features listed on the front and an image of the host card. We will have to see if we are finally able to reach near 10x the speed of USB 2.0 in testing today.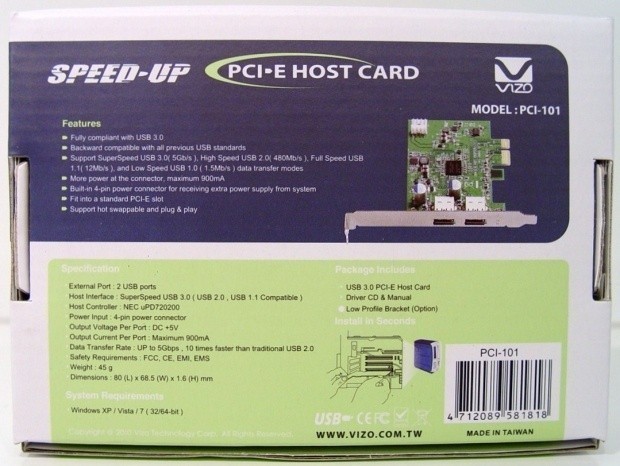 The back of the box has a full feature, specification breakdown as well as an image showing how easy it will be to install the host card in your system.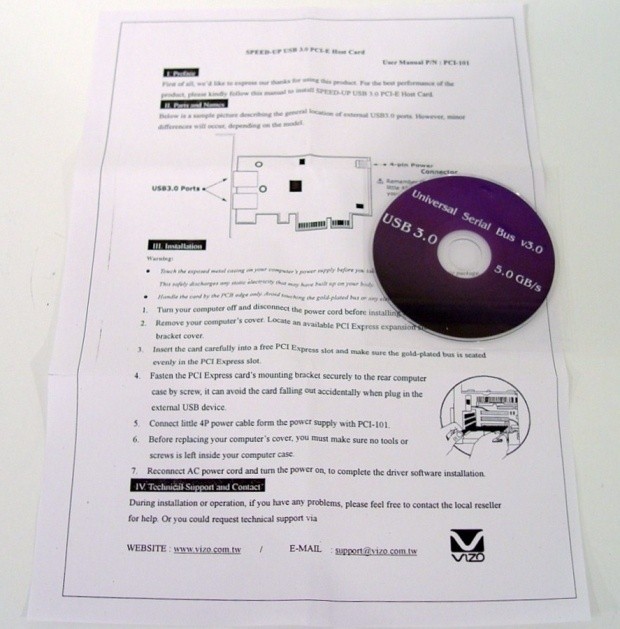 Once opened up we found a small driver disk and a one page list of instructions that cover the front and back of the paper.
The VIZO SPEED-UP PCIe USB 3.0 Host Card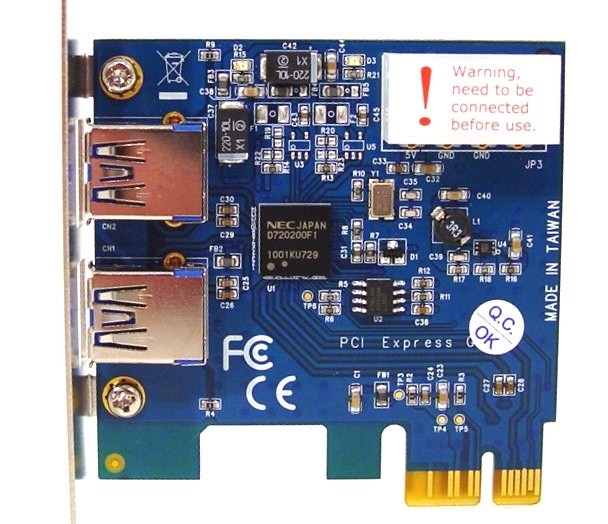 Here we get our first image of the VIZO SPEED-UP PCIe to USB 3.0 Host Card. There is not a whole lot to it, but we do see a NEC USB 3.0 controller, PCIe 1x connector and that the card is marked as needing external power to operate.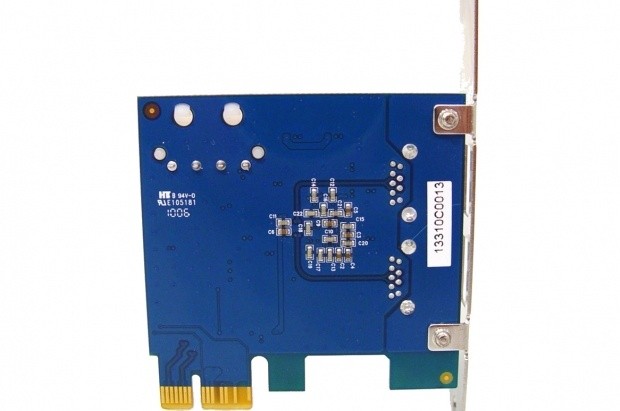 The back of the card doesn't have a lot going on either, other than a few resisters and diodes.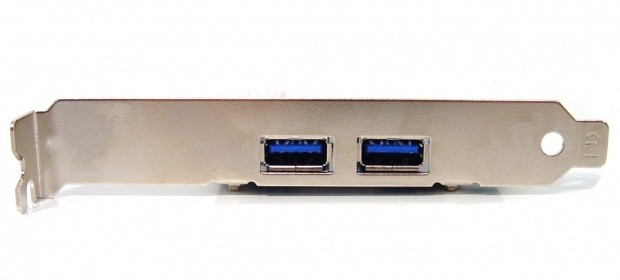 On the portion of the card that faces the outside world in your computer case, we see two USB 3.0 ports in their native blue that symbolizes them as being USB 3.0.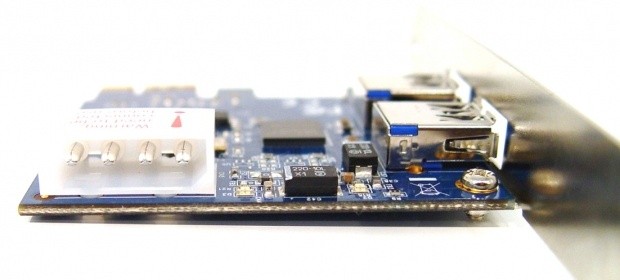 From the side we see that the host card uses a standard 4-pin Molex connector for power.
Let's move on to testing.
Test System Setup and ATTO Baseline Performance
Test System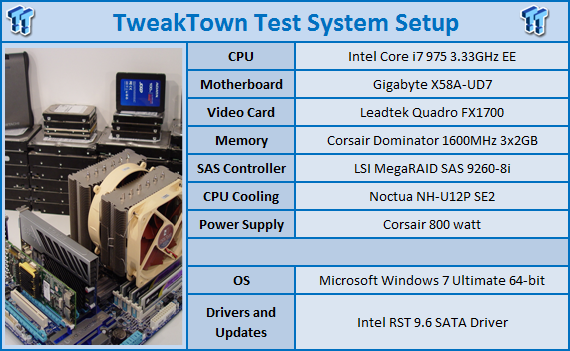 We would like to thank the following companies for supplying and supporting us with our test system hardware and equipment:
Intel
,
GIGABYTE
,
Leadtek
and
Corsair
,
LSI
and
Noctua
.
You can read more about TweakTown's Storage Product Testing Workstation and the procedures followed to test products
in this article
.
Today we are going to test the VIZO SPEED-UP PCIe USB 3.0 Host Card with the A-DATA N007 USB 3.0 solid state drive that uses an Indilinx Barefoot controller. For comparison we will also test with the GIGABYTE X58A-UD7 motherboard that uses an NEC controller to provide USB 3.0 connectivity. The last set of results is with the A-DATA N007 attached to the SATA II port on the X58A-UD7 motherboard.
ATTO Baseline Performance
Version and / or Patch Used:
2.34
ATTO is used by many disk manufacturers to determine the read and write speeds that will be presented to customers.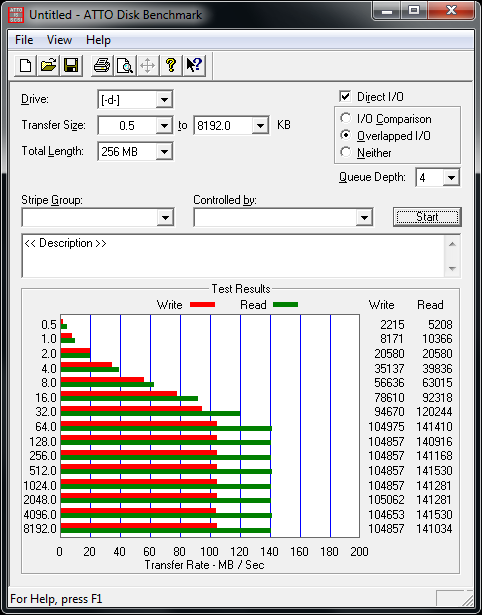 Right off of the bat we see that the VIZO SPEED-UP USB 3.0 Host Card does not deliver on the claimed 10x USB 2.0 speeds. It looks like our read speeds will be limited to around 141MB/s and our write speeds at 105 MB/s. We will have to see what the A-DATA drive is capable of in other tested configurations, but we already know that it is higher than this from previous testing.
Benchmarks - HD Tune Pro
HD Tune ProVersion and / or Patch Used:
4.00
Developer Homepage:
http://www.efdsoftware.com
Product Homepage:
http://www.hdtune.com
HD Tune is a Hard Disk utility which has the following functions:
Benchmark: measures the performance
Info: shows detailed information
Health: checks the health status by using SMART
Error Scan: scans the surface for errors
Temperature display
HD Tune Pro gives us accurate read, write and access time results and for the last couple of years has been gaining popularity amongst reviewers. It is now considered a must have application for storage device testing.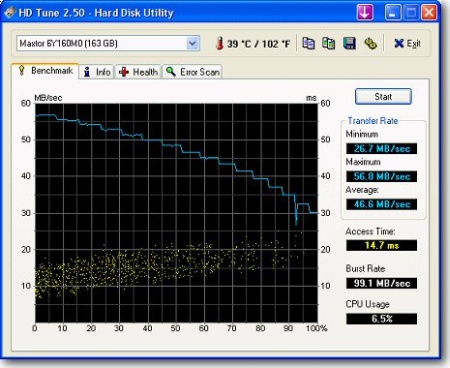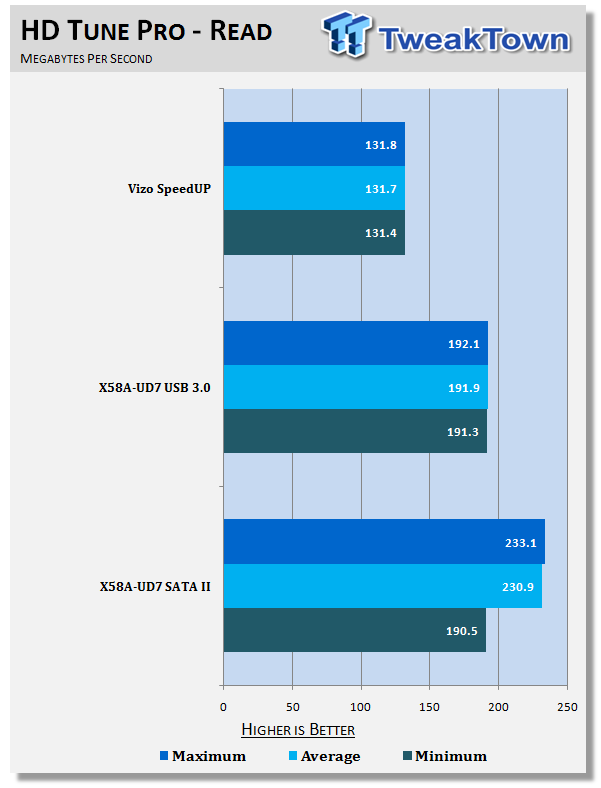 Here we get our first peek at the performance of the VIZO SPEED-UP against some competition. As you can see, the promise of 10x USB 2.0 isn't going to hold up. If that were the case we would have an open road to around 350MB/s in this test. Here we see that the SPEED-UP isn't going to deliver much more than 130MB/s. This is still faster than what most modern generation platter drives are able to deliver, so you will not have a problem with say a 300GB Western Digital Raptor or latest edition 2TB drive when it comes to reads.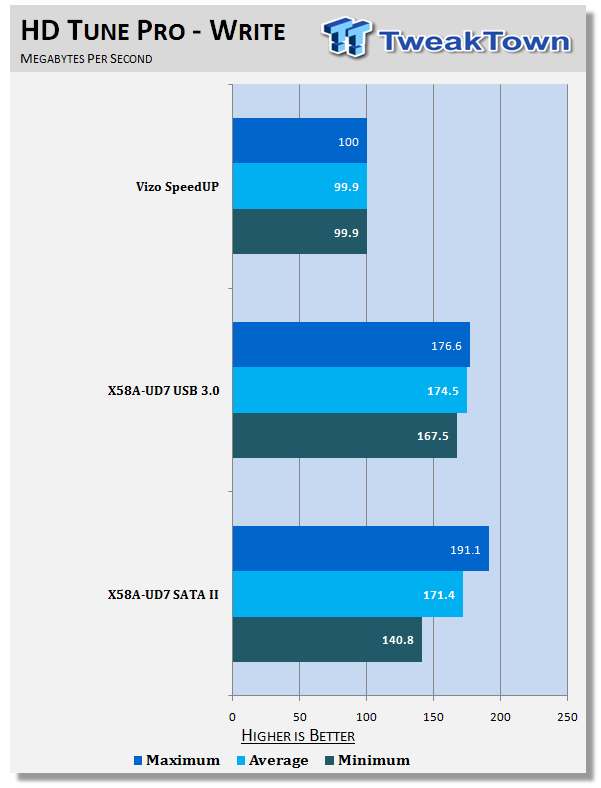 Moving onto the write category, the VIZO seems to hit a wall at 100MB/s. As you can see from the second test down, the same solid state drive on the onboard NEC controller is able to write around 75MB/s faster.
Benchmarks - Everest Random Access Time
Everest Random Access TimeVersion and / or Patch Used:
4.60
Developer Homepage:
http://www.lavalys.com
Product Homepage:
http://www.lavalys.com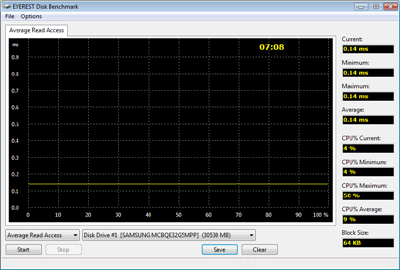 Everest Ultimate and Corporate Edition offer several different benchmarks for testing and optimizing your system or network. The Random Access test is one of very few if not only that will measure hard drives random access times in hundredths of milliseconds as oppose to tens of milliseconds.
Drives with only one or two tests displayed in write the write test mean that they have failed the test and their Maximum and possibly their Average Scores were very high after the cached fills. This usually happens only with controllers manufactured by JMicron.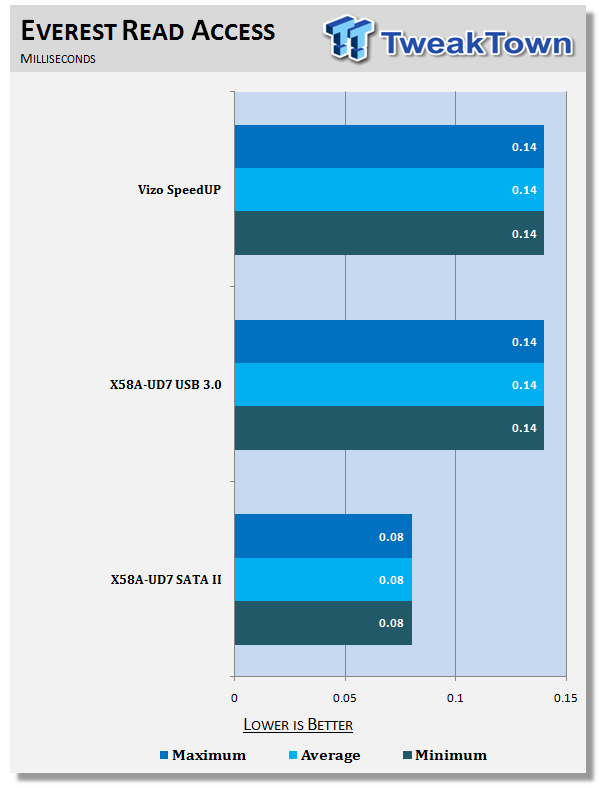 Disk read access times do go up over USB 3.0, much like they did with USB 2.0. There is a bit more overhead, but the good news is that the onboard NEC and the VIZO SPEED-UP are performing identical.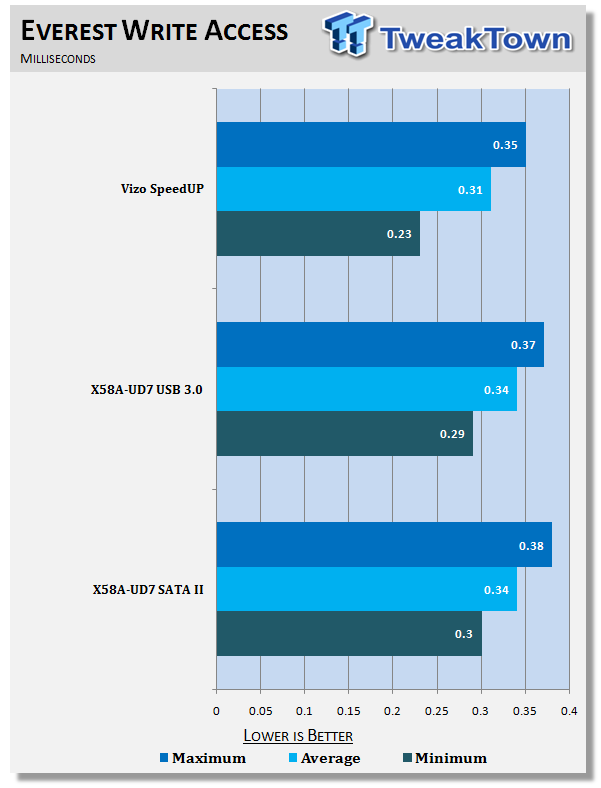 Write access time tests show that there is little difference across the board.
Benchmarks - Crystal Disk Mark
CrystalDiskMarkVersion and / or Patch Used:
3.0 Technical Preview
Developer Homepage:
http://crystalmark.info
Product Homepage:
http://crystalmark.info/software/CrystalDiskMark/index-e.html
Download here:
http://crystaldew.info/category/software/crystaldiskmark
CrystalDiskMark is a disk benchmark software.
Key Features:-
* Sequential reads/writes
* Random 4KB/512KB reads/writes
* Text copy
* Change dialog design
* internationalization (i18n)
Note:
Crystal Disk Mark 3.0 is not available to the public yet, but the Technical Preview does allow us to test 4K performance at queue depths of 4 and 32 in addition to 1. The current release Crystal Disk Mark only shows us QD 1.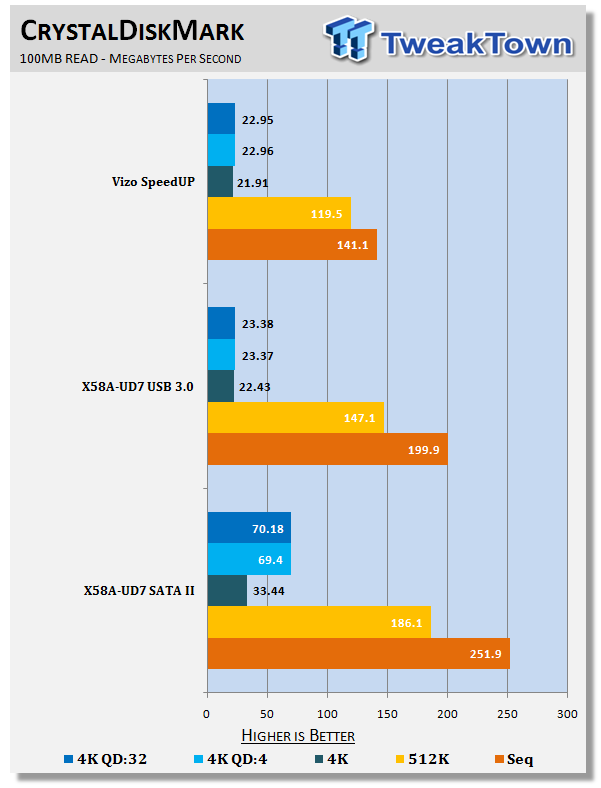 It would appear that USB 3.0 lacks support for queue depth changes found in NCQ. This is going to hamper the transfer of small files when you are pulling several from a drive using USB 3.0.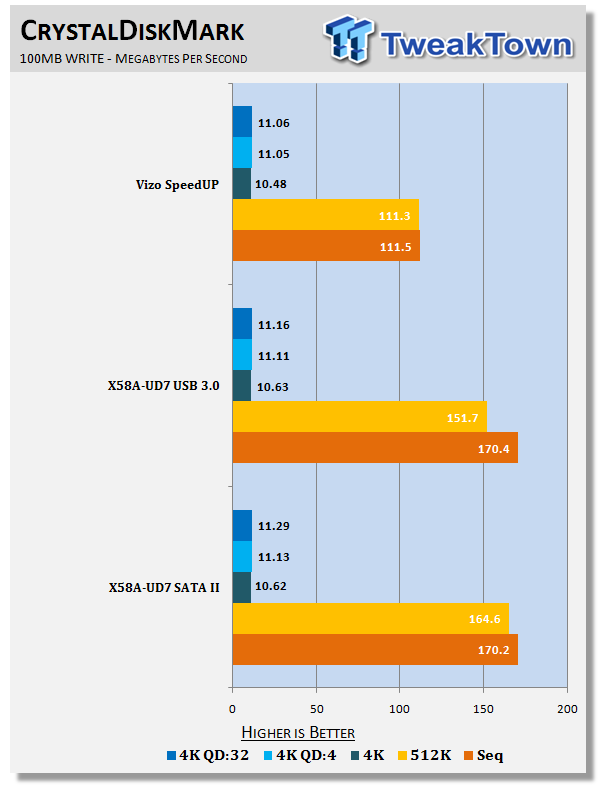 The Indilinx Barefoot lacks almost all support for NCQ while writing data, so the test shows the maximum speed across the chart for 4K queue depths. Here we can still see the wide difference in sequential and 512K speeds between the onboard USB 3.0 and the VIZO solution.
Benchmarks - PCMark Vantage Hard Disk Tests
PCMark Vantage - Hard Disk TestsVersion and / or Patch Used:
1.0.0
Developer Homepage:
http://www.futuremark.com
Product Homepage:
http://www.futuremark.com/benchmarks/pcmark-vantage/
Buy It Here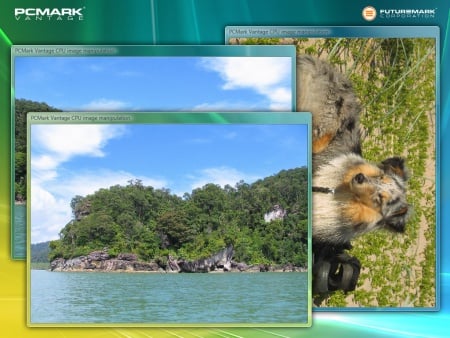 PCMark Vantage is the first objective hardware performance benchmark for PCs running 32 and 64 bit versions of Microsoft Windows Vista. PCMark Vantage is perfectly suited for benchmarking any type of Microsoft Windows Vista PC from multimedia home entertainment systems and laptops to dedicated workstations and high-end gaming rigs. Regardless of whether the benchmarker is an artist or an IT Professional, PCMark Vantage shows the user where their system soars or falls flat, and how to get the most performance possible out of their hardware. PCMark Vantage is easy enough for even the most casual enthusiast to use yet supports in-depth, professional industry grade testing.
FutureMark has developed a good set of hard disk tests for their PCMark Vantage Suite. Windows users can count on Vantage to show them how a drive will perform in normal day to day usage scenarios. For most users these are the tests that matter since many of the old hat ways to measure performance have become ineffective to measure true Windows performance.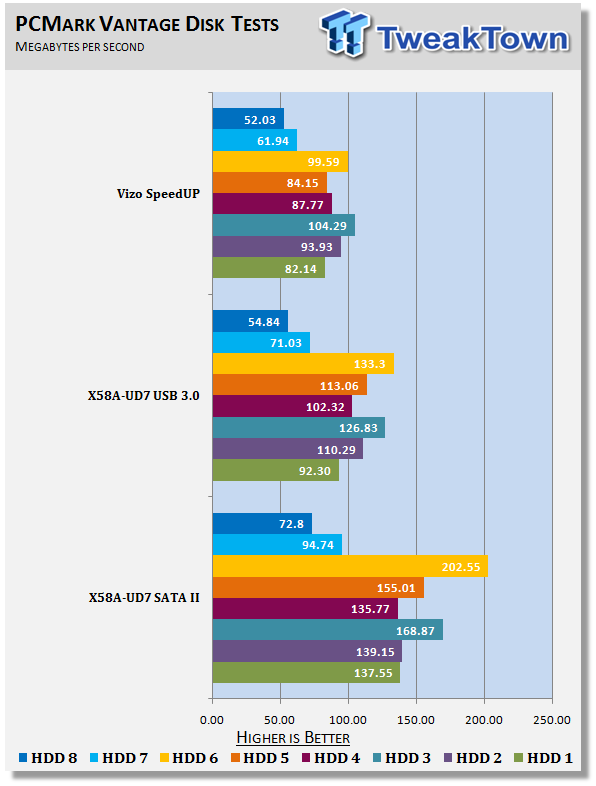 HDD1 - Windows Defender
HDD2 - Gaming
HDD3 - Windows Photo Gallery
HDD4 - Vista Startup
HDD5 - Windows Movie Maker
HDD6 - Windows Media Center
HDD7 - Windows Media Player
HDD8 - Application Loading
Despite the large difference in the synthetic tests, if you were to install Windows 7 on an external SSD there wouldn't be that much difference between the two USB 3.0 solutions. That said, SATA II trumps them all and you had better just stick with USB 3.0 for extra storage space.
Benchmarks - AS SSD
AS SSD BenchmarkVersion and / or Patch Used:
1.2.3577.40358
Developer Homepage:
Alex Intelligent Software
Product Homepage:
Alex Intelligent Software
Download here:
http://www.alex-is.de/PHP/fusion/downloads.php?cat_id=4&download_id=9
AS determines the performance of Solid State Drives (SSD). The tool contains four synthetic as well as three practice tests. The synthetic tests are to determine the sequential and random read and write performance of the SSD. These tests are carried out without the use of the operating system caches.
In all synthetic tests the test file size is 1GB. AS can also determine the access time of the SSD, the access of which the drive is determined to read through the entire capacity of the SSD (Full Stroke). The write access test is only to be met with a 1 GB big test file. At the end of the tests three values for the read and write as well as the overall performance will be issued. In addition to the calculated values which are shown in MB/s, they are also represented in IO per seconds (IOPS).
Note:
AS SSD is a great benchmark for many tests, but since Crystal Disk Mark covers a broader range of 4K tests and HD Tune Pro covering sequential speeds, we will only use the Copy Benchmark from AS SSD.
- Copy Benchmark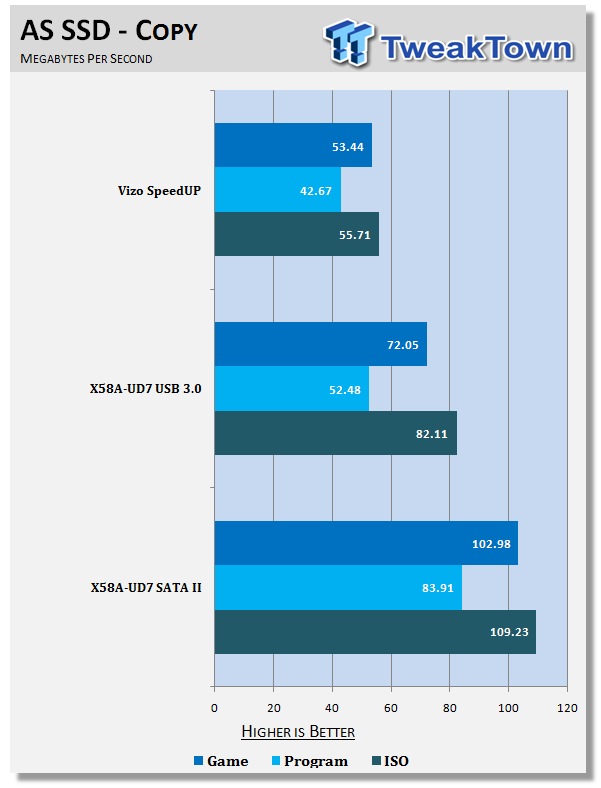 This test is what users of USB 3.0 external storage need to pay close attention to. In the tests above we see three different types of files transferred to and from the drive. As you would expect from what we have observed in testing so far, SATA II can't be beaten at this time, but we never really expected USB 3.0 to do so anyhow. The onboard USB 3.0 controller is able to go up to 30 MB/s faster than the VIZO add-in card.
Benchmarks - Passmark
Passmark Advanced Multi-User TestsVersion and / or Patch Used:
6.1
Developer Homepage:
http://www.passmark.com
Test Homepage:
http://www.passmark.com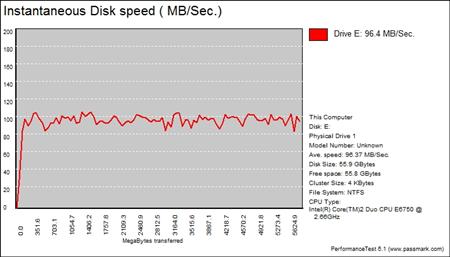 Many users complain that I/O Meter is too complicated of a benchmark to replicate results so my quest to find an alternative was started. Passmark has added several multi-user tests that measure a hard drives ability to operate in a multi-user environment.

The tests use different settings to mimic basic multi-user operations as they would play out on your server. Variances is read / write percentage as well as random / sequential reads are common in certain applications, Web Servers read nearly 100% of the time while Database Servers write a small amount of data.
The Workstation test is the only single user environment and will be similar to how you use your system at home.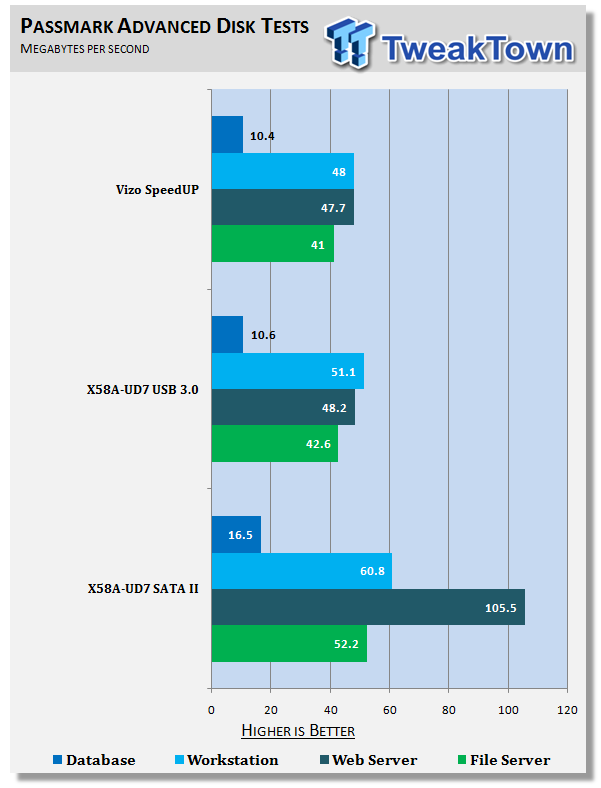 No one will ever use an external drive in a database server or web server, but it is always fun to see the results of these tests.
Final Thoughts
We have been fairly quiet on the 10x performance boost of USB 2.0 that every single USB 3.0 product has been claiming. In reality everyone has and I think the reason why was to give NEC and their partners a chance to get the drivers right and make some magic happen with the PCIe connection. The honeymoon period is now over and the first shot incoming. Every product claiming to have 10x USB 2.0 performance right now is a lie. The truth is that you can't get 10x USB 2.0 speeds from a single lane PCIe slot. When it comes to real world performance we know and have data that shows a maximum read speed from the fastest USB 2.0 thumb drive at between 32 - 35MB/s in synthetic; this is the most optimum way of doing it, tests. I have yet to see anything run on one of these NEC USB 3.0 chips at 300+MB's and at least till the end of the year we won't this level of performance from USB 3.0.
That said, VIZO didn't invent the marketing hype that surrounds USB 3.0 right now, nor we, the community of people that are blessed with the task of running tests on hardware for a living. It's the companies that can put out the press releases. But you can only let the rabbit take from the garden so many times before you realize that you are out of food.
Right now solid state drives are not the norm for external backup or storage and it will not be that way for a very long time. The VIZO SPEED-UP PCIe USB 3.0 Host Controller has enough speed to run most platter drives at full or near full speed. Users need to remember that USB 3.0 is not based on the SATA specifications, so there are some features that do not carry over one - to - one. Native Command Queuing is the one that will have the most impact on performance. Still, USB 3.0 is a lot better than most of the alternatives; USB 2.0 or anything Firewire. eSATA on the other hand can rest easy at this time, but once we see other bridge chips enter the market, hopefully with FULL USB 3.0 speed, eSATA will be a thing of the past.
We did observe today that the GIGABYTE NEC onboard USB 3.0 solution is superior to the add-in card version. Here is a 10x number that is real; the board costs 10x the amount of what the VIZO PCIe USB 3.0 Host Card does. GIGABYTE does manufacture motherboards that cost much less and have USB 3.0 on board, but nothing in the price range of the VIZO host card.
If you just simply want to add USB 3.0 to your existing computer without making a change to the other hardware then the VIZO PCIe USB 3.0 Host Card is one way to do it, but don't expect to gain massive bandwidth as promised for future USB 3.0 devices that have yet to come to market.