The Halo franchise is a pretty interesting story. Developers Bungie originally produced the first person shooter for the Apple Macintosh platform, which in 1998 (remember pre iPod) was incredibly niche and games for Mac were even rarer. When representatives for Microsoft saw the game at a game convention, wheels quickly rolled into motion to purchase the company. They needed a game to represent their fledging console, Xbox, and they'd found it in the form of Halo, which would become their secret weapon against console leader Sony. The rest is history.
The Halo franchise is rich and detailed and epic in scope. It isn't revolutionary, but speaks to a generation of gamers whom embrace it in a way that a video game has failed to achieve before. The franchise has grown into multiple video game titles, soundtracks, action figures, books, graphic novels and now this; an anime series.
Halo Legends
takes the form of eight short anime stories, similar to
The Animatrix
from 2003. The first two segments, The Origins, give a detailed backstory that will be familiar to fans and eminently helpful to newcomers. The next six are smaller stories and missions. The final story, The Package, is my favourite and shows how far computer graphics have come.
Even though I own all three Halo games, I'm embarrassed to admit that my time spent in the franchise is scant. But I've thoroughly enjoyed the experience of
Halo Legends
and it's inspired me to delve further into the collection of Halo games I've amassed.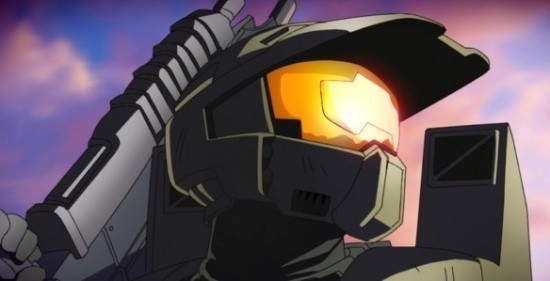 VideoHalo Legends
is presented in the aspect ratio of 1.78:1, encoded with VC1 compression.
The eight shorts use a variety of animation styles, from traditional animation, to heavy CG modified traditional animation, to straight out CG. All have their own looks, but they all look fantastic. Make no mistake, this is demo-worthy material. The image is very sharp and free from aliasing. Colours pop from the screen and are suitably muted in others. At all times do they mirror the creator's intentions. My only complaint is that the compression is just a little bit too intense, with some very, very slight banding, but for the most part this is a fantastic presentation.
Just repeating, this is essentially demo worthy material.
[img]2[/img]
Audio
The main audio track is encoded in Dolby Dolby Digital 5.1, at 640 kb/s.
Straight up, I am pretty disappointed that lossy Dolby Digital was used, instead of a lossless codec. It's just such a waste and I can't imagine why this decision was made. Don't get me wrong, this is a still a very decent track, with good split surround effects (especially in 'The Package' segment). There were no overt audio sync issues, but anime is seldom perfect with this issue.
The score provided by Tetsuya Takahashi and Yasuharu Takanashi is suitably epic, and frequently use the original themes from the Halo games, composed by Marty O'Donnell It's mixed very well into the soundtrack, coming to the forefront where necessary, but I couldn't help thinking how it would sound had it been provided in lossless audio.
Overall, a good effort, but I can't pretend to not be disappointed at the lack of a lossless audio codec.
[img]3[/img]
Extras
The
Audio commentary
is provided by Creative Director Frank O'Connor and Producer Joseph Chou. It's a fairly dry affair, but if you invested in the Halo experience you will learn some fascinating background information to the production and general Halo mythology.
The crown jewel of the collection is the
Making of Halo Legends Documentary
, which is cut up into smaller featurettes based on the making of the individual shorts, but can also be viewed as a 50 minute documentary. This is incredibly in-depth, and a lot of information is imparted. You'll meet the directors for each segment and see the production unfold via storyboards and early animatics.
Two substantial
Featurettes
, provide more backstory to the Halo mythology and the game series itself. The first;
Halo: The Story So Far
is a 20 minute culmination of the events from the games, which is extremely helpful to series newcomers and those that have only fleeting partaken in the game (read: myself). This is essential viewing if you fall into that category. The second;
Halo: Gaming Evolved
is a short history on the young franchise, taking the time to meet staff at Microsoft Game Studios and developers Bungie. I would have liked more information on the initial stages of the game (the Apple Mac beginnings aren't mentioned, naturally), and maybe some discussion on first person shooters that paved the way for Halo (it didn't create the genre, but you wouldn't know it based on what's here). But overall, there's enough here to sustain interest.
Finally, there are two trailers provided, one for the next Halo game, entitled
Halo Reach
and one for
Justice League: Crisis on Two Earths
.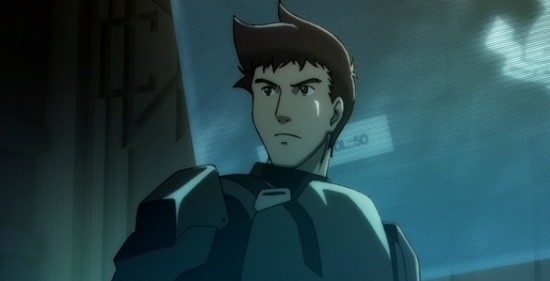 Overall
Review Equipment Used:
Display
: Sony KDL52X3100 LCD (1080p resolution/ 24p playback)
Player
: Sony BDP-S550 Blu-ray, PlayStation 3 (24p playback)
Sound
: Sony STR-DA5400ES Receiver (7.1 configuration), Sony SSX70ED front speakers (x2), Sony SSCNX70ED center speaker, Sony SSFCR7000 surround speakers (x4), Sony SAW3800 Subwoofer (Front), Sony SAWM500 Subwoofer (Rear)