The dawn of the CG age has enabled us to see some miraculous sights. Dead public figures brought back to life, sprawling alien vistas, and this; crime fighting Guinea pigs.
When household technology produced by the company led by Leonard Saber (Bill Nighy) goes haywire, the G-Force (I can only assume the 'G' stands for Guinea Pig) is called in to save the day.
Within moments of the start of the film, the audience is asked to believe the central premise of
G-Force
; that technology has been developed which allows guinea pigs to be able to speak perfect English. Once an audience has accepted this, for the purpose of entertainment they rightly will believe anything. So it's not a terrible stretch to believe that they can fight crime, drive, dance etc. All of which, rest assured, occur in its scant 80 minutes run time.
Look, I'm not the target audience for the film, but I had a reasonable time with the film. It's got some cool scenes, some crappy teen music and a few laughs. The family seemed to enjoy it; however their standards are seemingly somewhat lower than mine.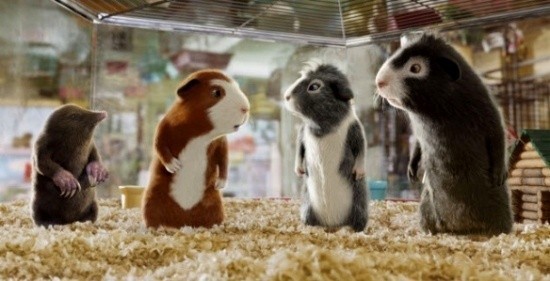 VideoG-Force
is presented in the aspect ratio of 2.40:1, encoded with AVC MPEG-4 compression.
A spotless transfer,
G-Force
looks amazing. There's been so much digital manipulation to pretty much every frame. The transfer would have come directly from the digital master, so this is no real surprise. Colour balance is spot on, but frequently exaggerated. The transfer is sharp as a tack and brimming with very fine detail.
Overall, a very striking visual image. But this will more than likely be lost on the kiddies.
[img]2[/img]
Audio
The main audio track is encoded in DTS HD Master Audio 5.1, at 24 bits.
Disney Home theater mixes are generally a little subdued as far as sonic power is concerned and
G-Force
is no different. This is not to say it's a bad mix; it's just a little more restrained, especially in the rear and subwoofer channels. There are no audio sync or other production related issues to speak of. There are quite a few snippets of pop songs mixed throughout and there's a general lack of bass to these scenes.
Overall, a fairly pleasing result; just don't expect that this will rock the home theater too much.
[img]3[/img]
Extras
In terms of extra features,
G-Force
is one of the more disappointing releases by Disney for some time, but there is a few worthwhile features. Let's jump in.
The
Cine-explore picture in picture track
is fairly entertaining, however I don't know of any adults that are so enamored with the film as to sit this through, and the target audience for the film wouldn't last five minutes with it. That said, if you do happen to want to know more about the film, especially the CG production of the animals, this track is for you. There is a bunch of behind the scenes and pre-viz footage along with some commentary by the Guinea pigs.
The short collection of
Deleted scenes
are fairly superfluous, but the Cockroach one is somewhat funny. These are presented in rather scratchy HD image.
Next up are three
featurettes
, starting with
Blasters Boot Camp
, which quizzes kids on whether they have what it takes to join the G-Force,
G Force Mastermind
, a short discussion of the genesis of the film (which may surprise), and
Access Granted: Inside the Animation Lab
which takes viewers inside Sony Pictures Imageworks to take a look at the creation of the visual effects (which it must be said, are very good).
The collection of
Music videos
are truly awful and best avoided. You'll thank me.
Finally, the
G Farce Blooper reel
is fairly comical, but I wish they'd have included some less sanitised ones.
Classily, Disney have also seen fit to include a DVD version of the film for playback in portable DVD players and bedroom TV's.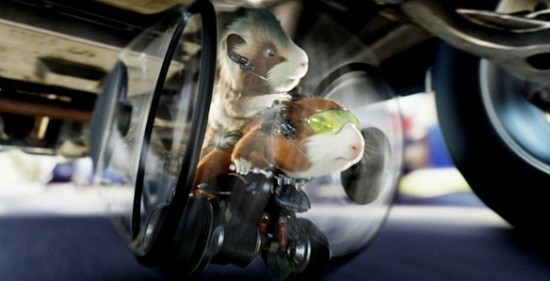 Overall
Review Equipment Used:
Display
: Sony KDL52X3100 LCD (1080p resolution/ 24p playback)
Player
: Sony BDP-S550 Blu-ray, PlayStation 3 (24p playback)
Sound
: Sony STR-DA5400ES Receiver (7.1 configuration), Sony SSX70ED front speakers (x2), Sony SSCNX70ED center speaker, Sony SSFCR7000 surround speakers (x4), Sony SAW3800 Subwoofer (Front), Sony SAWM500 Subwoofer (Rear)