ioSafe Solo External Hard Drive w/ Disaster Protection
You may have a RAID 6 array with battery backup, but what is that going to do for you in Katrina like conditions?
Published Tue, Oct 6 2009 10:37 PM CDT
|
Updated Tue, Nov 3 2020 7:03 PM CST
Rating:

89%
Manufacturer: ioSafe
Introduction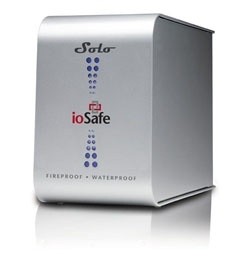 Natural disasters happen several times a year, but the chances of one happening to you this year are pretty slim. What happens to that slim chance when you start multiplying years and years to the statistics? On May 30th 2004 I was at the Indy 500 hoping that the race would finish under the green flag before the fast approaching thunderstorm hit the speedway. The race finished as we had hoped but right after an announcement was put over the intercom, clear the stands, a Tornado just touched down 20 miles away and is headed right for the track. At that time the rain started falling like I have only saw a few times before. Of course everyone here in the Midwest has a tornado story, but this time it hit closer to home. On my way home that evening I approached a neighborhood just a half mile away from my pad; half the neighborhood was in the middle of the road. The tornado had torn this section of houses to pieces and it could of easily ripped through mine as well.
Tornados, earthquakes and hurricanes all pale in numbers to house fires. The US Fire Administration estimated there were 1.5 million fires in 2008. We have been recommending NAS servers for years and preached about the importance of using RAID 1, RAID 5 or RAID 6 for data security, but never once had we really thought about what would happen with these products once you start adding water or fire to the mix.
Luckily ioSafe was thinking about these situations and started doing something about it. Today we will be taking a look at the ioSafe Solo, a low cost, single drive, USB 2 external drive bay that can take the temperatures of a house fire as well as the water used by the fire department used to extinguish the fire. Let's have a closer look at the specifications and features.
Specifications, Availability and Pricing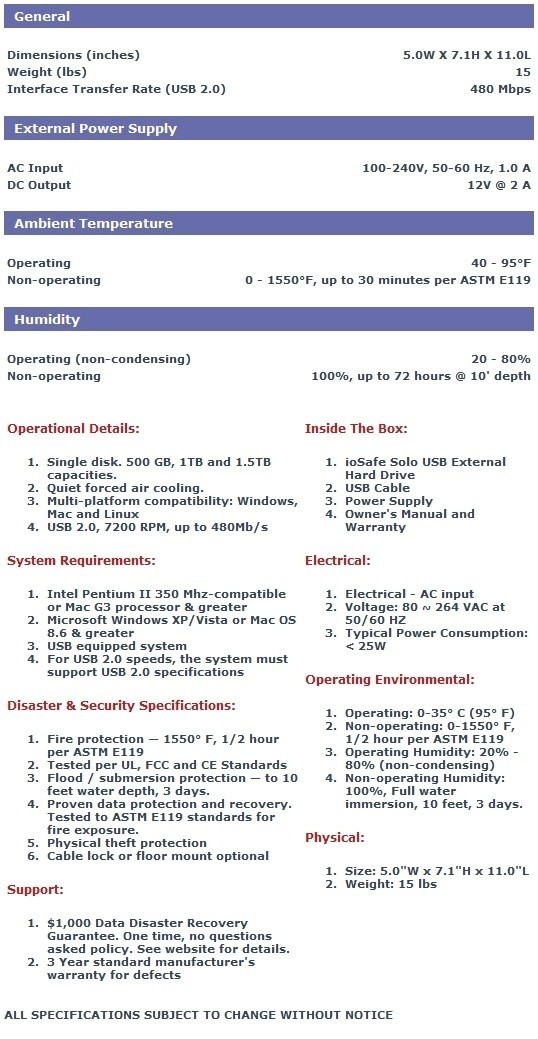 The ioSafe Solo is a single drive USB storage product, so we are not going to expect blazing fast benchmark transfer performance. At around the same size of a shoe box the Solo is quite large for a single drive solution, but that is where the innovative part comes into play.
The Solo is able to withstand temperatures of up to 1550 F for up to 30 minutes. To add to the fire so to speak, the Solo is able to withstand being submerged in ten feet of water for up to 72 hours. Talk about status, this thing is built like a tank.
It is easy to claim your product can do amazing things and we see crazy claims all of the time. It is just as easy to separate the men from the boys and when a company puts their own money on the line you know they are for real. The Solo is available in several configurations, some of them hardware, some of them protection schemes. When it comes to protection you get to choose the amount of time in which ioSafe will pay for any additional fees involved in data retrieval. The most comprehensive protection involves a 5 year hardware warranty and a 5 year Disaster Recovery Service and it will set you back 269 USD for a 500GB capacity system. The chart below has all of the available options for the Solo Series.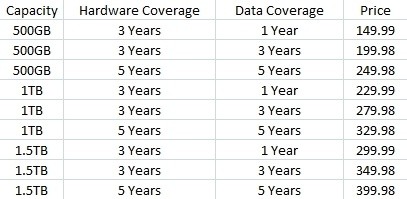 I was a bit surprised to see the Solo available from Newegg, but only because I have never seen it before. You can choose to purchase the Solo system from Newegg or from ioSafe directly. For this level of protection I have to admit the prices look pretty good. Let's take a look at the package and then dissect the ioSafe Solo.
The Packaging and Externals
The Packaging
Apparently ioSafe didn't put a lot of thought into a retail package for the Solo. The system came in a plain white box.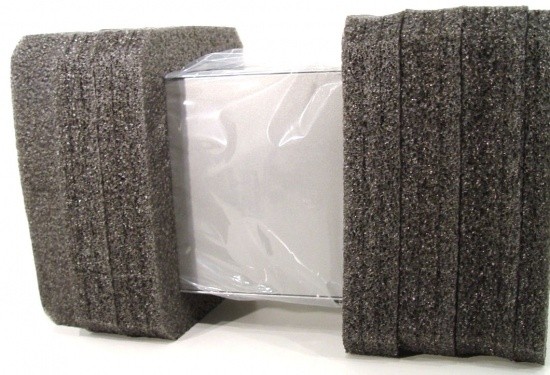 The inner packaging was very well sorted and it protects the system very well.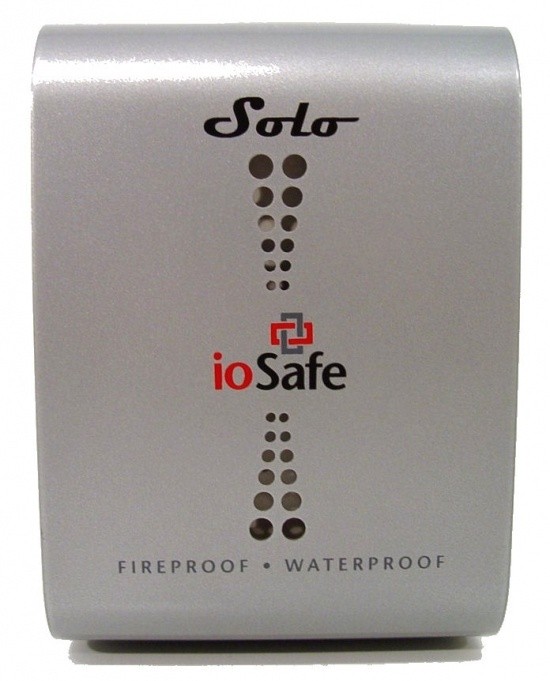 The front of the Solo lights up a cool blue that shines through the vent holes. As you can see, there isn't a power button on the front.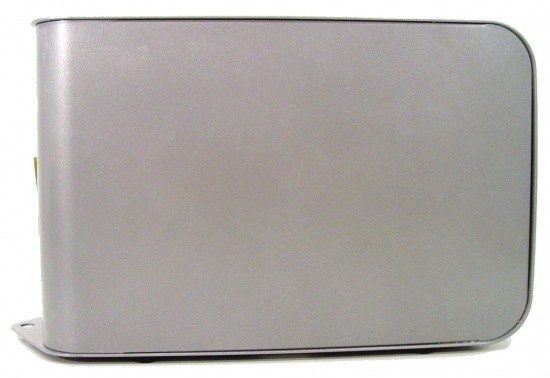 The side of the unit is solid. You can see from this angle that the Solo uses a clam shell design; the front, top and bottom are all made from the same piece of metal.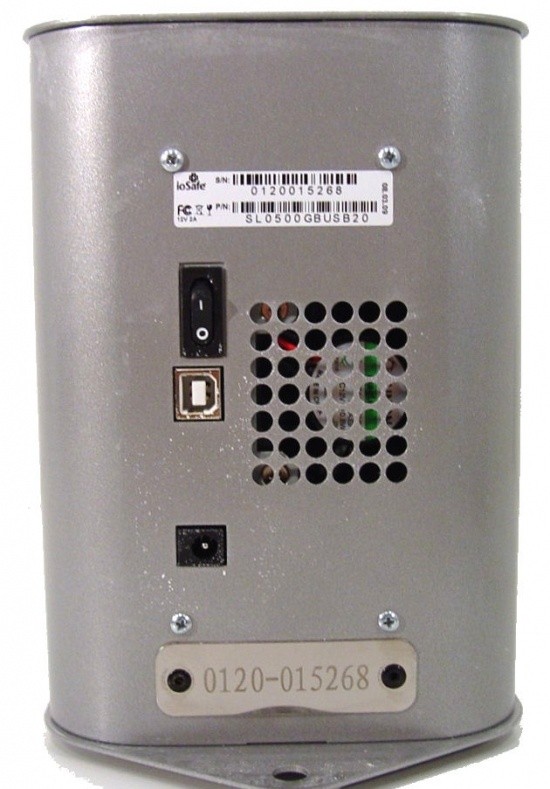 The power button, data and power cables are located on the back.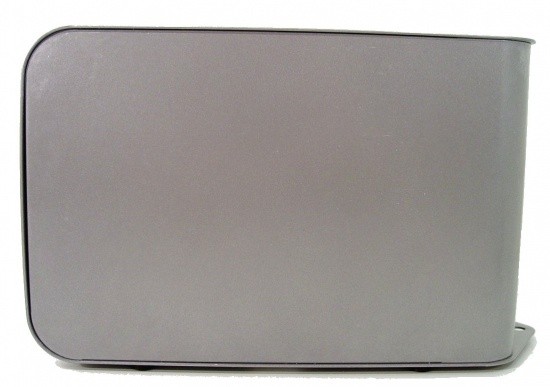 The other side is identical to the first.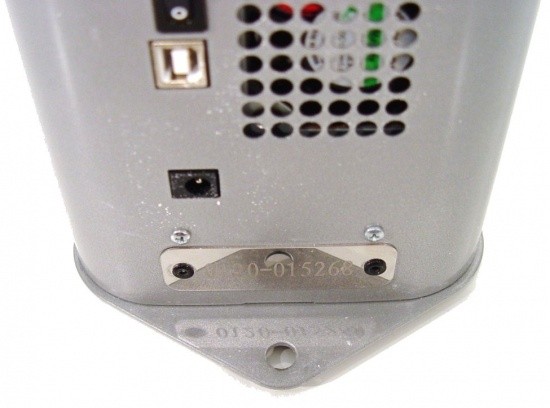 Each unit is serial numbered with a plate on the bottom. Also, on the rear a security mechanism is installed into the frame of the Solo.
The Internals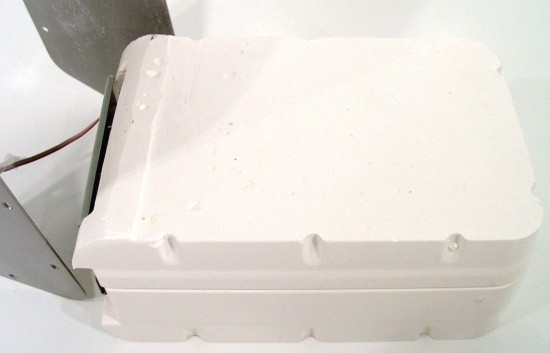 The big selling point for the ioSafe Solo is the fire and water protection and it starts with two large pieces of fire retardant material. To the naked eye it looks a lot like ceramic but ioSafe calls it DataCast endothermic insulation.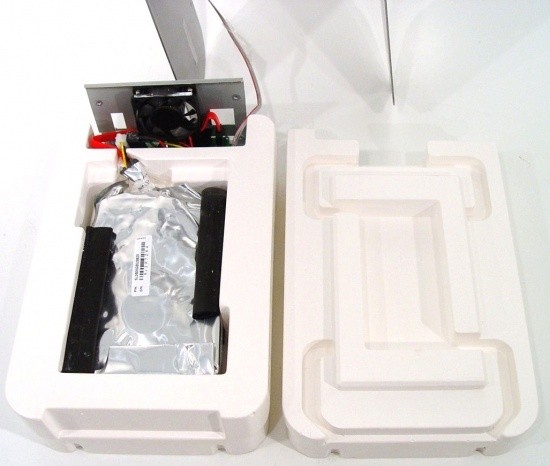 Once the two halves are split we can start to see what exactly is going on with the Solo. Starting at the front, we see two channels that are cut into the insulation that provide airflow to the HDD chamber. The next thing we notice is the drive itself.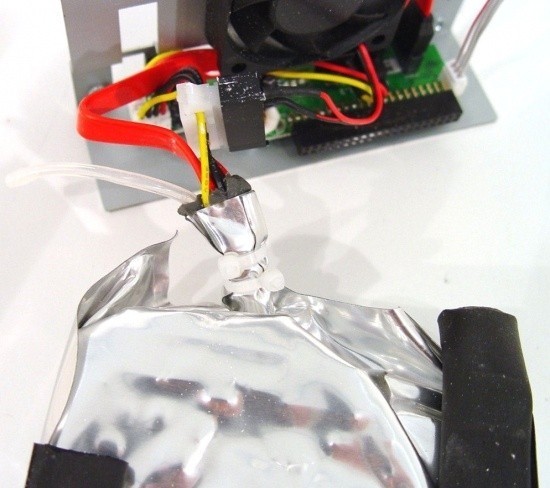 The drive is wrapped in a protective cover that acts as an additional heat shield and keeps water away from the drive. Here we see where the bag closes and the putty like substance that keeps the drive dry.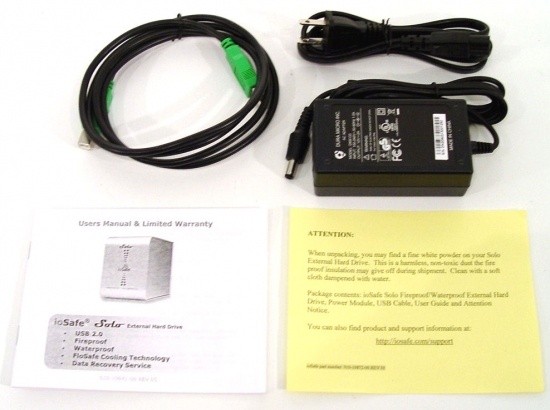 When it comes to accessories the Solo has everything included that you need to install the drive into your system.
Test System Setup
Test System
Motherboard
: ASUS P6T7 WS SuperComputer (Supplied by
ASUS
)
Processors
: Intel 975 EE (Supplied by
AVADirect
)
Memory
: Corsair Dominator 1600 MHz Triple Channel Kit
Graphics Card
: Leadtek Quadro FX1700 (Supplied by
Leadtek
)
Enclosure
: Lian Li V2000
Cooling
: Noctua NH-U12P SE2 (Supplied by
Noctua
)
SAS Controller
: LSI MegaRAID SAS 9260-8i (Supplied by
LSI
)
Operating System
: Microsoft Windows Vista Ultimate X64
The test that we all want to see is not an option at this time of year. Once the opportunity presents itself we will shoot some video of the Solo in a house fire. I have been in contact with all of the local fire departments so we can become involved in a controlled house fire, but at this time none are scheduled. If you work for a fire department and have something on the schedule feel free to shoot me an email and we can try to benchmark the Solo with flames.
Benchmarks - HD Tune Pro
HD Tune ProVersion and / or Patch Used:
3.00
Developer Homepage:
http://www.efdsoftware.com
Product Homepage:
http://www.hdtune.com
HD Tune is a Hard Disk utility which has the following functions:
- Benchmark: measures the performance
- Info: shows detailed information
- Health: checks the health status by using SMART
- Error Scan: scans the surface for errors
- Temperature display
HD Tune Pro gives us accurate read, write and access time results and for the last couple of years has been gaining popularity amongst reviewers. It is now considered a must have application for storage device testing.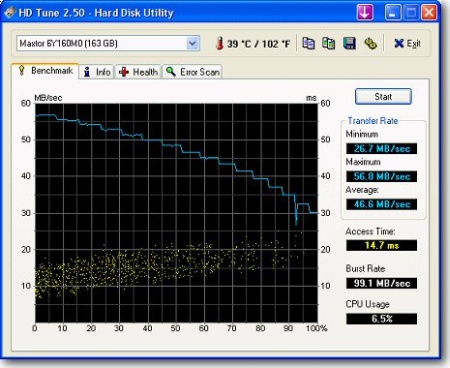 Read Tests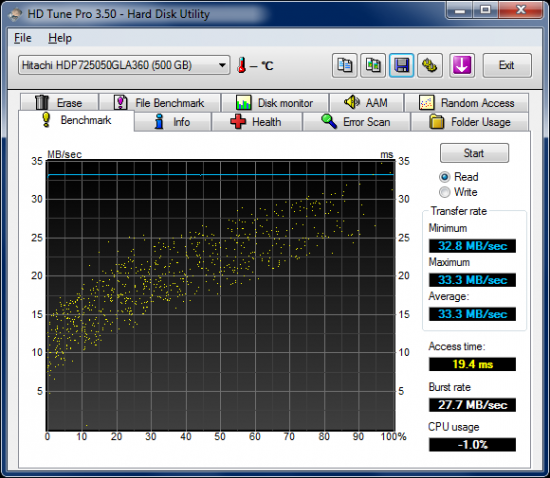 As we mentioned in the specifications, the Solo uses USB 2.0 so we didn't really expect to find blazing performance. The Solo does score some of the highest numbers possible from USB, but I would have liked to have seen a dual interface design with both USB and eSATA.
Write Tests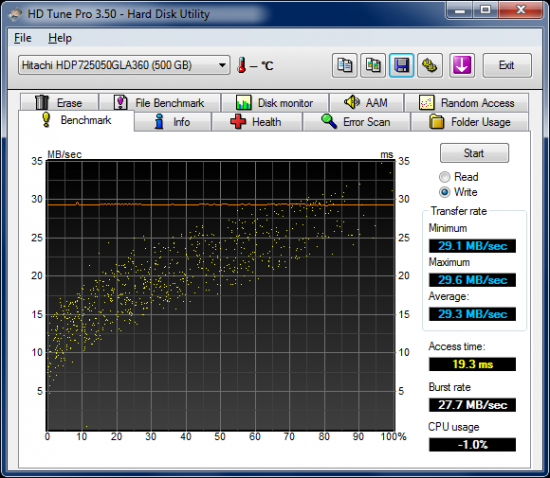 The same holds true for the write speeds; this is pretty much the limit for USB until USB 3 products are released next year.
Benchmarks - PCMark Vantage Hard Disk Tests
PCMark Vantage - Hard Disk TestsVersion and / or Patch Used:
1.0.0
Developer Homepage:
http://www.futuremark.com
Product Homepage:
http://www.futuremark.com/benchmarks/pcmark-vantage//
Buy It Here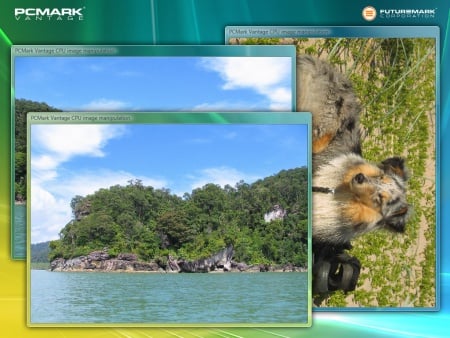 PCMark Vantage is the first objective hardware performance benchmark for PCs running 32 and 64 bit versions of Microsoft Windows Vista. PCMark Vantage is perfectly suited for benchmarking any type of Microsoft Windows Vista PC from multimedia home entertainment systems and laptops to dedicated workstations and high-end gaming rigs. Regardless of whether the benchmarker is an artist or an IT Professional, PCMark Vantage shows the user where their system soars or falls flat, and how to get the most performance possible out of their hardware. PCMark Vantage is easy enough for even the most casual enthusiast to use yet supports in-depth, professional industry grade testing.
FutureMark has developed a good set of hard disk tests for their PCMark Vantage Suite. These tests are based on real world applications that many of us use daily.
HDD1 - Windows Defender
HDD2 - Gaming
HDD3 - Windows Photo Gallery
HDD4 - Vista Startup
HDD5 - Windows Movie Maker
HDD6 - Windows Media Center
HDD7 - Windows Media Player
HDD8 - Application Loading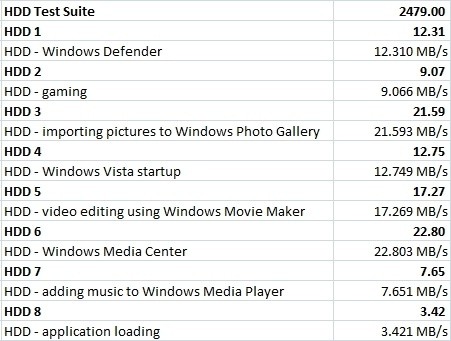 To get an idea of the type of performance we would see under Windows I decided to test the ioSafe Solo with Vantage.
Final Thoughts
I can't believe no one wants the fire department to burn their house down this time of year to get a tax deduction. All joking aside, this is pretty common these days and in the near future we will be able to run the ultimate fire benchmark.
As for the benchmarks we did run, the system feels a little slow and the response time is a lot slower than what we are used to. I was able to find products on ioSafe's website that used more advanced interfaces, but once you get out of the Solo Series the cost rapidly rises. ioSafe has been making total protection products for many years now and some of the systems can cost as much at 20K USD.
As far as the cost of the ioSafe, I think it is a bargain for what you are getting. With an entry price of just 150 USD it would be hard to beat that price just for the thought of keeping your really important data safe from a fire or flood. The 1.5TB system maybe a little more realistic for most families with large collections of pictures and family videos and it has a total cost of 400 USD once configured with maximum protection.
PRICING: You can find products similar to this one for sale below.

United States: Find other tech and computer products like this over at Amazon.com

United Kingdom: Find other tech and computer products like this over at Amazon.co.uk

Australia: Find other tech and computer products like this over at Amazon.com.au

Canada: Find other tech and computer products like this over at Amazon.ca

Deutschland: Finde andere Technik- und Computerprodukte wie dieses auf Amazon.de
We openly invite the companies who provide us with review samples / who are mentioned or discussed to express their opinion. If any company representative wishes to respond, we will publish the response here. Please contact us if you wish to respond.