PhotoFast G-Monster eSATA V2 Portable SSD on a Stick
SSD on a stick, tasty for some - but is this technology ready for the mainstream yet?
Published Thu, Sep 3 2009 10:58 AM CDT
|
Updated Tue, Nov 3 2020 7:03 PM CST
Introduction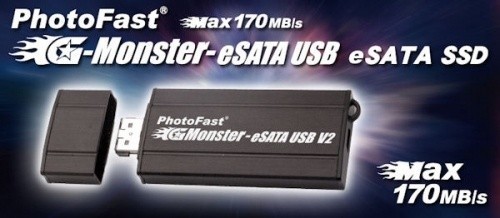 Portable storage is great and many enthusiasts have collections of USB thumb drives that we seem to acquire. My mother called me the other day wanting to know if she could copy and paste a Word Document to take to the office like she does with pictures. Even though she has never transferred a doc before she had three thumb drives sitting on her desk. If she has three then I know you have at least five!
NAND Flash memory is really changing the way we work with portable storage. USB has enabled us to take documents, pictures and other commonly used files with us for many years now, but the interface can now be referred to as slow since the capacity has grown into sizes of hard drives just a few years ago.
eSATA has been widely adopted by the industry and if your motherboard doesn't have a port on the back, most likely it comes with a bracket to give users access to blazing fast external storage. Even if your motherboard lacks any eSATA ports, most new PC cases have a dedicated eSATA port within reach making the tech accessible to all. The next generation of eSATA puts power at the port and in the coming months nearly every case will implement this feature. Power at the port is going to give eSATA the convenience of USB while maintaining the high transfer speed rates of SATA.
PhotoFast has been producing products that are on the cutting edge. Their G-Monster V5 and V4S push the limits of SATA and the G-Monster Promise PCIe takes solid state drives to the next level by eliminating the SATA bottleneck. For PhotoFast the horizon is just the starting point and they are now taking what they have learned from SSDs and moving it into the portable market. The new PhotoFast G-Monster eSATA V2 gives users SSD speeds and merges it with the convenience of USB. The end result is portable storage that is able to transfer data faster than many users primary hard drive.
Specifications, Availability and Pricing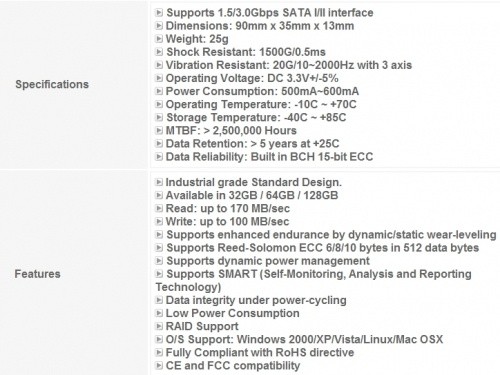 The G-Monster eSATA V2 is available in 32, 64 and 128GB capacities. Not too long ago the TweakTown labs were a buzz about the first 64GB USB drives being delivered, but that buzz was quickly washed away when we realized that transferring 60+ GB of data at 25 MB/s was really a drag. The G-Monster eSATA V2 still has a USB port and matches the fastest USB thumb drives when an eSATA port is not available, but once you kick it into high gear with eSATA the transfer speeds clime to 170MB/s read and 100MB/s write.
DVNation keeps the 64 and 128GB drives in stock and they are available now for 249 and 449 USD. The numbers might seem quite high, but Newegg shows the lowest priced 64GB USB drive as the Corsair Flash Voyager and it has a 169 Dollars price point. At 128GB the total cost becomes even closer, Newegg has the Corsair Flash Voyager GT in 128GB and it has a price tag of 399 USD. When it really comes down to it you are not paying a lot more for 5x the read speed increase and 4x the write speed increase.  
The PhotoFast G-Monster eSATA V2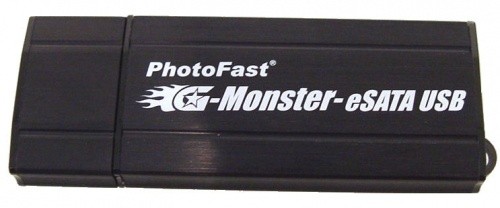 The G-Monster eSATA V2 is a little larger than some of the traditional USB sticks and is a monster compared to the Super Talent Pico Series drives. Since the eSATA port is a little larger than USB and these drives have so much more storage space, we are not complaining about an extra inch and a half.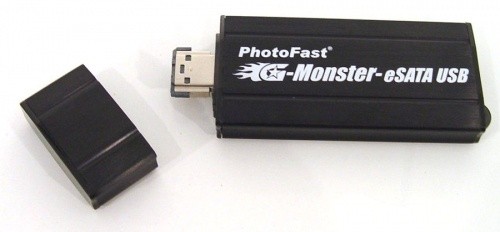 Here we see the drive with the cap off exposing the eSATA port.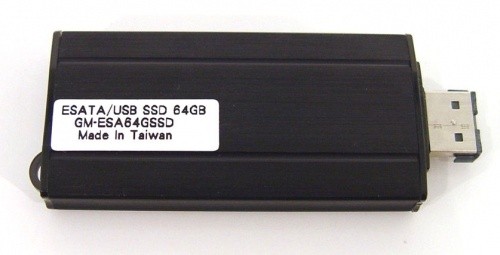 On the back PhotoFast has the model and capacity size listed on a sticker.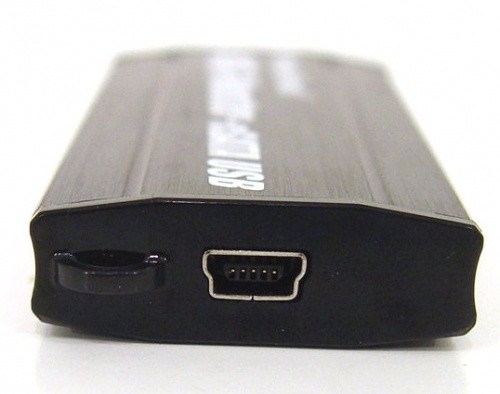 A mini USB port is located on the other side of the G-Monster eSATA stick. This allows users that do not already have self powered eSATA or you can use the drive as a USB thumb drive if an eSATA port is not available.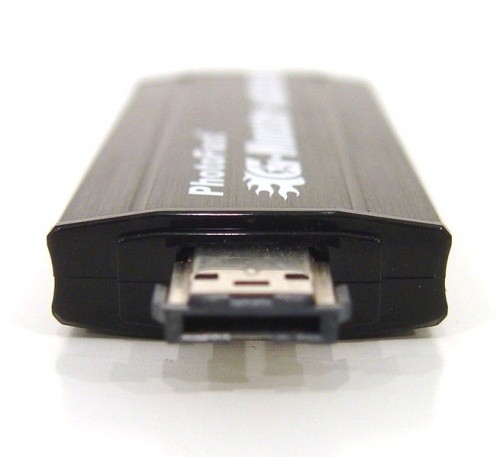 The preferred method will always be eSATA and here is a close up shot for users who may not be familiar with the connector just yet.
Test System Setup and ATTO Baseline
Test System
Processors
: AMD Opteron 2356 (2.3GHz Quad-Core) x2
Motherboard
: Tyan S2915-E (Supplied by
Tyan
)
Memory
: Kingston KVR667D2S4P5/2G x4 (Supplied by
Kingston
)
Graphics Card
: XFX 8800 GTX (Supplied by
XFX USA
)
Enclosure
: Lian Li V2000
Cooling
: Noctua NH-U12DO (Supplied by
Noctua
)
SATA Controller
: Areca ARC-1231ML (Supplied by
Areca
)
SAS Controller
: Areca ARC-1680i (Supplied by
Areca
)
Operating System
: Microsoft Windows Vista Ultimate X64
ATTO Baseline Performance
Version and / or Patch Used:
2.34
ATTO is used by many disk manufactures to determine the read and write speeds that will be presented to customers.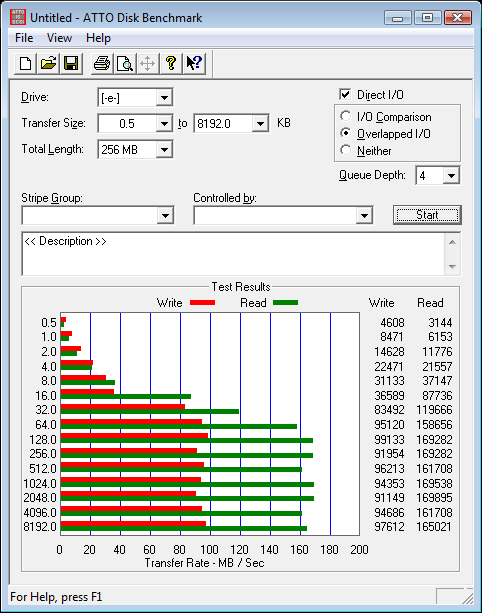 In ATTO the G-Monster eSATA V2 achieves performance numbers that are very close to those given by PhotoFast in their marketing material.
Benchmarks - HD Tune Pro
HD Tune ProVersion and / or Patch Used:
3.00
Developer Homepage:
http://www.efdsoftware.com/
Product Homepage:
http://www.hdtune.com/>
HD Tune is a Hard Disk utility which has the following functions:
- Benchmark: measures the performance
- Info: shows detailed information
- Health: checks the health status by using SMART
- Error Scan: scans the surface for errors
- Temperature display
HD Tune Pro gives us accurate read, write and access time results and for the last couple of years has been gaining popularity amongst reviewers. It is now considered a must have application for storage device testing.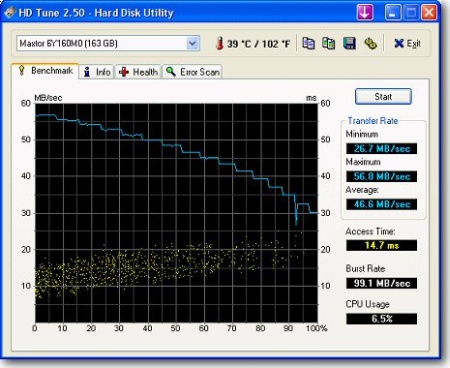 Read Tests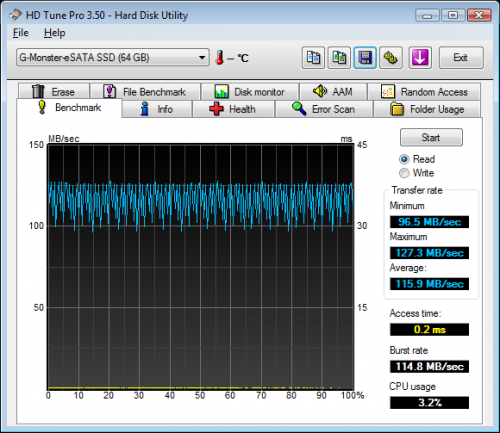 Read performance of a Western Digital VelociRaptor in a portable package that fits in your shirt pocket...check!
Write Tests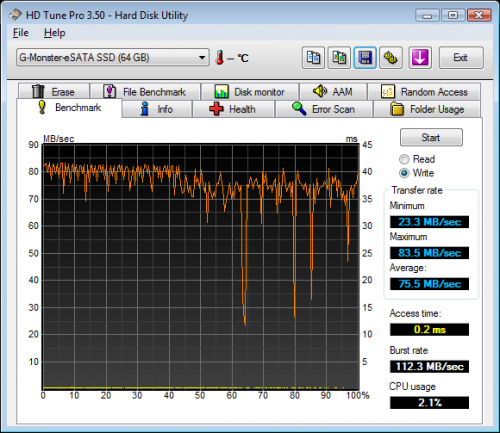 For the most part write performance is pretty steady across the drive, but there are a couple of dips. In real world performance these shouldn't be noticeable since they are very brief.
Benchmarks - Everest Random Access Time
Everest Random Access TimeVersion and / or Patch Used:
4.60
Developer Homepage:
http://www.lavalys.com/
Product Homepage:
http://www.lavalys.com/ >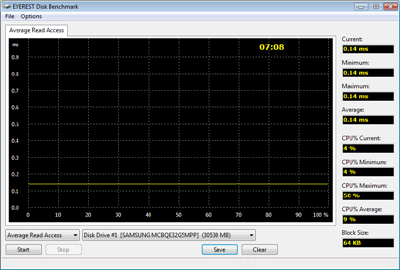 Everest Ultimate and Corporate Edition offer several different benchmarks for testing and optimizing your system or network. The Random Access test is one of very few if not only that will measure hard drives random access times in hundredths of milliseconds as oppose to tens of milliseconds.
Read Tests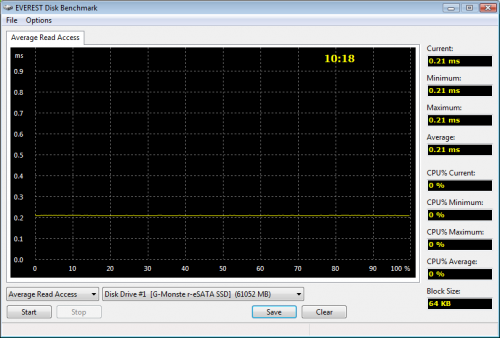 The read access times are a little higher than what we normally see in traditional SSDs, but the numbers that the G-Monster eSATA V2 gives us are still a lot lower than platter based drives.
Write Tests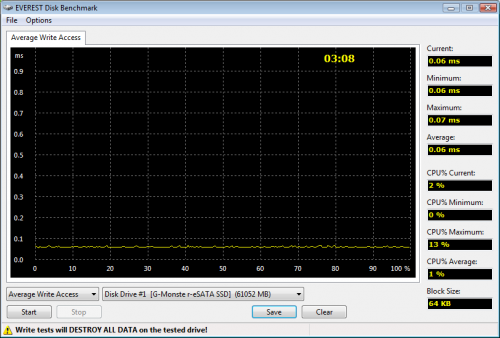 The write access times are spot on with what we are seeing from the fastest SSDs we have tested in the last couple of months.
Let's see how all of these synthetic benchmarks relate to real world applications.
Benchmarks - PCMark Vantage Hard Disk Tests
PCMark Vantage - Hard Disk TestsVersion and / or Patch Used:
1.0.0
Developer Homepage:
http://www.futuremark.com
Product Homepage:
http://www.futuremark.com/benchmarks/pcmark-vantage//
Buy It Here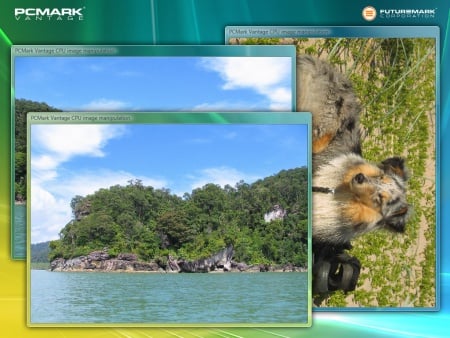 PCMark Vantage is the first objective hardware performance benchmark for PCs running 32 and 64 bit versions of Microsoft Windows Vista. PCMark Vantage is perfectly suited for benchmarking any type of Microsoft Windows Vista PC from multimedia home entertainment systems and laptops to dedicated workstations and high-end gaming rigs. Regardless of whether the benchmarker is an artist or an IT Professional, PCMark Vantage shows the user where their system soars or falls flat, and how to get the most performance possible out of their hardware. PCMark Vantage is easy enough for even the most casual enthusiast to use yet supports in-depth, professional industry grade testing.
FutureMark has developed a good set of hard disk tests for their PCMark Vantage Suite. These tests are based on real world applications that many of us use daily.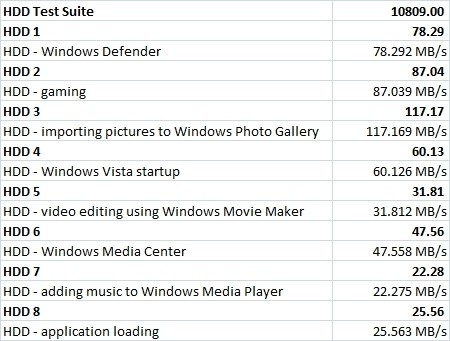 HDD1 - Windows Defender
HDD2 - Gaming
HDD3 - Windows Photo Gallery
HDD4 - Vista Startup
HDD5 - Windows Movie Maker
HDD6 - Windows Media Center
HDD7 - Windows Media Player
HDD8 - Application Loading
Is it just me or is it does everyone think it is strange for a portable storage product that fits in your hand to have better performance than what 90% of computer users have in their PC storage system?
The speeds achieved by the G-Monster eSATA V2 make it a great product for installing an operating system on for testing software before migrating it to your main system.
Final Thoughts
It is just not right! Here we have a full blown solid state drive that is small enough to carry in your pocket or on your key chain everyday and outperforms most people's internal hard drives. In the past I was skeptical at some of the claims coming from PhotoFast and their high-speed products, but now that I have spent time with all of their latest technology, I can say the company is for real and their products are some of the fastest we have seen.
High performance rarely comes with a mainstream price and the G-Monster eSATA sticks to this rule. At 249 USD for the 64GB drive that we tested today the drive does have a price premium over USB products with the same capacity. The 128GB model is a lot closer to the USB drives and it would be very easy to spend an extra fifty Dollars, but the 64GB model with an eighty Dollar premium may be a little tough to swallow if you can't wrap your head around the idea of transferring data in 5x the time it would take a USB drive. All it really takes is sitting through a large transfer to change your mind.
One of the most overlooked uses for these will be the ability to boot off of the G-Monster eSATA. There are times when I would love to break out an old game that would only work with Windows 98; Jane's USAF comes to mind right away. No one really wants to deal with dual or triple booting just to spend a couple of hours dropping bombs, but installing an older OS to a flash drive that can double as portable storage is very nice. Not to forget that your game will load a lot faster than it did on that Maxtor 30GB you use to play the game on.
PRICING: You can find products similar to this one for sale below.

United States: Find other tech and computer products like this over at Amazon.com

United Kingdom: Find other tech and computer products like this over at Amazon.co.uk

Australia: Find other tech and computer products like this over at Amazon.com.au

Canada: Find other tech and computer products like this over at Amazon.ca

Deutschland: Finde andere Technik- und Computerprodukte wie dieses auf Amazon.de
We openly invite the companies who provide us with review samples / who are mentioned or discussed to express their opinion. If any company representative wishes to respond, we will publish the response here. Please contact us if you wish to respond.