Kingston SSDNow V Series 64GB SSD Upgrade Kit
Kingston launches an entry level SSD that has a very friendly price. Today we'll find out if it performs well enough to earn our best value award.
Published Tue, Aug 11 2009 9:04 AM CDT
|
Updated Tue, Nov 3 2020 7:03 PM CST
Introduction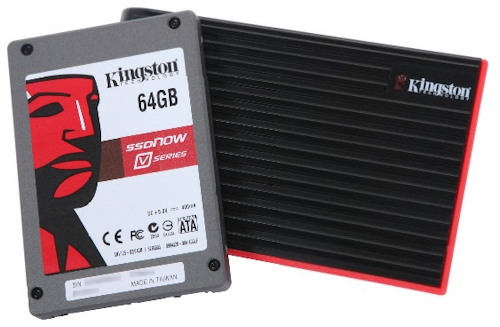 Kingston already has two of the very best solid state drive series on the market from their partnership with Intel. The E and M Series have proven themselves time and time again as the best all around solid state drives on the market. So far it doesn't matter what the competitors have thrown together, the Intel controllers found in the E and M Series have been able to prevail in nearly all real world tests.
Kingston has another drive in their stable. This one isn't about blazing performance or high capacity. The Kinston SSDNow V Series is all about affordability and accessibility; just think of the V as Value. Unlike the E (Enterprise) and M (Mainstream) SSDNow Series drives, the V class uses an updated JMicron controller with 64K cache. Don't be turned off by the name so fast, the problematic JMicron controller only used 16K of cache so the issues of the past shouldn't apply here, but we will test to verify.
Since the SSDNow V Series is all about value, we have to talk about the cost in the introduction. Just how low has Kingston been able to take this new line of products? The 64GB model that we are testing here today is currently available
at Newegg for 133.99 USD
. Of course, 64GB doesn't give us a whole lot of capacity to play around with, so we will talk about the larger drives as well on the next page.
Specifications, Availability and Pricing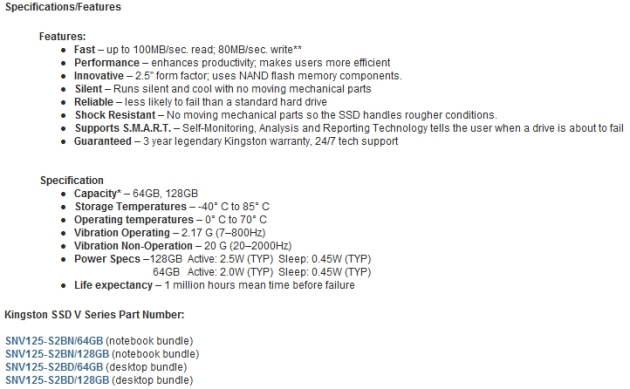 Now that we have you salivating over the price, let's break everything down. Kingston offers the V Series drives in two capacities; 64GB and 128GB. Each capacity is available in two distinct bundles, the notebook and desktop bundle. To be specific, we are reviewing the notebook bundle today and it includes a 2.5" form factor USB enclosure, USB cable and software that makes cloning your existing drive very easy. The desktop bundle includes a set of brackets that allows you to install the 2.5" drive into a 3.5" drive bay, just like a standard desktop hard drive. When it comes to pricing, the 64GB bundles can be had for
less than 140USD over at Newegg
. The 128GB bundles are 240 USD for the desktop and 250 USD for the notebook.
The claimed read speed of the V Series drives is 100 MB/s and the write speed is 80 MB/s. With SSDs starting to hit 250MB/s read speeds pretty regularly now under ideal conditions at the high end, can the low cost SSDNow V Series satisfy your need for speed? For enthusiasts we will need to dig deep into the benchmark performance of the drive to answer that question, but typical Joe Sixpack notebook users make this an easy answer. Since the main benefit of SSDs is the time it takes to access data, called access time, as long as the V Series is able to perform well in this area most users will walk away completely satisfied. The V Series will also have to push past the bad name JMicron earned over the past year as well and not suffer from shuddering issues.
Today we will be reviewing the Kingston SSDNow V Series notebook bundle, a 140 Dollar kit that is widely available and obviously one of the lowest priced solid state drives on the market.
The Packaging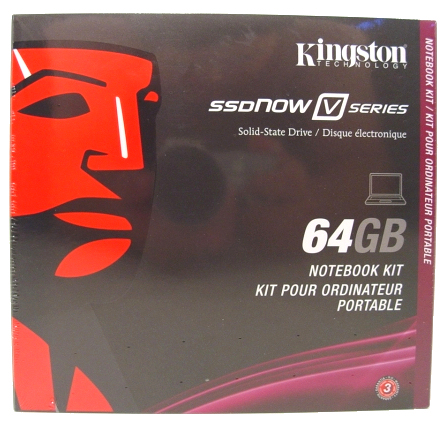 Kingston has developed an attractive dual layer box for their V Series drives. On the front you are able to find nearly all of the product details other than specifications.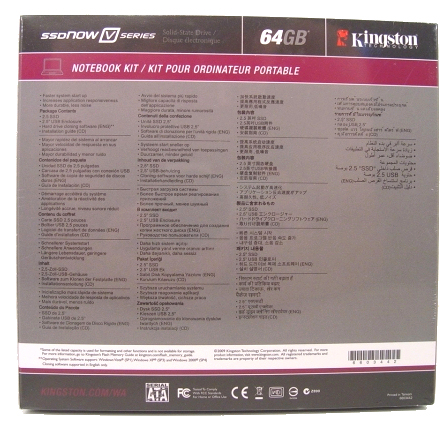 The box contents and specifications are listed on the back of the package.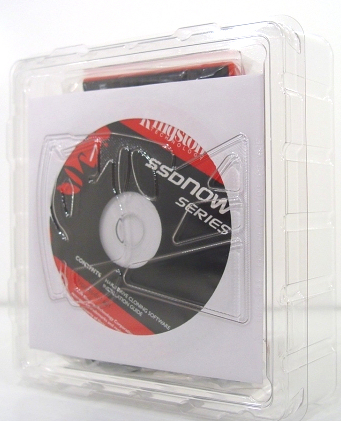 The drive is packaged well with lots of room from the outer box to the drive inside.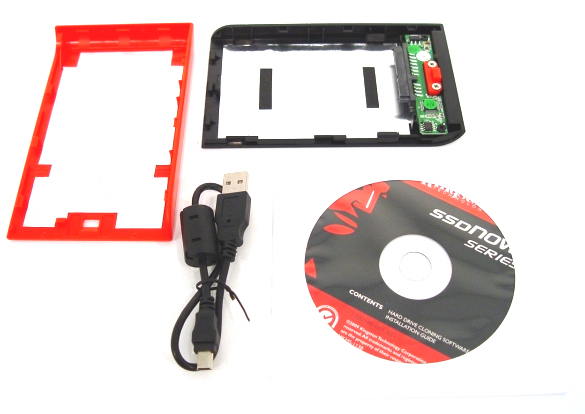 Here we see the accessory package that comes with the notebook bundle.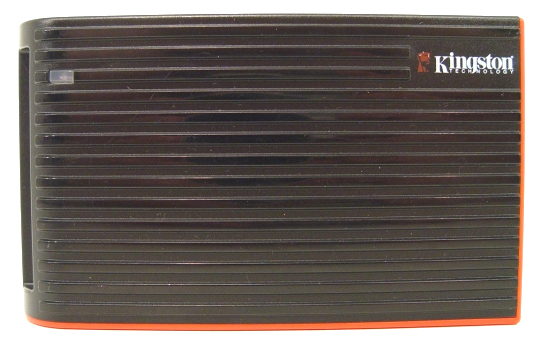 The drive carrier is quite small and an item that you should get many years of use out of. After you pull your old drive you can put it in the carrier and use it for backing up your notebook.
The Kingston V Series SSDNow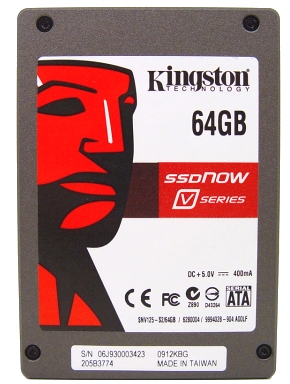 The Kingston SSDNow V Series is the only drive that I have seen use this case. The aluminum drive is very light and well made. Kingston has put all of the model and serial information on the front.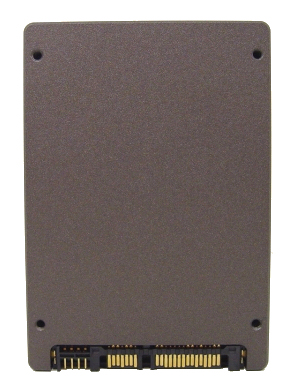 The back of the drive has all of the mounting holes where they should be. At least one SSD market has omitted these points of interest, but the V Series will not have a problem if your drive bay attaches the drive using this method.
The back of the drive has the data and power connectors where they should be.

On the side we see that the drive has all of the mounting points here as well.
Test System Setup and ATTO Baseline
Test System
Processors
: AMD Opteron 2356 (2.3GHz Quad-Core) x2
Motherboard
: Tyan S2915-E (Supplied by
Tyan
)
Memory
: Kingston KVR667D2S4P5/2G x4 (Supplied by
Kingston
)
Graphics Card
: XFX 8800 GTX (Supplied by
XFX USA
)
Enclosure
: Lian Li V2000
Cooling
: Noctua NH-U12DO (Supplied by
Noctua
)
SATA Controller
: Areca ARC-1231ML (Supplied by
Areca
)
SAS Controller
: Areca ARC-1680i (Supplied by
Areca
)
Operating System
: Microsoft Windows Vista Ultimate X64
Today we are comparing the Kingston SSDNow V Series 64GB solid state drive as found in the desktop and notebook bundle and compare it to other SSDs that we have tested.
ATTO Baseline Performance
Version and / or Patch Used:
2.34
ATTO is used by many disk manufactures to determine the read and write speeds that will be presented to customers.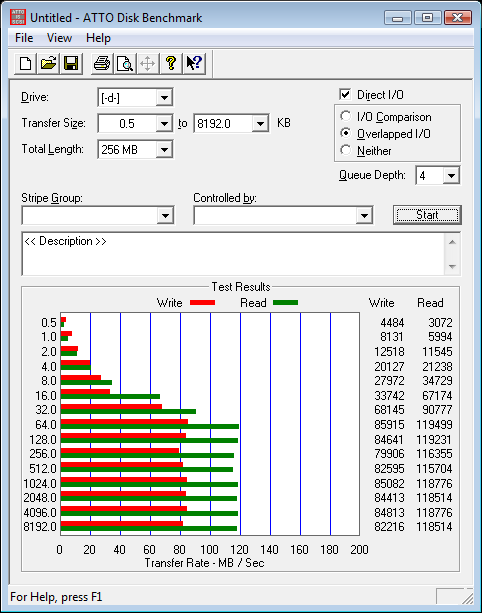 In a pleasant surprise the V Series drive out performed the claimed speeds released by Kingston. Let's see how the drive performs in our standard tests.
Benchmarks - HD Tune Pro
HD Tune ProVersion and / or Patch Used:
3.00
Developer Homepage:
http://www.efdsoftware.com
Product Homepage:
http://www.hdtune.com
HD Tune is a Hard Disk utility which has the following functions:
- Benchmark: measures the performance
- Info: shows detailed information
- Health: checks the health status by using SMART
- Error Scan: scans the surface for errors
- Temperature display
HD Tune Pro gives us accurate read, write and access time results and for the last couple of years has been gaining popularity amongst reviewers. It is now considered a must have application for storage device testing.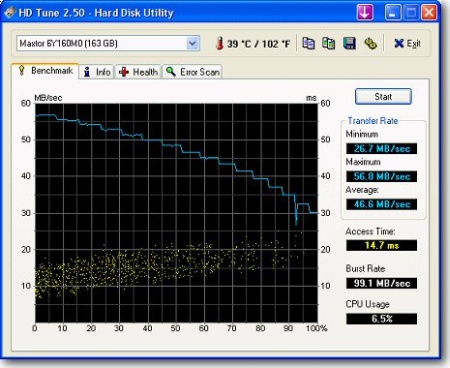 Read Tests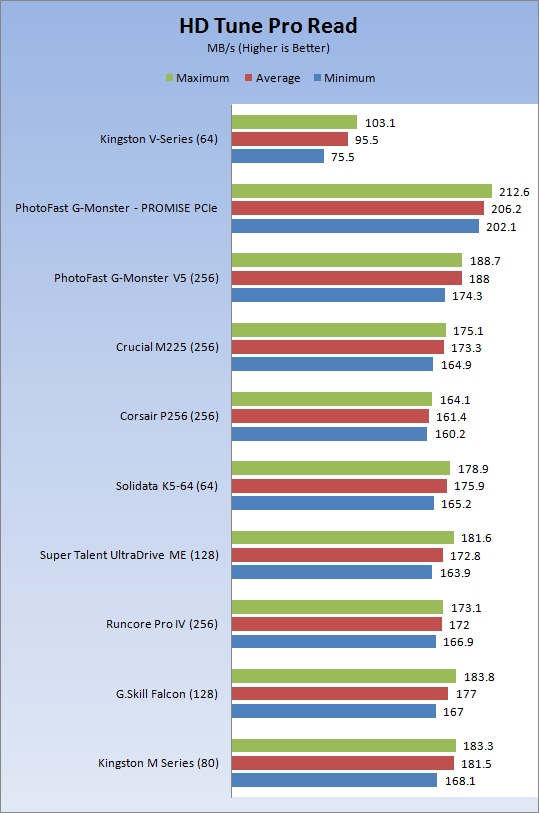 The chart shows the latest and greatest from other manufacturers. The two PhotoFast drives have a built in RAID component so they should be ignored for most of the review. The V Series is able to perform at half the speed of the Intel and Indilinx chipsets in read performance.
Write Tests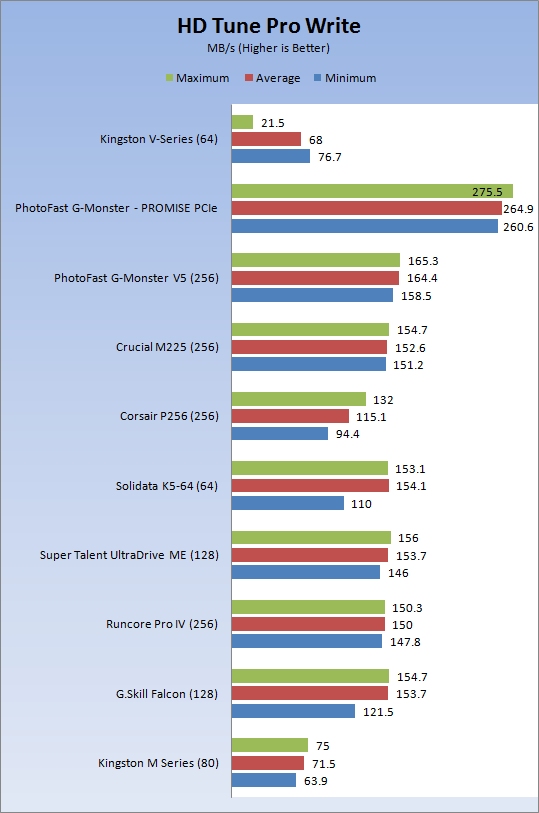 In the write test we see that the V Series still shows some signs of the issues associated with the JMicron 602 controller. The drive has a few points where the drive stumbles.
Benchmarks - EVEREST Random Access Time
EVEREST Random Access TimeVersion and / or Patch Used:
4.60
Developer Homepage:
http://www.lavalys.com
Product Homepage:
http://www.lavalys.com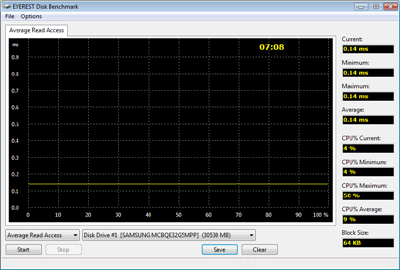 Everest Ultimate and Corporate Edition offer several different benchmarks for testing and optimizing your system or network. The Random Access test is one of very few if not only that will measure hard drives random access times in hundredths of milliseconds as oppose to tens of milliseconds.
Read Tests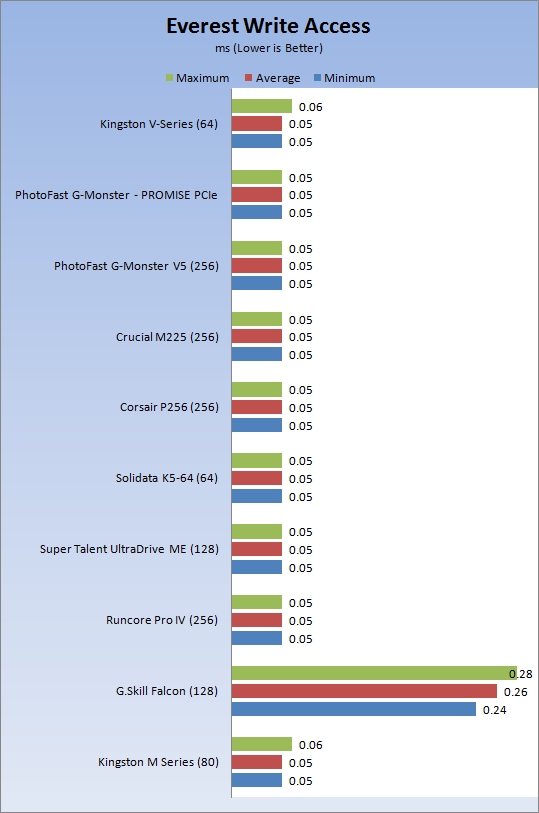 The read access time for the V Series is a little higher than the Indilinx drives, but not enough for us not to call the drive fast.
Benchmarks - PCMark Vantage Hard Disk Tests
PCMark Vantage - Hard Disk TestsVersion and / or Patch Used:
1.0.0
Developer Homepage:
http://www.futuremark.com
Product Homepage:
http://www.futuremark.com/benchmarks/pcmark-vantage/
Buy It Here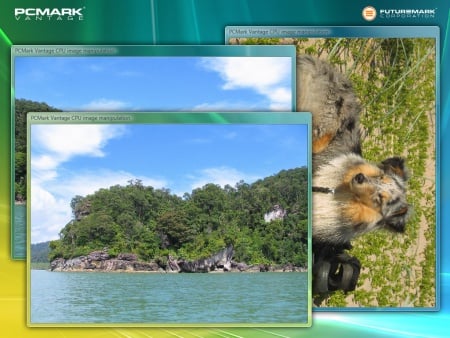 PCMark Vantage is the first objective hardware performance benchmark for PCs running 32 and 64 bit versions of Microsoft Windows Vista. PCMark Vantage is perfectly suited for benchmarking any type of Microsoft Windows Vista PC from multimedia home entertainment systems and laptops to dedicated workstations and high-end gaming rigs. Regardless of whether the benchmarker is an artist or an IT Professional, PCMark Vantage shows the user where their system soars or falls flat, and how to get the most performance possible out of their hardware. PCMark Vantage is easy enough for even the most casual enthusiast to use yet supports in-depth, professional industry grade testing.
FutureMark has developed a good set of hard disk tests for their PCMark Vantage Suite. These tests are based on real world applications that many of us use daily.

HDD1 - Windows Defender
HDD2 - Gaming
HDD3 - Windows Photo Gallery
HDD4 - Vista Startup
HDD5 - Windows Movie Maker
HDD6 - Windows Media Center
HDD7 - Windows Media Player
HDD8 - Application Loading
Here we get our first look at real world performance numbers. Like we observed in the STR tests, the V Series drives are around half the speed of today's latest and greatest drives in real world conditions. This is still fast enough to best the fastest 7,200 RPM platter based notebook drives.
Benchmarks - Passmark
Passmark Advanced Multi-User TestsVersion and / or Patch Used:
6.1
Developer Homepage:
http://www.passmark.com
Test Homepage:
http://www.passmark.com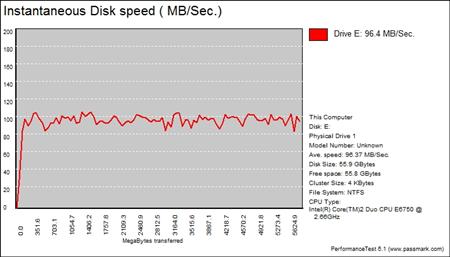 Many users complain that I/O Meter is too complicated of a benchmark to replicate results so my quest to find an alternative was started. Passmark has added several multi-user tests that measure a hard drives ability to operate in a multi-user environment.

The tests use different settings to mimic basic multi-user operations as they would play out on your server. Variances is read / write percentage as well as random / sequential reads are common in certain applications, Web Servers read nearly 100% of the time while Database Servers write a small amount of data.
The Workstation test is the only single user environment and will be similar to how you use your system at home.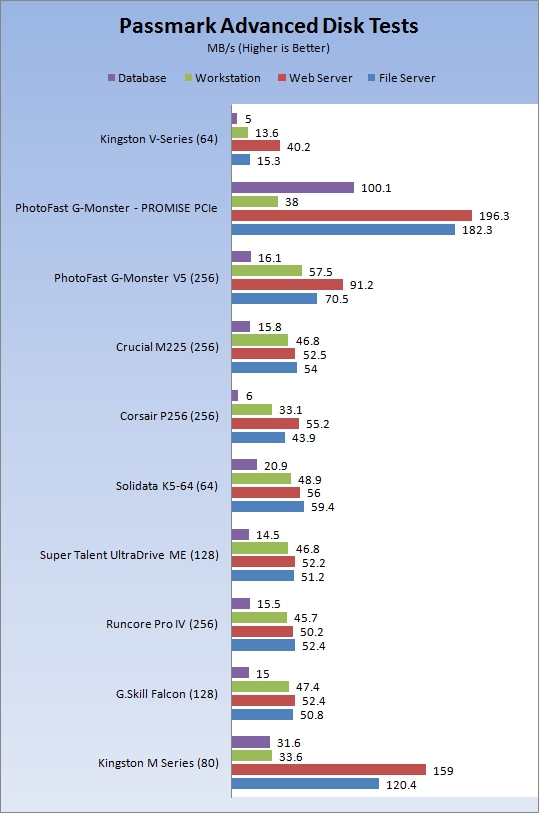 We observed some interesting performance numbers in our server tests. After looking back at my old tests of the VelociRaptor and Seagate 15K.2 drives, the V Series puts up nearly identical performance in the database test. As far as the tests presented in the benchmark chart, the V Series still gives us around half of the performance in the all important workstation test.
Final Thoughts
We have taken a look at the V Series performance compared to many of today's latest and greatest drives and found that it runs about half of the speed of the best on the market. There is one area that none of these over achievers can begin to compare to the V Series, cost. The Kingston SSDNow V Series is the lowest cost solid state drive on the market today. At 140 USD for the 64GB version that we tested here today, the drive is extremely affordable. The cost versus performance of the V Series is the best ratio of any solid state drive on the market. When it really comes down to it the drive is running at half the speed of drives costing three to four times as much. For the average consumer who does not need the cutting edge and is looking for the best bang for the buck, this is a product that deserves your attention.
There will always be ill feelings about the JMicron 602 controller; the damage done runs so deep it can be considered a scandal. Just because the controller used in the V Series is based on the 602, it would not be fair to Kingston and Toshiba to consider it a one to one match. The chipset has been improved upon thanks to Toshiba and Kingston. In our very real world usage test, where it is installed in one of my systems as the boot drive and running applications, we were not able to force the system into a state where stuttering was noticed.
The best thing about the V Series is that it still retains the best quality in solid state drives, low access times. When it really comes down to it, most users rarely need to transfer 200 MB/s, but everyone feels instant data access. Low boot times and having a sustained transfer rate of over 100MB/s isn't too bad either. The complete package that is included with the notebook bundle is very impressive. Acronis on its own is a 50 USD value, but the inclusion of the drive bay really puts it over the top.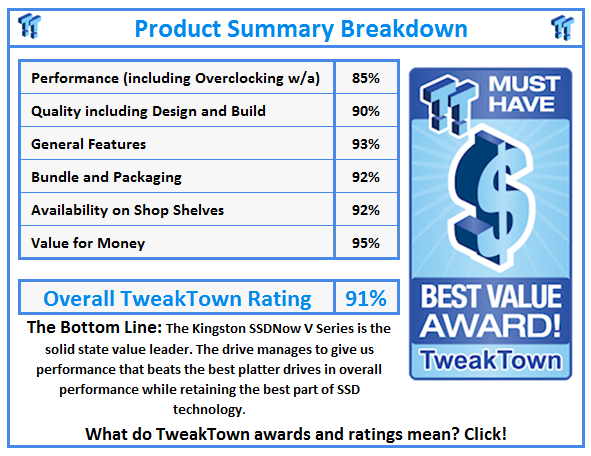 PRICING: You can find products similar to this one for sale below.

United States: Find other tech and computer products like this over at Amazon.com

United Kingdom: Find other tech and computer products like this over at Amazon.co.uk

Australia: Find other tech and computer products like this over at Amazon.com.au

Canada: Find other tech and computer products like this over at Amazon.ca

Deutschland: Finde andere Technik- und Computerprodukte wie dieses auf Amazon.de
We openly invite the companies who provide us with review samples / who are mentioned or discussed to express their opinion. If any company representative wishes to respond, we will publish the response here. Please contact us if you wish to respond.