Introduction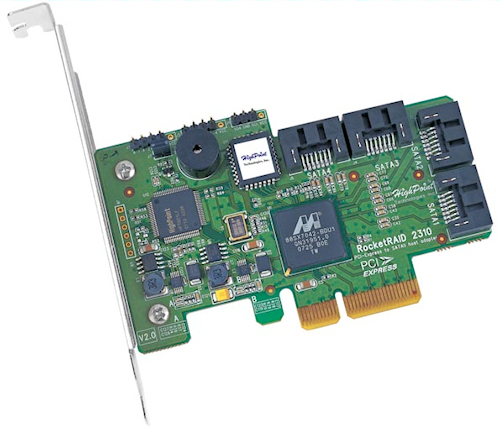 HighPoint has been around for many years and if you have been tinkering around with PCs for more than a few years you are already familiar with the company. HighPoint was one of the very first RAID controllers I ever played around with. At that time the company was winning contracts to put their chipsets onboard motherboards for Abit, ASUS and many others. Who could forget the first time they put four 20GB PATA drives in RAID 0 on an Abit board, ribbons flowing all over the place inside of the case? Those were the days!
Fast forward to 2009 and chipset makers have moved RAID onto the Southbridge and PATA has moved to an afterthought since SATA now dominates the market. HighPoint is still making dedicated RAID controllers for the entry level market and has even moved into the high performance category.
Today we are looking at the HighPoint RocketRAID 2310, an entry level RAID controller that runs on the PCI Express bus and supports four drives in RAID 0, 1, 5, 10 or a single drive (JBOD). Let's take a look at the feature set and cards specifications.
Specifications, Availability and Pricing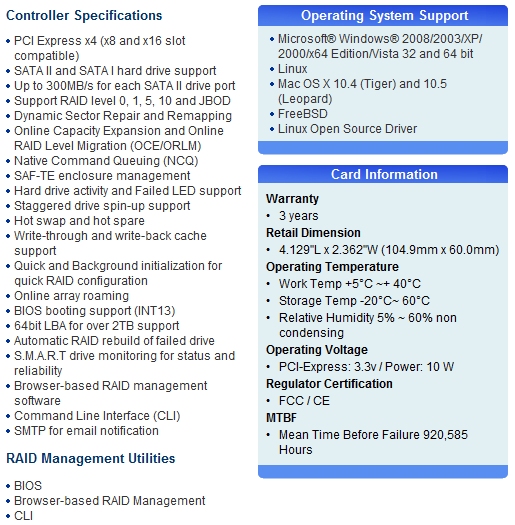 For such a little card the HighPoint RocketRAID 2310 has an impressive feature set. The first item that took me by surprise is the online RAID migration feature that allows you to add drives on the fly to expand your data capacity. For example, you can start out with a 3 drive RAID array and expand it to 4 drives without losing your data.
Another area that I found that goes above and beyond what most controllers in this price category are available with is the large selection of Linux drivers. HighPoint even offers the source code on their downloads page so you Linux gurus can tweak everything to exactly how you want it.
As far as pricing and availability go, the HighPoint RocketRAID 2310 is
available at Newegg for 139.99 USD
, 10 Dollars less than the MSRP. This puts the RocketRAID 2310 in the budget controller category, but HighPoint does offer even cheaper controllers according to Newegg. On the entry level HighPoint offers a 49.99 Dollar 2x SATA 1.5 controller and at the high end an 849.99 Dollar SAS controller that can run up to 12 HDDs.
Packaging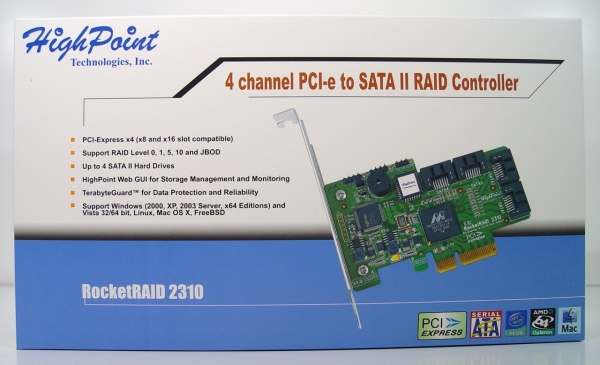 The 2310 comes in a full retail package. On the front of the box HighPoint lists several of the products features.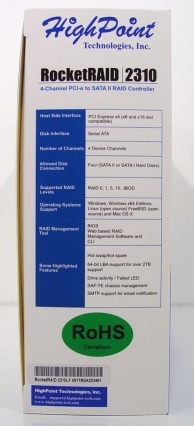 On the side Highpoint lists the 2310's specifications.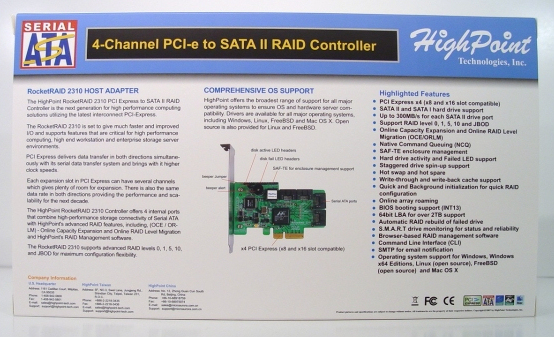 The back of the box has a large amount of information as well as the full product feature list.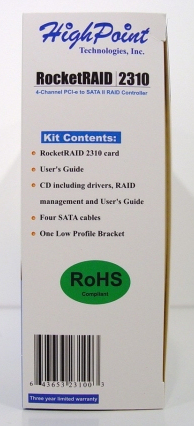 The contents of the package are listed on the other side. The overall package is very retail friendly and HighPoint does a good job of letting the customer know exactly what this product can do for them.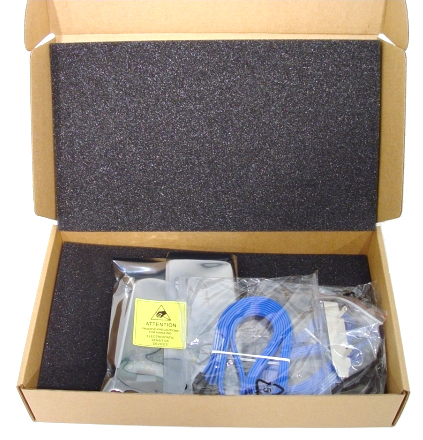 Once opened, we see that the controller card and accessories are packaged between two pieces of open cell foam.
The HighPoint RocketRAID 2310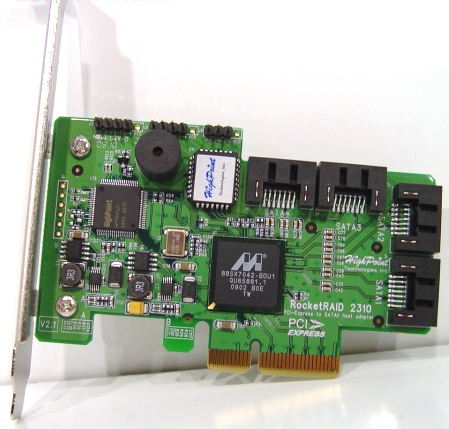 The HighPoint RocketRAID 2310 is a very small card that uses a PCI-E 4x slot (8x and 16x compatible). There are four single SATA ports, two on the back and two on the side. The circular piece is a buzzer that will make a noise should a drive fail.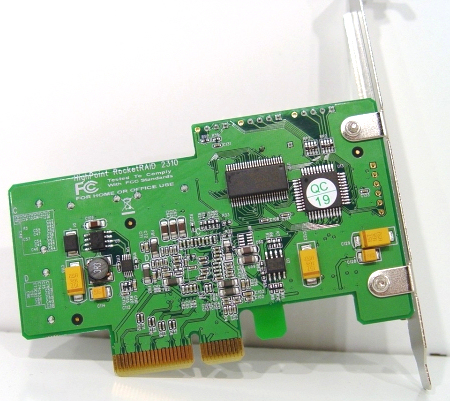 The back side of the card has some additional components, but nothing that the user can set or configure.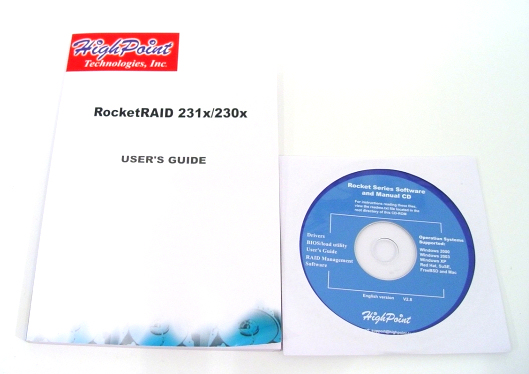 HighPoint includes a printed manual, something that we don't see very often these days, but a welcome addition as well as a driver disk.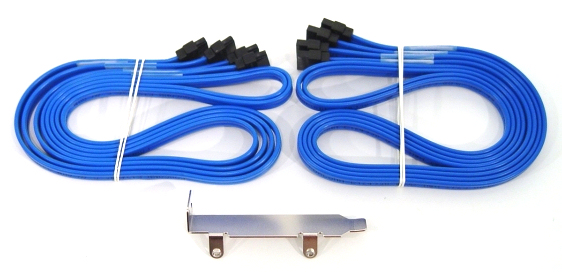 The 2310 also comes with a low profile mounting bracket and four extended SATA cables that will make installing the drives further away from the controller easier.
Test System and Setup
Test System
Processors
: AMD Opteron 2356 (2.3GHz Quad-Core) x2
Motherboard
: Tyan S2915-E (Supplied by
Tyan
)
Memory
: Kingston KVR667D2S4P5/2G x4 (Supplied by
Kingston
)
Graphics Card
: XFX 8800 GTX (Supplied by
XFX USA
)
Enclosure
: Lian Li V2000
Cooling
: Noctua NH-U12DO (Supplied by
Noctua
)
SATA Controller
: HighPoint RocketRAID 2310 (Supplied by
HighPoint
)
SAS Controller
: Areca ARC-1680i (Supplied by
Areca
)
Operating System
: Microsoft Windows Vista Ultimate X64
When you turn on the system the 2310 will have a blue screen that opens up prior to the OS launch. Here you can setup your array(s), but a majority of the advance setup features are only available when you flash the controller's firmware.
We had an issue with our Tyan S2915-E and the HighPoint controller didn't want to play nice with our onboard LSI SAS, Areca SATA and Areca SAS controllers. We had to go in and disable INT 13, but since we were not booting from the 2310 it was not an issue. The motherboard does allow several custom configurations in its extremely advanced BIOS. The Tyan S2915-E is a full workstation/server board that is designed with many advanced features; sometimes it does tend to get in the way of itself and that is the case we had here. The HighPoint RocketRAID 2310 is plug and play with most standard motherboards. I confirmed this with an ASUS X58 desktop board; the 2310 worked exactly like it was meant to.
We will be testing the HighPoint RocketRAID in several different array types with four Seagate 7200.11 1TB drives. These are the same drives we use with all of our controller and NAS server tests. When looking at the benchmarks, some of the information will be abbreviated to save space. The R followed by a number stands for RAID. So R10 is RAID 10, two drives striped with a second set of striped drives for parity, essentially RAID 0 and RAID 1 together. The D stands for Drive, so R10 4D stands for RAID 10, 4 Drives. JBOD is the technical term for a single disk being benchmarked and it stands for Just a Bunch of Disks.
Setup
One area that HighPoint wanted me to point out was the Firmware setup and the advanced options that are only found while flashing the controller.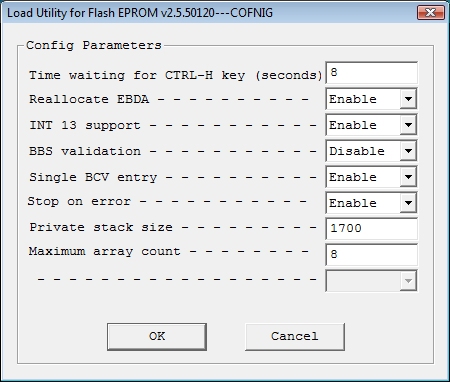 Here we see the configuration settings that are only available when you use the configuration button just prior to flashing the controller. If you are having issues with your system booting with the controller, mainly when drives are present, use this screen to disable INT 13. When you do this you can't boot from the controller, but this is a very rare issue and one that HighPoint is working on correcting.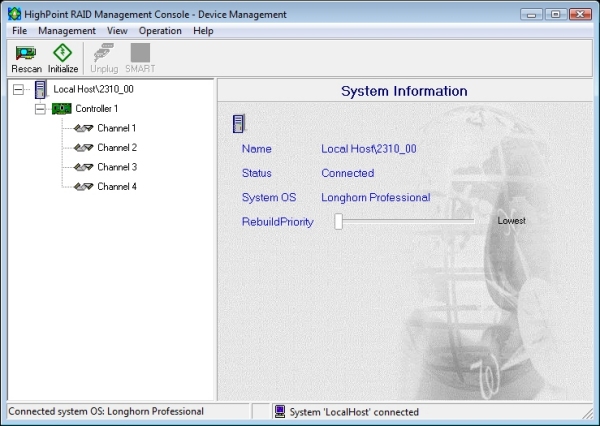 The software that HighPoint has for Windows allows users to configure their arrays inside of the operating system. You can even use the software to configure controllers that are inside of other computers by accessing the controller through the network.
Benchmarks - HD Tune Pro
HD Tune ProVersion and / or Patch Used:
3.00
Developer Homepage:
http://www.efdsoftware.com
Product Homepage:
http://www.hdtune.com
HD Tune is a Hard Disk utility which has the following functions:
Benchmark: measures the performance
Info: shows detailed information
Health: checks the health status by using SMART
Error Scan: scans the surface for errors
Temperature display
HD Tune Pro gives us accurate read, write and access time results and for the last couple of years has been gaining popularity amongst reviewers. It is now considered a must have application for storage device testing.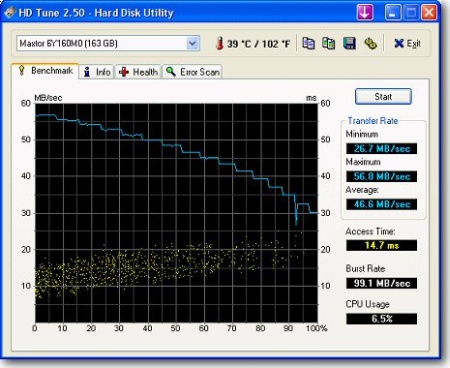 Read Tests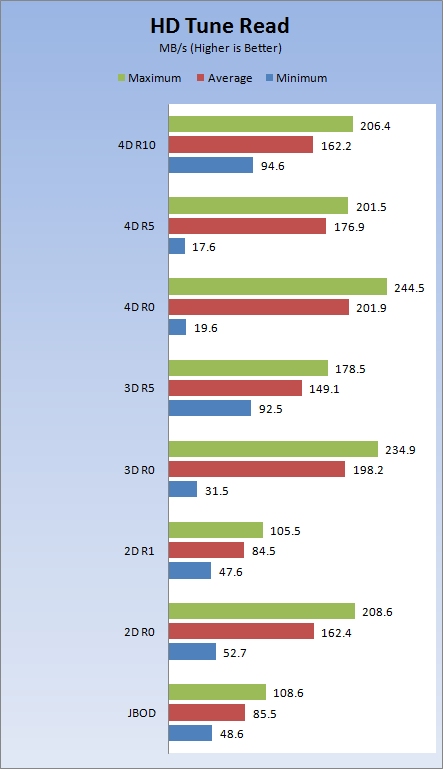 Since we tested the RocketRAID 2310 in every possible array type from a single drive to 4 drives in RAID 10, there is a lot of information to look over.
In nearly all of the tests we encountered a reverse blip on the STR test. This is where the performance dropped by a significant margin for a very small portion of the test, usually just a single sector across the array. When looking at the graphs the information is presented as a single spike. Because of this it is important to base our results off of the Average score and not the minimum.
In the results we see that RAID 0 with 4 drives is the fastest configuration, just as it should be. The results for 4D R0 were quite low compared to what we are used to seeing. The RAID 5 read performance is right around where it should be. Let's see what happens in the write test.
Write Tests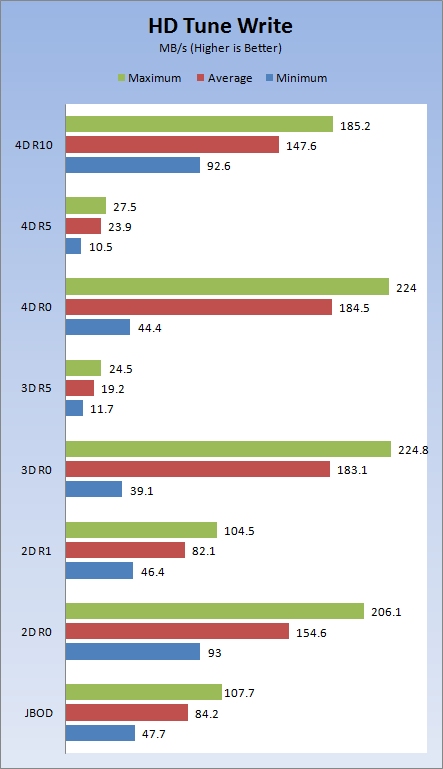 The HighPoint RocketRAID 2310 doesn't have any cache and this is common with low cost controllers. The same is true with on board RAID found on your desktop motherboard. Because of this RAID 5 write performance is usually quite low. Here we see horrid RAID 5 performance from the 2310. RAID 10 looks fairly good for a low cost controller; the numbers are very close to the 2 drive RAID 0 performance which is where they should be.
Benchmarks - EVEREST Random Access Time
EVEREST Random Access TimeVersion and / or Patch Used:
4.60
Developer Homepage:
http://www.lavalys.com
Product Homepage:
http://www.lavalys.com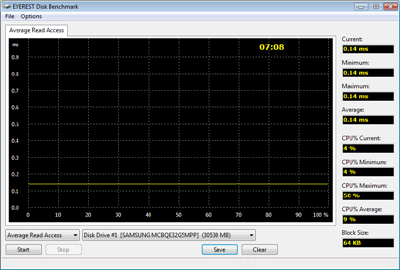 Everest Ultimate and Corporate Edition offer several different benchmarks for testing and optimizing your system or network. The Random Access test is one of very few if not only that will measure hard drives random access times in hundredths of milliseconds as oppose to tens of milliseconds.
Read Tests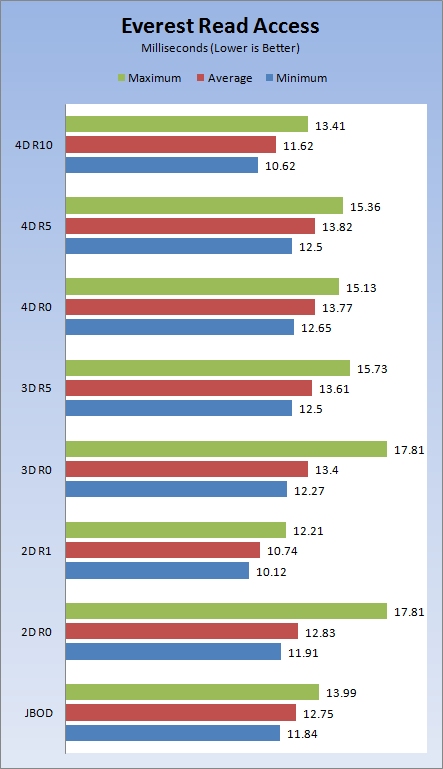 The read access times are right in line with where they should be. We did encounter a couple of spikes in the graphs where the controller took a little extra time to access the data. You can see these on the maximum access times in the 2 and 3 disk RAID 0 tests.
Write Tests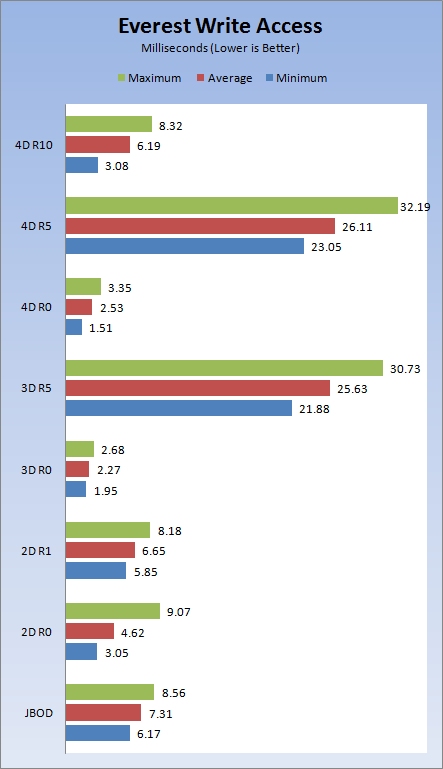 RAID 0, 1 and 10 all ran the write access tests with ease and the performance results show the controller working quite well. RAID 5 write performance had some issues as you can see by the results.
Benchmarks - PCMark Vantage Hard Disk Tests
PCMark Vantage - Hard Disk TestsVersion and / or Patch Used:
1.0.0
Developer Homepage:
http://www.futuremark.com
Product Homepage:
http://www.futuremark.com/benchmarks/pcmark-vantage/
Buy It Here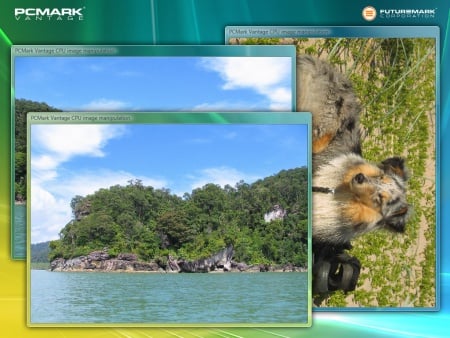 PCMark Vantage is the first objective hardware performance benchmark for PCs running 32 and 64 bit versions of Microsoft Windows Vista. PCMark Vantage is perfectly suited for benchmarking any type of Microsoft Windows Vista PC from multimedia home entertainment systems and laptops to dedicated workstations and high-end gaming rigs. Regardless of whether the benchmarker is an artist or an IT Professional, PCMark Vantage shows the user where their system soars or falls flat, and how to get the most performance possible out of their hardware. PCMark Vantage is easy enough for even the most casual enthusiast to use yet supports in-depth, professional industry grade testing.
FutureMark has developed a good set of hard disk tests for their PCMark Vantage Suite. These tests are based on real world applications that many of us use daily.

HDD1 - Windows Defender
HDD2 - Gaming
HDD3 - Windows Photo Gallery
HDD4 - Vista Startup
HDD5 - Windows Movie Maker
HDD6 - Windows Media Center
HDD7 - Windows Media Player
HDD8 - Application Loading
Real world Windows Vista tests show that the RocketRAID 2310 in many of the array configurations isn't that much better than a single drive on the same controller. The reality is that the practical uses for this controller are pretty limited and you can't really expect typical RAID performance increases in Windows with the 2310. Obviously there are a few cases where performance is increased, mainly 3 and 4 drive RAID 0 in some tasks. We will discuss this more in the conclusion.
Benchmarks - Passmark
Passmark Advanced Multi-User TestsVersion and / or Patch Used:
6.1
Developer Homepage:
http://www.passmark.com
Test Homepage:
http://www.passmark.com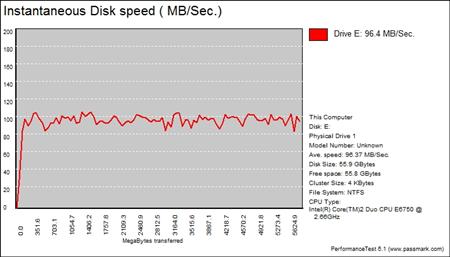 Many users complain that I/O Meter is too complicated of a benchmark to replicate results so my quest to find an alternative was started. Passmark has added several multi-user tests that measure a hard drives ability to operate in a multi-user environment.

The tests use different settings to mimic basic multi-user operations as they would play out on your server. Variances is read / write percentage as well as random / sequential reads are common in certain applications, Web Servers read nearly 100% of the time while Database Servers write a small amount of data.
The Workstation test is the only single user environment and will be similar to how you use your system at home.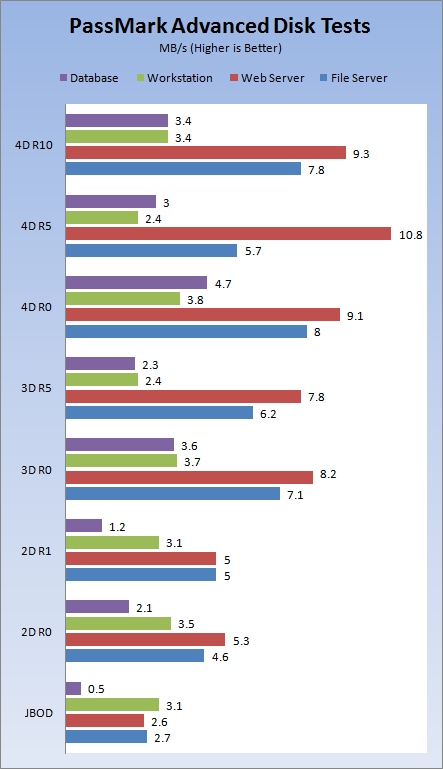 A low budget RAID controller is obviously not meant to be run in a high performance server environment, but the Workstation test does a very good job of mimicking multitasking environments.
Here we see little gains by using the RocketRAID 2310 with multiple drives outside of RAID 0.
RAID 5 does show a nice performance increase over a single drive in the web and file server tests where the drives read data almost exclusively.
Final Thoughts
Intel, NVIDIA and AMD have all moved software RAID into their Southbridge chipsets. In many cases the onboard RAID controllers are attached to the system via the PCI-E protocol or a form of PCI-E (Hyper Transport). The Southbridge also carries out other functions such as accessing the audio chipset, PCI ports and other various things like legacy ports. Because of this, software RAID on the motherboards controller typically results in poor performance. The chipset companies have in recent years done a very good job providing a large amount of SATA ports for users to add a large amount of hard drives. Back when HighPoint was winning designs for their onboard controllers, a typical chipset had two PATA connections that made four PATA ports available for HDDs and CD-ROMs. Today motherboards have eight, 10 and 12 SATA ports on the motherboard, so the expansion possibilities are actually much greater than what most users typically need.
Is there really a need for a low cost add-on SATA RAID controller these days with motherboard makers giving users so many SATA ports onboard? That is really the question that haunts the HighPoint RocketRAID 2310. The 2310's performance isn't much better than chipset makers' onboard controllers and the configuration options are nearly identical.
There are a few scenarios that are working in the favor of the 2310. The best one I can think of is for users that rotate through motherboards often. You can pull the 2310 out of one system and move it to another without losing your data and needing to reconfigure your arrays. The process is simply pulling the drives and card and placing them inside another machine, loading the drivers and everything should remain intact. Another plus is adding more ports to a system; that is if you have already used the large amount of ports that were provided by the motherboard maker.
When it comes to performance the HighPoint RocketRAID 2310 is void of cache, so RAID 5 performance is pretty lackluster. Even RAID 0 and RAID 10 performance is fairly low with our Seagate 7200.11 test drives. All things considered, I was disappointed with the performance of the controller, especially the 4 drive RAID 0 performance where the tests should have shown a solid 3.5X increase over a single drive.
Linux users will get the greatest benefit from the RocketRAID 2310 since most onboard RAID chipsets lack high performance drivers or the driver support is weak. HighPoint has done a good job giving Linux users access to the drivers needed to not only get the card up and running, but providing the source code will allow the Linux community to tweak the card in ways that Windows users could only dream of.