ASUS Eee 1002HA Netbook Reviewed
As Shane McGlaun suits up to take care of our Notebooks section hereon, he kicks things off by taking a close look at ASUS' snazzy looking Eee 1002HA.
Published Sun, Feb 8 2009 11:00 PM CST
|
Updated Fri, Sep 18 2020 10:50 PM CDT
Rating:

91%
Manufacturer: ASUS
Introduction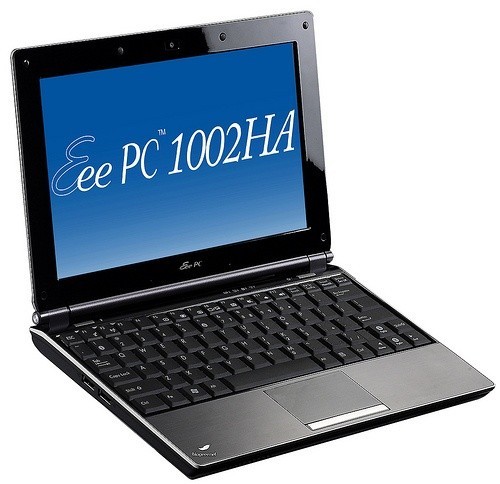 With the poor global economy, the computer market is having one of the roughest years in recent memory with most all of the major computer makers reporting missed earnings and looking at layoffs in efforts to return to their former levels of profitability.
But despite the poor economy and reduced numbers of computers shipped, not all is doom and gloom in the computer market. The netbook segment is producing significant levels of growth in the industry and at this point, most all PC makers are in the netbook market with machines of their own. The only notable holdout is Apple.
Today we are going to look at a netbook from ASUS, the company that started the netbook revolution. Specifically, we are looking at the ASUS Eee 1002HA netbook that has a very slick design and some great features that shoppers looking for a netbook will want to take notice of. The 1002HA isn't a perfect netbook, but it comes dangerously close to being the best netbook in the land.
Specifications, Availability and Pricing
When it comes to netbooks from any computer maker, if you are expecting full notebook levels of performance you are going to be disappointed. But with that said, the ASUS Eee 1002HA has good specifications for a netbook including: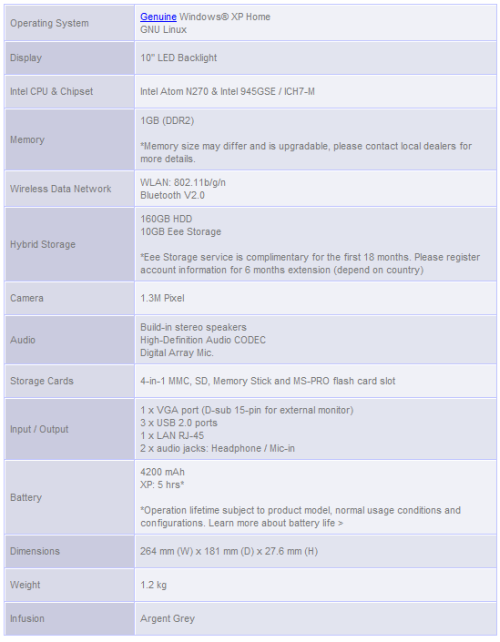 Those accustomed to looking at the specifications page for full notebooks or desktops may find the spec sheet a little thin. However, the 1002HA is about as fully optioned as you will find in the netbook market. The Eee 1002HA is available to purchase now over at Newegg for
$429.99
with Windows XP.
Packaging
The Packaging
I think most of us will agree that the packaging of a product is only important as far as it protects the computer during transit so that it arrives without any damage. ASUS' packaging will do that; there is nothing sexy about the package, which includes a plain cardboard outer box and a black inner box that holds the netbook, power cord, and accessories.
This is the black box that holds the netbook goodness of the 1002HA.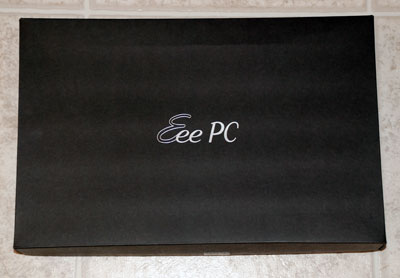 Pop the lid off and you get the first glimpse of the 1002HA swathed in its included black protective pouch.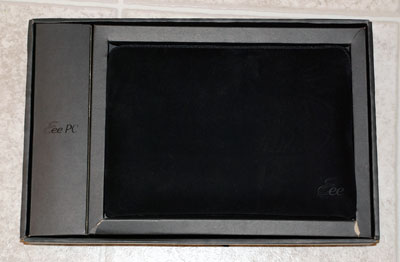 The power adapter and AC cord get their own little section of the box.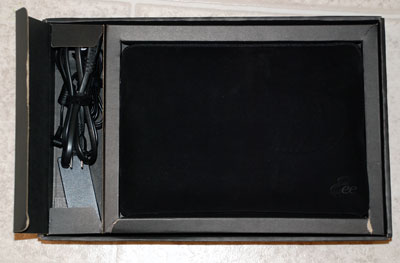 The Eee 1002HA Up Close
The ASUS Eee 1002HA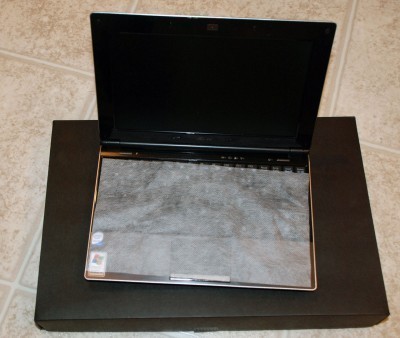 The looks of a netbook or notebook computer really matter to a lot of people and the ASUS Eee 1002HA is one sexy little machine. If you are used to seeing Eees decked out in shiny plastic in black or white colors, you will be surprised here. The 1002HA is decidedly more upscale than many of the other Eees in ASUS' vast netbook portfolio.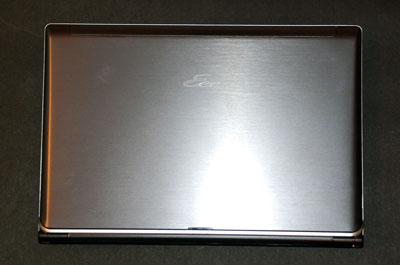 Rather than simply being clad in shiny plastic, ASUS outfitted the 1002HA in a very attractive gray finish with brushed gray aluminum on the lid and palm rest area. The new threads make this one of the sexiest netbooks you can get. If you have been looking for a netbook that looked more like the tool of a professional than something you pulled out of your kid's toy box, the 1002HA is your rig.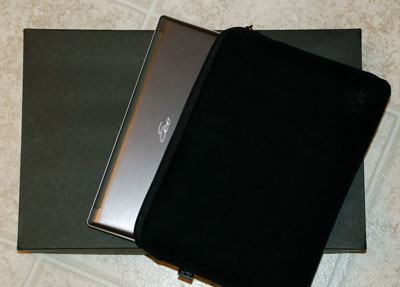 Software out of the box
When you buy a netbook, it is important to note that you are often buying a basic machine, which means you aren't going to get lots of software. Honestly, that isn't such a bad thing. You don't have to put up with hoards of free Internet trial applications or other bloatware on the 1002HA.
The only thing pre-installed was the ASUS Super Hybrid Engine that allows you to control the performance of the machine by setting different modes. Modes are available that optimize performance between several levels or to set the netbook for the longest battery life possible.
Test Configuration and MobileMark 2007
Test Configuration
Avid readers of TweakTown will know that we like to run hoards of tests on our enthusiast desktops and the other hardware that we review. However, notebooks and especially netbooks require a different approach. The fact of the matter is that our normal benchmark regime simply won't run on a netbook nor will it run on the majority of notebooks we will be looking at.
With that in mind, we decided to go about our net/notebook reviews with a different approach. When appropriate and supported, we will run some synthetic benchmarks including various versions of 3DMark, PCMark, SYSMark, and MobileMark. However, we will try to rely on real world tests that focus on things that your average notebook user will be doing with the machine, should they run out and buy one.
Examples of the real world tests we will be using are encoding of an album of MP3's to AAC format with iTunes and encoding of a video to run on a PC with Windows Media Encoder. These real-world benchmarks will provide a great way to compare the performance of different notebooks and netbooks as time goes by.
For the ASUS Eee 1002HA, I will be testing the machine with MobileMark 2007, PCMark2005 and both the iTunes encoding and video encoding tests I just mentioned before.
MobileMark 2007Version and / or Patch Used:
1.05
Developer Homepage:
http://www.bapco.com
Product Homepage:
http://www.bapco.com/products/mobilemark2007
Buy It Here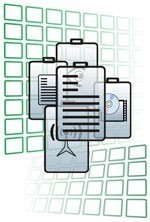 MobileMark 2007 is a test that gives us the run time of the battery in a notebook, one of the most important factors that many consider when shopping. Considering that the ASUS 1002HA, like other netbooks lacks an optical drive, I ran MobileMark 2007 at default settings along with the Reader test rather than the Movie test. With Wi-Fi turned on, the battery in the 1002HA lasted 3 hours and 54 minutes.
That's low compared to some of the other Eee netbooks on the market, but when you consider that I performed all tests of the 1002HA with the Super Hybrid Engine turned to maximum performance, the runtime is actually pretty good. Turning the SHE to the mode for saving battery life will result in better runtime, but as always with batteries your run time will vary greatly depending on many factors.
PCMark05, iTunes Encoding and Movie Encoding
PCMark05Version and / or Patch Used:
1.2.0
Developer Homepage:
http://www.futuremark.com
Product Homepage:
http://www.futuremark.com/products/pcmark05
Buy It Here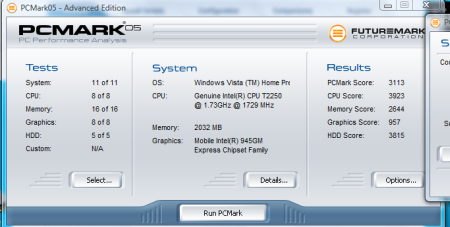 The next test I ran on the computer was PCMark05. We always prefer to run PCMark Vantage at TweakTown, but Vantage doesn't support computers running Windows XP which is what the 1002HA uses.
PCMark05 is an application that simulates different types of workloads from editing graphics to watching video and all sorts of items in between. The long and rigorous test provides a simple score that is great for allowing direct comparison between different computers. The Eee 1002HA scored 1495 PCMarks on the test. That is an average score for the netbook class considering that all netbooks offer virtually the same specifications.
iTunes EncodingVersion and / or Patch Used:
8
Developer Homepage:
http://www.apple.com
Product Homepage:
http://www.apple.com/itunes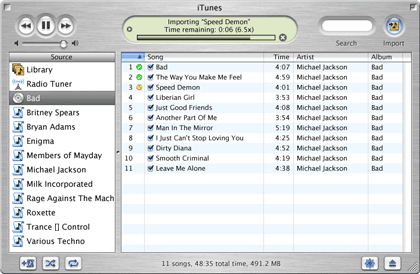 Now we will get into the tests that will be of more interest to most people shopping for a new computer and show how well the system performs as a whole on common, real-world usage scenarios.
For the iTunes test I took a set of 12 MP3s and copied them into the latest version if iTunes. Once the tracks were in iTunes I used the software to convert them to AAC format and timed the process with a stopwatch. It took the modest 1002HA a full 22 minutes and 2 seconds to encode all of the tracks.
That number is vastly less than the performance you can expect from full notebooks. For example, the Alienware M15X (a much, much more powerful and expensive notebook) encoded the same MP3s in slightly under 6 minutes. However, as I stated before, the vast majority of netbooks on the market are running the same exact hardware so you can expect the 1002HA's score to be average for the netbook segment as a whole.
Movie EncodingVersion and / or Patch Used:
9
Developer Homepage:
http://www.microsoft.com
Product Homepage:
http://www.microsoft.com/windows/windowsmedia/forpros/encoder/default.mspx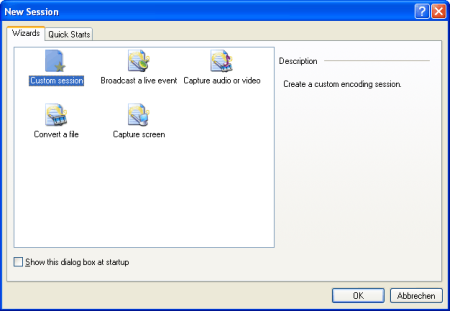 If you are a fan of video content and want to encode something to be downloaded from the Internet or sent to your iPod or other device, the overall performance of your notebook or netbook will greatly affect how fast you can do this.
This test directly measures the performance of the computer systems for encoding video content using the free Windows Media Encoder application. The movie file I encoded in the test was a total of 45.32MB and took the 1002HA 26 minutes and 11 seconds.
Hands on Usage
Now that we have talked a bit about the benchmarks for the performance of the ASUS Eee 1002HA, we can get into some of the most important aspects of a netbook or notebook computer. The performance a computer offers is very important, no matter if you are using a notebook, netbook, or desktop. However, there are many more factors that constitute how good a notebook or netbook is that aren't such an issue with a desktop.
One of the biggest differentiators in the netbook market is the keyboard. With a chassis sized for a 10-inch screen, keyboards on most notebooks are very compressed by normal standards. A netbook can live and die on the market by how well the keyboard works.
With that said, the 1002HA has a fairly decent keyboard. It excels in general typing feel and has nice tactile and audible feedback with a slight click as you push the buttons. There's also a little flex to make things comfortable during extended use.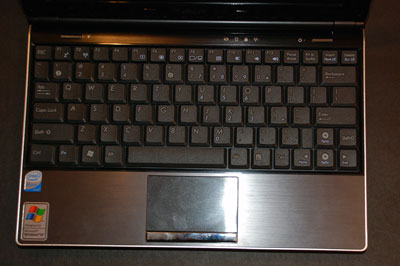 However, the ASUS 1002HA keyboard still falls short; this no thanks to a very strange layout for the right shift key. Rather than placing the right shift key directly under the enter key and to the right of the question mark key, ASUS moved the shift key all the way to the right of the up arrow. Touch typists and others used to a normal keyboard layout will certainly not like the location of the shift key.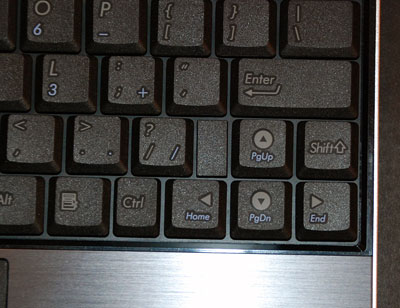 Sure, you can get used to where ASUS crams the shift key, but users shouldn't have to learn a new layout. ASUS has remedied the shift key placement in its newer netbooks, but you should try out a 1002HA in a store before you buy or be ready for a learning curve until you get used to the keyboard placement.
Another important factor to consider with any netbook is the on-board sound system. The 1002HA has a decent sound system given its size. It lacks bass for sure, but there is enough volume that you can comfortably listen to audio from movies and music.
The screen of the netbook is bright and uniformly well lit all around. At times screens will have bright points that can be annoying, but I can say that the 1002HA I tested did not suffer from that issue. The screen was bright, offered good color reproduction and images were clear and sharp. I noticed no issues with pixilation or tearing of images. The most observant may notice that the black levels leave a bit to be desired, but overall the 1002HA has a very good screen.
Another important aspect of a netbook is its track pad. The 1002HA uses a conventional track pad layout with the mouse buttons beneath the track pad rather than beside it like the Acer One. ASUS actually gives the 1002HA one of the best track pads I have tested on any netbook.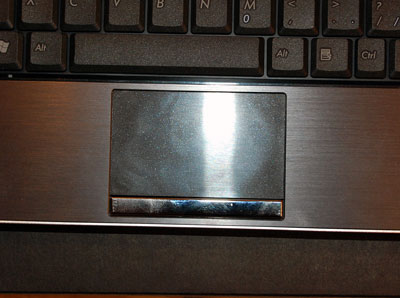 The cool thing about the track pad is that it supports multi-touch input and gesture control. You can use one finger to navigate a web page; scrolling a web page is done with two fingers on the track pad and tapping the pad with three fingers acts like right click. The track pad offered good sensitivity and just plain worked well. ASUS has hands down one of the best track pads on any netbook or notebook out there.
Final Thoughts
When all the dust settled, the only thing that kept the great ASUS Eee 1002HA from being a fantastic netbook was the slightly odd keyboard layout. ASUS has addressed this issue with a new keyboard that is coming on its new netbooks, but whether or not ASUS will switch to the new chicklet keyboard on the older netbooks remains to be seen.
Despite the keyboard, the 1002HA performs well for a netbook, is one of the more attractive machines available and has a great track pad. Furthermore, at just
$429.99 from Newegg
you're getting looked after in the price department as well. If you have been looking for a good netbook, the 1002HA may be just what you need, assuming you can live with the non-standard keyboard design.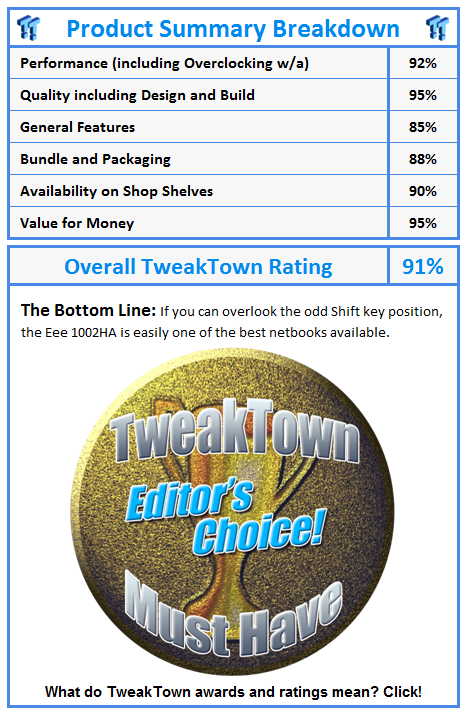 PRICING: You can find products similar to this one for sale below.
United States: Find other tech and computer products like this over at Amazon.com
United Kingdom: Find other tech and computer products like this over at Amazon.co.uk
Australia: Find other tech and computer products like this over at Amazon.com.au
Canada: Find other tech and computer products like this over at Amazon.ca
Deutschland: Finde andere Technik- und Computerprodukte wie dieses auf Amazon.de
We openly invite the companies who provide us with review samples / who are mentioned or discussed to express their opinion. If any company representative wishes to respond, we will publish the response here. Please contact us if you wish to respond.
Related Tags