ZOTAC nForce 630i-ITX WiFi - LGA775 Powered Mini-ITX
The Mini-ITX flood continues. Today ZOTAC has its 630i-WiFi ITX on display for us to compare to VIA's EPIA-SN Nano.
Published Thu, Dec 4 2008 11:00 PM CST
|
Updated Fri, Sep 18 2020 10:50 PM CDT
Rating:

85%
Manufacturer: ZOTAC
Introduction
A third on the Mini-ITX front this week; it seems as if this micro standard is getting a huge boost. So far we have seen VIA really pushing EPIA for the card PC market, however, Mini-ITX has a home in the home, specifically, the Home Theatre and Digital Home PC segment. When it comes to compact designs, Mini-ITX is truly the ultimate in Mini PC's. While we have smaller standards like Pico-ITX, their design is simply
too
small with limiting features, so Mini-ITX is the perfect compromise.
So far Nano has shown us that power can come from a small package. However, Albatron
showed us
that they can bring small form to a large CPU like the AM2+ platform and what a performer it was for the price.
Today ZOTAC has its newest kid on the block based around the nForce 630i Intel LGA775 chipset. What this means is one main thing; Core 2 baby. So while small, it's capable of harnessing some real power. Today we test it out to see just how much punch this board really does have.
The Box and What's Inside
Package and Contents
Compared to the Albatron board that we recently tested, the box for the Albatron board was slightly smaller, though not by a whole lot. The standard ZOTAC colour scheme of orange and black is used here; the art work on the front is somewhat eye catching, which was quite nice. On the front the actual board model number is stickered onto the box.
On the back there we see there is only some basic marketing info on the company; nothing really specific about the board itself and with no pictures of the board it's an in-the-dark experience here.
ZOTAC has done a good job when it comes to the documentation. There are two user manuals; the orange and black one is for the board itself which contains board layout, driver support and BIOS setup, whilst the second manual is for the wireless USB module that connects to a spare USB header on the board. The driver DVD included has Windows XP and Vista drivers in 32-bit and 64-bit variants. However, there are no Linux drivers, but NVIDIA does have drivers on their website for this chipset, though it would have been nice to have them on the CD as well.
Moving onto the accessories bundle, ZOTAC has given a little bit more than we got with the Albatron board. You get the same single IDE cable, however, ZOTAC has rounded the cable for you. Being in a Mini-ITX case, rounded cables are great to help keep the clutter down. You also get a sleeved SATA power splitter as well as a single SATA data cable, which is a bit disappointing as there are two SATA ports to be used. But I guess it can be argued, how many drives can you fit into a Mini-ITX case?
Since the board doesn't have a native HDMI port, a DVI to HDMI converter is included for you to connect the board to a HDMI compatible TV or LCD. However, you have to give up the DVI port to do it, but that's not a big deal. To give the board its WiFi capabilities ZOTAC includes a small USB based VIA Wireless Network controller that sits between the last USB tower and the audio ports which then pokes out the rear I/O shield.
The Motherboard
The Board
Now the fun begins with this baby board. ZOTAC is fond of its black PCB, so the 630i-ITX WiFi gets this same impressive looking colour scheme. The 24-pin power connector occupies the right hand edge of the board, just behind the two DDR2 memory slots whilst the 4-pin power connector is placed behind the PS/2 tower ports. Since the board is equipped with the nForce 630i chipset, the board only supports single channel memory, however, it can support up to 4GB which is helpful.
On a Mini-ITX board, you are obviously very limited in available space, but ZOTAC does a good job here with the CPU area being pretty clear of high rise components, thanks to the use of solid state capacitors and chokes which allow for smaller parts to be used. The power to the CPU is fed through three phases, so it's not going to be used for overclocking, but that's of no surprise as it's not aimed for that market. Below the single heatsink cooling the 630i mGPU there are two orange SATA ports to support up to two drives in total.
Moving along to the rear I/O, ZOTAC could have done better here. First off, while there is a DVI and CRT port for dual video output, if you want to use HDMI you need to use the supplied yellow converter to turn the DVI into HDMI. There goes one of the ports, especially if you want to use a DVI LCD and HDMI TV at the same time, it's a no no for this board. Next up, there is a lack of digital audio ports. There are no Toslink or RCA S/PDIF ports and to output HD audio you have to use the HDMI setup. Another disappointment is that the board only has three stereo audio ports, so while the board supports HD audio, it's limited when using the stereo ports to 5.1 and you have to give up the line-in and mic ports to do it. If you use the HDMI, however, you do get 7.1 audio.
When it comes to the expansion possibilities, it's nice to see that the PCI slot is given its marching order and instead a PCIe x1 slot is used. However, what would have been ideal is a PCIe x16 universal slot with up to x4 bandwidth used for the possibility of a graphics upgrade.
Test System Setup and Memory Performance
Test System
Processor
: Intel Core 2 Duo E8500 (2.66GHz)
Memory
: 2x 2GB Aeneon Xtune DDR2-1156MHz (Supplied by
Aeneon
)
Hard Disk
: 500GB Western Digital SE16 (Supplied by
Western Digital
)
Graphics Card
: IGP on Intel and VIA Platforms
Cooling
: GIGABYTE 3D Galaxy II (Supplied by
GIGABYTE
)
Operating System
: Microsoft Windows Vista x64 SP1
Drivers
: nForce Platform Driver, Hyperion Platform Driver, Forceware 180.42
As was our plan of attack with the Albatron board, we picked out the VIA Nano platform for our model benchmark. Since VIA introduced the world to Mini-ITX, it's only fitting their newest member is used here.
Today we will be only using IGP's as the ZOTAC board isn't able to upgrade the video unless you get a PCIe x1 graphics card, which we didn't have on hand to test with.
EVEREST Ultimate EditionVersion and / or Patch Used:
2006
Developer Homepage:
http://www.lavalys.com
Product Homepage:
http://www.lavalys.com
Buy It Here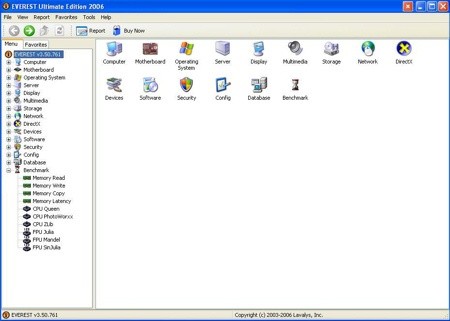 EVEREST Ultimate Edition is an industry leading system diagnostics and benchmarking solution for enthusiasts PC users, based on the award-winning EVEREST Technology. During system optimizations and tweaking it provides essential system and overclock information, advanced hardware monitoring and diagnostics capabilities to check the effects of the applied settings. CPU, FPU and memory benchmarks are available to measure the actual system performance and compare it to previous states or other systems.
Despite the Intel board being limited to a single channel, it's still able to slightly outperform the VIA board which uses dual channel. Intel's Core 2 Duo is far better at memory access thanks to its higher clocked FSB.
Benchmarks - PCMark Vantage
PCMark VantageVersion and / or Patch Used:
Unpatched
Developer Homepage:
http://www.futuremark.com
Product Homepage:
http://www.futuremark.com/benchmarks/pcmark-vantage//
Buy It Here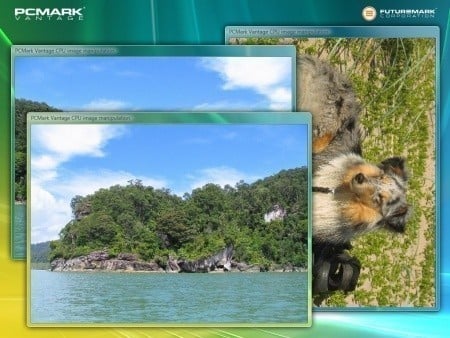 PCMark Vantage is the first objective hardware performance benchmark for PCs running 32 and 64 bit versions of Microsoft Windows Vista. PCMark Vantage is perfectly suited for benchmarking any type of Microsoft Windows Vista PC from multimedia home entertainment systems and laptops to dedicated workstations and high-end gaming rigs. Regardless of whether the benchmarker is an artist or an IT Professional, PCMark Vantage shows the user where their system soars or falls flat, and how to get the most performance possible out of their hardware. PCMark Vantage is easy enough for even the most casual enthusiast to use yet supports in-depth, professional industry grade testing.
Again we see that the VIA Nano simply isn't a match for the sheer power of the Core 2 Duo and with the better graphics options of the 630i, it manages to push well ahead.
Benchmarks - Media Playback
MPEG-2 Playback
For MPEG-2 playback tests, we ran The Matrix DVD, a personal favourite of mine on each system with hardware acceleration enabled to check for smoothness of playback as well as CPU usage during the test. The result was with 30 minutes of playback and the CPU utilization is the average.
Intel's CPU usage at the MPEG-2 level is almost non-existent, whereas VIA hits double figures. However, both platforms are able to multi-task just fine when playing back the movie.
MPEG-4 Playback
Playback for MPEG-4 was again done with the Matrix, only encoded down to an MPEG-4 DivX 6.8 codec. 30 minutes was the time run. Smoothness of playback, audio sync and CPU usage are the keys here once again.
MPEG-4 doesn't even make Intel move beyond the single figures either, but both platforms are able to perform a multi-task, no worries.
HD 720p Playback
This is the big one for the platforms. We downloaded a random 720p video to test out using Media Player 11. Again, quality of video playback, audio sync and CPU usage are the big things to focus on here.
During HD movie playback we see that the Intel board manages a very low CPU usage once again, into the low 30's which still allows it to multi-task, whereas VIA would sometimes cause lag in the video.
MP3 Playback
We decided to add another layer into our media playback tests and that is MP3 playback. If you're going to have a Car PC it's usually for the purpose of playing movies and audio, so it's fitting to add this to the list. A personal favorite of mine, War of the Worlds: the musical is played back and the CPU usage is recorded. Winamp is used to play back the audio.
MP3 playback on both systems is identical; MP3 simply is no challenge for today's CPU's.
Benchmarks - Crysis
CrysisVersion and / or Patch Used:
1.1
Timedemo or Level Used:
Custom Timedemo
Developer Homepage:
http://www.crytek.com/
Product Homepage:
http://www.ea.com/crysis/
Buy It Here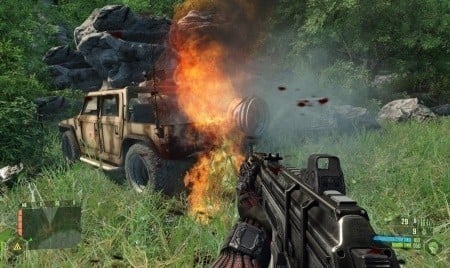 From the makers of Far Cry, Crysis offers FPS fans the best-looking, most highly-evolving gameplay, requiring the player to use adaptive tactics and total customization of weapons and armor to survive in dynamic, hostile environments including Zero-G.
Real time editing, bump mapping, dynamic lights, network system, integrated physics system, shaders, shadows and a dynamic music system are just some of the state of-the-art features the CryENGINE 2 offers. The CryENGINE 2 comes complete with all of its internal tools and also includes the CryENGINE 2 Sandbox world editing system.
While the graphics systems have come a long way from the beginning of IGP's, the single channel memory on the Intel platform cripples it quite a bit. While it did make 30+ FPS, it's still jumpy in spots, especially when loaded with bots. VIA, however, wasn't able to play at with its IGP.
Power Usage
Power Consumption
We are now able to find out what kind of power is being used by our test system and the associated graphics cards installed. Keep in mind; it tests the complete system (minus LCD monitor, which is plugged directly into an AC wall socket).
There are a few important notes to remember though; while our maximum power is taken in 3DMark06 at the same exact point, we have seen in particular tests the power being drawn as much as 10% more. We test at the exact same stage every time; therefore tests should be very consistent and accurate.
The other thing to remember is that our test system is bare minimum - only a 7,200RPM SATA-II single hard drive is used without CD-ROM or many cooling fans.
So while the system might draw 400 watts in our test system, placing it into your own PC with a number of other items, the draw is going to be higher.
While Core 2 Duo is a much more power friendly CPU compared to its Netburst processors, even the 45nm isn't able to get as good a power rating as the VIA CPU which puts the Core 2 Duo to shame. In fact, we could expect to see VIA run on a 12v car battery a lot longer than the Intel CPU; up to 2 hrs more.
Final Thoughts
Phew, a lot of Mini-ITX stuff and it's still not over. We have yet another one on its way for December and this one will be a bit more of an in-depth investigation. But for now we have to give the ZOTAC 630i its praise. For a HTPC it's lacking a few features that the Albatron board had, such as a dedicated HDMI port, 6 stereo audio ports for 8ch analog audio and Toslink/RCA S/PDIF ports.
While using the Intel CPU, it's still not a good gamer unless you plan to limit your gaming to the likes of Quake 3 or Far Cry, then you may get away with it if you limit the system to 1024x768 graphics and low detail.
Considering the board has a DVI to HDMI converter, we won't punish ZOTAC too much, but on their future Mini-ITX boards we would love to see S/PDIF and HDMI port as standard.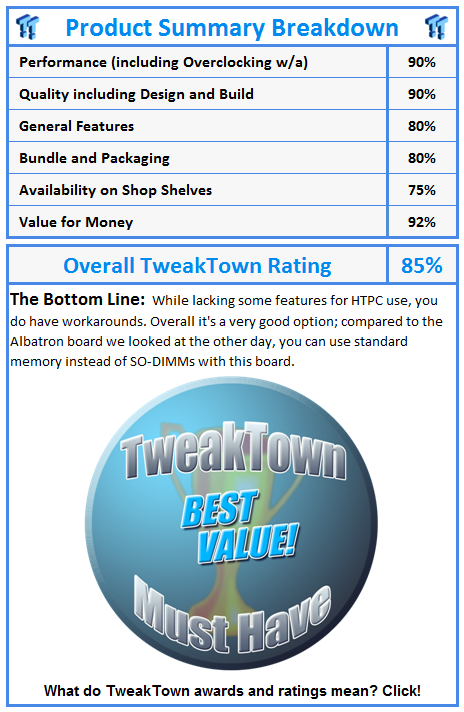 PRICING: You can find products similar to this one for sale below.
United States: Find other tech and computer products like this over at Amazon.com
United Kingdom: Find other tech and computer products like this over at Amazon.co.uk
Australia: Find other tech and computer products like this over at Amazon.com.au
Canada: Find other tech and computer products like this over at Amazon.ca
Deutschland: Finde andere Technik- und Computerprodukte wie dieses auf Amazon.de
We openly invite the companies who provide us with review samples / who are mentioned or discussed to express their opinion. If any company representative wishes to respond, we will publish the response here. Please contact us if you wish to respond.
Related Tags