Introduction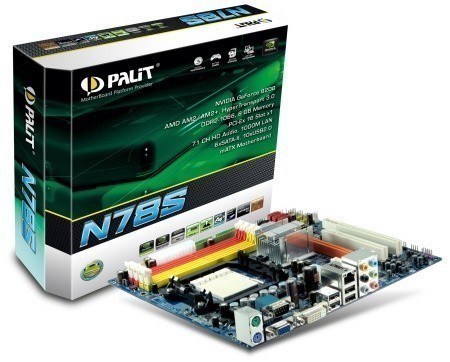 As of the last year and a half it's all been Intel's time to shine. Intel has really put a lot in on Core 2 architecture, and even its updated cores like Penryn haven't disappointed, not to mention we've also seen excellent chipsets coming left and right for it; but what about the jolly green giant AMD? It's easy to have forgotten what they've been up to recently.
While Intel does have the most powerful CPUs available on the market, we can't forget the main reason behind the Intel Core architecture, that being K8 architecture that sent Intel into a tail spin and threw them off the top of the hill. By no means is AMD dead though; Athlon 64 X2s still provide good bang for the dollar value, and while Phenom hasn't shown up to be crash hot just yet, its price and performance seem to be right in the mainstream contention.
To that end we have to wonder where are the chipsets for this platform? - Phenom comes with the new Hyper Transport 3.0 protocol along with support for higher memory frequencies on the DDR2 platform, but so far only AMD's own 790FX Series chipsets have made their way into the market; that is till now!
Since AMD acquired ATI to do its chipset bidding, we haven't seen much from NVIDIA for the Athlon 64 and Phenom platforms. The first new generation chipset designed by NVIDIA to support the Phenom and Athlon 64 processors has arrived; codenamed the MCP78, it has officially been given the name "GeForce 8200".
Our first board is from Palit who have sent us over their first production motherboard based on the MCP78 for previewing. How will the new chipset fair compared to the 690G? Let's have a closer look.
Specifications
Specifications of the Palit N78SCPU
Supports AMD Athlon 64 AM2 Series
Supports AMD Athlon 64 x2 AM2 Series
Supports AMD Athlon 64 FX AM2 Series
Supports AMD Phenom Quad Core AM2+ Series
Supports AMD Sempron AM2 Series
Supports AMD Phenom Tri Core AM2+ Series
Chipset
NVIDIA GeForce 8200
MCP78S
Hyper Transport 3.0 from CPU to MCP (Phenom only)
Hyper Transport 2.0 from CPU to MCP (All other series)
System Memory
4 DDR2 SDRAM 240pin DIMM Sockets
Supports DDR2-533/667/800/1066*MHz
64/128Bit Dual Channel
Supports up to 8GB Total Memory (4x 2GB)
Bus Frequency
200MHz Internal
Hyper Transport Interconnect
Expansion Slots
1 PCI Express x16
1 PCI Express x1
2 PCI
Connectivity
1 Parallel ATA port supporting 2 IDE Drives
6 Serial ATA ports
1 Gigabit Ethernet Port
Expansion Ports
1 PS2 Keyboard Port
1 PS2 Mouse Port
10 USB 2.0 Ports (4 rear accessible, 6 via expansion bracket)
6 Stereo Audio Ports
1 CRT D-SUB VGA Port
1 DVI-D VGA Port
(*) 1066Mhz memory supported on Phenom Only
The Box and What's Inside
Package and Contents
This is the first motherboard we have received from the Palit company, which as mentioned before is based around the GeForce 8200 chipset which is designed for the mid-range to value end of the market. We get the board shipped to us in a box that tells us that board is of the micro ATX design, which seems to be the way most AMD boards are going these days. The front of the board contains the company logo as well as some logos of the board's features and support.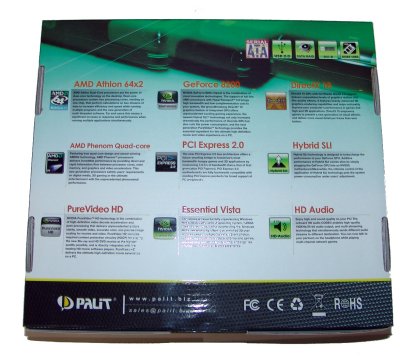 Despite being budget oriented we would like to see in the age of information at least a small colour photo of the board on the back of the box so that you do know what you're getting. It doesn't matter how much you spend, you should be informed to what it is exactly you're getting. There is however a bit of info on the board's features and specs on the back, which should aid in your choice as to whether or not this board is for you.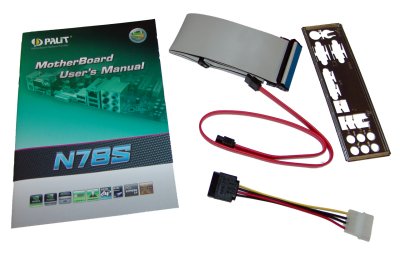 The package that comes with the board is rather light; a user manual and driver CD are included that give you all the info on the board along with drivers for XP and Vista 32-bit and 64-bit variants. The drivers on the CD we were provided with were beta series ones, and the official driver should be out now if not any day soon, so keep in mind that our test results are preliminary.
The Motherboard and Hybrid SLI
The Board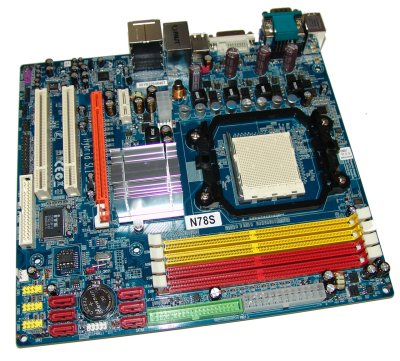 Moving onto the board itself and we see the micro ATX familiarity we are accustom to now with the AMD platform. While there are enthusiast boards out there, the majority of them are not going Micro ATX as AMD's place has now been settled for the time being.
As for the layout, it's quite good for the micro ATX design. The 24-pin power connector along with the single IDE channel the board supports reside behind the four DDR2 memory slots; these slots are colour coded in red for channel A and yellow for channel B. A maximum of 8GB of memory can be run on this motherboard comprising 4 x2GB sticks of a max of 1066MHz.
The 4/8 pin aux power port is located below the CPU retention mechanism towards the left side of the board, requiring some cable routing around the CPU which is not the most ideal setup. The NVIDIA GeForce 8200 MCP setup requires only passive cooling, to which a large silver heatsink is installed.
The MCP78 series is a whole new generation of chipset from NVIDIA, not a patched up one like the 780i. MCP78 has native PCI Express 2.0 support for its graphics slot and its x1 slots, making it the first to have full native PCI-E 2.0 support. Add to this a six port SATA controller incorporated to support ATAPI DVD and SATA HDDs in any combination, as well as NVIDIA's RAID system, and you get yourself a good setup here. Rather than doing away with IDE like Intel has, NVIDIA still keeps IDE on its chipset, so a third party chipset is not required and no extra cost is added to the board.
NVIDIA's main focus here with the new GeForce 8200 is Hybrid SLI. This is a new design that has been thought up to combine the power of a discrete graphics card with the extra unused power of the onboard GPU. You will require a second NVIDIA GeForce based graphics card (most likely an 8 series or newer) installed into the PCI Express graphics slot. Your monitor cable is then connected to the motherboard monitor displays.
When the system is idle the discrete GPU is shut down which allows for better power savings as well as moving all the desktop rendering to the onboard GPU, thus reducing the need for the heavy usage on the external GPU. If you start to play 3D games or any other graphics intense applications, the discrete GPU is enabled via the SMBus and voila, extra power is added to the fray. The new GPU on the MCP78 is based around the DX10 supporting GeForce 8 family with SM4.0 support.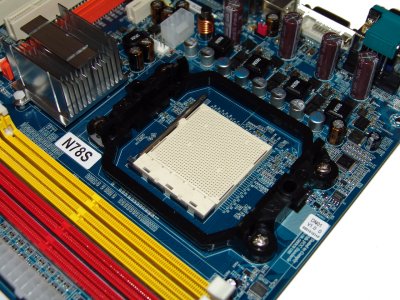 To give the CPU its power, Palit have given the board a 4-phase voltage regulation system which is more than enough to run the current generation of Athlon 64s out there, and even better for the Phenom CPU's now starting to emerge. As for the area around the CPU, since solid state capacitors are used the space is good for even the largest heatsinks out there, making this the ideal board for a totally silent or fanless setup.

The rear I/O of the board is extremely good; there are two VGA ports, one DVI-D and one CRT, so the flexibility is certainly there. The disappointing part of this board is the fact that it doesn't have HDMI which the GeForce 8200 onboard GPU does support. This moves it out of the running for a Digital Home setup, unless of course you get a graphics card with HDMI onboard, then you're set.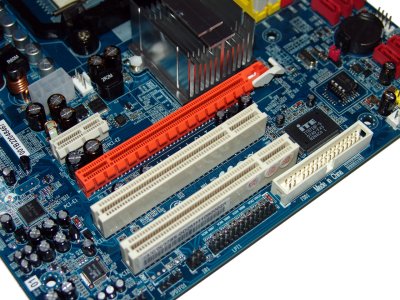 Lastly we come to the expansion slots that the board comes with. Being Micro ATX based there are a limited number of possibilities. First off you have an Orange PCI Express x16 slot that is PCI-E 2.0 compliant. This is designed to work with any graphics card, however if you want to use Hybrid SLI you will need certain NVIDIA cards to make that possible. We didn't have time to test this at this point; however, we have every intention of coming back to it in another article. A single PCI Express x1 slot that is also 2.0 compliant and two PCI slots make up the remaining expansion possibilities of the board.
Test System Setup and Memory Performance
Test System
Processor
: AMD Athlon 64 x2 6000+
Memory
: 2x 1GB DDR2-1186 Geil (Supplied by
Geil
)
Hard Disk
: 500GB Seagate 7200.9 (Supplied by
Seagate Australia
)
Graphics Card
: MSI GeForce 8800GTS 640MB (Supplied by
MSI
)
Cooling
: GIGABYTE 3D Galaxy II (Supplied by
GIGABYTE
)
Operating System
: Microsoft Windows XP SP2
Drivers
: NVIDIA Beta GeForce Driver
Our test systems today consist of the AMD 690G chipset which has really been a great chipset for the budget desktop sector thanks to its onboard graphics, and also of course the new GeForce 8200 chipset. Unfortunately we didn't have any time to test Hybrid SLI or overclocking since we only received the board less than 24 hours before our deadline, so we had to push through the standard tests.
We did however perform both discrete graphics and onboard graphics tests comparing the two platforms.
EVEREST Ultimate EditionVersion and / or Patch Used:
2006
Developer Homepage:
http://www.lavalys.com
Product Homepage:
http://www.lavalys.com
Buy It Here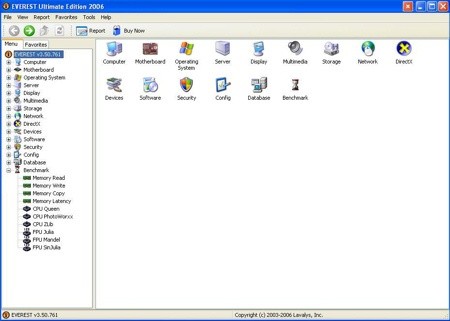 EVEREST Ultimate Edition is an industry leading system diagnostics and benchmarking solution for enthusiasts PC users, based on the award-winning EVEREST Technology. During system optimizations and tweaking it provides essential system and overclock information, advanced hardware monitoring and diagnostics capabilities to check the effects of the applied settings. CPU, FPU and memory benchmarks are available to measure the actual system performance and compare it to previous states or other systems.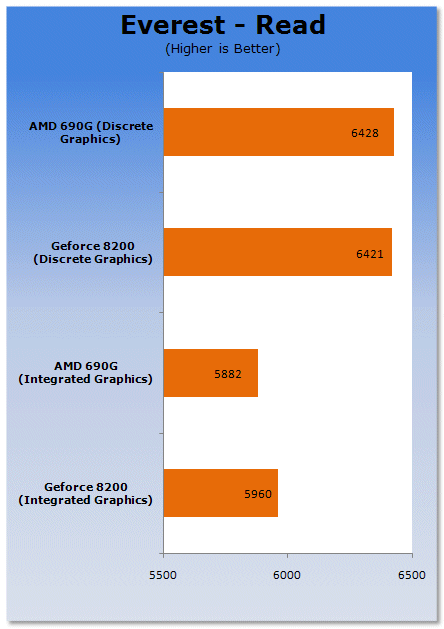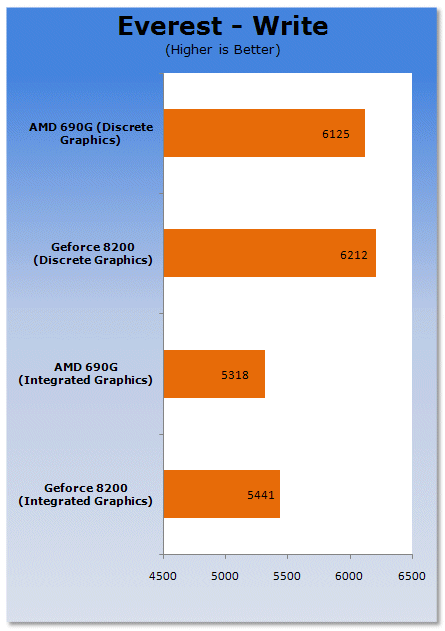 In our first test we see that when using the discrete graphics systems there are no differences due to the onboard memory controller being used and none of the memory bandwidth allocated to the graphics cards. When we go to integrated graphics the NVIDIA system managed to get ahead which could be due to some special memory management that is used keep the memory bandwidth to the CPU when the GPU is idle.
Benchmarks - PCMark05
PCMarkVersion and / or Patch Used:
1.2.0
Developer Homepage:
http://www.futuremark.com
Product Homepage:
http://www.futuremark.com/products/pcmark04/
Buy It Here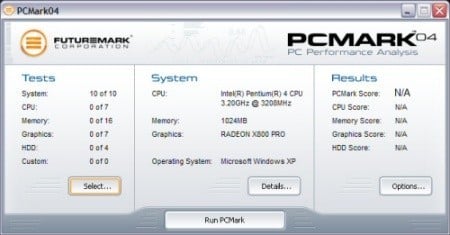 PCMark is a multipurpose benchmark, suited for benchmarking all kinds of PCs, from laptops to workstations, as well as across multiple Windows operating systems. This easy-to-use benchmark makes professional strength benchmarking software available even to novice users. PCMark consists of a series of tests that represent common tasks in home and office programs. PCMark also covers many additional areas outside the scope of other MadOnion.com benchmarks.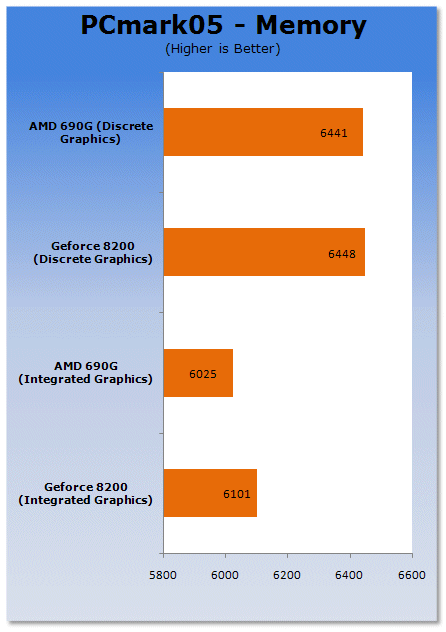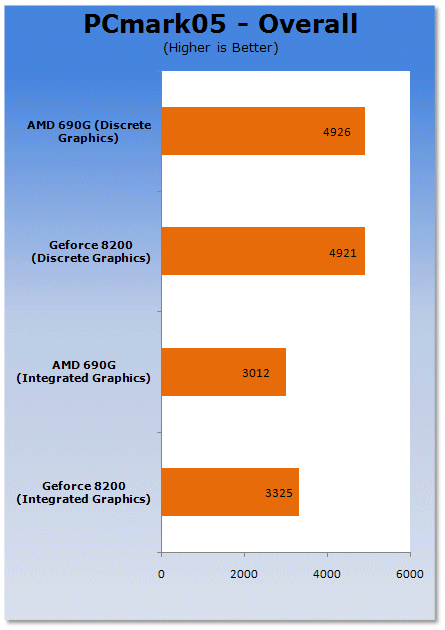 PCMark05 puts the NVIDIA onboard graphics system ahead of the AMD 690G with onboard graphics enabled. When both systems used the same discrete graphics solution we see the AMD and NVIDIA systems almost performing identically.
Benchmarks - Adobe Premiere Elements 3.0
Adobe Premiere Elements 3.0Version and / or Patch Used:
3.0
Developer Homepage:
http://www.adobe.com
Product Homepage:
http://www.adobe.com/products/premiereel/
Buy It Here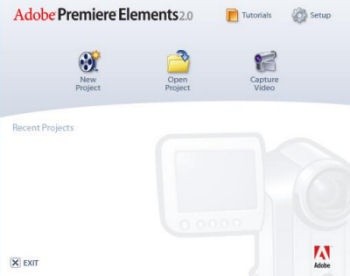 Our test with Adobe Premiere Elements 3.0 is performed with a raw two hour AVI file. It is then compressed into DivX format using the latest version codec. We measure the time it takes to encode and then record CPU usage.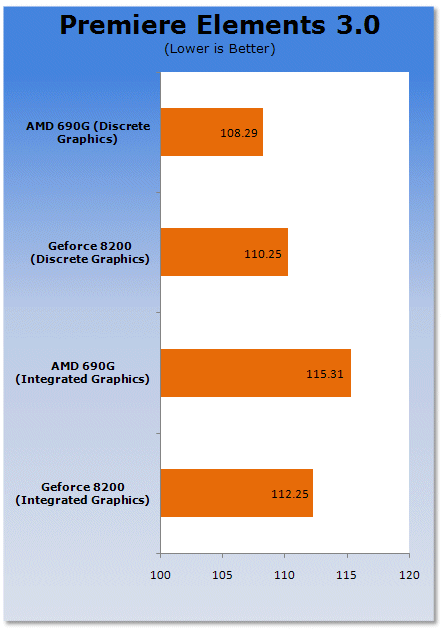 In Premiere Elements we see the NVIDIA system with onboard graphics ahead. It looks like the NVIDIA setup is better at memory management for the onboard graphics.
Benchmarks - HDD Performance
HD TachVersion and / or Patch Used:
3.0.1.0
Developer Homepage:
http://www.simplisoftware.com
Product Homepage:
http://www.simplisoftware.com/Public/index.php?request=HdTach
Buy It Here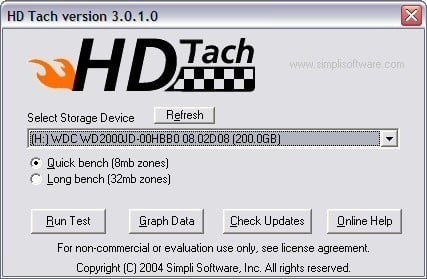 HD Tach has been around for a long time and is excellent when it comes to testing hard drive performance. It is also a very handy program when it comes to testing the controller used on particular motherboards. Tests such as Read, CPU Utilization and Burst are available at a click of the button and give you a good idea of how the hard drive can perform from system to system.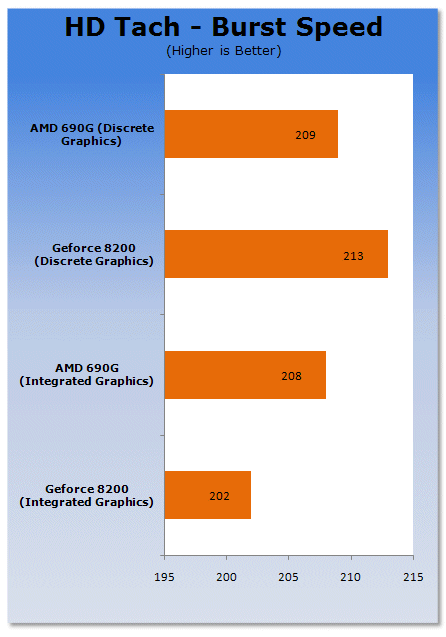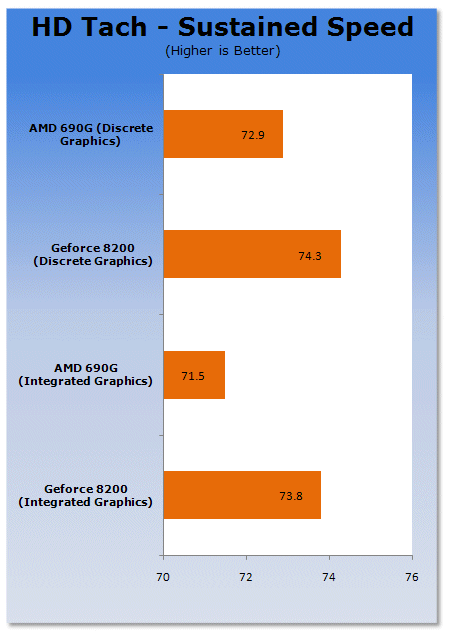 As always, NVIDIA's HDD controller is better than that of the AMD 690G system.
Benchmarks - 3DMark06
3DMark06Version and / or Patch Used:
1.1.0
Developer Homepage:
http://www.futuremark.com
Product Homepage:
http://www.futuremark.com/products/3dmark06/
Buy It Here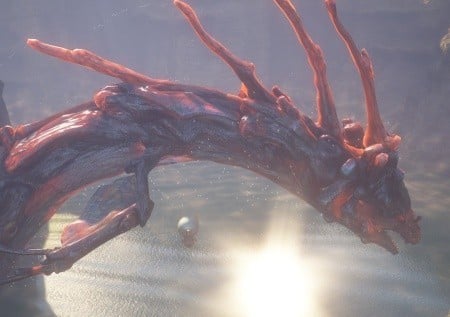 3DMark06 is the very latest version of the "Gamers Benchmark" from FutureMark. The newest version of 3DMark expands on the tests in 3DMark05 by adding graphical effects using Shader Model 3.0 and HDR (High Dynamic Range lighting) which will push even the best DX9 graphics cards to the extremes.
3DMark06 also focuses on not just the GPU but the CPU using the AGEIA PhysX software physics library to effectively test single and Dual Core processors.
3DMark06 puts the boards through their first real paces. We see that both discrete solutions really aren't designed for heavy gaming, but the NVIDIA setup does manage to get a higher score nonetheless.
Benchmarks - Prey
PreyVersion and / or Patch Used:
1.2
Timedemo or Level Used:
Hardware OC Demo
Developer Homepage:
http://www.humanhead.com
Product Homepage:
http://www.prey.com
Buy It Here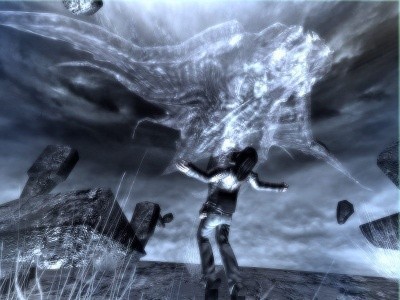 Prey is one of the newest games to be added to our benchmark line-up. It is based off the Doom 3 engine and offers stunning graphics passing what we've seen in Quake 4 and does put quite a lot of strain on our test systems.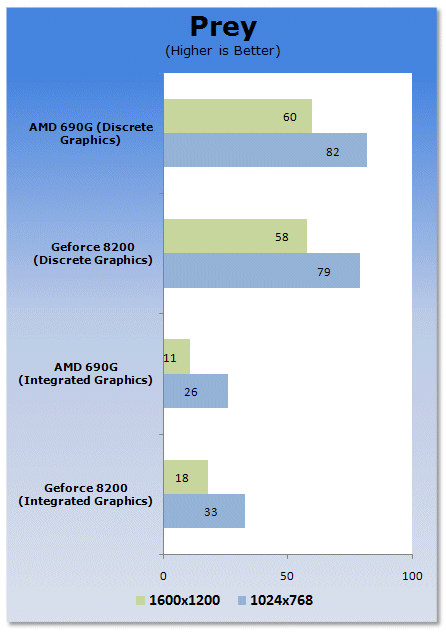 At the lowest settings the NVIDIA onboard is able to play prey okay, but if you're going for a gaming rig then onboard graphics really isn't what you're looking for.
Benchmarks - Battlefield 2142
Battlefield 2142Version and / or Patch Used:
1.25
Timedemo or Level Used:
Custom Timedemo
Developer Homepage:
http://www.dice.se/
Product Homepage:
http://www.battlefield.ea.com/battlefield/bf2142/
Buy It Here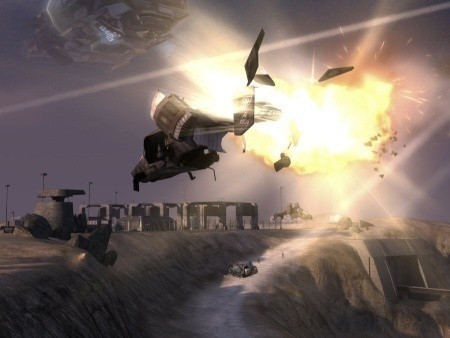 In Battlefield 2142, players choose to fight for one of two military superpowers - the European Union or the newly formed Pan Asian Coalition -in an epic battle for survival.
Armed with a devastating arsenal of hi-tech weaponry, including assault rifles, cloaking devices and sentry guns, players will also take control of the most lethal vehicles known to man. Massive Battle Walkers wage fierce combat on the ground, while futuristic aircraft rule the skies. When taking on this futuristic armor players will need to use their wits and an arsenal of new hi-tech countermeasures like EMP grenades and smart mines to level the playing field.
Pushing into some high end gaming and we see the onboard graphics really struggling here to keep up. However, the NVIDIA offering managed to keep in front.
Benchmarks - Far Cry
Far CryVersion and / or Patch Used:
1.3
Timedemo or Level Used:
Benchemall Default Demo(
download here
)
Developer Homepage:
http://www.crytek.com
Product Homepage:
http://www.farcrygame.com
Buy It Here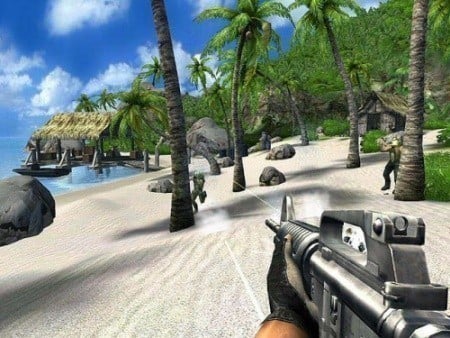 While Far Cry is now one of our older benchmarking games, it is still able to put pressure on most computers systems as it is able to utilize all parts of the system. Utilizing PS2.0 technology with the latest versions supporting Shader Model 3.0 with DX9c and offering an exceptional visual experience, there is no denying that even some of the faster graphics cards get a bit of a workout.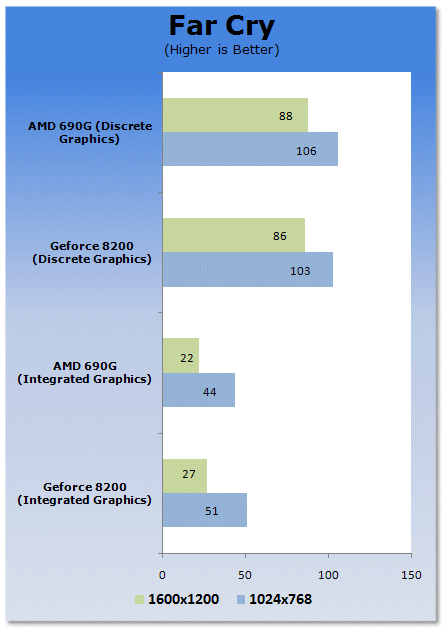 Far Cry doesn't tax as hard on the GPU so we get to see here that the onboard graphics can play some older generation games quite well.
Power Consumption Tests
Power Consumption
We are now able to find out what kind of power is being used by our test system and the associated graphics cards installed. Keep in mind; it tests the complete system (minus LCD monitor, which is plugged directly into an AC wall socket).
There are a few important notes to remember though; while our maximum power is taken in 3DMark06 at the same exact point, we have seen in particular tests the power being drawn as much as 10% more. We test at the exact same stage every time; therefore tests should be very consistent and accurate.
The other thing to remember is that our test system is bare minimum - only a 7,200RPM SATA-II single hard drive is used without CD-ROM or many cooling fans.
So while the system might draw 400 watts in our test system, placing it into your own PC with a number of other items, the draw is going to be higher.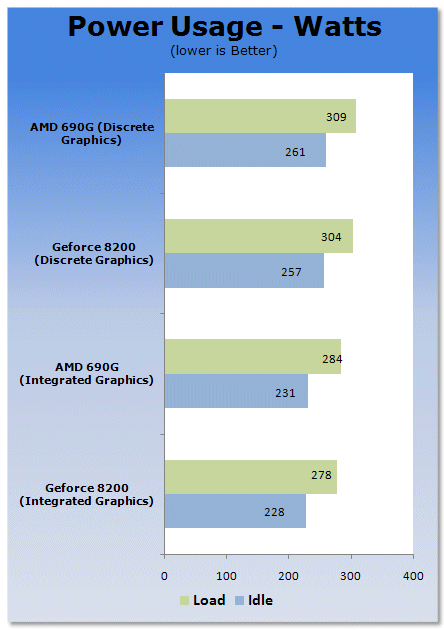 Power usage compared with both the discrete and the onboard graphics used shows NVIDIA just managing to win out here.
Final Thoughts
It's certainly been a while since something new has come out for the AMD Athlon 64 and Phenom processors which was built by someone other than AMD's own chipset division; that's a definite plus for AMD since others are willing to take advantage of the Phenom processor, indicating that AMD are still somewhat on the right track.
Today's testing has been more of a preview of the GeForce 8200 chipset rather than a review, as drivers still have to officially hit the market along with overclocking results. We have reserved our final opinion for a later date due to this.
On the plus side, the early performance of the chipset is extremely promising, and with driver tweaks and the possibility of being able to overclock it's likely that NVIDIA has a strong contender on its hands, especially for the Vista environment which requires more power than what currently seems feasible.
To Palit, we thank you for the early sample. Without a doubt this board has some promise for the future. Stay tuned for more info on the MPC78.