Men In Black HD Movie Review
"You know the difference between you and me? I make this look good."
Published Tue, Jun 24 2008 11:00 PM CDT
|
Updated Fri, Sep 18 2020 10:50 PM CDT
Rating:

73%
Producer / Publisher:

none
Has it really been 11 years?
To properly review
Men In Black
, one most cast their mind back to the time in which it was produced. The year is 1997. Hollywood audiences were enjoying the resurgence of the summer blockbuster and the reinvention of the disaster and science fiction flicks. The special editions of the
Star Wars Trilogy
put the science fiction genre back in front. Will Smith was also coming off the back of the massive hit the previous year;
Independence Day
.
Men In Black
arrived after a hugely successful ad campaign that ensured that the film would be nothing other than a massive hit. Even the films tie-in theme song of the same name, performed by Will Smith was a worldwide hit, charting at number one in Australia.
For those that have forgotten, or never saw the film, the
Men In Black
are a secret government agency tasked with peace keeping the 1,500 or so aliens that co-exist with us on Earth and keeping other inter-stellar trouble makers at bay.
Agent Kay (Tommy Lee Jones) is on the search for a new partner and Jay (Will Smith) answers the call. It's not a moment too soon, because farmer Edgar (Vincent Donofrio in a fantastically comic performance) has been possessed by an interstellar cockroach, hell bent on seeing the destruction of our planet.
I'll be honest; it does bring a smile to my face to see this film again. Although I never really lapped up the film when I was younger (I remember being a slightly disappointed 11 year old at the time - of course had I known that the following years
Godzilla
would be even worse...), it was always a pretty passable film. The film as it stands now is a gateway back to 1997, forever stuck in that year.
In filmic terms it's almost a lifetime away; from a time when CG was finally coming of age, and little models were used where CG would be now. My point is; the film has aged, mostly for the worse. What seemed exhilarating and new back then now seems rather stale and so-so now. Nothing ages it more than 'funky fresh' Will Smith (whom has thankfully grown immensely as an actor since) and that damned theme song.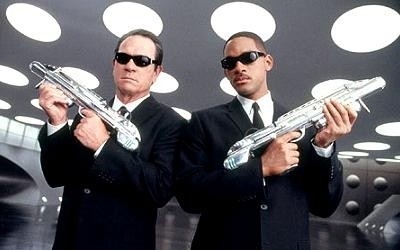 VideoMen In Black
is presented in the widescreen aspect ratio of 1.78:1.
Much like the film has aged, unfortunately the same applies for the Blu-ray transfer. Clearly, this is derived from the same master used to produce the DVD, eight years ago.
Whilst overall the image is generally consistently sharp, displays well balanced colour, with an exemplary black level, the image is slightly grainy, wobbles slightly from a bad telecine transfer and is littered with small, albeit very frequent film artifacts.
Don't get me wrong, this is not a terribly bad transfer, it's just not especially brilliant. I definitely expected more from what remains one of Sony Pictures most financially successful films and one of the tent pole releases for the format this year.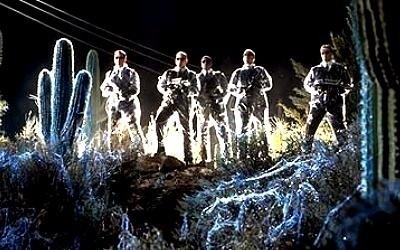 Audio
The main audio track here is an English Dolby TrueHD track, at 16 bits.
I remembered the dolby digital audio track from the DVD to be quite good and this Blu-ray, lossless encode shows it to its best capacity. Unfortunately audio mixing has progressed somewhat since release and I would consider this to be a very conservative mix by today's standards.
For the most part, it's an adequate mix. I had a little trouble understanding some of the dialogue (being mixed too low, coupled with Smith's fast speech). However the mix is very front heavy. There is some nice channel separation, but far too little surround usage. Even the low frequency usage is sparing.
I waited until the end of the film for the climactic saucer crash sequence for the sonic heavens to be unleashed, and yet again I was disappointed.
Of course, the issues I have are all to do with the original mix. The Blu-ray encode does no wrong, but had this movie been released today it would certainly be a far more aggressive mix.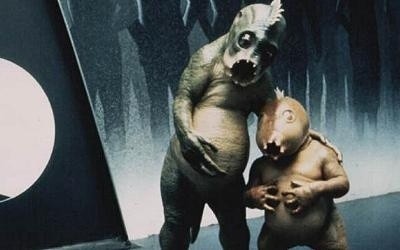 ExtrasMen In Black comes to Blu-ray offering all of the extras from the long out of print, 'limited edition' DVD, wrapping them up in some nice BD Java menus, but offering very little new of substance. But we do have one Blu-ray first. Let's take a look.

First up we have two audio commentaries. The first is provided by Director Barry Sonnenfeld, and actor Tommy Lee Jones. The two talk fairly casually about the film and impart some fairly good information. This was recorded for the original DVD in 2000, so no mention is made of the awful Men In Black II which was released two years after. Of note is the use of the 'telestrator' - on screen annotation. Basically the two have access to some kind of pen which they use to mark objects onscreen. It's essentially pretty useless though, because they often use it after whatever they want to point out has left the screen. I guess that's why no other DVD used it after that.

The second commentary is cobbled together from numerous interviews, featuring Barry Sonnenfeld, creature effects wizard Rick Baker and other contributors from the special effects side. The commentary is fairly technical in nature, and subsequently fairly dry. Again, this commentary is nearly a decade old, and with the aging of the effects in the film itself, it will be almost laughable to revisit this in another ten years to hear them congratulate themselves on their efforts then.

Next up is the meatiest extra; the 23 minute long Metamorphis of Men In Black featurette. For the most part, it takes a look at how the film was re-shaped during post production. It's amazing how many massive big budget films get edited together, and only then do they realise they are in trouble...

Exclusive to this Blu-ray, and the first of its kind in Australia, is BD Live. Essentially, BD Live is a portal accessed through a Blu-ray players' Ethernet port, which can then provide additional extras. At the moment, there is not much here other than a smattering of trailers for other Sony pictures films and a survey. I hope in the future that this can be used for newer films to present features that could not be completed in time for the discs production, such as additional commentaries or text programs. For a full run down of the current BD Live features, take a look at my article 'Hands on with BD Live'.

Ask Frank The Pug is another feature exclusive to this Blu-ray, yet a little less useful. Voice artist Tim Blaney has returned to voice Frank the Pug, and essentially it's an on screen magic eight ball. I asked if this was a useless extra. The answer? Most definitely.

I continue to scratch my head at the inclusion of the following extra: Alien Subtitle track. It's a subtitle track for the entire film, presented for the entire film, in a language no one can actually read. Think how useful it would be to watch a film with the wing dings font as the subtitle. Yes that's right; not very.

The Intergalactic Pursuit MIB trivia game (for profile 1.1 players only) is slightly more useful. It's exactly what it says; correctly answer questions based on MIB lore to progress, and win...nothing. However, a total of four players can partake, and you can take it online via BD Live.

Next up are the Deleted Scenes, with most showing what is alluded to during the audio commentary, namely the post production simplification of the films plot.

The original featurette is not even worth looking at - you've already bought the film.

Nothing screams "Hello, 1997!" more than the Men In Black music video, performed by Will Smith. No doubt though, it will make fans smile in recollection.

Theatrical trailers round up the original trailers for Men In Black and one for Will Smiths next flick Hancock, and Close Encounters of the Third Kind.

Next up is a smattering of art galleries. I have never cared for these, even in the DVD days. It's just pointless. I could see maybe, just maybe, including them as high-res JPGs to view on a computer, but they just aren't interesting enough to sit on a TV and scroll through.

The Visual Effects scene deconstructions are fairly interesting, and show the progression of scenes from blue screen, to low resolution CG to final CG renderings, for two scenes. The surprisingly fast implementation of BD Java makes this much quicker and better presented than it did by utilizing the angle facility on the original DVD.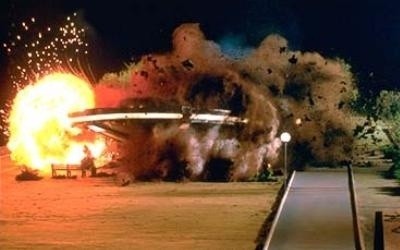 Overall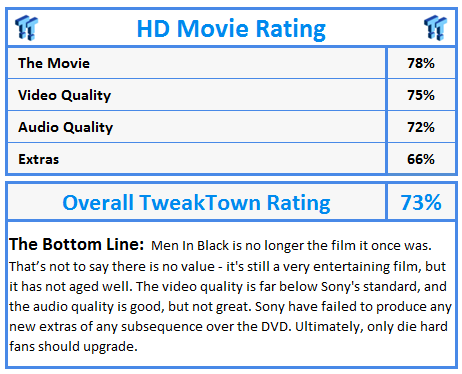 Review Equipment Used:

Display: Sony KDL52X3100 LCD (1080p resolution/ 24p playback)
Player: Sony BDP-S500 Blu-ray, PlayStation 3 (24p playback)
Sound: Sony STR-DA5300 Receiver (7.1 configuration), Sony SSX70ED front speakers (x2), Sony SSCNX70ED center speaker, Sony SSFCR7000 surround speakers (x4), Sony SAW3800 Subwoofer (Front), Sony SAWM500 Subwoofer (Rear)
PRICING: You can find products similar to this one for sale below.
United States: Find other tech and computer products like this over at Amazon.com
United Kingdom: Find other tech and computer products like this over at Amazon.co.uk
Australia: Find other tech and computer products like this over at Amazon.com.au
Canada: Find other tech and computer products like this over at Amazon.ca
Deutschland: Finde andere Technik- und Computerprodukte wie dieses auf Amazon.de
We openly invite the companies who provide us with review samples / who are mentioned or discussed to express their opinion. If any company representative wishes to respond, we will publish the response here. Please contact us if you wish to respond.