ASUS Xonar D2 Ultra Fidelity Sound Card
We look at what could finally be the sound card to knock Creative off their high horse - ASUS' Xonar D2 fully tested!
Published Sun, Sep 2 2007 11:00 PM CDT
|
Updated Fri, Sep 18 2020 10:50 PM CDT
Rating:

90%
Manufacturer: ASUS
Introduction
Over recent years, ASUS has left a firm mark on the consumer pc market with a strong and ever growing list of reputable and reliable products, these including some of the best notebooks and graphics cards out there.
Now they are extending their portfolio even further by throwing the gauntlet down to Creative and attempting to challenge them at their own favourite event; maybe even leaving with a gold medal too. All this remains to be seen but top marks right off the bat for having a crack at Creative who in my opinion have had far too much leg room in the sound card arena.
Today we are looking at ASUS's first ever high-end Xonar D2 Ultra Fidelity Sound Card, and boy does this thing look the goods.
Let's see if it's able to finally knock Creative off the pedestal once and for all, beginning with a look at the card from a technical standpoint with the specifications.
Specifications
Specifications of the ASUS Xonar D2 Ultra Fidelity Sound CardAudio Performance
Out Signal to noise ratio 118db
Input Signal to noise ratio 118db
Output THD 0.0004% (-108db)
Input THD 0.0004% (-108db)
Frequency Response (-3db 24/96k 10-46khz)
Frequency Response (-3db 24/196k 10-90khz)
Out/In Full scale Voltage 2vms
Main Chipset
Audio processor: ASUS Av200
24bit D-A convertor of digital sources Burr-brown pcm1796
24bit D-A convertor of analog inputs Cirrus Logic cs5381
Sample Rate & Resolution
Analog Playback upto 192khz at 16/24bit
Analog recording upto 192khz at 16/24bit
S/pdif Input upto 192khz at 16/24bit
S/pdif Output upto 192khz at 16/24bit
Asio 2.0 Support
Inputs & Outputs
Analog Out 4x3.50mm
Analog In 2x3.50mm
Other line level input (4pin header on card)
Digital S/pdif In Coax Optical
Digital S/pdif Out Coax Optical
Midi Ports x2.
Driver Features
Full Dolby Technologies support
Comprehensive DTS labs support
3D Sound engines (EAX2.0)
DirectX
Package and Installation
Upon initial inspection the packaging is very well designed and set out, with a 'sneak-peak' flap situated on the top of the box to show off the al-a graphic card look-alike 'dust-cover' for want of a better description, which actually acts as sound insulation for the board.
ASUS have also chosen to mount lights on the rear for easier connection during those dark sessions scrambling around the back of the computer. In theory this is wonderful, however funnily enough ASUS have omitted what the colours correspond to from their instruction literature; I'll give them points for making the effort though, and it just looks down right cool.
Installation is just like any other PCI card that might have found its way into your system; plug the card in, reboot and run the drivers, not difficult even for the not so computer literate amongst us. Then it's a simple case of connecting whatever speaker system is available to the rear of the card and run the control panel for the first time to dial in your specs (2.1/4.1/5.1/7.1channel etc.) then you're on your merry away.
Onto the control suite provided with the card; we are given a well set out control panel encompassing all of the features built into the card. There's only one complaint here, lose the master dial ASUS; it's sticky, awkward, too big and simply not necessary. Apart from that, top marks for installation. In a word the control suite is concise.
The Card
On paper at least, the Xonar is capable of flexing its muscles with the best out there right now, boasting some components that could be classed as semi-pro. With a signal to noise ratio of 118db, on top of impressive THD and FR figures ASUS are starting out strong on paper. Sample rates are there too with the Xonar offering a healthy 192KHz over 'just' 96KHz from the flagship card from Creative.
Another little trick allowed for by ASUS is analog loopback which allows recording of an internal source without having to physically loop another cable back into the card.
Mmmm chips..... the Xonar's main processing appeal comes from the AV200 chip, however this is accompanied by two other similarly crucial additions being the Burr-brown PCM1796 & Cirrus logic CS5381; both feature 24-bit resolution, with all three being at different intervals in the path from bits to audio. There is also a supplied breakout MIDI bracket which provides two inputs for various pieces of hardware which might require a MIDI interface. Unfortunately this comes at the cost of yet another PCI slot being used in your already crowded case.
From a technical standpoint the Xonar can take a two track signal and process it out into a full surround experience, with complete support for Dolby digital/+ Live!, Pro Logic II, Head Phone, DTS Connect, DTS Interactive and DTS Neo PC; quite a long list of support right there. Clearly ASUS have decided to go all or nothing in this department which was a wise decision in my opinion as nobody wants to buy another card in a year's time when they find their new toy outdated by industry standards.from a gaming point of view.
ASUS are hamstrung by Creative's proprietary EAX technology, which outside of a Creative product is only supported up to the 2.0 revision. This automatically puts ASUS out of the run for best gaming card by no fault of their own. And who can blame Creative for wanting to keep their latest EAX secrets......a secret.
Technically the Xonar is strong, hell its even herculean, but as I've said before the proof really is in the pie and on paper things can look a lot rosier than they might be in reality.
Connection and Software Bundle
The Xonar comes with a pretty decent bundle, included are several cables necessary for connection to various gadgets including satellite TV, iPods, DVD players or the XBOX.
Also provided is the MIDI adaptor we mentioned earlier which is in the form of a secondary PCI bracket. In reality ASUS did not have to include any of these aside from the MIDI adaptor and internal connector line that runs from your DVD drive to the sound card.
Onto the software now, unfortunately we weren't provided with the full suite of software that will be included in the retail package, only what you see below. However the bundle is well worth going over as it is quite an impressive array of software ASUS have added.
Firstly is the now mandatory inclusion of PowerDVD which is a solid piece of multimedia playback software and has been since version 2.0. Moving on we have RMAA which is a handy little tool for testing signal paths between audio devices. Next we have Ableton Live which is a comprehensive tool for creating, recording and playing back music. Cakewalk 5 production pack is also provided for further manipulation on recorded music. Sonar LE is a complete music production environment. Dimension LE is a virtual instrument generator, and finally there is also Project 5 LE, another complete recording environment.
Now that's not a bad package at all. It's a real shame I was not given the chance to actually test the Xonar with this software but that's not for the consumer to worry about as it's all there in retail shape.
Dolby Digital Live is found in PC and console applications and uses complex algorithms to convert stereo data into a full-blown surround experience. Pro Logic IIx converts any stereo or 5.1 channel signal into 6 or 7.1. Dolby Headphone is designed to provide surround sound for a user with headphones. Dolby Virtual Speaker again uses complex algorithms to provide a surround experience from two speakers. DTS Neo PC, much like what's on offer from Dolby, turns a plain two channel signal into a 5.1 surround experience. It can even be used for 7.1. DTS Interactive takes stereo data from a console or PC and turns it into surround sound.
ASIO 2.0 is for the audio enthusiast and provides a low latency communication path internally between audio devices, allowing direct high speed data flow. EAX 2.0 is Creative Labs' ever evolving package of surround algorithms for gaming, however as mentioned above, due to privacy reasons ASUS are not provided with the very latest version which is up to something like 4+ by now. Anyway, I assume if you're considering this card, gaming is not your only interest and this will not be a huge concern.
Performance and Testing
Performance with music will be covered in three categories; Performance with MP3 (256+) encoded music, WAV encoded music and CD quality without any compression so to speak. First up let's have a listen to how the Xonar handles MP3s of reasonable quality, definitely an area that will be important to potential buyers of the card.
I began my MP3 testing with some progressive metal, which encompasses a lot of spacial instruments while still having a driving beat to keep things on track. Overall, I found MP3 reproduction to be of an impressive standard with a more dynamic feel to the overall sound compared to my SB Live!. When dropping the quality to 160KHz, while noticeable the Xonar's musicality brushes over this with far greater ease than my SB Live! ever did.
When auditioning a WAV file things (as expected) only get better due to an inherently smaller amount of compression used in this format and the Xonar's superior DACs (Digital To Analogue convertors). The reality is when you combine a card of this quality with your usual MP3/WAV files there really should not be a great deal to complain about, as all that is asked of the Xonar is to "read" the compressed file and then convert it into an analogue signal, ready to be sent to the speakers with as little added to the signal as possible. I feel the Xonar does this as well as any card I've used before.
When playing back 'real-time' audio from a piece of digital media (CD/DVD) the card's ability to sample the signal frequently with a good resolution becomes important. Don't forget an MP3 has already had a 'picture snapped' of it and can only be read, where as a real-time audio feed must have 'snap-shots' taken at regular intervals; just like a camera, the more information taken with each snap the greater the overall picture and the more detail made visible (or audible for arguments sake) to the user. That's basically the theory behind sample rates and bit depth.
Ok, so if we have a 96KHz/24-bit sample rate (supported by the Xonar) then the card is taking snap shots of all the frequencies up to 96KHz with a resolution of 24-bit (don't forget this is binary - i.e. 8/16/24/32 with 32-bit - 192KHz being the highest resolution currently supported).When using lower sample rates the nyquist frequency comes into play - i.e. a sample rate of 44.1KHz can only capture frequencies not above half of this figure, which would be 22.5KHz, theoretically above the threshold of hearing but it has been proven that we are aware of frequencies above this, thus requiring sample rates up to 192KHz.
Control over the card's sample rate is found within the control suite and can be stepped accordingly. Of course there is little point telling the card to sample a 128k MP3 at 192KHz as the data is already lost once compression is added so this must be taken into consideration. However some DVDs do support 96KHz/24-bit sampling in which case it is necessary to alter the sample rate accordingly.
When listening to an audio signal that has not been compressed the Xonar begins to stretch its legs, delivering a crisp and airy reproduction of the streaming signal with spacial characteristics that are truly impressive. I feel also as an important factor the card's very quiet signal-to-noise ratio of 118db is contributing to the impressive dynamic response. Dynamic response is the difference between the loudest and softest sounds in an audio signal, and also how quickly the response is to these extremes, i.e. a megaphone will have a poor dynamic response as its only intended to 'boost' the range between 1-5KHz where the human voice appears for the most part, with frequencies above and below being left alone, thus providing clear representation of voices but little else in the audible spectrum.
I found reproduction of full range streaming audio to be comparable to more expensive equipment when using my Logitech z5400 digital surround system, and certainly some of the cleanest most transient sound I've heard since the Videologic X-fires paired with their in-house Sonic Fury board many years ago.
Performance and Testing - Cont.
Performance and Testing - Continued
For testing here I primarily used the direct 6-channel line outputs to the corresponding inputs on my Logitech system. Why not just use digital? It is supposed to be the better option after all. Well, yes it is better at transporting multi-plexed audio conveniently using just a single cable, though this convenience comes at the price of digital compression. You see, whenever an audio signal is transported digitally it must have some compression applied. So for the purist stick to the direct analog outputs, and maybe even think about upgrading the cables.
The RightMark Audio Analyzer 5.6 included in the package is a great little tool designed to verify the integrity of signal paths between audio devices in your system, this also being a nice subtle way for ASUS to prove what's written on the box. This handy little program allows you to analyze a test signal and have it appear as a graph.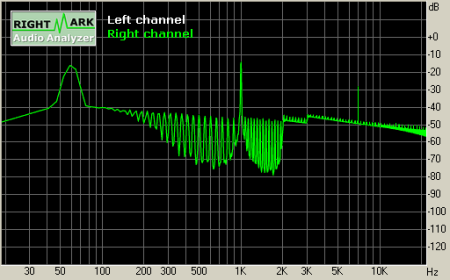 In this image I have analayzed a 96KHz 32-bit test signal to give an indication of the Xonar's response curve. I have also listed here some results from a couple of test sweeps at different quality levels. Firstly we have a relatively low resolution of 16-bit paired with the sample rate you would find on most music CDs. The results are quite impressive, with special attention given to a very respectable THD figure.
The second sweep uses a higher resolution of 24-bit with a very high sample frequency of 192KHz which is the highest industry standard at the moment; definitely a handy little program to play around with, though a little unstable at times.
16bit 44khz RMMA
Frequency response (from 40 Hz to 15 kHz), dB: +0.01, -0.07
Noise level, dB (A): -91.9
Dynamic range, dB (A): 91.9
THD, %: 0.0009
IMD + Noise, %: 0.0075
Stereo crosstalk, dB: -92.1

24bit 192khz RMMA
Frequency response (from 40 Hz to 15 kHz), dB: +0.02, -0.08
Noise level, dB (A): -107.5
Dynamic range, dB (A): 107.5
THD, %: 0.0007
IMD + Noise, %: 0.0022
Stereo crosstalk, dB: -104.0
Playback of material mastered in high definition (like some audio CDs purchased over the internet from other countries) support this resolution during playback and offer superior depth and integrity to transients over their standard resolution siblings. It wasn't until the Xonar was paired with my Logitech 5400s that the true detail of "Live" HD recording could be realised. Not only is the increased resolution noticeable, but the separation between instruments is fantastic when the Xonar's DACs start to really come into their own.
When considering this card purely as a gaming solution things are not quite as rosy I'm afraid. Through no fault of their own ASUS have been restricted to using EAX 2.0, which as we all know has been out for some time now, as we are seeing titles with EAX 5.0 support. Creative would face substantial loss of revenue if later versions were released as "open source" to competing manufacturers.
So what does this mean? Well it means that as far as supporting the latest algorithms from Creative Labs the Xonar is about on par with most run of the mill cards on offer. Of course the onboard DACs are going to be far superior to most generic cards but for gaming you want the latest support for many reasons. It's not that the Xonar cannot be recommended for gamers, as it certainly can be and does still offer supreme fidelity whenever it's called upon.
Having said that I sincerely doubt ASUS have had any intention of designing this card purely from a gaming standpoint, if alone the software bundle is any indication.
So it seems ASUS are left with their hands tied behind their backs on this one. While I did find gaming performance to be of a high quality whatever the situation when using the Xonar, I simply cannot recommend it over one of the latest evolutions from Creative when it comes to the hardcore gamers, because the support simply is not there, and won't be any time soon if Creative continue to lead the way in 3D algorithms with their in-house EAX still remaining the standard of choice for most developers.
However, with support for the latest incarnations of real-time multi-channel encoding by Dolby Labs and DTS in 5.1 or more channels it's going to be interesting to see whether developers for the PC gaming sector take up on these offerings which have (let's face it) been developed primarily for the XBOX 360 and PS3 home entertainment markets, and are yet to have a significant impact on the PC arena.
Windows Vista is limited to Direct Sound at the time of writing, although I would not imagine a great deal of punters would be using Vista to game prior to SP1 release anyway.
When it comes to playback of surround sound material there is very little the Xonar cannot do, supporting just about every playback mode imaginable; although not physically being a Dolby Digital or DTS decoder it is possible to use Pro Logic IIx or DTS NEO to encode a stereo signal into five or more channels and then export the encoded data digitally back out to a decoder, something not possible on cards available from competitors.
When it comes to playback of multi-channel movie sound tracks, the Xonar manages to get the job done comfortably with tests being passed without hitch nor lack or support, and both Dolby Labs and DTS Labs have full support with ASUS and the Xonar.
Final Thoughts
To summarise, ASUS has entered the arena of PC audio with an impressive feature laden product that tries to cover a very wide spectrum of audio from recording/mastering, to surround media, to games; which is no mean feat considering the prices of even the most basic specialty solutions out there.
The Xonar has an impressive spec list for the market its intended for and features a plethora of connection possibilities no-matter what your requirement. On top of this, retail versions will feature a comprehensive software bundle to complement the hardware on the card.
It must also be made clear that there are cheaper options out there for gamers or movie buffs etc. who don't wish to do it all and maybe are only light users, but someone wishing to buy one sound card that will theoretically handle all their audio requirements for years to come should make the Xonar a serious consideration.
PRICING: You can find products similar to this one for sale below.
United States: Find other tech and computer products like this over at Amazon.com
United Kingdom: Find other tech and computer products like this over at Amazon.co.uk
Australia: Find other tech and computer products like this over at Amazon.com.au
Canada: Find other tech and computer products like this over at Amazon.ca
Deutschland: Finde andere Technik- und Computerprodukte wie dieses auf Amazon.de
We openly invite the companies who provide us with review samples / who are mentioned or discussed to express their opinion. If any company representative wishes to respond, we will publish the response here. Please contact us if you wish to respond.