TweakTown's Rating: 90%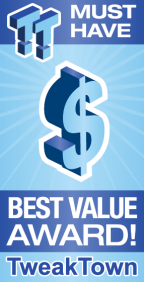 The Bottom Line
MSI's first wireless gaming headset delivers great audio for the price, and with a robust and comfortable build, it's a great option no matter if you game on PC or console.
Pros
+

Compact and sturdy build quality

+

Comfortable

+

The sound delivers deep bass and clarity

+

Works across PCs and consoles

+

Priced well
Cons
-

Seal can be a little tight

-

Tiny mute button

-

Customization on PC is limited
Should you buy it?
Avoid
Consider
Shortlist
Buy
Introduction & Specification Details and Close-up
MSI has released a few different gaming headsets over the years, many of which have delivered when it comes to affordability, sound quality, and comfort. However, even with a solid track record, the MSI Immerse GH50 Wireless is the company's first wireless gaming headset - delivering audio over a low-latency 2.4 GHz signal and offering compatibility with platforms like PC, Mac, and PlayStation consoles.
There's even the ability to go wired, thanks to the inclusion of the optional 3.5mm jack. This is always welcome in any wireless gaming headset as it opens up compatibility to almost any device.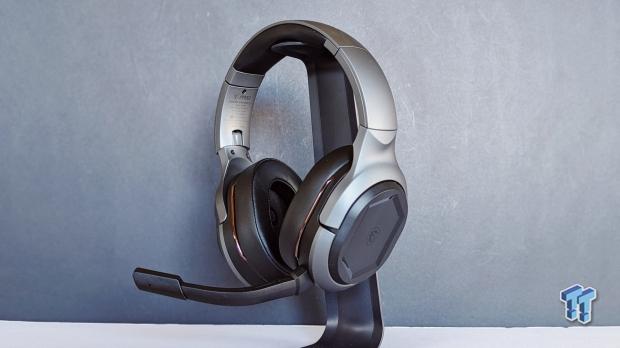 There are key differences between a wireless dongle-driven headset versus one that is wired or otherwise analog in its connection approach - going wireless means the addition of an inbuilt DAC and dongle that has to play nice with a wire-free approach to avoid interference and maintain a decent battery life. Then there's the fact that going wireless impacts an audio device's overall sound capabilities - to the point where HD audio or a super-wide frequency response is what you lose out on.
However, when it comes to wired versus wireless audio, the difference is negligible, so it's not worth dwelling on. MSI did release a wired version of the GH50 a few years ago, and there are a few similarities between that and the new Immerse GH50 Wireless. There are a few key and major differences, too - including the fact that it no longer vibrates and the speaker drivers have improved. There's much to like about the new MSI Immerse GH50 Wireless - so let's dig in.
Specifications & Close Up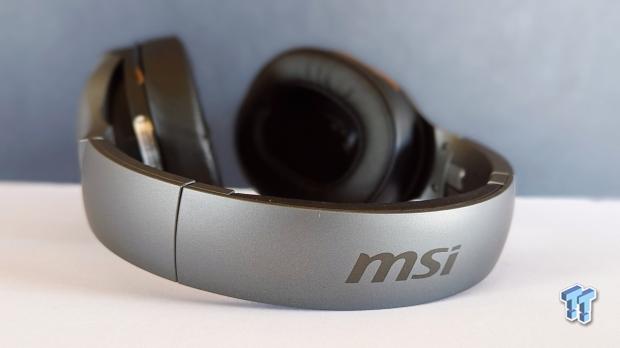 Product Type: Wireless Gaming Headset
Product Name: MSI Immerse GH50 Wireless
Interface: USB 2.0 (Wireless 2.4 GHz), USB-A to USB-C Converter, 3.5mm (Wired)
Form Factor: Over Ear Closed
Drivers: 50mm Neodymium
Headphones Frequency Response: 20 - 20,000 Hz
Microphone Pick-up Pattern: Omnidirectional (Detachable)
Surround: Nahimic for Headset (PC)
Cable: Charging Cable (USB-C to USB-A) 1.2m, Audio Cable (3.5mm) 1.3m
Weight: 326 grams
Battery Life: Up to 22 Hours
In the Box: Immerse GH50 Wireless, Charging Cable, USB-A to USB-C Converter, Wireless USB Dongle, 3.5mm Audio Cable, Carry Pouch, User Guide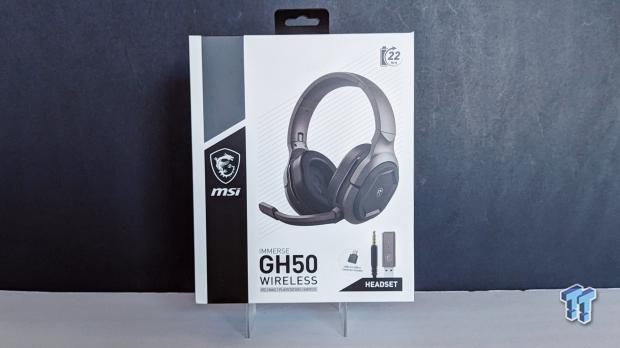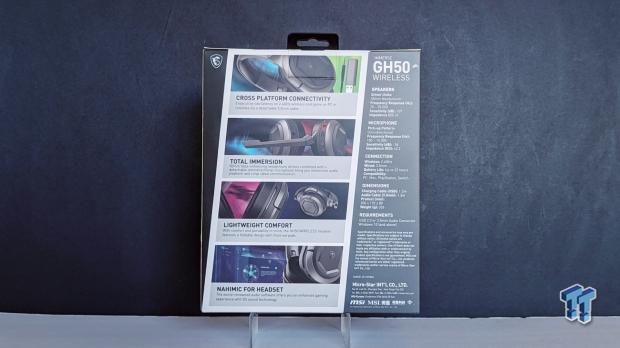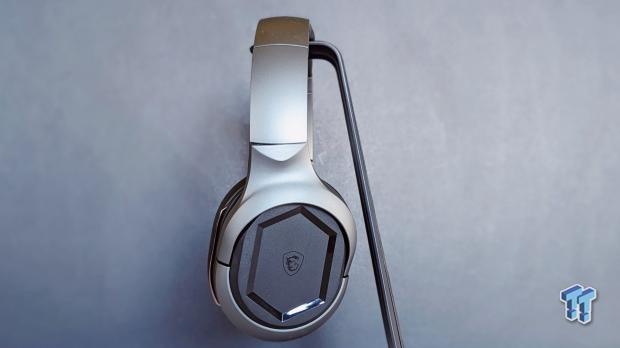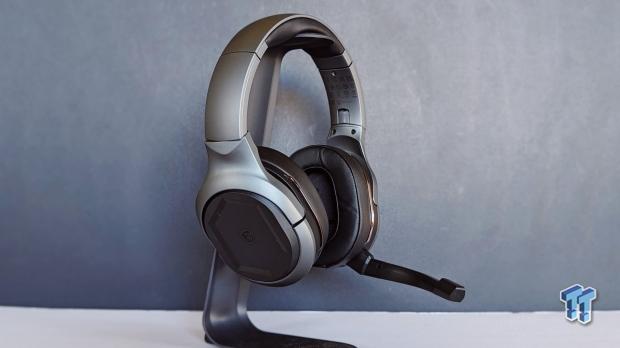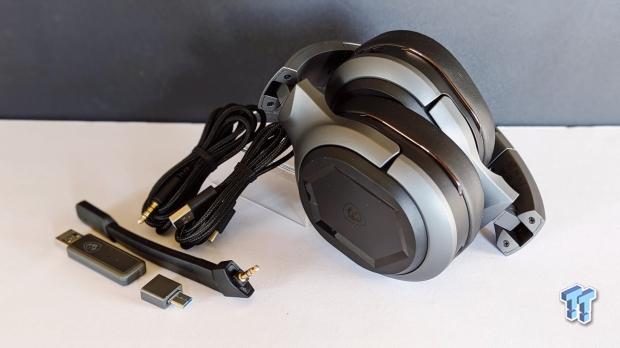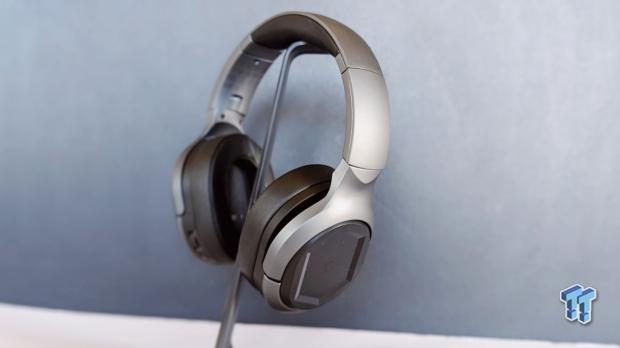 Kosta's Test System Specifications
Motherboard: MSI MPG X670E Carbon Wi-Fi
CPU: AMD Ryzen 9 7900X
GPU: NVIDIA GeForce RTX 4090 Founders Edition
Cooler: Corsair iCUE H100i RGB PRO XT Liquid CPU Cooler
RAM: 64GB (2x32GB) Corsair DOMINATOR PLATINUM RGB DDR5 DRAM 5200MHz
SSD: Sabrent Rocket 4 Plus-G M.2 PCIe Gen 4 SSD 4TB, Sabrent Rocket 4 Plus Plus M.2 PCIe Gen 4 SSD 8TB
Power Supply: Thermaltake Toughpower GF1 850W
Case: Thermaltake Core P3 Tempered Glass Snow
OS: Microsoft Windows 11 Pro 64-bit
Design & Software and Support
Design
With the inclusion of a carry pouch, MSI has designed the new MSI Immerse GH50 Wireless with portability in mind, and with that, you've got a physical design that allows the headset to fold for easy transportation with the ability to detach the microphone and stow that away too. This plays into the headset's compatibility with the wireless functionality working across PC, PlayStation, and Nintendo Switch - with the Xbox limited to the 3.5mm audio connection. The only thing missing is Bluetooth, but with an MSRP of USD 89.99, it's priced right in a very competitive field.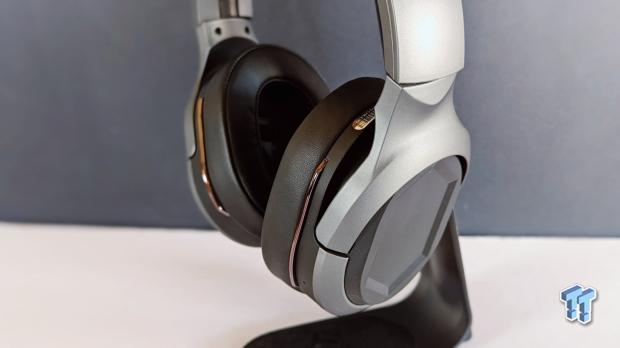 The overall physical design of the MSI Immerse GH50 Wireless is impressive and carries a premium feel even though the material is mostly plastic. The overall look is minimal, with a brushed black and grey finish and nothing in the way of RGB flourishes or anything that makes it look like something purely for games.
The metal adjustable headband is flexible and sturdy, and the leatherette cushions are comfortable and create a great seal when you factor in the swivel on the earcups. The MSI Immerse GH50 Wireless is comfortable to wear for extended sessions, which I did while playing Starfield and Diablo IV for hours - but the seal might be a bit tight for some (or for those with glasses), so keep that in mind. The 326-gram weight and the compact size help keep the headset feeling lightweight.
In addition to the detachable microphone, the left ear cup houses the on-ear controls, including a volume dial and separate buttons for power and mute - which are quite small. There are no chat or game balance controls on the headset or in the limited but powerful Nahimic for Headset software developed by SteelSeries, which is a shame.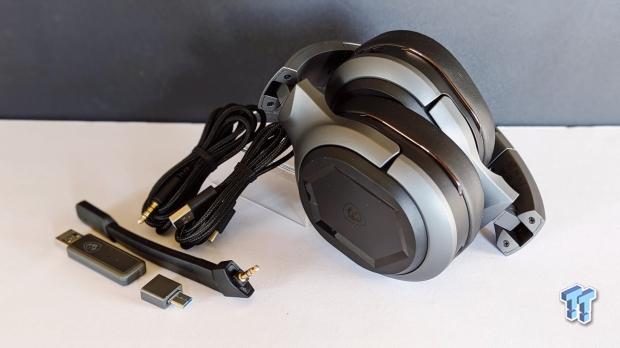 The real star of the MSI Immerse GH50 Wireless is the 50mm Neodymium drivers (a step up in size from the 40mm drivers found in the wired GH50), and the larger size means that out-of-the-box you get a bigger and more full bass response. The sound balance is tuned to emphasize this and treble (more than other frequencies), but you still get a wide and clean sound. The clarity and detail are great for a wireless headset in this price range, especially for one as versatile as the MSI Immerse GH50 Wireless.
Software and Support
On PC, the MSI Immerse GH50 Wireless uses the Nahimic for Headset application to handle audio customization and spatial surround for gaming, watching movies, or listening to music. This application, developed by SteelSeries, offers a clean and rather basic way to adjust audio with present tuned for music, movies, communication, and gaming - and from there, you can enable the spatial surround or boost things like bass and treble. There's also an inbuilt normalizer, but as this heavily compresses the sound, it's not worth enabling.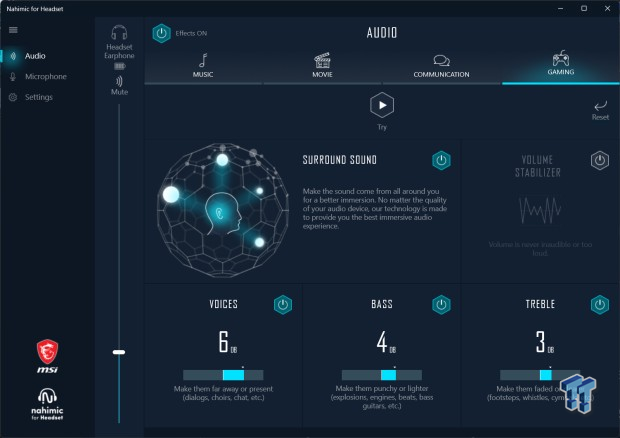 As basic as Nahimic for Headset is, and you don't get anything in the way of an equalizer, the presets are all quite impressive in that they offer subtle soundstage differences to better suit the media - and the spatial surround is decent. With the MSI Immerse GH50 Wireless being compatible with multiple devices, there are other sound calibration tools on consoles like the PlayStation to tap into, and even on Xbox where you can enable surround and play with the chat/game balance.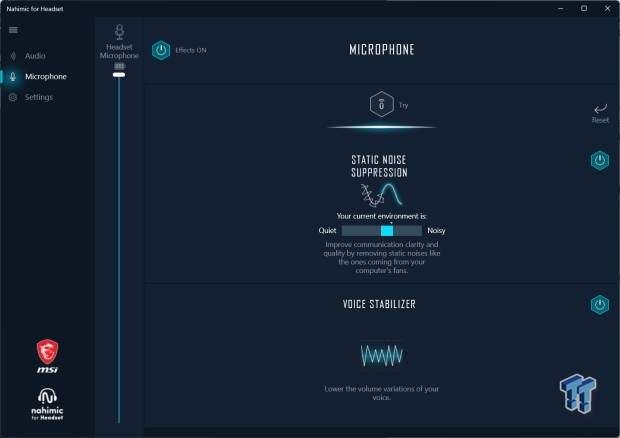 Returning to the MSI Immerse GH50 Wireless PC chops, the Nahimic app also offers microphone controls where you can enable and customize background noise suppression and add some normalization - and you can test both out to find the right balance.
Performance & Microphone
Performance
Battery life on the MSI Immerse GH50 Wireless sits in the 20-25 hour range, which is fairly standard for a wireless headset, though we are seeing options from some brands pushing this a lot higher in 2023. It's enough only to have to charge every few days versus daily, which is always a plus. Using a suite of various styles of music and games like Overwatch 2, Diablo IV, and Cyberpunk 2077 to test the sound quality and balance of the MSI Immerse GH50 Wireless, the result of several days of usage was that this wireless headset that offers great value for money.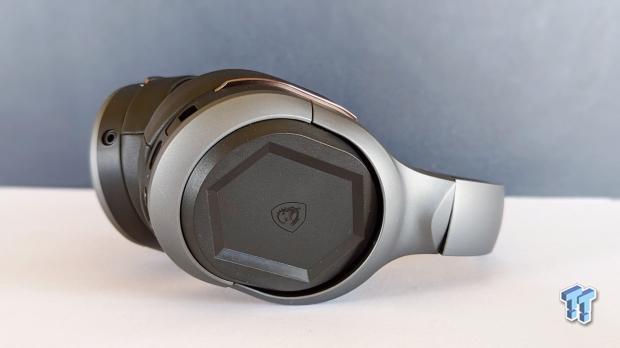 The default out-of-the-box sound is reasonably balanced, offering detail and enough clarity to provide a great music listening experience. As mentioned, there is an emphasis on bass - as expected for a gaming headset, but it's not at the expense of everything else. And with the option to fine-tune the low and high-end on PC, finding the right balance to suit your tastes is straightforward. Even when things get chaotic in Diablo IV, and the screen is chock full of monsters and spells, you can still pinpoint where everything is coming from, and nothing sounds washed out or distorted.
Switching things over to Cyberpunk 2077, the character dialogue is clean and crisp. It has the sort of detail you expect, alongside delivering when it comes to the soundtrack and sound effects when the action heats up - or you're just cruising through Night City.
Microphone
The MSI Immerse GH50 Wireless features a sensitive and detachable omnidirectional microphone that can pick up a surprising amount of vocal detail with some background noise. The latter can be adjusted on PC via software, but you're getting not exactly broadcast quality - very few gaming headsets hit that level. For an in-game chat or Discord, it's perfectly serviceable, and there's enough depth that you won't come across as tinny - though with a tiny mute button and the microphone picking up some background noise, more thought on-board microphone controls would have been nice.
Final Thoughts
The wireless gaming headset market is awash with options in any given year. With an MSRP of 89.99, the MSI Immerse GH50 Wireless does make a compelling argument for offering great sound and value in 2023 - with enough versatility to seal the deal. In addition to a wired option, the wireless functionality works flawlessly across PC, PlayStation, and Switch. It becomes an easy recommendation when you add robust build quality, foldable design, and nice add-ons like the carry pouch.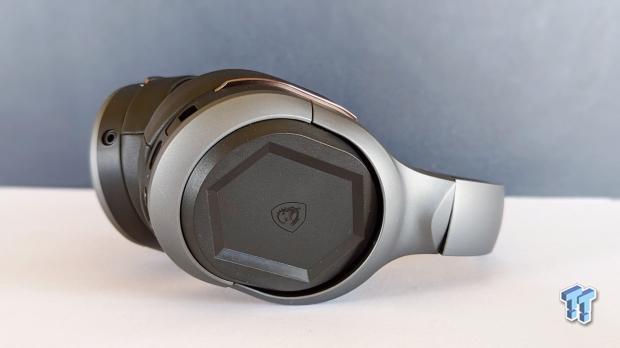 Above all, the sound quality and overall balance are tuned right for gaming and overall media consumption, capable of delivering nuance, spatial surround, and clarity across everything from music to dialogue and even explosions. It might not close in on the audiophile heights of some of the most expensive wireless options on the market, but when it comes to audio, the hope is you get more than what you pay for. And that's the MSI Immerse GH50 Wireless.