TweakTown's Rating: 96%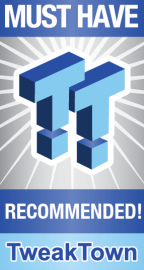 The Bottom Line
Even though the charts do not reflect the reality of the Viper Elite 5 RGB, we still suggest you grab a set for your next build. For the money, you will not find another kit with this much style, flexibility, and fun.
Pros
+

Lower-profile

+

RGB

+

AMP and EXPO support

+

Tight tertiary timings

+

Unique styling
Cons
-

Performance on current Windows OS
Should you buy it?
Avoid
Consider
Shortlist
Buy
Introduction, Specifications, and Pricing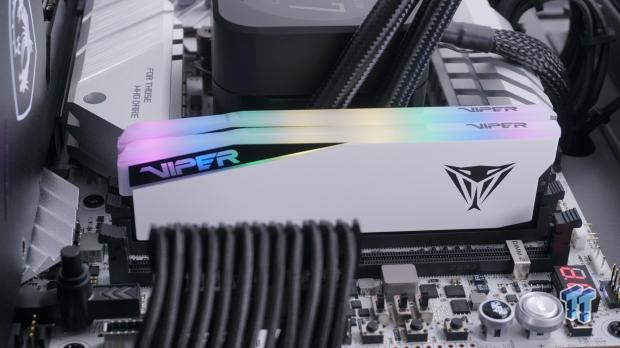 Anyone who frequents our RAM review section will see that Patriot has been keeping us busy with various sets of DDR5 over many product lines and many speed options within those groups. They were the first to send us the 8000 MHz kit and are currently the only ones willing to send such a kit to us, but for those who do not care to be on the bleeding edge of what RAM speed has to offer, we have a slower set of memory to look at today. On another tangent, these are also the first set of Patriot RAM compatible with AMD and Intel with noted EXPO and XMP support.
Anyone who has read anything from us in the past with such support will also know that we would much rather have separate kits for each team. Still, we also understand the logistics and troubles that carrying two different lines can cause for the bottom line. In the past, many such kits tended to lack the performance we are used to seeing at the stated speed. Still, with this kit's looser primary timings and tight secondary and tertiary timings, Patriot may have a leg up on some of the kits we have already reviewed.
As we carry on with this review, we will be taking the typical steps as we always do, but after our testing, we contacted our Patriot rep and had quite a lengthy discussion to work out some of the kinks. What we mean by that is that these Patriot Viper Elite 5 RGB sticks we have in hand did not react as we expected, and we have also found that Windows updates have essentially killed performance since we started our charts. As we continue through this review, there will be more on this, but it will lessen our stance on a few things as we conclude what these Patriot Viper Elite 5 RGB are capable of and what to expect from them on your currently updated OS.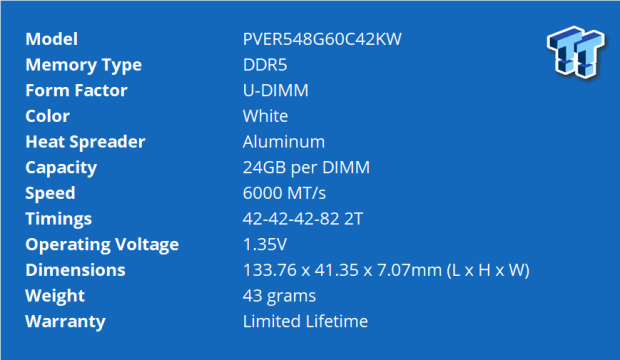 Our set of PVER548G60C42KW, or Patriot Viper Elite 5 RGB, is something we haven't seen in the past visually. While they come with white aluminum heat spreaders, one end of each stick is angled down from the top surface, making them unique and easy to associate with Patriot in any build. Along with a few others Patriot has sent over to us, this is another 48GB kit of RAM with some amazing ICs, ready for the masses to take advantage of.
This specific kit comes with the XMP and EXPO speed set to 6000 MHz, which is the lower-end of the speed bins but will guarantee stability on just about any system you fit them into. We mentioned the timings are a tad loose, and as we see, this kit boasts a timing set of 42-42-42-82 2T, but that is only part of the story. The secondaries and tertiaries are tightened to help bring performance back up from what you may associate with such a wide set of primary timings. On either side of the fence, you will need 1.35V to power this set of DDR5, and as to fitment, with the height at only 41.35mm, they will fit under plenty of CPU air coolers. They are not the heaviest sticks we have seen, but at 43 grams, they offer more aluminum in the spreaders than others in their league.
Patriot backs their DDR5 with a limited lifetime warranty, which is almost the industry standard, but there is still one hurdle to clear. Cost is a major concern for just about everyone out there, and in the past, Patriot has tended to be on the lower side of that spectrum, and this time is no different. To obtain the kit you will read about, you will need to put out only $159.99 via Amazon to get your mitts on a set. However, if you frequent Newegg for your gear, be prepared to get third-party screwed over. We could not find a Patriot listing there, but we found a place called the Riviera Store, asking an absurd $228.99 for the same kit. All we can say to something like that is screw that place and migrate to Amazon to get your Patriot Viper Elite 5 RGB.
Packaging and Patriot Viper Elite 5 RGB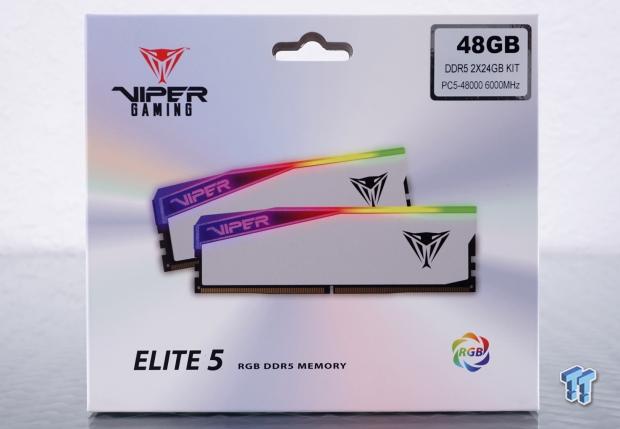 Patriot Viper Gaming sends the Elite 5 RGB in white packaging that matches the view of the illuminated sticks shown in the center. Beyond that, the chromed sticker shows density and speed, while the bottom shows they indeed sport RGB lighting.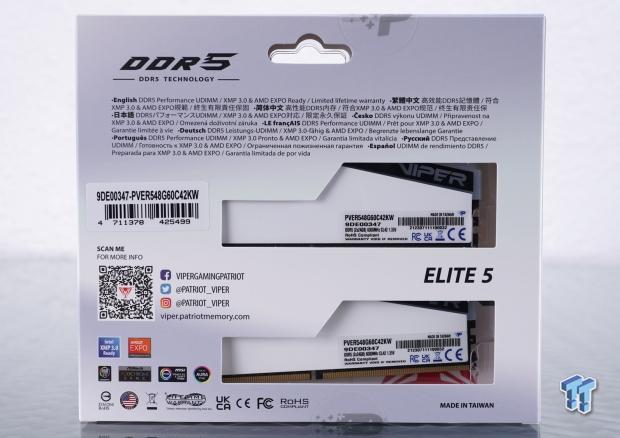 We see that these are DDR5 on the reverse, and the fine print explains their XMP and EXPO support. We then run into the product sticker to the left of the windows, affording a view of the product stickers on the RAM itself. We also see Patriot's social media information and many icons for XMP, EXPO, and various motherboard sync support.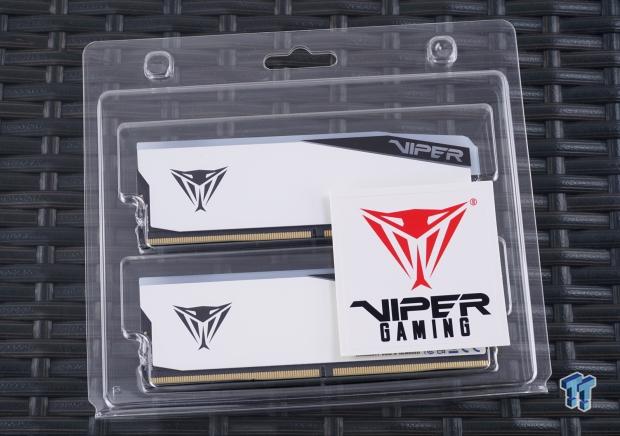 Inside the cardboard box, the Patriot Viper Elite 5 RGB is packed inside of form-fitting plastic, which not only keeps them safe in transit but also acts as an anti-static measure to ensure the RAM works when it arrives. Floating freely inside the box is a Patriot Viper logo sticker, which can be put on anything you feel needs a splash of red and white.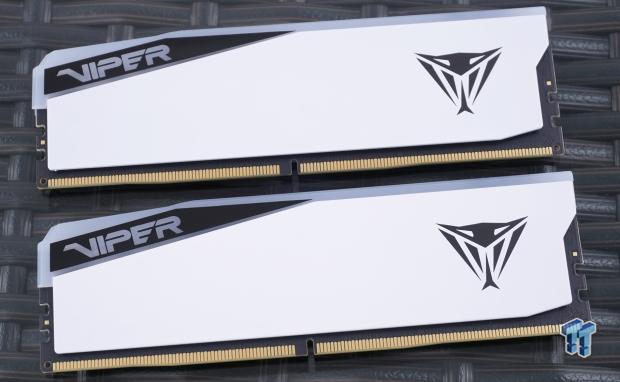 You really cannot ask for a higher contrast set of DDR5. Patriot chose white for the spreaders, and rather than the typical red logo, we get matte black for it and the VIPER naming at the left of each stick. The same end of each stick is angled at the spreader's top edge, and the diffuser shares that angle, setting these apart from many other kits visually, beyond the naming and logo.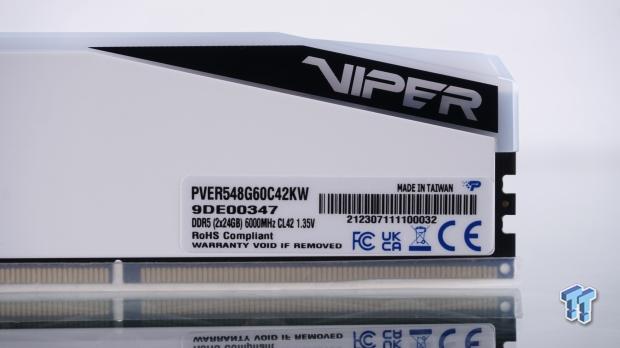 The opposite side of these sticks sports the same look with the naming and logo placement, but we also get the product sticker on this side. This sticker shows the part number, type, speed, CAS latency, voltage, serial number, and build location.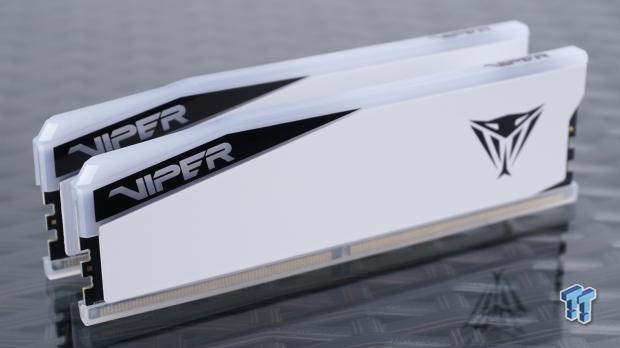 As you might see when installed, the Patriot Viper Elite 5 RGB, in a 2DPC layout, will show the large Viper name on both sticks, but the logo is only visible on the front module. However, not only will you get RGB illumination from the top portion of the diffuser, but the diffuser is also part of the angled portion, adding the same flood of RGB behind that Viper name.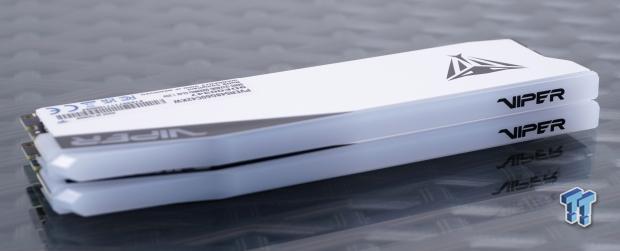 On top of the diffusers, Patriot places the Viper name again. Instances like our APEX, with the 1DCP layout, fit the sticks much closer together, where the Viper name on the sides is less visible. This name placement also ensures that anyone seeing this brilliantly lit set of DDR5 is obvious as to who manufactures it.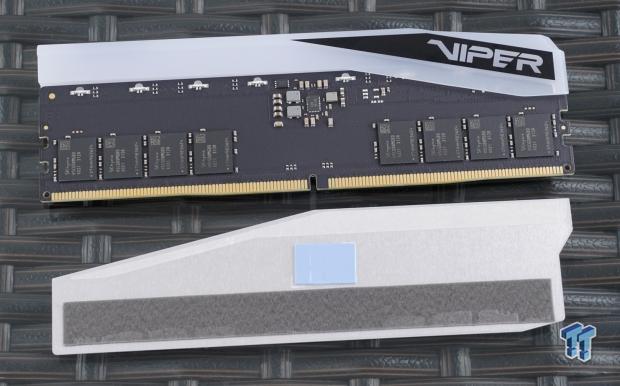 Under the hood, we find a set of eight SK Hynic ICs and the PMIC, both actively cooled with thermal tape for the ICs and a blue-ish thermal pad on the PMIC. The angle of the heat spreader is also much more obvious once away from the diffuser it attaches to at the top.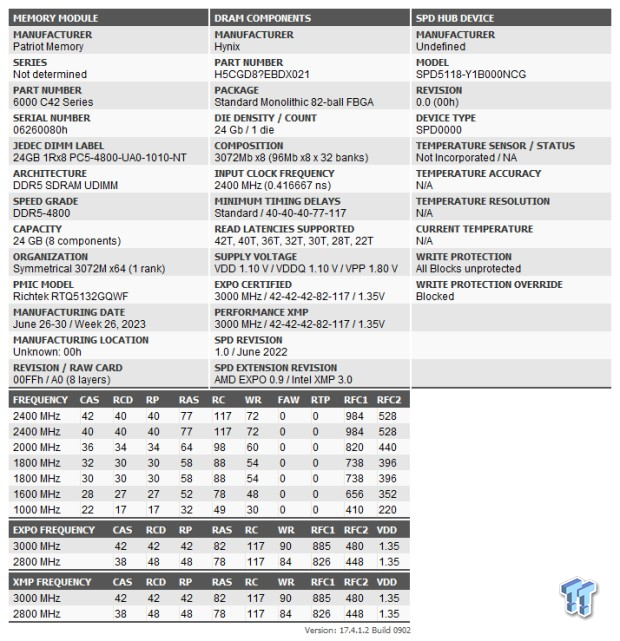 Thaiphoon Burner shows us the fine details of what is used with the Viper Elite 5 RGB. Patriot opted for SK Hynix Ics, with the part number H5CGD8MEBDX021 on each of the 3072 Mb chips. Oddly, the PMIC is not named, but we saw a Richtek 0D=9E unlocked voltage controller in the previous image.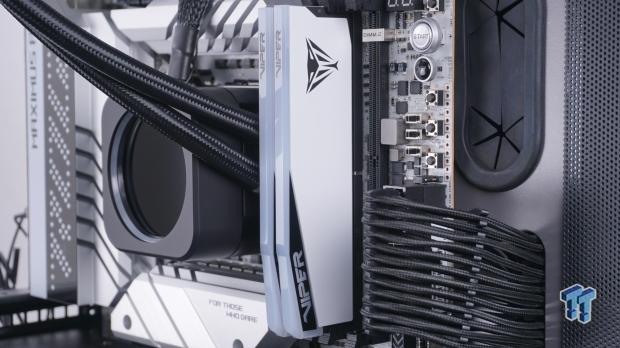 Once we had the Patriot Viper Elite 5 RGB installed on the Z790 APEX, we could appreciate the white and black much more, and it is a perfect solution to match such a system. Of course, they are not in their full glory yet, either.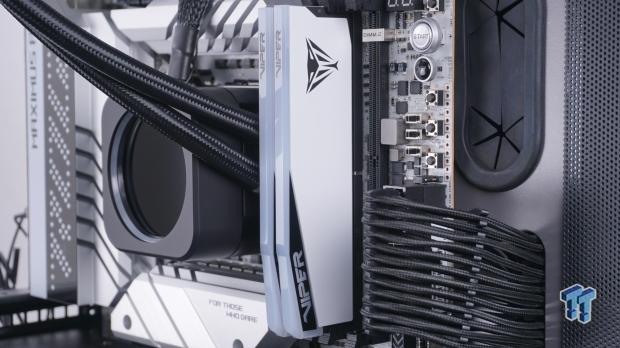 Boot the system, and you will immediately be greeted with red LEDs in a bullseye fashion, quickly turning to this rainbow mode as the default lighting. Of course, you can easily control them with the motherboard sync software, but out of the box, we are not mad at what Patriot does, and it takes quite a bit of time for them to get out of phase with one another.
Test System Details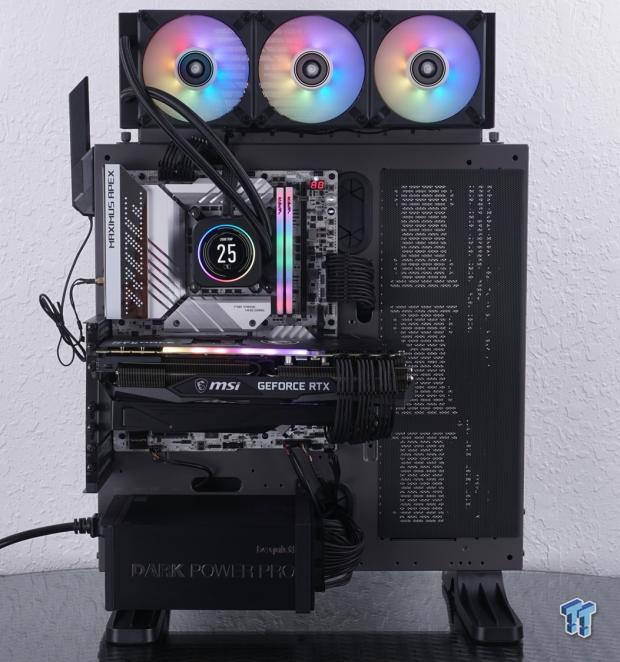 To obtain the Intel CPU-Z screenshots, you will see directly following this image; this is the system we used to do it, as well as in getting the results seen in the following pages. Thanks to Intel, be quiet!, ASUS, MSI, Corsair, and Sabrent for supporting us with this venture. Detailed specifications of the system can be found below.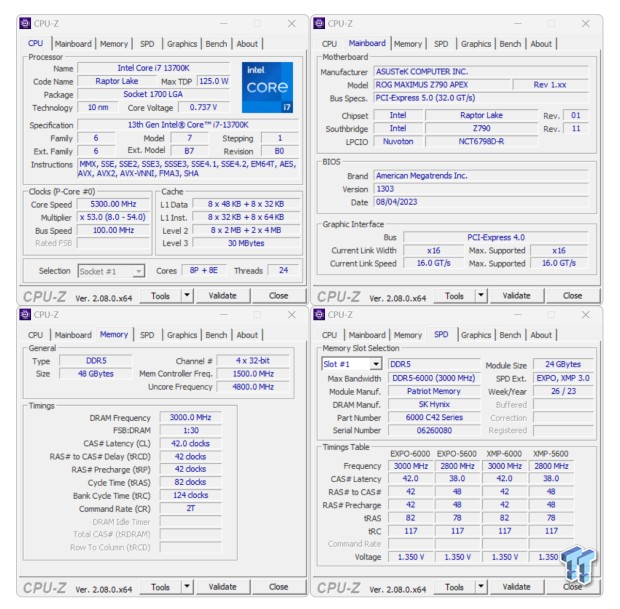 As we boot the XMP profile after tasking the appropriate steps beforehand, we see we get everything we were told that these Patriot Viper Elite 5 RGB would deliver. The speed is set at 6000 MHz, and the timings set is 42-42-42-82 2T. Voltage-wise, the VDIMM is at 1.35V; our SA is 0.865, and the MC is set to 1.119V.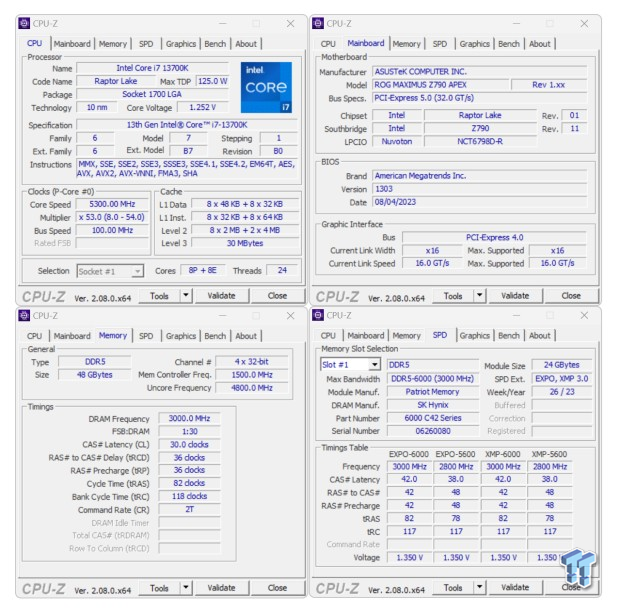 Adding some voltage, we raised the VDIMM to 1.45, the SA to 0.965, and the MC to 1.225V and got the timing set much tighter. Still, at 6000 MHz, we got the timings down to 30-36-36-82 2T with complete stability.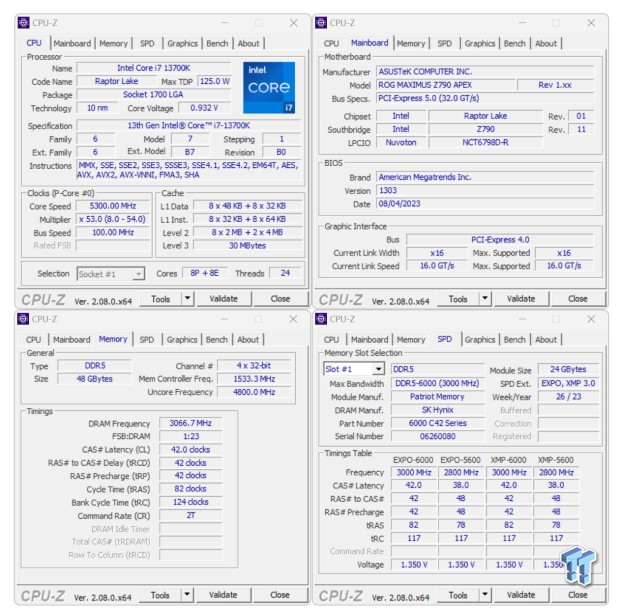 The other side of overclocking is looking for the maximum speed; sadly, we did not get far initially. Due to the tightness of two specific timings, we could only get this kit to 6133 MHz without breaking the methodology we tested all kits with.
Chad's Intel DDR5 Dual-Channel Test System Specifications
Intel Performance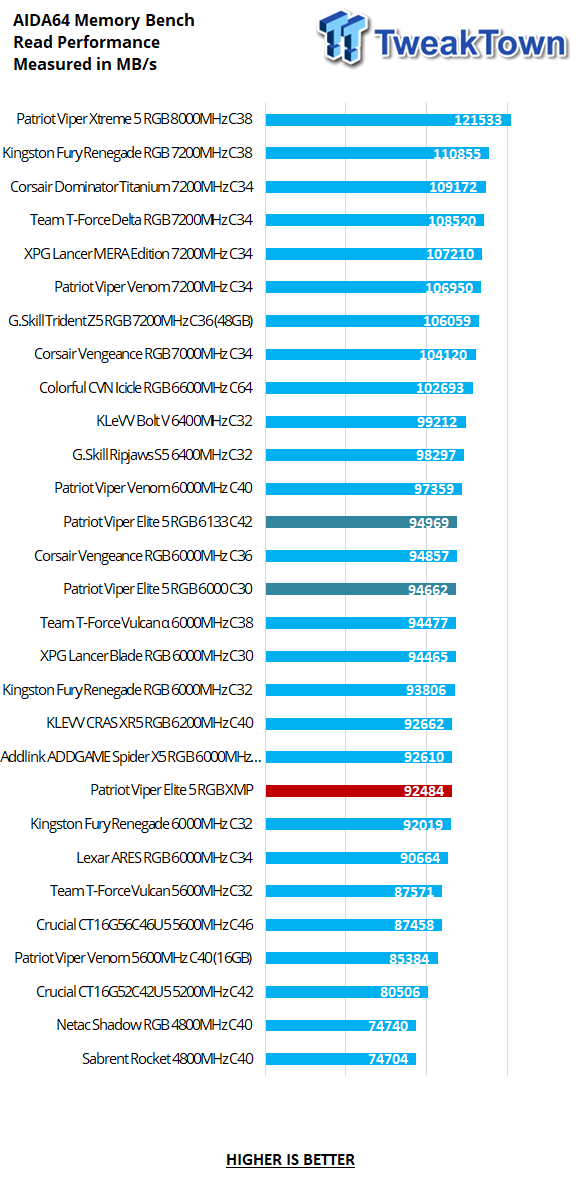 Read performance in AIDA 64 is better than the Fury Renegade and ARES RGB with much looser timings within this Patriot kit, landing the Viper Elite 5 RGB at 92,484 MB/s. Dropping the timings obtains a 2178 MB/s boost over XMP, and shockingly, with little added speed, we got even more performance, to the tune of 2485 MB/s.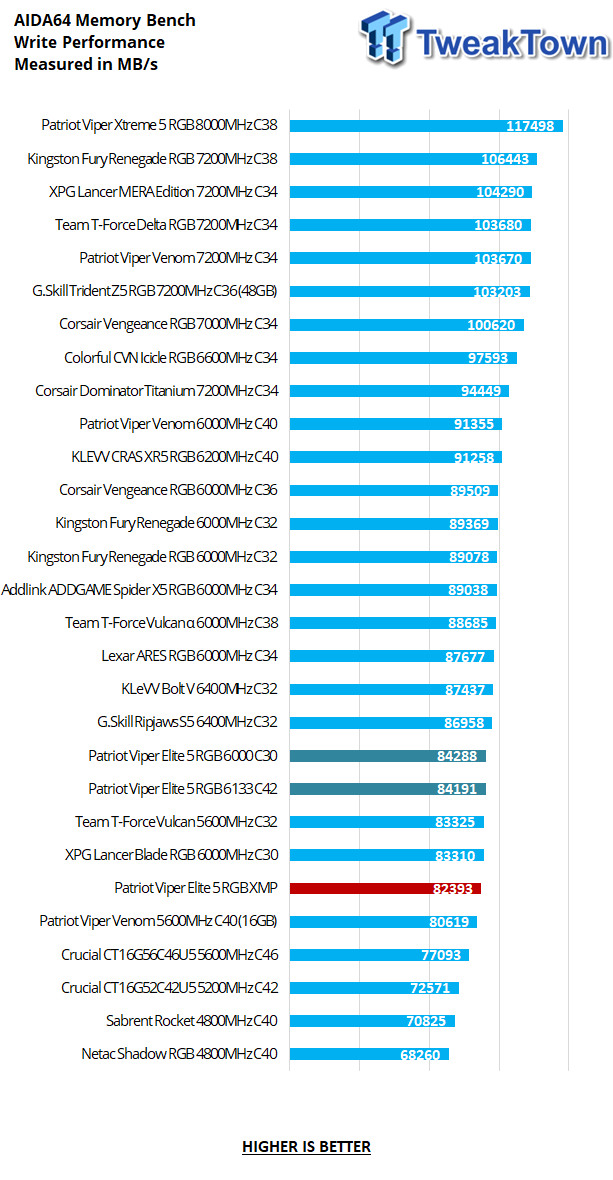 Regarding write performance, Windows updates are killing performance, landing the Viper Elite RGB at the bottom of the competition of 6000 MHz offerings in the chart at 82,393 MB/s. We improved upon that number with some overclocking, where added speed boosts the results 1798 MB/s and lower timings get us 1895 MB/s over XMP.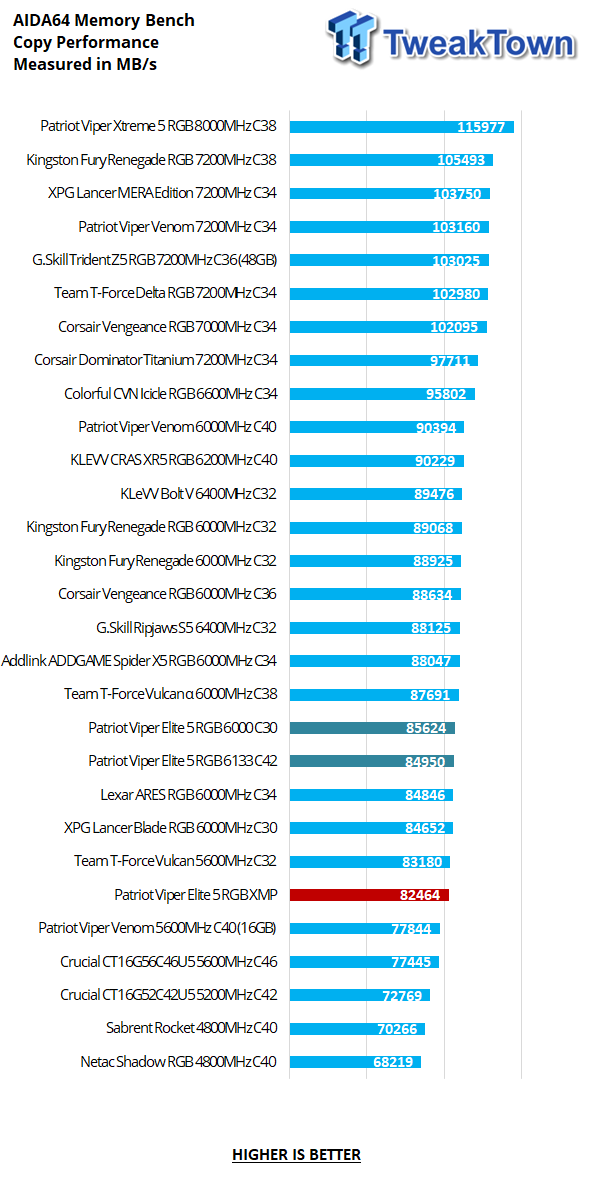 Again, keeping Windows current did not do any favors for the copy results either, landing the Patriots within a few of the 5600 MHz entries at 82.464 MB/s. Lower timings won out over added speed, where we get 2486 MB/s from adding speed and 3160 MB/s from lower timings.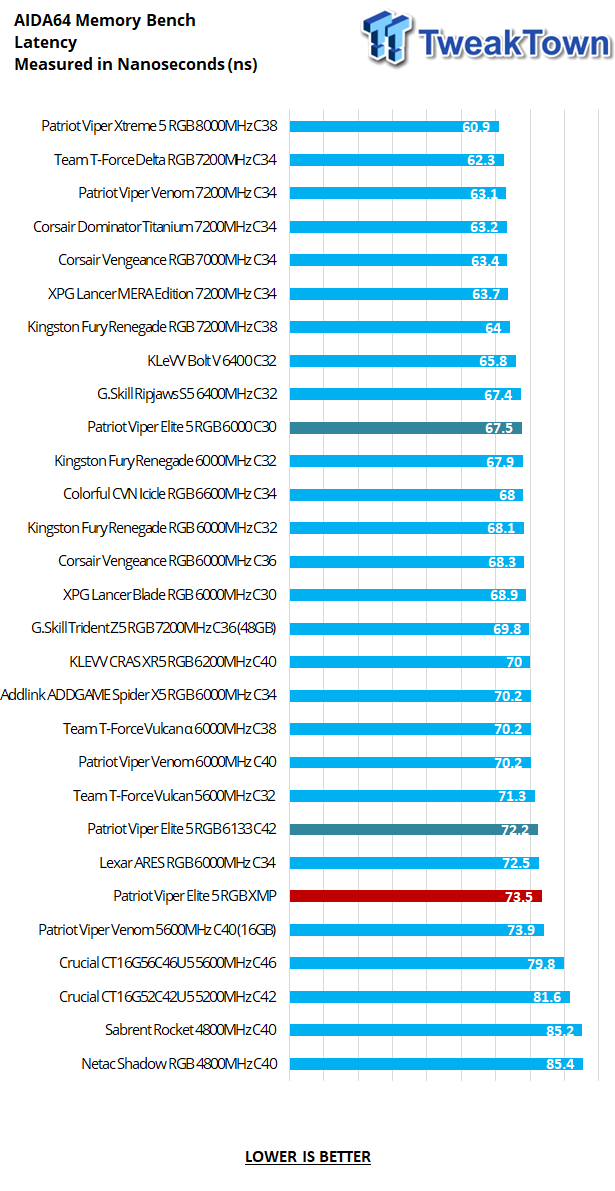 Latency is not horrible out of the box, considering we have the 42-42-42-82 2T timings from XMP sitting at 73.5 ns. With more speed added, latency is slightly lower at 72.2 ns, but we got the best reduction with reduced timings, taking these patriots to the 67.5 ns score seen much closer to the top of the chart.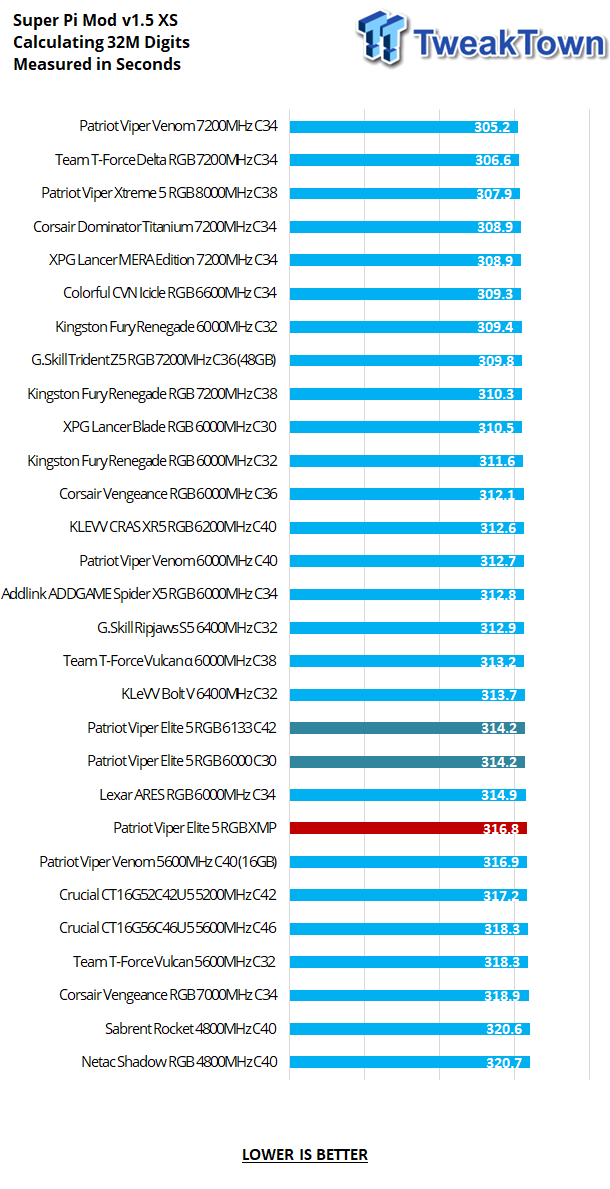 Our Super Pi results are similar no matter how we set the memory to run. Out of the box, we saw a five-minute and sixteen-second run to complete the test, lower than the rest of the 6000 MHz offerings. Either way we overclocked the Viper Elite 5 RGB, they scored the same at five minutes and fourteen seconds.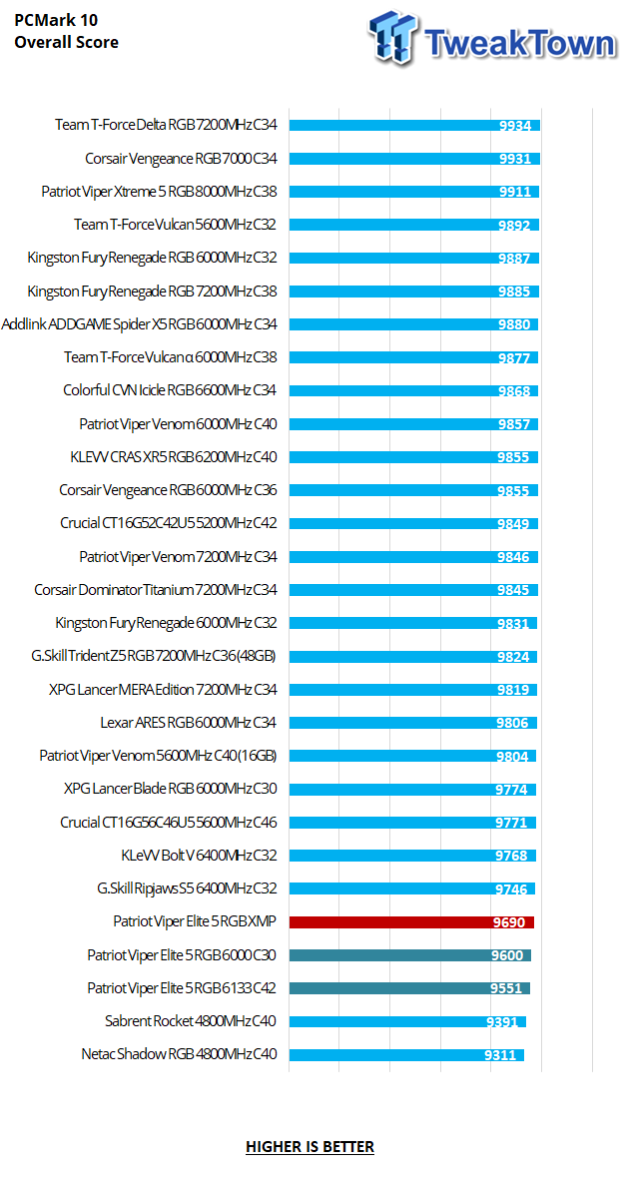 PCMark 10 did not appreciate anything about this set of DDR5 when it came to the scores. With the base score of 9690 with XMP active, things did not start well but are close to the Ripjaws S5 performance. Lowering the timings dropped the score to 9600, and more speed took us down to 9551.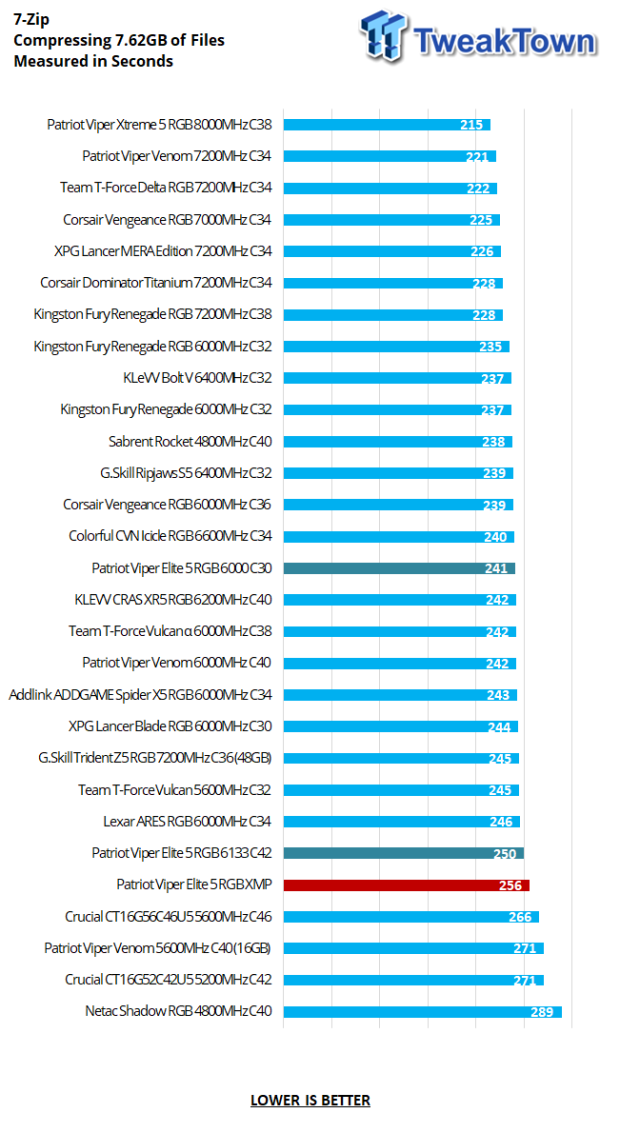 File compression times are not so great, either. Starting at 256 seconds to compress a nearly 8GB file lands Patriot near the bottom of the chart, some ten seconds behind its nearest competitor. We took six seconds off that time with added speed, but the reduced timings put the Viper Elite 5 RGB in the mix with its direct competition, fifteen seconds better than XMP offered.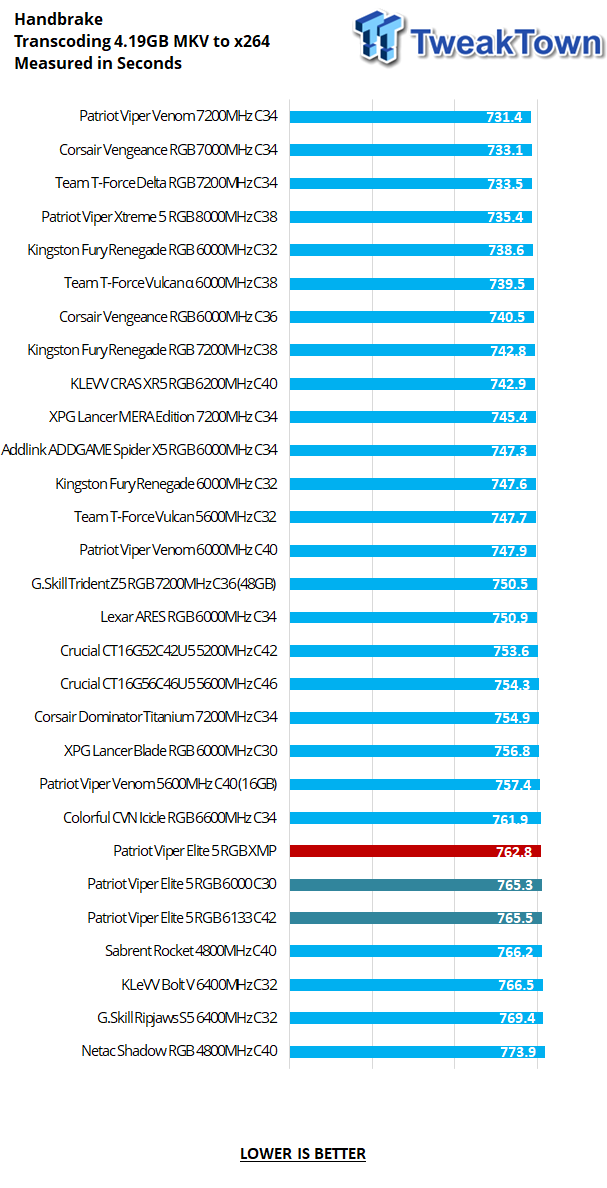 Handbrake also penalized the Patriot Viper Elite 5 RGB, yet it is still better than some of our chart's older 6400 MHz scores. Sadly, any overclocking attempts did nothing to improve the XMP score in this metric.
Final Thoughts
As mentioned, Windows updates have killed performance as we have progressed in our charts. We discussed the lower scores with our representative, and things were not making much sense to both of us. Then, we retested a much faster set of Patriot sticks we had already reviewed and could see an obvious disparity in the scores from when we initially tested them. So many of the other 6000 MHz kits would not have the same scores if regression testing were part of our methodology. It has taught us that when we update to the new 14th generation of CPUs, we will leave the network cable detached and not change anything other than the BIOS revisions, staying current with those.
On the Patriot Viper Elite 5 RGB, we cannot be that excited about their performance overall in our charts as they sit. Still, in the small set of sticks we did retest, we saw similar numbers to these sticks than when those kits were reviewed. Due to this, we will be judging these on a slightly sliding scale for the performance scores in our awards chart.
Beyond that, we love the looks, flexibility, and top-tier components used within the Patriot Viper Elite 5 RGB. They are one of maybe a handful of modules that are a perfect match for our test system, and the contrast is better than anything we have seen in the past. Also, the amount of RGB lighting coming from these sticks is intense. On top of that, we also get the Viper name on the sides backed with RGB illumination, which takes these visually, past many of the previous sets we have boasted had stellar visual appeal.
During our discussion with the Patriot rep, we also discussed the tightness of the timings, limiting the overall speed we could reach with overclocking. We were told that two specific timings were set tight to help offset the 42-42-42-82 2T timings to help overall performance. The first was the DRAM REF Cycle Time 2, set to 480 via the XMP profile. If you raise that to 680, things start to improve. However, it also takes the DRAM REF Cycle Time Same Bank to be increased from 390 to 640, and amazing things can happen.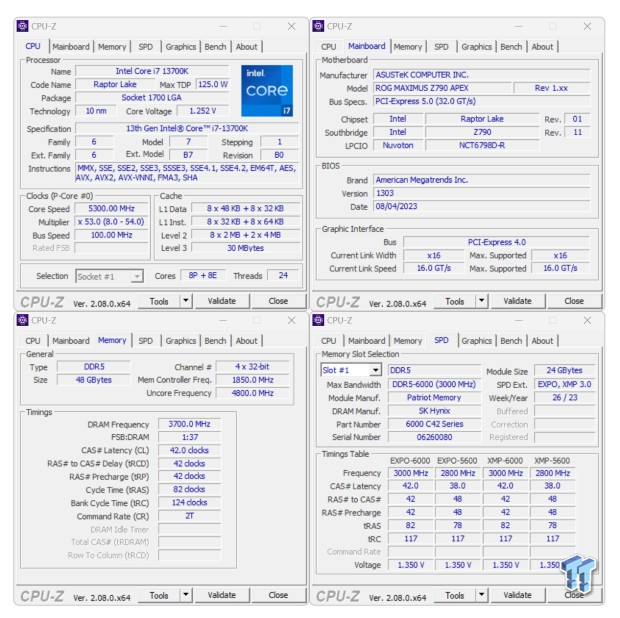 By adjusting those two timings, we took what initially stopped at 6133 MHz and got an astounding 7400 MHz from the same kit, and this is with the VDIMM at 1.45V, the SA at 0.965V and the MC at 1.225V.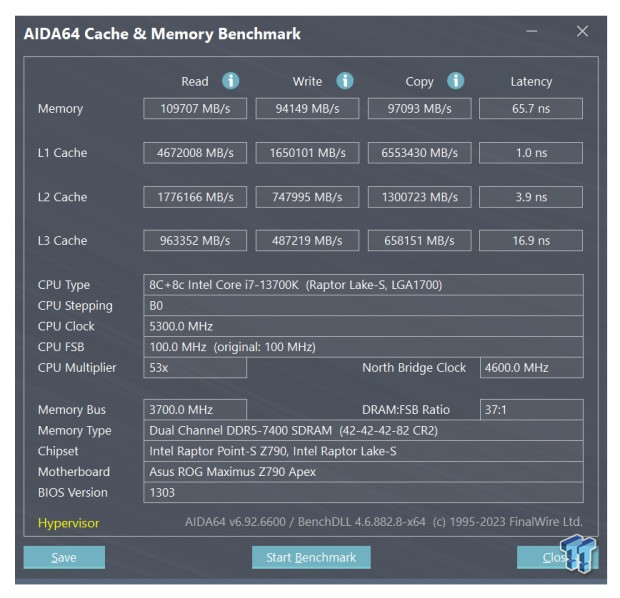 While not in the charts because it was outside of the realm of our testing methodology, we wanted to show what sort of results were capable from such an overclock.
With the density we get, and at only $159.99 to get a kit with so much flexibility, you will be hard-pressed to find others in their league to accomplish what we have seen today. This is one hell of a kit to tinker with. While we realize that the initial idea is to give stability across multiple system makers, supporting both EXPO and XMP, we have yet to see another with this level of support to what Patriot can offer. Even with less density, we cannot recall a set of DDR5 that could do what Patriot can achieve. While this may not initially seem like a great kit to stick in your DIMM slots, for those who like to tinker, you will be hard-pressed to find another that is this much fun and that can deliver over 17,000 MB/s from XMP to the best it can provide. While on paper, this may not have been an initial choice to install onto your motherboard, at this price point, it is tough to say that Patriot and their Viper Elite 5 RGB are not worthy of your attention.