TweakTown's Rating: 93%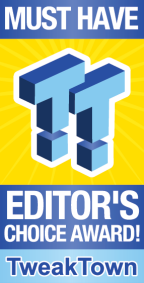 The Bottom Line
The MKey (available in TKL and full size) is Montech's first keyboard and it has delivered something pretty special. From performance to build quality, to just how smooth it is to type with - a brilliant first attempt right out of the gate.
Pros
+

Stunning aesthetics with great use of RGB lighting

+

Gateron G Pro 2.0 switches

+

One of the smoothest and quietest typing experiences of 2023

+

Excellent build quality

+

Clever on-board controls
Cons
-

Can't program the dial for other functions

-

The software could use a once-over to improve the UI and functionality

-

No wrist rest

-

Blue keyboard, black USB cable
Should you buy it?
Avoid
Consider
Shortlist
Buy
Introduction & Specification Details and Close-up
Sometimes we see peripheral releases from companies for products out of the respective company's wheelhouse - and on that note, Montech is best known for its cases, PSUs, and cooling solutions. We weren't sure what to expect before the Montech MKey keyboard arrived. The new MKey from Montech is the company's first mechanical keyboard, and it's safe to say that it has knocked it out of the park with this one - not only in terms of the keyboard's beautiful aesthetics but across its smooth and quiet performance.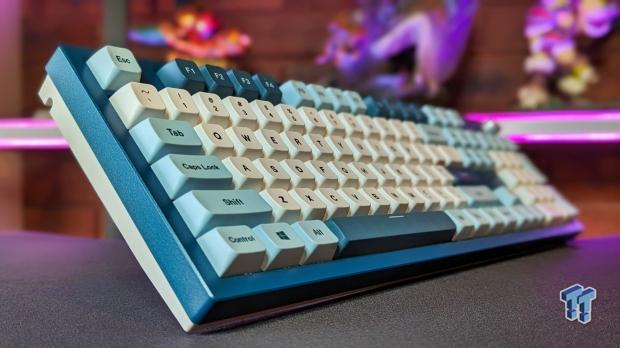 Functionality, performance, and the quality of things like switches and keycap materials play an important role in sizing up a new keyboard, but how it feels to use it can often be overlooked. The Montech MKey Freedom reviewed here is the full-size version of the keyboard, which is also available in TKL form and arrives in two color styles. It uses the quiet Gateron G Pro 2.0 Yellow Switches paired with curved MDA-style keycaps in a build that is as rugged as it is well-designed.
If you're a fan of responsive linear-style switches, this might be the keyboard for you - it nails the first impression you want from a quiet and responsive mechanical keyboard. And this is all backed by a high-quality build with premium components and even some solid software support. Let's dig in.
Specifications & Close Up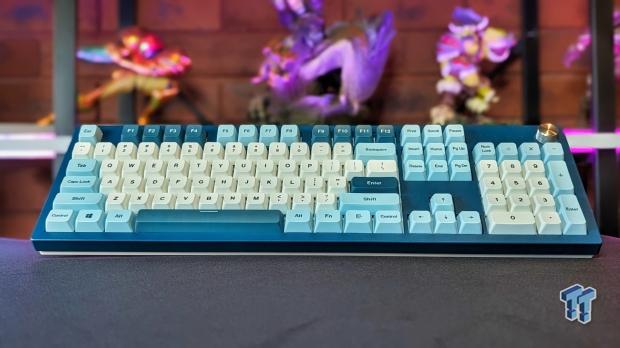 Product Name: Montech MKey Freedom
Product Type: Wired Gaming Keyboard
Size (Full/TKL): Full
Switch: GateronG Pro 2.0, Yellow Switch
Actuation Point/Force: 2.0mm/50G
Interface: USB
Lighting: RGB (18 modes)
Dimensions: 443 x 136 x 41 mm
Weight: 1563 grams (keyboard)
What's in the Box: Montech MKey Freedom, USB-A to USB-C cable, Osaka Castle themed keycaps (4 pieces in set), anti-dust cover, Key Cap Puller, Switch Puller, Guide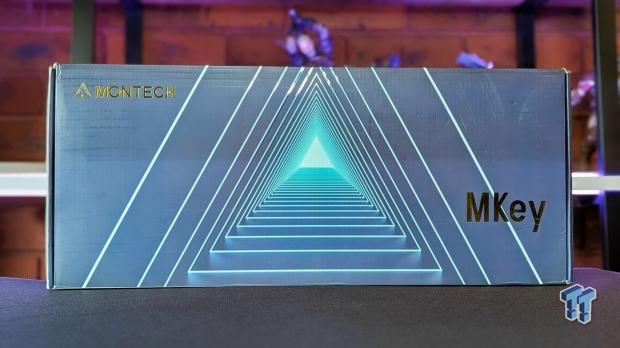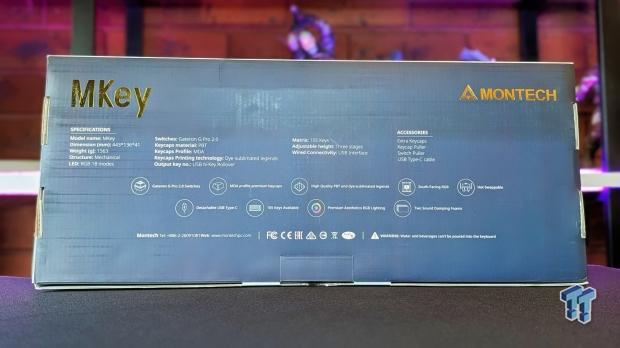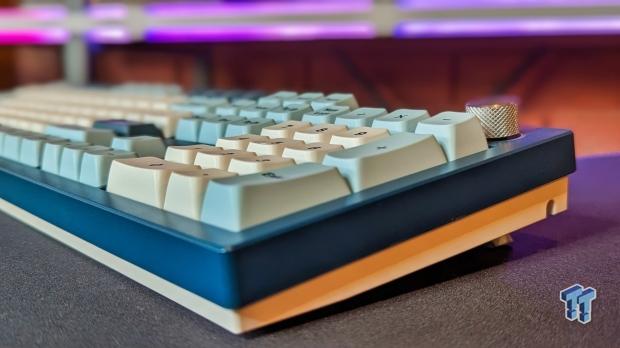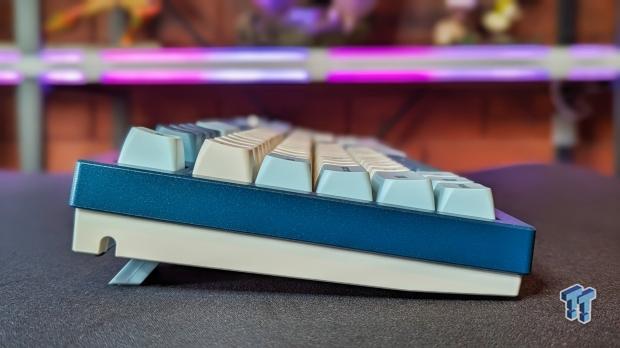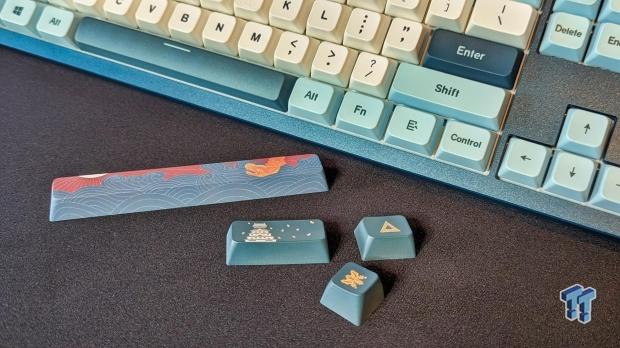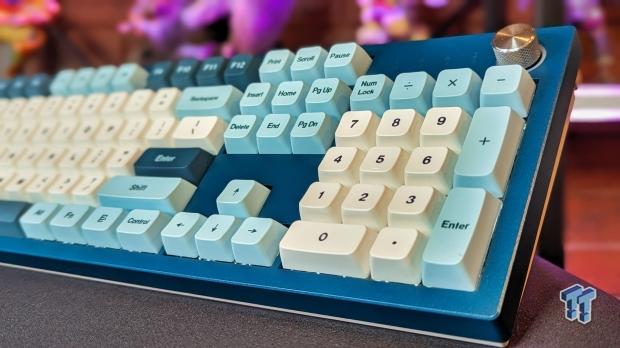 Kosta's Test System Specifications
Motherboard: MSI MPG X670E Carbon Wi-Fi
CPU: AMD Ryzen 9 7900X
GPU: NVIDIA GeForce RTX 4090 Founders Edition
Cooler: Corsair iCUE H100i RGB PRO XT Liquid CPU Cooler
RAM: 64GB (2x32GB) Corsair DOMINATOR PLATINUM RGB DDR5 DRAM 5200MHz
SSD: Sabrent Rocket 4 Plus-G M.2 PCIe Gen 4 SSD 4TB, Sabrent Rocket 4 Plus Plus M.2 PCIe Gen 4 SSD 8TB
Power Supply: Thermaltake Toughpower GF1 850W
Case: Thermaltake Core P3 Tempered Glass Snow
OS: Microsoft Windows 11 Pro 64-bit
Design & Software
Design
According to Montech, designing the new MKey took two years of planning, and it's not hard to see why. The typing feel is up there with some of the best keyboards we've had the pleasure to use, smooth, quiet, responsive, and with a satisfying, totally gratifying sound. Although available in a more minimal dark color, the model sent over by Montech for the MKey Freedom sports various blue hues inspired by the iconic Osaka Castle in Japan. The result is one of the most beautiful keyboards currently available. Montech even includes a set of custom keycaps to celebrate Osaka Castle that you can quickly install - and yes, it features hot-swappable switches too.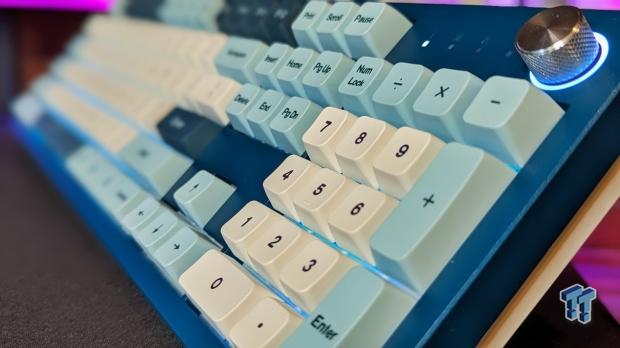 Even though the look and feel are unique, with Cherry-compatible keycaps, there's plenty of customization on offer if you're after changing things up to make it more your own. Although it features dedicated software support for Windows PCs, the Montech MKey Freedom has been designed to be fully functional without the need for software - at least in terms of its basic functionality. Packed with the keyboard is a card that details all secondary functions like audio controls and software-free lighting shortcuts (these aren't printed on the keycaps or keyboard), which is a nice touch.
One of the stars here has to be the multi-function knob in the top right corner of the keyboard which has three modes; volume control, RGB mode switching, and zooming in and out on a window. The latter is a strange addition; we'd prefer to have seen app switching, but it's still a great addition to the keyboard. On the RGB front, the south-facing LEDs give off a great hue when paired with the overall aesthetics - and the MDA keycaps made with high-grade PBT materials have a uniformly excellent feel.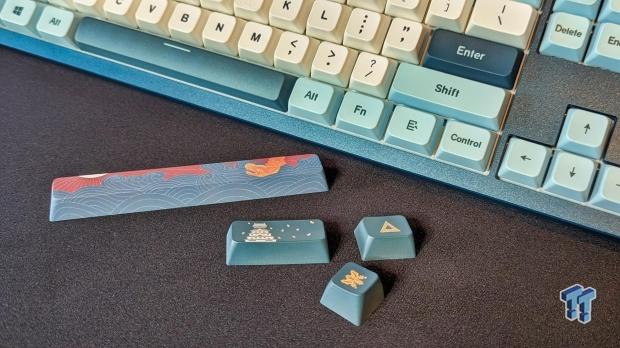 In addition to the long-lasting pre-lubed Gateron G Pro 2.0 key switches, much of the smoothness here can be attributed to the mounted gasket design and multiple silicon absorbing pads between the switches, PCB, and plate. All of this makes the keyboard one of the quietest we've tested, but there's a uniformity to both the audio and responsiveness that deserves celebration. No matter the key pressed, you get the same audio response and overall feel. The Montech MKey Freedom is a joy to use.
Software
Although somewhat hard to find on the official product page for the Montech MKey Freedom, Montech offers a dedicated app for the keyboard to install that is simple to use and powerful enough to meet most needs regarding customization. From detailed RGB customization covering all of the pre-installed RGB modes and variations to key settings to change functionality and macro management - there's a lot packed into this tiny app.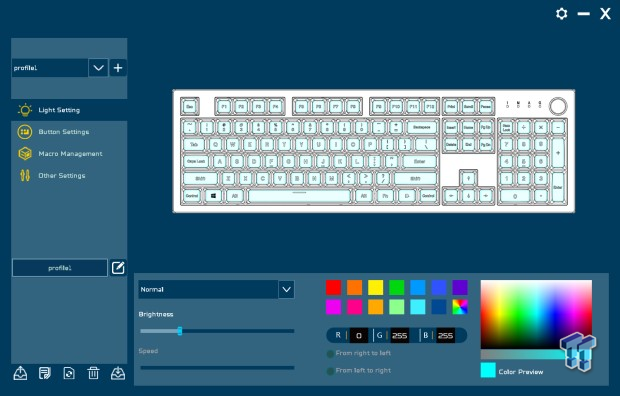 This is good news because using the keyboard to adjust RGB lighting is a lot more cumbersome than pressing a few buttons in an app to get the lights where you want them to be—likewise, changing up key settings for various apps if that's your thing. Sometimes it can be hard to tell if a setting is being applied to the right key (the highlighting can be a little hard to see), but it all works fine. Listing default functionality would alleviate some of the usability issues, so hopefully, that will be added in a future update.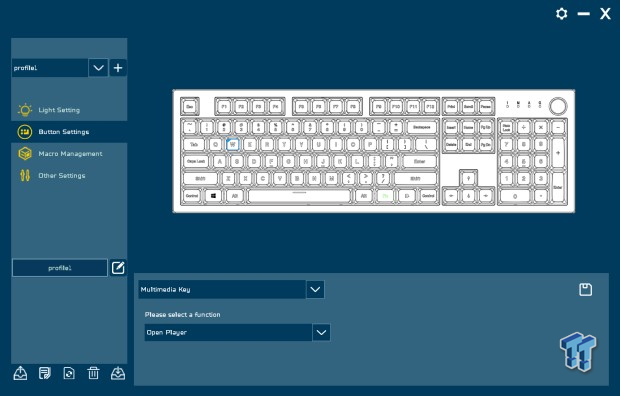 There is profile support here, but it looks to be software only. Montech has included an export function if you plan to take the keyboard to another rig, which is a nice touch. With the Montech MKey Freedom being the company's first mechanical keyboard, it was a pleasant surprise to find that its first keyboard software is up to the task.
Gaming Performance and Productivity
Gaming Performance
With an overall travel distance of 4mm and a 2mm actuation point with 50g force required, the linear feel of the Gateron G Pro 2.0 Yellow Switches is great for PC gaming. The linear style has become the go-to and default for many keyboards targeting the PC gaming market, and even though the look and feel of the Montech MKey Freedom make it more of an all-rounder in terms of its appeal, pairing it with fast-paced titles like Call of Duty: Modern Warfare II and Apex Legends delivered exceptional results.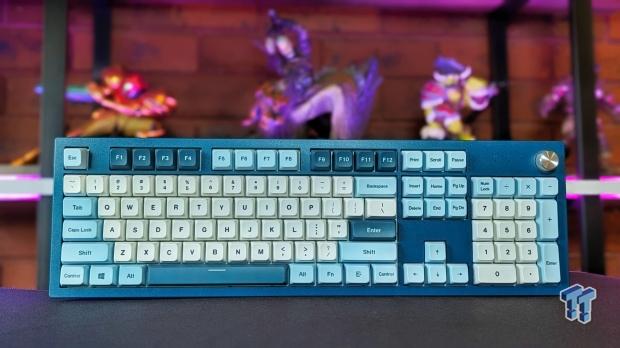 If you're unfamiliar with the curved MDA keycap design (a hallmark of old-school typewriters and terminal keyboards), there is a bit of a learning curve if your fingers glide over keys. For general typing, it's brilliant, and the smoothness of the keypresses translates well to gaming. It's not the fastest keyboard by any stretch in that the linear switches are fairly robust and require some force to actuate, but the MKey's overall smoothness takes it to the next level.
As expected, the Montech MKey Freedom lacks game-specific profiles or even the ability to sync up with RGB settings that could be tuned for what's happening on-screen - which might be a deal breaker for some. That said, the Mkey has got it where it counts, from the satisfying feel of each keystroke to the overall build quality and seamless performance across several hours of gaming (granted, this was mostly playing my Sorcerer as part of Diablo 4's first season).
Productivity
A quiet mechanical keyboard can be the ideal option for productivity, especially if noise is an issue for those within your vicinity. As one of the most silent keyboards we've tested, the Montech MKey Freedom fits the bill as a linear and smooth keyboard for productivity tasks. Being full-sized also helps, and when it comes to productivity, the different keycap colors chosen for the main keys, numpad, function keys, and other elements all help navigation - something we weren't expecting to find when first plugging this in.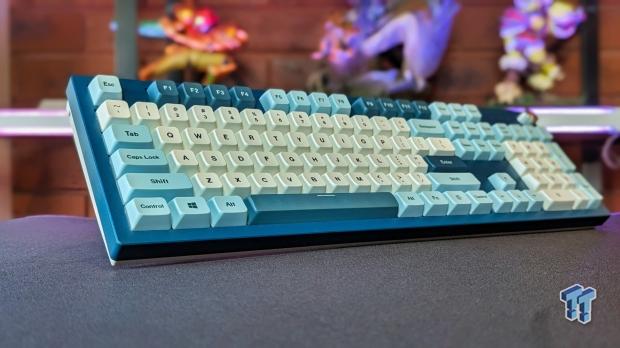 The switch, MDA, and PBT material combination is a winner here, where writing anything from a message in Discord to typing up a long-winded email becomes something to savor. The overall aesthetics of the keyboard become the centerpiece of any desk it's sitting on, so the ability to enable and quickly disable the RGB lighting from the keyboard is a nice touch. Creating a sort of 'work mode' to 'game mode' transition that's very cool. A wrist rest and dedicated audio controls (separate from the volume dial) would have been nice, but they aren't essential.
Keyboard Click Sound Level
To test a keyboard's overall sound level, we use the Ozito Digital Sound Level Meter capturing the sentence "the quick brown fox jumps over the lazy dog" multiple times and recording the maximum dB level. This indicates how "loud" the switches used are for everyday usage. The following chart showcases where the Montech MKey Freedom Mechanical Keyboard sits.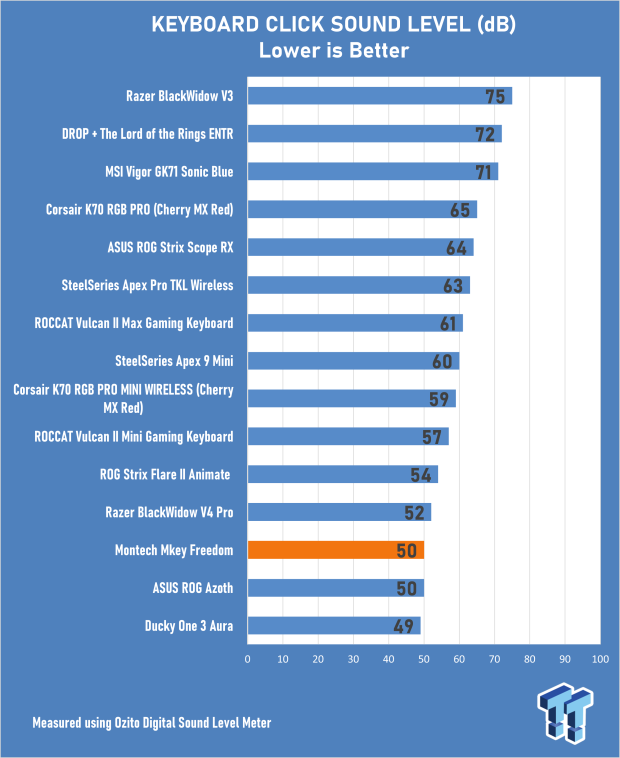 Final Thoughts
As the company's first official keyboard release, the Montech MKey Freedom is a winner. Its stylish and beautiful design is backed up by some great hardware underneath the hood and on top of it, delivering one of the smoothest typing experiences currently available. Is it perfect? No, and there aren't many products that could fit into that category, as there's always an element of personal taste. If I had to list negatives, they're all minor. The USB cable is black, and that's a little strange compared to the remaining blue keyboard. The software is decent but could communicate better with a few UI tweaks. And there's no wrist rest.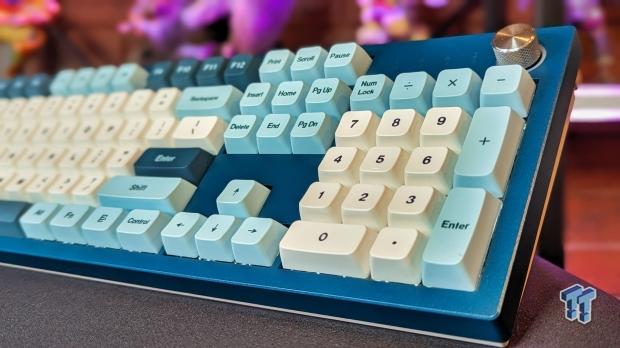 Again, these are minor when you take the full picture of the Montech MKey Freedom. A brilliant mechanical keyboard that performs as beautifully as it looks. Great for gaming, productivity, and any other task that might require a few keystrokes - chalk this up as a pleasant surprise in a year that has already seen a few great keyboard releases.