TweakTown's Rating: 94%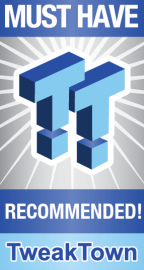 The Bottom Line
Taichi continues to be one of the best top-tier motherboard offerings on the market and ASRock makes it even better with stellar pricing!
Pros
+

DDR5/PCIe 5.0

+

Thunderbolt 4

+

Killer LAN + Wi-Fi

+

Price

+

Performance
Cons
Should you buy it?
Avoid
Consider
Shortlist
Buy
Introduction, Specifications, and Pricing
Taichi has long been one of ASRock's premium motherboard offerings. For Z790, the board has undergone a few changes, the biggest being a VRM upgrade, and second to that is the addition of Gen5 m.2. In addition, ASRock has delivered several versions of the Taichi for Z790, and the unit in-house is the original, but ASRock does have the Carrara and Taichi Lite as well.
Hitting the specifications for this motherboard, the Taichi is a Z790 chipset motherboard sitting on socket LGA1700. This motherboard supports DDR5 with a peak capacity of 192GB and speeds up to 7200MHz+ via XMP.
The expansion includes several PCIe slots, two of which support Gen5, those being the top two. Below, we have a third slot that supports Gen4 at x4 link speed. Storage, on the other hand, includes five m.2 slots, the main slot supporting Gen5 and the other four supporting Gen4. SATA, too, is available with eight ports.
Connectivity is quite similar to the Z690 offering. This board includes two Thunderbolt 4 and two USB 3.2 Gen 2 on the rear panel, with several additional ports available via internal headers. Additionally, we have both Wi-Fi 6e and 2.5Gbe from the Killer Networking Suite.
Pricing
Pricing on the ASRock Z790 Taichi comes in at $479.99 with a three-year warranty.
Packaging, Accessories, and Overview
Packaging and Accessories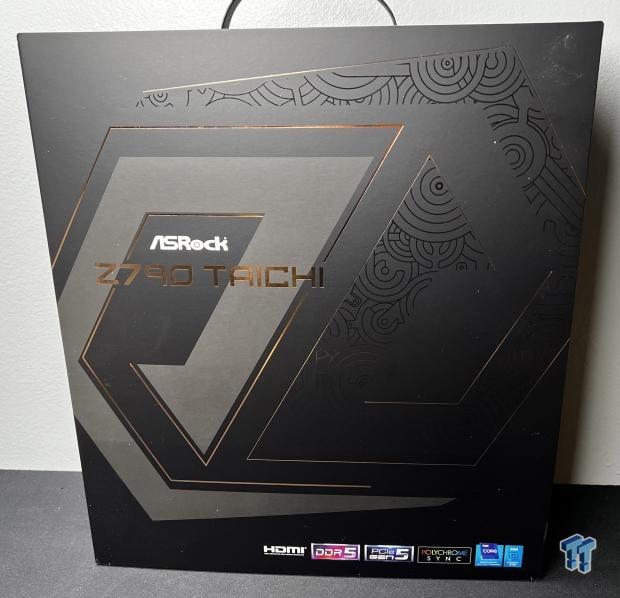 Packaging now has a simple black and gold design. The supported chipset and features are listed at the bottom.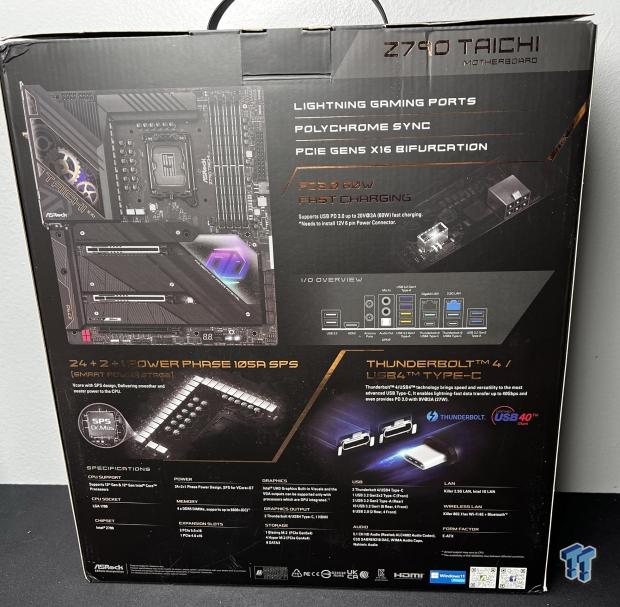 On the back, we have board specifications listed along the bottom with a rear I/O diagram above.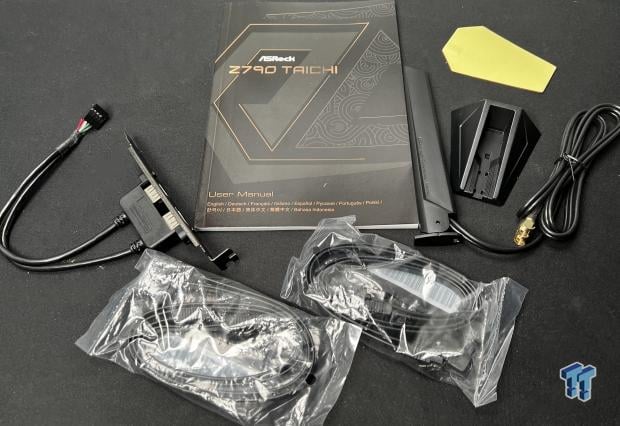 Included with the board, we found the user manual, Wi-Fi antenna, SATA cables, and USB breakout card.
Motherboard Overview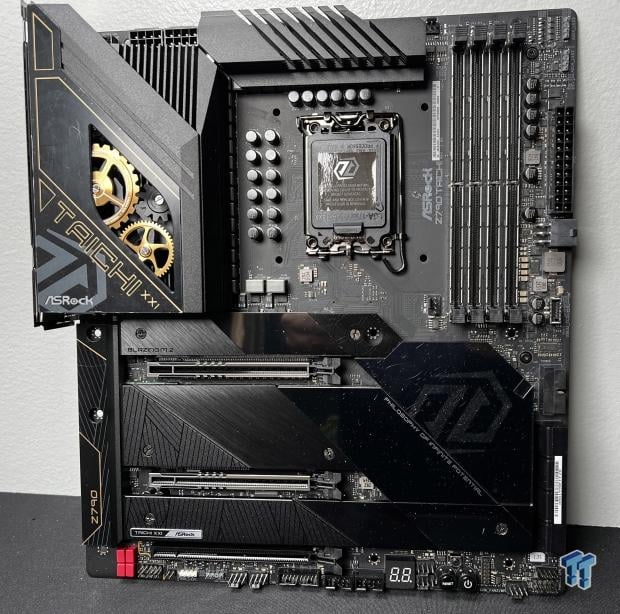 ASRock has continued the gear cog design for Z790, a design we noted back on Z590 initially. Heatsinks cover a large portion of this motherboard; this includes the VRM, Chipset, and m.2 slots.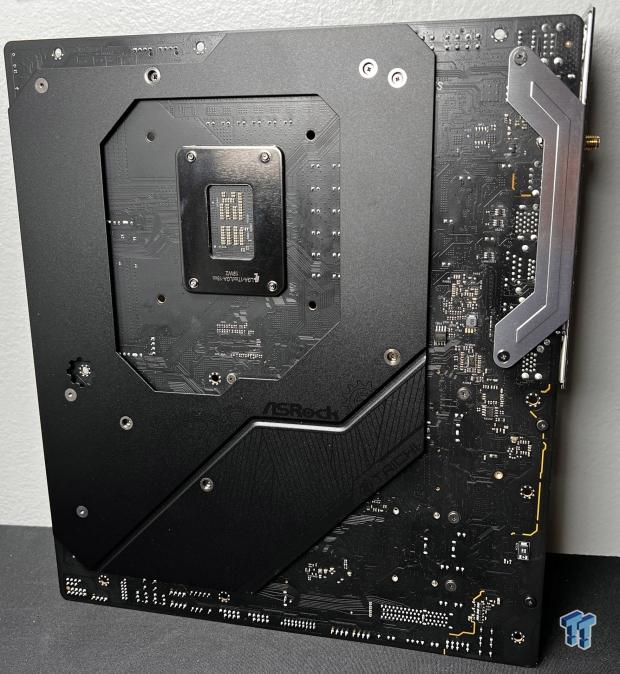 On the backside, we have a backplate.

The rear I/O gives us DP and HDMI at the top. Following this, we have Wi-Fi and audio before we move into the USB 3.2 ports and Thunderbolt 4. At the top, near the bottom, we have 1Gbe and 2.5Gbe.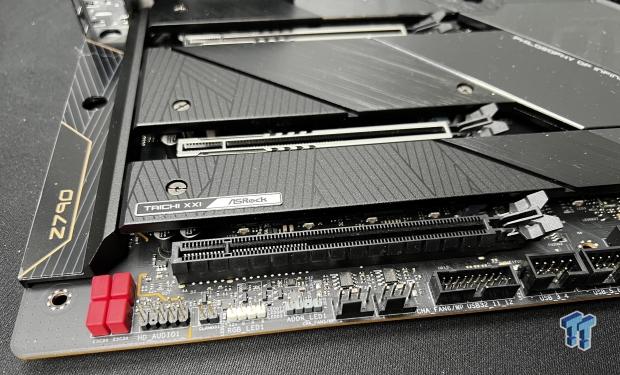 Kicking this off, we have a front panel audio header next to a bank of red WIMA audio caps. Further down, we run into fan headers and USB 3.2 headers.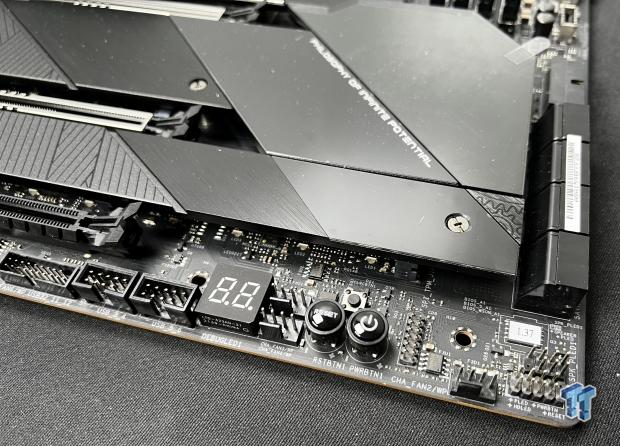 Further down the line, we have the debug LED and power and reset buttons. Far right, we have front panel chassis connections.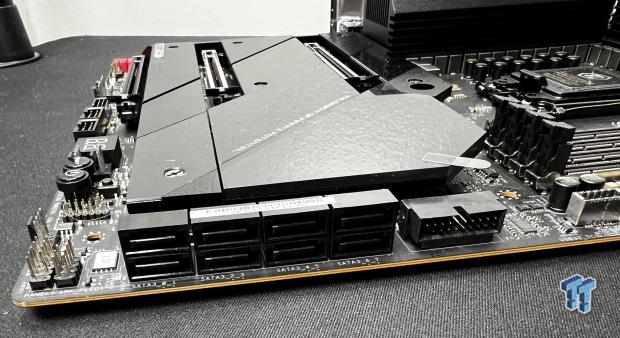 Around the first corner, we pick up all eight SATA ports, with both Gen 1 and 2 USB 3.2 headers far right.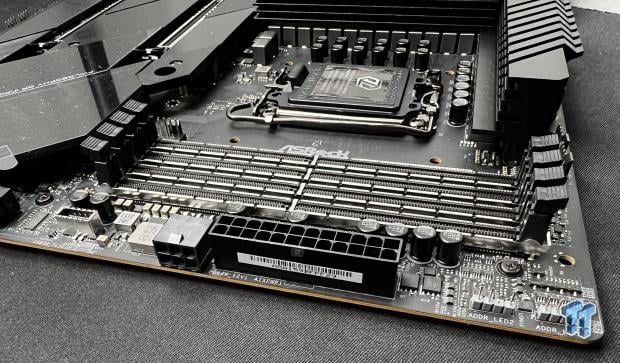 Further up the side, we run into a supplemental six-pin power connection along with the twenty-four-pin power and RGB headers.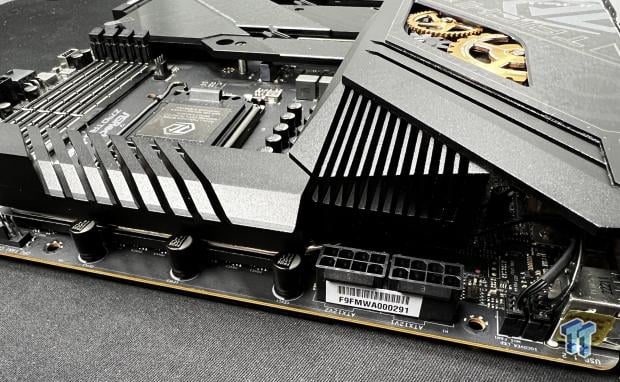 Across the top, we have dual eight-pin power connections.
UEFI, Software and Test System
UEFI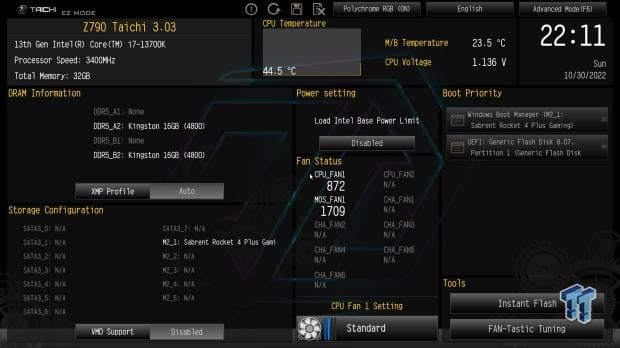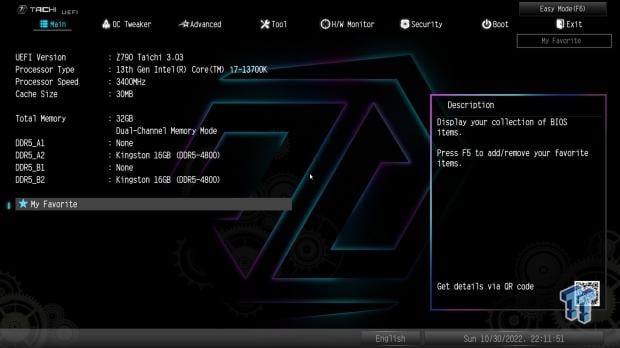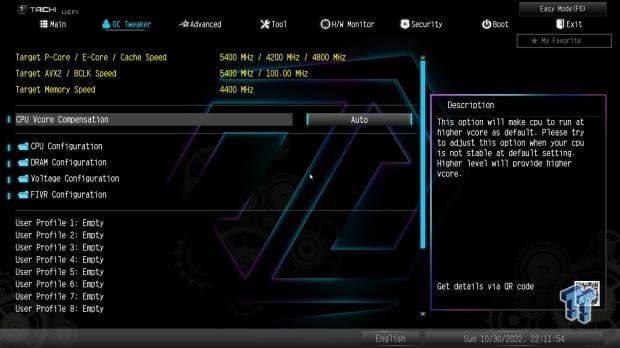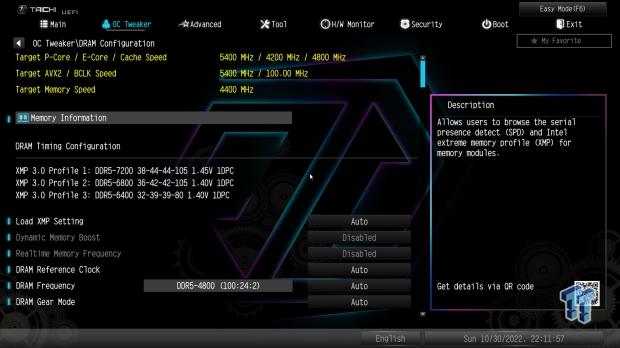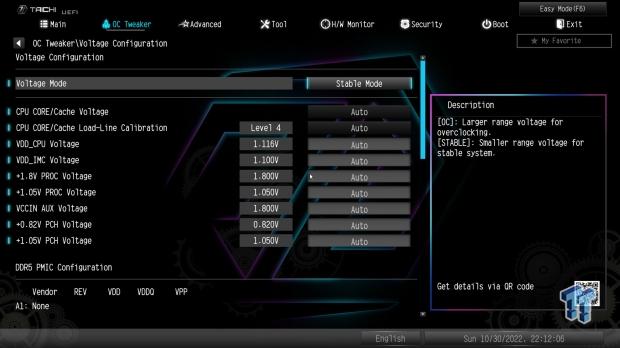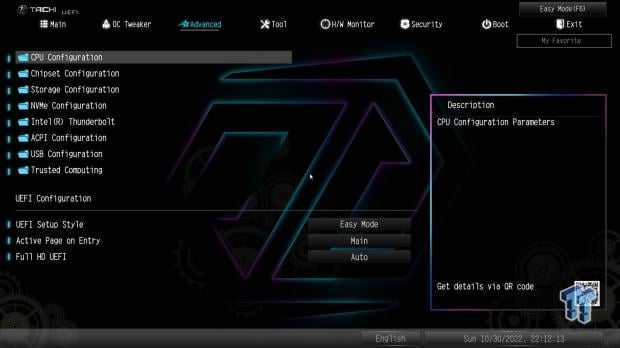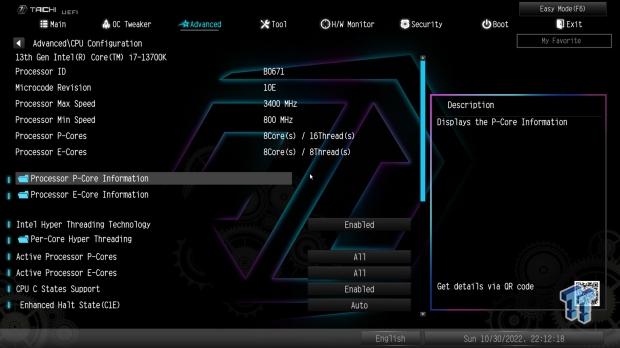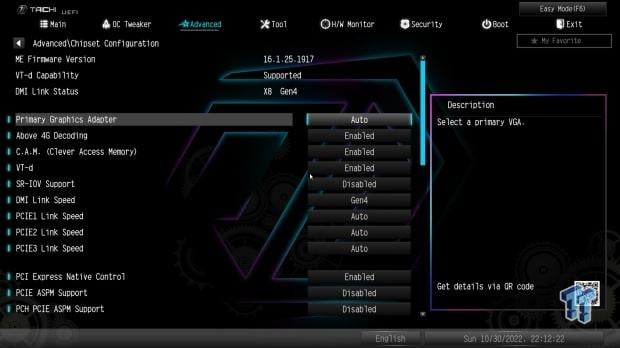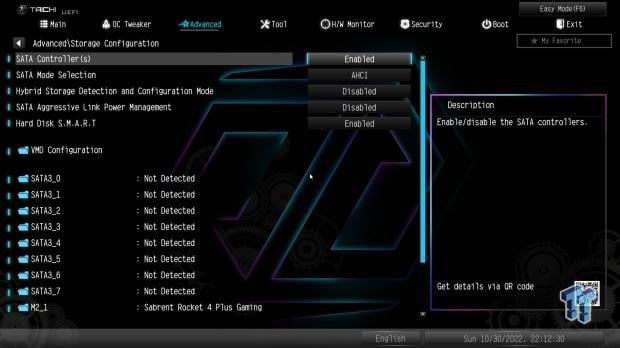 This BIOS should look familiar for anyone who has used an ASRock platform in the last few generations, though this one has the Taichi theme. Starting with EZ Mode, we have CPU and memory information on the top left and temperatures to the right. Down below, the dashboard is split into DRAM, fans, and storage categories, each with their own options. To the far right, we have quick access to boot priority.
OC Tweaker includes current CPU and memory clocks at the top, tuning for both below. The advanced menu contains options for SATA storage, PCH, Thunderbolt, and NVMe. CPU config includes the ability to enable/disable cores, including E cores and P cores, separately.
Monitoring is included alongside fan control, while the tool menu allows you to control RGB and Secure Erase storage devices.
Motherboard Testing Supporters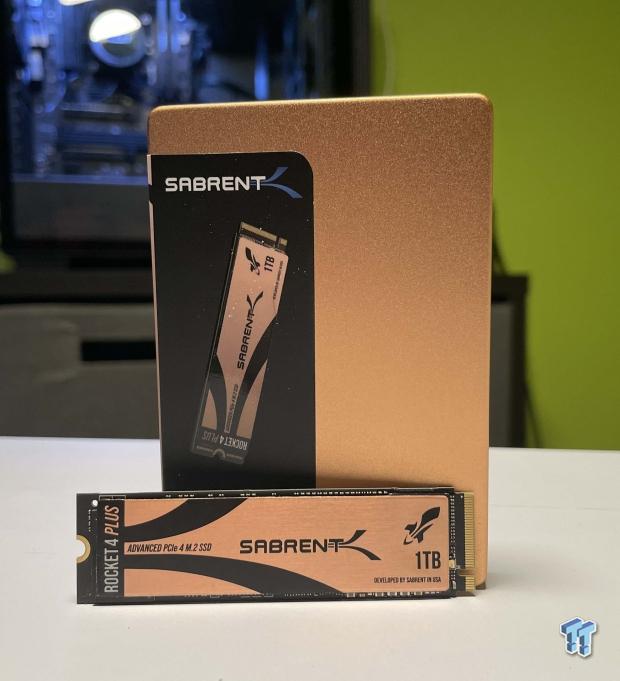 Sabrent supports our storage testing with the Rocket 4 Plus.
TweakTown Intel Motherboard Test System
Cinebench R23,Crossmark and AIDA64
Cinebench R23
Cinebench is a long-standing render benchmark that has been heavily relied upon by both Intel and AMD to highlight their newest platforms during unveils. The benchmark has two tests, a single-core workload utilizing one thread or 1T and a multi-threaded test that uses all threads or nT of a tested CPU.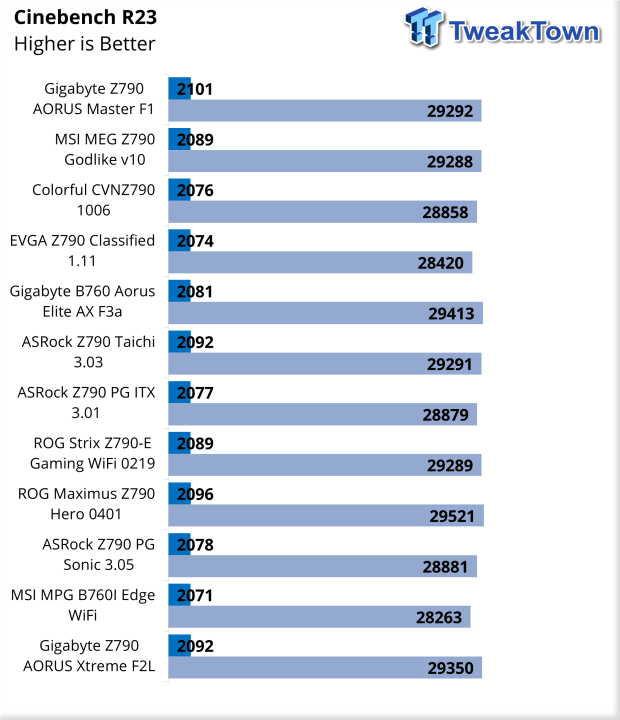 The Taichi did quite well in R23. 1T picked up a score of 2092 while multicore landed at 29291.
CrossMark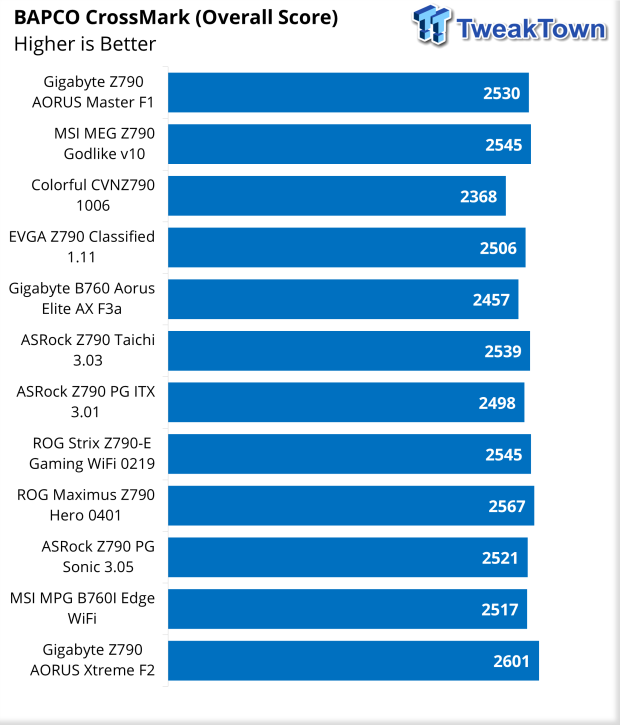 CrossMark picked up a score of 2539.
AIDA64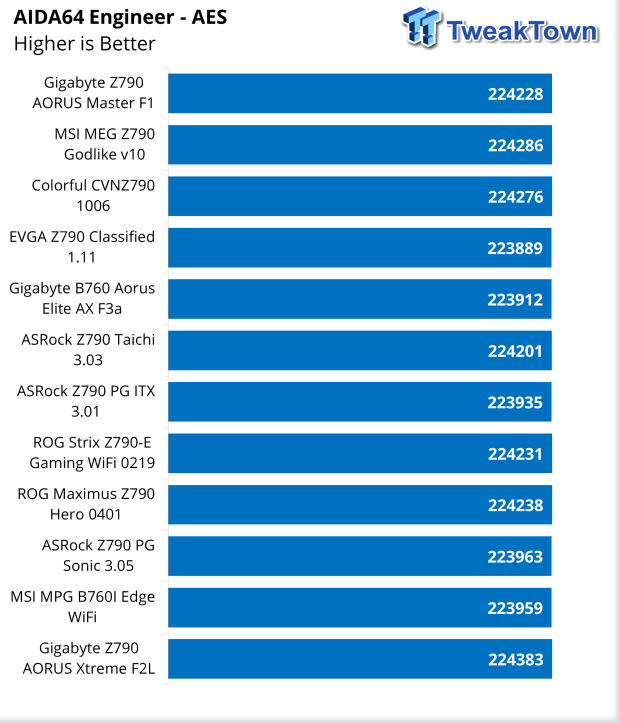 In AES, we picked up 224201.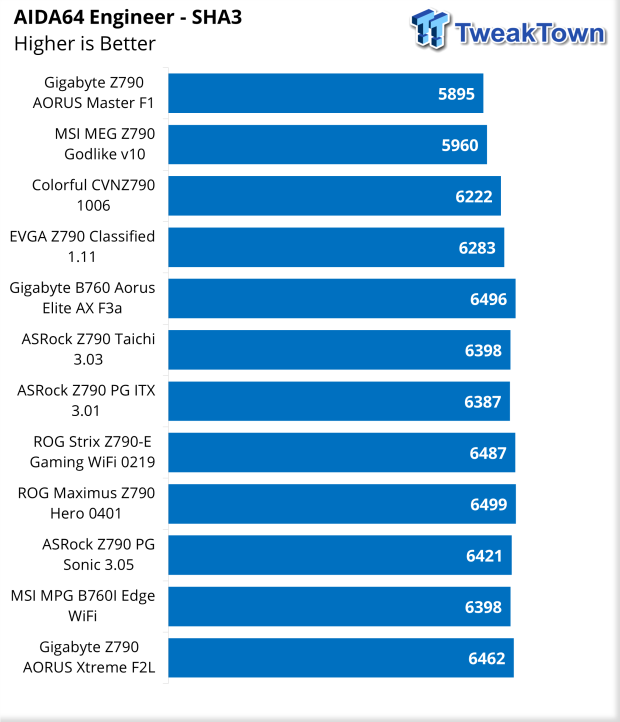 SHA3 tapped in at 6398.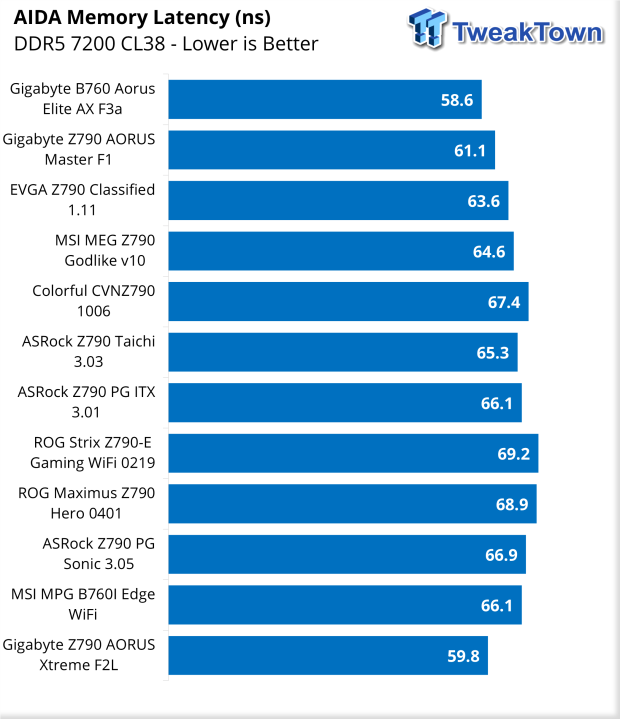 Memory latency landed at 65.3ns.
UL Procyon,3DMark, and CrossMark Benchmarks
UL Procyon Suite
The UL Procyon Office Productivity Benchmark uses Microsoft Office apps to measure PC performance for office productivity work.
The Photo Editing benchmark uses Adobe Lightroom to import, process, and modify a selection of images. In the second part of the test, multiple edits and layer effects are applied to a photograph in Adobe Photoshop.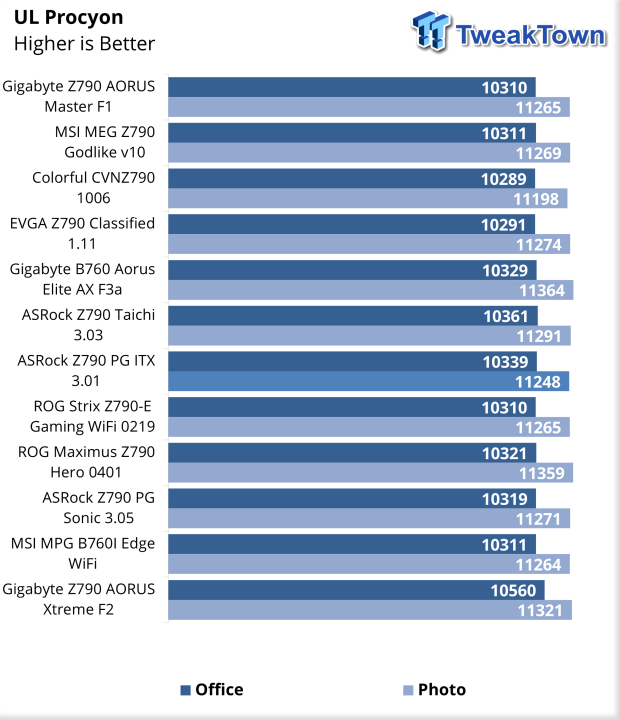 Procyon scored a solid 10361 for Office, with Photo scoring 11291.
3DMark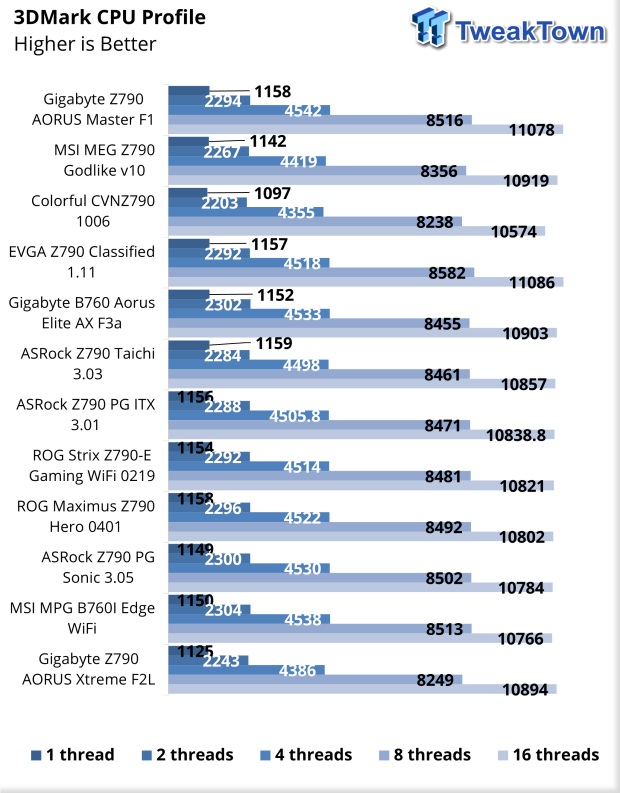 Starting with CPU Profile, the Taichi scored 1159 single thread while 16 threads scored 10857.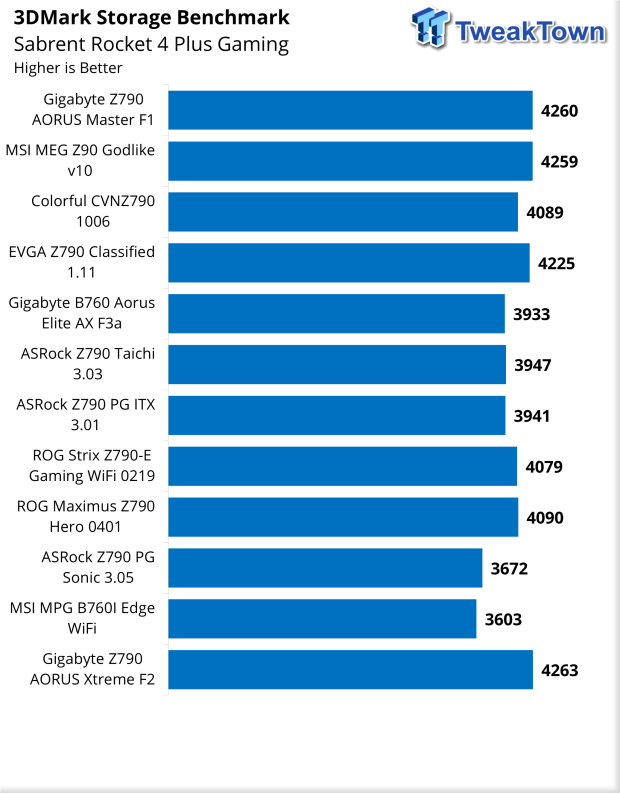 Flipping over to storage, our Rocket 4 Plus picked up a score of 3947 on the Taichi.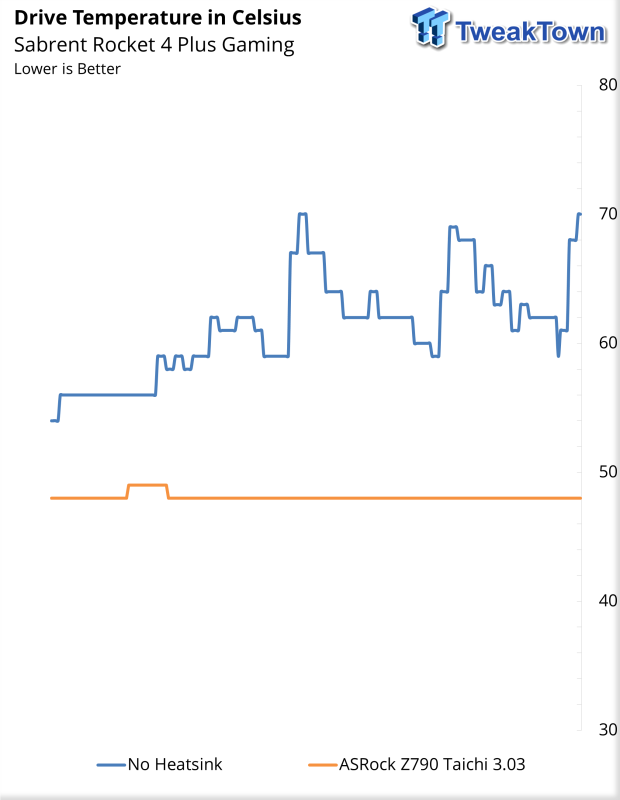 Further testing of our Rocket 4 Plus showed the Taichi quite capable of handling the heat output of our drive. We were steady throughout testing at 48c.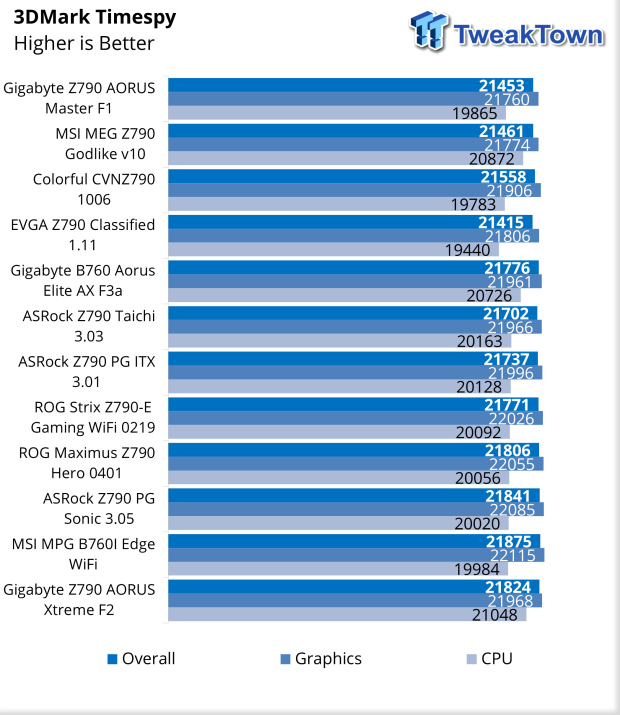 Time Spy gives us our first look at a gaming workload. The Taichi pulled a solid score of 21702 overall.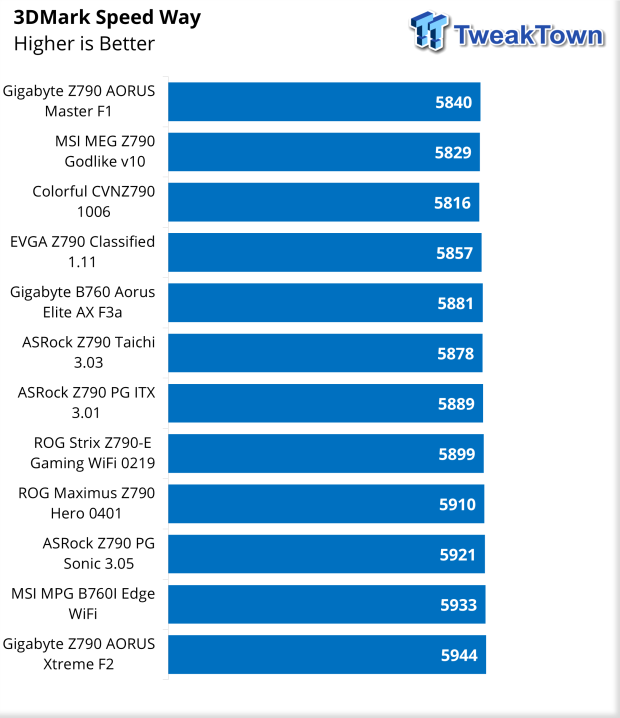 Speed Way landed at 5878 for the Taichi.
Gaming Benchmarks and Final Thoughts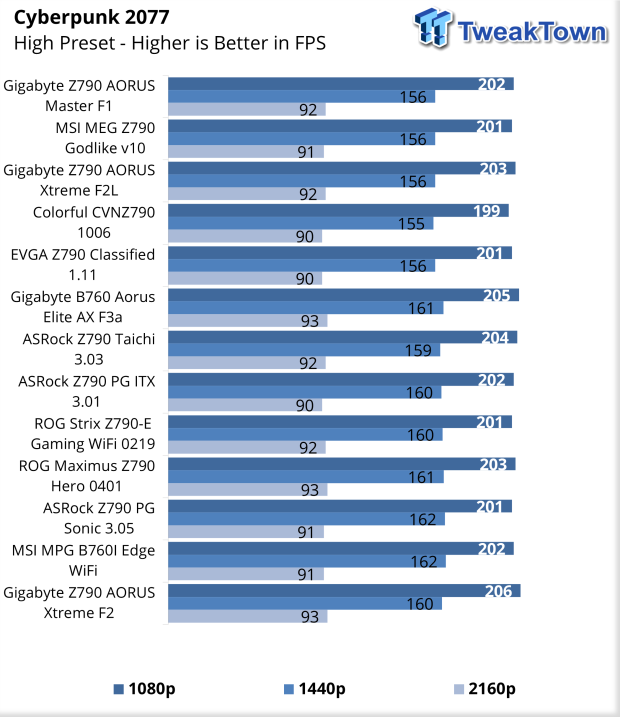 We default to our Cyberpunk 2077 benchmark for gaming, testing 1080p, 1440p, and 4K. Taichi scored 204 FPS at 1080p, 159 FPS at 1440p, and 92 FPS at 4K.
Final Thoughts
Wrapping up our motherboard coverage for this generation, the Z790 Taichi is a fantastic offering from ASRock and the current top-tier offering. ASRock has a different strategy than other vendors as their top-tier offering, with the Z790 Taichi having an MSRP of just $479.99. This is a far cry from others that use this price point as a mid-tier or even entry-level solution.
That said, the Taichi tested quite well. The board performed in line with expectations and right with other similar offerings. R23 showed this board as one of our top 5 in single thread, and the same can be said about Crossmark. Memory latency was quite good on this board, with our 7200MHz kit coming in at 65ns.
Switching to gaming, the Taichi showed solid performance when paired with our GeForce RTX 3090 Ti in Time Spy and Speed Way, with both scores holding the court at the top of our charts. When switching to our real-world testing with Cyberpunk 2077, this board pulled an extra 2 FPS at the top with 1080p and even at the bottom at 4K.
Pricing on this board is some of the best we have seen for a top-tier offering. As noted above, ASRock does not offer a board higher than the Taichi but prices this board at $479.99 MSRP. This puts it against others like the ROG Strix Z790, the Z790 ACE, and the ROG Hero, all of which tack on an extra Benjamin to the price.