TweakTown's Rating: 91%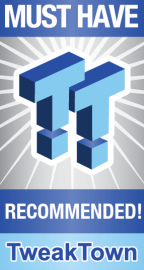 The Bottom Line
While we would love to see a few features added to the Z790 Hero, it's still a performer and one of the best motherboards available on Intel Z790.
Pros
+

DDR5/PCIe 5.0

+

2.5Gbe / WiFi6e

+

Thunderbolt 4

+

Performance
Cons
Should you buy it?
Avoid
Consider
Shortlist
Buy
Introduction, Specifications, and Pricing
For years, perhaps a decade or more, ROG Maximus Hero has been the go-to motherboard for building many of our test systems, offering the perfect mix of performance and functionality. For Intel Z790, the Hero keeps many of the upgrades we found on Z690, including DDR5 and PCIe 5.0, alongside Thunderbolt 4 and WiFi6e.
Full hardware specifications for this motherboard start first with a 20+1 power design on Socket LGA1700. This gives us support for 12th and 13th Gen CPUs and support for DDR5 memory. Memory capacity runs up to 192GB with the new 48GB modules, while the performance of those modules can be pushed upwards of 8000MHz with support for XMP 3.0.
Expansion for the Z790 Hero includes three PCIe x16 slots, with the top two slots pulling Gen5 lanes from the CPU. Available configurations are x16, x0 or x8x8. The third slot runs at x4 electrically and takes its lanes from the chipset at PCIe 4.0 speed. On this same vein, we have storage with five m.2 slots and six SATA ports.
Connectivity has been changed up for Z790; this board now offers two Thunderbolt 4 ports, six USB 3.2 Gen 2 ports, along with an additional four USB 3.2 Gen 1. Outside of USB, we have HDMI, 2.5Gbe, and WiFi6e on the rear I/O, wrapped up with seven-channel audio.
Pricing
Pricing for the ROG Maximus Z790 Hero comes in at $629.99.
Packaging, Accessories, and Overview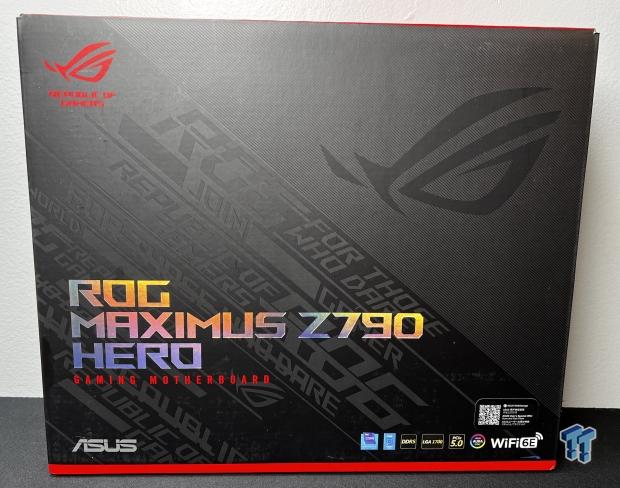 Packaging hasn't changed too much in design. We have Z790 branding and hardware supported bottom right.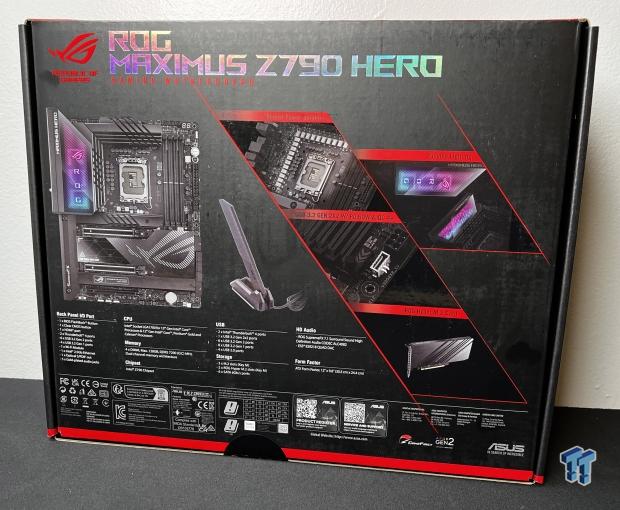 On the flip side, we have an image of the board to the left with full specifications below. To the right, we have the leading features of this board called out.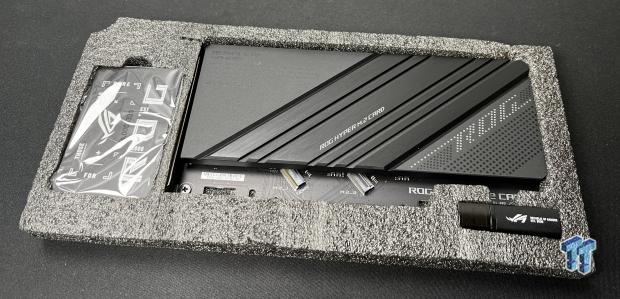 Included with the board, we did get the Hyper m.2 card, drivers on USB, and a Wi-Fi antenna.
Motherboard Overview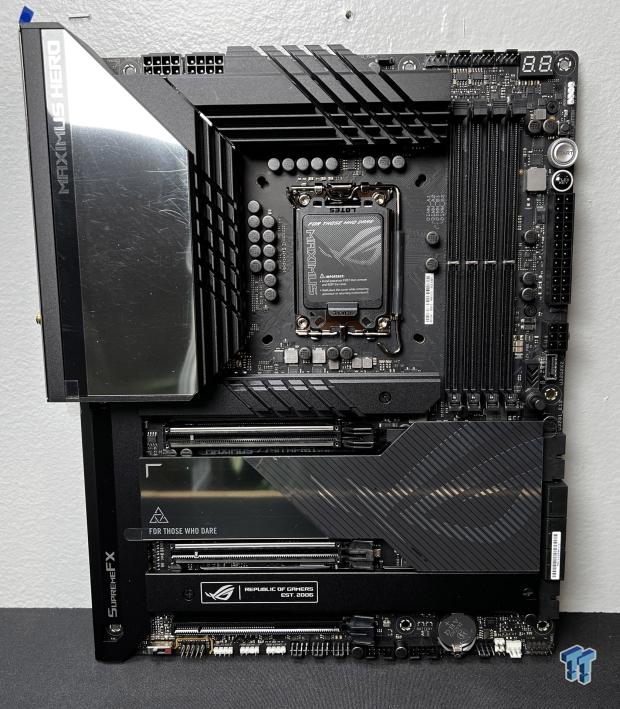 The Hero hasn't changed much overall. The heatsinks are all the same as Z690 though we note a new design being used on them.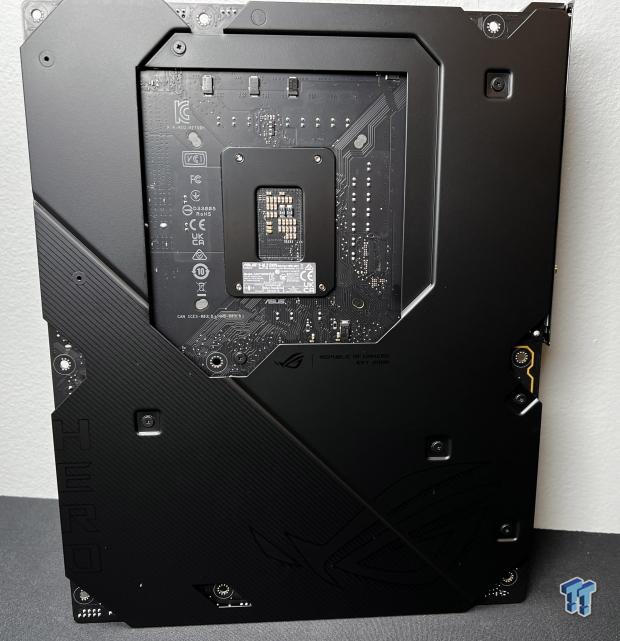 On the backside, we have a full backplate.

The rear I/O starts with Clear CMOS and BIOS flashback at the top. This is followed by the single HDMI port and four Gen 1 USB 3.2. Further to the right, we have both Thunderbolt 4 and Gen 2 USB 3.2 taking up much of the space. A small area above leaves room for the 2.5Gbe and WiFi6e connections.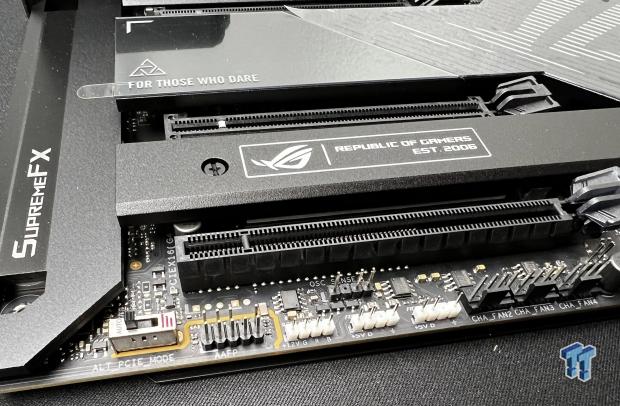 Three fan connections can be found to the right, along with RGB and front-panel audio.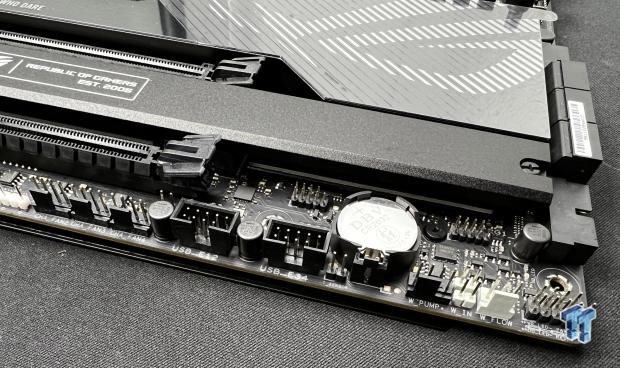 Further right, we have USB headers and front panel chassis connections.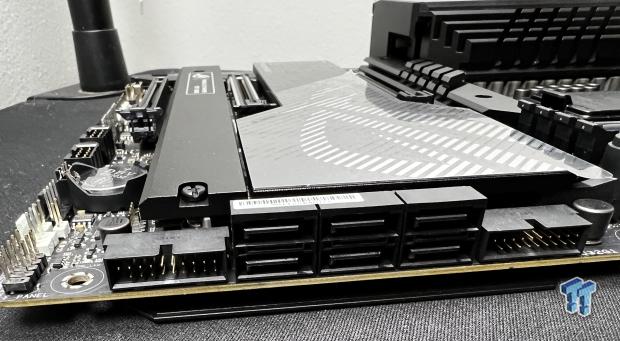 Around the corner, we have the SATA ports with USB 3.2 headers flanking either side.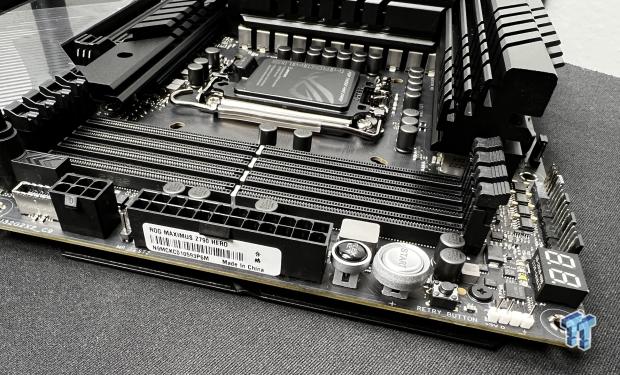 Closer to the top, we run into the 24-pin power and hardware buttons, debug at the very top.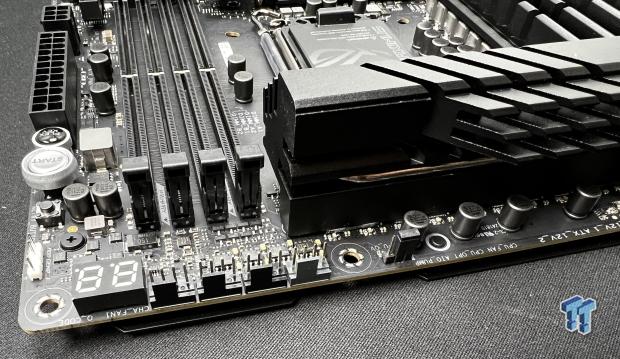 Four additional fan headers make themselves available at the top of the board.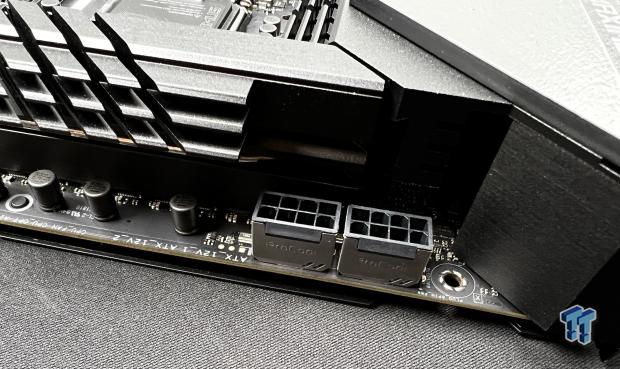 Wrapping our tour of the board, we have dual 8-pin CPU power.
UEFI, Software and Test System
UEFI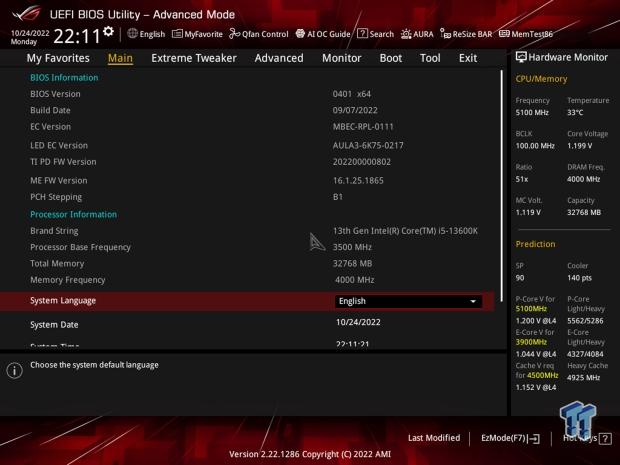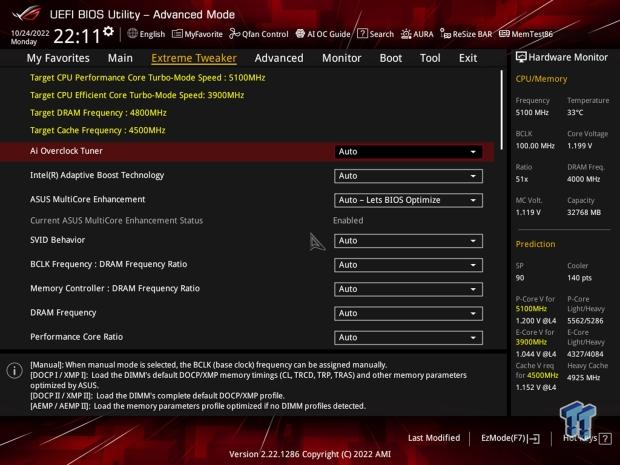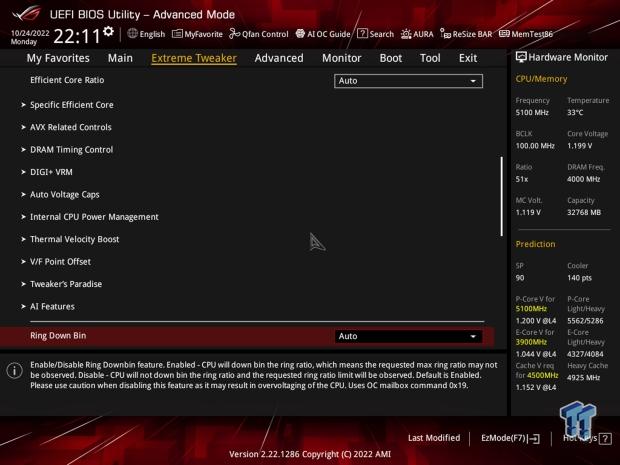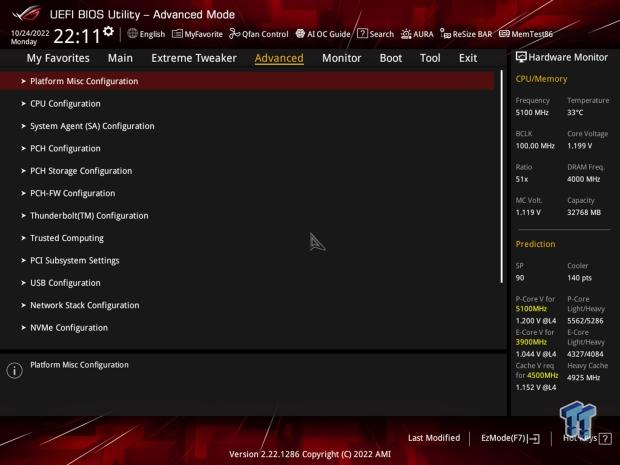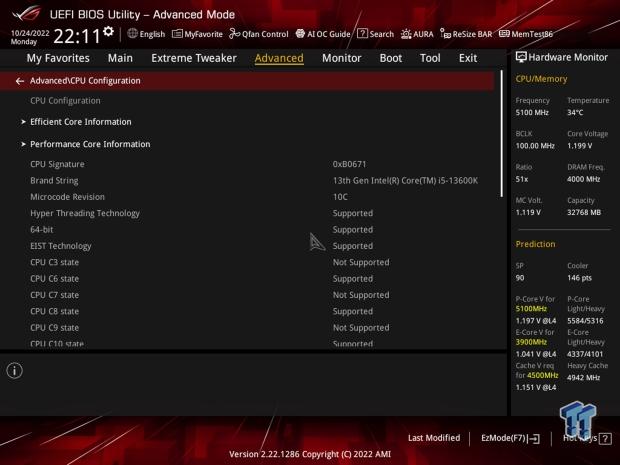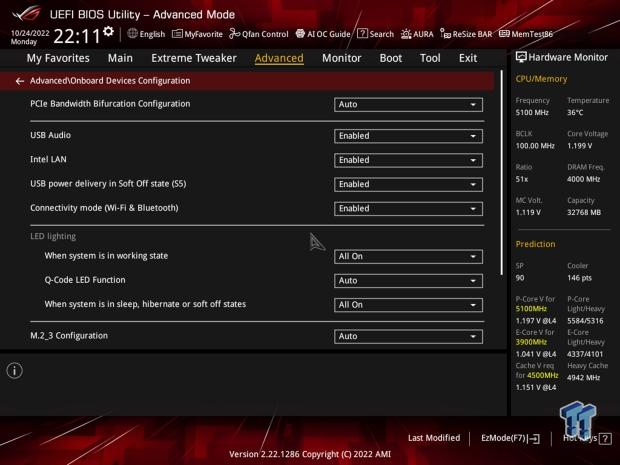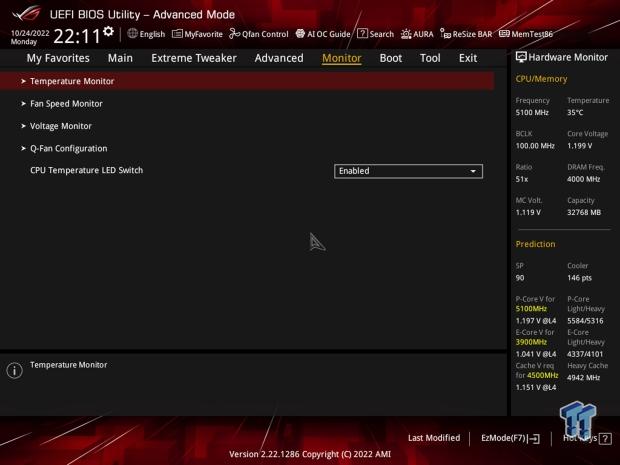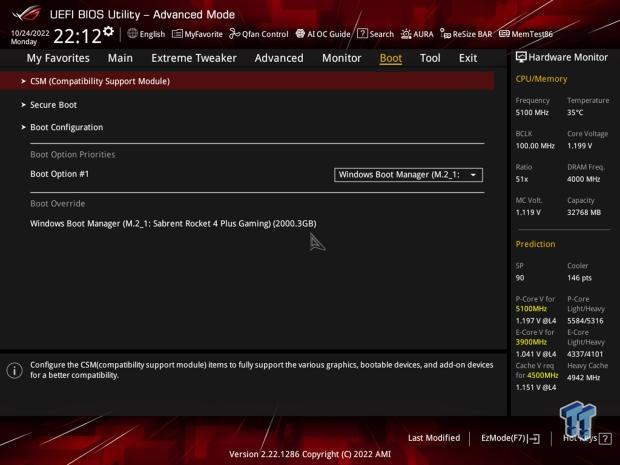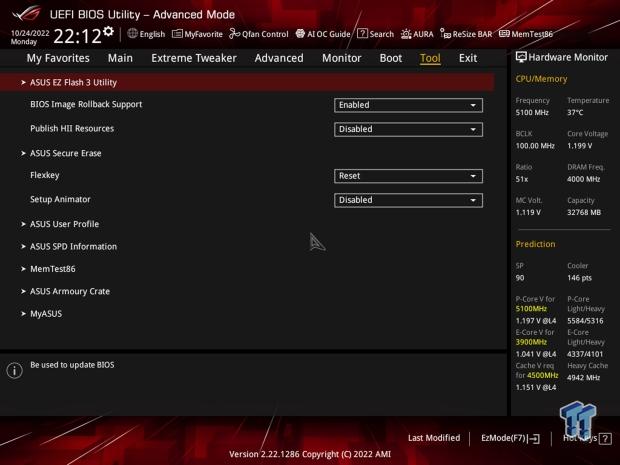 This BIOS should look familiar to anyone that has used a ROG platform in the last few generations.
Extreme Tweaker includes current CPU and memory clocks at the top, tuning for both down below. The advanced menu includes options for SATA storage, PCH, Thunderbolt, and NVMe. CPU config includes the ability to enable/disable cores, including E cores and P cores, separately.
Monitoring is included alongside fan control, while the tool menu allows you to control RGB and Secure Erase storage devices.
Motherboard Testing Supporters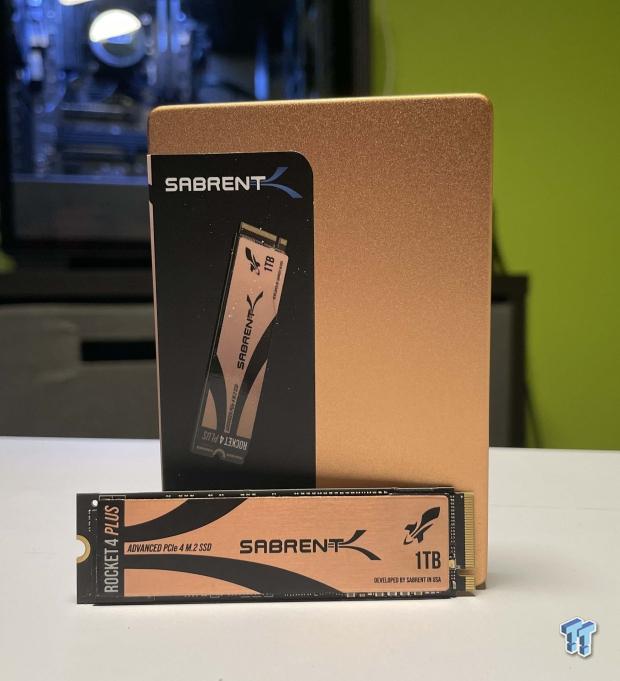 Sabrent supports our storage testing with the Rocket 4 Plus.
TweakTown Intel Motherboard Test System
Cinebench R23, Crossmark and AIDA64
Cinebench R23
Cinebench is a long-standing render benchmark that has been heavily relied upon by both Intel and AMD to highlight their newest platforms during unveils. The benchmark has two tests, a single-core workload utilizing one thread or 1T and a multi-threaded test that uses all threads or nT of a tested CPU.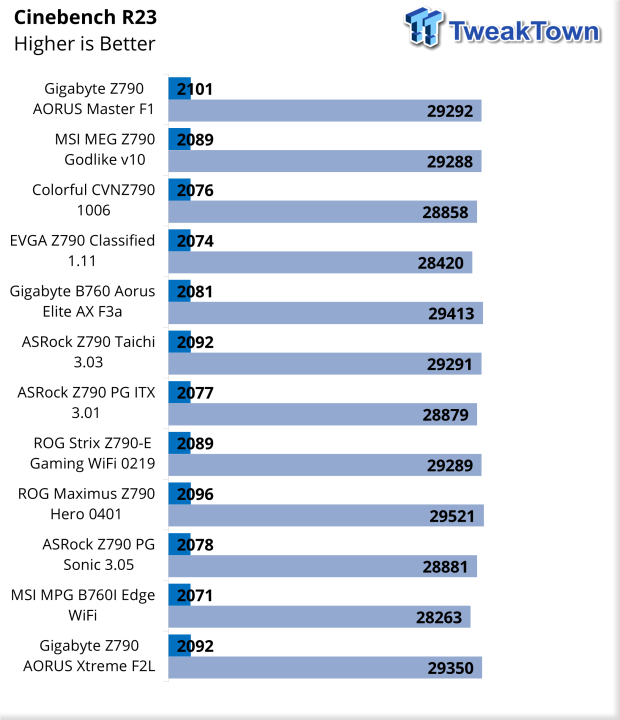 The Hero started our testing with Cinebench, as all boards do. In this scenario, we picked up 2096 single thread and 29521 nT for the Hero.
CrossMark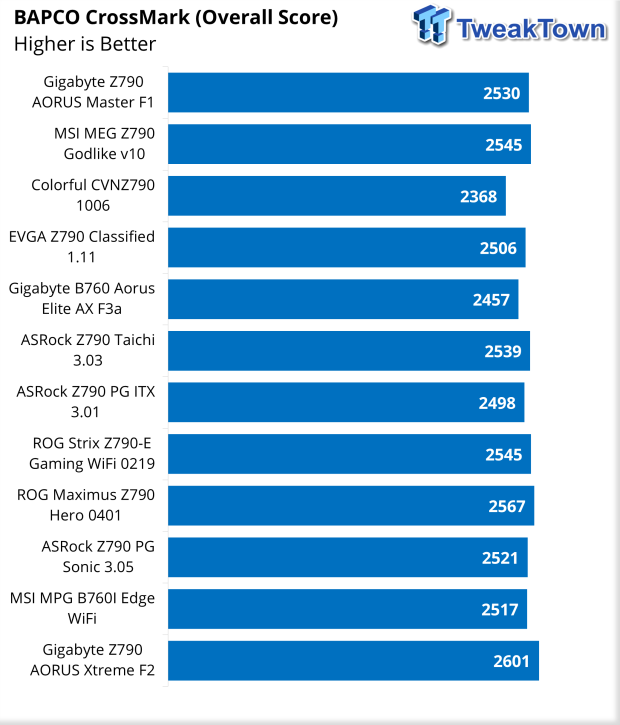 CrossMark gave us an overall score of 2567, just above average.
AIDA64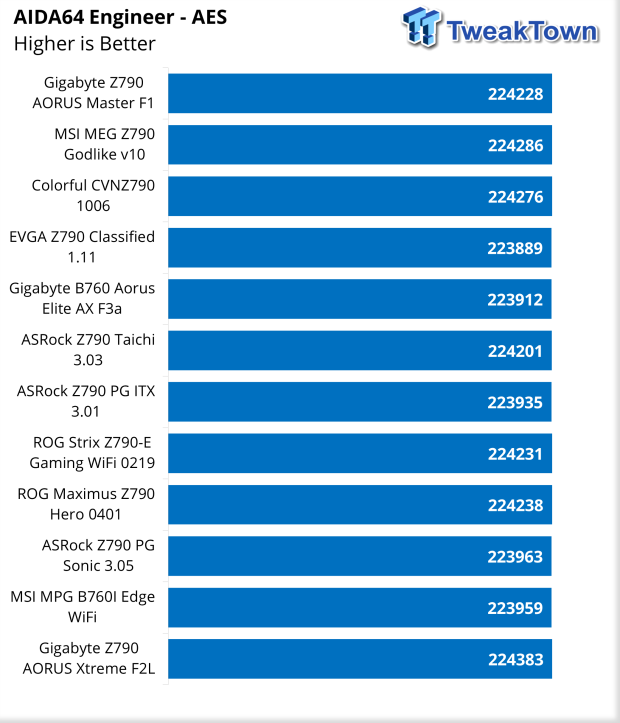 In AES, we picked up 224238.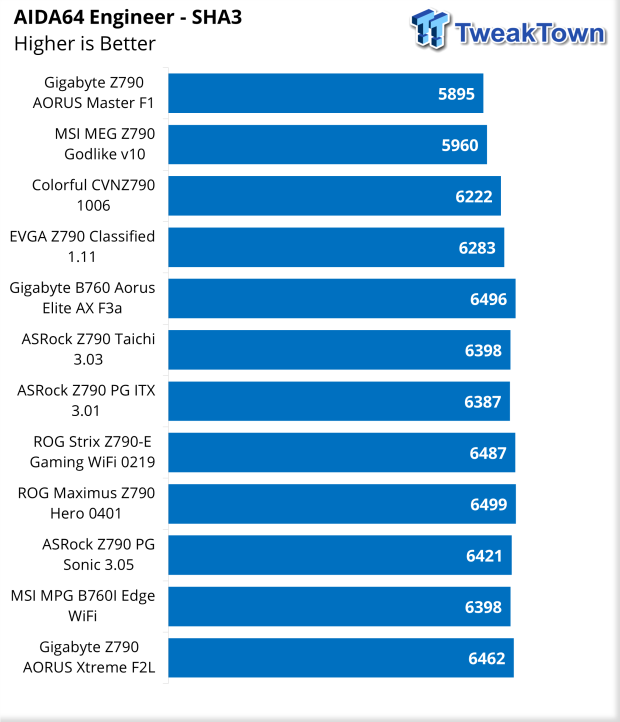 SHA3 tapped in at 6499, our top score to date.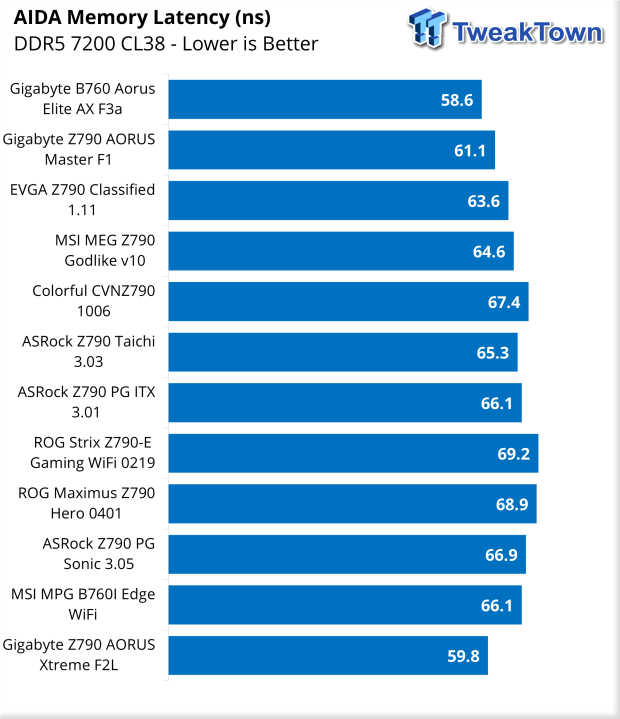 Memory latency landed at 68.9ns.
UL Procyon, 3DMark, and CrossMark Benchmarks
UL Procyon Suite
The UL Procyon Office Productivity Benchmark uses Microsoft Office apps to measure PC performance for office productivity work.
The Photo Editing benchmark uses Adobe Lightroom to import, process, and modify a selection of images. In the second part of the test, multiple edits and layer effects are applied to a photograph in Adobe Photoshop.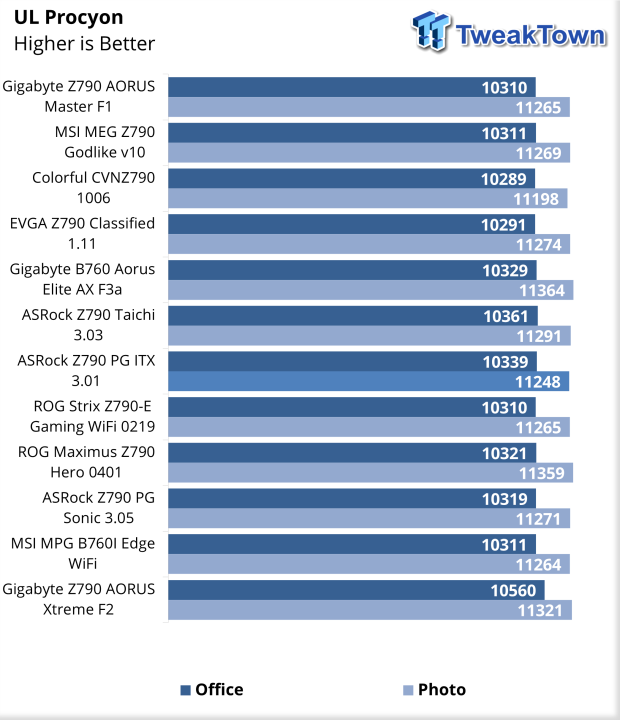 Our Procyon testing starts with Office. The Hero was able to pick up 10321, which is the standard among our boards. Photo landed at 11359, a touch above average.
3DMark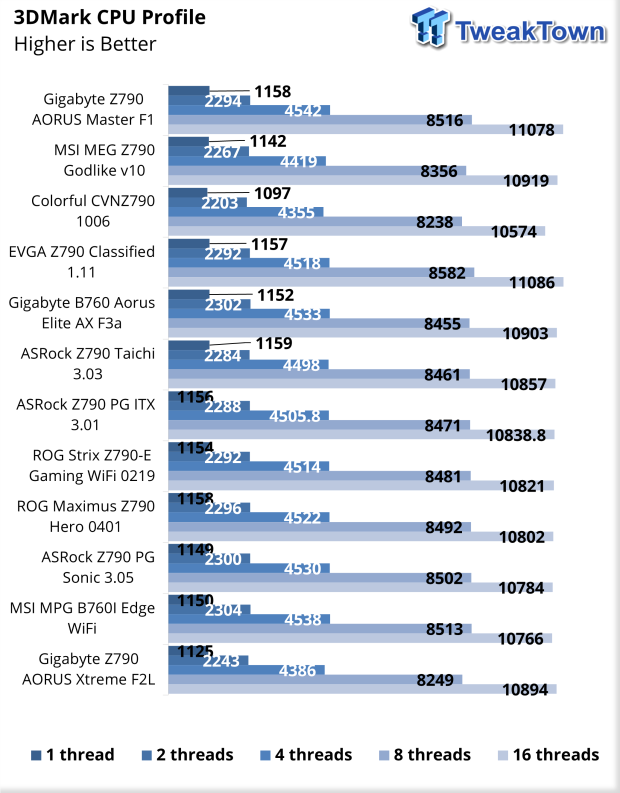 Starting with CPU Profile, Hero gave us a 1158 single thread score. At sixteen threads this board turned in a score of 10802.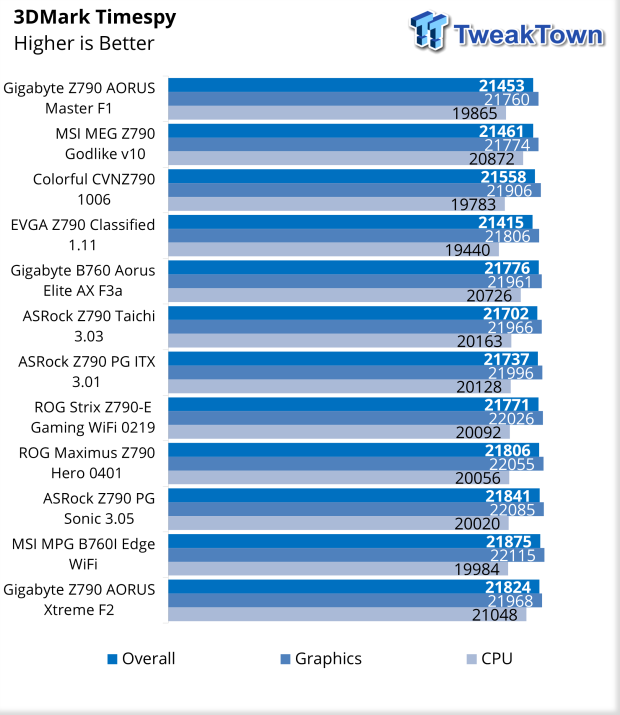 Timespy gave us an overall score of 21806, a touch above average but still not able to reach 22K.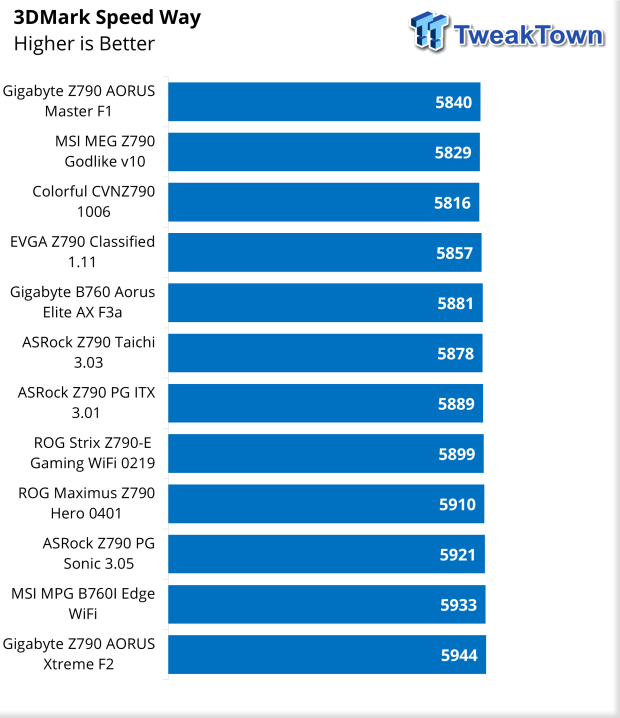 Speed Way gave us an overall score of 5910 for the Hero.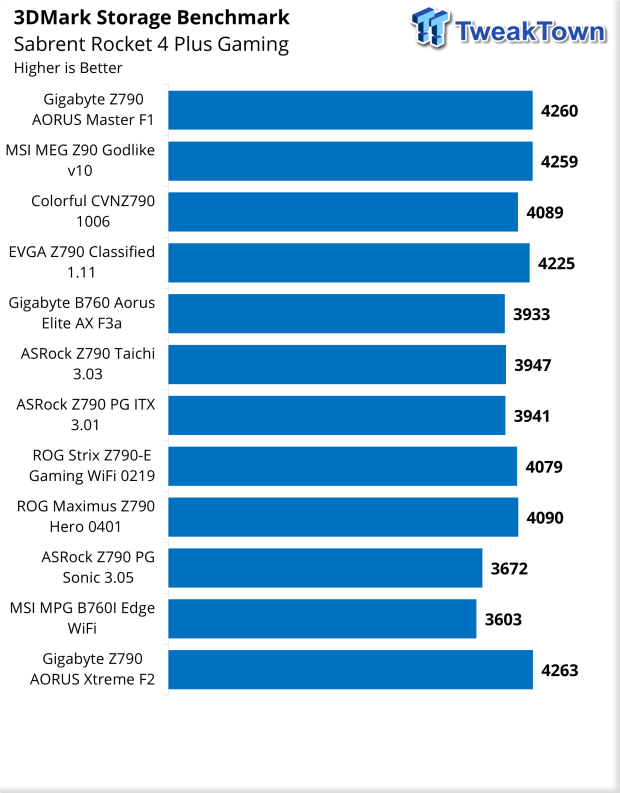 Wrapping up our testing, we ran through the Storage Benchmark within 3DMark. This gave the Hero a score of 4090.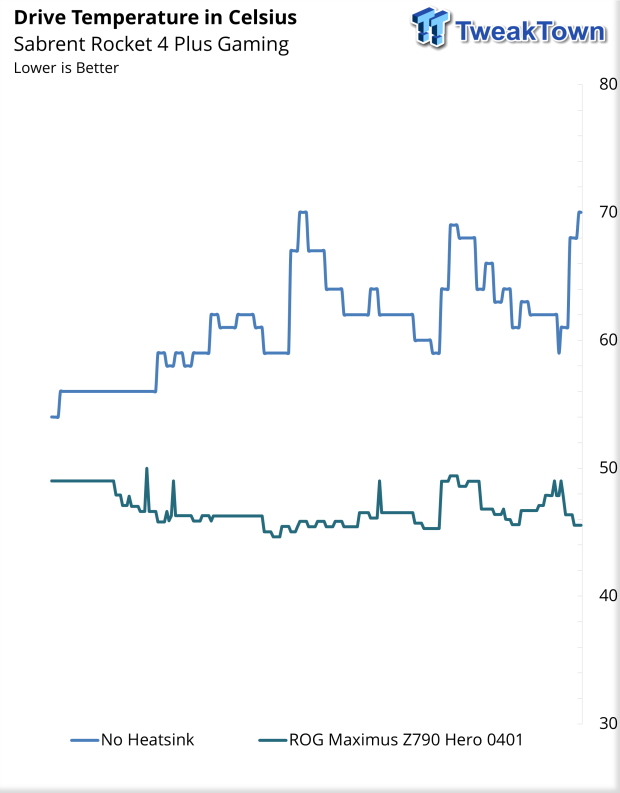 We monitor the drive temperature during the 3DMark Storage Benchmark to see how good the internal heatsinks are for the Hero. We came away peaking at 50c on several occasions but, for the majority, ran around 45c.
Gaming Benchmarks and Final Thoughts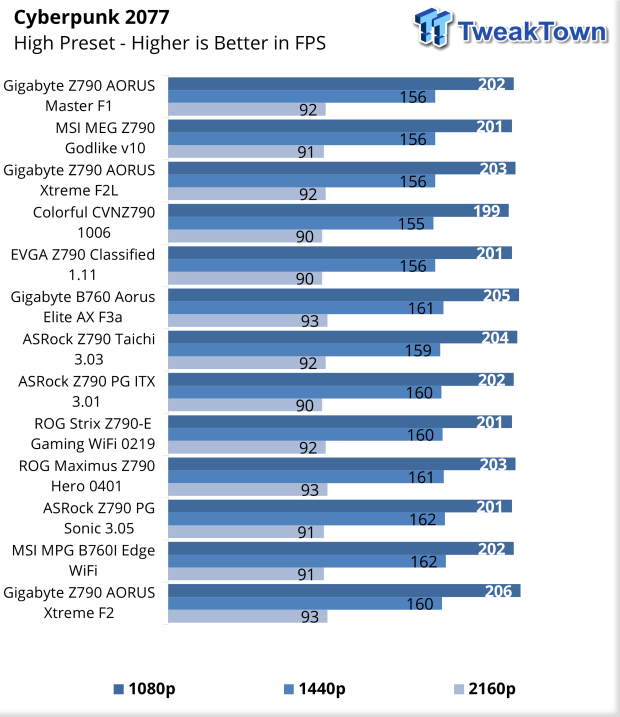 For gaming, we default to our Cyberpunk 2077 benchmark, testing 1080p, 1440p, and 4K. In these scenarios, the Hero offers 203 FPS at 1080p, 161 FPS at 1440p, and 93 FPS at 4K.
Final Thoughts
As ASUS has done for decades, the Hero has come away from our testing as a solid motherboard. Connectivity, like the Z690 offering, is stacked top to bottom with the likes of Thunderbolt 4 and USB 3.2, while other features like 2.5Gbe and WiFI6e are staples on this motherboard.
During testing, we pulled some fantastic results from this motherboard, with top marks coming in Cinebench R23 with nT peaking at 29521. Further, we managed solid numbers in both of our real-world scenarios - with Crossmark grabbing 2567 and UL Procyon Phot taking top marks with a score of 11359. Gaming workloads like Time Spy and Speed Way scored quite well, with the Hero taking the fourth spot.
While a fantastic board overall, pricing is one area where the Hero has a bit of trouble. At $629.99 MSRP, we are up $30 from last year's Z690 Hero, and with modern competition, it's going up against the likes of the Z790 Ace from MSI, Classified from EVGA, and even the Z790 Master from AORUS.
All three of those offerings cost less while offering similar build quality and features. That being said, Thunderbolt 4 is hard to find on Z790; the Hero is one of just a handful of solutions offering it. On the flip, this is one of the only $600+ motherboards to omit 10Gbe.