TweakTown's Rating: 95%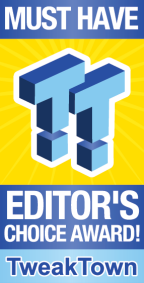 The Bottom Line
While expensive, the Z790 AORUS Xtreme offers extreme connectivity, expansion and performance that can't be looked past.
Pros
+

Performance

+

DDR5/PCIe5

+

Thunderbolt 4

+

Wi-Fi 6e

+

10GBe
Cons
Should you buy it?
Avoid
Consider
Shortlist
Buy
Introduction, Specifications, and Pricing
Continuing with our stack of Intel Z790 motherboards, one of the best boards over the last few generations has been the AORUS Master and AORUS Xtreme. Having published our Z790 AORUS Master review earlier in the year, we finally managed to get our hands-on the Xtreme and run it through our testing. Before we get into that, let's look at what this board offers.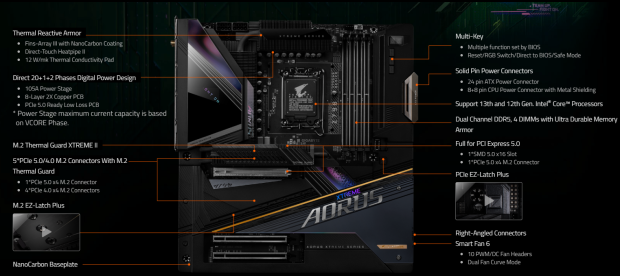 To kick things off, we start with a massive power phase at 20+1+2, plenty for overclocking the highest-tier CPUs. This brings us to hardware support, including all 12th and 13th Gen Intel processors on the LGA 1700 socket. Memory support runs up to 8000MHz with an overclock, with support from XMP 3.0. This board features four slots with a maximum capacity of 192GB with 48GB modules.
The expansion gives us three PCIe slots, all x16 physically though the bottom two run at x4 and x1 electrically. Further, the top slot operates at Gen5 but shares bandwidth with the top m.2 slot, both pulling from the CPU. Storage, on the other hand, includes five m.2 slots and four SATA connections. The m.2 slots include two grabbing CPU lanes, M2C and M2A, while the other three pull from the chipset at Gen4.
This board's connectivity is also quite good, offering ten USB 3.2 alongside two Thunderbolt 4, dual-LAN with 2.5Gbe and 10Gbe and WiFi6e.
Pricing
The Z790 AORUS Xtreme pricing comes in at $799.99 with a three-year warranty.
Packaging, Accessories, and Overview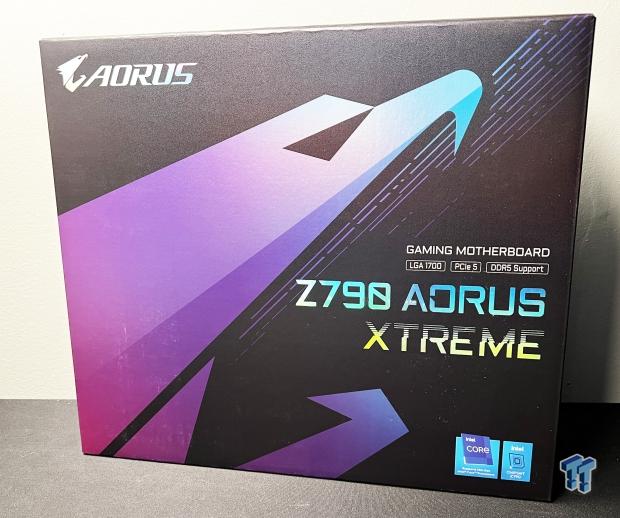 The box art includes the AORUS design and logo, CPU, and chipset support bottom right.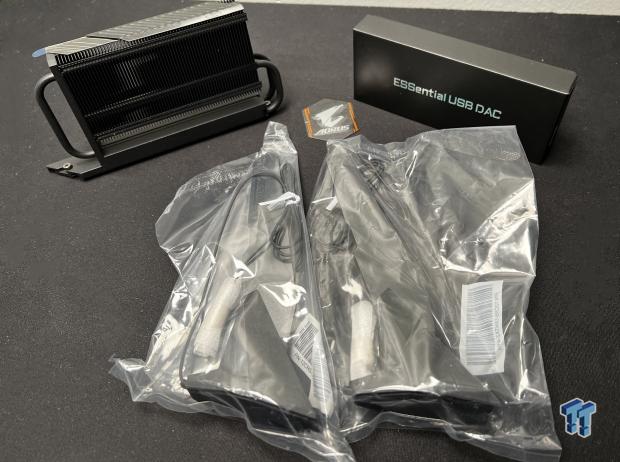 Included with the board, we have a larger m.2 heatsink, USB DAC, and Wi-Fi antenna.
Motherboard Overview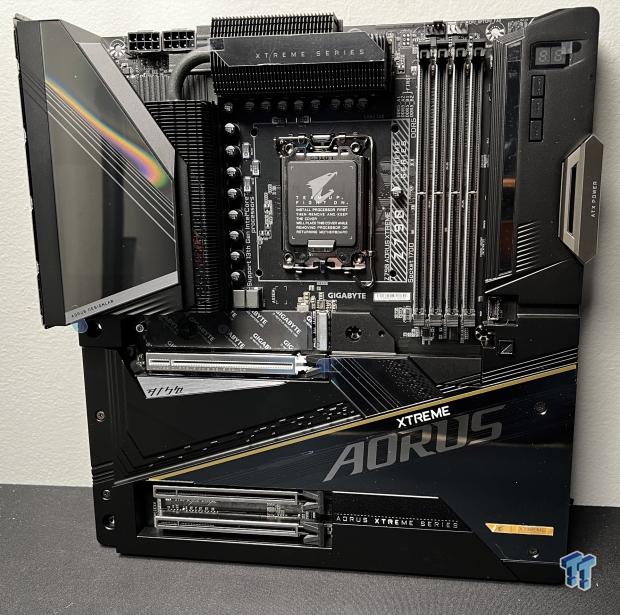 The Xtreme includes cooling on nearly every surface of the motherboard. This includes full VRM, M.2, and chipset.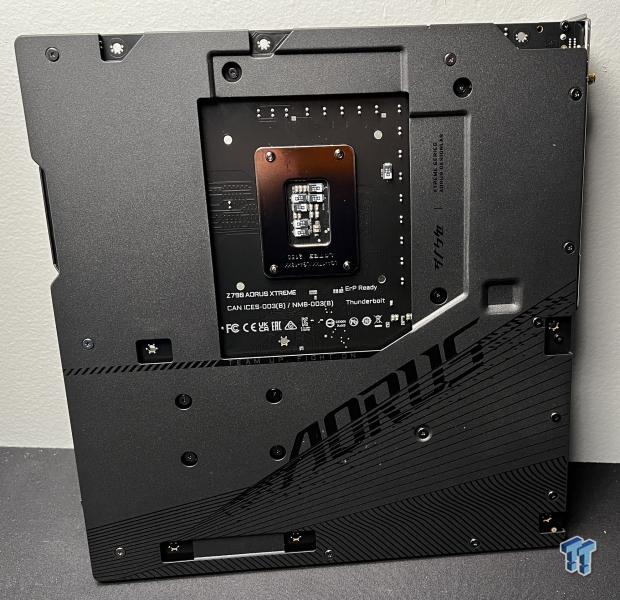 In addition, the back of the motherboard is included with full board armor.

The rear I/O is completely stacked, starting with Wi-Fi at the top and followed by ten USB 3.2 ports, flanked by Thunderbolt 4 and LAN along the edge.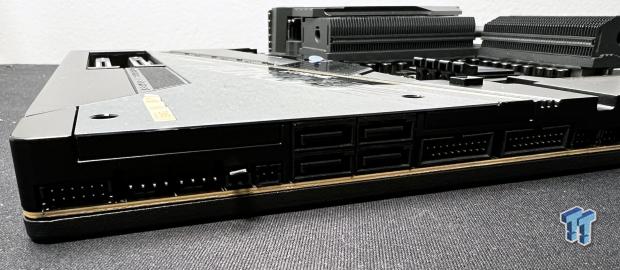 Around this board, we find no ports along the bottom edge. Instead, they are tucked under the board armor to the sides. On this first side, we have front panel chassis connections, fans, and SATA connections.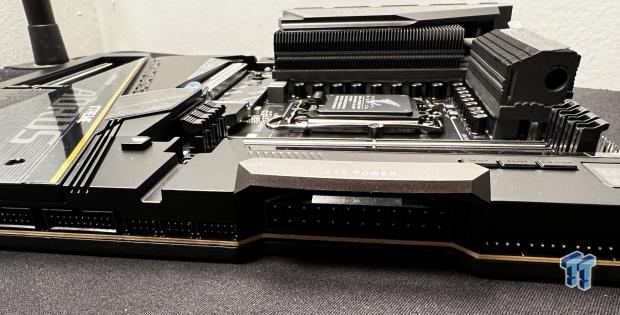 Further down, we have USB 3.2 headers, additional fan headers, and 24-pin power.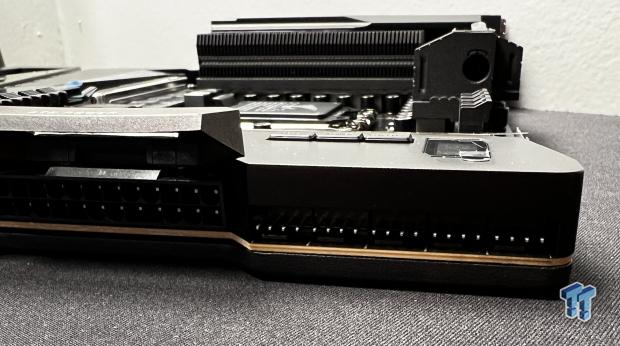 Last, we find a cluster of fan headers at the top of the board.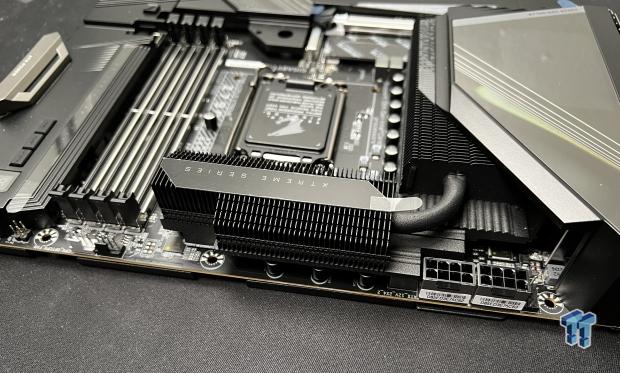 Across the top, nothing but power!
UEFI, Software and Test System
UEFI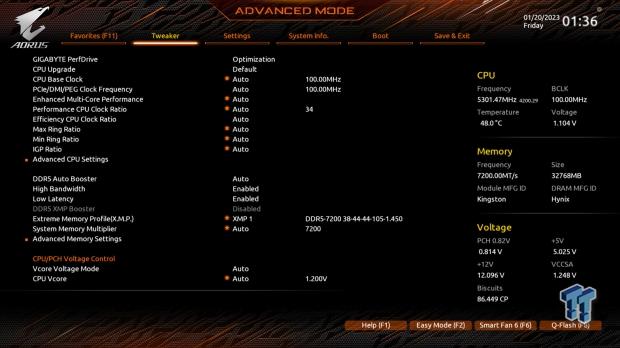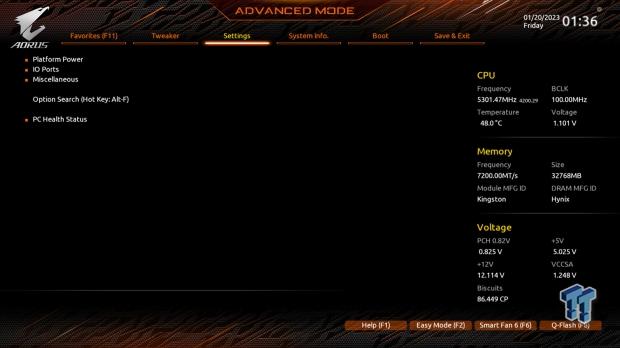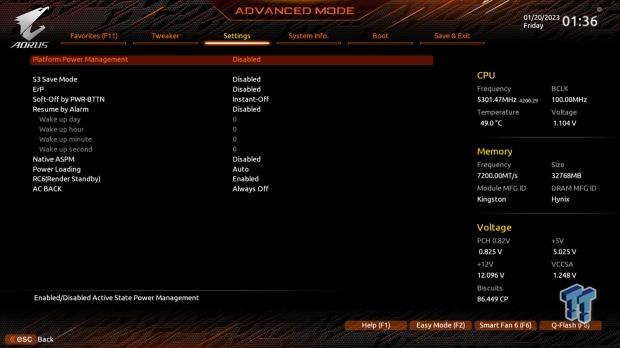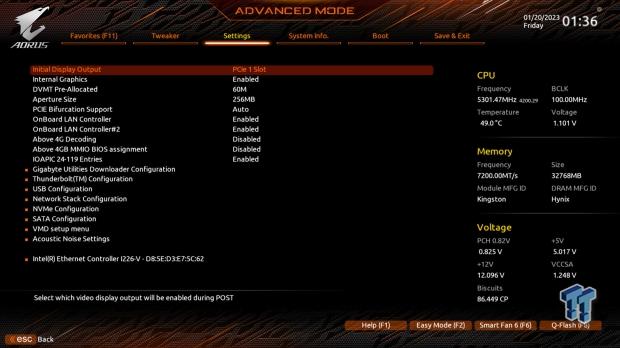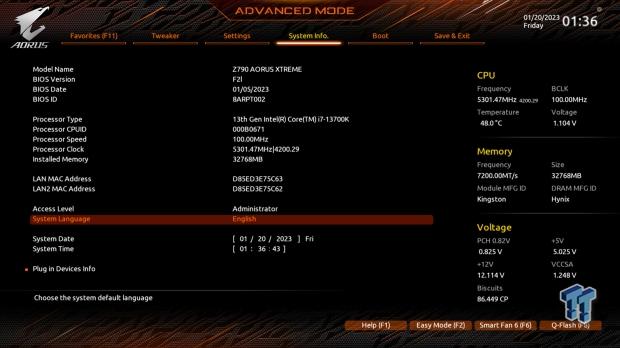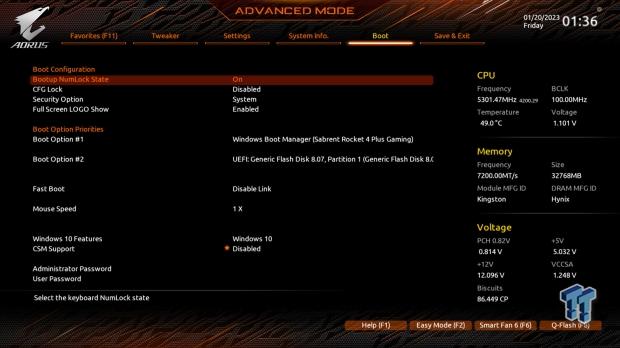 The UEFI on the AORUS Xtreme includes the AORUS orange and black colorway. Easy Mode offers information about the hardware installed across the top with current frequencies in the middle. The bottom left offers XMP support and the boot sequence below.
F7 moves us to advanced mode with a breakdown between several tabs; the first is Tweaker which gives you basic controls for overclocking CPU and memory, while the settings tab is split between platform power settings and IO Ports. Within IO Ports, the breakdown includes audio, LAN, and bifurcation support. Further down, we have menu items for USB, SATA, and NVMe.
Motherboard Testing Supporters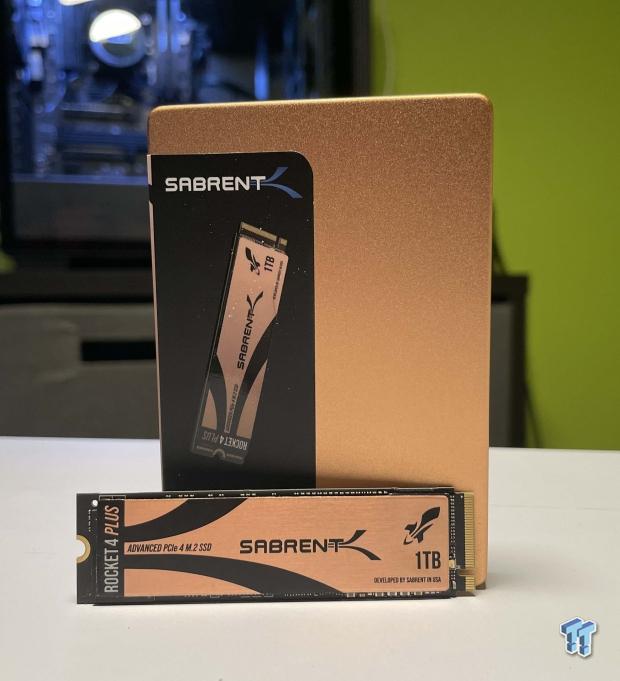 Sabrent supports our storage testing with the Rocket 4 Plus.
TweakTown Intel Motherboard Test System
Cinebench R23, Crossmark and AIDA64
Cinebench R23
Cinebench is a long-standing render benchmark that has been heavily relied upon by both Intel and AMD to highlight their newest platforms during unveils. The benchmark has two tests, a single-core workload utilizing one thread or 1T and a multi-threaded test that uses all threads or nT of a tested CPU.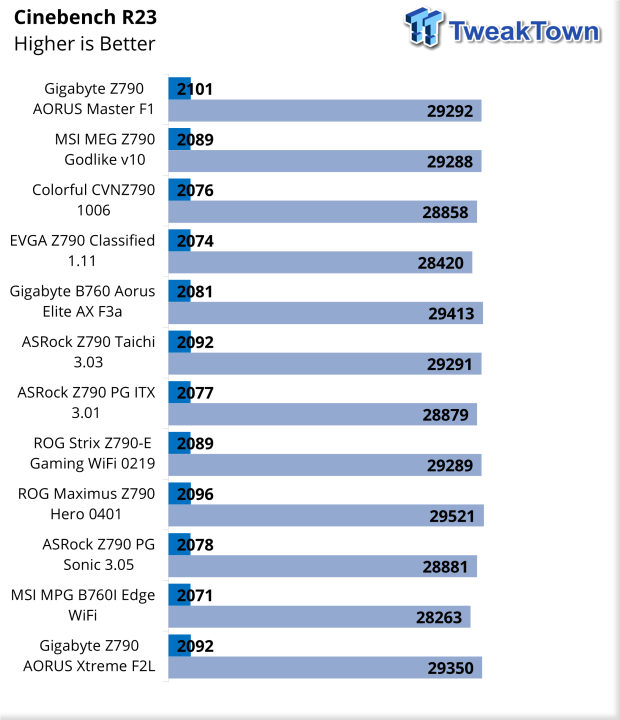 The AORUS Xtreme was the last Z790 motherboard we tested. With that, we land at a 2092 single thread score and 29350 multi-thread score - both being the highest in our charts.
CrossMark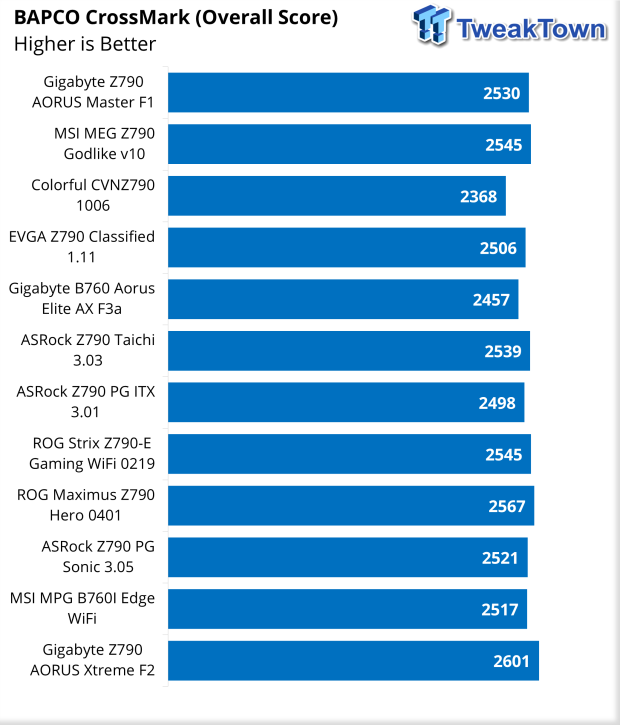 CrossMark finally cracked the 2600 mark, with the AORUS Xtreme picking up 2601.
AIDA64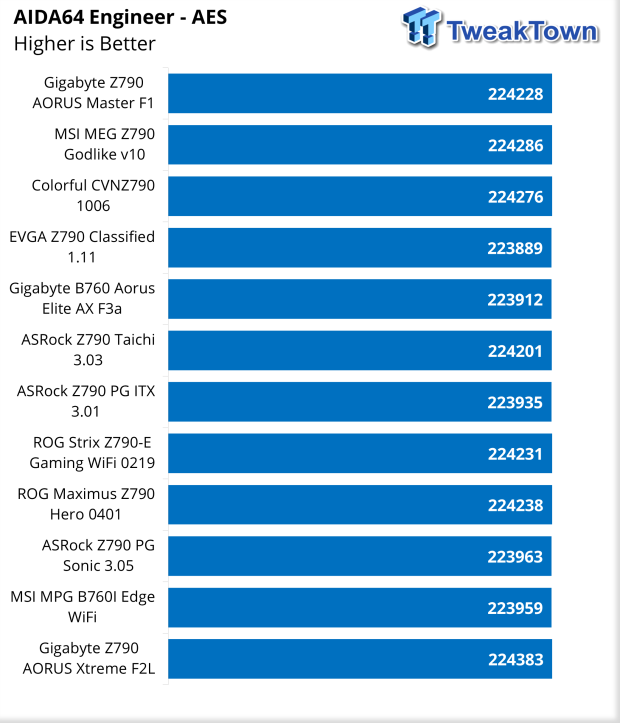 The Xtreme rang up 224383 for AES.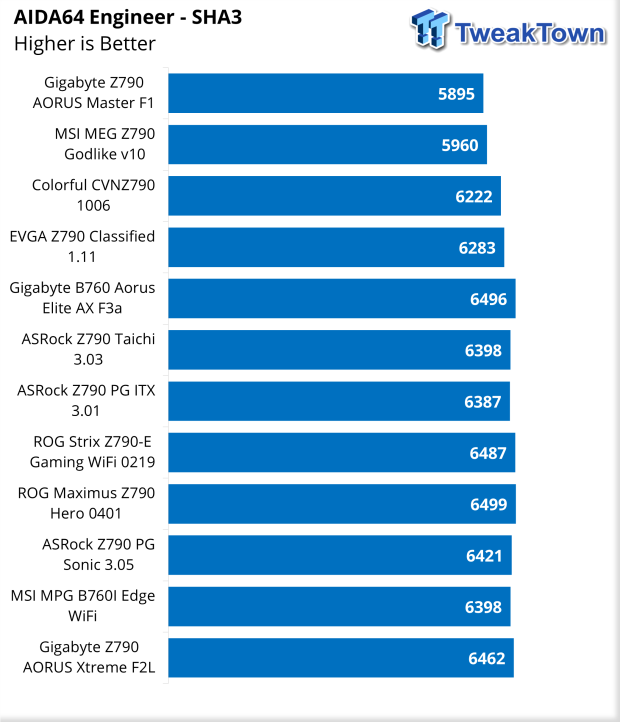 SHA3 gave us 6462.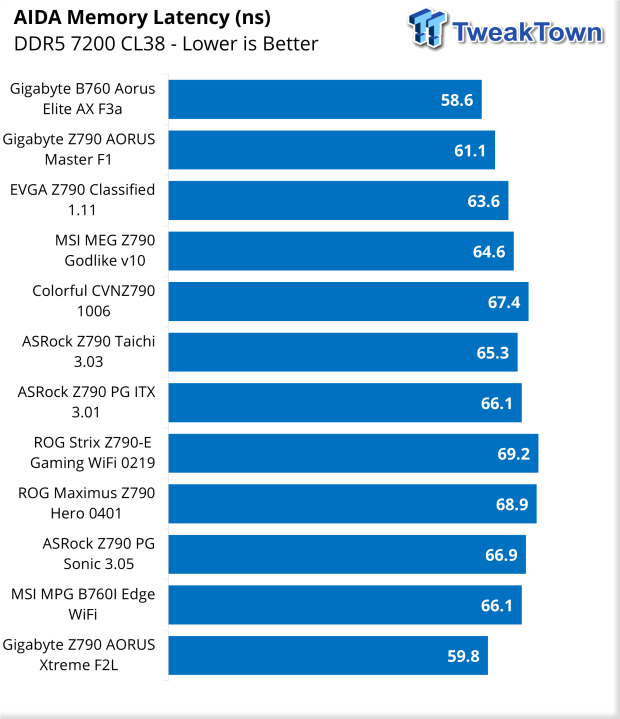 Memory latency landed at 59.8ns.
UL Procyon and 3DMark
UL Procyon Suite
The UL Procyon Office Productivity Benchmark uses Microsoft Office apps to measure PC performance for office productivity work.
The Photo Editing benchmark uses Adobe Lightroom to import, process, and modify a selection of images. In the second part of the test, multiple edits and layer effects are applied to a photograph in Adobe Photoshop.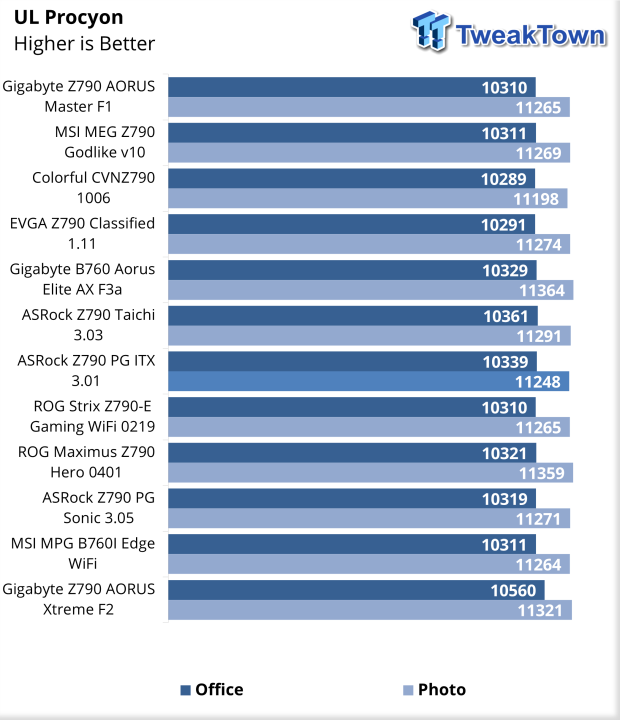 Our Procyon results landed with 10560 for Office and 11321 for Photo, both scores once again among the best we have seen.
3DMark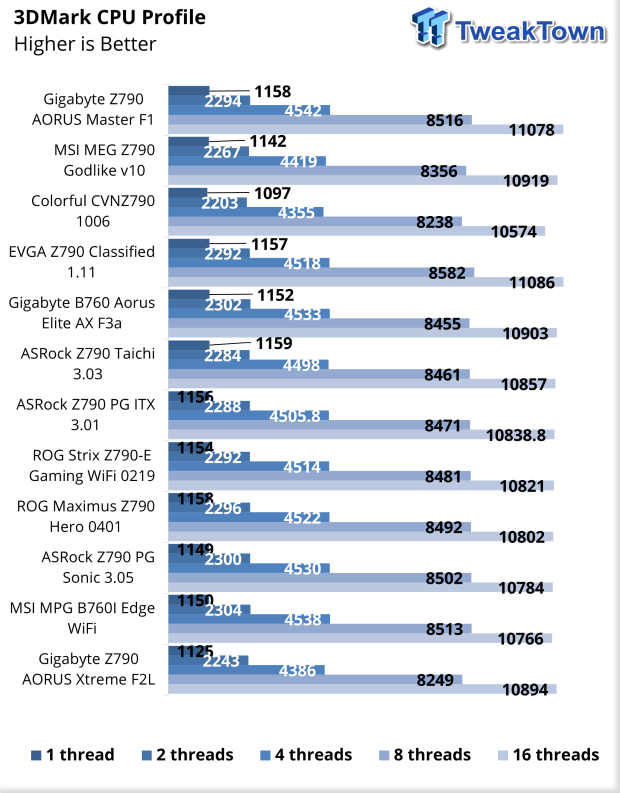 Getting into our 3DMark scenarios, Xtreme pulled 1125 single thread and 10894 at sixteen threads.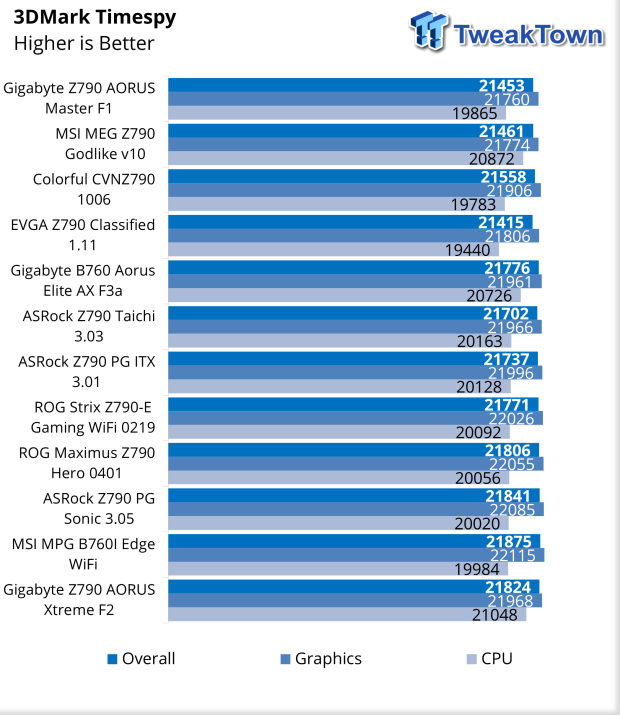 Timespy finished up with a score of 21824 overall.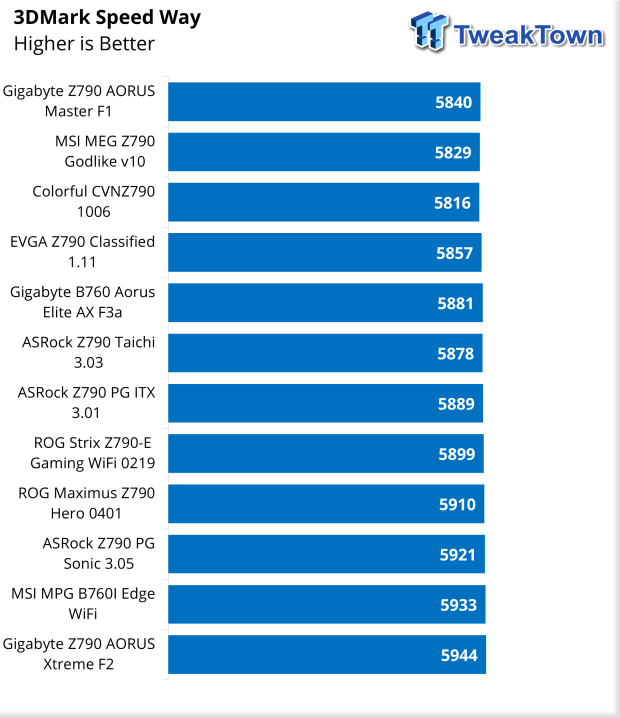 Moving over to Speed Way, we picked up a score of 5944.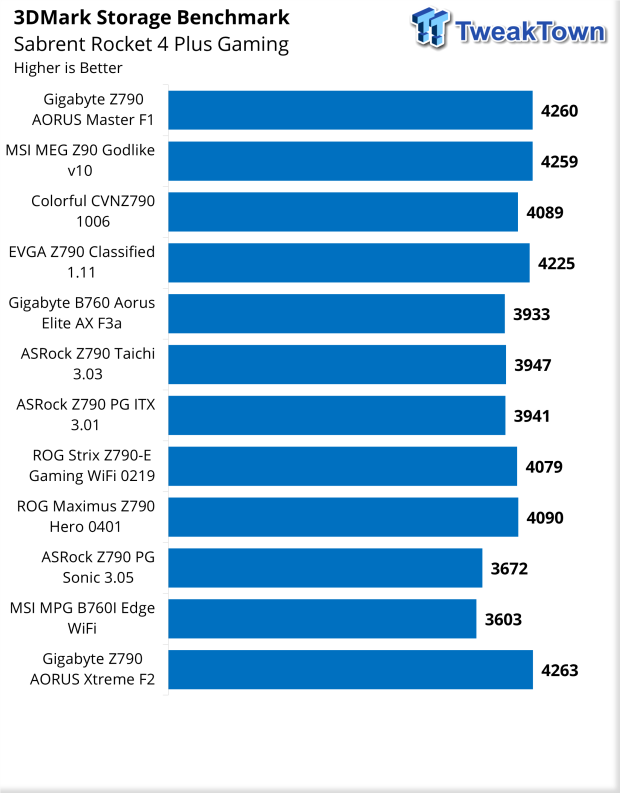 Storage Benchmark grabbed us 4263 points, barely beating out the Godlike for the best score among Z790 motherboards.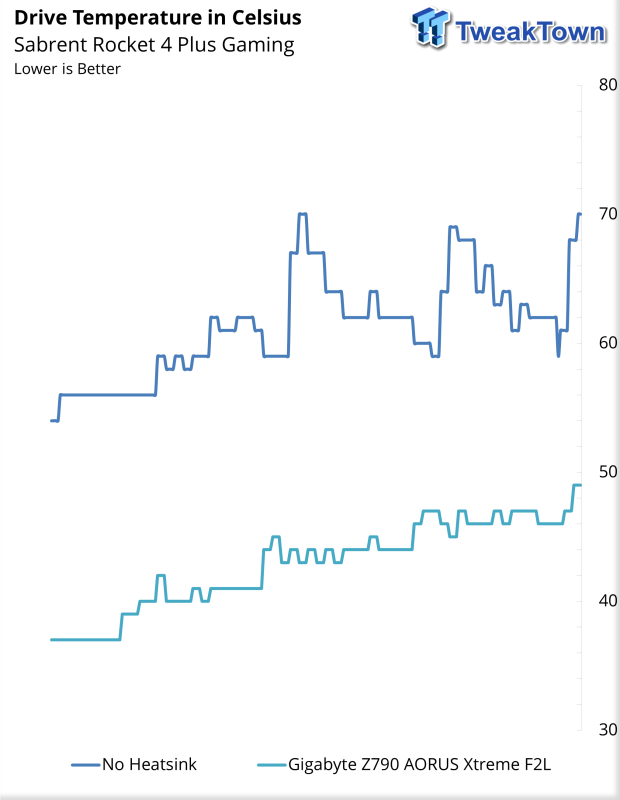 During our storage benchmark, we logged the temperature of our Rocket 4 Plus-G. Above, we noted the larger heatsink of the Xtreme was able to keep our drive under its throttle temp, peaking at 48c near the end of the test.
Gaming Benchmarks and Final Thoughts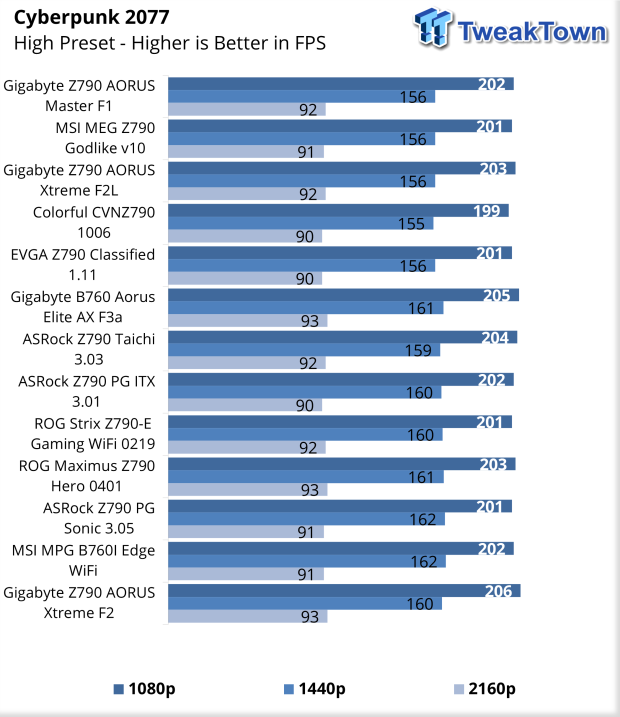 Gaming, we use Cyberpunk 2077 at three resolutions. At the top, we have 1080p, Xtreme giving us 206 FPS. At 1440p, we saw 160FPS, and at 4K, we landed 93 FPS from the AORUS Xtreme.
Final Thoughts
The AORUS Xtreme is GIGABYTE's top offering this generation and carries over much of its design and hardware from last year's Z690. That said, a few upgrades were made where necessary, including a change in the 10Gbe LAN and Wi-Fi support - both of these pieces being upgraded to the latest model. Memory support, too, was improved, with the Z790 AORUS Xtreme now supporting 8000MHz DIMMs and 192GB of capacity, alongside minor improvements to audio and NVMe.
In testing, this board was fantastic, taking top marks in Cinebench, Crossmark, and Procyon, two of those being cornerstone real-world workloads. In gaming, the AORUS Xtreme pulled a 21K score in Time Spy and our highest score yet in Speed Way at 5944. Cyberpunk proved quite good for the AORUS Xtreme as well. Our 3090 Ti picked up 206 FPS at 1080p, 160 FPS at 1440, and 93 FPS at 4K.
As for pricing, the AORUS Xtreme is one of the higher-priced options available for the current generation, with its $799.99 MSRP. While we feel this can be considered the high side of the market, GIGABYTE does quite well to offset the increased cost with a top-to-bottom solid motherboard that lacks nothing and features every bit of connectivity one could want.