TweakTown's Rating: 66%
The Bottom Line
The plot of the third Next Generation feature is still somewhat pedestrian and unambitious, but it's nonetheless a worth entry into the franchise and presented on a solid 4K disc.
Pros
+

Greatly improved 4K remaster from the original camera negative

+

Eye-popping colour saturation and great HDR toning

+

A solid and immersive mix
Cons
-

Visuals look a little bit dated in 4K

-

Zero extras
Should you buy it?
Avoid
Consider
Shortlist
Buy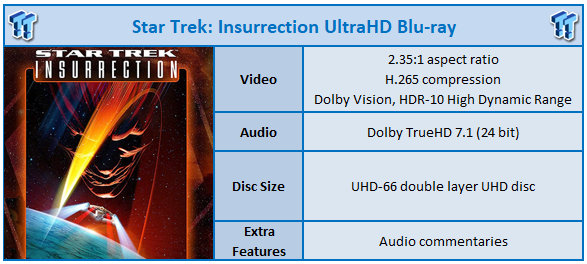 Star Trek: Insurrection 4K Blu-ray Review
Following the box office and critical success of Star Trek: First Contact, which represented a somewhat darker turn for the franchise, Producer Rick Berman instructed writer Michael Piller to lighten the tone for its sequel while still providing the action beats expected of a feature film and making it approachable for its non-core (i.e., casual) audiences.
When a covert Starfleet study of a mysterious planet that provides its human-like inhabitants with seemingly unlimited health is blown, android officer Data (Brent Spiner) and Captain Picard (Patrick Stewart) discover a darker plot to relocate the planet's residents and take the capabilities for its own.
Despite all the elements seemingly in place, including the full Next Generation cast (arguably still in their prime), a solid budget, cutting-edge CG visual effects, and several bold and interesting concepts such as non-interference, self-determination, and evolution that go to the heart of what Star Trek, Insurrection is regarded somewhat lower on the scale of Star Trek feature films.
Don't get me wrong, it's still a fun film with a lot of worth but with a little more ambition - and the will to fully exploit the concepts it raises - it could have made for something very special. Worse, the film's $124 million worldwide box office haul (off a $70 million budget) signaled that after seven seasons on the small screen and three feature films, the franchise was on an inescapable downward slide in popularity.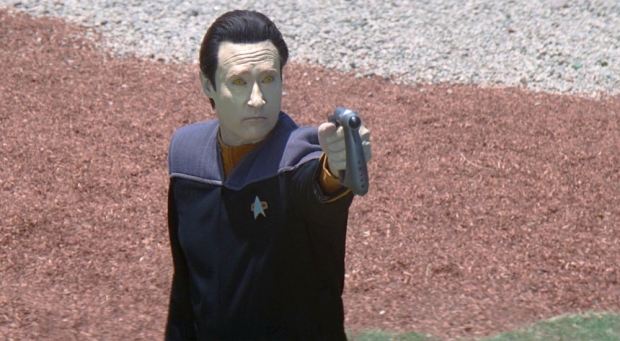 Video transfer
Star Trek: Insurrection is presented in its original aspect ratio of 2.35:1, encoded with H.265 compression, and finished with a Dolby Vision pass, in addition to a base HDR-10 layer.
As with the entire run of Star Trek films that have now been upgraded to 4K over the last year, Paramount has dusted off the conformed camera negative to produce a stunning new 4K transfer, which replaces the previous 20-year-old HD master in an overwhelmingly comprehensive way.
Gone is the noise and egregious digital noise reduction and edge enhancement that marred the previous Blu-ray release, replaced by a beautifully defined and stable image that bursts with ultra-fine detail and wonderfully cinematic imagery. The color balance is excellent, with rich and saturated tones. HDR assists to will even more detail from the frame, toning down the highlights in trees and foliage that were previously blown out.
Unlike its predecessors, Insurrection more fulsomely embraced CG, eschewing practical models for iconic ships and vehicles (including the Enterprise) that had been the mainstay of the franchise going back to the 1960s. Occasionally, the uptick in resolution here does reveal some of the seams and technological limitations to some of these late 90's era effects, giving them a more digital smooth sheen that occasionally reveals light aliasing. Other sequences, such as the opening duck blind attack sequence, fare a little worse, with low resolution and significant digital noise reduction seemingly baked into the source.
Overall, this is a really impressive remaster, and Paramount should once more be applauded for the care and attention they've extended to their crown jewel franchise on the 4K format.
Audio transfer
Star Trek: Insurrection is presented in a Dolby TrueHD 7.1 remix at 24 bits.
While Paramount appears to have undertaken a little marketing duplicity for the other three Next Generation films simply by duplicating the rear surrounds, Insurrection has been singled out to receive a true discreet 7.1 mix, which adds an enhanced surround spread to the proceedings.
By the late 1990s, big-budget feature films were receiving rather bombastic surround mixes, and this film was no exception - enjoying a pretty aggressive audio mix that's always scrubbed up pretty well on various DVD and Blu-ray releases. There are certainly no issues with audio sync or dialogue intelligibility. Bass is responsive when called upon and effectively underscores some of the more intensive battle sequences.
Following his superb contribution to First Contact, composer Jerry Goldsmith was welcomed back to the franchise for his first back-to-back Star Trek score, which undoubtedly elevates the film considerably.
I'm duty-bound to wonder what a Dolby Atmos mix could have sounded like, but overall, this is a pretty damn good effort.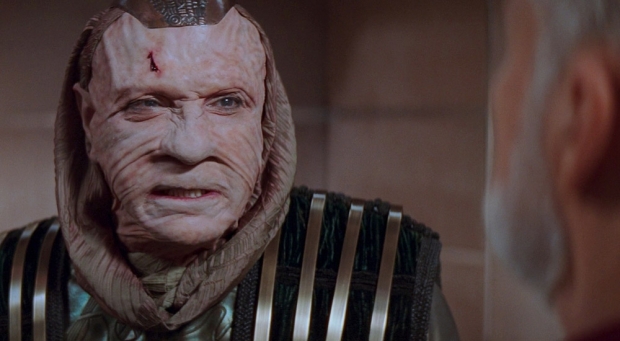 Bonus materials
Unfortunately, unlike other international releases, Paramount has again not included a copy of the standard Blu-ray in the Australian release, which means all the video-based features are absent from this edition. Trekkers would be advised to hang on to the previous Blu-ray release or import the U.S. or U.K. editions to retain everything.
However, the 4K disc does include the previously released Audio Commentary track provided by actor/Director Jonathan Frakes alongside actress Marina Sirtis. Recorded in 2009, the duo have obvious chemistry and are often hilarious, with Sirtis frequently confused as to what's happening on-screen, noting she hasn't seen it since the 1998 premiere.
Finally, we also have a Text Commentary track written by Star Trek experts Michael and Denise Okuda. We don't see these in the format very often these days, but they're always fun. This one was first released on the 2-disc DVD edition back in 2005 and removed for the subsequent Blu-ray, making its return here welcomed.