TweakTown's Rating: 93%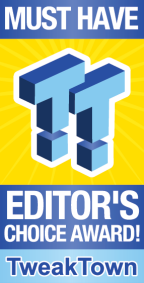 The Bottom Line
The Razer BlackShark V2 Pro 2023 Edition is an improvement over what's come before, thanks mainly to the new broadcast-quality microphone. As a wireless gaming headset, it excels in all areas, from sound quality to the on-ear preset options to the build quality and comfort.
Pros
+

Comfortable and robust build with improvements over the 2020 model

+

Excellent sound quality with on-ear preset control without the need for software

+

Broadcast-quality mic is a game changer

+

It comes with modes for some of the most popular competitive games

+

The aviation-style aesthetics look fantastic in white or black
Cons
-

Razer Synapse can be temperamental

-

The Razer Synapse UI is visually unappealing

-

The 3.5mm wired option has been removed
Should you buy it?
Avoid
Consider
Shortlist
Buy
Introduction & Specification Details and Close-up
The original Razer BlackShark V2 Pro was released in 2020, so you wouldn't be remiss to feel a bit of deja vu. But this new 2023 Edition with the expanded Razer BlackShark V2 Pro Wireless Esports Headset name offers several key improvements and updates over the previous model. So much so that Razer could have just as quickly slapped on the V3 branding, and there'd be less confusion. There's enough here to warrant it being a proper sequel.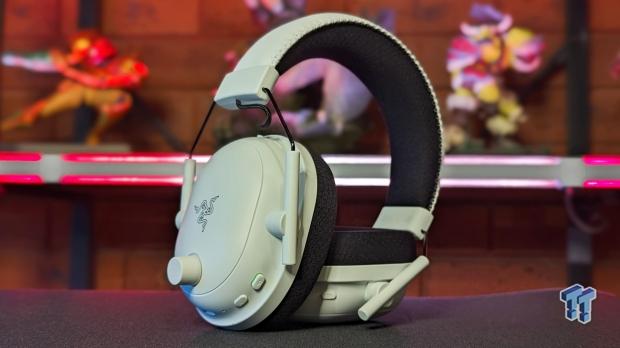 Although Razer's impressive 50mm TriForce Titanium audio drivers remain the same, a lot has changed for the popular headset. One of the biggest is hinted at in the naming, with the 'esports' tag bringing a certain level of expectation regarding performance. Tuning and clarity to support competitive titles like Call of Duty, CS:GO, Apex Legends, and others, but more importantly, high-quality chat functionality bolstered by a decent microphone.
That last bit has been addressed here by Razer, and then some, with the Razer BlackShark V2 Pro 2023 Edition offering excellent voice recording that captures nuance and detail and is good enough to broadcast. The high-quality detachable microphone has been given a name too, the HyperClear Super Wideband Mic - and even though that's a somewhat convoluted way of saying 'great mic,' it's several steps ahead of the original Razer BlackShark V2 Pro from 2020.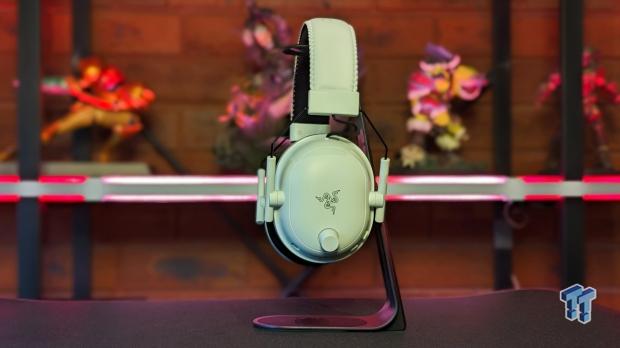 Several other changes include improvements to build quality, seal, and breathable memory foam cushions to a long-lasting battery that can deliver up to an impressive 70 hours of use on a single charge.
The move to USB-C also means the ability to quickly charge to get enough battery life to see you through a gaming session. But it's not all 'what came before, plus more' as there are some omissions, including 3.5mm wired functionality given the flick with a wireless-only approach.
Let's dig in.
Specifications & Close Up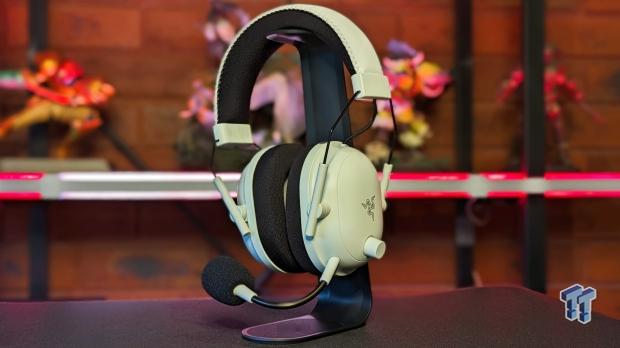 Product Type: Wireless Gaming Headset
Interface: Type-A Wireless (2.4 GHz), Bluetooth 5.2
Compatibility: PC (Type-A 2.4 GHz, Bluetooth 5.2), PlayStation (Type-A 2.4 GHz), Mobile Devices (Supporting Type-A or Bluetooth 5.2), Android and iOS
Form Factor: Oval Ear Cushions
Drivers: 50mm Razer TriForce Titanium
Headphones Frequency Response: 12 - 28,000 Hz
Microphone Pick-up Pattern: Unidirectional, Detachable Super Wideband
Microphone Frequency Response: 100 - 10,000 Hz
Surround: THX Spatial Audio
Weight: ~ 320 grams
Battery Life: 70 hours
In the Box: Razer BlackShark V2 Pro, Removable Razer HyperClear Super Wideband Mic, Wireless USB Dongle, USB Type-A adapter cable, USB Type-A to Type-C charging cable, Product Information Guide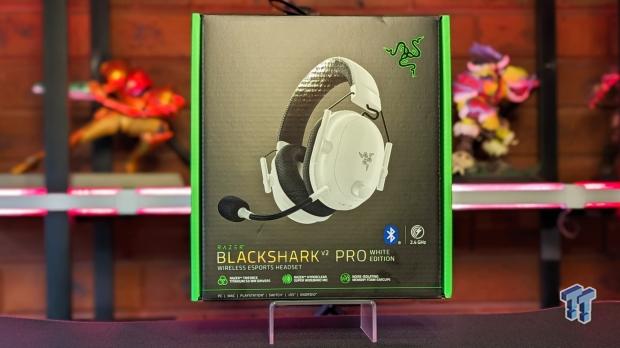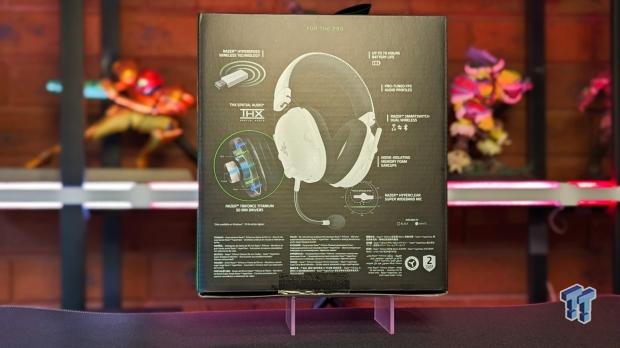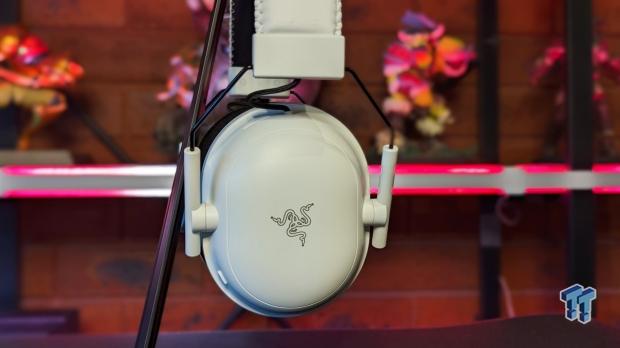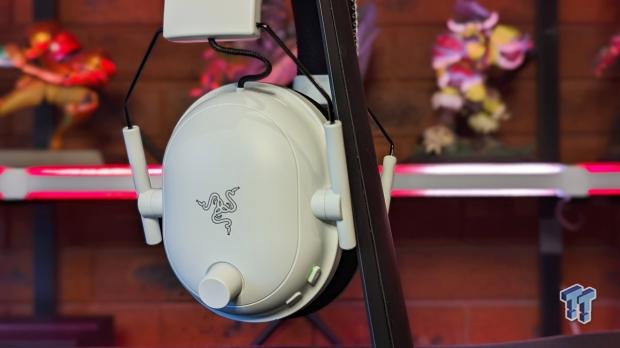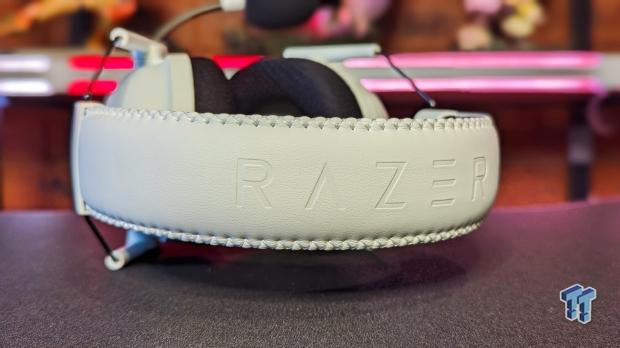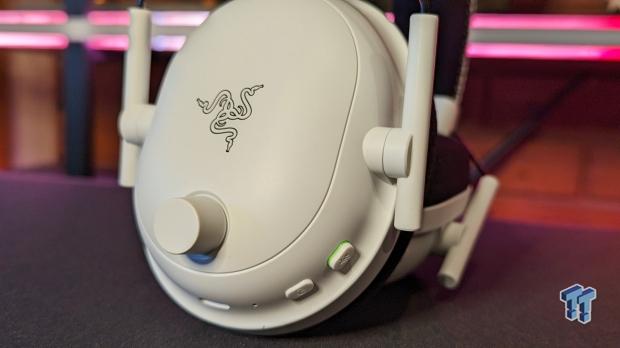 Kosta's Test System Specifications
Motherboard: MSI MPG X670E Carbon Wi-Fi
CPU: AMD Ryzen 9 7900X
GPU: NVIDIA GeForce RTX 4090 Founders Edition
Cooler: Corsair iCUE H100i RGB PRO XT Liquid CPU Cooler
RAM: 64GB (2x32GB) Corsair DOMINATOR PLATINUM RGB DDR5 DRAM 5200MHz
SSD: Sabrent Rocket 4 Plus-G M.2 PCIe Gen 4 SSD 4TB, Sabrent Rocket 4 Plus Plus M.2 PCIe Gen 4 SSD 8TB
Power Supply: Thermaltake Toughpower GF1 850W
Case: Thermaltake Core P3 Tempered Glass Snow
OS: Microsoft Windows 11 Pro 64-bit
Design & Software and Support
Design
The Razer BlackShark V2 Pro 2023 Edition is robust and comfortable, much like its predecessor. Designed for both comfort and long and intense gaming sessions, the 320-gram weight is evenly balanced and never really makes itself known. The stunning aviation-inspired look is remarkable in the white edition reviewed here. Even though you've got Razer branding on the headband and each earcup, you could still describe the overall look as minimal and stylish, gamer and yet universal in its appeal.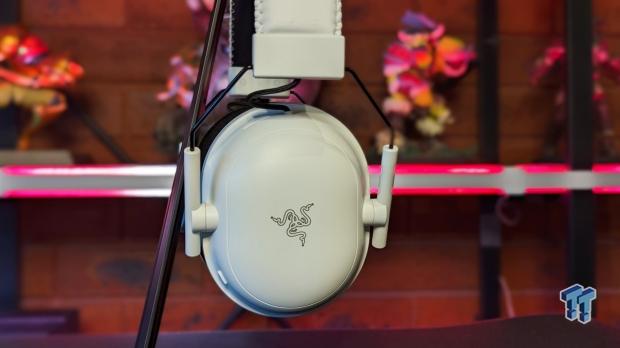 The thin stainless-steel slider is still how you adjust the headband, but Razer has improved the overall quality, durability, and flexibility of the materials deployed. The seal has an excellent feel, with no issues relating to pressure or audio bleed in our time with the headset - though glasses wearers might experience some. The Razer BlackShark V2 Pro 2023 Edition is comfortable, and the improved build quality and comfort are worth celebrating.
On-ear controls are impressive, too, with the sizeable high-quality volume dial given a prominent position on the left earcup. Here you'll also find buttons for power and muting, though the latter is relatively small and doesn't provide any audible feedback like the present button on the right earcup.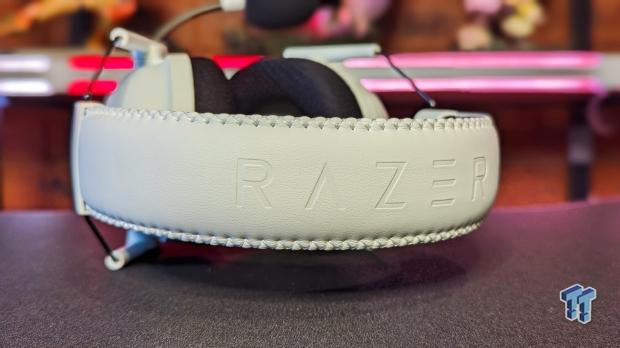 Okay, so the Razer BlackShark V2 Pro 2023 Edition is a rarity because it doesn't require using custom software - Razer Synapse, in this case - to use it efficiently across different applications and systems. As mentioned, the right earcup has a preset button that shifts through different equalization tuning for games, movies, music, and custom modes.
This is great for those who like to minimize the number of background apps and tasks open while playing games, and even better news for those who aren't fans of Razer's bloated but powerful software on PC.
Now you can easily switch between the audio profile designed to amplify in-game sound and a more balanced and neutral profile designed to allow music and all of its frequency detail to flourish. Having these presets available directly on the headset adds to the versatility of the Razer BlackShark V2 Pro. So no matter if you're connected to PC, PS5, or an Android smartphone via Bluetooth, none of that diversity in sound is lost.
Software and Support
Like all Razer peripherals and hardware, the Razer BlackShark V2 Pro 2023 Edition uses Razer Synapse for all customization. However, to update the firmware, you'll need to download and install a separate tool that adds a hurdle to the first-time setup.
Razer Synapse can be a little temperamental because we've experienced it hanging and crashing a handful of times. What's on offer is excellent, even if the UI design and green and black color scheme are ugly.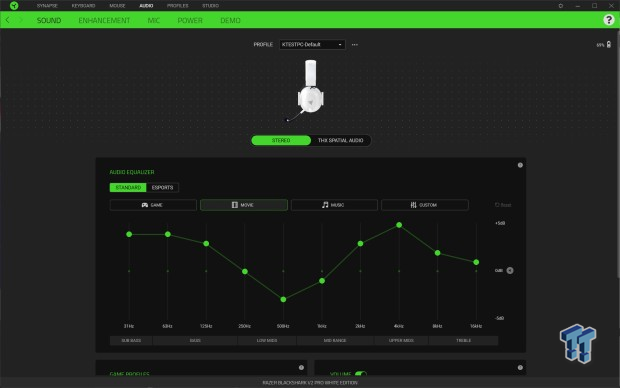 A 10-band equalizer handles the main audio tweaking, and here you have direct control to edit the pre-existing presets and modes for games, movies, music, and so forth, with an additional custom mode to tinker with.
Synapse offers an impressive addition by including a separate 'esports' section that locks the headset to stereo sound with presets for five of the most popular online competitive titles; Apex Legends, Call of Duty, CS:GO, Fortnight, and Valorant.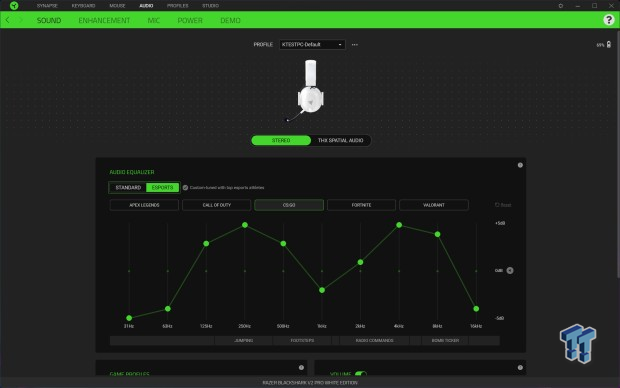 These equalizer presets are tuned to amplify in-game sound effects over things like music and cinematic explosions and are for those that approach these games from a competitive angle.
Razer Synapse also offers a separate tab and equalizer for the microphone with presets tuned for various applications like conference calls, boosting your voice volume and clarity in games, and broadcasting. This is all great, considering the Razer BlackShark V2 Pro 2023 Edition ships with an excellent microphone.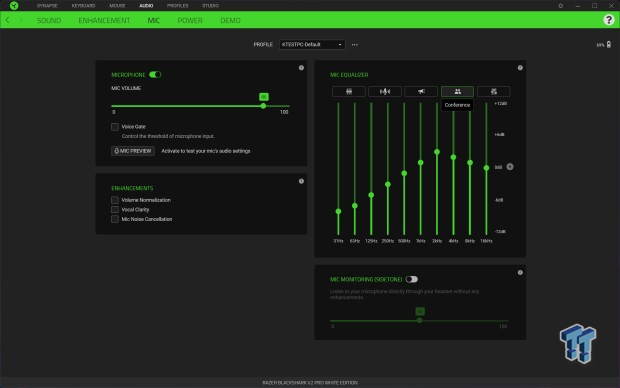 Razer Synapse also offers access to post-processing effects like bass boost and the ability to set a timer for when the headset will turn off when not in use to conserve battery life. Plus, the ability to turn off Bluetooth notifications for calls and messages from a connected device so as not to interrupt those tense gaming moments.
Finally, all default presets are available with the option to turn on THX Spatial Audio, an excellent virtual surround option for those looking for a more cinematic gaming experience.
Performance & Microphone
Performance
As a wireless esports gaming headset with a long-lasting battery, an excellent microphone, and custom presets for some of the most popular games, it was only fitting to test the Razer BlackShark V2 Pro 2023 Edition out with a round or two of Call of Duty and Apex Legends.
The results are immediately impressive, too, with the 50mm Razer TriForce Titanium drivers able to deliver a booming, crisp, and detailed sound. The esports profiles are a welcome addition, as they amplify things like gunfire, enemy footsteps, voices, and other elements that add to your spatial awareness.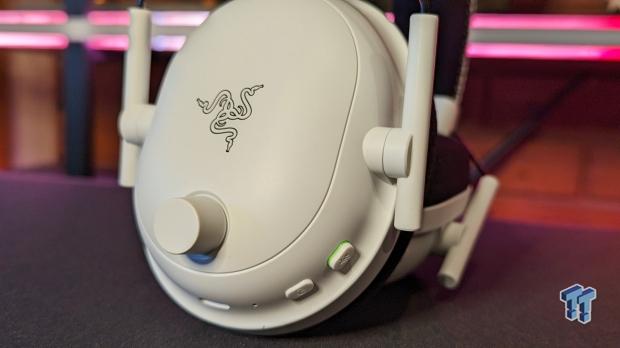 Switching things up to the PlayStation 5 and PC with more cinematic games like Star Wars Jedi: Survivor and Horizon Forbidden West, the real magic of the Razer BlackShark V2 Pro is made clear. Rich, crisp, and booming detailed sound, with or without THX Spatial Audio or the PS5's Tempest 3D Audio.
The sound quality here is excellent for a wireless headset, which often loses out on some finer detail than premium wired offerings. This extends to listening to music, where even though Razer's preset gives the bass and mid-range more presence, it's an overall warm and inviting listening experience.
Microphone
Razer's HyperClear Super Wideband Mic is a game changer when you compare the quality to the original Razer BlackShark V2 Pro from 2020. Broadcast quality chat is the sort of thing that has those listening on the other side stop to ask what headset you're currently using. It's broadcast-quality stuff, and for budding streamers and creators, it offers a decent option to quickly record VO without switching to a more elaborate setup.
On PC, Razer's software adds quite a bit of functionality to the microphone, with the ability to adjust the voice gate, noise cancellation, normalization, and tweak the equalizer to customize the sound quality of your voice. But, with the quality being excellent out-of-the-box, you probably won't need to drill down. It's that good.
Final Thoughts
With a price point of USD 199, the Razer BlackShark V2 Pro 2023 Edition is more expensive than the 2020 version of the headset. Still, improvements, like build quality, battery life, and microphone quality, are welcome. Suppose we had one complaint with the overall design.
In that case, removing the 3.5mm audio option limits some of the versatility, but when you can get 6 hours of battery life after only 15 minutes of charging, that's a minor complaint. This is a wireless headset for a reason, and with up to 70 hours on offer, we didn't have to charge it at all during our week of testing.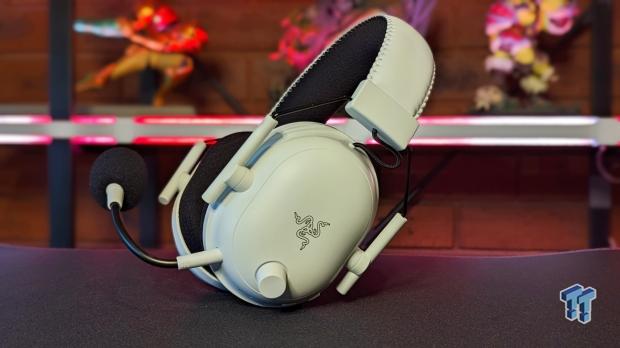 For competitive gamers and those that want an immersive cinematic experience (THX Spatial Audio is excellent), the Razer BlackShark V2 Pro 2023 Edition more than earns its place as a perfect choice.
The build quality is robust, with several improvements made over the previous model, it's comfortable, and the sound and microphone quality are top-tier. The fact that you don't need software to get the most out of it is a nice touch, too. This sort of thing helps set it apart from other wireless headsets in its price range.