TweakTown's Rating: 74%
The Bottom Line
The HyperX CloudX Stinger 2 Core is a budget gaming headset designed for Xbox consoles, and its no-fuss plug-and-play design is backed up by decent sound quality and comfort.
Pros
+

An affordable option for entry-level Xbox audio

+

Decent all-plastic build that mimics HyperX's more premium headsets

+

Tuned for gaming with decent bass and crisp highs

+

Plug-and-play, no-fuss design
Cons
-

No splitter cable makes it limited when it comes to PC compatibility

-

Mid-range detail is disappointing

-

Tuning is not great for listening to music

-

A slight buzz sound for chat and voice recording
Should you buy it?
Avoid
Consider
Shortlist
Buy
Introduction & Specification Details and Close-up
This has been mentioned several times in our audio gaming reviews, but it's worth reiterating, even if it's a case of repetition. Regarding audio, especially headsets and speakers, price factors into the overall sound quality. By that token, there's no expectation that a budget gaming headset will be on par with a premium product. Quality audio components carry a premium price, which has been a thing ever since speakers began being sold to consumers.
However, budget gaming headsets are worth investigating to see if they deliver an exceptional entry-level experience with an eye toward decent sound and comfort. It's a competitive market with several options, and choosing the right gaming headset is difficult at the best of times.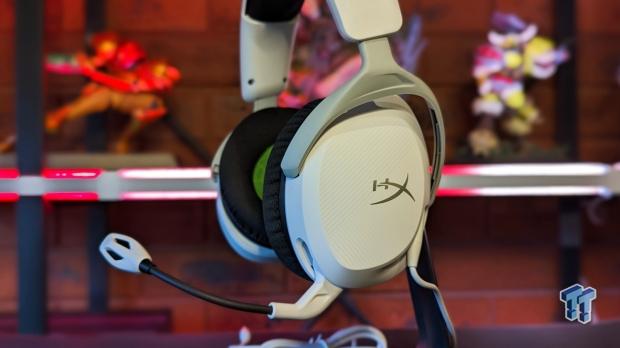 The HyperX CloudX Stinger 2 Core fits into the entry-level and budget category thanks to its MSRP of USD 39.99. A wired gaming headset explicitly designed for the Xbox Series X|S generation, with the model reviewed here being an officially licensed Xbox peripheral. The added brand recognition of HyperX certainly carries some expectations heading in, in that HyperX has a reasonably solid track record for gaming headsets - especially in the sound quality department.
The good news is that the HyperX CloudX Stinger 2 Core features some decent audio (HyperX describes the sound as 'optimized for console gaming') and comfort for the price, even though it doesn't quite compare all that well when stacked against more expensive gaming headsets. This also differs from the HyperX Cloud Stinger 2 we reviewed last year, with different drivers, tuning, and material-based cups.
Let's dig in.
Specifications & Close Up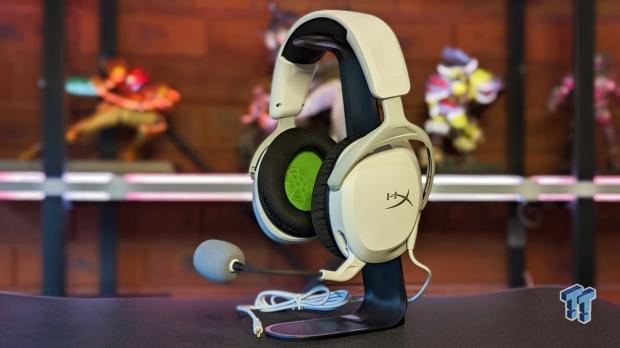 Product Type: Wired Gaming Headset
Interface: 3.5mm
Form Factor: Over Ear Closed
Drivers: 40mm
Headphones Frequency Response: 10 - 25,000 Hz
Microphone Pick-up Pattern: Bi-Directional, noise cancelling
Surround: Windows Sonic (Xbox, PC)
Cable: 3.5mm
Weight: ~ 270 grams
In the Box: HyperX CloudX Stinger 2 Core Gaming Headset, Quick Start Guide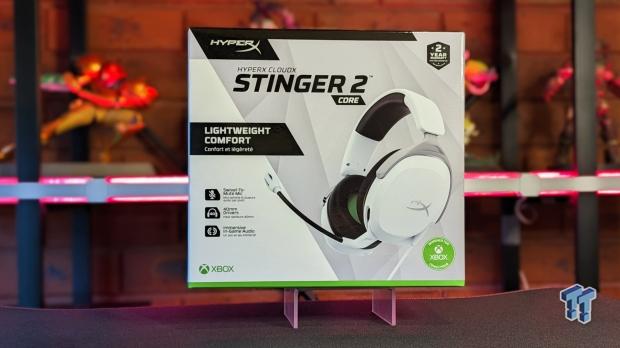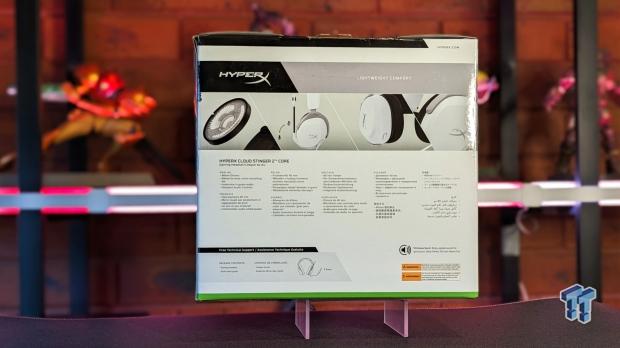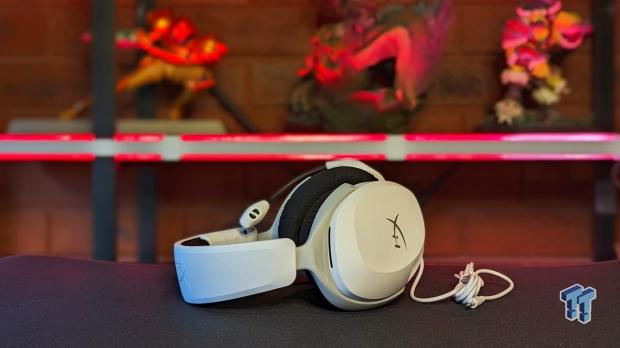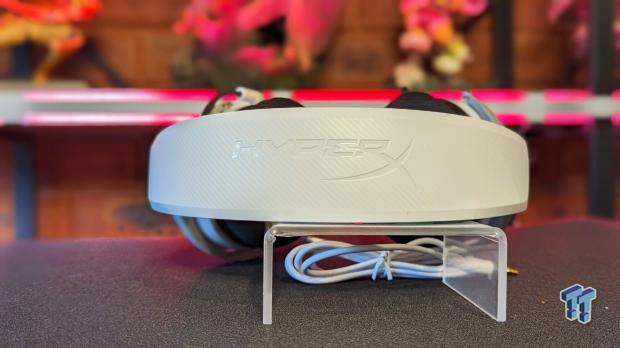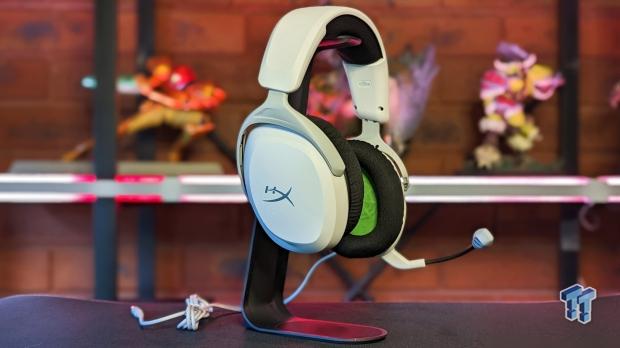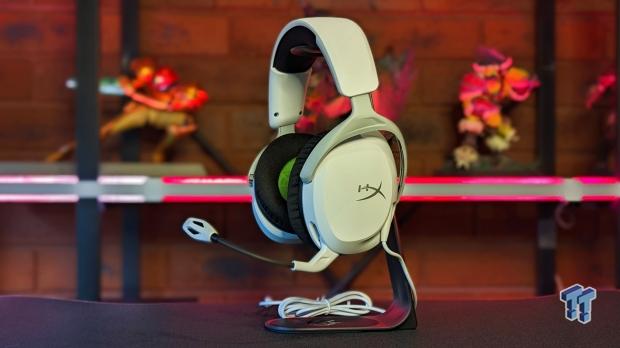 Kosta's Test System Specifications
Motherboard: MSI MPG X670E Carbon Wi-Fi
CPU: AMD Ryzen 9 7900X
GPU: NVIDIA GeForce RTX 4090 Founders Edition
Cooler: Corsair iCUE H100i RGB PRO XT Liquid CPU Cooler
RAM: 64GB (2x32GB) Corsair DOMINATOR PLATINUM RGB DDR5 DRAM 5200MHz
SSD: Sabrent Rocket 4 Plus-G M.2 PCIe Gen 4 SSD 4TB, Sabrent Rocket 4 Plus Plus M.2 PCIe Gen 4 SSD 8TB
Power Supply: Thermaltake Toughpower GF1 850W
Case: Thermaltake Core P3 Tempered Glass Snow
OS: Microsoft Windows 11 Pro 64-bit
Design & Software and Support
Design
As expected, the HyperX CloudX Stinger 2 Core features an all-plastic build covering everything from the adjustable headband to the hinges to the ear cups. This is expected for a headset with an affordable and entry-level price of USD 39.99. Still, it's excellent that HyperX has retained the same physical design and make-up of its more premium audio solutions, albeit with plastic hinges instead of metallic ones. This gives the overall look of the headset a somewhat premium feel, especially with the white model reviewed here.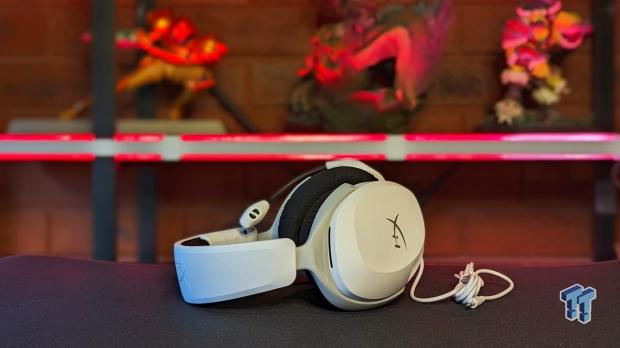 Outside of the headband adjustments and some vertical swivel action for the earcups, the physical movement for the HyperX CloudX Stinger 2 Core is limited. However, the fit is comfortable for the price and suitable for just about any head size. This is reinforced by the lightweight 270-gram build, which means this budget offering can be worn for extended periods with minimal fatigue.
Other cost-cutting measures come with the microphone that isn't detachable and on-ear controls limited to a single volume dial. There's no chat mix on offer though the microphone's flip-to-mute functionality does take care of moments when you're in chat and don't want the fact that you've just opened up a big bag of potato chips to be heard by your co-op partners. I'm talking from experience there.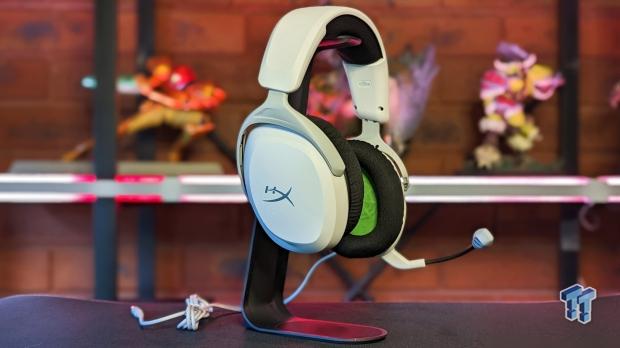 Designed for Xbox, there are limitations when it comes to connectivity, with the short 3.5mm cable intended to be connected directly to a modern Xbox Series X|S and Xbox One controller. There's no extension or PC splitter included in the packaging either, so if you want to connect the HyperX CloudX Stinger 2 Core up for some PC gaming, you're best option is to follow suit and connect it directly to an Xbox controller connected to a Windows 10 or Windows 11 rig.
The story is mostly positive regarding the sound quality when you factor in the budget price point and the 40mm drivers with an extended frequency range of 10 to 25,000 Hz. But the 'optimized for gaming' tuning leaves little room for mid-range detail, emphasizing low-end rumble and crisp and sometimes harsh highs.
Software and Support
As a budget gaming headset designed for Xbox consoles, there aren't any official software support or customization options for the HyperX CloudX Stinger 2 Core. The good news is that consoles like the Xbox Series X|S offer spatial surround options and OS-level controls over things like chat, game, and mixing. If you have a license, you can also use Dolby Atmos for Headphones on Xbox, which can add width and 3D presence to in-game audio.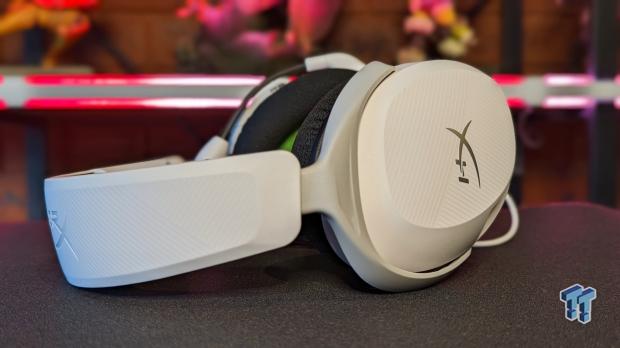 The HyperX CloudX Stinger 2 Core is also designed to be a plug-and-play option for Xbox gamers, meaning that it's all about delivering a decent in-game audio experience without having to mess around with setup or customization. That said, it would have been nice to have control over the equalizer or access to different presets - which is possible on PC thanks to several third-party apps.
Performance & Microphone
Performance
As mentioned above, the HyperX CloudX Stinger 2 Core tuning is geared toward gaming, not listening to music. The lack of mid-range detail and the emphasis on bass and crisp high-end frequencies does make the headset unappealing for most music genres, but this isn't its intended purpose or use case. Testing them out by playing a range of titles covering various genres - including the recently released Redfall, Forza Horizon 5, Valheim, Tetris Effect, and Overwatch 2 - the sound quality is decent for the budget price point.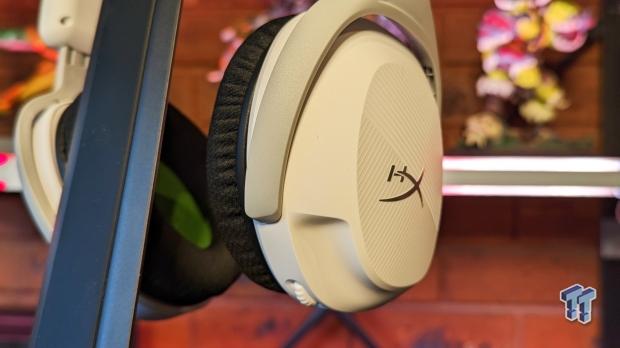 The sharpness of the high-end can be a little distracting at times, but one area where the HyperX CloudX Stinger 2 Core does excel is when it comes to voices - be it in-game characters or real-world people you're currently in an Xbox Party with. Bass, too, is another area that impresses; even though the response wasn't the precise and warm frequency response you'd find on more premium headsets - it was clear and booming enough without adversely affecting the rest of the soundstage.
Microphone
The best way to describe the chat quality of the HyperX CloudX Stinger 2 Core, that is, the quality of your voice when chatting to friends or random gamers, is that it's serviceable. Not exceptional but not terrible, and when you factor in the budget price, that's welcome news. HyperX does pack in an attachable filter you can place over the microphone, which is nice and does improve the overall quality alongside the in-built noise cancellation.
Like the HyperX Cloud Stinger 2, we reviewed last year, the voice recording has some audible buzz, but it's not as noticeable as there. Voice quality is detailed, with the microphone delivering a natural sound much better than the tinny sound expected regarding budget headsets.
Final Thoughts
Coming full circle, it's impossible to review something like the HyperX CloudX Stinger 2 Core by comparing it to more premium offerings. This gaming headset is designed for those on a budget or someone simply looking to get their first headset without putting a dent in their budget. The USD 39.99 price point is the big drawcard here, and if you're an Xbox gamer or simply looking for something a kid could use and have a decent overall experience - this is worth considering.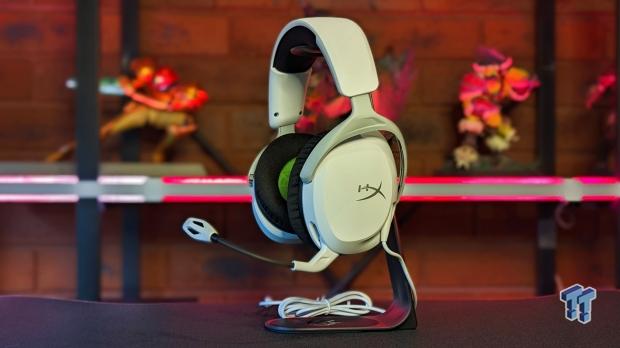 The build quality, although plastic, is decent enough, and the HyperX CloudX Stinger 2 Core is comfortable enough to wear for extended gaming sessions. Voice and chat quality punches above its weight, and the 'optimized for gaming' tuning does well when paired with action games and competitive titles. It might not be all that versatile, but it delivers what it sets out to do.