TweakTown's Rating: 88%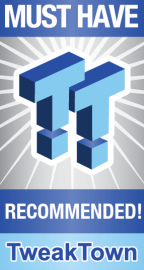 The Bottom Line
The ROCCAT Vulcan II Max delivers one hell of an RGB light-show, but it's also packed with great features, a robust build, and excellent ROCCAT TITAN II linear switches for gaming.
Pros
+

TITAN II linear switches are great for gaming

+

Vibrant and functional RGB

+

Lightweight and stylish

+

Dual LEDs so you can see secondary functions is a brilliant addition

+

Translucent wrist rest that lights up
Cons
-

Software required for smart key functionality

-

The software could use an update as well as be a little bit more intuitive

-

The smooth keycap finish is prone to grease buildup

-

It may require two USB ports
Should you buy it?
Avoid
Consider
Shortlist
Buy
Introduction & Specification Details and Close-up
There was a time when PC gaming peripherals and hardware didn't feature RGB lighting. For the lack of a better word, these were dark times, and instead of stylish visual flourishes like RGB, peripherals and hardware arrived with two color options - black or beige.
This is not to say that RGB lighting is everything; some products use it subtly or eschew its inclusion entirely. Either way, we're at a point where physical appearance and style are part of the decision-making process when it's time to pick up something new.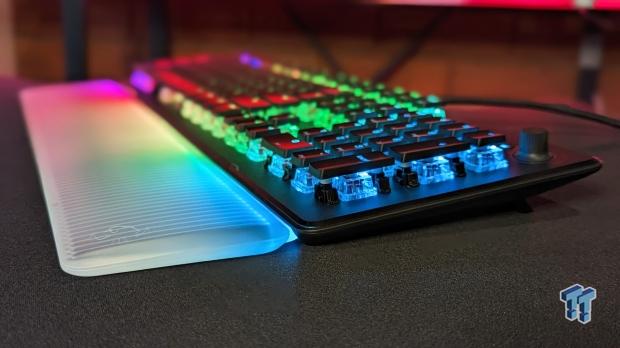 The new ROCCAT Vulcan II Max Optical Gaming Keyboard is for RGB lovers - a veritable light show where RGB is used everywhere. RGB and ROCCAT's impressive AIMO lighting system is used where it serves a functional purpose for accessing hardware-specific features and things like profiles.
In addition to a translucent silicon wrist rest that amplifies the RGB in a way that makes it look like something James Cameron would have created for the world of Pandora, you've also got Dual-LED keys that can light up in different colors for contextual purposes. Put it this way, when you plug in the ROCCAT Vulcan II Max, the RGB action will inform just about all of your first impressions.
This is a roundabout way of saying that if you're not a fan of RGB lighting, you're better off stopping the review here and moving on. Even though the ROCCAT Vulcan II Max Optical Gaming Keyboard is an excellent performer thanks to ROCCAT's impressive TITAN II optical-mechanical switches, there's no looking past the light show.
Specifications & Close Up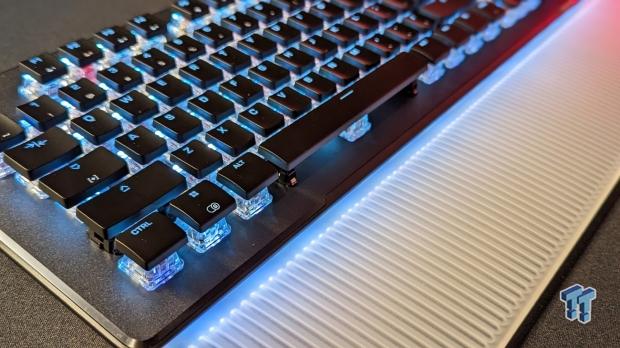 Product Name: ROCCAT Vulcan II Max Optical Gaming Keyboard
Product Type: Wired Gaming Keyboard
Size (Full/TKL): FULL
Switch: TITAN II OPTICAL RED (Linear)
Actuation Point/Force: 1.4mm/45G
Interface: USB-A cable x 2 (1.8m)
Platforms: Windows 7 and above (PC)
Lighting: RGB per-key illumination + 24 smart keys
Dimensions: 463 x 236 x 33.5 mm
Weight: 1040 grams (keyboard)
What's in the Box: Vulcan II Max Gaming Keyboard, Detachable Palm Rest, Quick-Start Guide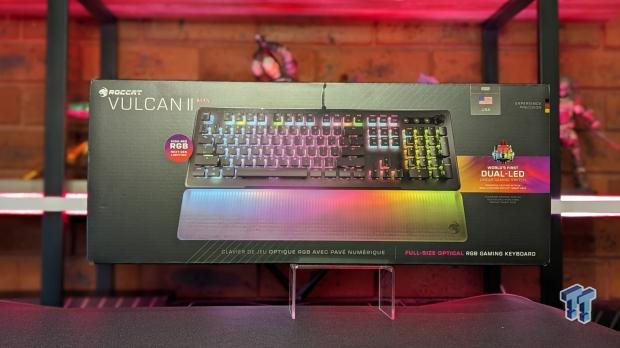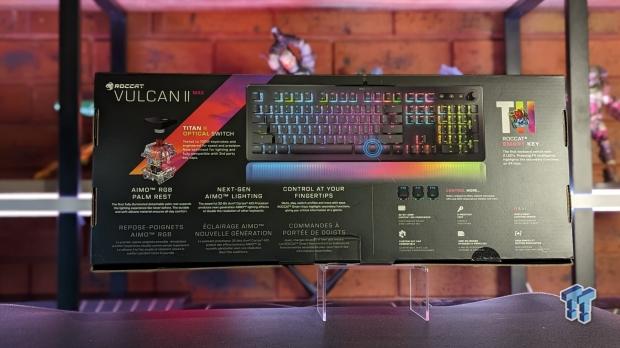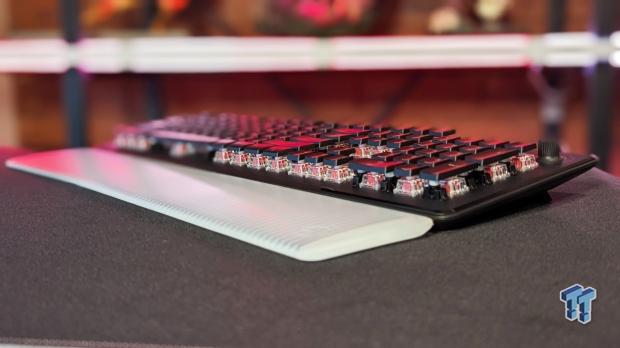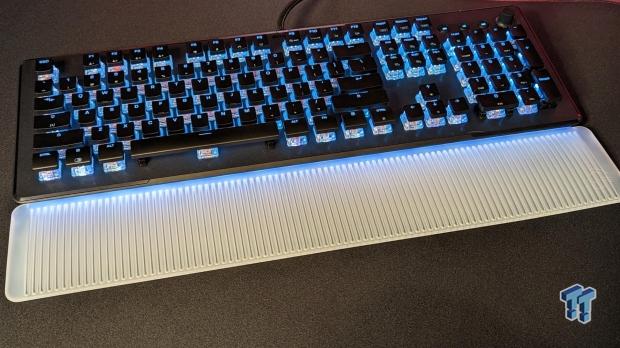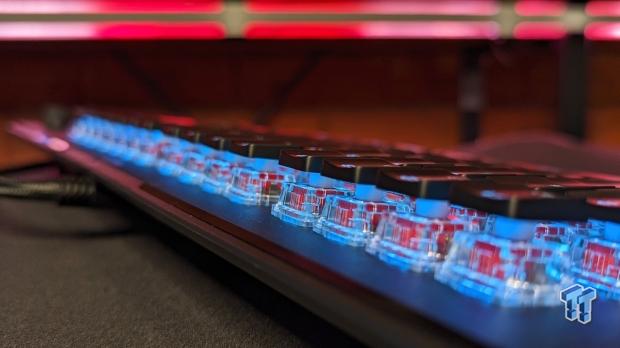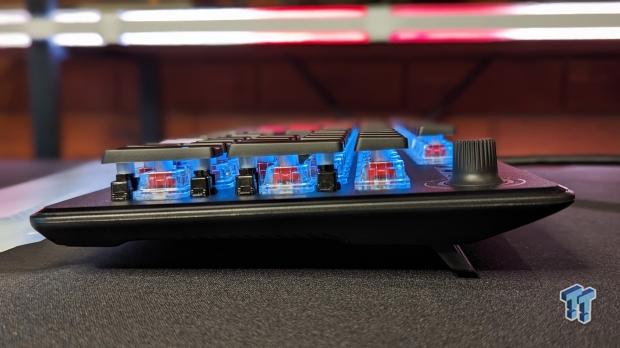 Kosta's Test System Specifications
Motherboard: MSI MPG X670E Carbon Wi-Fi
CPU: AMD Ryzen 9 7900X
GPU: NVIDIA GeForce RTX 4090 Founders Edition
Cooler: Corsair iCUE H100i RGB PRO XT Liquid CPU Cooler
RAM: 64GB (2x32GB) Corsair DOMINATOR PLATINUM RGB DDR5 DRAM 5200MHz
SSD: Sabrent Rocket 4 Plus-G M.2 PCIe Gen 4 SSD 4TB, Sabrent Rocket 4 Plus Plus M.2 PCIe Gen 4 SSD 8TB
Power Supply: Thermaltake Toughpower GF1 850W
Case: Thermaltake Core P3 Tempered Glass Snow
OS: Microsoft Windows 11 Pro 64-bit
Design & Software
Design
The ROCCAT Vulcan II Max Optical Gaming Keyboard and the smaller Vulcan II Mini feature a similar physical design. Outside of the aluminum top plate, most of the build is plastic, though, unlike the mini, the overall weight of the Max gives it a sturdier feel. The Vulcan line from ROCCAT represents the company's premium keyboard offerings, and this new version carries a markedly different look outside of the floating keycap design. The ROCCAT Vulcan II Max has a stylish and minimal look when you set aside the crazy RGB action.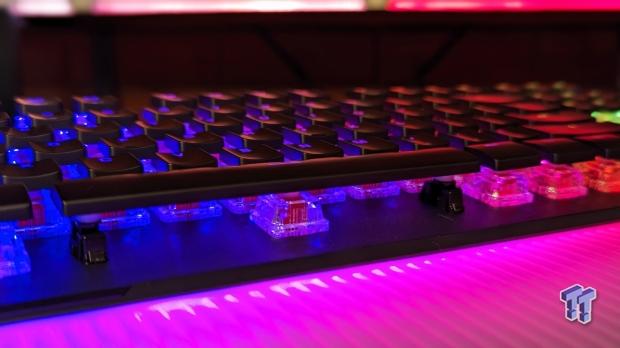 The floating key design is excellent, and the shiny finish on the keycaps has a great feel - though, for some, they may seem a little slippery. Not to mention, prone to grease buildup. As a full-sized keyboard, you have all the keys, dedicated media controls, and secondary functionality (including Macro recording and Profile switching) available via ROCCAT's Swarm software. It's feature-packed, and the soft silicon of the wrist rest adds to the overall comfort.
The ROCCAT Vulcan II Max uses ROCCAT's TITAN II optical switches, which gives the keyboard and typing a distinct feel. The review model we tested featured the linear RED versions of the switches, which are speedy and built for competitive and fast-paced PC gaming. These linear switches offer a 1.4mm actuation travel distance with only 45G of force required, which is comparatively faster and more responsive than CherryMX's linear switches.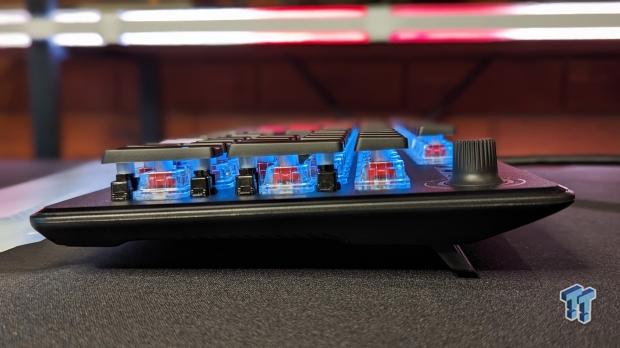 ROCCAT claims "no debounce delay" in its marketing materials, which means a near-instantaneous debounce that feels snappy. With the ability to store multiple profiles and record Macros, and full N-key Rollover (NKRO), ROCCAT's TITAN II optical switches make the ROCCAT Vulcan II Max an excellent choice for PC gaming. One physical design oddity is a thick cable with two USB-A connections for the PC side -without a USB passthrough. This ensures enough power delivery for the internal processing and lighting but does mean you're left with a rather chunky keyboard cable.
Software
The significant customization feature for the ROCCAT Vulcan II Max comes in the form of ROCCAT's Easy-Shift technology that essentially adds the ability to assign secondary functions to keys and swap between the two sets with ease and with the support of RGB lighting thanks to the Dual LED system. It leads to setting up different profiles for different software without changing the default primary layout, with all customization handled via ROCCAT's Swarm app.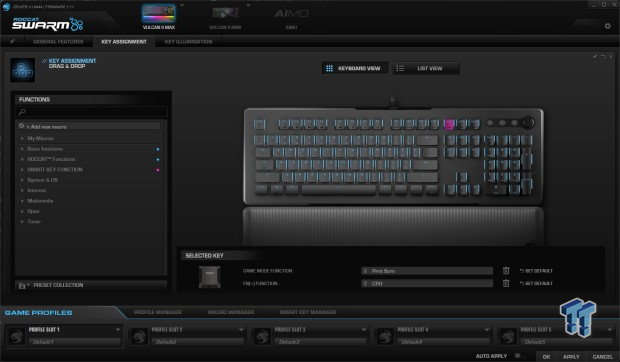 ROCCAT Swarm is powerful, but as the only bit of software you can fire up for managing and customizing ROCCAT peripherals while also being the place to update device firmware, it can be a little cumbersome to use. Although the design itself is clean and easy to follow, the button and font sizes are small and not scalable - so it feels like it's due for an update for modern PCs and higher resolutions.
Granted, making adjustments or going through each key is relatively straightforward to see what's what. With a visual representation of the ROCCAT Vulcan II Max, clicking on each key gives you a readout of its primary 'Game Mode' function and its 'Easy Shift' function - and you can drag and drop functionality from the list of things on the left-hand side.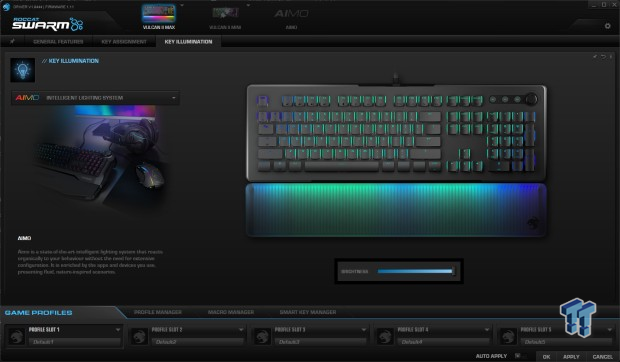 Even though ROCCAT's default AIMO lighting and multiple profiles are uniformly excellent, Swarm also offers the option to make per-key and lighting zone adjustments. The bonus is that you can also individually address the secondary Dual LED lights for the available 'Smart Keys,' which is a nice touch. As mentioned numerous times in this review, if RGB is a big deal for you, the ROCCAT Vulcan II Max and the dynamic AIMO lighting fit the bill.
Gaming Performance and Productivity
Gaming Performance
The fast linear switch design might not be for everyone or ideal for every game style, but it's become the switch design of choice for PC gaming keyboards in recent years. ROCCAT's TITAN II optical switches are great for gaming, and even though the 1.4mm actuation point and 45G of force support a very light touch, we didn't encounter any issues in our testing.
For FPS titles like Apex Legends, Call of Duty, and DOOM Eternal - the ROCCAT Vulcan II Max, like the Mini, has a great feel. Here you've got the added physical real estate of a full-sized keyboard and a sturdier overall build in terms of weight.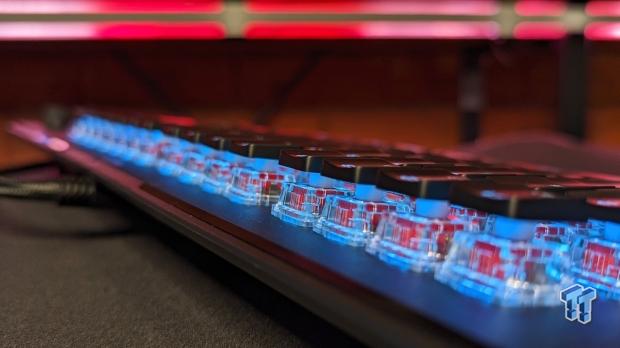 Macro recording and quick profile switching are nice-to-have features for a gaming keyboard, where even things like the robust RGB lighting add to the overall experience if your rig is a shrine to all things shiny.
Productivity
Even though just about any full-sized keyboard could be chalked up as suitable for productivity tasks, the total travel distance of 3.6mm for ROCCAT's TITAN II optical switches might be too fast for some out there. As someone who spends a large portion of their day writing words upon words (with more words), using the ROCCAT Vulcan II Max as my everyday keyboard for a week was great.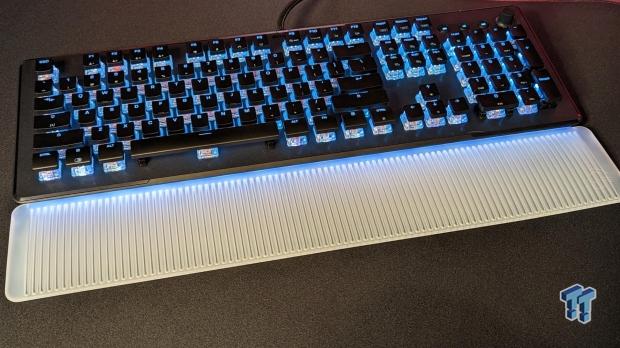 Typing proved smooth and responsive, and having things like dedicated media controls and a wrist rest meant the whole experience was comfortable and unobtrusive.
Keyboard Click Sound Level
To test a keyboard's overall sound level, we use the Ozito Digital Sound Level Meter capturing the sentence "the quick brown fox jumps over the lazy dog" multiple times and recording the maximum dB level. This indicates how "loud" the switches used are for everyday usage. The following chart showcases where the ROCCAT Vulcan II Max Optical Gaming Keyboard sits.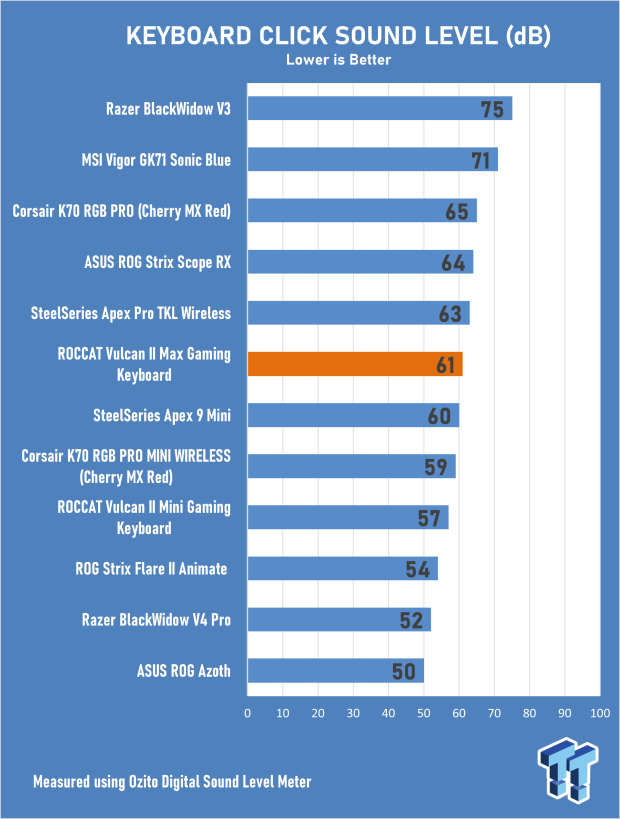 Final Thoughts
The ROCCAT Vulcan II Max Optical Gaming Keyboard is well-built, and its ROCCAT's TITAN II optical switches are great for gaming. But the physical design stands out - thanks to the generous helping of RGB lighting and ROCCAT's AIMO lighting system proving to be one of the most impressive from a visual and feedback perspective.
It's not every day that you see a translucent wrist rest light up alongside the keys, and if that's something that makes you immediately go, 'Oh, that's awesome, I'd love that,' then you'd be pleased to hear that everything else stacks up too.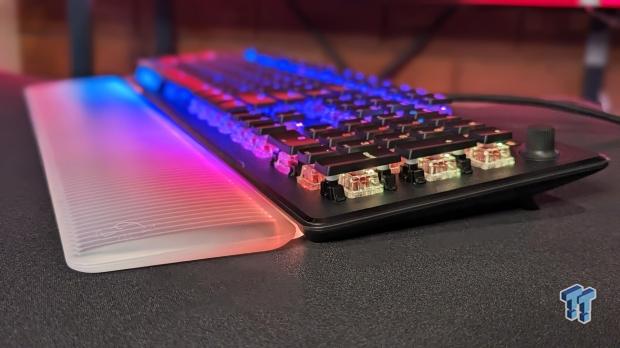 A lot stands out from powerful software customization too, which does take some learning to get used to. Innovative features like Dual-LEDs that work alongside customizable secondary functions are excellent and work toward making ROCCAT stand out amongst a sea of mechanical keyboard options.
Although premium, the price is not astronomical, so if you're looking for a new keyboard that will turn a few heads with its fantastic lighting and offer up fast and responsive PC gaming performance - the ROCCAT Vulcan II Max comes highly recommended.