TweakTown's Rating: 100%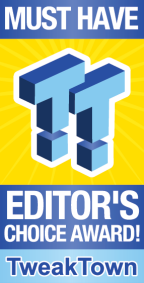 The Bottom Line
Patriot has sent the most affordable set of 8000 MHz DDR5 to us, and not only does it impress, it has an extra trick many do not for the extreme cooled community. Anyone looking for some of the best in DDR5, look to Patriot.
Pros
+

Built for overclocking

+

Top-tier components and sleek new aesthetic

+

Easy to remove heat spreaders for extreme cooling solutions

+

Performance matches expectations

+

Most affordable in its class
Cons
-

Not for everyone

-

4 DIMM board may need manual tuning

-

May be an IMC issue hitting such speeds
Should you buy it?
Avoid
Consider
Shortlist
Buy
Introduction, Specifications, and Pricing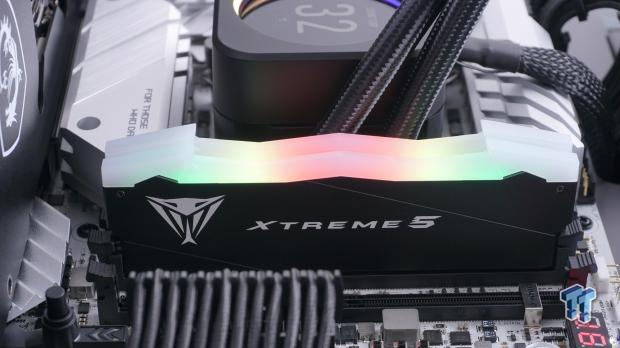 For a bit now, when we looked at the last few kits to hit the lab, we have been bringing up the Patriot Viper Venom 7200 MHz DDR5, as it crushed it with testing and delivered some of the best performance to date. So how does a company improve on something already the best in many of our charts? They look beyond the norm and invest time with a set of RAM designed for the extreme overclockers worldwide, looking for their next set of tightly binned sticks to tinker with.
In this design, Patriot has made the heat spreaders easily removable so that blocks and pots can be more easily applied without needing to heat or freeze the kit and hope you do not rip off an IC in the process.
With that in mind, this kit is not for everyone. While the likes of those trying to maximize FPS in their favorite games may see some performance gains, it is not where these modules are designed to shine. These kits are for the world record holders, or those that aspire to be, in things like HWBot, or showing off your accomplishments on social media. For those like us, who love to tinker with RAM and get the best from a kit, Patriot has what you are looking for, and making things even better, they are the most affordable solution in their class.
While this is our first kit of DDR5 like this to hit the labs, sadly, we do not own any extreme cooling gear. You will see what it attained with air cooling, leaving the new Patriot Xtreme Viper 5 in its out-of-the-box state, and see what we can accomplish. While we fully expect our IMC to be the limit of things at this time, or possibly the latest BIOS, we will give them the beans and see where we land.
We fully expect the Viper Xtreme 5 to blow us out of the water with some results, such as AIDA64, Handbrake, 7-zip, and possibly Super Pi, but time will tell. For now, if reaching the maximum potential of your system is not your plan, you may want to refer to the Viper Venom lineup. Please stick with us, those interested in what the latest in DDR5 can do; we have a pretty good show to present here.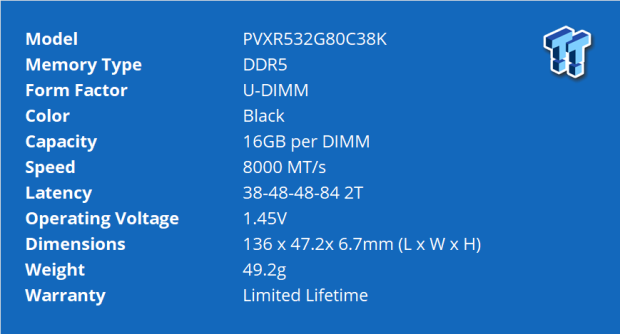 This new kit of Viper Xtreme 5 from Patriot comes in two slightly slower skews too. There is a 7600 MHz option and a 7800 MHz variety, but we have the PVXR532G80C38K set in hand. The PVXR523G80C38K has hefty black aluminum heat spreaders to add style and are actively cooling the ICs and the PMIC of this 8000 MHz solution.
While many still sell kits with 40-40-40 timings at much slower speeds, Patriot drops the Viper Xtreme 5 with CAS 38 set in the XMP profile. While the secondaries are slightly higher, we will soon see how much of a difference that makes in the grand scope of things.
To run the provided XMP profile, the VDIMM is lower than we would expect to see at just 1.45V. Along with the initial XMP profile, you also have two other options. XMP 2 gives you the option of 7800MHz with 38-48-48-84 2T timings or XMP 3, which Has the RAM at 7600 MHz with 36-48-48-84 2T, both still requiring 1.45V to function.
Beyond that, we also see the size of the dims, and the 136mm is longer than some, but the 47.2mm height won't matter to many buyers, as the CPU will likely not be using an air cooler. Lastly, should you have issues with the kit and not your system getting to these speeds, the Viper Xtreme 5 is backed by a limited lifetime warranty.
Those who already live in the realm of high-speed DDR5 will know that obtaining a kit of 8000 MHz RAM will set you back nearly $400 in retail circles. The most affordable set we have seen thus far was the GeIL Polaris RGB at $379, the timings are not as tight as what Patriot has produced, and Patriot is releasing them for less than anything else in this class.
The MSRP set for the Patriot Viper Xtreme 5, in the 8000 MHz flavor we got them in, will cost just $339.99. Do not let the price lull you into expecting that Patriot is releasing a lesser product because, as you will soon see, you are getting some of the best in the business. Yet, Patriot feels they do not need to attack your bank account when looking to expand your DDR5 horizons.
Packaging and Patriot Viper Xtreme 5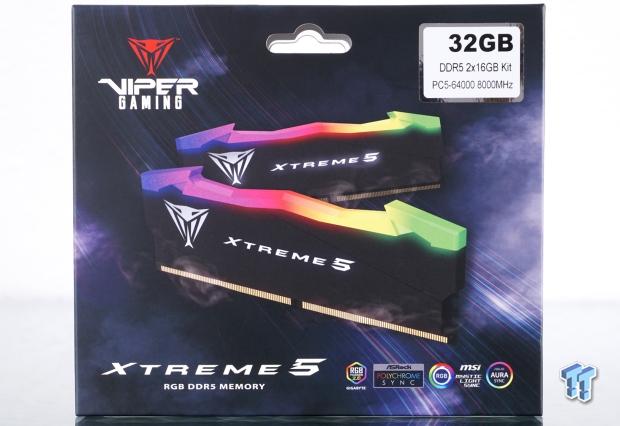 With a new lineup of RAM, it makes sense that Patriot would change up the packaging a bit. We still get the smokey backdrop, but this time black and thin whisps of color accompany, streaked across it, with the Viper Xtreme 5 pictured in the middle. At the top, we find a sticker stating this is a 32GB kit of PC5-64000, while at the bottom, we see icons of the various compatible sync software options.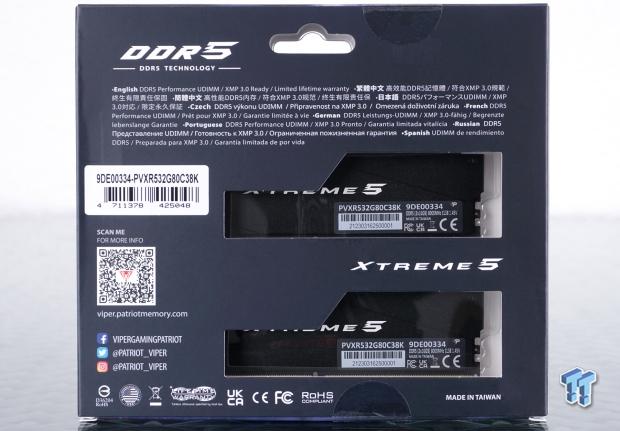 The back of the box tells us that these are DDR5 performance UDIMM with a limited lifetime warranty above the part number sticker and code to take you to the product page. To the right are cutouts to let you see part of the heat spreaders, but it is done so you can see that the stickers on the sticks match what the box has told us they would be.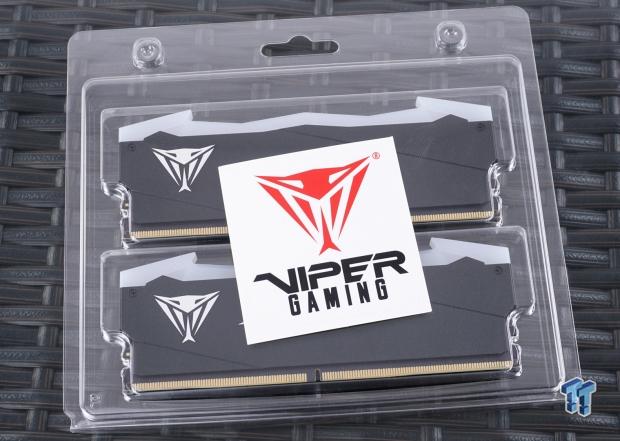 Inside the cardboard, you will find your Xtreme 5 packed tightly inside of clear plastic. The plastic works to fight static and is also there to protect the paint and finishes. We also got another sticker with the Viper name and logo, which we will add to our mirrored closet doors.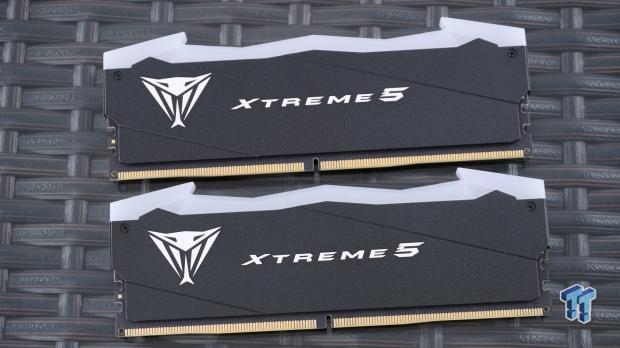 Now we can see the fastest RAM to hit TweakTown to date. We love the textured aluminum heat spreaders and their more straightforward style and black color. The logo and Xtreme 5 painted on the sides pops as they should and goes well with the aggressively styled diffusers on the top. Also, note the screws at the top, just below the diffusers. Removing the screws allows the heat spreaders to come off easily, as the thermal tape is not as sticky as many others.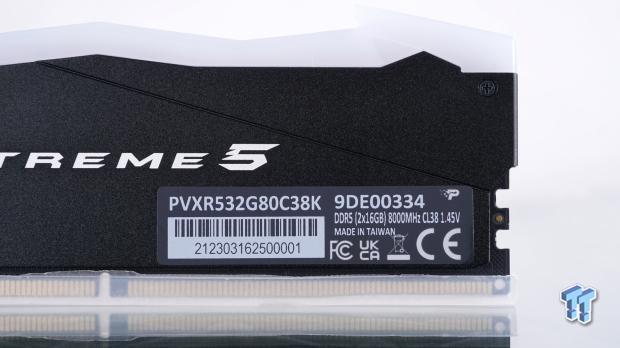 The other side of the stick is identical in styling and what is painted on the aluminum, but the sticker we Saw through the packaging is on this side. On it, we get the part number, type, density, speed, CAS timing, voltage, where it is made, and serial number.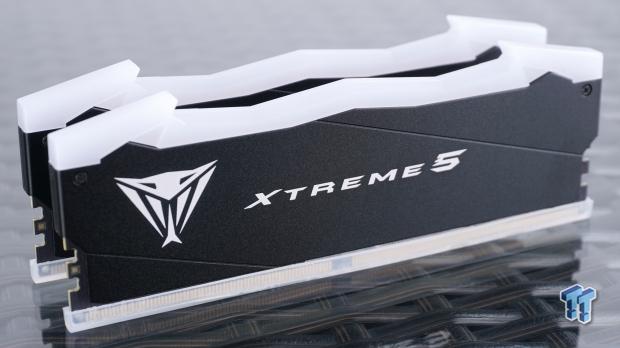 For those of you wanting to push your luck with air cooling options or an added fan, this is what you will see in any system. Lots of black with those bright pops of white. For something more or less intended to be naked not long after obtaining them so you can put on extreme cooling solutions, Patriot pulls off a look we would appreciate seeing more.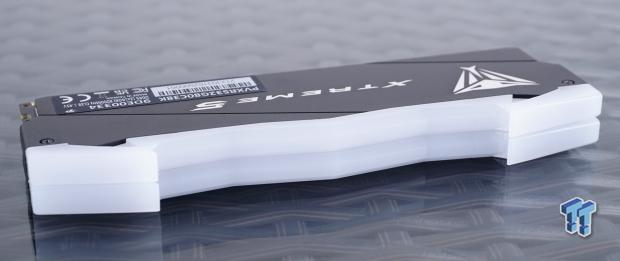 We fully expected to find the Patriot logo or their name in some form on the diffuser, and we got nothing to block the lighting that will soon be shown. Again, for something likely to be removed, Patriot added a fair bit of style and appeal with the design of the diffuser.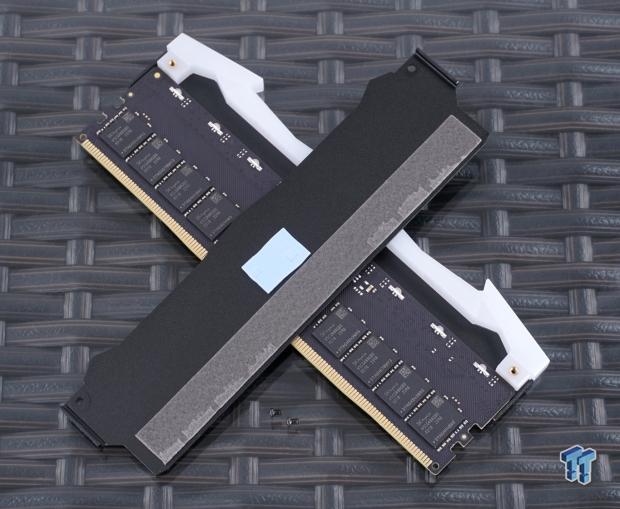 We can see here that the tape on the ICs has little contact from the factory and will take a few heat cycles to become fully attached, making it simple to pull them off as we have here. We also found a thermal pad for the PMIC. Removing the screws from the brass inserts allowed us to lift off the heat spreader to see what was underneath. We found a set of SK Hynix H5CG48AGB0 chips or the coveted A-die ICs.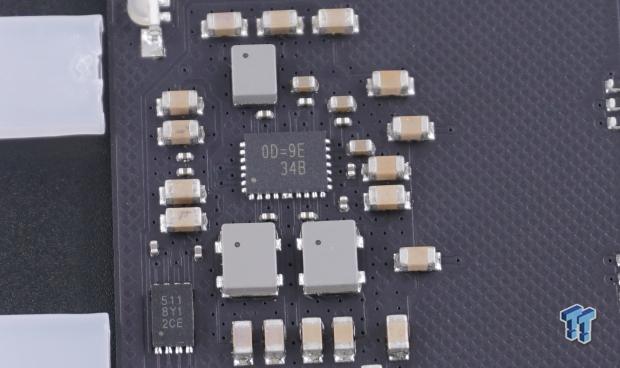 Of course, the PMIC is unlocked, as what good is an extreme set of RAM if you cannot add voltage? We are confident that Richtek made the PMIC. However, this is the first time we have seen the 0D=9E version of it.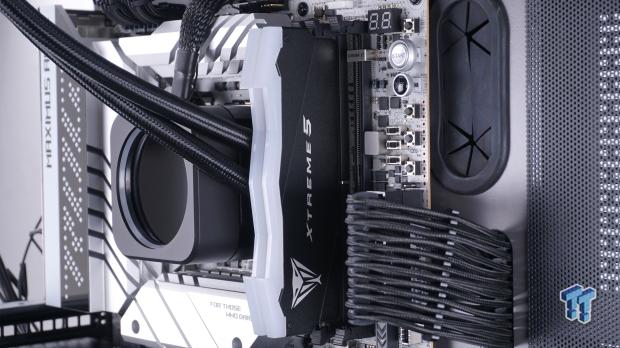 The appeal of a set of RAM does not get much better than this visually, as Patriot uses the logo and the series name to express to others who made this fantastic set of DDR5. The contrast between it and the rest of the build is terrific, and the Patriot Xtreme 5 goes well in our build.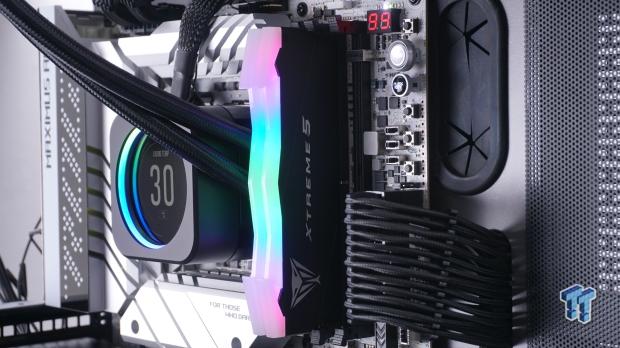 The default illumination is a bullseye effect unless you change it within one of the sync suites. The lighting starts in the center, working its way to the ends, with all of the colors of the rainbow provided in rotation. As you can tell, the colors blend pretty well, and there are no visual hotspots.
Test System Details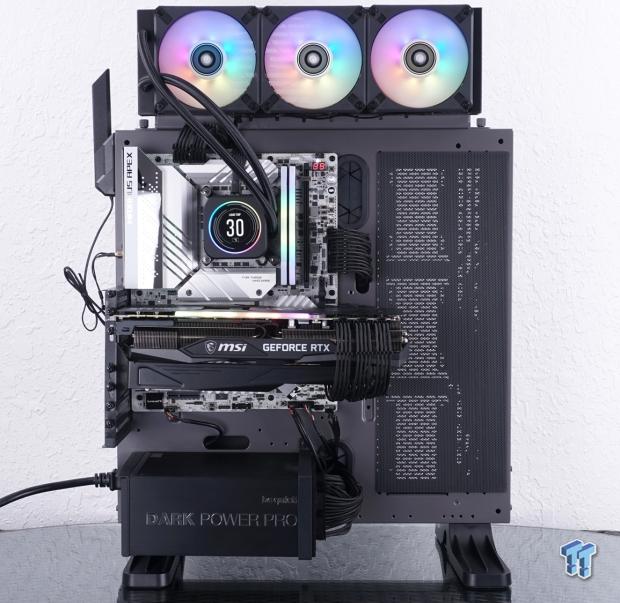 To obtain the Intel CPU-Z screenshots, you will see directly following this image, and this is the system we used to do it, as well as in attaining the results seen in the following pages. Thanks go out to be quiet!, ASUS, and NVIDIA, for supporting this venture. Detailed specifications of the system can be found below.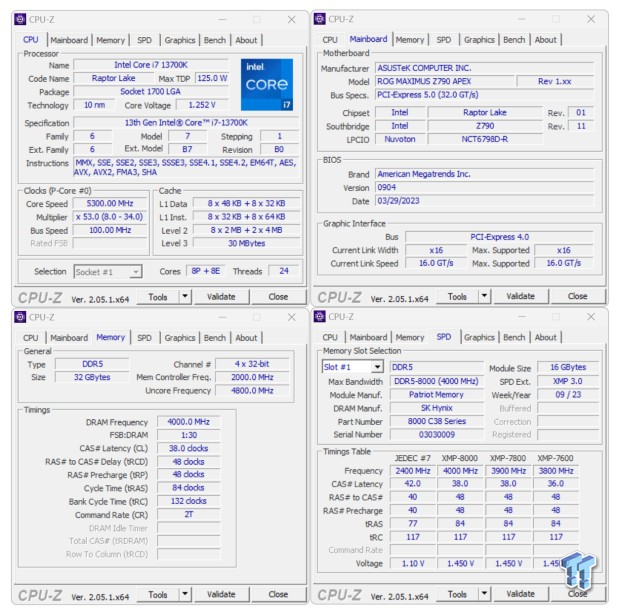 Even though we had doubts about the IMC on our 13700K, we cleared CMOS, enabled XMP, and took a chance. We were then greeted with 8000 MHz at 38-48-48-84 2T, as stated on the box. Another trip back into the BIOS showed us that the system agent was set to 1.297V, the memory controller was bumped to 1.403V, and the VDIMM was at 1.45V.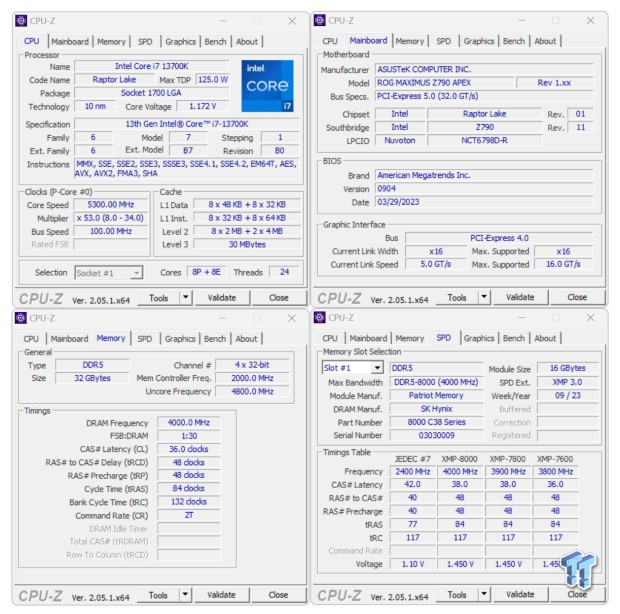 Bumping the voltage is what we do, but with added voltage, we found the kit played dead past 8000 MHz with the XMP set of timings. However, we got a little movement going back to the voltages enabling XMP delivered. While a slight drop to CAS 36 is nothing to get overly excited about, we are still at 8000 MHz, and that is movement we never thought would be stable on air cooling.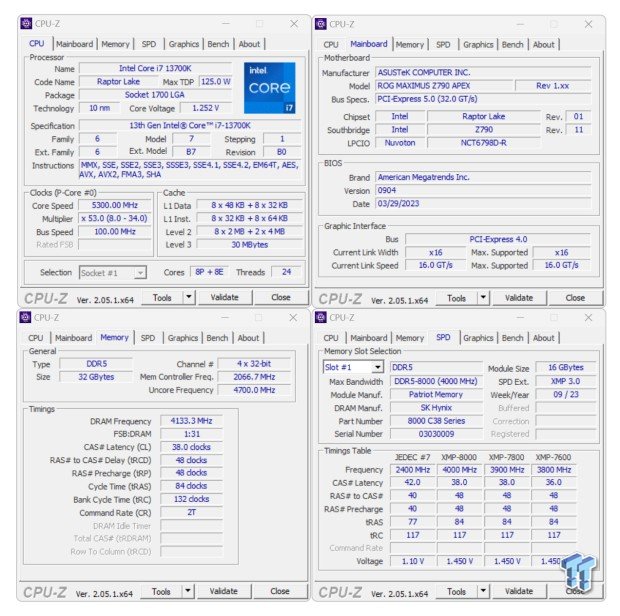 Even though we assumed more speed is possible with extreme cooling methods, we never expected the XMP settings to give us this much flexibility. While the 8267 MHz is not record-setting or super fast in the world of extreme DDR5 speeds, we are shocked that we could enable XMP and simply raise the RAM speed to this level, and everything be stable.
To be completely transparent, we were told that the PMIC area does not like heat, which explains why adding voltage was causing the issues it did. We did dig into the bins and found a 2000 RPM, 120mm, be quiet! fan to actively cool this kit while testing the overclocks.
Chad's Intel DDR5 Dual-Channel Test System Specifications
Intel Performance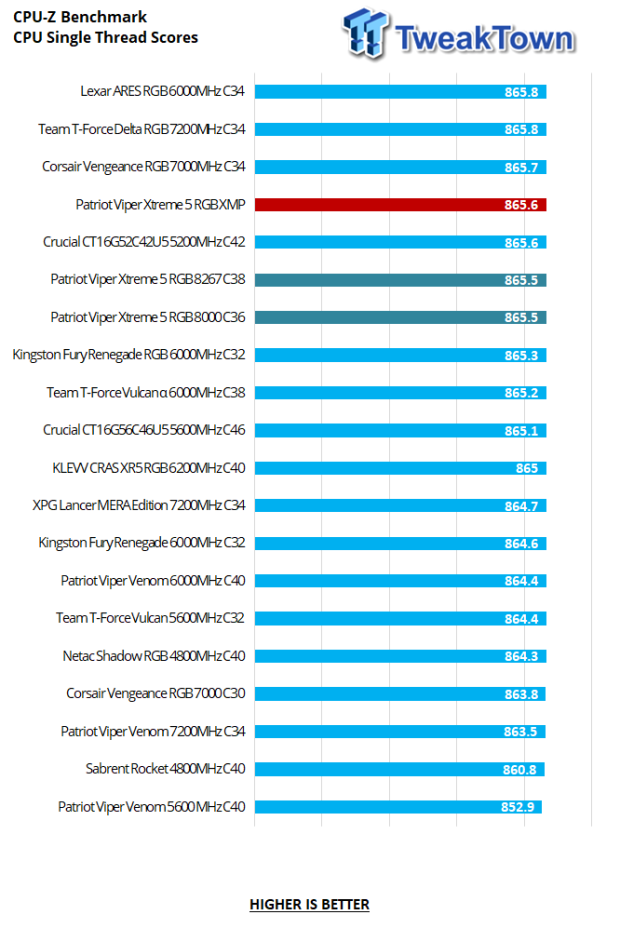 While CPU-Z results can tend to be all over the place, we are not that shocked to see the Patriot Xtreme 5 land in fourth place. Those above them have much tighter timings down the line and should have an easier chance at scoring higher. As you can see, overclocking was of no help in this metric.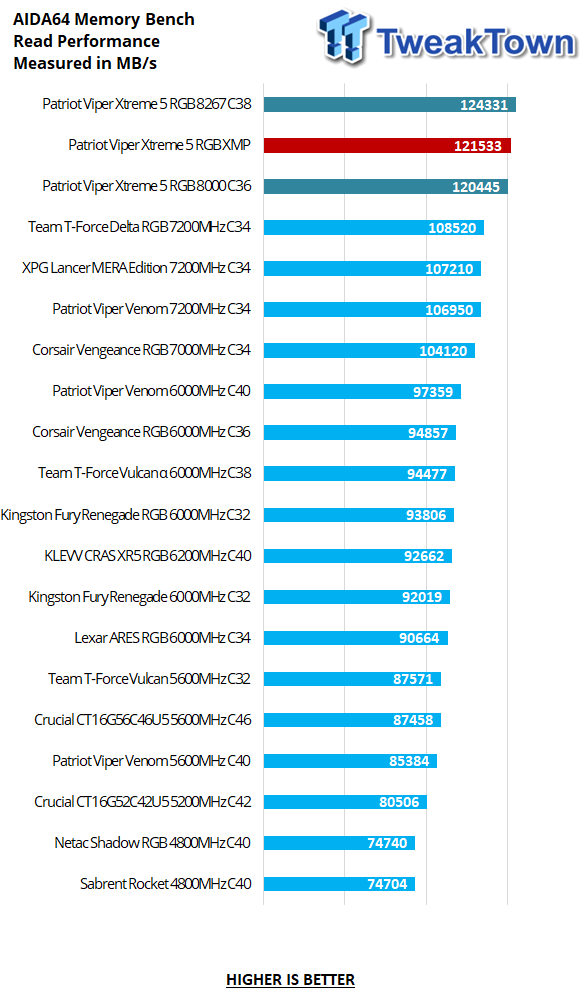 AIDA64 is where Patriot shakes things up in a big way. Out of the box, the read performance is 121,533 MB/s, some 13,000 MB/s faster than the Delta RGB. We lost roughly 1000 MB/s running the Xtreme 5 with CAS 36 but got an effortless boost of 2798 MB/s over XMP by raising the speed.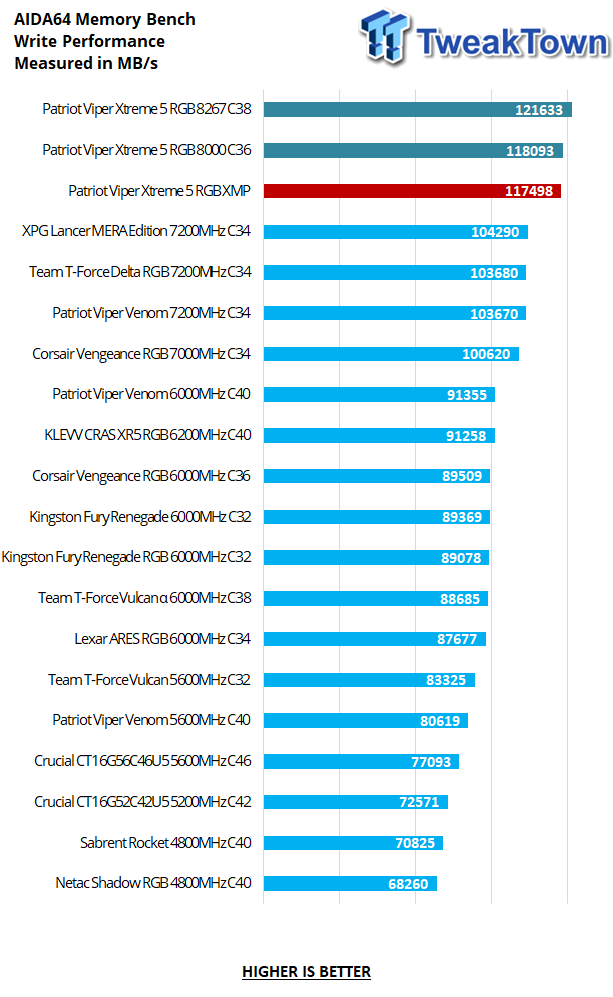 With the write performance, we see similar results with a 13,208 MB/s advantage on the Lancer MERA sticks with XMP results at 117,498 MB/s. Running them with a lowered CAS level, we gained only 595 MB/s. With more speed, the advantage increases to 4135 MB/s over what XMP brings.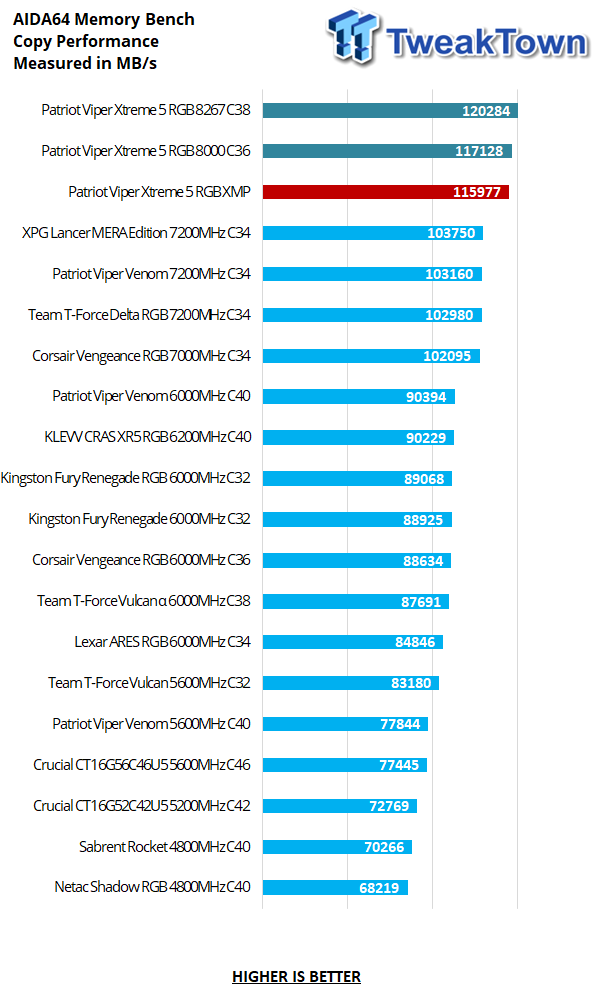 Copy performance put forth by the Xtreme 5 is just as good. 12,227 MB/s are separating the Xtreme 5 from the MERA Edition RAM, with the Patriot kit starting at 115,977 MB/s. At CAS 36, we increased that gap by another 1151 MB/s; with them at 8267 MHz, we got another 4307 MB/s versus XMP results.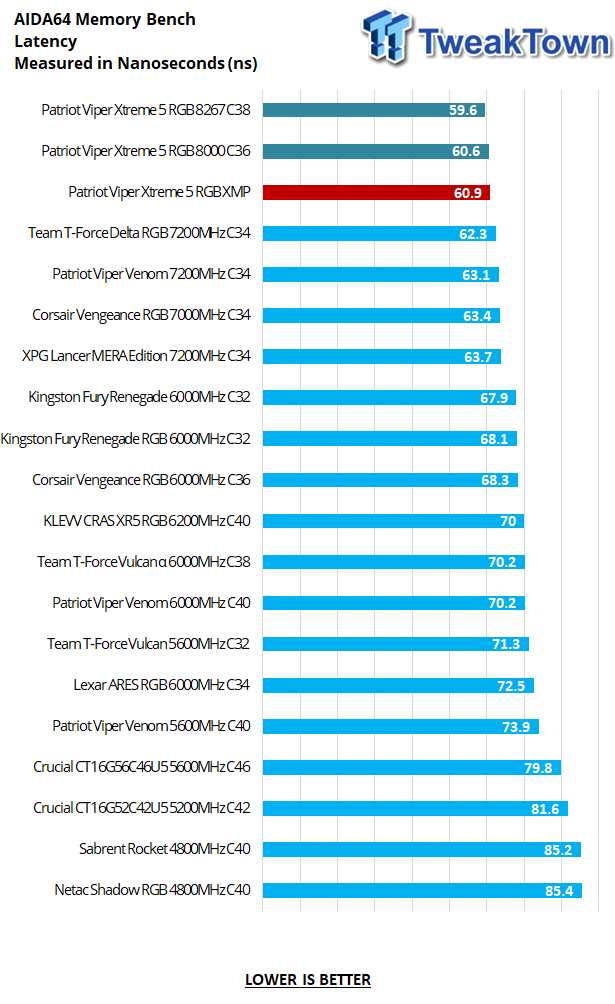 We cannot complain about latency when it hits the lowest we have seen, with nothing more than enabling a profile in BIOS. We saw a slight reduction with our overclocked runs, but they are all within a little more than a nanosecond between them.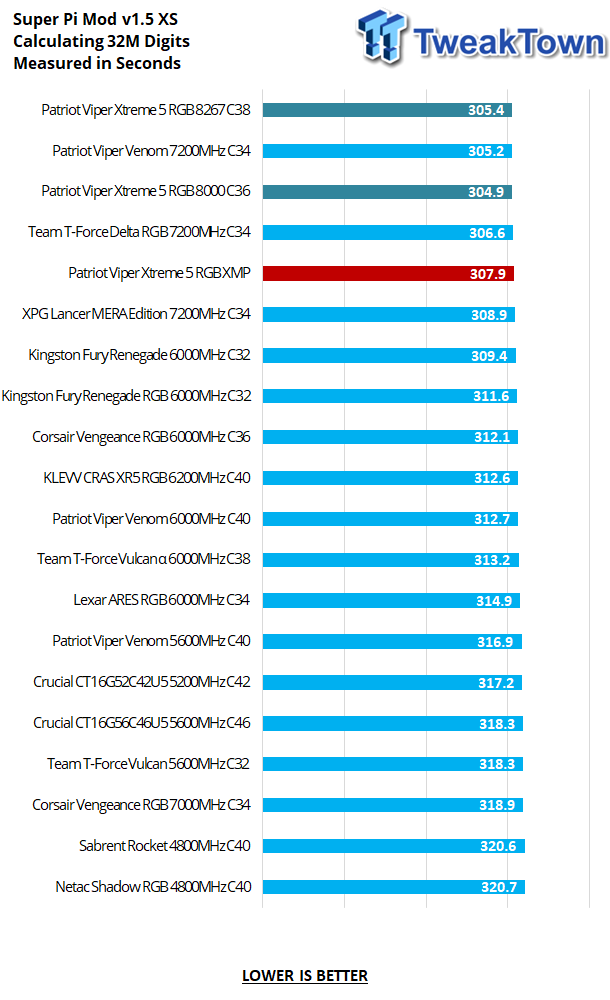 We had hoped that the Xtreme 5 would top the chart in Super Pi based on speed alone, but the timing set kept it behind the Viper Venom and Delta RGB at 7200 MHz. While slightly over five minutes is a good time for us, it takes us pushing this kit even further to make it to the top of the chart, even if just by the slightest of margins.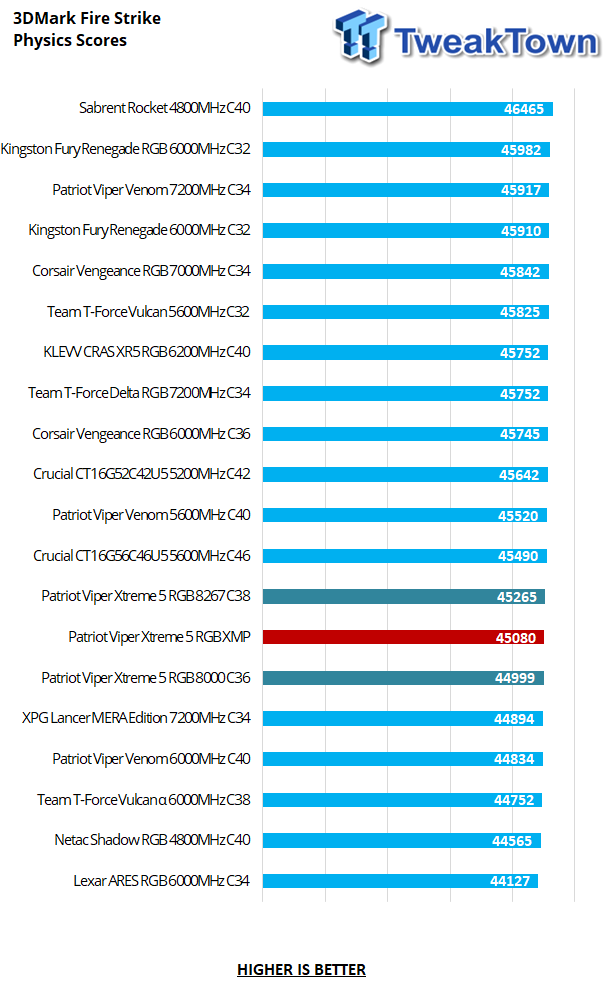 For the same reason that we see the Sabrent Rocket at the top of the chart, we find these Xtreme 5 in the middle. There is no rhyme or reason for how 3DMark uses RAM in its physics score. However low the Patriot RAM placed, they still are ahead of the MERA Edition kit.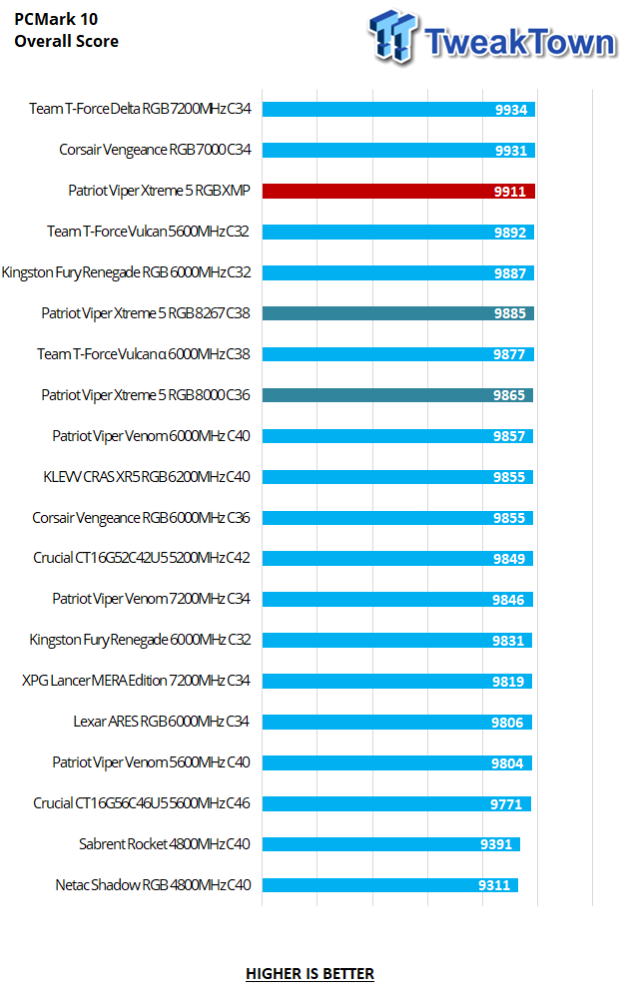 On the other hand, PCMark seems to enjoy what Patriot has put together. Landing in third overall with the XMP profile enabled is fair, all things considered. However, we did expect to see some gains with overclocking, but in reality, they did not do as well as what XMP provided us.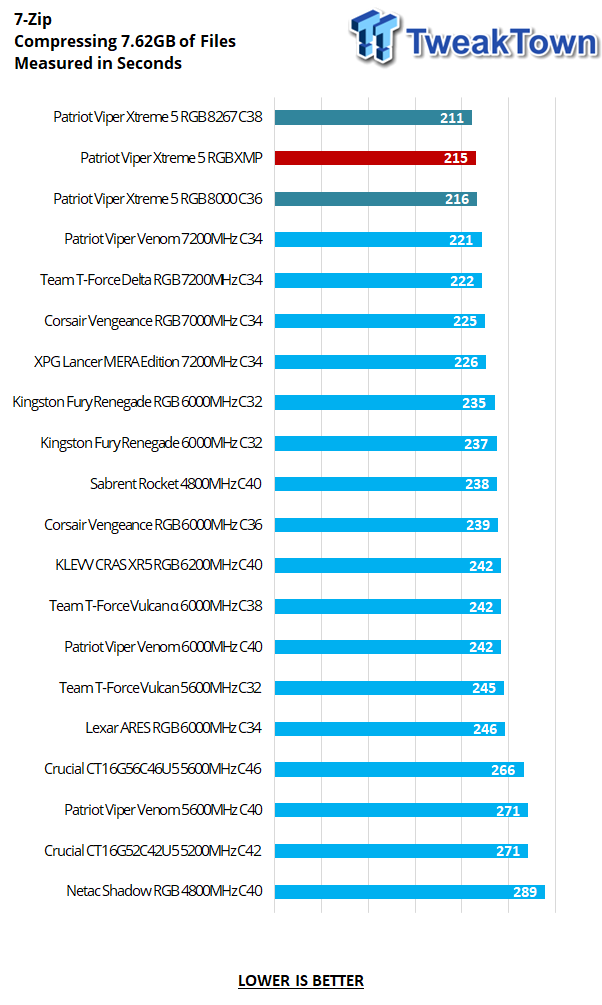 With file compression going on via 7-Zip, we find the Extreme 5 in the lead, completing the task six seconds faster than Patriot's Viper Venom at 7200 MHz. We lost a second with a timing reduction but were able to improve on the XMP result by adding more speed, dropping the time to complete this task another four seconds.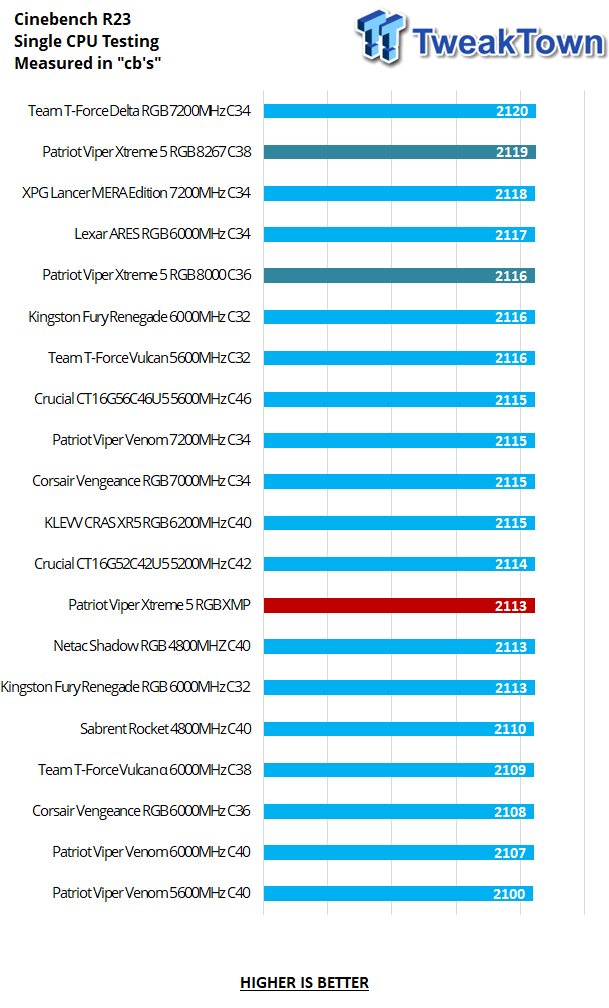 Fresh out of the box, our Cinebench results with the XMP profile shows they run in the middle of the pack. However, with even the slightest tuning, they climbed the chart to second place with more speed added.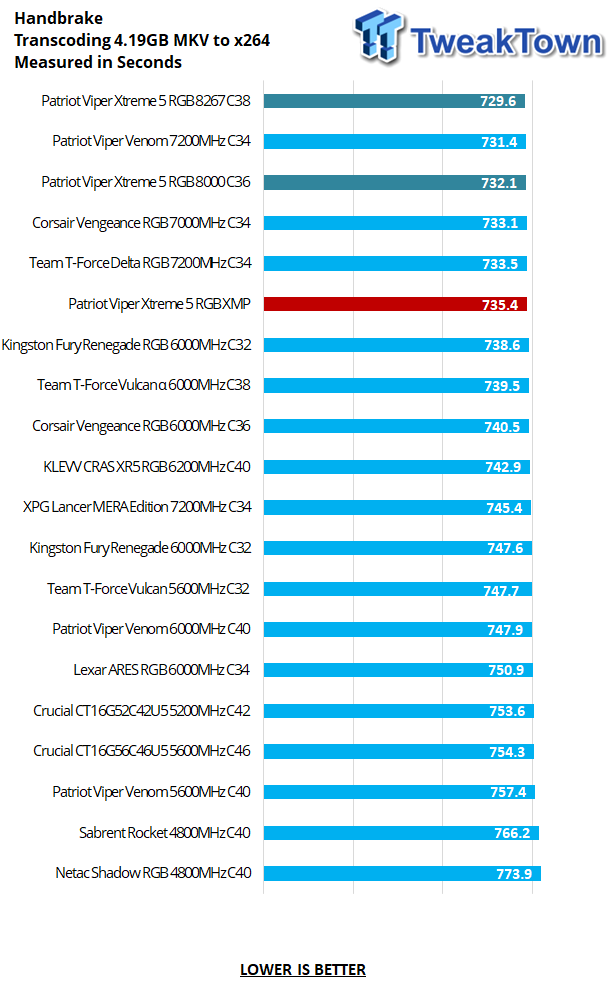 Handbrake seems level-headed with its results, and we see that the XMP run of the Xtreme 5 lands them in fourth place. Not bad in our minds, but we do like to see those decreases in time by overclocking the kit, getting the Xtreme 5 to the top of this chart.
Final Thoughts
We tend to start this part with how sexy the kit is or how well it matches our theme, and while it does all of that, many using these sticks will rip off all of that style and attractiveness on day one. Due to their extreme nature, and that is not just a name on the box, the intention is to cool them with more than air or water and see your system's limits. In our instance, we have to think it is the 13700K limiting us, as we have seen many posts on social media with better results, but they are all using the 13900K to do it.
While we love everything about what we have seen from this set of Xtreme 5, there can be limits, not imposed by Patriot, but locked out due to silicon choice or what camp you are using to attempt to clock for the stars.
Under the hood is the latest SK Hynix A-die, the ones that go further with less hassle, and that is huge for those that tinker with DDR5. We can guarantee that you will be hard-pressed to get these timings, this amount of speed, at this sort of voltage. Even being told that the PMIc does not care for extra heat leads to their desire for extreme cooling. While you can still get outstanding performance as we did, to get the most from them, system willing, you will need to go cold and do it with more than a case fan.
Along with the looks and performance levels that trounce most of the other kits we have tested thus far, you can do what we have done without touching much of the BIOS. Considering we accomplished all of this by enabling XMP and getting results, then going back and changing the DRAM timings or the speed without touching anything else is quite the feat that Patriot has shown us today.
For many out there, we haven't even gotten to the best part of the Viper Xtreme 5 from Patriot. Other examples are at or beyond $400 to get something similar to what we have shown, not aesthetically, but with performance and flexibility. You can have these sticks soon, a week or so as of writing this, and they will only set you back $339.99, some $40 cheaper than the next most affordable solution. Those in the DDR5 tinkering game know what they are looking at, but for those who still don't get it, this is similar to what G.Skill and HOF pride themselves in, with none of the inflated costs associated with said products.
Patriot wants to give you a real chance of having something nice and not having to break yourself for that pleasure. In our heads, this will be a tough kit to beat in the future and shows how tuned in to the market Patriot is, willing to deliver you some of the best options in RAM.